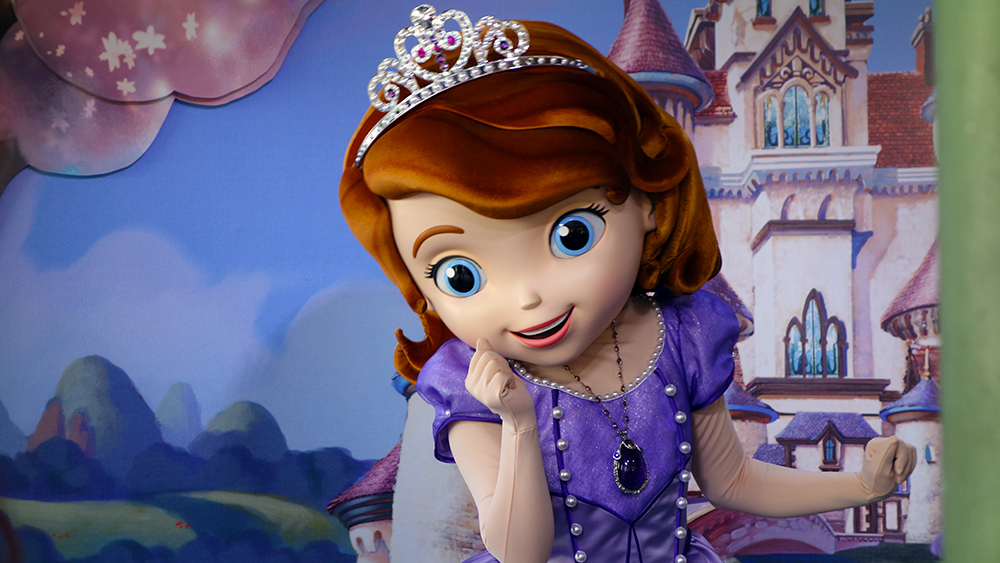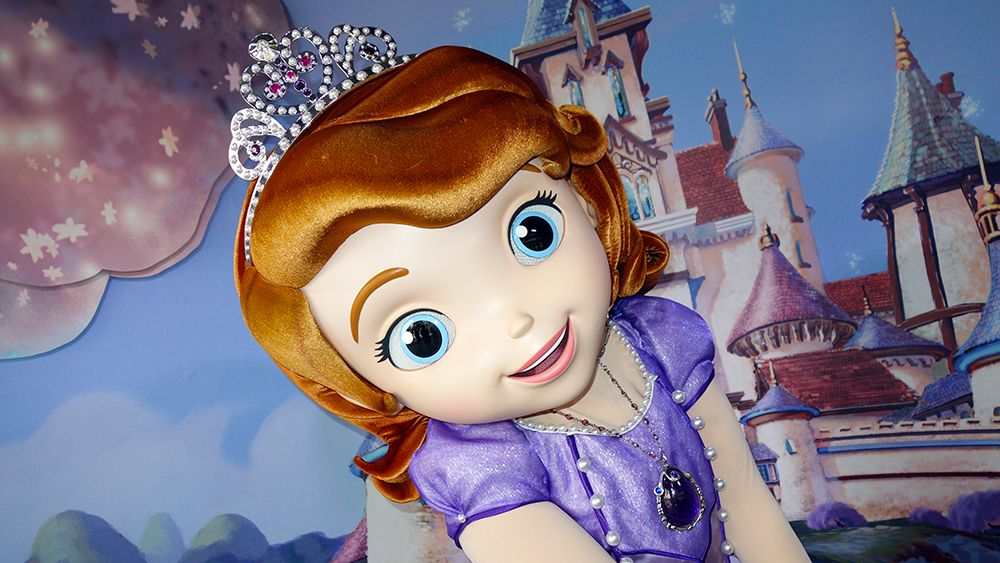 I arrived at Hollywood Studios early enough to be the second guest in line at the new RFID turnstiles.  The park opened even earlier than normal at about 8:30 am.  I took a few photos before stopping by Sofia's new meet and greet area to see the backdrop.  They really did a great job creating the backdrops for Sofia the First and for Jake (coming later).  I found that Jake has taken Handy Manny's location and Sofia has taken Jake's location.  Both are right in front of Disney Jr.  I decided to ride grab a Toy Story Mania FASTPASS, ride TSMM, see the Captain Jack Pirate thingy that's been shortened to pass more guests through quickly and then went to visit Sofia.
NOTE:  Sofia DOES NOT meet at Hollywood & Vine.  I think I got that question about 36 times today.  It's still currently Jake, Oso, Manny and June.
Sofia's schedule was advertised as 9:30 am to 1:00 pm and 2:00 pm to 4:30 pm.  I'm glad they opened the meet earlier than Jake's 10:30 meet time, but I was left confused why she meets ONE HOUR LESS than Jake and why she takes a mid-day break???  She saw steady lines in the morning to lunch meet with meets up to 50-60 minutes at times.  In the afternoon session her waits were more in the 30 minute range because it was 98 degrees and people didn't want to stand in the blazing hot Florida sun.  Sofia seemed to be in good spirits despite the heat.  We chatted about how I like Clover and wish he would come out and visit some time and about how cool it must be to have a magic amulet.  Hey, I've watched the show with my 9 year old for research!  How else would I get all those cool meet and greet tips?
It would seem crazy to most "bloggers" to do what I do.  I intentionally waited until Sofia arrived to get in line.  I wanted to know how long it would actually take and what the experience would be like.  I had arrived early enough to wait while sitting around, as some did, but that's not what I was looking for.  I started this blog to help people meet characters and the app was a natural offspring of that goal.  I didn't just want to brag about what characters I had met, but actually help people meet characters with less of a wait.  I could just pop in, take a few pictures of someone else's family and leave.  Return home, guess how long the line was and tell you how to meet characters.  Just not my style :)  I even stayed around and kept checking on the line to see if it would die down any.
So, I got in line at 9:31 am and ended up waiting a total of 46 minutes and 21 seconds according to the time my wait feature in the Character Locator app.  Until about 10:30 am, the whole line was forming in the shaded areas along the wall and zig zagging in the queue area.  By the way, many people wonder why a grown man is waiting alone in a Princess line.  I'm GLAD my daughters will be here in a few days when all the moving is done!
I was about where the arrows are pointing in the line.  Eventually the Cast Members placed some more temporary queue line markers to assist guests, but they were actually in the FULL SUN.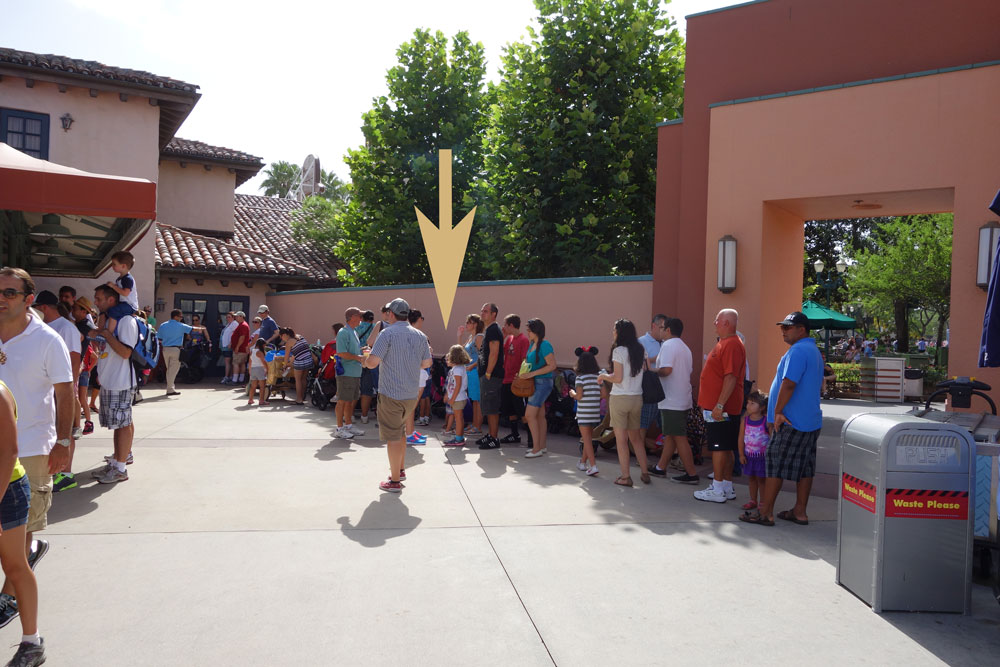 Sofia was signing autograph books, but I cannot guarantee that it will continue.   I also cannot guarantee that the schedule will not change, but only notify you if it does.  I update the app just as soon as I find out, but cannot update the blog schedules until I return home.  Sofia was very good with all the little girl princesses.  She danced with them and curtsied with them and hugged them.   The little girls were REALLY excited to meet her.   She's like the Justin Bieber of the 2-8 year old girl crowd.  If Doc McStuffins were around this little corner would be a madhouse!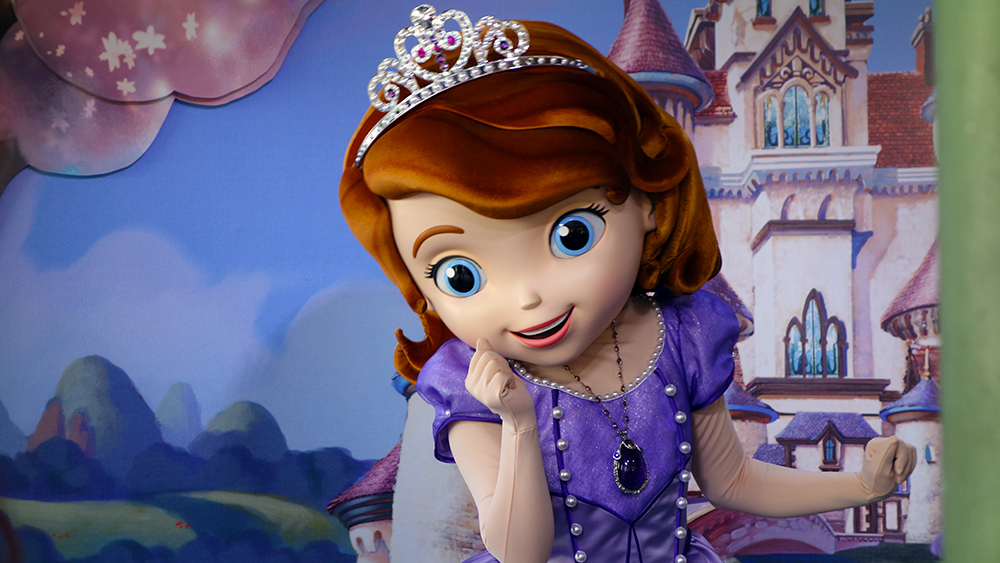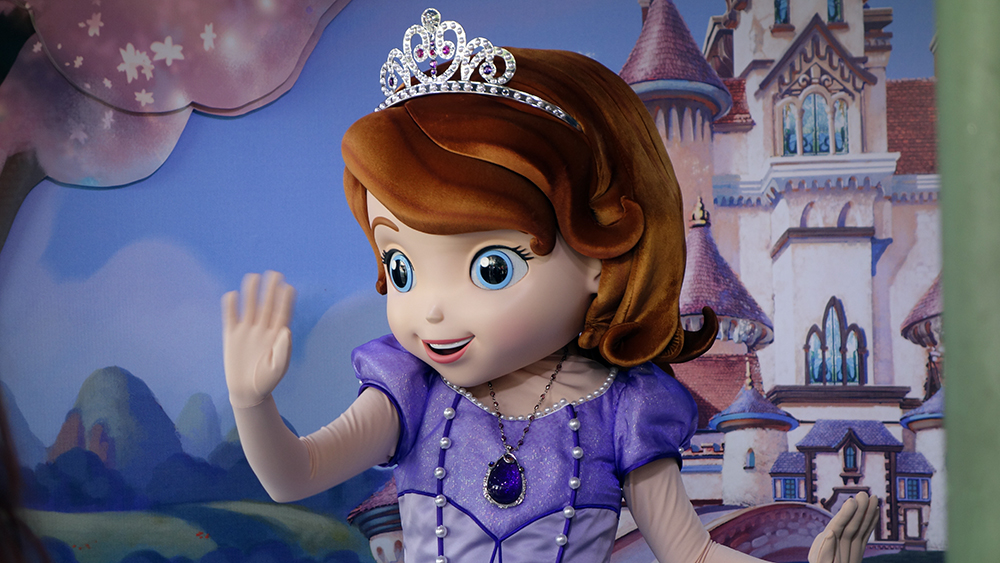 This is the background.  It is her castle in Enchancia.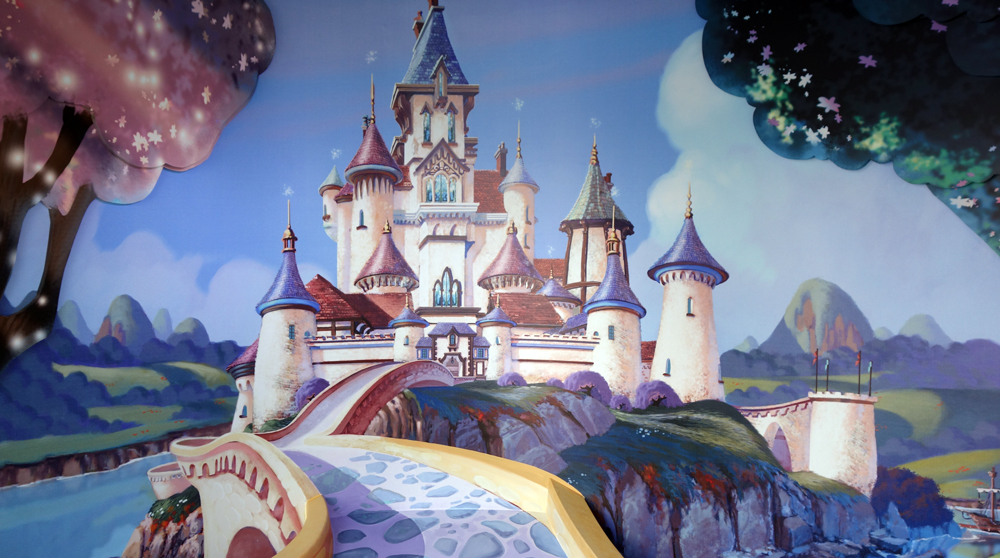 I'm the one on the right :)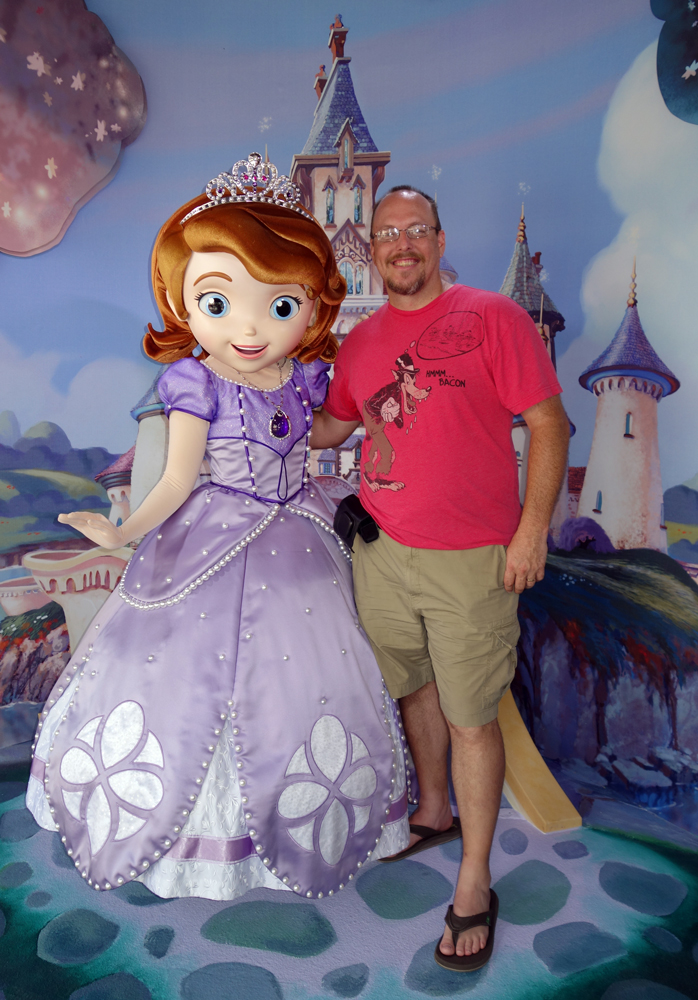 Because she is brand new, I recommend having someone hold a spot for her no later than 9:15 am.  Some guests will see her as their top priority and run right there, but they'll be sitting around for 45 minutes unless the schedule changes.  Either way you're going to wait a lot.