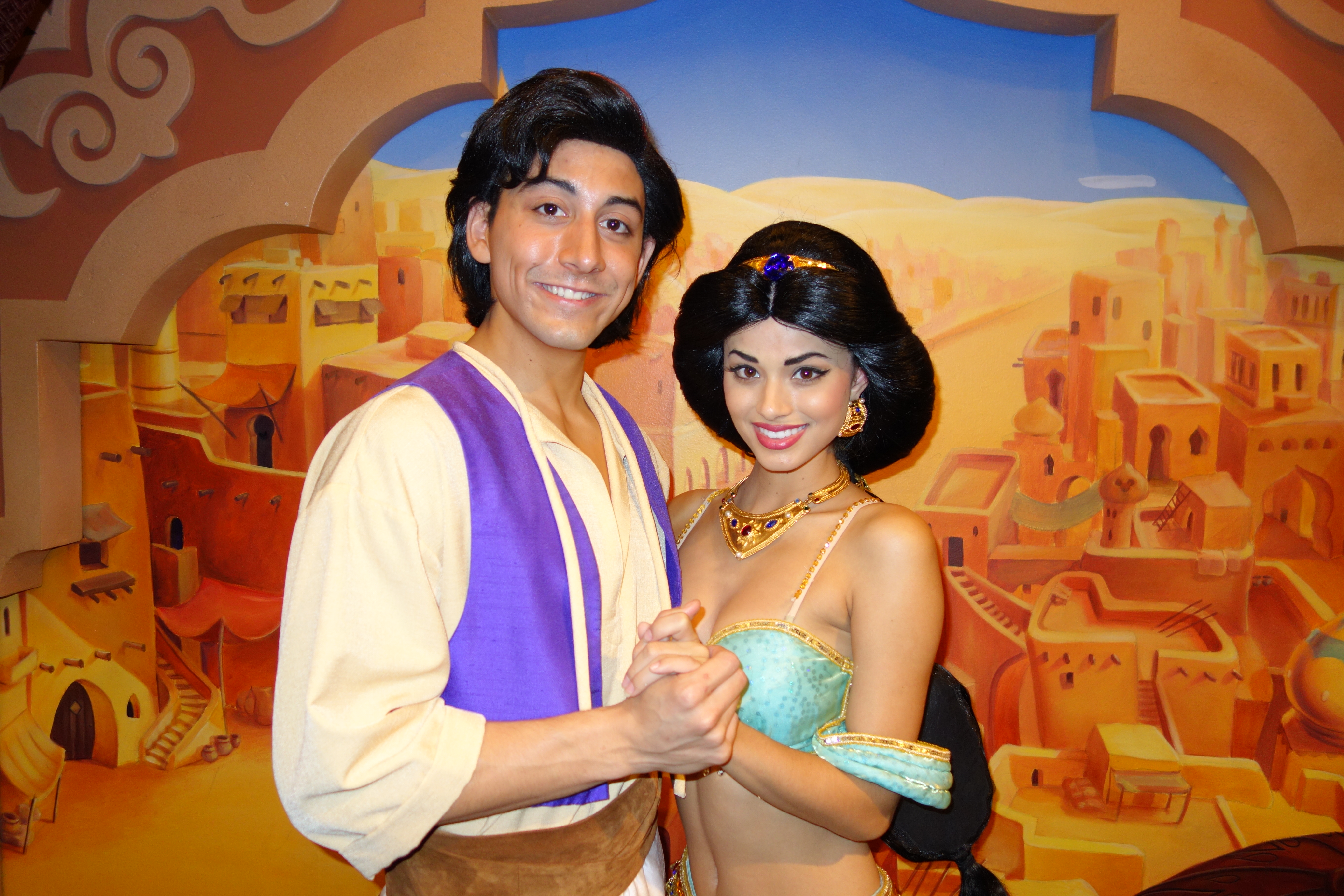 LATEST VIDEOS
Subscribe to my Youtube!
LIVE - Just Mousing Around
Just Mousing Around - LIVE
LIVE - Just Mousing Around
Updated 5/29/2012
The purpose of this plan is to meet every FEMALE character in EPCOT with little or no wait.
Click on a character's name to see character photo, map, interaction tips and trivia.
EPCOT Female Character Plan

Arrive at the entrance to Epcot by 8:15am and look for a turnstile with little or no line. The park advertises that it opens at 9:00 am, but it actually opens at 8:45 am. Make your way at opening to meet Daisy. There will be NO LINE. He will be located on the far right in a alcove before you turn the corner to Spaceship Earth.
Daisy
Entrance
(right side)
8:45 -12:45
1:15-3:55
Next we head straight for Minnie. "But don't we need Soarin' Fastpasses?" you ask. Well, trust me, they won't be gone by the time you wait 3 minutes to see Minnie Mouse, and hey you get Mickey and Pluto too! Minnie is located in the NEW Temporary Character Spot. It is just past the Ice Cream shop on the right. Exact directions are located here.
Minnie
Character Spot
8:52 AM- Close
Enjoy your time in Future World, but be at the International Gateway rope just before the bridge to France before 11:00am! The rope drops at 11:00am and Belle should be waiting on you. Her meet is located on your left near the water.
Belle
France
11:00-11:35
12:00-12:40
1:00-1:40
2:50-3:20
3:50-4:30
4:50-5:30
Make your way from France back to the United Kingdom. Alice and Mary Poppins each meet along the main path between the Tea Shoppe and the Yorkshire County Fish Shop next to the small garden. Look for the sign.
Alice
United Kingdom
11:30-12:05
12:30-1:10
1:30-2:10
3:20-4:00
4:20-5:00
5:20-5:55
Mary Poppins
United Kingdom
12:00-12:35
1:00-1:40
2:00-2:40
3:50-4:30
4:50-5:30
5:50-6:30
Make your way back across the bridge to France. Aurora will be located in the Gazebo on the far right after you cross the bridge.
Aurora
France
12:30-1:05
1:30-2:10
2:30-3:10
4:20-5:00
5:20-6:00
6:20-7:00
Continue counter-clockwise around the World Showcase only a short distance to Morocco. Aladdin and Jasmine meet on the left next to the water. Look for the sign.
Aladdin & Jasmine
Morrocco
11:45-12:20
12:45-1:25
1:45-2:25
3:35-4:15
4:35-5:15
5:35-6:15
If you desire, you may continue onward to Germany. I designed this plan to allow you time to enjoy the World Showcase at your pleasure before moving on to see Snow White. Arrive at least 10-15 minutes before the meet of your choice. Snow White is located on the right just past the Germany pavillion in an alcove with a wishing well.
Snow White
Germany
12:30-1:05
1:30-2:10
2:30-3:10
3:30-4:10
5:20-6:00
6:20-7:00
Mulan will have two remaining meets. You may choose the one you desire, but arrive at least 10 minutes prior to her next meet time for the shortest wait. Mulan will be located just beside the Temple of Heaven under the awning. If you're looking at the building it is to the left of the main entrance.
Mulan
China
11:00-11:35
12:00-12:40
1:00-1:40
2:00-2:40
3:50-4:30
4:50-5:30
Are you planning a vacation? Reach out to our trusted travel agency sponsor Authorized Disney Vacation Planner
Mouse Class Travel
!