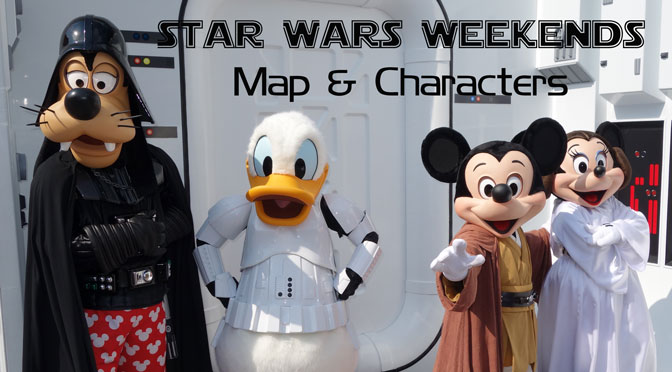 NOTE:  All the regular Hollywood Studios DO continue to meet during Star Wars Weekends.  The Disney classic characters that usually meet near Center Stage, wear costumes for Star Wars Weekends for special meets, except Pluto.
If you aren't familiar with the Star Wars Characters, you might want to check out my Star Wars Weekends Characters for Dummies information.  The wait times next to the meet area are based on historical observation during the busiest times of the day.  Lining up early for meets reduces waits.
All schedules are included in my Character Locator app.  The schedules are built on the first day of the event and updated as needed.   It's the only source for full Star Wars Weekends character schedules.
Highest Priority: 
Chewbacca (rope drop)
Darth Vader (rope drop or late evening)
Darth Maul (first meet)
Boba and Jango Fett (rotate – late afternoon)
Medium Priority:
Luke Skywalker, Princess Leia Organa, R2-D2, C-3PO (rotate – early or late afternoon for shade)
Mickey, Minnie, Donald and Goofy (rotate late afternoon only),
Low Priority:
Anakin Skywalker, Shaak Ti, Mace Windu and Kit Fisto
Ahsoka Tano, Captain Rex, Commander Cody and Asajj Ventress
Queen Amidala,
Roamers – Cantina Band, Clone Troopers,  Stormtroopers, Jawas, Roaming Bounty Hunters
(All entertainment and schedules are subject to change without notice)
New information coming soon.  Enjoy the new map!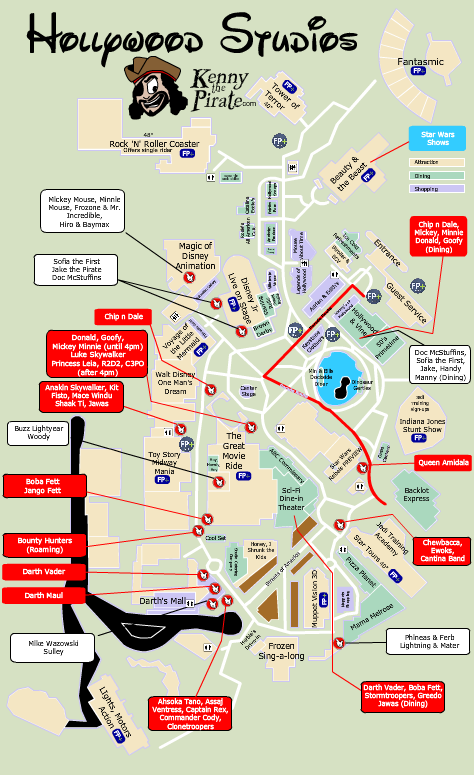 Subscribe to Character Locator for full Star Wars Weekends schedules!