Are you looking for a really great show to watch at Disney's Animal Kingdom? If you want to see a show that is full of fun, can give you some laughs and showcases live animals, you are going to want to see this one!
Disney's Animal Kingdom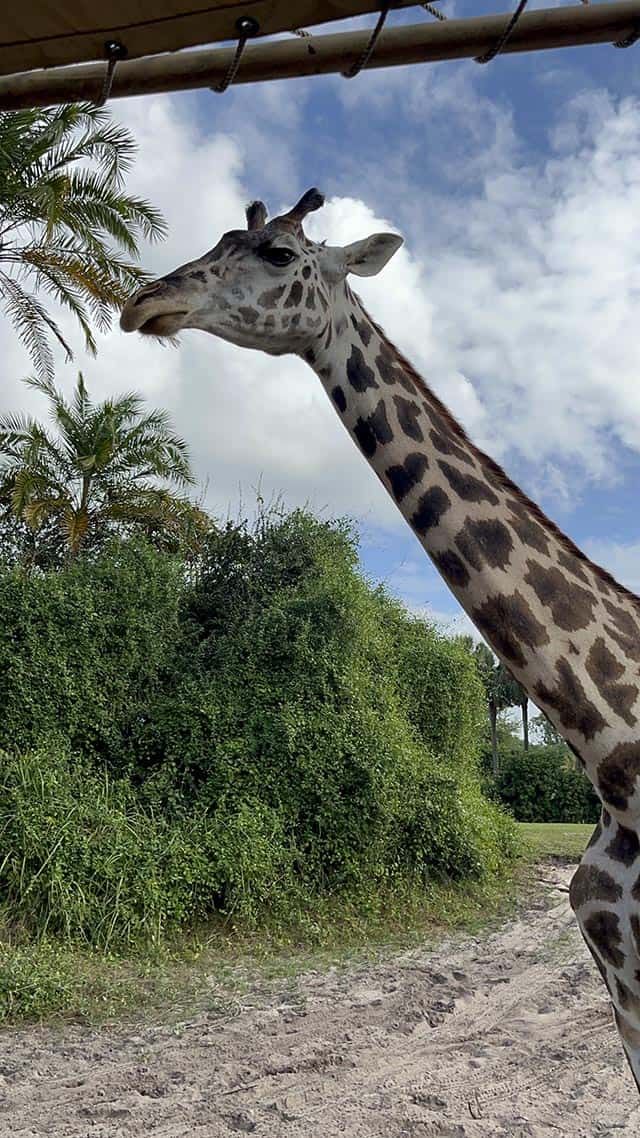 Disney's Animal Kingdom is a great park that often seems to be overlooked. After all, when you think about Walt Disney World, chances are you imagine standing in the middle of Main Street U.S.A. at the Magic Kingdom or maybe wandering around the World Showcase at EPCOT.
While Disney's Hollywood Studios has Toy Story Land and Galaxy's Edge, there is one thing that sets Animal Kingdom apart from any other park at Walt Disney World: live animals!
At this park, guests can find live animals, characters, attractions and great shows!
Animal Kingdom Shows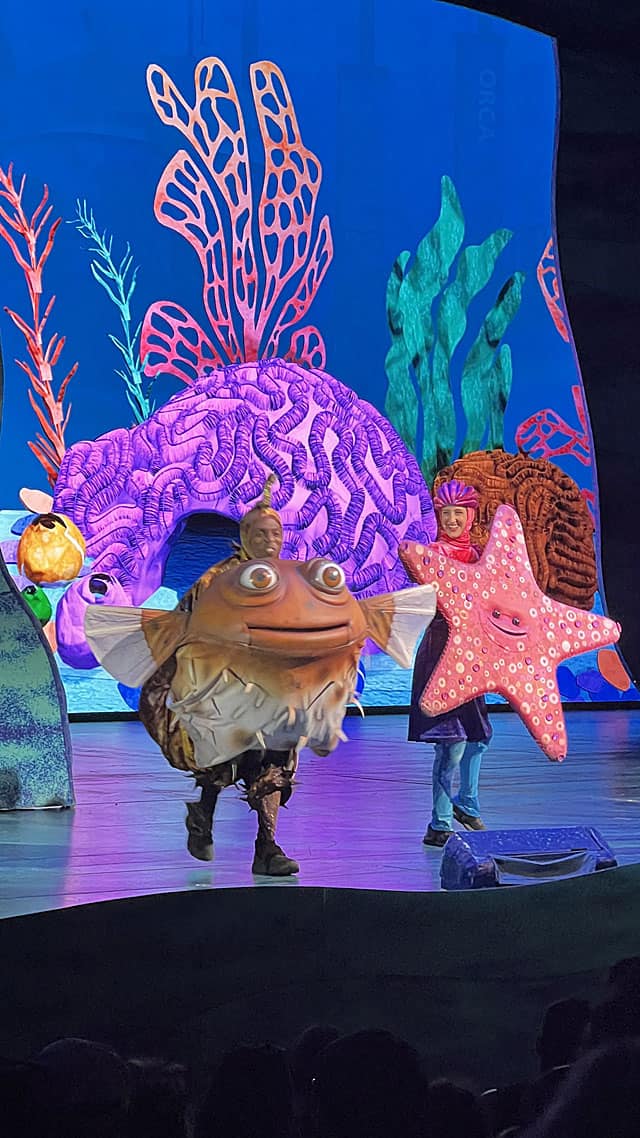 At Disney's Animal Kingdom, guests can find a wide variety of shows and entertainment great for all ages! Some shows feature live musical entertainment, like the Harambe Village Acrobats or Viva Gaia Band. This park just would not be the same without hearing the drums and singers make lively music throughout the park.
Other shows like Festival of the Lion King and Finding Nemo: the Big Blue and Beyond feature favorite characters from classic Disney movies like The Lion King, Finding Nemo and Finding Dory.
If you are looking for something truly unique that does not compare to any other show at Walt Disney World, make sure you stop and take the time to watch Winged Encounters or Feathered Friends in Flight!. Why? These shows both feature live animals!
Feathered Friends in Flight!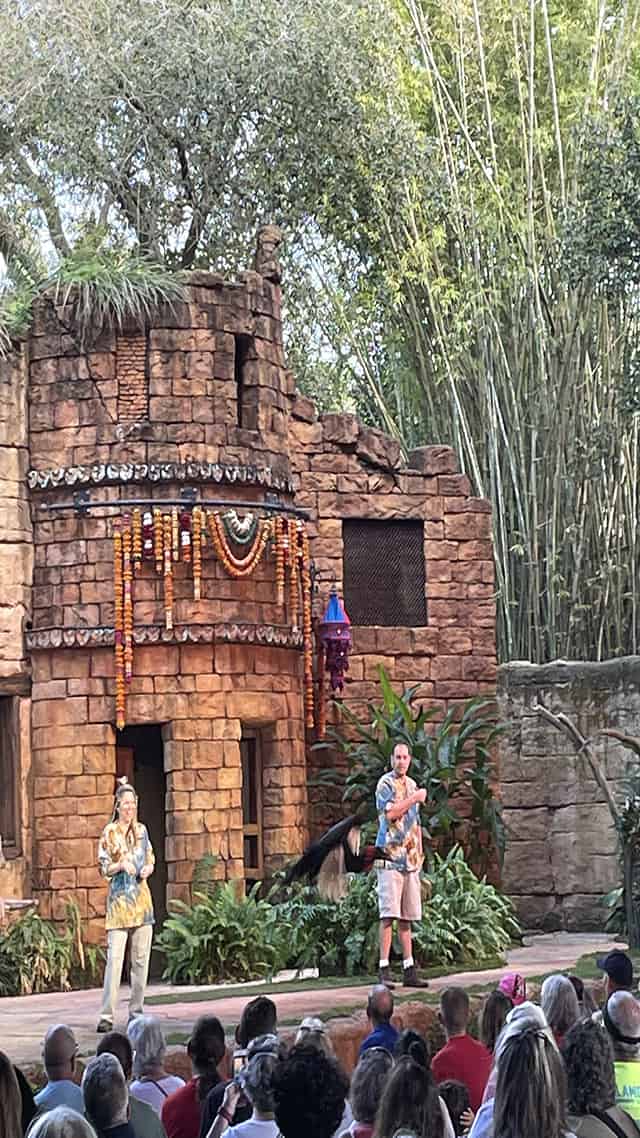 Guests might remember Up! A Great Bird Adventure. This show featured characters from the movie and guests could see Wilderness Explorer Russell and his furry friend, Dug. It was a 25 minute show and Russell learned about various bird species around the world. The show debuted in April 2018.
After the pandemic, the show returned. However, it reopened with some major modifications. Characters were removed from the entire show. The show reopened as Feathered Friends in Flight! and features birds and Cast Member trainers.
The Show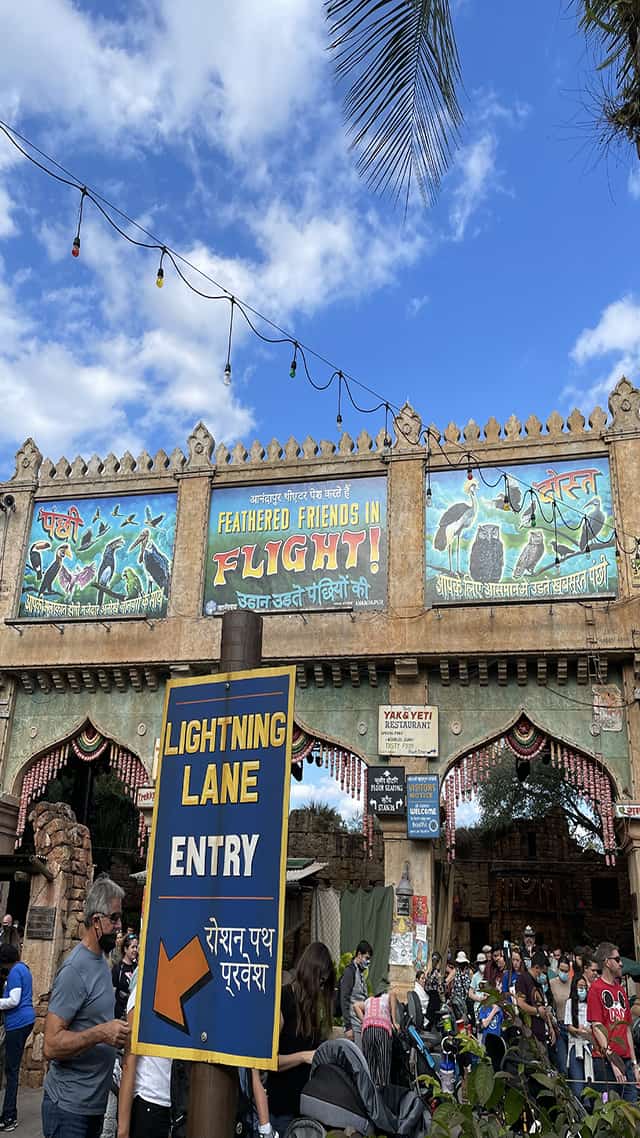 Guests can find Feathered Friends in Flight! located in Asia. While Lightning Lane is offered for the show, it is absolutely not necessary! There is plenty of available seating in the theater.
During the show, you will encounter plenty of winged animals, and you might even see one fly right by or over you OR right to you! Cast Members make the show fun and interactive by teaching audience members all about what the birds enjoy eating, how they are trained and getting them to do some tricks!
Watch Feathered Friends in Flight! if you are looking for some live animal entertainment and want to learn!
Magic of Disney's Animal Kingdom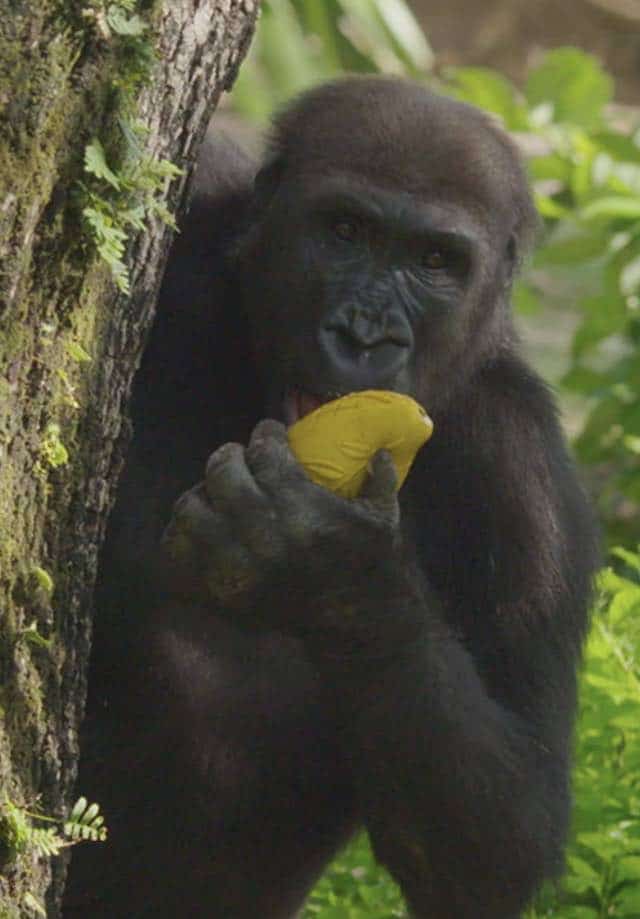 If you have enjoyed watching episodes of the Magic of Disney's Animal Kingdom on Disney+ and National Geographic, you might recognize a few birds from the show. A couple of the birds from Feathered Friends in Flight! were featured in an episode. If you have watched it, you will see exactly how the Cast Member trainers taught birds their tricks that are done in the actual show.
After seeing the show prior to watching Magic of Disney's Animal Kingdom, it was kind of neat to see just how the birds learned their tricks that are so entertaining to guests during the show.
More Reasons to Watch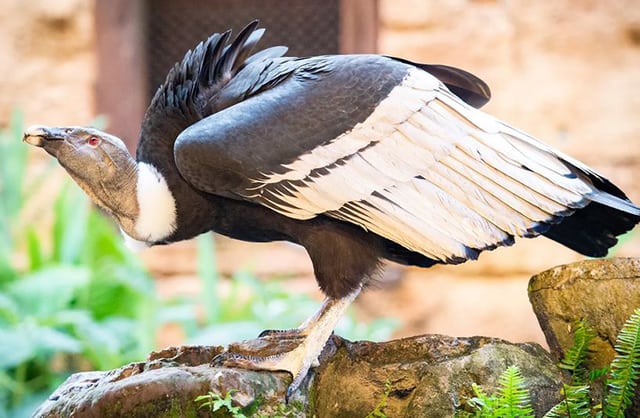 This show is a short entertaining show that is entertaining for both children and adults. It has just enough entertainment to keep the attention of small children and the Cast Members do a great job interacting with members of the audience.
Even though characters were removed from the show, I (Maggie) do not feel that anything has been completely taken away from the overall experience. After all, the show was and has always been about learning about different bird species and this show does just that.
Showtimes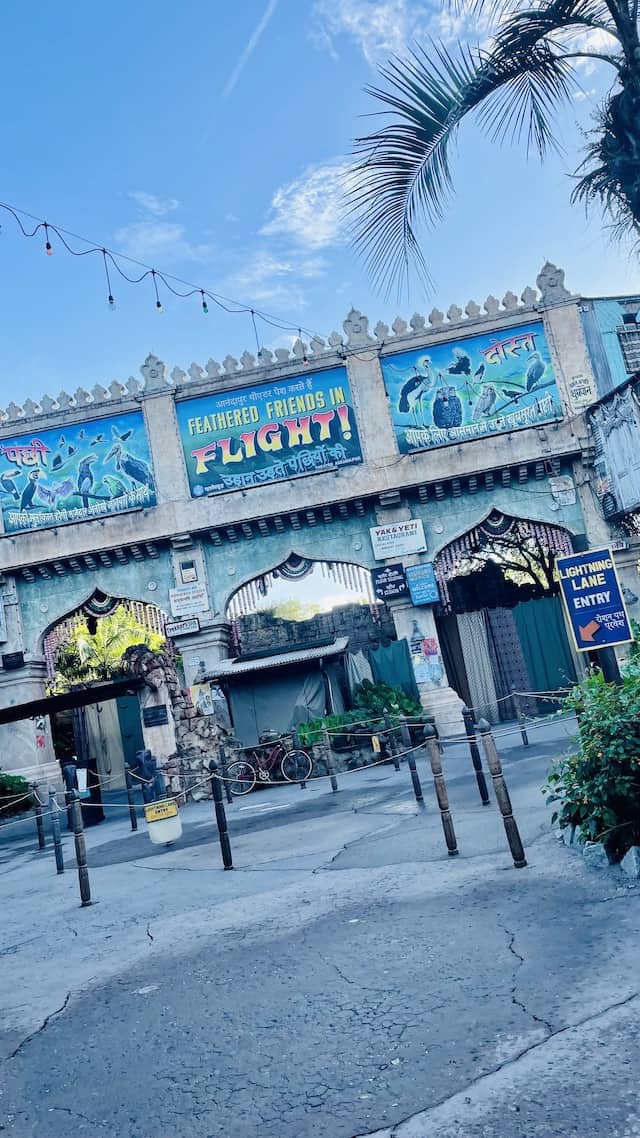 This show takes place during the morning and the afternoon. Guests can see Feathered Friends in Flight! during the following times:
Morning: 10:30 am, 11:30 am
Afternoon: 1:30 pm, 2:30 pm and 3:30 pm
The theater is outside, so sometimes it may close for inclement weather. Since it is outside, keep in mind there is no air conditioning. If you are visiting during the really hot summer months, go in the morning or late afternoon. Kenny recommends getting there 10 minutes early.
Is it for everyone?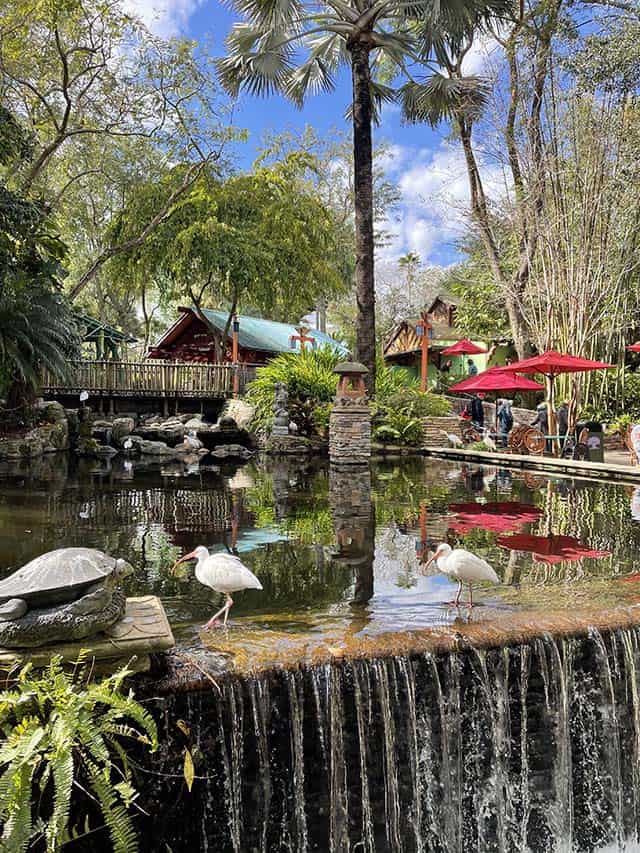 While many might find the show entertaining to watch, it might not be for everyone. Sometimes, people just do not like birds and sometimes they might find them to be rather aggressive. For example, if you have gone to Flame Tree Barbecue, you might have encountered some of the birds around you while trying to enjoy your lunch.
Sometimes, they get really aggressive and many guests just might not like that at all. If you are one of these guests, I would not see it. While the birds of the show are much less aggressive than the ones that are hoping to steal your lunch, they will still fly over the audience. Some may even fly directly to you.
Winged Encounters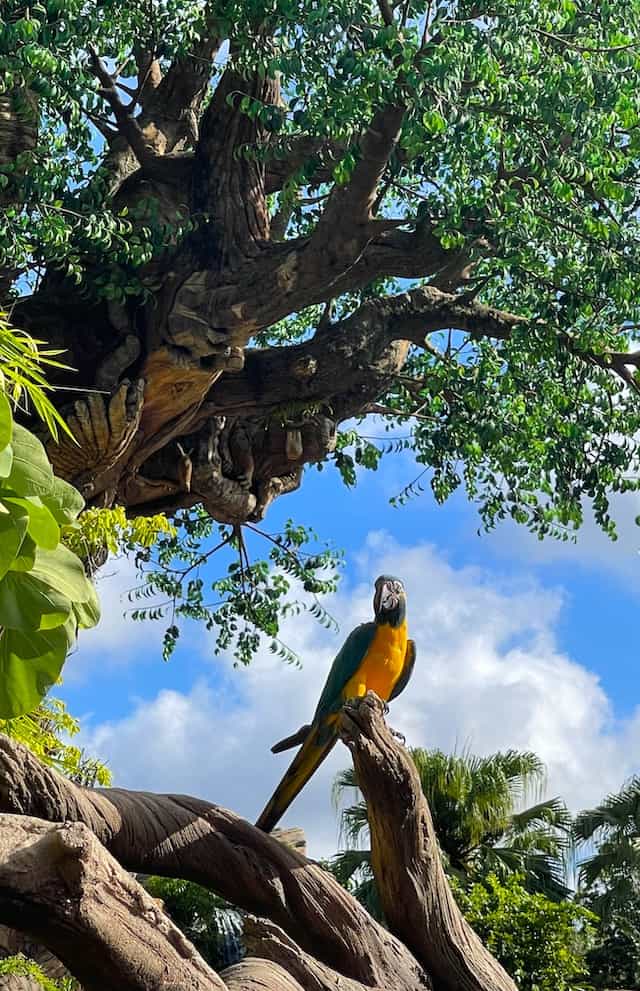 If you enjoy this show, then definitely be sure to watch Winged Encounters. This show takes place at the Tree of Life throughout the day, and you will see a flock of macaws fly above the park around Discovery Island. These two shows are one of the top shows I really enjoy seeing at Disney's Animal Kingdom!
Have you seen Feathered Friends in Flight! at Disney's Animal Kingdom? Is this one of your shows that you absolutely must see? Do you enjoy seeing shows with live animals in them? Tell us about it in the comments below or share this post with a friend who might want to see it!