My search for a replacement for ESPN Club continues. This Disney springs location checks almost all the boxes.
Searching For A Replacement For ESPN Club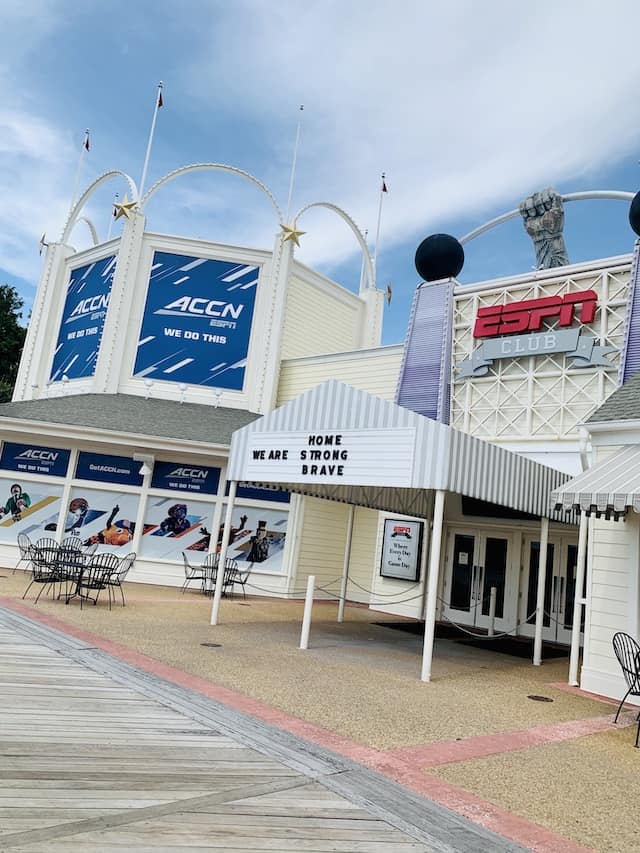 When Disney announced that the ESPN Club was not reopening after the shut down, me (Heather) and my family were greatly disappointed. This was our go-to location that checked all my family's boxes. Good food, kid friendly atmosphere, kid friendly food options that my kids would actually eat, and a cool spot to catch all the sports action. 
I ventured out and tried to find a new place for us. Unfortunately, I was unsuccessful with my first attempt. You can read my review from Rix Sport Bar and Grill HERE. The food was decent, but it just wasn't what we were looking for.
Alas, my search continues. 
Disney Springs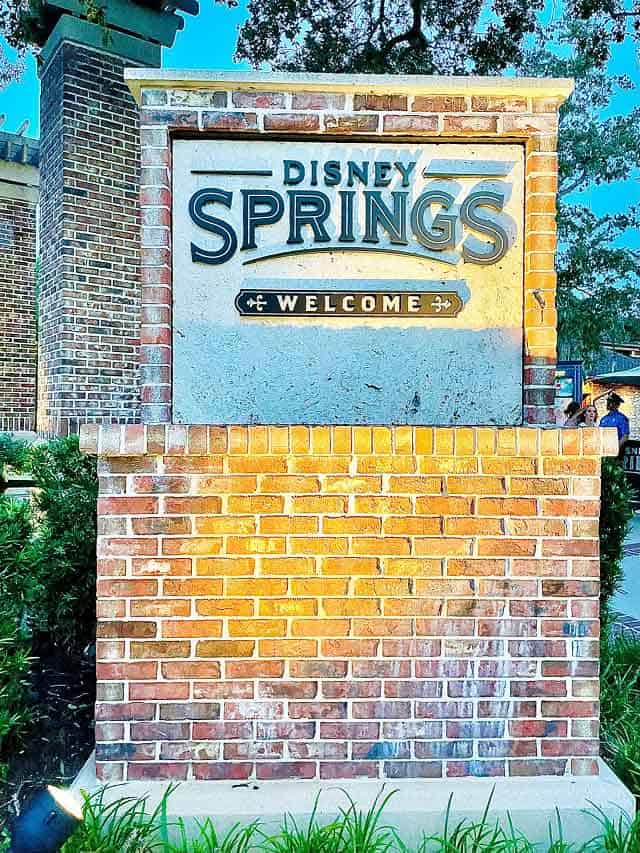 Disney Springs is a fun place to dine, shop and play! Here you can find almost anything! You will find some of the best restaurants and shops. There are 103 places to shop, 66 places to eat, and 25 places to play (attractions, shows and events).
Disney Springs is free to visit and that includes parking! Disney World Resort Hotels also offers complimentary transportation. I love to go to Disney Springs for a little shopping and food. They have the best food.
City Works Eatery & Pour House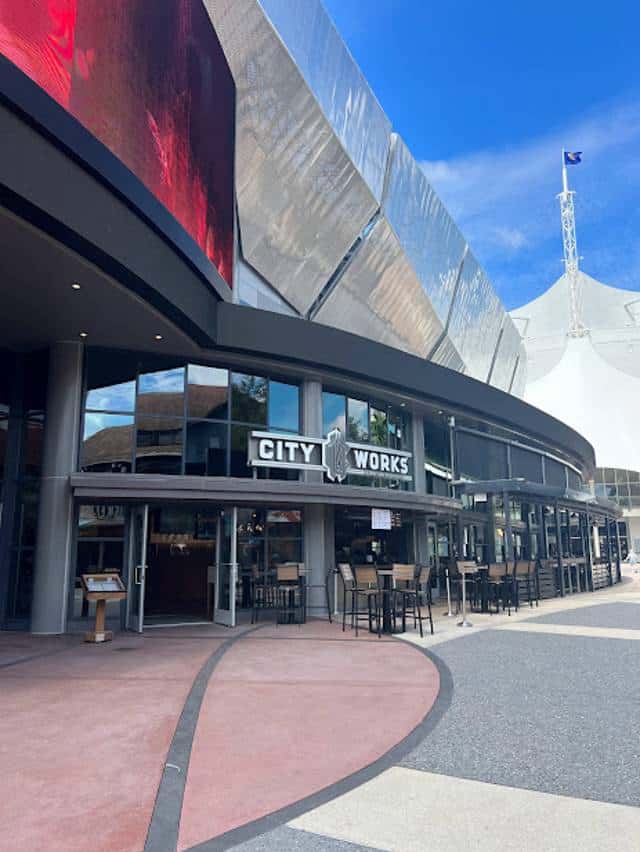 City Works Eatery & Pour House is located on the West Side of Disney Springs. You will find it near the House of Blues and Cirque du Soleil. On Disney's website, City Works is described as:
"Welcome to your new lunch-and-dinner hotspot! Head over to the West Side for brilliant gourmet cuisine with a chef-driven twist, over 90 local and global craft brew varieties (on tap!) and a premium sports-viewing experience that's hard to beat.
Family and friends can enjoy a lively meal indoors amidst the restaurant's sprawling, high-energy atmosphere—designed with massive, state-of-the-art HDTVs at every angle—or dine al fresco on the spacious outdoor patio. Either way, it's a win for all!"
The Restaurant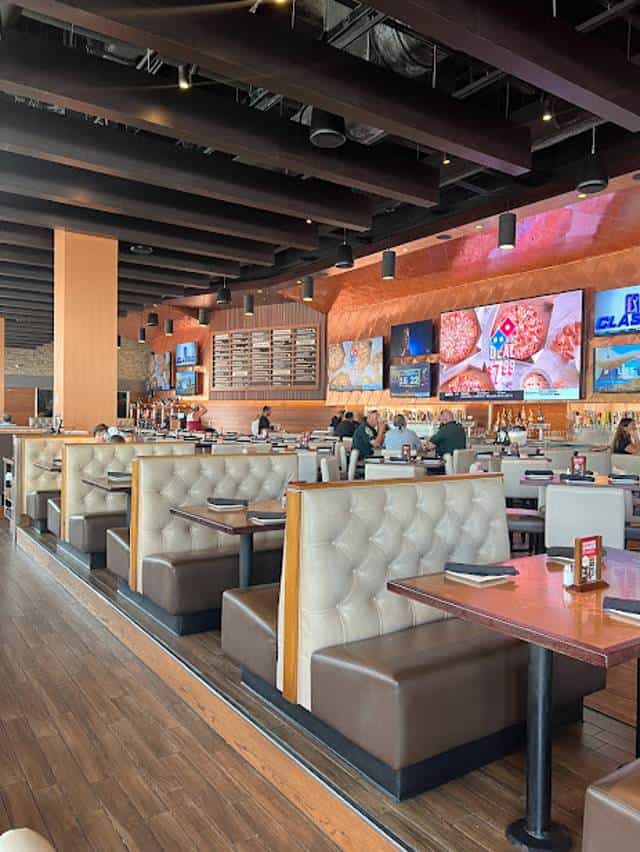 When you walk in you can see the many beers on tap. Personally, I am not a beer drinker, but I know this is a big thing for some. If you are a beer drinker, I am sure you would find something you will like.
City Works at Disney Springs boasts having 17 extra large HDTV's with state of the art audio, including a huge video wall. They also have an outdoor patio (pet friendly!) and an 8,600 sq foot dining space inside.
The many televisions are above the bar so you are sure to be able to catch a game. Be aware of where you sit, as my back was facing all the televisions. I did have a nice view looking at to Disney Springs as they do have many windows. This offers a brightness to this restaurant which I love.
Pirate Tip: Reservations are strongly recommended even though we didn't need one. If you haven't made one, you can always try on the My Disney Experience App on your way to Disney Springs to guarantee a quicker seating versus joining the walk up waitlist.
We went during lunch and it wasn't crowded. We did make a reservation through the My Disney Experience App (they strongly recommend them), however there were not many other guests dining at the time. We could have just walked up and been seated. I would plan on a reservation just in case!
What We Ordered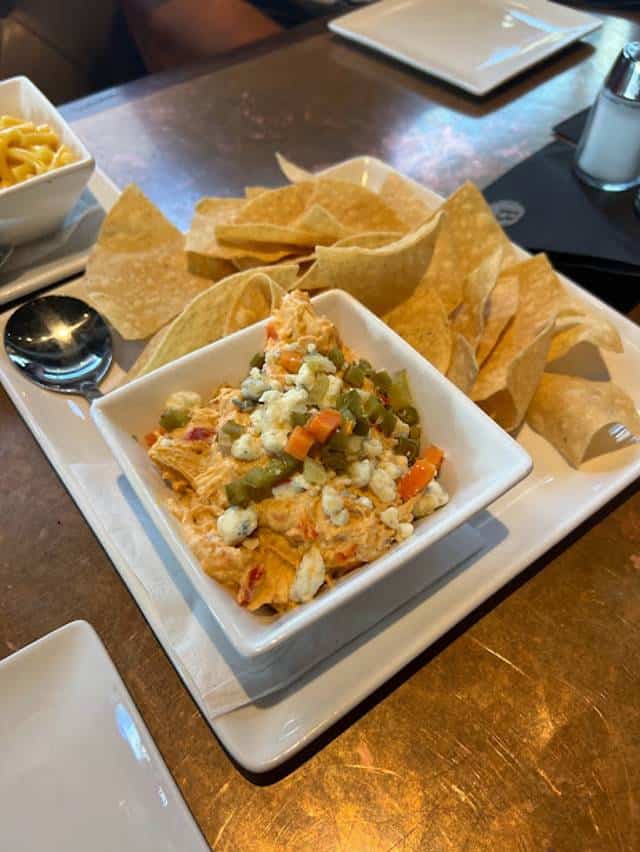 The first thing we ordered was an appetizer. When you go to a sports bar, you have to order an appetizer! Give me something ooey, gooey and with a crunch! I love nachos but wasn't adventurous enough to try the duck nachos.
We ordered the Buffalo Chicken Dip to start our meal. This is a pulled buffalo chicken with bleu cheese cream, housemade giardiniera served along side corn tortilla chips. This was the perfect amount for two people to share. The buffalo chicken packed enough heat that you weren't wondering if it was spicy, but also was mild enough for people who don't like lots of spice.
It was served with a spoon, so you could scoop the dip onto the chip. This dip was thick and if you tried to scoop up the dip with the chip, you were left with a broken chip and no dip. These chips were sturdy enough to hold the dip, just not for dipping. I did prefer the thickness of the dip as it was everything I look for in a buffalo chicken dip – shredded buffalo chicken and several cheeses but a thicker consistency than a queso.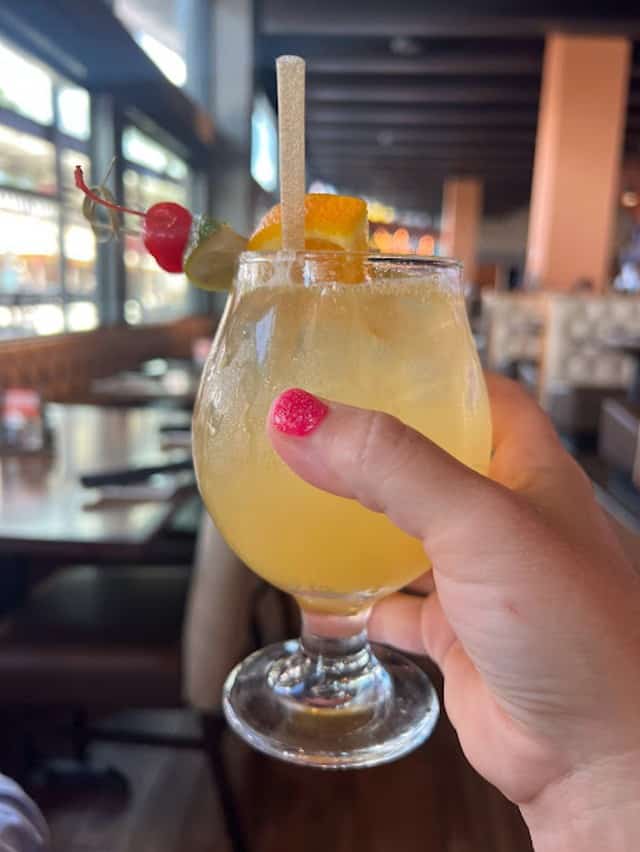 Although I am not a beer drinker, I wanted to try one of their cocktails. When visiting any restaurant, I like to try a signature drink or something they showcase versus a classic cocktail.
I opted for the Peach Cooler. This is made with Makers Mark, peach schnapps, lemon juice, orange juice, simple syrup and a lemon-lime soda. This drink was sweet, smooth and refreshing. I would definitely order this again!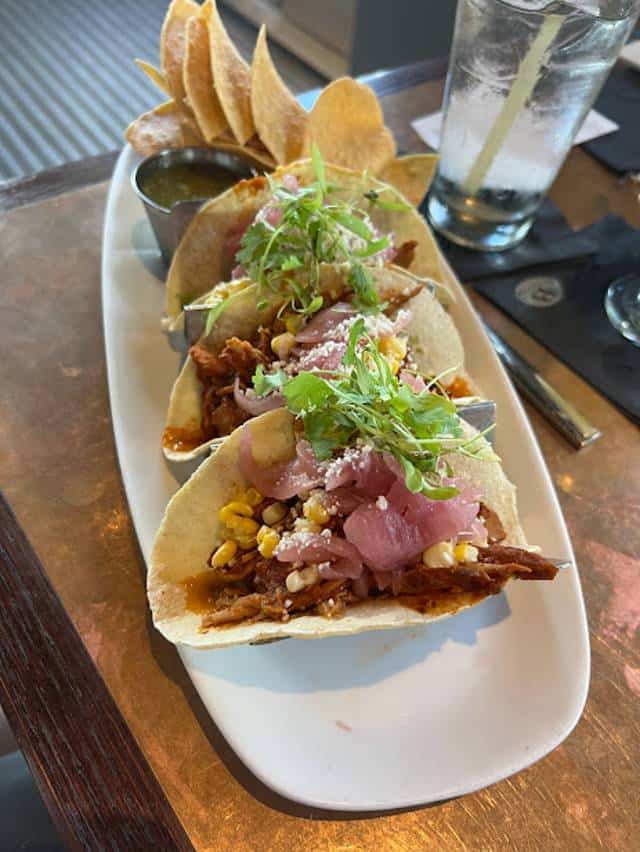 For my main entree I chose the Chicken Tinga Tacos. Theses tacos feature house-smoked spicy pulled chicken, avocado mash, pickled red onion, grilled corn, micro cilantro, queso fresco, and corn tortillas. The tacos were served along tortilla chips and a fresh salsa.
The tacos were spicy! I like spice and they packed a lot of punch! The contrast of flavors with the spicy pulled chicken and the pickled onions made for a delicious bite. I would have preferred a sour cream as well (I'm sure I could have asked for some) to tone down the heat just a bit, but I still enjoyed them.
I almost didn't order these because they were served in a corn tortilla. I prefer a flour tortilla as the soft texture and taste makes the perfect taco. I find corn tortillas to be gritty and bland. Luckily for future guests, these tacos are now served in a flour tortilla!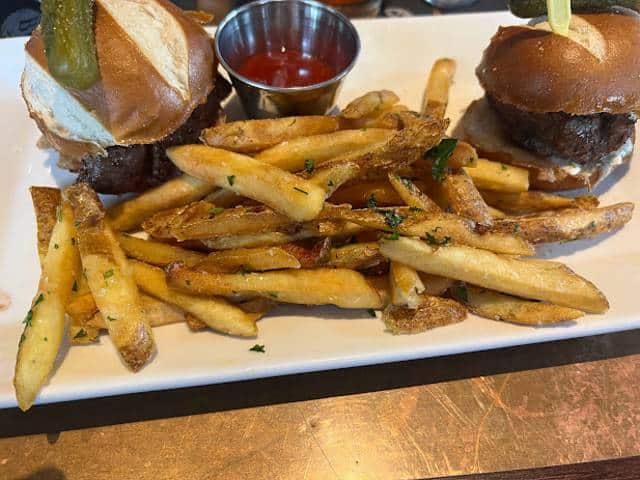 My (Heather) husband ordered the Filet Mignon Sliders. This is two grilled filet medallions, caramelized onions, horseradish cream served on a pretzel bun served along side fries.
The sliders were the perfect thickness, and the meat to bun ratio was spot on! The filet was tender and cooked exactly to order! The fries…amazing! These fries were delicious with the perfect crispness and crunch and just the right amount of salt.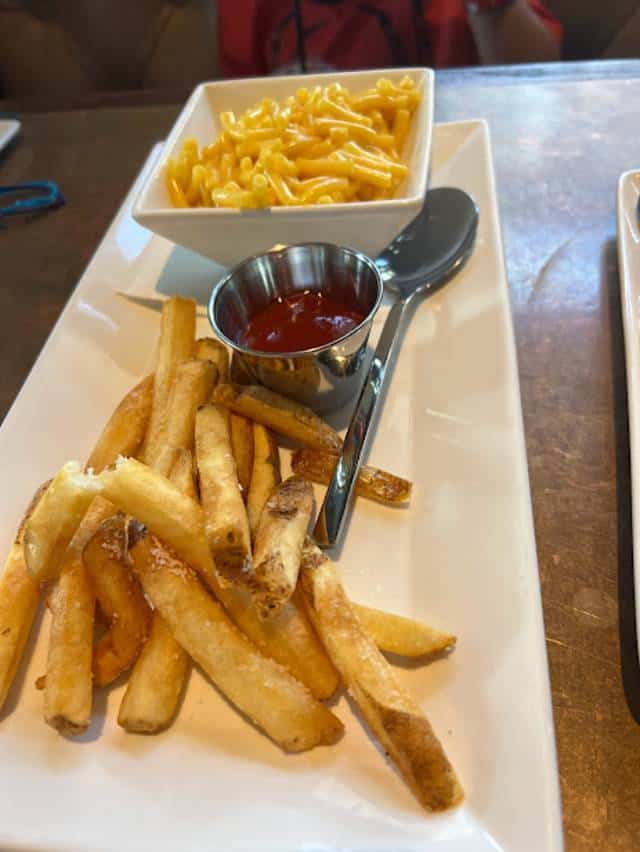 My son decided on the Kraft Macaroni and Cheese. This is a kids classic that we all just love. Does it not bring back childhood memories when you take a bite? This was served along those perfectly delicious fries!
There were many kid friendly items on the menu including chicken tenders, burgers and pizza. Your little one will be sure to find something they will enjoy.
Updates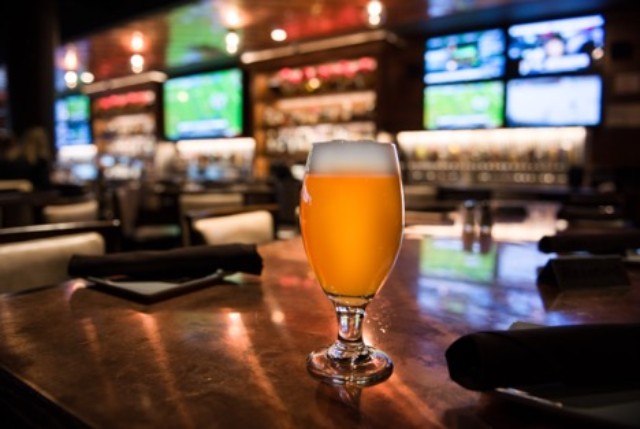 The menu has since been updated since our visit which is good and bad. Good because this means they are bringing in fresh seasonal ingredients for the best experience! However, those sliders are no longer on the menu and they were delicious! I hope they return soon!
The change from the flour to the corn tortilla on the tacos is a great one! They have made this change with all of their menu items that previously had corn tortillas, so I must not be alone in preferring the flour ones.
Final Thoughts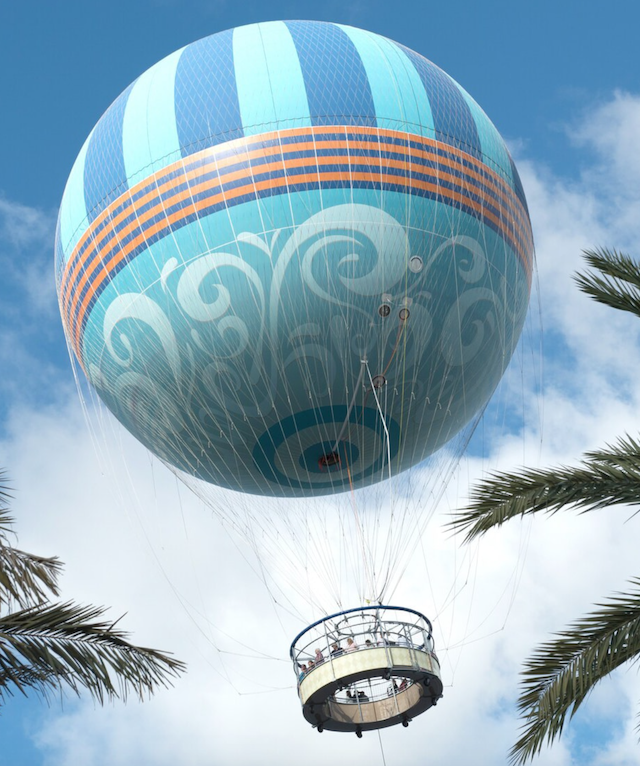 This restaurant was good and checked most of our boxes for finding our new favorite Disney sports bar. The food was great, kid friendly, and a good kids menu. The food was more upscale pub food with a twist which was a nice change. However, sometimes you are in the mood for just a regular old burger without all the flare.
Maybe I won't find a place to 100% fill the void I'm left with from the ESPN club closure. I highly recommend City Works if you are looking for a fun place with delicious food to catch the game. We will be sure to visit again.
Have you dined at City Works before? What did you think of it? Have you found a restaurant that replaces ESPN Club for you? Let me know in the comments below and be sure to share this post with a friend. Be sure to check out some of our other work in the posts below!