If you are a Pixar fan, you are not going to want to miss Pixar Day at Sea coming to the Disney Fantasy. Check out all of the fun new treats and details regarding a brand new character breakfast.
Pixar Day at Sea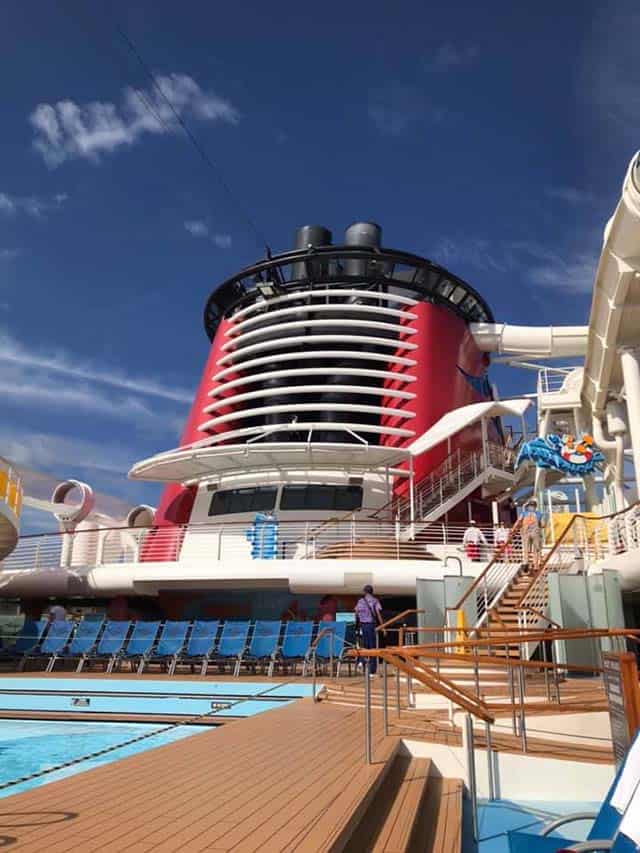 Beginning in January 2023, select seven-night sailings on the Disney Fantasy will include a day-long Pixar celebration. Have you ever wanted to dine, play, dance, sing and swim with your favorite Pixar pals? Now's your chance! Not only will be there be our favorite Pixar characters there, but cruise guests also have the chance to purchase exclusive merchandise and photo opportunities.
Read about all of the fun details and activities regarding Pixar Day at Sea in Susan's post HERE.
Hey Howdy Breakfast with Woody and Friends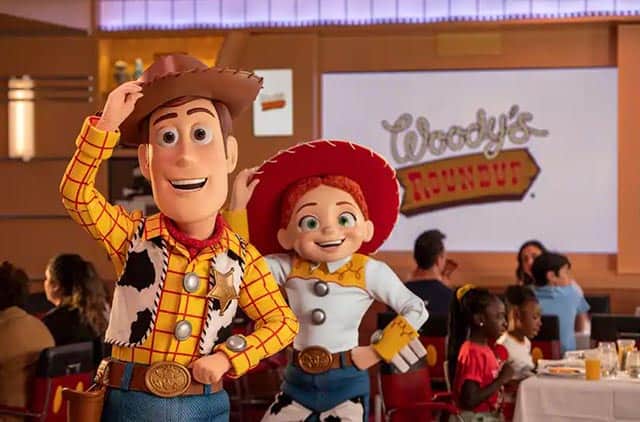 Themed to Woody's Roundup in "Toy Story 2," the "Hey Howdy Breakfast with Woody and Friends" will feature a cowboy guitarist, musical show moments and appearances from Sheriff Woody, Jesse and Bullseye. 
Assorted muffins and pastries are just the beginning, as this new menu is filled with delights from top to bottom. Your family can opt for pancakes, French toast or classic Mickey waffles fresh off the griddle; try the Prospector's Breakfast Burrito (filled with potato puffs, sausage, scrambled eggs and cheddar cheese); or nosh on Bullseye's Mini Pancake Tower with bananas, raspberry jelly, peanut butter and whipped cream. Lighter options include smoked salmon with cream cheese, onions and capers; chilled grapefruit; and a yogurt parfait or plant-based berry oatmeal parfait.
Advance reservations are required. Guests can book up to 30 days in advance of their sailing, pending availability.
Three signature breakfast dishes are also part of the "Hey Howdy Breakfast with Woody and Friends" menu, including a buttermilk biscuit entree with sausage gravy; a plate featuring two fried eggs of your choice on hashbrown potatoes with chorizo; and a plant-based combo featuring scrambled eggs, sausage patties, pancake, hashbrown and grilled tomato.
Pixar Treats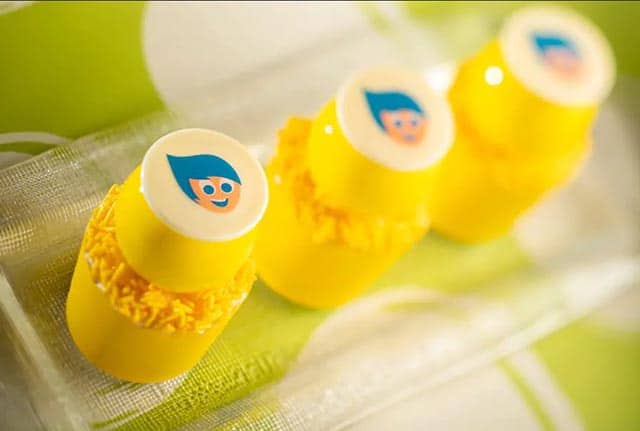 The Joyful Lemon Cupcake will spark happiness with its lemon sponge and vanilla crème frosting, or you can try the Toy Story Letter Blocks (chocolate blocks filled with mixed candy).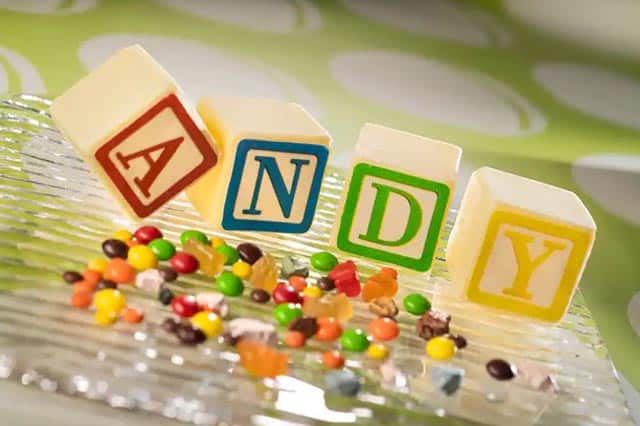 Another fun treat is the Sheriff Rice Krispy Treats Badge shown below. I love the chocolate Woody hat!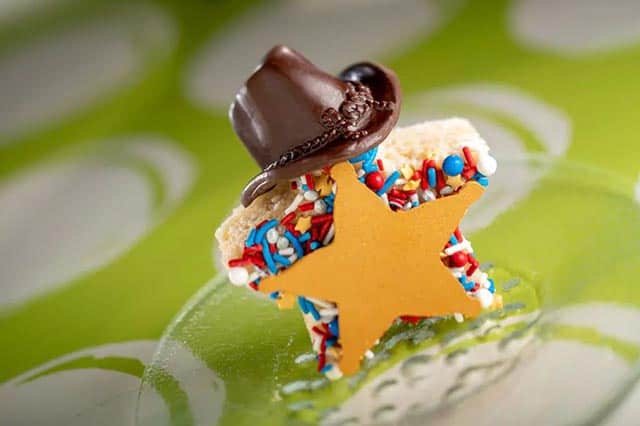 Themed desserts will also be available in grab-and-go locations aboard the Disney Fantasy, including Cabanas, Cove Café and the concierge lounge.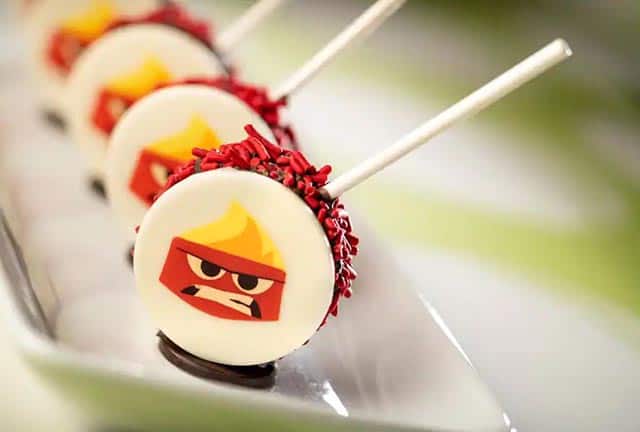 If you are looking for something "incredible" to eat, check out these Incredible-themed cupcakes.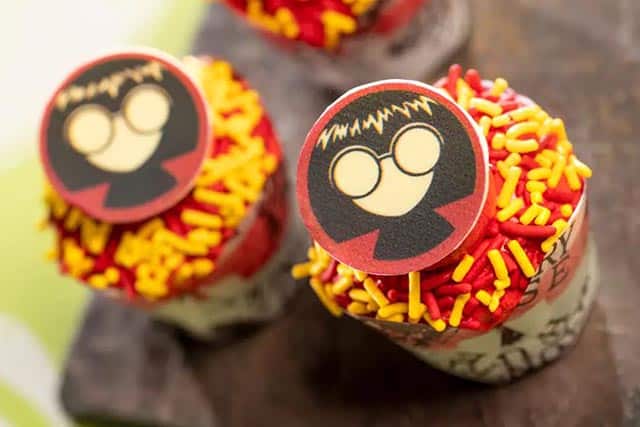 New Dinner Menu
In the evening, a new dinner menu with dishes inspired by the home of Pixar Animation Studios will be served at all rotational dining venues. 
Highlights from the appetizer selection include a smoked salmon and smoked trout rillette or baked shrimp mac and cheese. A salad featuring fresh ingredients such as goat cheese, roasted yellow and red beets, pistachios and honey dressing beckons to studio's roots in Emeryville, California. An array of main entrees will surely satisfy taste buds after a day of Pixar-filled fun, including a seared grouper, Makhani butter chicken, beef tenderloin and cobb salad, while vegetarian options include a "Poke" bowl and vegetable tagine.
The signature dessert is a Playful Pixar Ball with baked vanilla cheesecake, blueberry filling and lemon almond cake, while other offerings include strawberry churros, a chocolate pot de crème, pink grapefruit almond cake, poached bosc pear almond tart and a chocolate fudge sundae.
Are you excited about Pixar Day at Sea or are you going to miss Star Wars Day at Sea? Do you have a cruise planned on the Disney Fantasy soon? Tell us about it in the comments below or on our Facebook page.