There used to be many perks to staying on Disney property. Many of those disappeared. Can someone who loves staying on Disney property love staying off Disney property too?
Previous On-Site Perks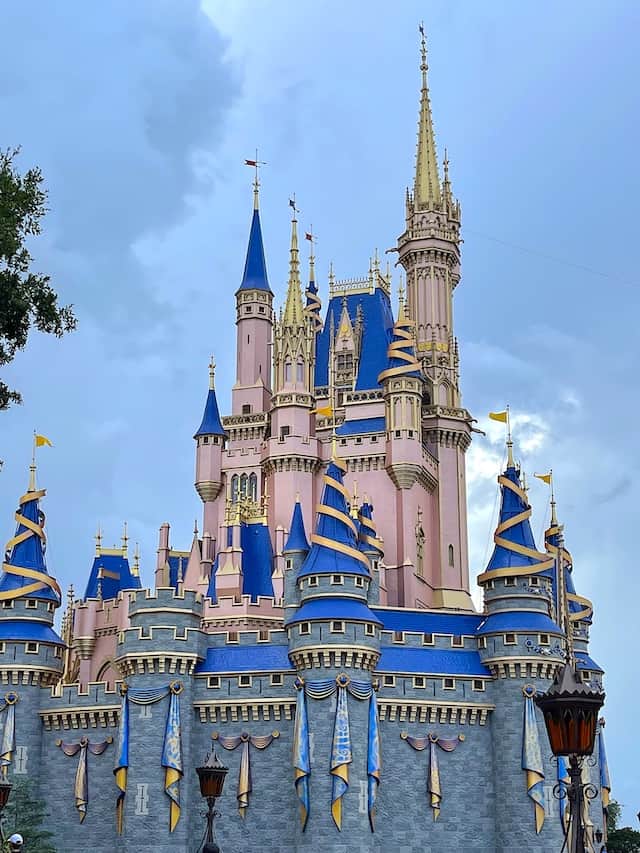 Disney used to offer MANY perks to their guests that were staying at Walt Disney World Hotels. This alone made people want to spend the extra money to stay on property. What did you get? A lot!
Guests staying on Disney property got complimentary bus rides to and from Orlando International Airport! This was HUGE! Another big perk was the luggage service. Use the special tags and your luggage would magical be delivered to your room. When returning home you could check-in for your flight and check your luggage at your Disney Hotel! This made it a breeze when departing from MCO (Orlando International).
Guests staying on property could also book their Fast Passes (sigh, dear Disney please bring the free fast passes back) at 60 days from their reservation. Dining could be booked at 180 days and length of stay.
But there's more! Guests staying at Disney hotels would get extra magic hours! One park would be open early or stay open late for ANY Disney Resort Guest.
Perks Removed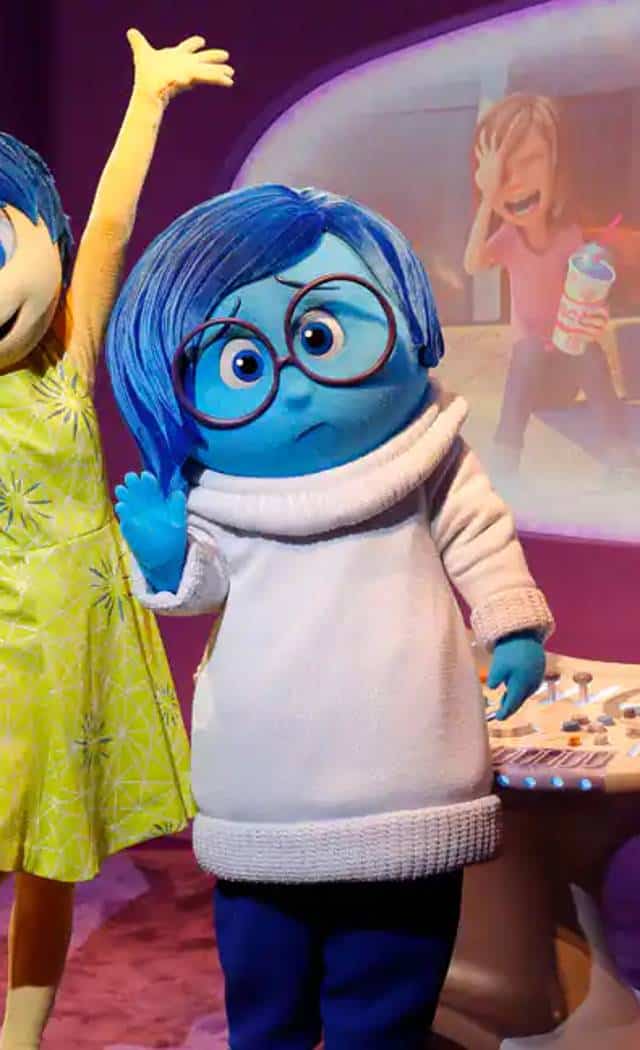 Disney changed many of the perks we have come to love when being an on-site guests. FastPasses were one of the first things to go.
Dining reservations changed to sixty days out. This might not be a horrible change because who knows what they are doing or want to eat 180 days from now? Magical Express, luggage service, and airline check-in also discontinued. These little convenient touches made a Disney vacation worth the extra money to stay onsite.
Now that a lot of my favorite perks are gone, I (Heather) decided to venture off property for one of my most recent stays. Could a person who loves being in the Disney Bubble love staying off property too?
Hotel Options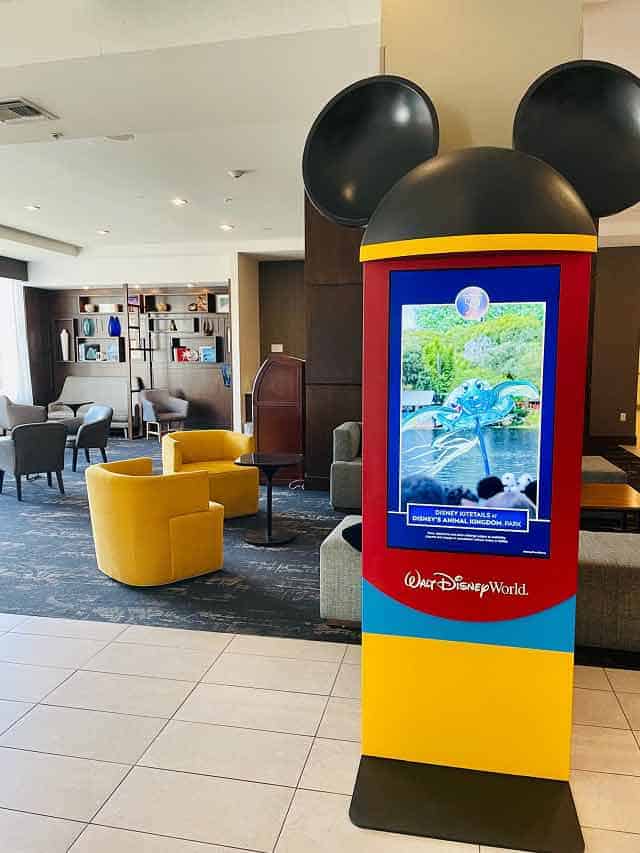 There are so many hotels outside the Disney gates that are minutes away. I truly mean minutes! They are close and have so much to offer! I recently stayed at the HomeWood Suites at Flamingo Crossing. Fellow writer, Kate, stayed at a Hyatt. Read her review HERE.
These hotels have beautiful and spacious rooms, pools (many with water slides), gyms, and free breakfast! I don't know about you guys, but free breakfast is a big deal!
No Transportation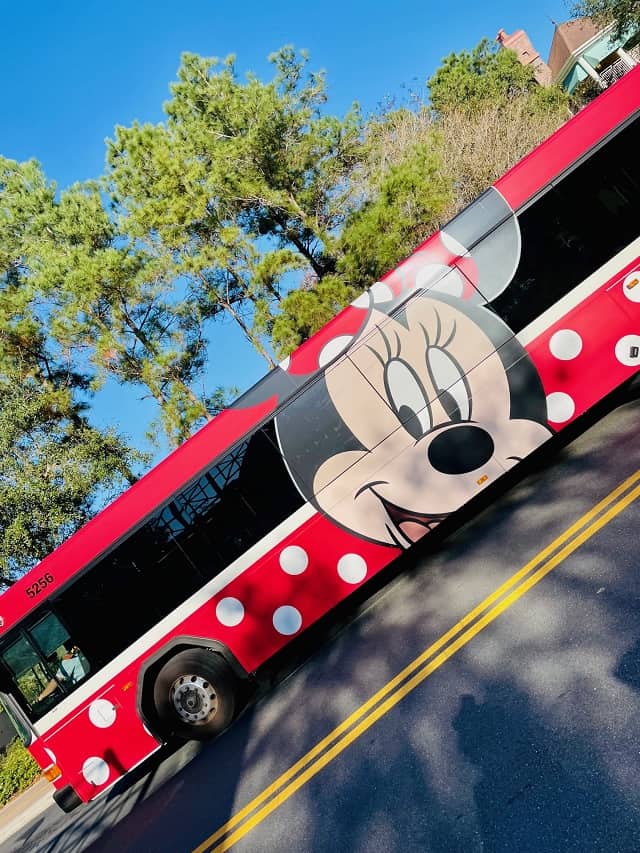 Depending on where you are staying, you may be able to get a shuttle to your hotel. We had a car, which gave us all the flexibility. There was no shuttle to and from the parks, but with our own car we could come and go as we pleased. We NEVER had to wait for Disney transportation to get where we wanted to go.
What I thought might be a deal breaker turned out to be one of my favorite things. I don't think I will ever go to Disney without a car, and I was someone who loved being in the Disney Bubble at the mercy of Disney transportation.
Pools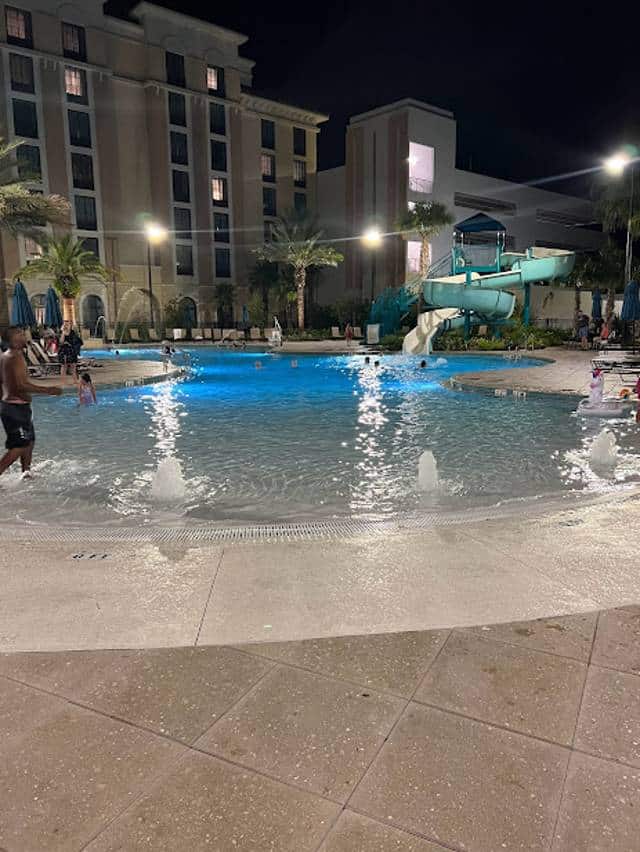 These resorts have amazing pools. Many have water slides and even lazy rivers! These are no different than feature pools at some of my favorite Deluxe hotels, and may even be better. I know my family enjoyed our pool just the same!
No there was not a splash pad or a water play area, but my family is perfectly content with most pools. For a pool to win in our book is for it to be big enough that people aren't on top of each other.
Mickey Waffles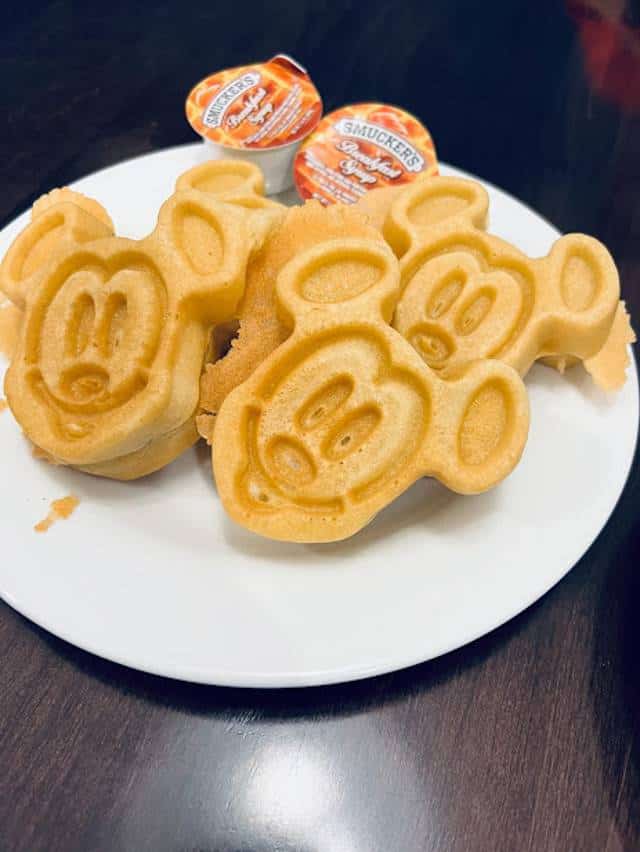 No Disney trip is complete without Mickey Waffles. But what makes a trip even better, is they are FREE Mickey waffles.
Some of the nearby hotels have free breakfast! This isn't just a continental breakfast either. There are eggs, biscuits and gravy, waffles, fruits, yogurts, cereals, and breakfast pastries. You will NEVER find a FREE breakfast at Disney!
Room Size and Price
Our room was big! We stayed in a King Studio. This room sleeps four. We had a KING size bed and a pull out couch. This was more than enough room for our family of four.
But that wasn't all this room had to offer. It had a kitchen too! This room had a full size fridge with freezer, cook top, kitchen sink, toaster, coffee maker, and a DISHWASHER! This room also had a table and chairs for either eating or to be used as a work space.
So you must be thinking what I was, this can't be cheaper than a value resort. Well believe it or not it was! We traveled in August and we got this room for $150 plus tax! What?!?!
How is that even possible? But, it is! We booked a non-refundable room and also booked a couple of weeks ahead of time. We did not book months in advance.
Many off site rooms are bigger and cheaper!
Final Thoughts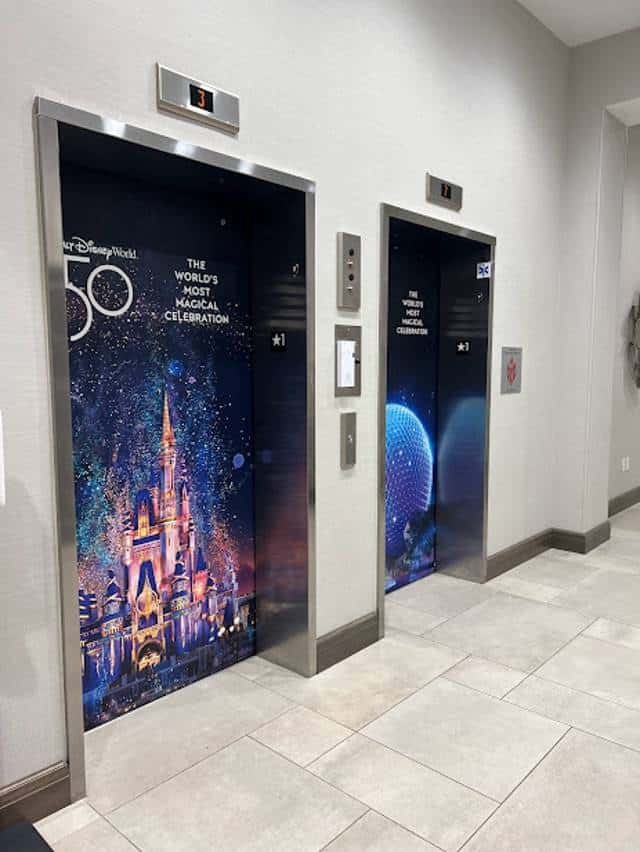 With many of the once amazing onsite perks that Disney used to offer, the bonus of being in the Disney Bubble doesn't have the sparkle it use to. The pixie dust is still there, but the benefit of paying the onsite premium is not.
I still love staying onsite, but if I want to squeeze in extra trip an offsite one will work! If you are trying to save money at Disney this a great option!
With onsite perks dwindling, it's easier to save the money and stay off property.
Many hotels are just minutes away from Disney's gates, so you are only a quick drive to the magic. The money saved can make it easier to splurge on things like table service dinners or even Genie+.
I'm not sure I would have been as eager or willing to stay offsite before all the perks being taken away, but now I will gladly save the money when able!
Do you prefer to stay off or on Disney property? Do you think you could love staying off property as much as I ended up loving it? Where will you stay on your next Disney trip? Let us know on the Kenny the Pirate Facebook page. Don't forget to join the KtP crew page too!