Have you considered selecting one of Disney's good neighbor hotels for your Walt Disney World Vacation? Here is a review of Hyatt Place Orlando/Lake Buena Vista to help you make your choice.
Offsite vs. Onsite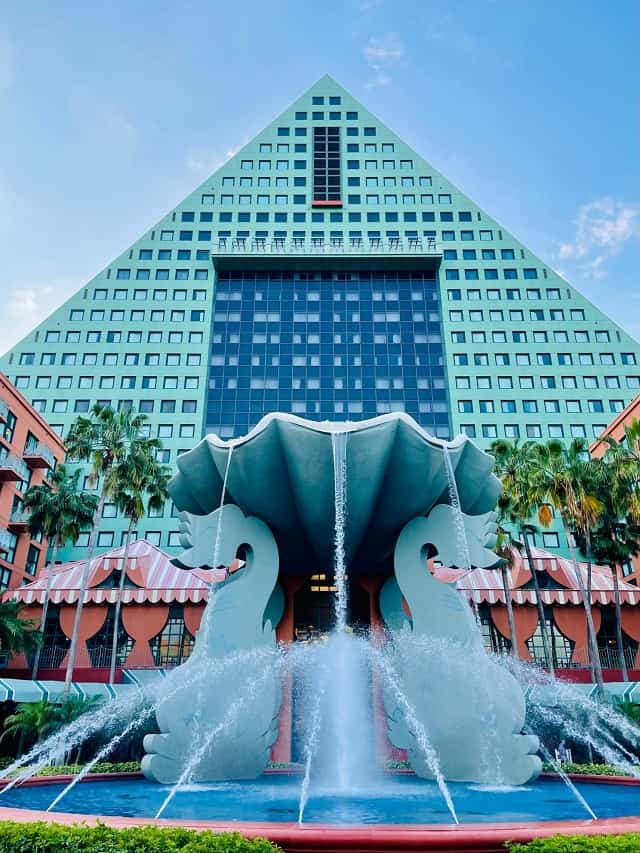 You have probably heard much about staying in the "Disney Bubble" at one of the Walt Disney World hotels in the Resort Collection. We have to admit, that bubble is nice.
However, there is something to be said for staying offsite too. Making the choice to search for accommodations off-property can mean larger rooms at a fraction of the price. You can read Jamie's article on all the benefits of an offsite stay right here.
Disney Good Neighbor Hotels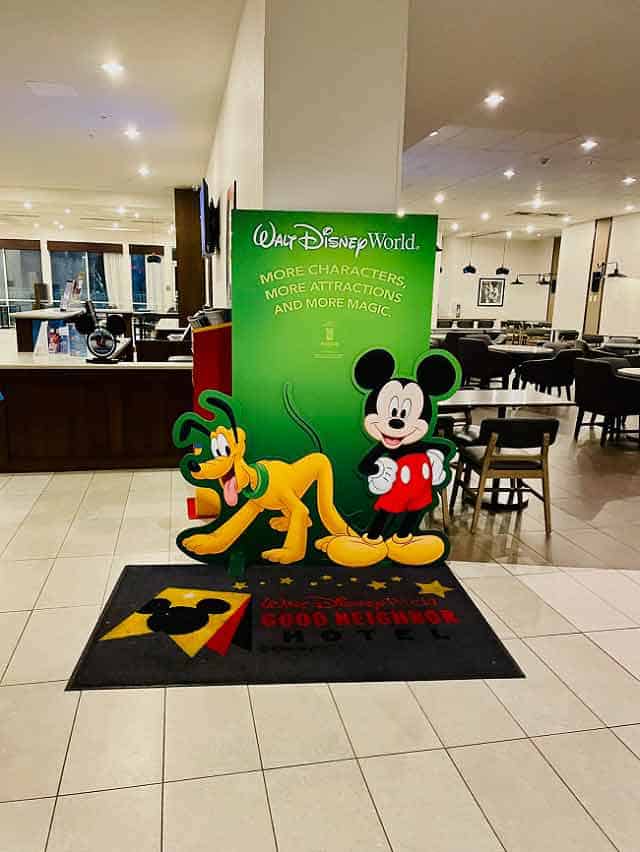 If you want a balance of offsite prices with onsite benefits, you might also consider one of Disney's Good Neighbor hotels. A Good Neighbor Disney hotel is approved by The Walt Disney Company. There are 44 on the Walt Disney World Website.
All good neighbor hotels offer transportation to the Disney Parks, but some do charge a small fee. Additionally, all good neighbor hotels allow the purchase of Disney Theme Park Tickets. Lastly, they offer information about Disney Parks. Currently, there are several perks associated with Good Neighbor Hotels. For example, Guests staying at select Good Neighbor Hotels can enjoy early entry to the theme parks each day.
Hyatt Place Orlando/Lake Buena Vista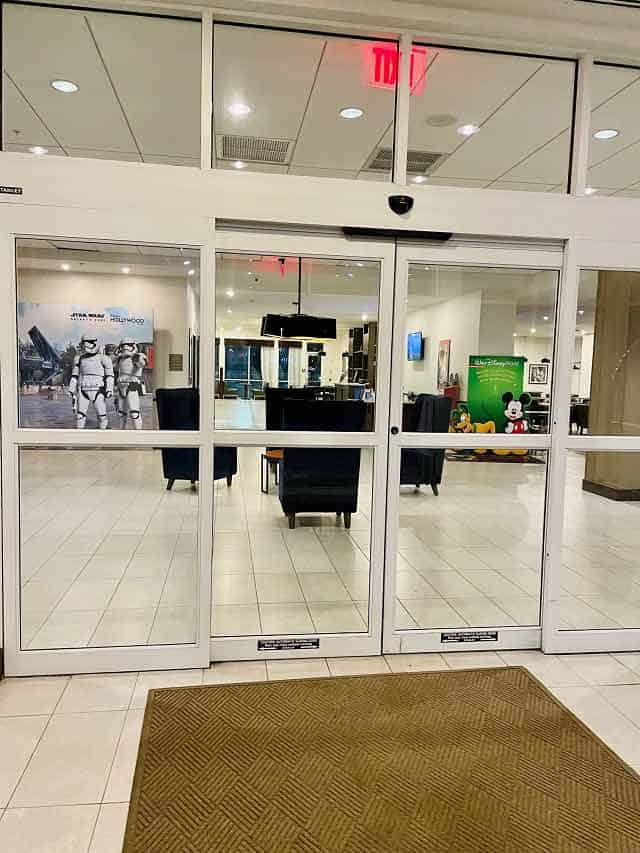 The Hyatt Place Orlando/Lake Buena Vista is a Disney Good Neighbor Hotel. It is located very close to Disney Springs and near a number of other Good Neighbor Hotels.
My family and I (Katie) decided to drive into Orlando the night before our stay at our Disney Resort Hotel. In this case, that hotel was Disney's Animal Kingdom Lodge. When we do this, we like to find an inexpensive hotel that we can enjoy for the night. The Hyatt Place Orlando/Lake Buena Vista fit the bill for us in this case. For this particular trip, it cost less per night than any of the All Stars resorts for a larger room with many benefits.
Benefits and Amenities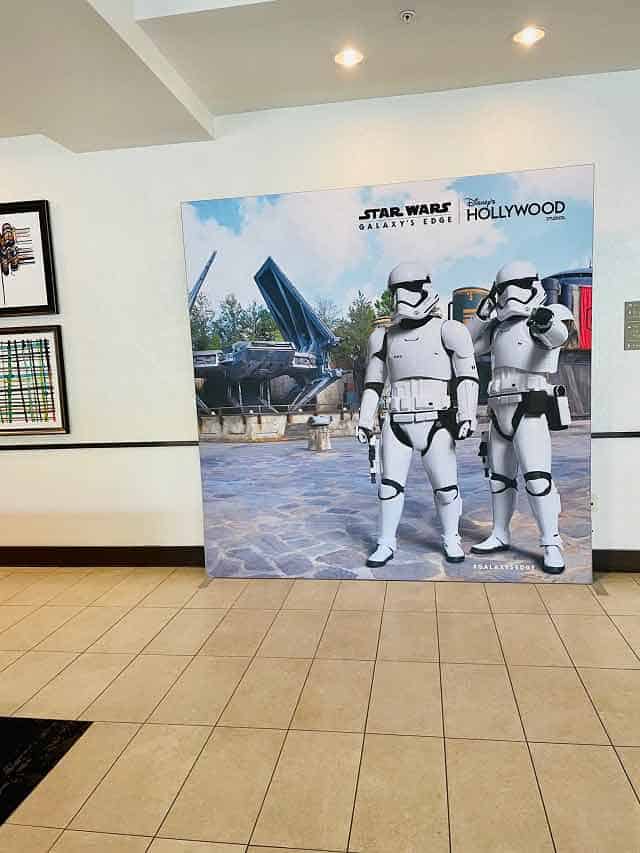 The Hyatt offers a free breakfast buffet. There is another restaurant option as well. Additionally, it provides guests with free self-parking, which is an excellent way to add value to the stay.
The hotel has a swimming pool as well as a hot tub. It also has a fitness center and a business center for those who want to work out or just plain work. Lastly, it is pet friendly. Your furry friends can stay in your room for a fee.
Check-in and Check-out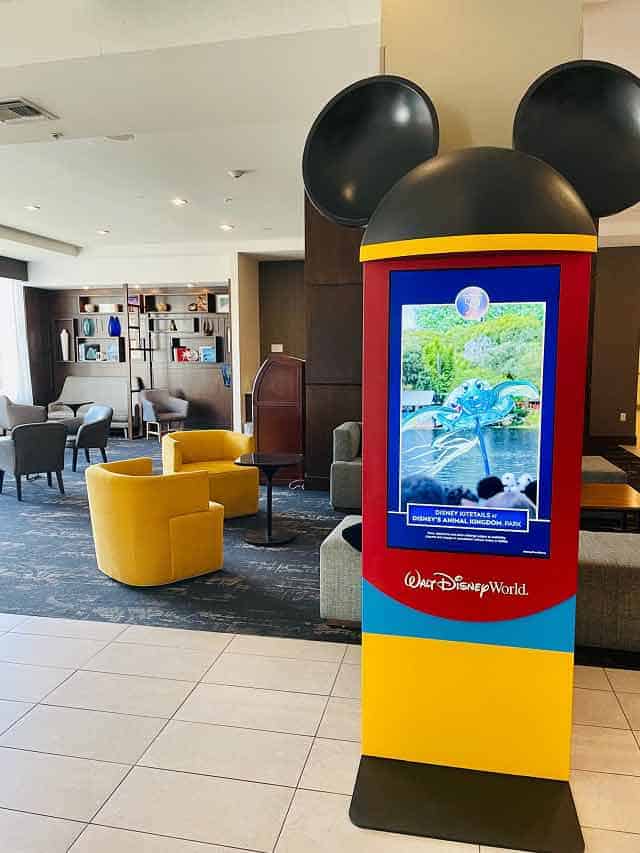 While many hotels have a 4:00 PM checkout time, Hyatt Place Orlando/Lake Buena Vista offers a 3:00 check-in. This can be a great benefit to guests who want to check in, drop their bags, and get their vacations started right away!
Additionally, guests will notice that the checkout time is 12:00 PM, which is a massive benefit if you want to sleep in on the last day of your stay.
The Room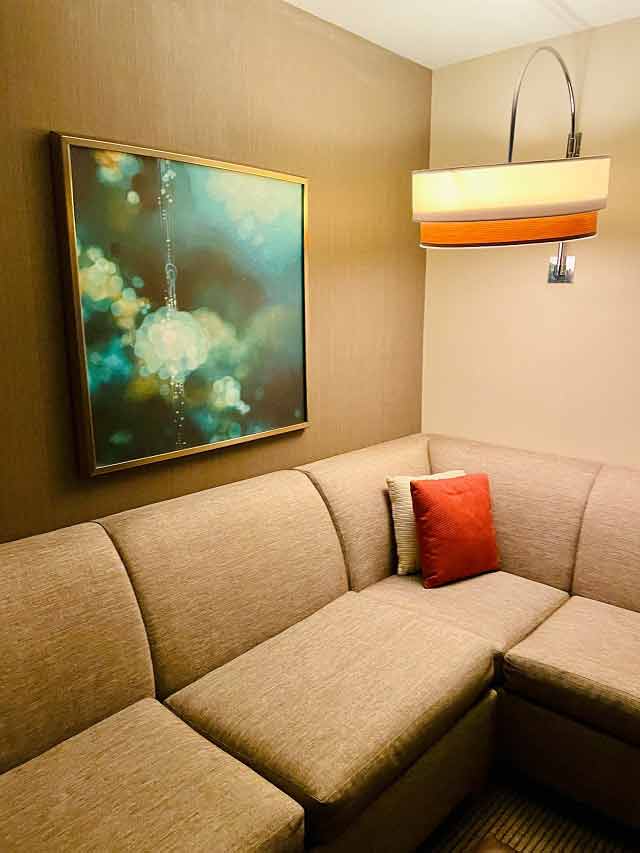 Our room was a standard view room with two queen beds and an L-shaped sleeper sofa. The room details say it sleeps 6, but we were 4 and did not utilize the sleeper sofa. The beds were plenty comfortable.
There was also a nice desk area as well as seating. There was a television though I am not sure we even turned it on. I appreciated that there was plenty of lighting, and I found there to be a good many places to plug things in. I might have felt differently had there been six of us, but it was just right for a smaller family.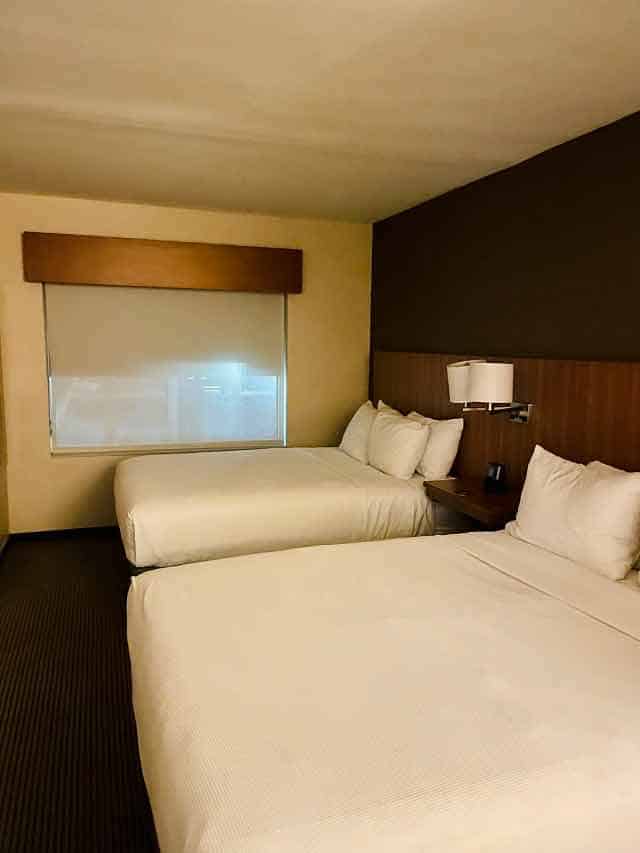 I did not like the carpet, but I suppose that hotel carpet is not a thing one generally likes. So maybe what I should say is that I much prefer the trend many resorts are following by putting in wood laminate flooring It seems like it is easier to keep clean.
The room was modern and pleasant overall. Aside from the carpet, the decor was nicer than what you find in a lot of hotels at this price point.
The Bathroom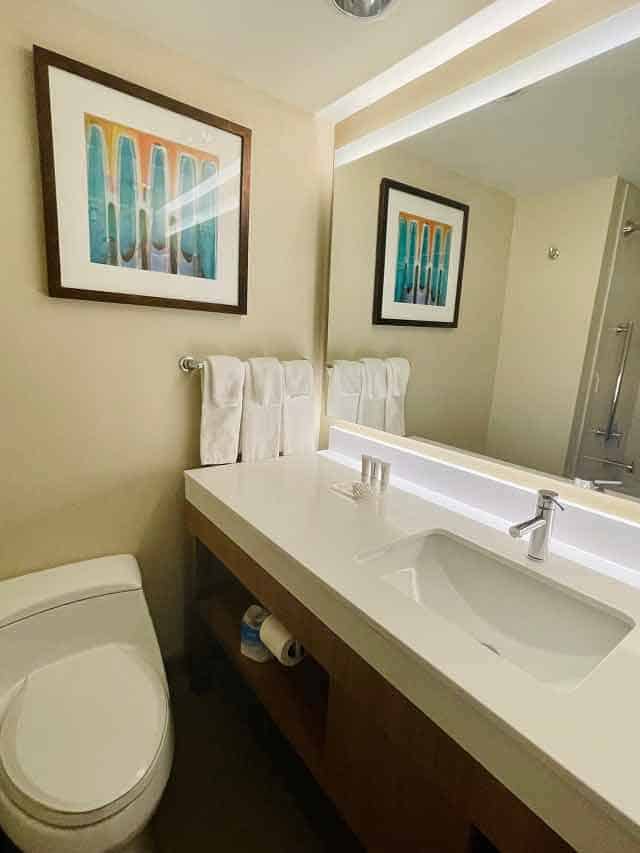 The bathroom had the same updated feel. Some of the finishes were even pretty like the vertical tiles on the walls. I also appreciated the modern sink, which was surrounded by a large amount of counter space.
The shower was perfectly adequate. It had a curved bar to give it more of a spacious feel inside. The water pressure seemed to work well.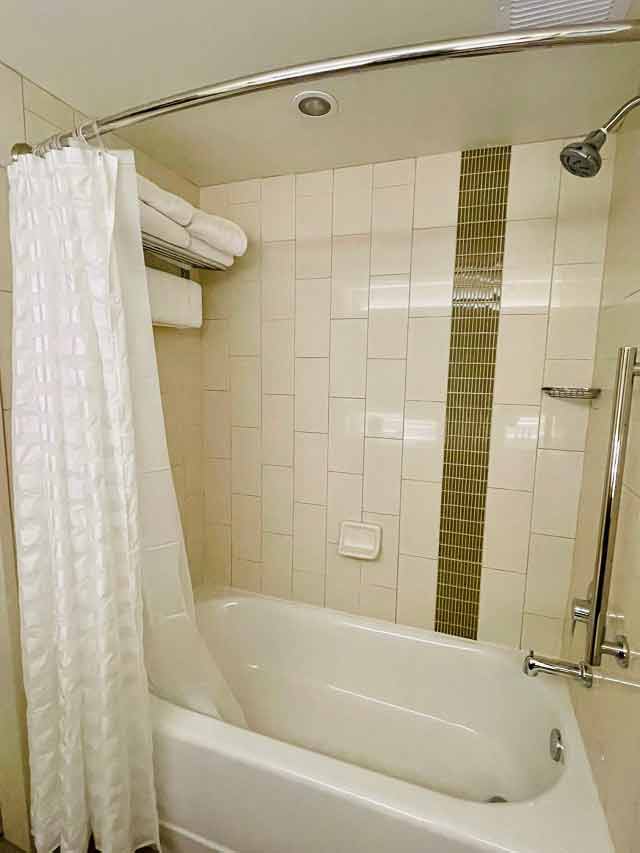 As far as hotel bathrooms go, this was a pretty good one. I can't say I have any complaints. Everything worked well, and nothing was disgusting. It was perfect for a night's stay, especially given the cost.
The Free Breakfast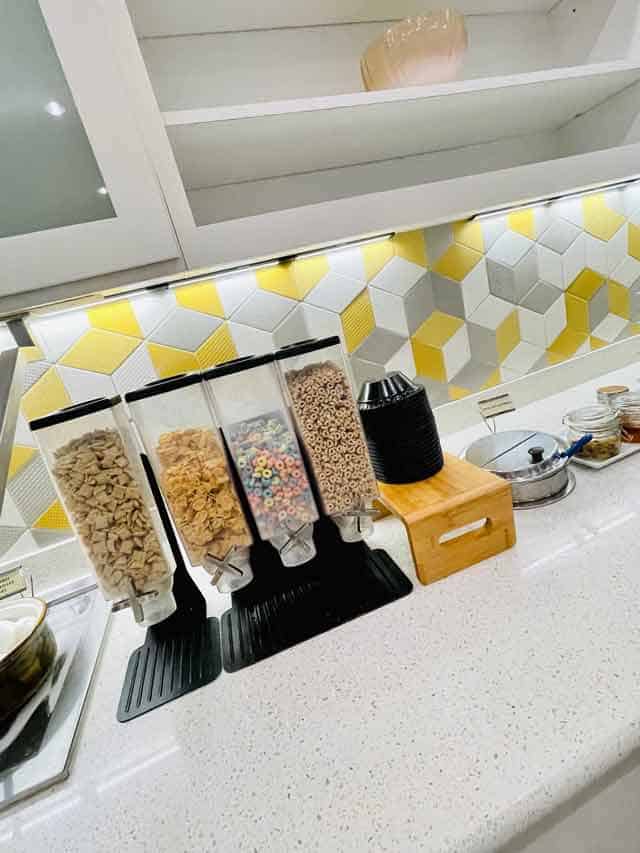 The Hyatt provides a FREE breakfast bar each morning. On Monday-Friday, it is available from 6:30 am to 9:00 am, and on Saturday and Sunday it is available from 7:00 am-10:00 am.
Most people will find this to be a great benefit! We had a late brunch at Boma booked, so I just grabbed a few things such as bananas and doughnut holes to tide the kids over until then. I made myself a nice cup of tea.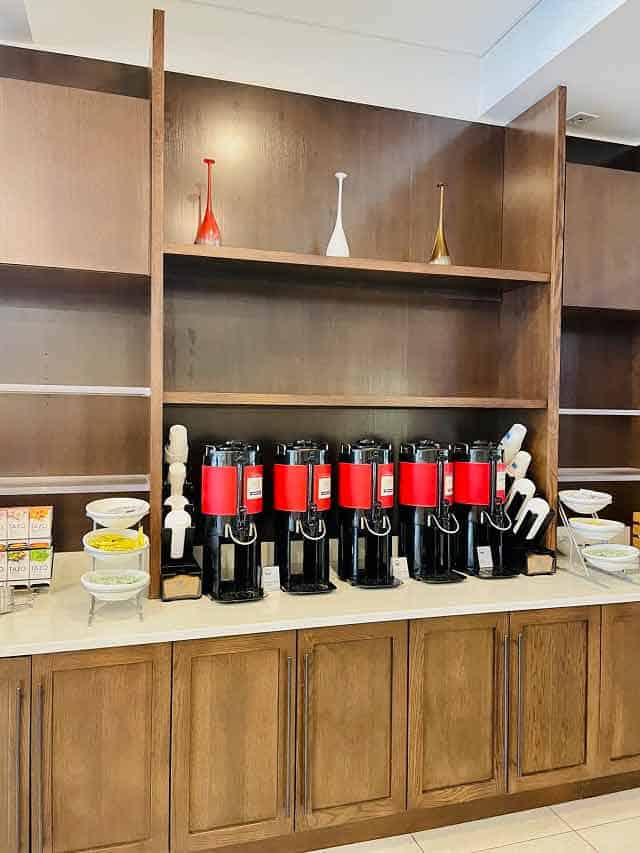 However, I did check the whole thing out for you, dear readers. There was a nice little cereal station with all sorts of sugary or colorful things the kids would have wanted to fill up on immediately if they had seen it.
There were also hot items including eggs and breakfast meats such as sausage and bacon. Hot oatmeal was also available, and there were plenty of fixings to go with it.
Bread, bagels, doughnut holes, and waffles were also on the breakfast bar. Unfortunately, though, the waffles were not Mickey Waffles. THe were standard mini Belgium waffles. However, some Good Neighbor Hotels do offer Mickey Waffles if that interests you.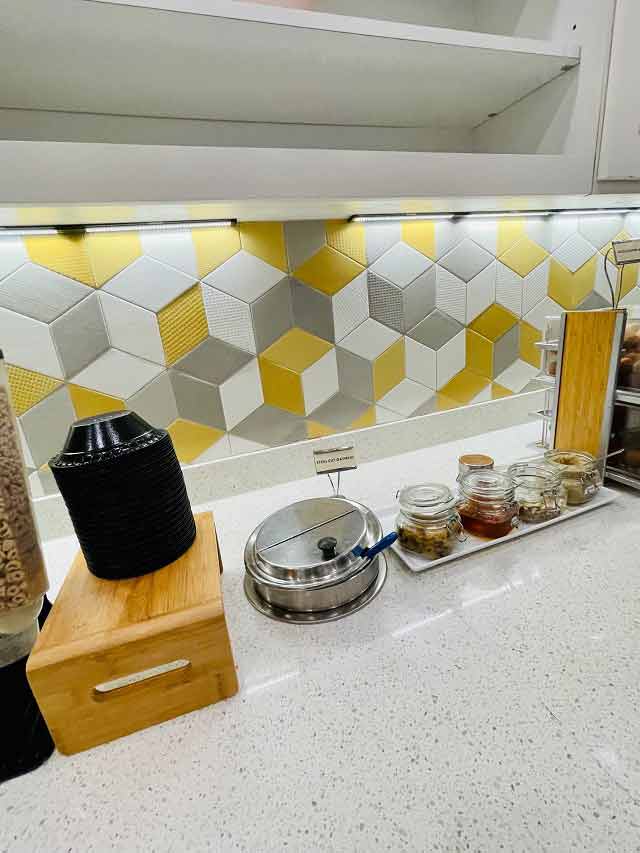 There was also yogurt and plenty of toppings. If fresh fruit is more your speed, you are in luck because the Hyatt serves cut melon and berries. You can even grab an apple or a banana for the road. The breakfast bar served other options as well! I suspect some of them switch periodically.
The drink station had everything I could possibly want and then some readily avaliable. Choices included juices, milk, coffee, tea, hot chocolate, and water.
The Elevator Situation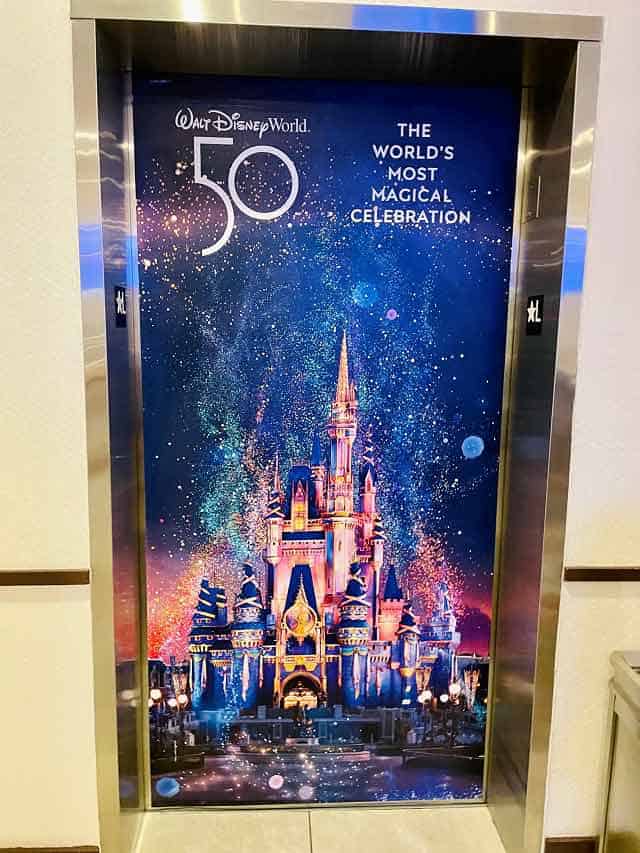 The biggest drawback to this hotel is the elevator situation. I didn't have any problems with it the evening when we arrived. However, in the morning it was nothing short of a big ole mess. There are only two relatively small elevators servicing the entire building.
In the morning, a lot of things are happening. Some people are trying to get to breakfast. Naturally, some people are trying to get to Orlando's theme parks. Some people may even be trying to check out a bit early so that they can catch a flight or get on the road for their drive home. Unfortunately, there is simply not enough elevator capacity to handle all of these morning needs.
I will say that I was visiting the parks during a completely sold-out week. Every Park Pass for every park was booked. This could have contributed to the problem, but I suspect it is a bit of a problem most every morning during the busier times of the year.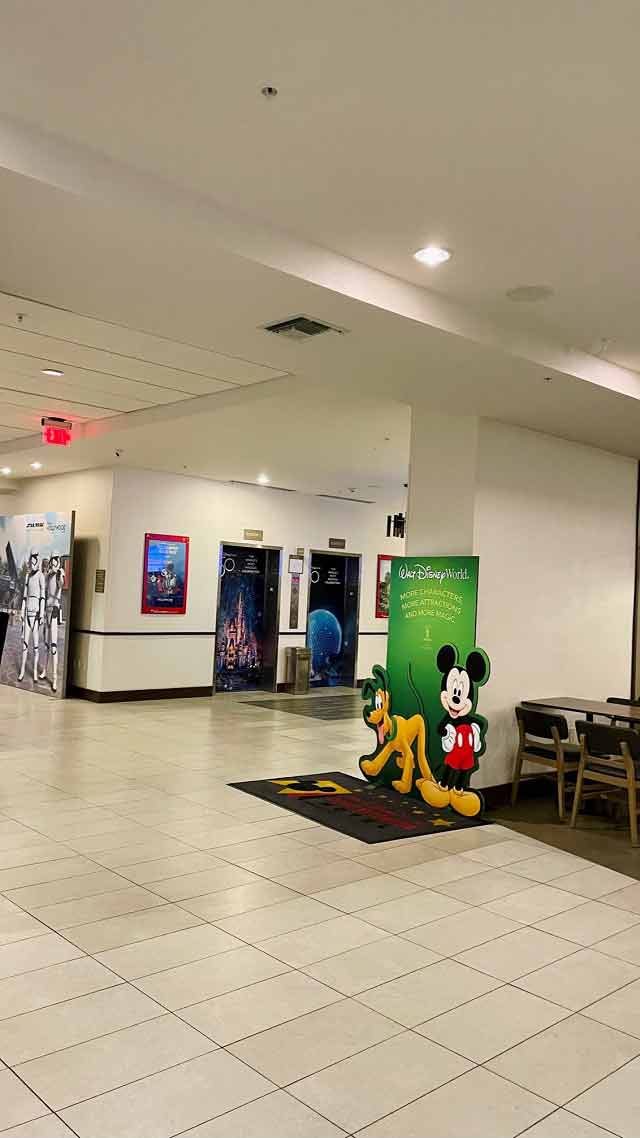 When I arrived at the elevator to scoot downstairs and check out the breakfast situation, there was only one person waiting before me. The trouble was that every elevator that stopped on our floor was already stuffed to capacity with people heading down from the floors above us.
As I waited, a line grew behind me, including a woman in an ECV. I struck up a conversation with her and she told me that the morning elevator situation had been like this the day before as well. After about 15 minutes of watching elevators stuffed with people pass us by, I gave up and decided to take the stairs, an option my new friend did not have.
I will say that the ride back up took less time. This is because people were riding down to the lobby and then clearing off the elevators, so it was possible to get on and head up. However, when I got off at my floor, there was still a line of people waiting to get on to head down to the lobby. Fortunately, my coming up meant that some of them could hop on.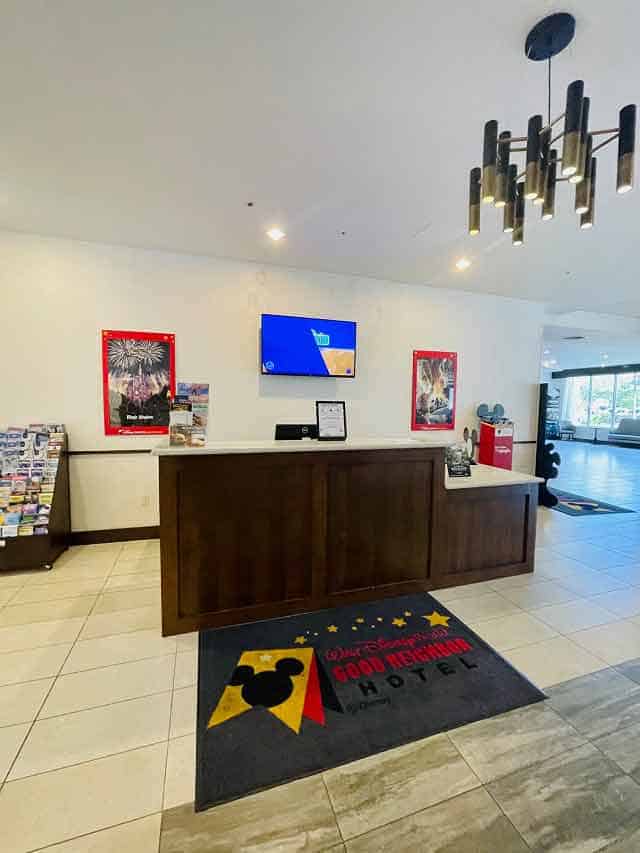 I also met a mother/daughter pair as well who told me they had been there for two weeks. They confirmed that the elevator situation was the same way every single day of their stay. They had learned to take the stairs on the way down to the lobby and the elevator on the way back up.
All this is to say that if you need an elevator instead of stairs, and you want to stay at this hotel, you will need to tap into your Rope Drop skills and be up and at the elevators before the morning rush in order to descend from your room. Either that or you will need to request a room on the ground floor if that is even possible. If you can use the stairs, you should be able to enjoy the stay without worrying about the elevator. But if you need or simply prefer elevators, this is not going to be ideal for you.
Overall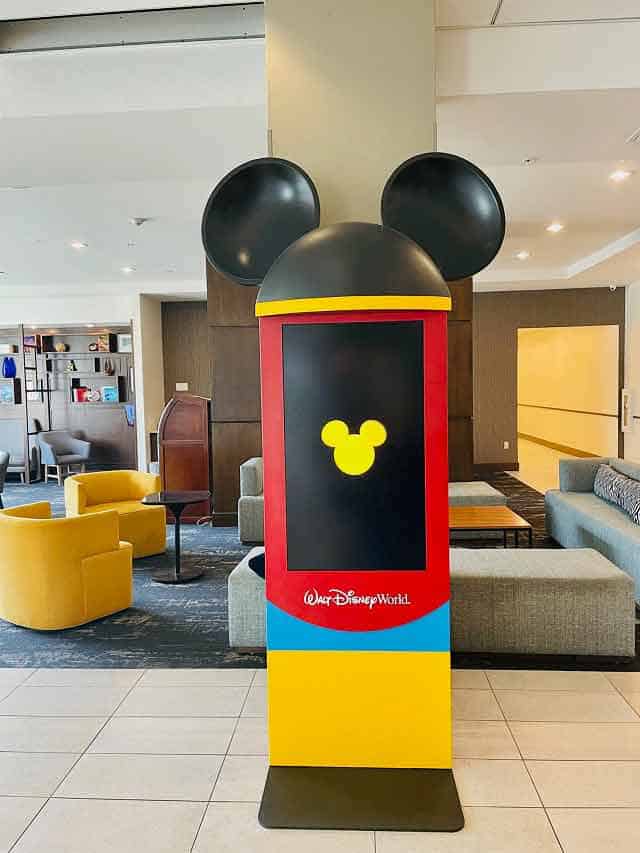 Overall, the Hyatt Place Orlando/Lake Buena Vista was exactly what we needed to help us arrive in Orlando and transition to our final vacation destination. We were able to check in that evening and move to our Disney Resort hotel the next day. I appreciated the comfortable rooms, the free parking, and the free breakfast. I would stay there again on a short trip or on an adults-only trip.
However, if I were staying longer with my family, I would not want to have to combat the elevator situation daily as we typically take a stroller to and from the theme parks. We could lug it up and down stairs, but I would not want to.
Have you stayed at Hyatt Place Orlando/Lake Buena Vista or any other Good Neighbor Hotel? What did you think? Let us know on Kenny the Pirate's Facebook Page, or join our crew and continue the discussion!
Are you planning a vacation? Reach out to our trusted travel agency sponsor Authorized Disney Vacation Planner
Mouse Class Travel
!