Have you thought about going to Disney, but the Disney hotel prices are just too much? Have you thought about what an offsite property has to offer? Read on to find my full review of the HomeWood Suites at Flamingo Crossing!
Staying Off Disney Property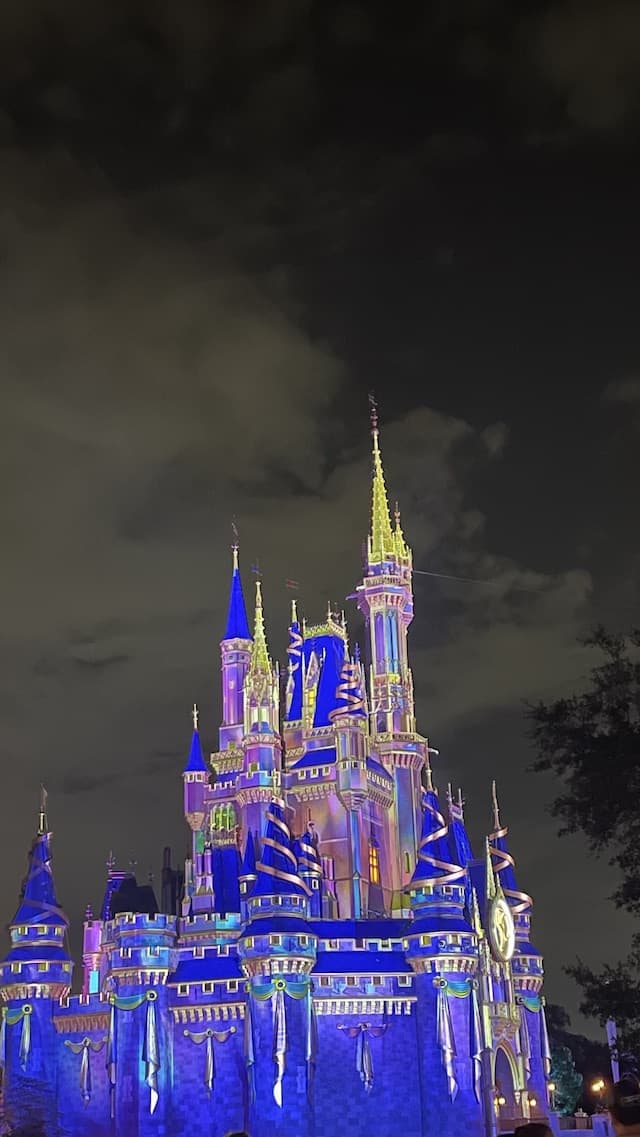 It is common knowledge that staying on Disney property is expensive. Now, the perk of staying inside the Disney Bubble is becoming less and less.
The draw to stay off property and save money is easier to do with lack of perks that Disney is offering. Luckily, there are so many hotels to choose from just outside of Disney's gates!
Many hotels are just a short ride to any of the parks! You could even be closer to one park than one of Disney resorts!
HomeWood Suites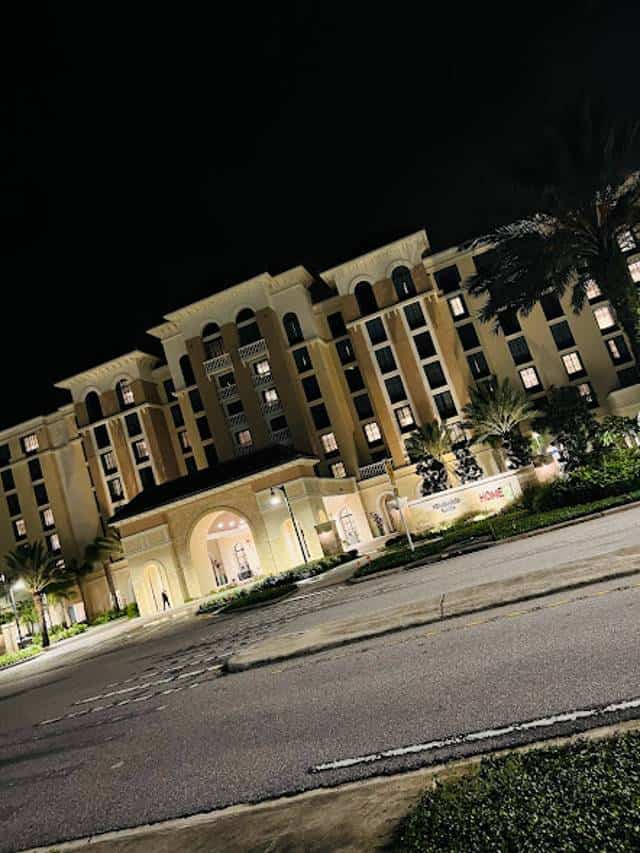 When I started my search for a hotel outside of Disney, one of my friends suggested something at Flamingo Crossing. There are several hotels in this location. All of them are new and look beautiful!
I happened to find a room at a great price at HomeWood Suites by Hilton at Flamingo Crossing Town Center. I have never ventured off Disney property, so this was a new experience for me.
With a quick search on the hotel's website, it appeared that this hotel would check all of our boxes: location, pool, kitchen, and more! We gave this hotel a shot, and we were pleasantly suprised!
Location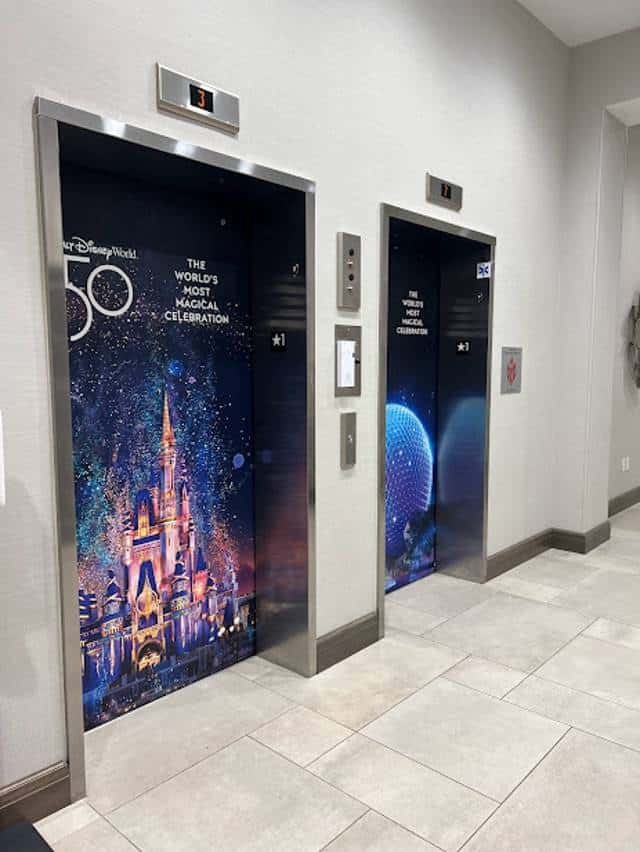 HomeWood Suites by Hilton at Flamingo Crossing Town Center is located just off SR-429. This hotel is just 10 minutes away from Disney's west entrance and less than 30 minutes from Orlando International Airport!
Head to a top floor by the elevators (if you don't have a room over looking the pool) and watch the Magic Kingdom fireworks in the distance!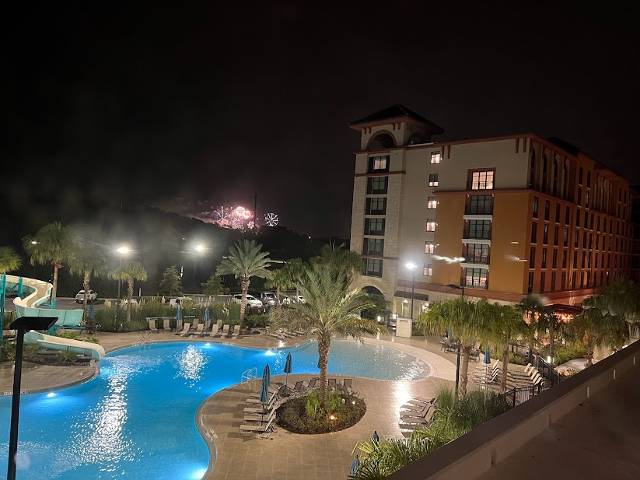 With this prime location you are just minutes away from restaurants, shops, golf courses and more! I was even able to see Magic Kingdom fireworks in the distance!
Rooms
There are several different room types. Options include: 1 King Bed Studio Suite, 2 Queen Beds 1 Bedroom, and 1 King Bed 1 Bedroom Suite. We stayed in the 1 King Bed Studio Suite. All of these rooms sleep four except the 2 Queen Beds 1 Bedroom which sleeps six.
Each room has a kitchen area, dining table, bed, sofa bed, and TV. The 1 King Bed Studio Suite was perfect for our family of four! When you check in through the Hilton app, you can even pick out your room!
Our room had an open floor plan. The kitchen had full sized appliances including a full size fridge, microwave, and dishwasher. The best part for this momma was a stove top! This made for easy meals to keep this family on budget.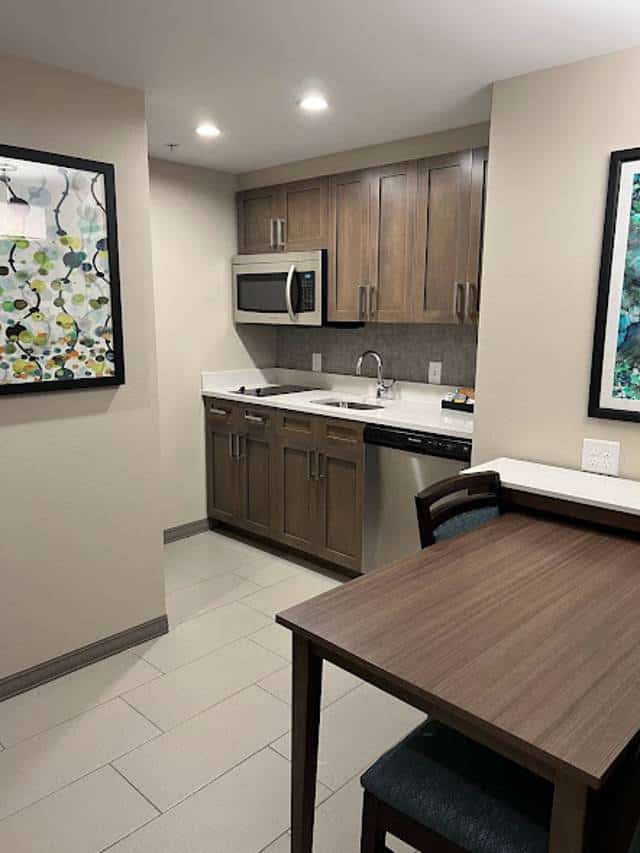 I love eating out on vacation, but sometimes I am all done with park food and want something else. Also, my kids are picky eaters (think mac and cheese and pb&j's and they are happy), and I don't want to pay $10 each for all of these meals just so I can eat out. This stove top made making the kids meals a breeze!
I would make the kids' food, and my husband would run to grab us take out! It was a win for everyone!
Another thing I like was real dishes! You could use the microwave with a regular plate! A lot of the DVC studios have moved to paper products, and this can be frustrating when you are trying to prepare a meal there.
Pool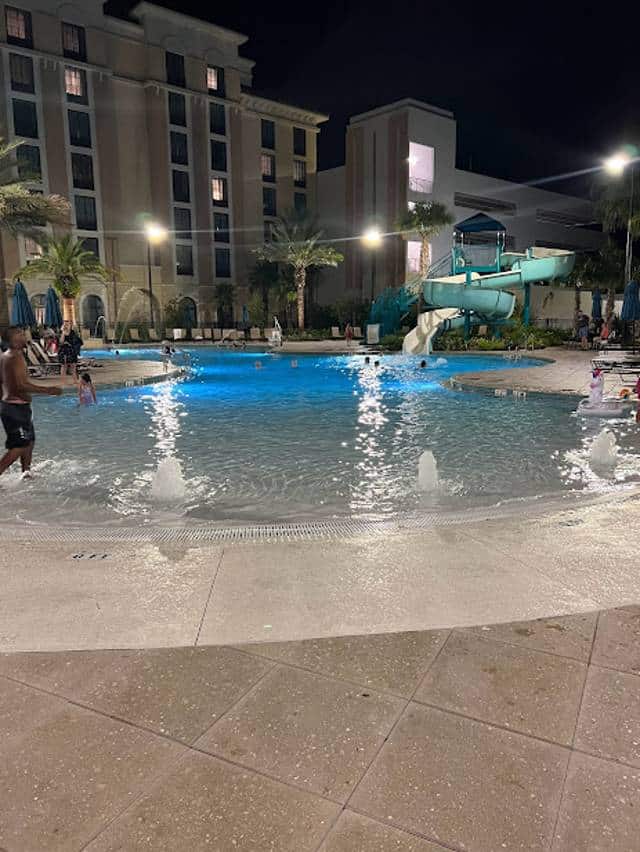 This pool is shared with the Home2Suites right next door, but it was a decent size. It did not feel overly crowded. We visited in August, so it was HOT!
I also enjoy a nice pool, but special water play areas are not a must. This pool checks that box! This pool had a zero entry and a water slide! It was a good water slide, too!
Along with the fun water slide, the zero entry is a favorite with my kids. It makes splashing around with the toddler a little easier.
Free Parking!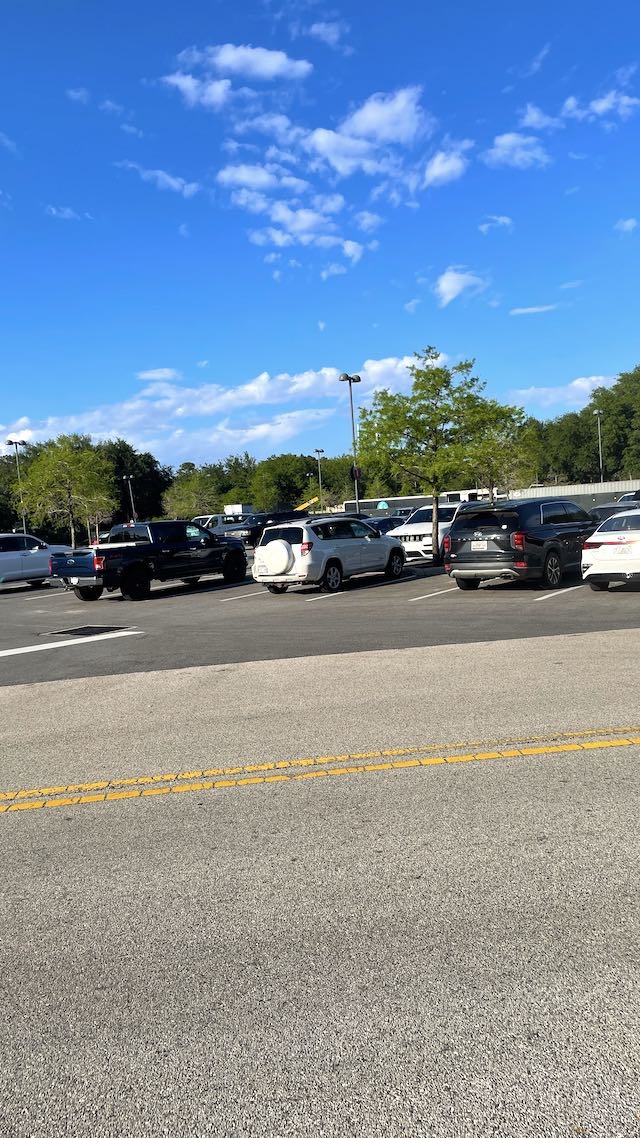 You won't find this perk at a Disney resort anymore. FREE PARKING! No fee here. Plain and simple, free parking during your stay! Yes you will have to pay for parking at the parks, but at least you won't have to pay for parking at your hotel too!
Breakfast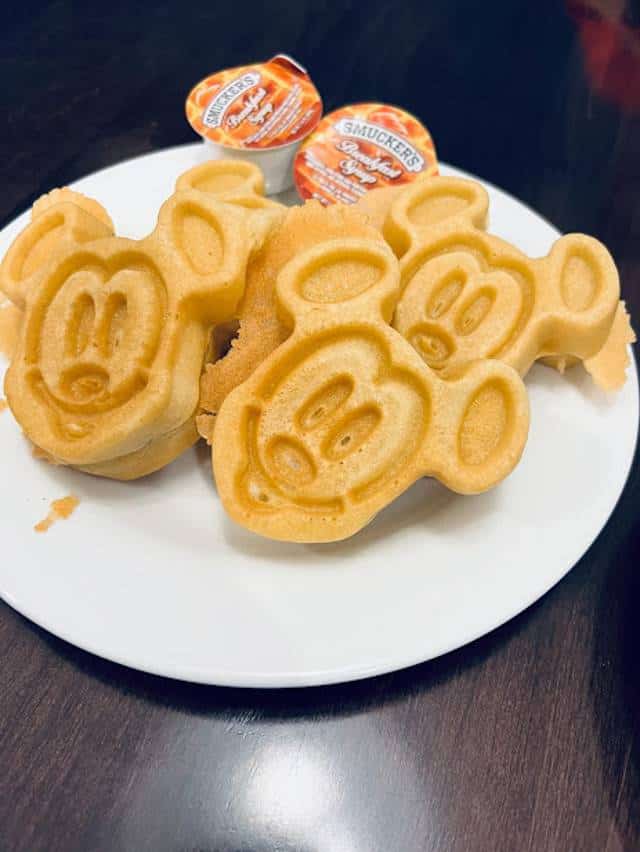 Many people suggest breakfast in the room when doing Disney on a budget. But what if you could have breakfast for FREE? Yes, you read that right. FREE BREAKFAST!
This isn't your typical continental breakfast either. We are talking hot items like eggs, bacon, biscuits and gravy, breakfast pastries, cereals, and of course MICKEY WAFFLES. When we visited you could have a large Mickey waffle or a small traditional size Mickey waffle that you see at Disney. FYI: they were both delicious!
Other Amenities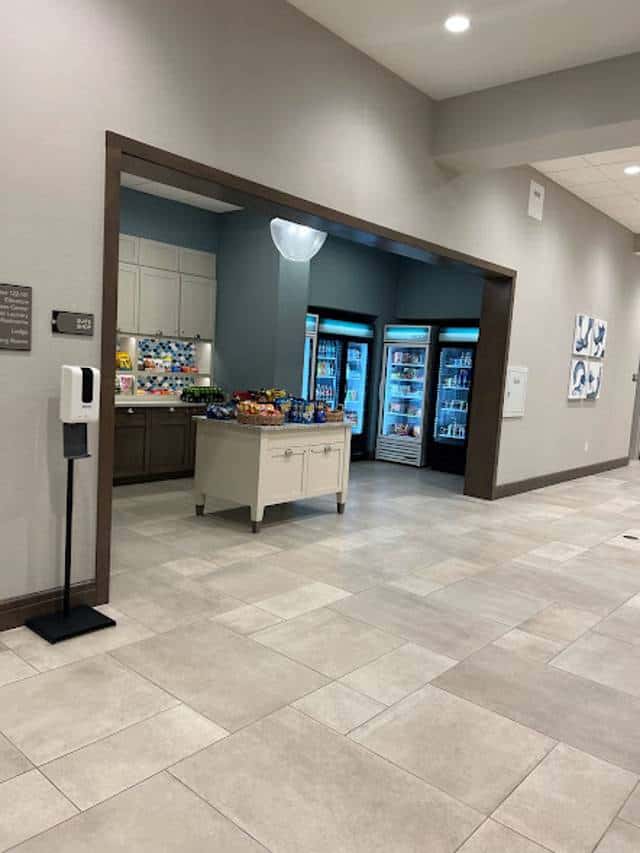 If the above amenities weren't enough to get you to try here, they have even more to offer! Other amenities include:
connecting rooms
free WiFi
Digital Key
Streaming TV
Pet-friendly rooms
Business center
Meeting rooms
Exercise facility
Laundry room
Outdoor bar
Propane Grills
Store (some food items for sale)
Final Thoughts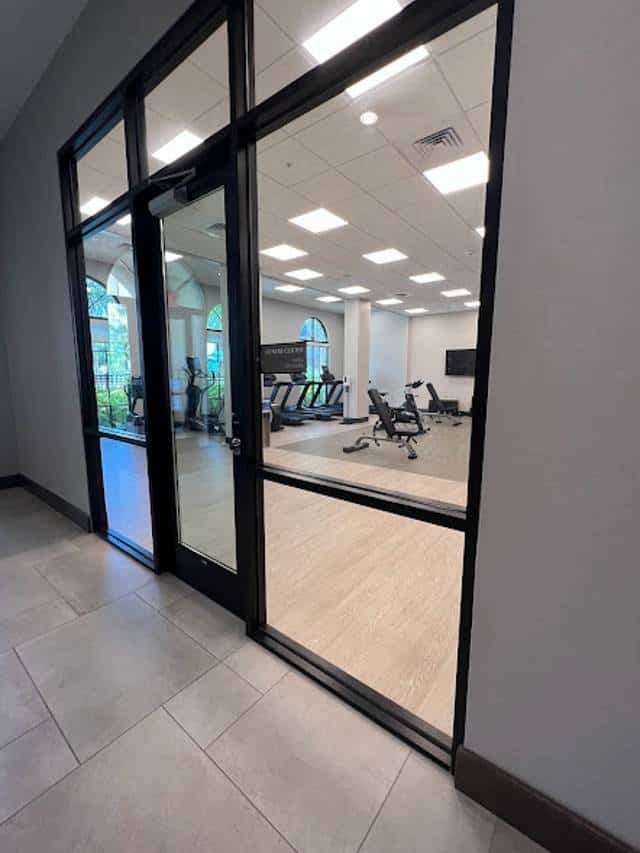 This hotel had so much to offer. I won't lie or sugar coat it, I always thought it was a must to stay on Disney property. This hotel has changed my mind!
As much as I love staying in a Disney World Resort Hotel, this hotel had just as much to offer, and in some cases more! You won't find a cook top in any regular hotel room or DVC studio at Disney! That kitchen is a game changer for families!
Disney is getting more and more expensive, and I will find ways to keep it affordable and still maintain the magic for my family. The price can't be beat, and the perks of staying on property are less.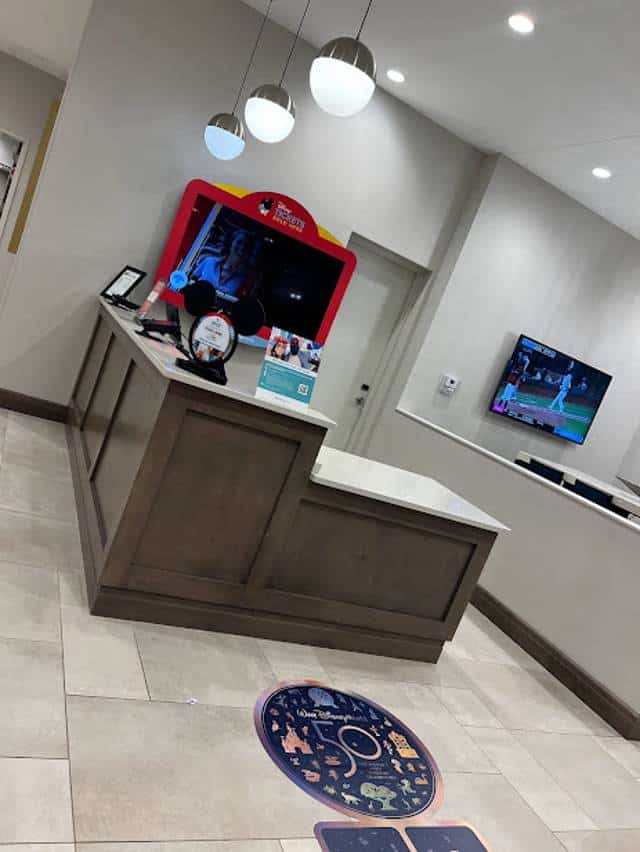 If you are looking to save some money on your next vacation, I would recommend this hotel! Minutes from the magic and all the amenities you could need!
If you choose to stay at HomeWood Suites at FLAMINGO CROSSING, I hope your family enjoys it as much as mine. Happy planning, crew!
Have you stayed at HomeWood Suites at FLAMINGO CROSSING? Will you stay there? Let us know on the Kenny the Pirate Facebook page. Don't forget to join the KtP crew page, too!

Are you planning a vacation? Reach out to our trusted travel agency sponsor Authorized Disney Vacation Planner
Mouse Class Travel
!