The Contemporary Resort has been without a gingerbread display for the past few years. It is back with a special 50th anniversary overlay!
Contemporary Gingerbread Display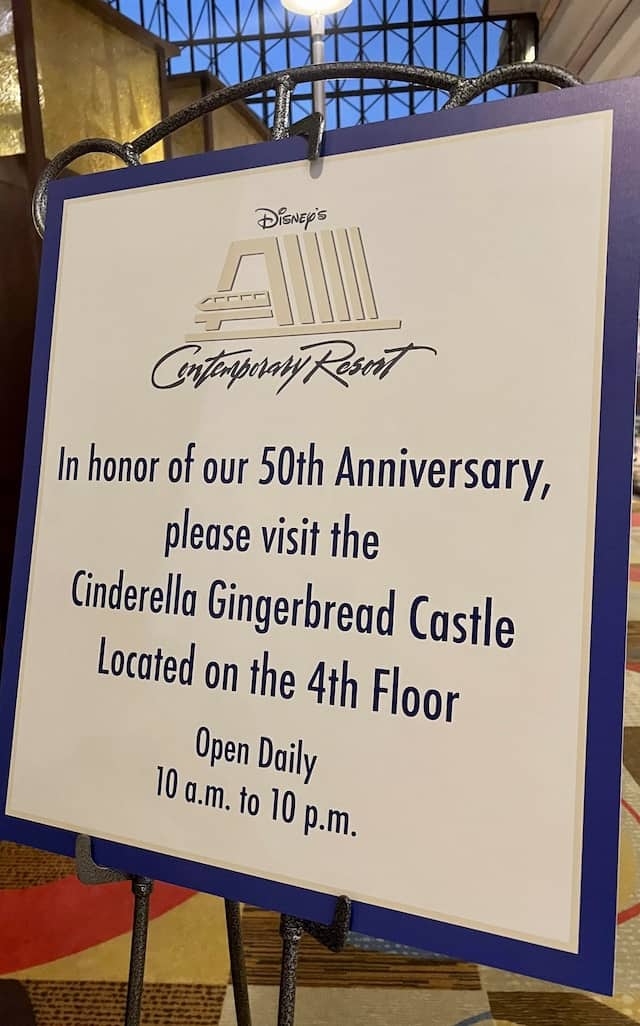 Disney's Contemporary gingerbread display is the Cinderella Gingerbread Castle, and you can find it on the 4th floor of the main building. It is open daily from 10:00 am to 10:00 pm. This is the 11th year of having a gingerbread display at the Contemporary so it opened on November 11 at 11:11 am!
The display took 11 days to assemble and is 17.5 feet tall and 25.5 feet wide. There are over 4,000 castle gingerbread bricks created by 37 bakery cast. Other ingredients include: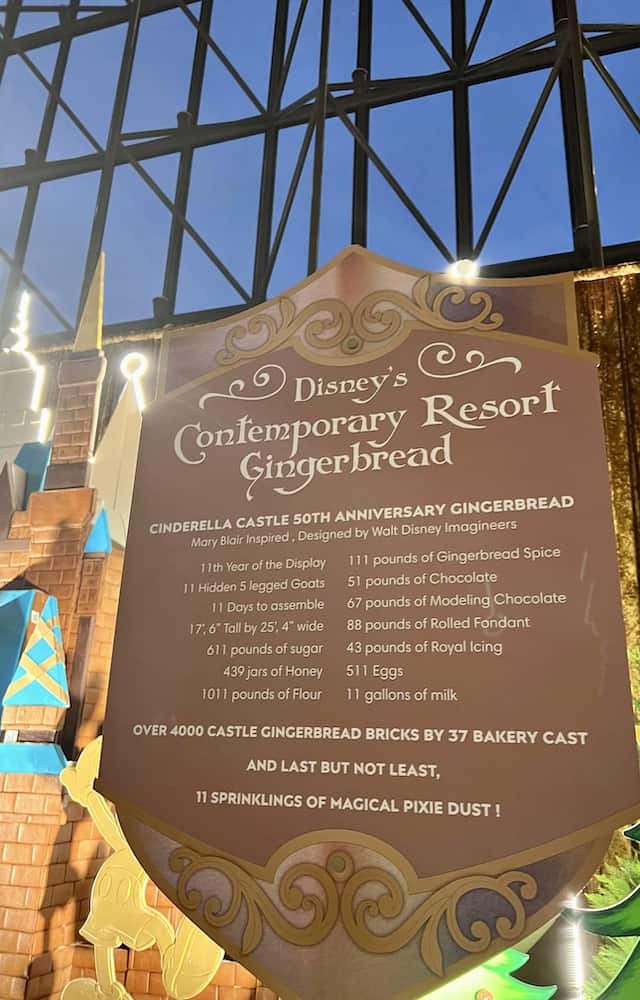 611 pounds of sugar
439 jars of honey
1,011 pounds of flour
111 pounds of gingerbread spice
51 pounds of chocolate
67 pounds of modeling chocolate
88 pounds of rolled fondant
43 pounds of royal icing
511 eggs
11 gallons of milk
11 sprinklings of magical pixie dust!
Cinderella Gingerbread Castle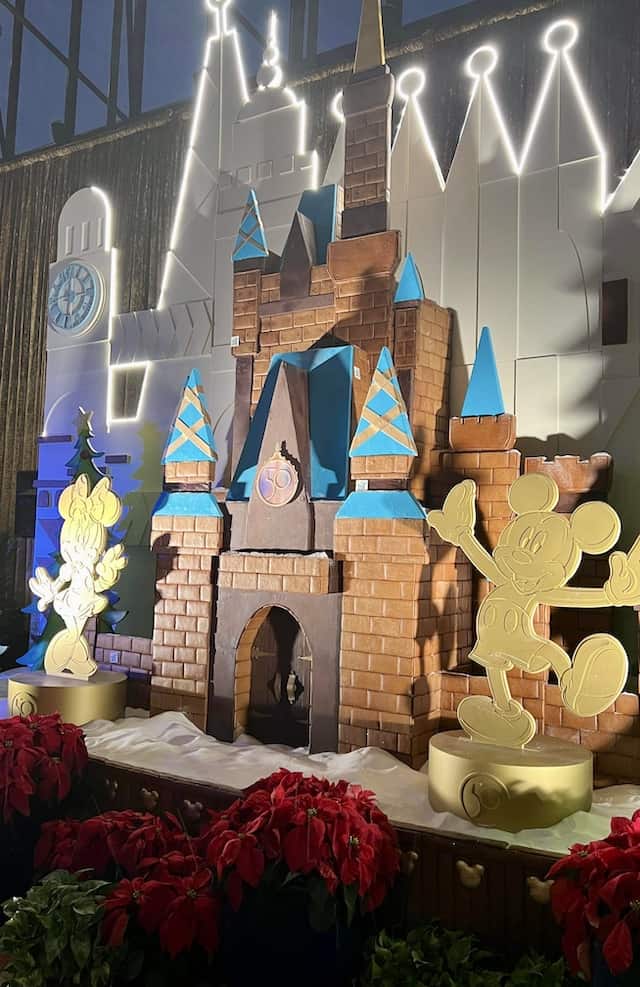 For the 50th anniversary, the Contemporary has Cinderella Castle with 50th statue displays of Mickey and Minnie. Be sure to look for the 50th medallion on the castle!
The castle itself is shades of brown and blue, and the facade of "it's a small world" stands behind it in white. Christmas trees and snow surround the display.
Be sure to look for the 5 legged goats! More on that below.
5 legged goats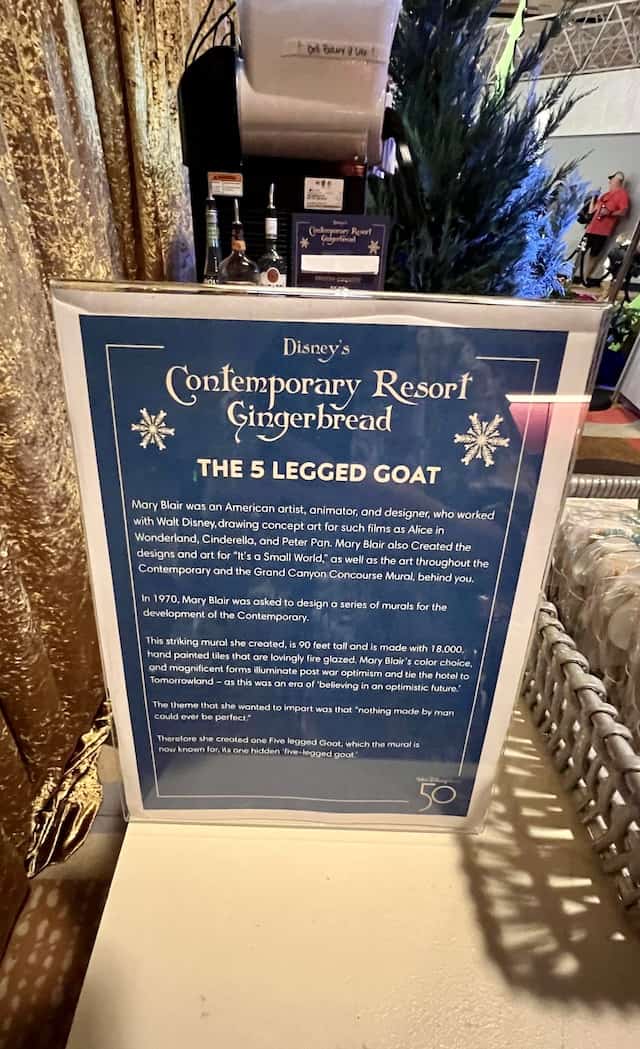 Mary Blair was an American artist, animator, and designer, who worked with Walt Disney, drawing concept art for such films as Alice in Wonderland, Cinderella, and Peter Pan. Mary Blair also created the designs and art for "it's a small world," as well as the art throughout the Contemporary and the Grand Canyon Concourse Mural.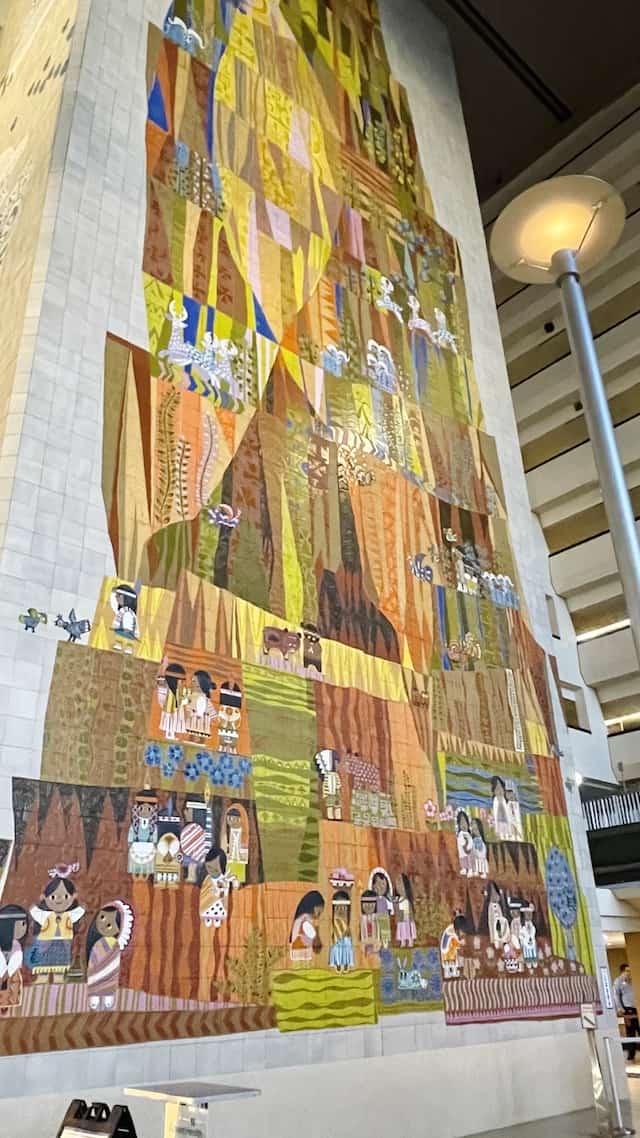 In 1970, Mary Blair was asked to design a series of murals for the development of the Contemporary. The striking mural she created is 90 feet tall and is made with 18,000 hand painted tiles that are lovingly fire glazed. Mary Blair's color choice and magnificent forms illuminate post war optimism and the hotel to Tomorrowland – as this was an era of "believing in an optimistic future."
The theme that she wanted to impart was that "nothing made by man could ever be perfect." Therefore she created one 5 legged goat, which the mural is now known for – it's one hidden "5 legged goat." Be sure to look for all 11 hidden 5 legged goats in the gingerbread display!
Treats and Merchandise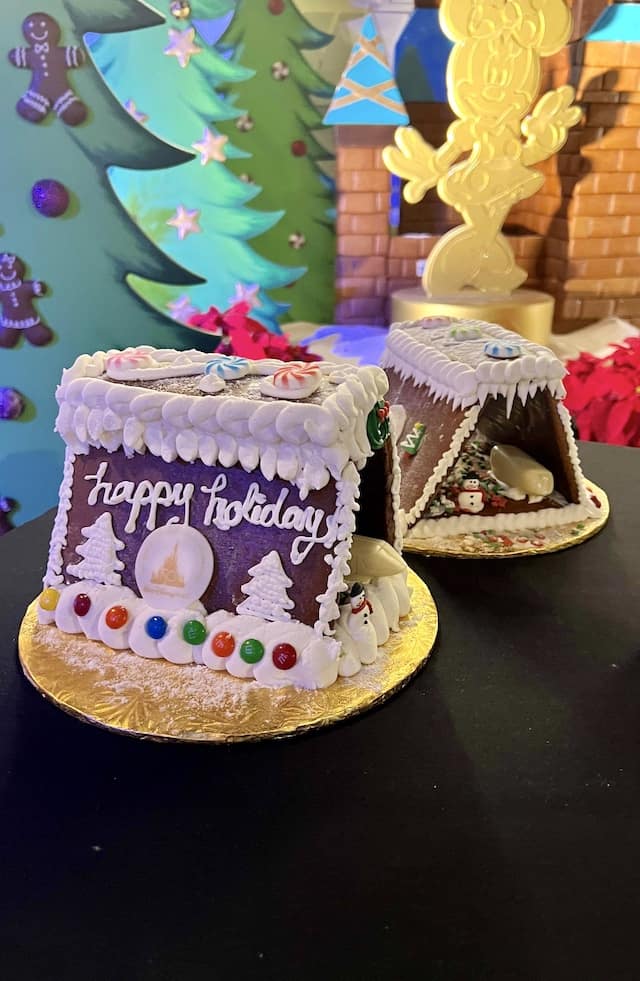 Like the Grand Floridian and Beach Club gingerbread displays, there are all sorts of treats and goodies to purchase. Here is quick list of what you may find for sale:
Chocolate peppermint cookie for $5.50
50th anniversary gingerbread for $5.49
Linzer cookie for $6.50
5 legged goat cookie for $5.75
Family tradition cookie box for $14
Contemporary gingerbread kit for $35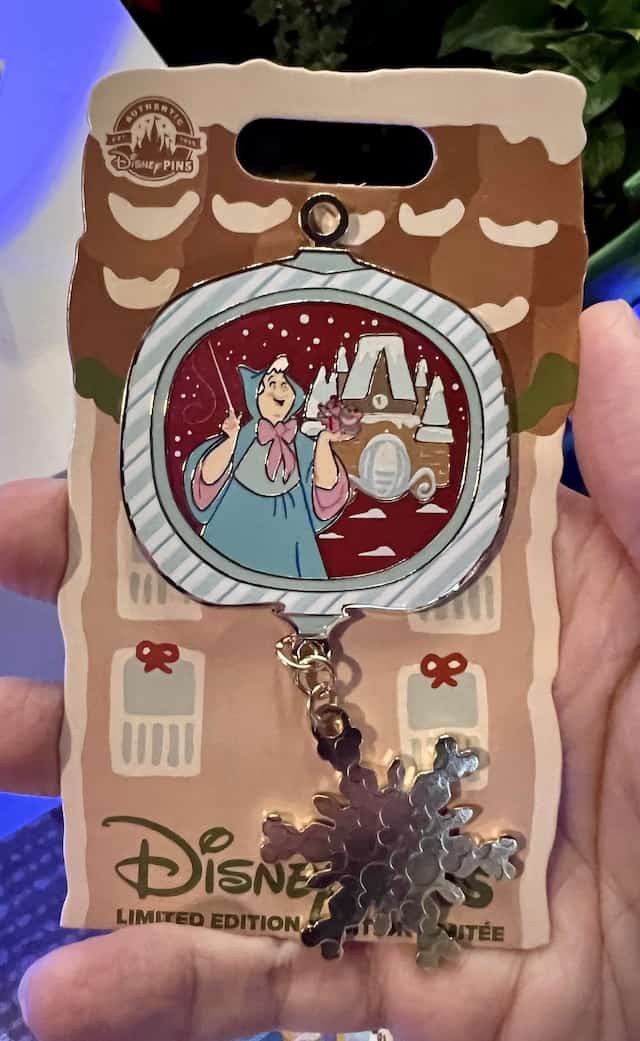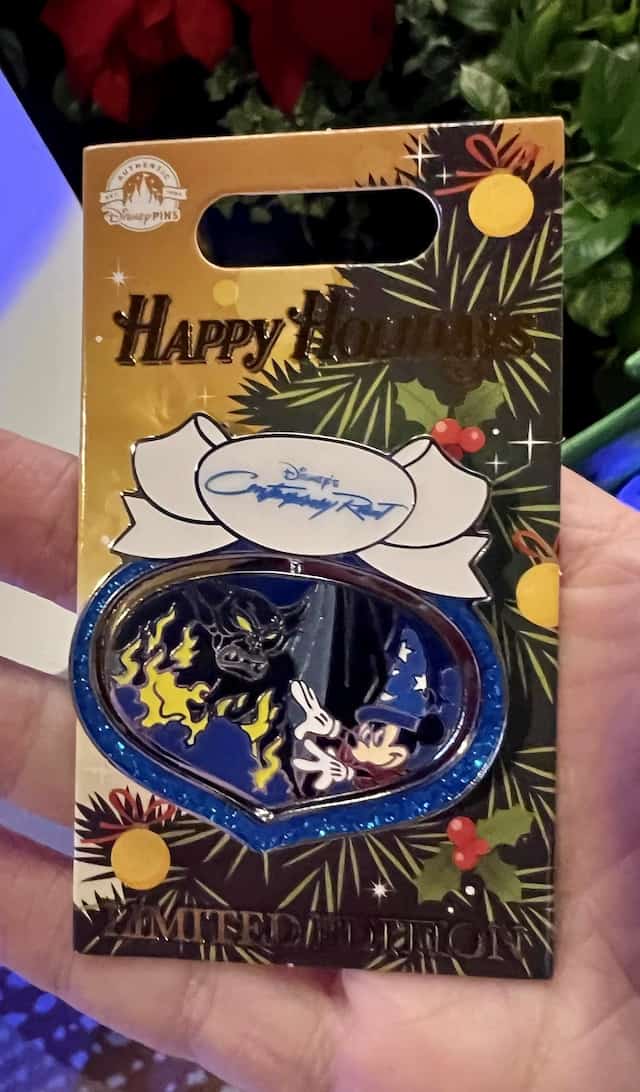 Two limited edition holiday pins feature the Fairy Godmother as well as Sorcerer Mickey.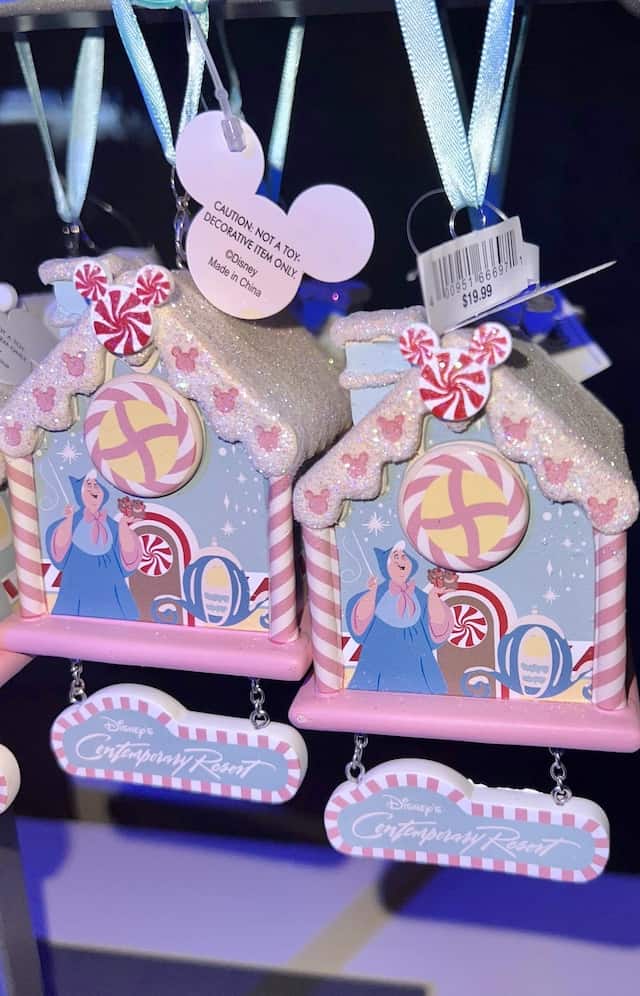 There is also a Contemporary Resort ornament with a pink candy house with the Fairy Godmother on the front. It retails for $19.99 and is oh-so-adorable! I am loving the pink Christmas trend this year.
Will you check out the Cinderella Castle display this year? Let us know in the comments below and on Facebook.
Are you planning a vacation? Reach out to our trusted travel agency sponsor Authorized Disney Vacation Planner
Mouse Class Travel
!