TWO new Mickey Mouse inspired designs hit the Nugget website last week. One appeals more to those who prefer their Mickey designs bright and bold and the other to those who prefer a more subtle neutral design. Check them out and let us know which one you prefer!
What is a Nugget?
Is it a couch? Is it a toy? Both! According to the Nugget website, a Nugget is an "infinitely configurable play couch made up of four foam pieces (base, cushion, and two triangle pillows), covered in a washable fabric cover." Children (and adults!) love building forts with their nuggets or using them as a comfy place to lounge.
Some people like to have multiple nuggets for more fort building configurations and creative colors combinations. Currently on the Nugget website there are 15 solid microsuede colors available. They also have two new colors available in corduroy fabric and eight patterned collaborations. These include Hello Kitty, Sesame Street and, of course, Disney!
First Disney Nugget release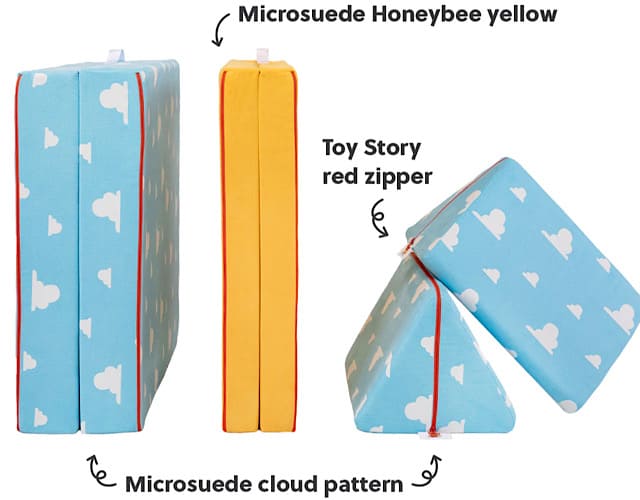 Last Spring Nugget announced their collaboration with Disney/Pixar with this introduction on their blog:
"From our earliest days, their film posters have hung on Nugget office walls, inspiring us to create products that bring all members of the family together through imaginative play, just as their movies speak to both the young, and the young at heart.
We admire Disney and Pixar's approach to storytelling, a compelling combination of honesty and humor, of sincerity and wit. No topic is too heavy or serious – instead, they trust the audience, knowing that kids are ready for the conversations at hand. And in doing so, Disney and Pixar have – and continue to – create art with resonance and permanence.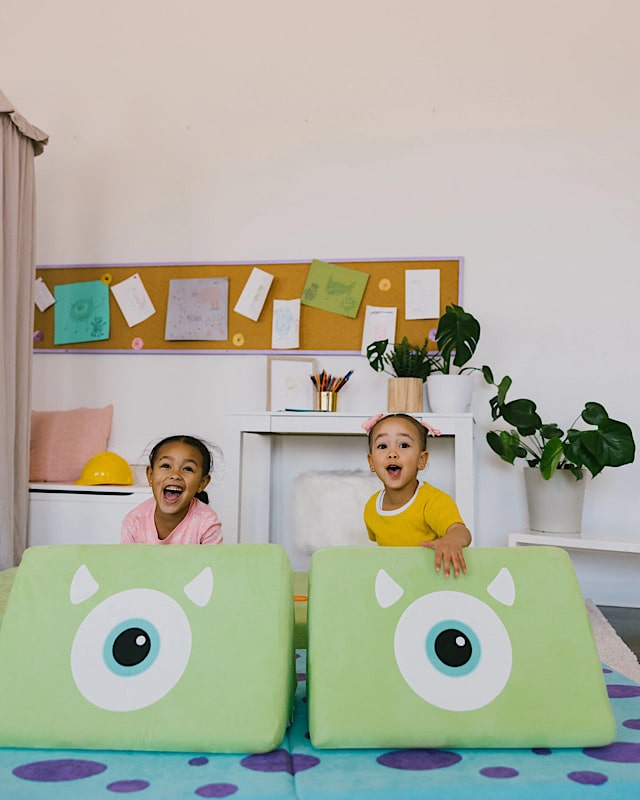 At Nugget, we build furniture for growing imaginations. That lofty goal requires us to learn from those who came before us, those who unleash creativity and create new ideas not previously thought of. In this light, it is no greater honor than to introduce you to The Disney and Pixar Collection."
In April they released three Disney/Pixar designs. The Toy Story Nugget combines the film's iconic cloud pattern with Woody inspired yellow and red trim.
The Monsters, Inc design (pictured above) incorporates Sulley's teal and purple spotted fur and Mike Wazowski's lime green color and iconic eye.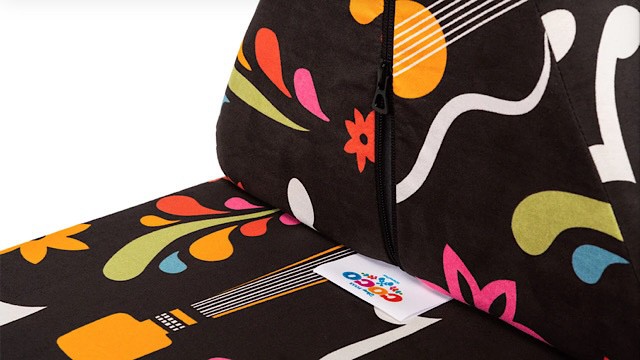 Finally, the Coco inspired nugget features visuals from the film: vibrantly colored guitars, musical notes, flowers, and butterflies on a black background.
New Mickey Nuggets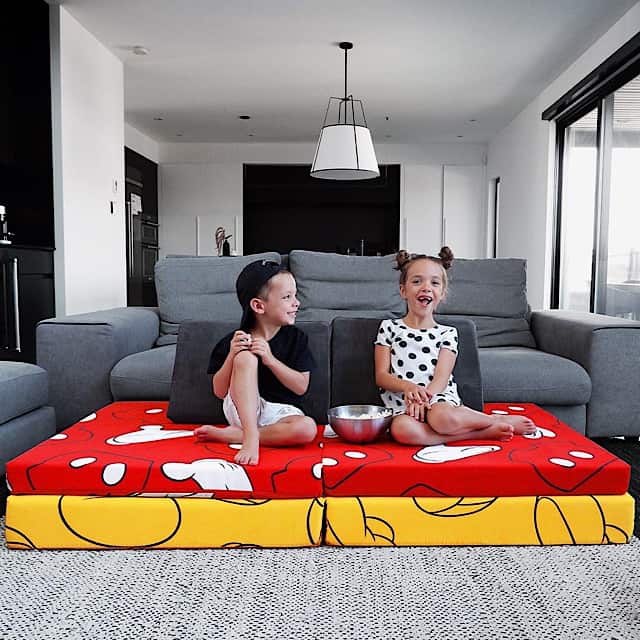 Last week Nugget released two Mickey designs. The "signature edition" features red and yellow cushions that are splashed with patterns of white gloves, yellow shoes, and red pants – all topped off with a pair of dark graphite pillows, reminiscent of Mickey's ears, and featuring the classic Mickey Mouse emblem.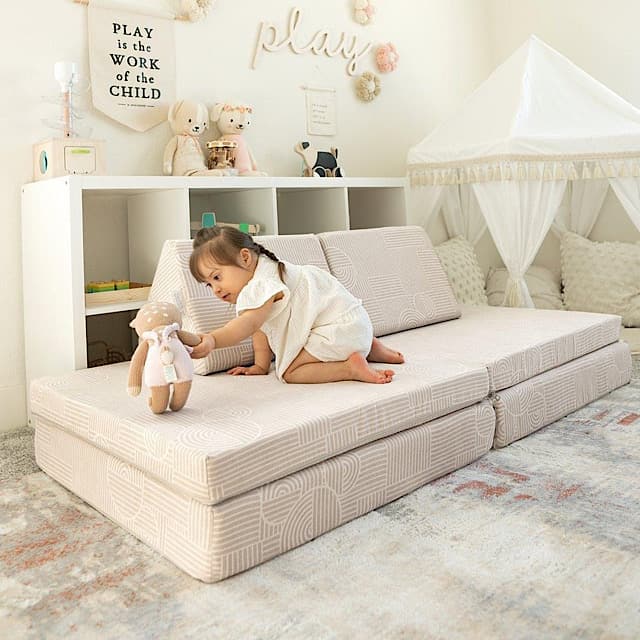 The "studio edition" features a geometric pattern that was inspired by original Mickey Mouse sketches and combines warm taupe tones with the subtle hidden Mickeys. I love how this one is neutral enough to blend with any decor and would be equally at home in the living room as the playroom.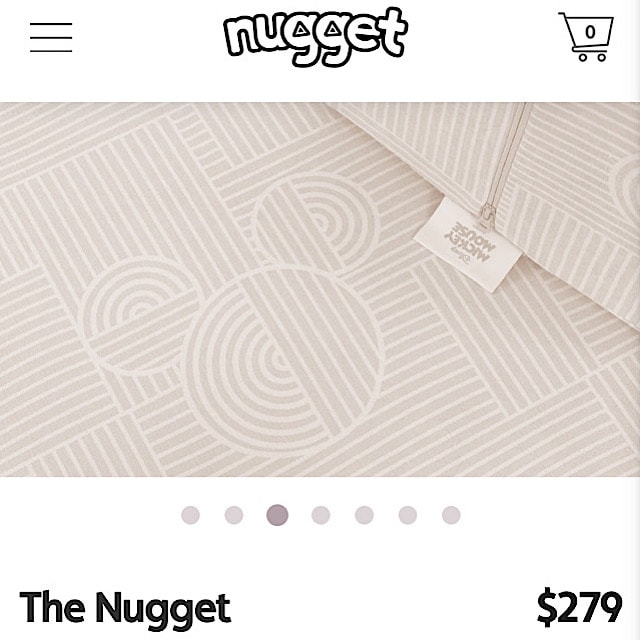 A single brushed microsuede nugget retails for $229 while the double brushed is $259 and the new corduroy fabric is $269. All of the collaborations retail for $279. If you already own a nugget and want to upgrade to a Mickey cover you can pick one up for $159.
Which Mickey Nugget design do you prefer? Comment on Facebook and let us know!
Ashley Beckwith McKellar
Follow me on Instagram: @disneyparksmom
Are you planning a vacation? Reach out to our trusted travel agency sponsor Authorized Disney Vacation Planner
Mouse Class Travel
!