There is no doubt that Disney is an expensive vacation. From the hotel and tickets to the FOOD it all adds up. Read on to find some easy and yummy cost saving ideas for you and your family!
Deluxe Studio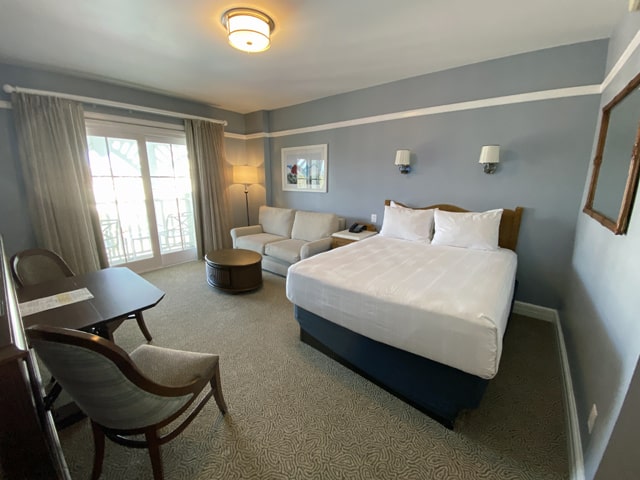 Deluxe Studios are a unique accommodation at Disney. They are part of the Disney Vacation Club or DVC. Disney Vacation Club is Disney's version of a time share. You can read more about the ins and outs of DVC HERE.
You do not have to be part of DVC to book this style of room. You can pay cash or even rent points. You can go through several different third party companies to rent points or even directly through a DVC owner. Be sure to read about renting points HERE.
What Is In A Studio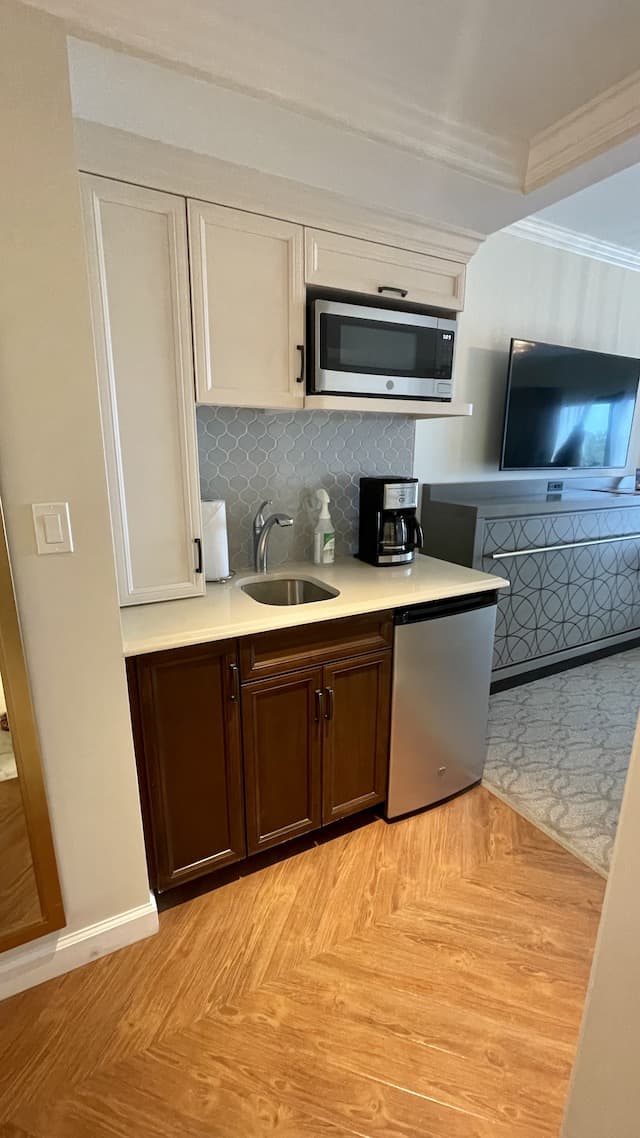 The Deluxe Studio is similar to a regular hotel room. However, there are a few differences. These rooms can sleep four to five guests depending on where you are staying. Most (but not all) also have a pull-out couch or a pull down bed instead of a second queen size bed.
One of my (Heather) favorite parts about a Deluxe Studio versus a regular hotel room is the kitchenette. I love being able to have this separate space to prepare some small meals and snacks. The kitchenette includes a coffee maker, microwave, toaster, and mini fridge/beverage cooler. There is also another sink in the kitchenette area.
Just having these few extra things can help you prepare a decent and affordable meal for you and your family. Be aware there are some things that you aren't allowed to bring with you.
What You Cannot Have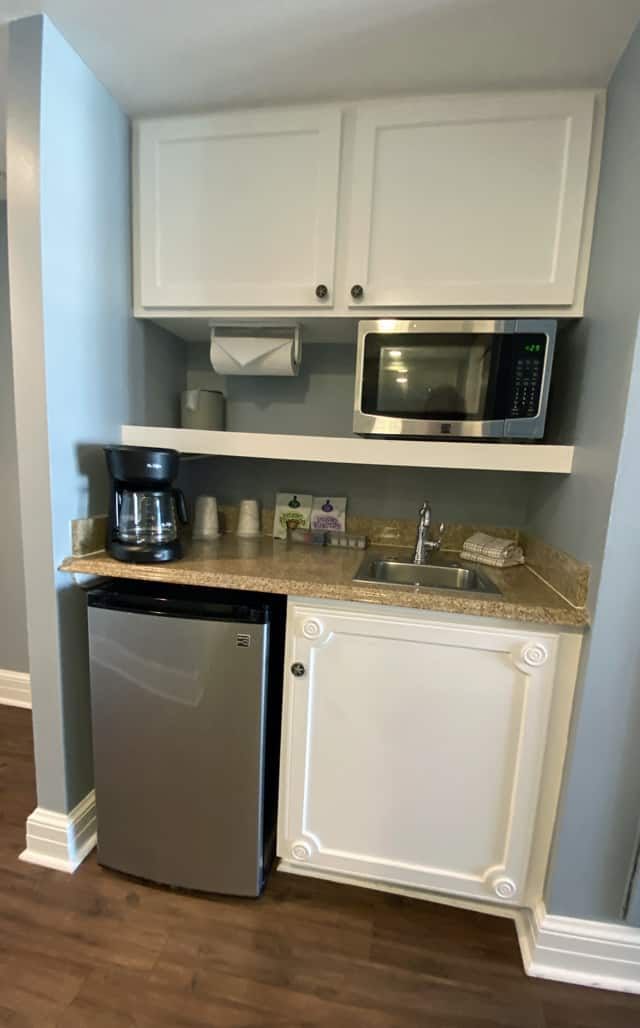 Disney has set some rules that certain items are prohibited in guest rooms. Unfortunately, you can't bring any small appliances that have heating elements.
No crock pots, Instapots, and hotplates are allowed. I know having these items would make it easier to prep meals, but I will show you how to use what Disney provides to make some pretty good meals for a fraction of what those same meals would cost elsewhere at Disney.
Menu Ideas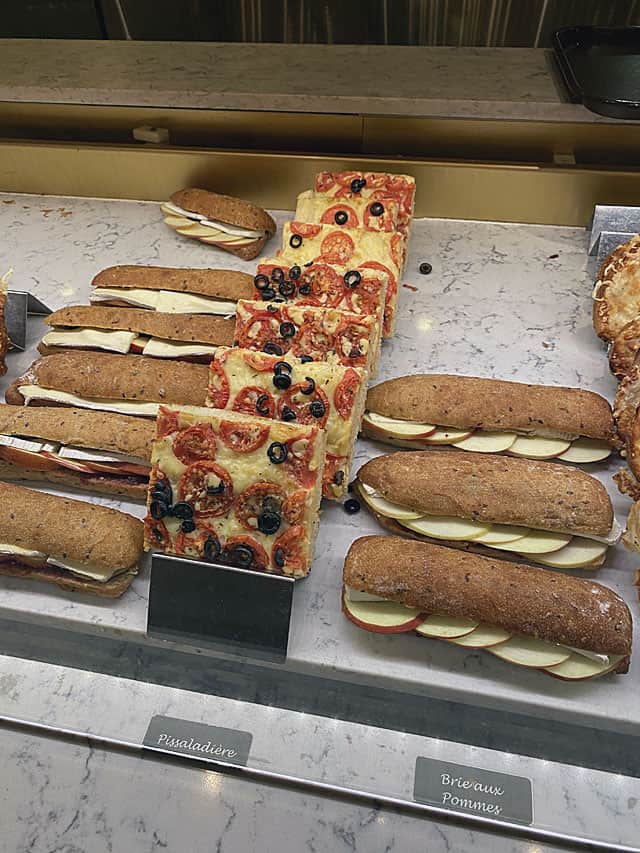 For my most recent trip we drove so I was able to pack differently than if I was flying. I was sure to bring some microwave safe containers (I prefer Pyrex containers) and a colander.
It is important that you pre-plan your meals out just a bit to bring the appropriate cooking utensils. Also, keep in mind that you only have a mini fridge, so there is not a lot of room in there.
You may need to make a couple of trips to the grocery store depending on how many meals you are preparing, but the savings may be worth it! You could even try grocery delivery!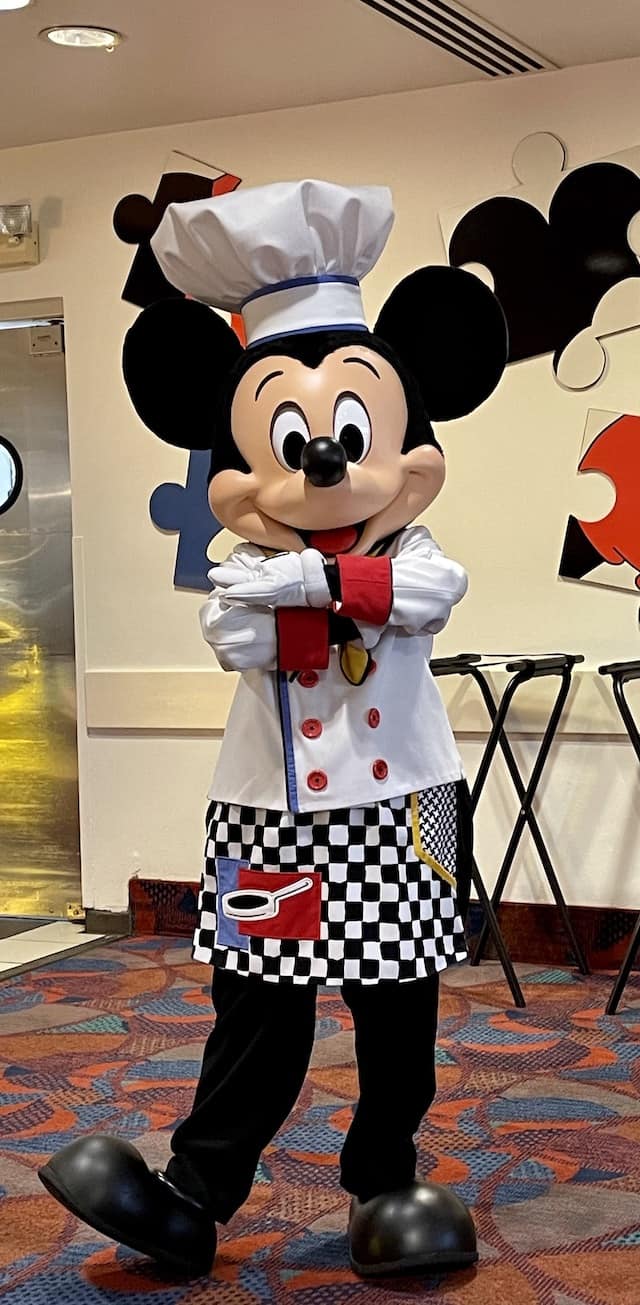 When I am on vacation, I do enjoy eating out. However, I don't enjoy the prices. I also don't want to spend all my time cooking either. I enjoy quick and easy meals while on vacation.
My family chooses a couple of table services meals and then plans a couple of meals in the room. This helps with the budget, but it also forces us to have some down time and enjoy the resort.
Here are a few meals my family enjoyed on our last trip: pasta, nachos, and pulled pork sandwiches.
Pasta and Sauce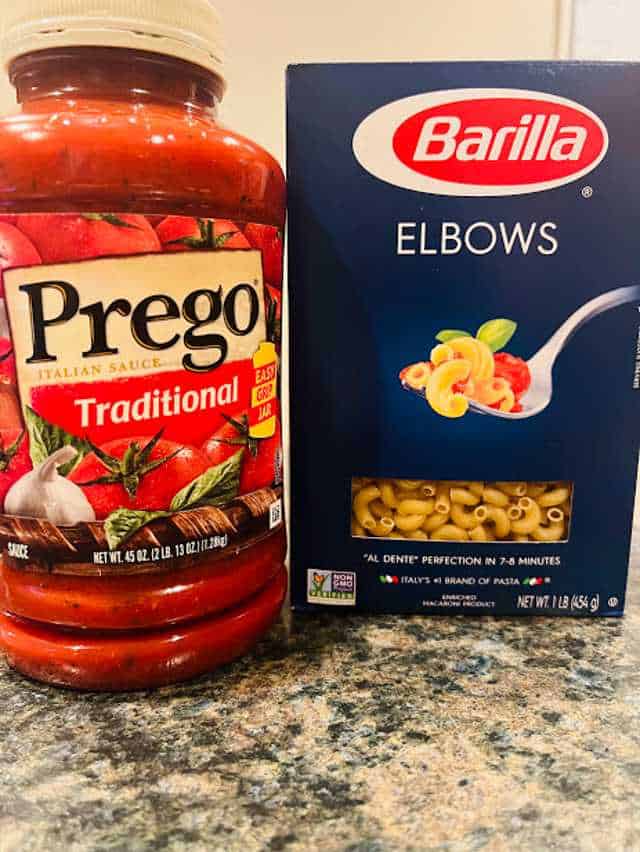 Pasta with some sauce is a quick and easy meal. Have you ever cooked pasta in the microwave? Other than Easy Mac I had not until this trip!
It is so simple! Here I used my Pyrex bowl. Fill the bowl with pasta (I used elbows) and cover with water. You will then cook the pasta for recommended time PLUS three minutes. Carefully, check your pasta for done-ness then drain when done.
For the sauce empty the contents into a microwave safe container. I used a coffee cup. You are now ready to plate! I completed this dinner with a nice loaf of Italian bread with butter and a bagged salad! Chef kiss! Simple and fast!
Nachos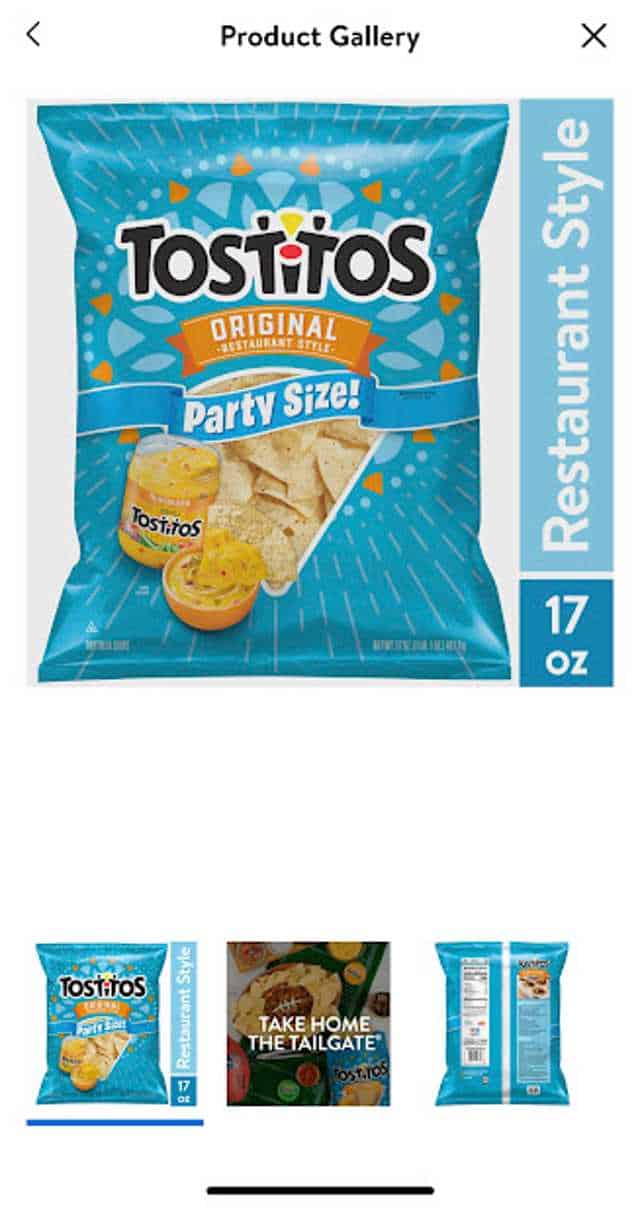 My family loves nachos and they are a quick and easy meal. You can make your own nacho plate, so everyone puts on their own toppings. We opted for one big plate.
For our nachos we made pulled pork ones with all the fixings. I layered the pulled pork onto the nacho chips. Then dolloped some queso over that and then sprinkled a Mexican blend of cheese over the top. We like cheesy and ooey gooey nachos!
Cook the nachos in the microwave, making sure to keep an eye to not over cook them. Once the nachos are done, I had save some lettuce from our salad earlier in the trip and chopped it up small and sprinkled it on top. This nacho plate was finished out with a dollop of sour cream and salsa!
You can use any type of meat (or none) for nachos. Think quick and easy! You can use chicken or beef that is pre-cooked for some other yummy ideas. We chose pulled pork as we were using it for another meal.
Pulled Pork/Chicken Sandwiches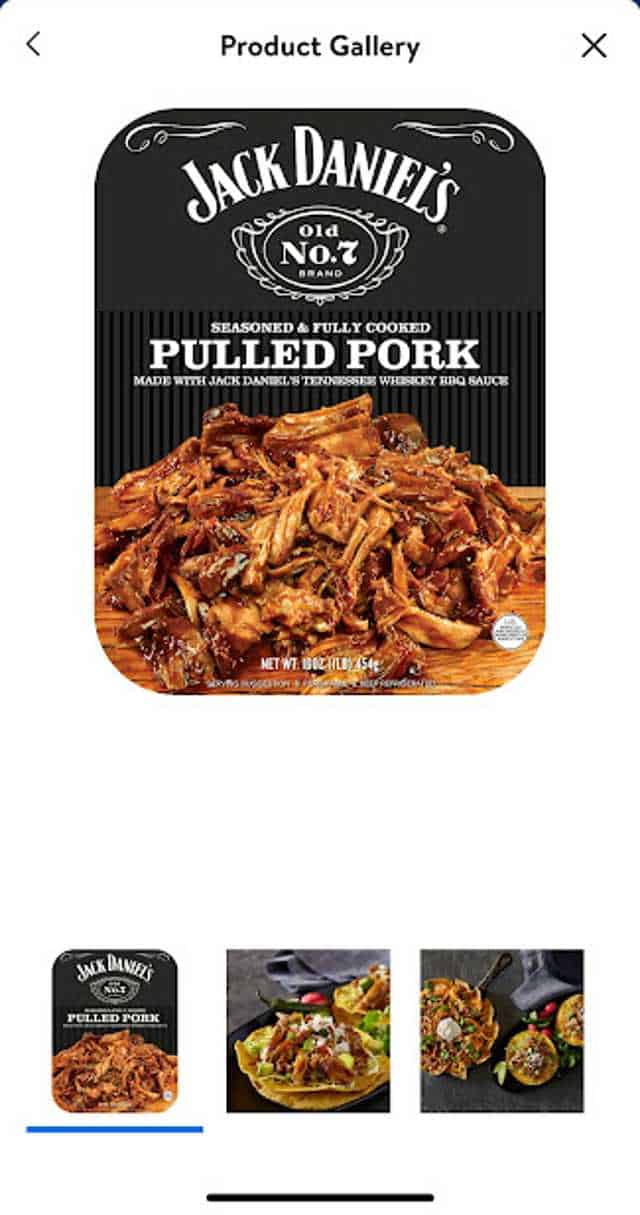 If you haven't figured it out yet, I am all about simple while on vacation. I do not want to spend my time getting food ready. I like to grab items from the grocery store that quick and easy to heat. The less time involved the better! One of my favorite items, even when I am home on a busy night, is pre-cooked BBQ pulled pork. This is a great way to get some food that will really fill you up, but also taste amazing!
As you can see in the previous meal (nachos), I had already purchased this. Save money with finding many uses with each ingredient. I do not like to waste anything, so using up every bit is my goal!
I warmed up the BBQ pork and placed these on burger buns! Add some coleslaw from the deli counter, and you have one delicious and easy sandwich! You can even find similar pulled pork sandwiches throughout Disney property, but this one is for dollars less!
You could round out this meal with some potato chips or even another salad from the deli like potato or a pasta salad. This quick meal will have you relaxing at the pool or running to your next park in no time!
Final Thoughts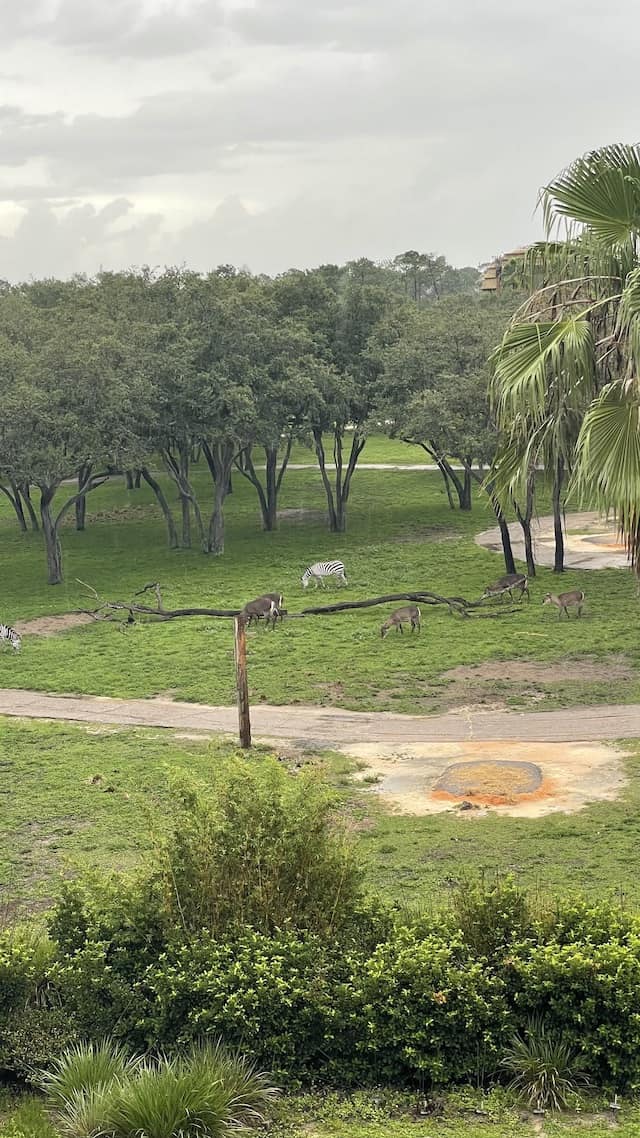 I truly enjoy eating at the different restaurants at Disney, but I also don't want to spend a lot. Doing a couple of easy meals in the room helps my family stay on budget, so we can enjoy other treats (Genie+ being one).
Sometimes I also feel when I eat at a table service meal I have to eat as much as I can to get my money worth, which can leave me feeling sick when heading for the rides. However, enjoying an easy and relaxing dinner with a savanna view (where we stayed this past trip), can't be beat!
I chose ingredients that help make quick meals and can be used in multiple ways. These are great for lunch or dinner! Flexibility is key!
I hope you find these tips helpful, and help you become creative with your menu ideas in your deluxe studio! Do you make meals in your studio? What do you think of these meals? Let us know on the Kenny the Pirate Facebook page. Don't forget to join the KtP crew page, too!

Are you planning a vacation? Reach out to our trusted travel agency sponsor Authorized Disney Vacation Planner
Mouse Class Travel
!