Disney World's Haunted Mansion is so fun! But, did you know that it is full of stories and secrets? Take a look here to discover them.
Haunted Mansions Around the World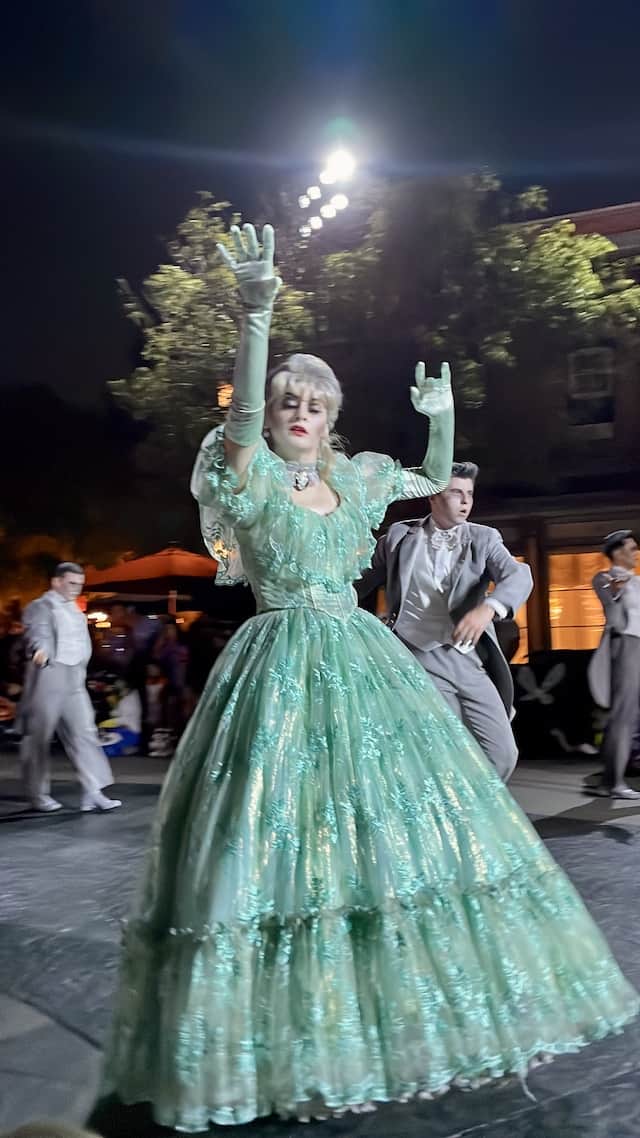 Haunted Mansions and Manors have a cult-like following around the globe. Whether you love Disneyland's holiday layover or prefer Disneyland Paris' Phantom Manor, there are fun spooks at many Disney theme parks. Take a look HERE at more details of all of these fantastic attractions.
For this article, I'm (Susan) focusing Disney World's Haunted Mansion. Did you know that Haunted Mansion is one of the few Disney World attractions that was Walt's idea? To take a look at walking off the Haunted Mansion with the lights on, read HERE. Don't miss details on the upcoming Haunted Mansion movie.
The Haunted Mansion is one of Walt Disney's ideas.
Early Design Ideas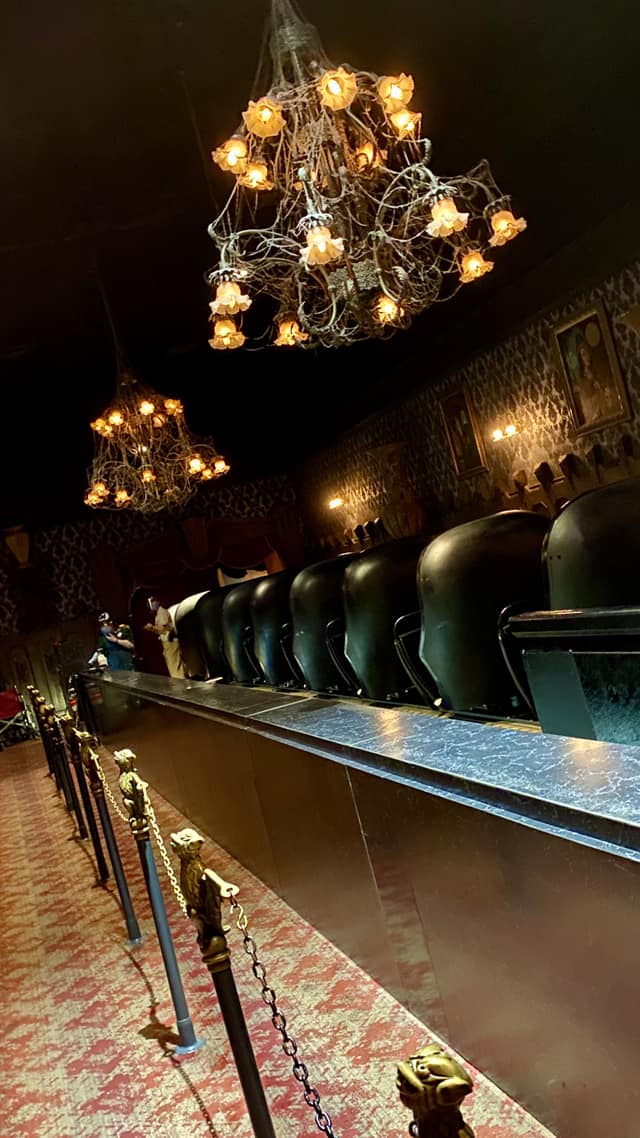 When Walt first envisioned the Haunted Mansion, it was going to be a walk-through ride. However, the Imagineers developed the Omnimover with technology used the World Fair allowing continually moving Doom Buggies. Disneyland's Haunted Mansion was the first one built in 1969, 3 years after Walt Disney's death.
A Spirited Tour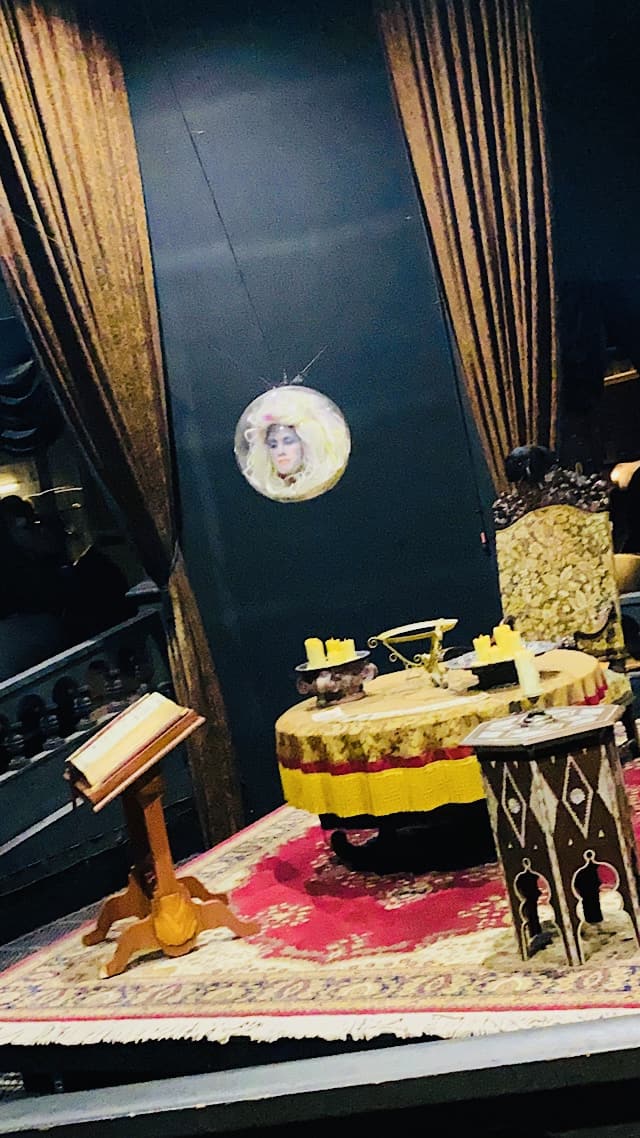 The disembodied voice of the Ghost Host is your private guide through the cadaverous realm of an eerie haunted estate, home to ghosts, ghouls and supernatural surprises.
Glide past a casket-filled conservatory, Madame Leota's chilling séance room and a ghostly graveyard of singing specters as you attempt to find your way out. Beware of hitchhiking ghosts – these pranksters may follow you home. 
Attraction Queue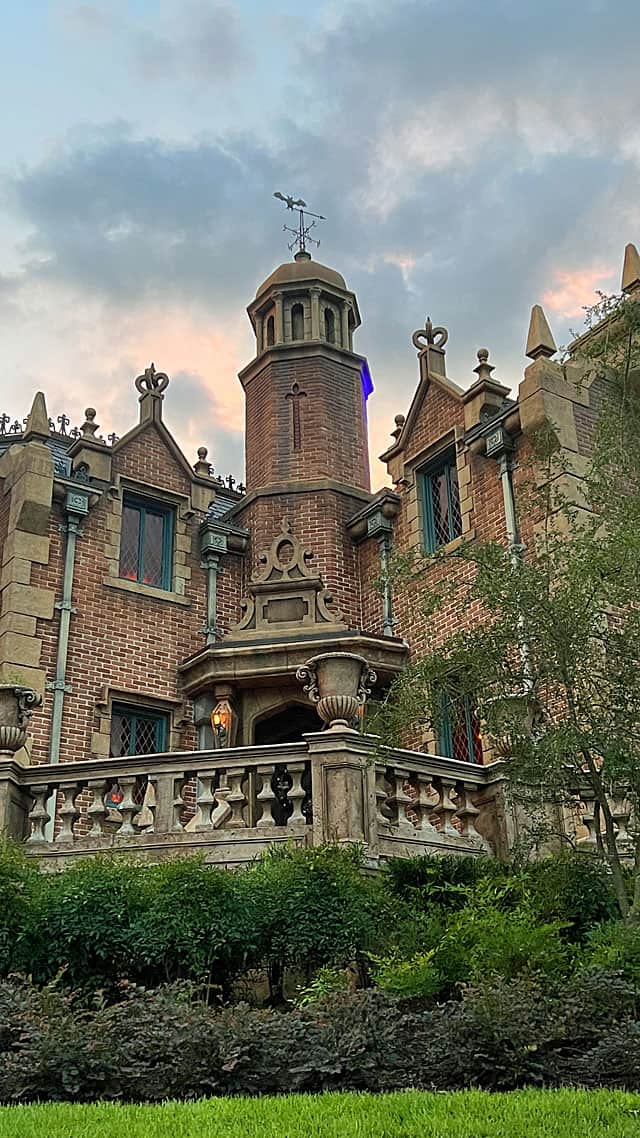 Don't miss the rooftop of the Haunted Mansion. Guests learn on the Keys to the Kingdom Tour that Marc Davis, an avid chess player, cleverly hid chess pieces in plain sight as a tribute to his favorite pastime.
When visiting at night, check out the top story window. You may see a creepy shadow that looks like two people with lanterns crossing by.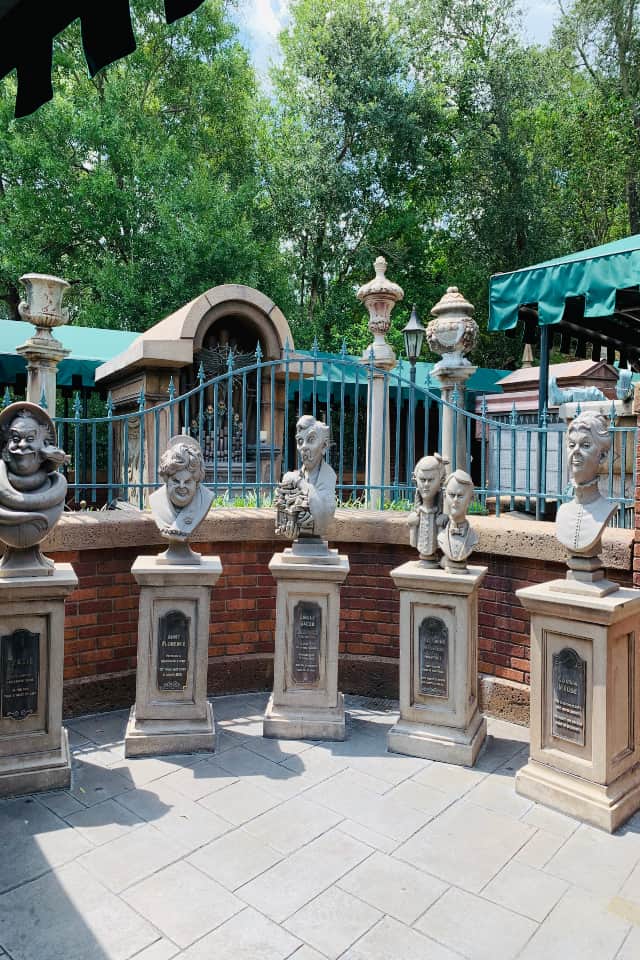 A musical crypt, a leaky tomb and a ghostly writer are among the creepy haunts you'll find outside the main entrance. Explore supernatural hands-on experiences only at Disney World while you await your fate inside.
Engagement Ring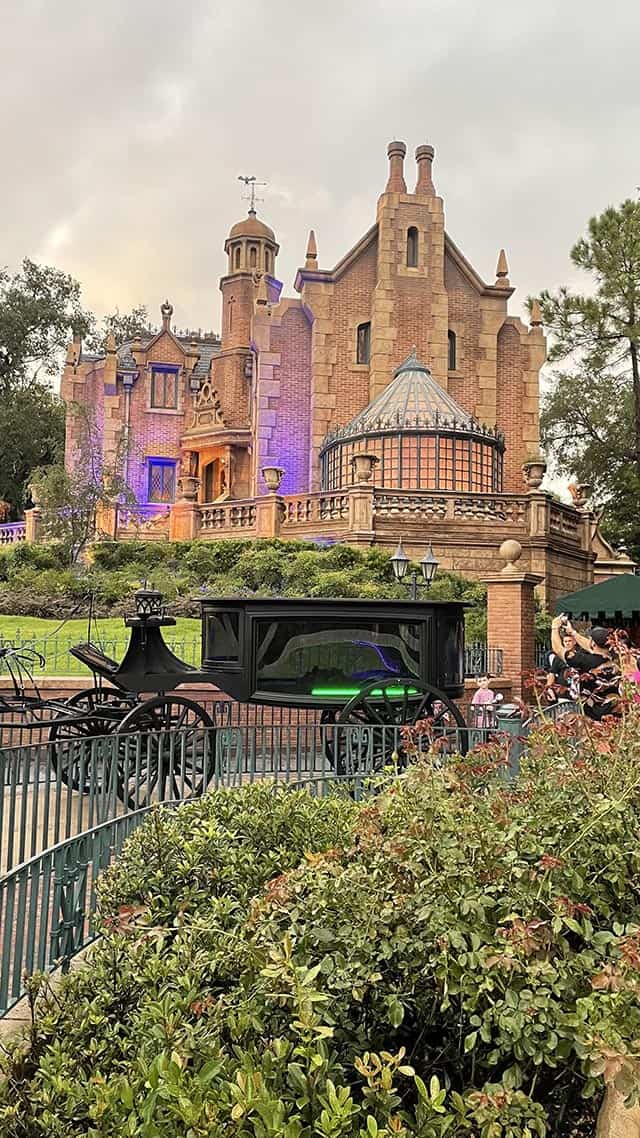 When a pole was cut from the ground in the Haunted Mansion queue, it left a metal ring that resembled a ring. Guests were really excited it about this seeing is at the Haunted Mansion's engagement ring. Then, it was covered in pavement and disappeared.
Not realizing how popular this ring had become, Disney quickly remedied the situation by replacing it with an actual engagement ring embedded in concrete. However, if you want to use your imagination on how it got there, that's even better!
To locate this cool ring in the Haunted Mansion queue, just ask a cast member to help.
Madame Leota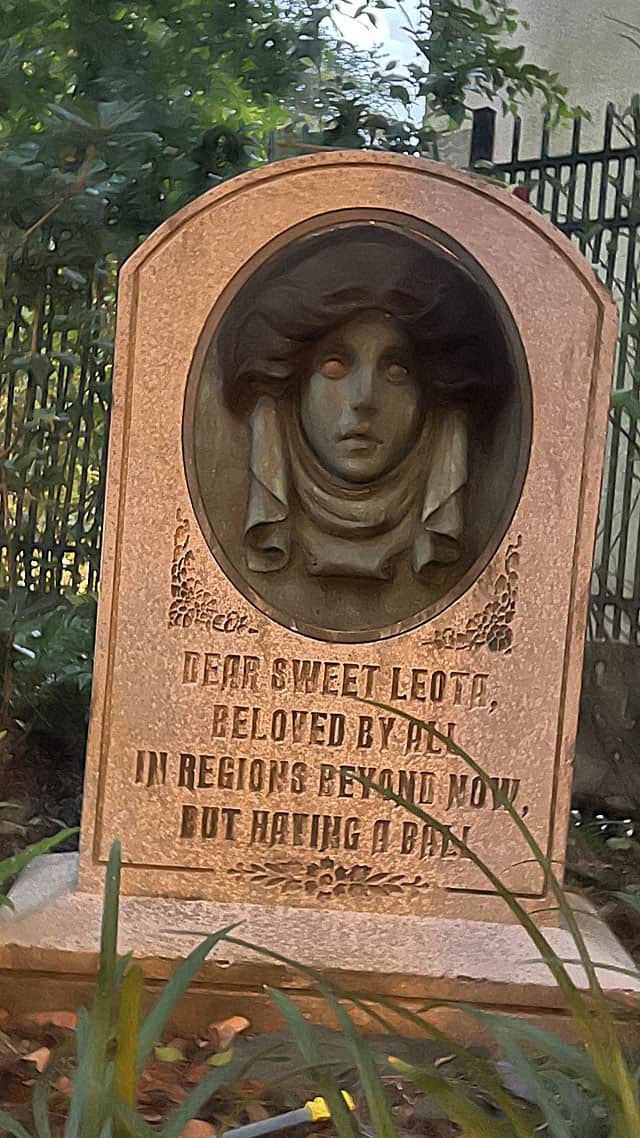 One of the most creepy aspects is the séance room with Madame Leota. The face of Madame Leota was actually modeled after imagineer Leota Toombs. Madame Leota was voiced by Eleanor Audley, who also voiced Maleficent and Cinderella's evil stepmother.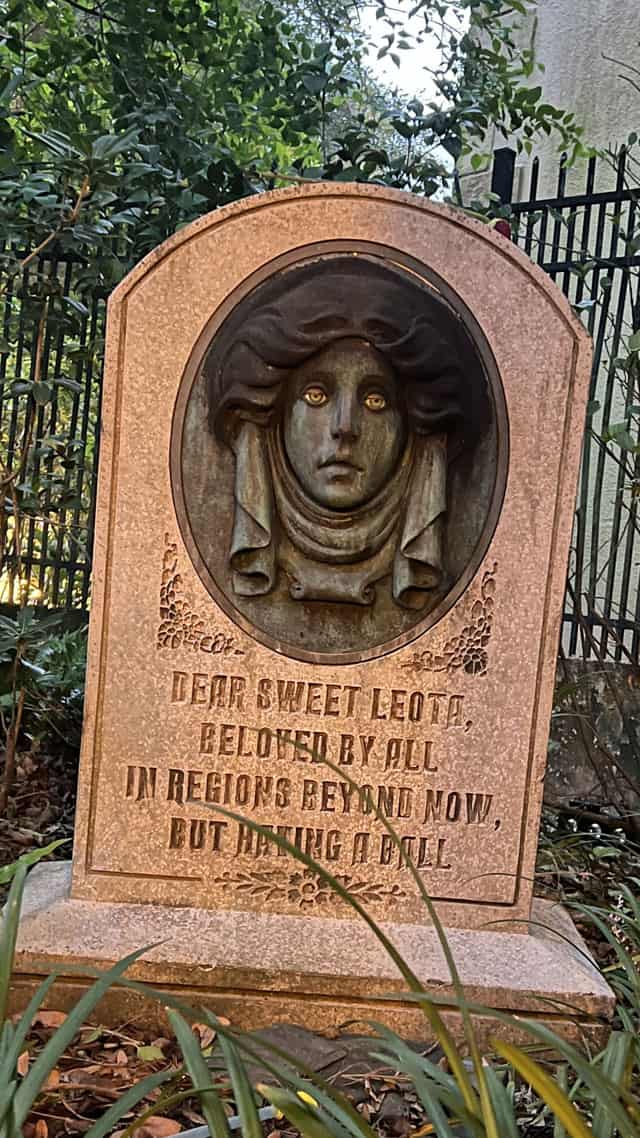 She appears to live somewhere between the living and the dead.  Look for her tomb in the queue.  If you keep an "eye' on it, you'll notice something spooky.  Just for a few seconds, she opens her eyes and then closes them.
The Stretching Room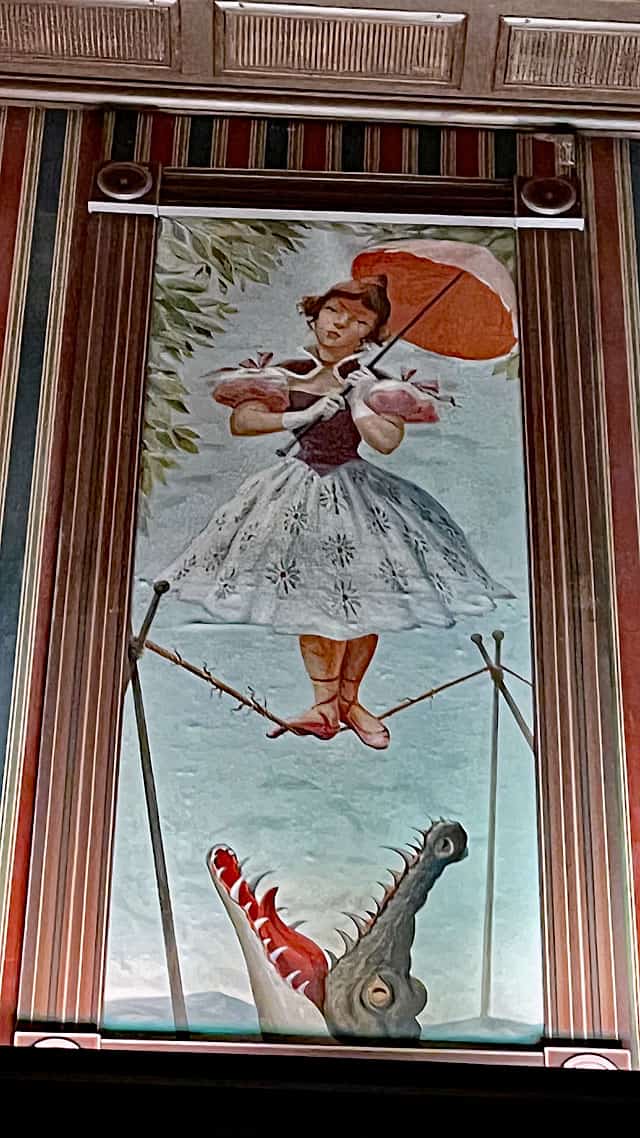 As with other areas of Disney World's Haunted Mansion, there are so many terrific details in the stretching room! For example, the music played in the stretching room is the beloved Grim Grinning Ghosts played in slow motion.
Look up to the ceiling when lightning strikes. For a brief moment, you'll see the Ghost Host's skeleton hanging with a noose tied around his neck right after he says, "Of course, there's always my way."
Guests first see the bride, Constance, as a one of the Stretching Room portraits. She's the old woman sitting down while holding a red rose. As the room stretches, you can see her sitting on top of her late first husband George's tombstone. Poor George has a hatchet stuck in his head.
Look for Constance's portrait in the stretching room.
To be the first one out of the stretching room, stand under the tightrope walker painting shown above.
The Murderous Bride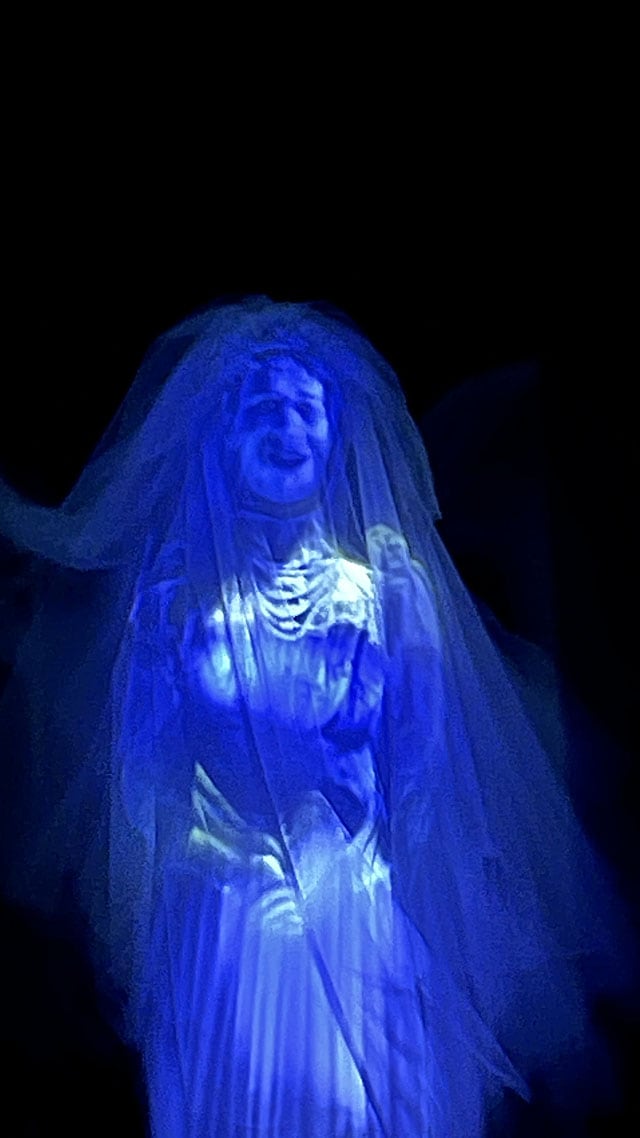 As the story goes, Constance married not once, but five times and developed a pattern of murdering each husband. Afterwards, she materializes with her hatchet throughout the Haunted Mansion.
If you keep your eyes on Constance throughout your ride, you will notice five different portraits of Bride Constance and her husbands. Take a look at her necklaces as you travel through the Haunted Mansion. They symbolize how many husbands she killed when you spot her. She starts with only one necklace in her first appearance. Adding one each time you see her until her final appearance, where she proudly wears five necklaces. Very creepy!
Grand Hall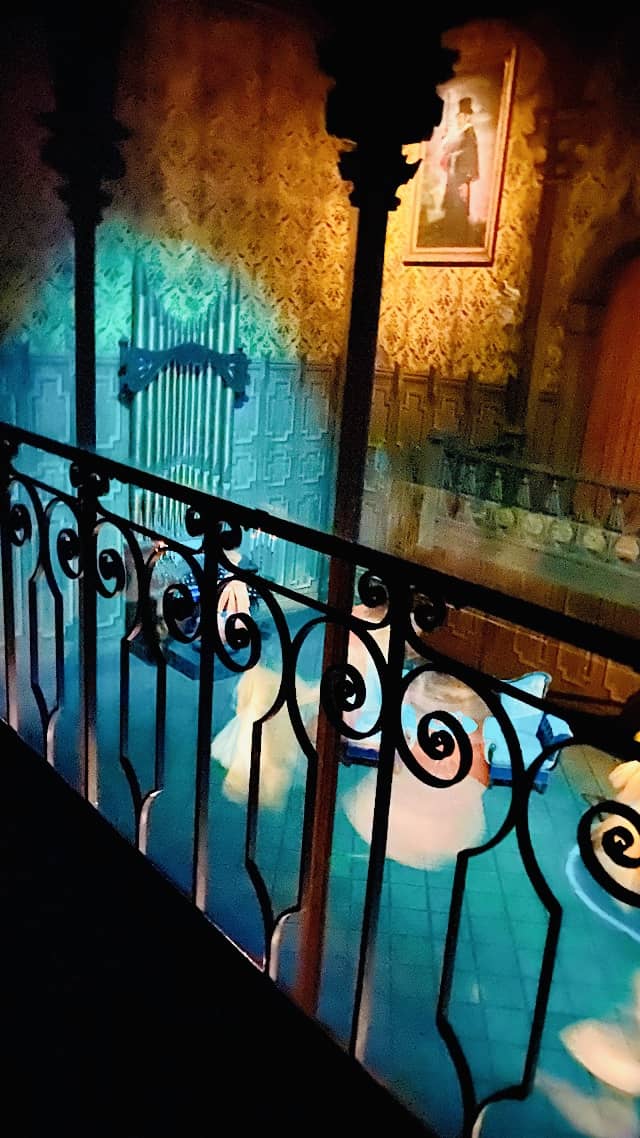 There are so many delights in the dining/ballroom sequence. First, look at the paintings toward the top of the walls. As they change, you'll see "dueling" portraits. Our very own Kenny the Pirate shared that this a nod to Alexander Hamilton and Aaron Burr's historical duel.
The grand hall is where the show transforms from a serious, spooky mansion to a more light-hearted one.  The method used for creating the ghostly dancers and diners in the grand hall is called the Peppers Ghost effect with glass reflecting the "spirits."
Also, look carefully at the plates on the dining table. You may just see a Hidden Mickey!
More Attraction Details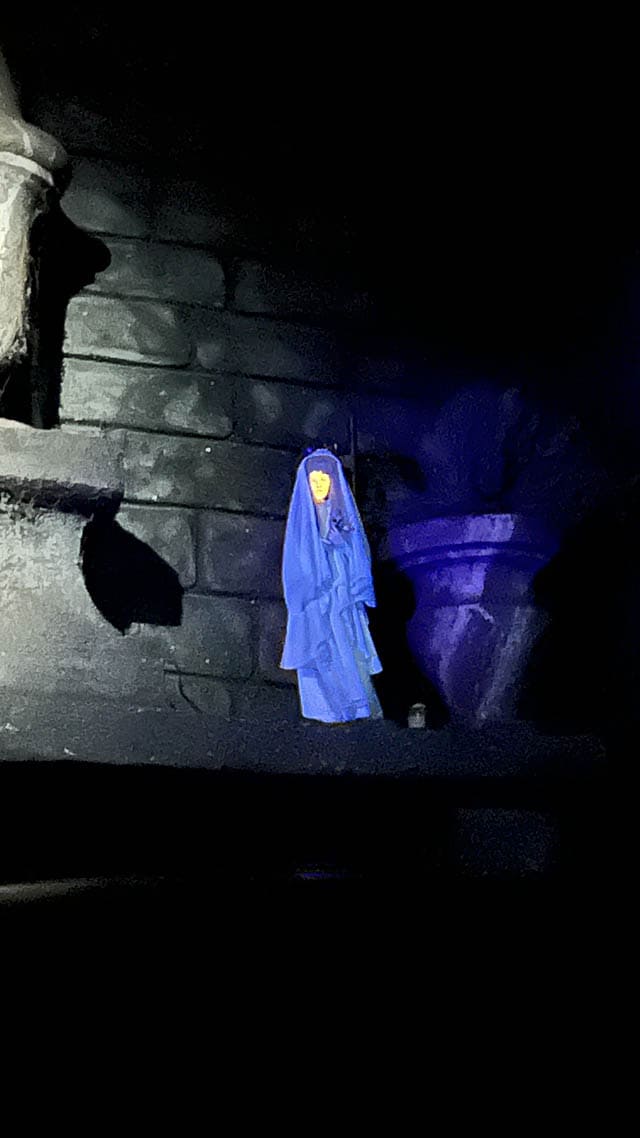 The endless hallway featuring a floating candelabra is created using mirrors on the walls, creating a never ending reflection. The corridor of doors, designed by imagineer Claude Coates, was inspired by classic "The Haunting" movie. The "breathing" door, along with many other door related haunted, such as the ghost door knocker, and the creepy voices coming from behind the doors.
At the end of the corridor, you can't miss the unusual grandfather clock. This clock has 13 hours, spins backwards and looks like some kind of monster.
After leaving the attic through a window, the Doom Buggies fall slowly backwards through towards the Haunted Mansion graveyard. Ghosts fly freely all around as the boom buggies. Some say that when you drop backwards into the graveyard, it symbolizes crossing over to the other side.
Exiting the Ride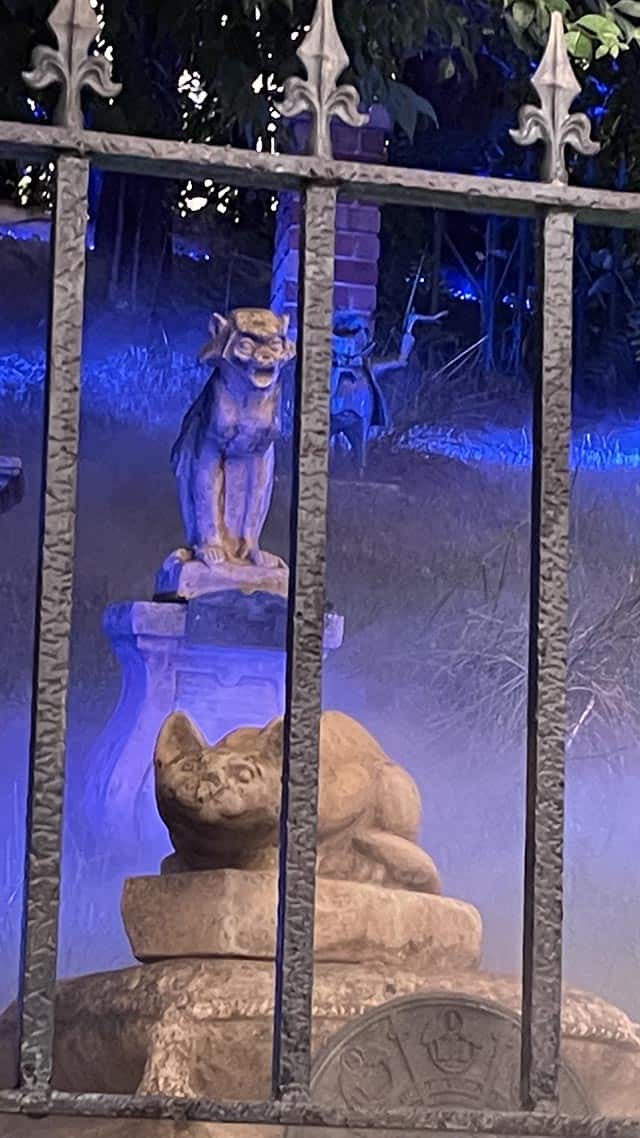 As you exit the ride at Disney World, look toward the left on the hill. You'll notice a tiny cemetery. But, like other things here, it's not what you expect. This cemetery pays homage to pets only. Look to the top and you'll see Mr. Toad's tombstone, a nod to the former Disney World Mr. Toad's Wild Ride attraction.
Don't miss the "ghost" hearse at the end of the ride. You'll notice hoof prints in the concrete, too!
Missing Elements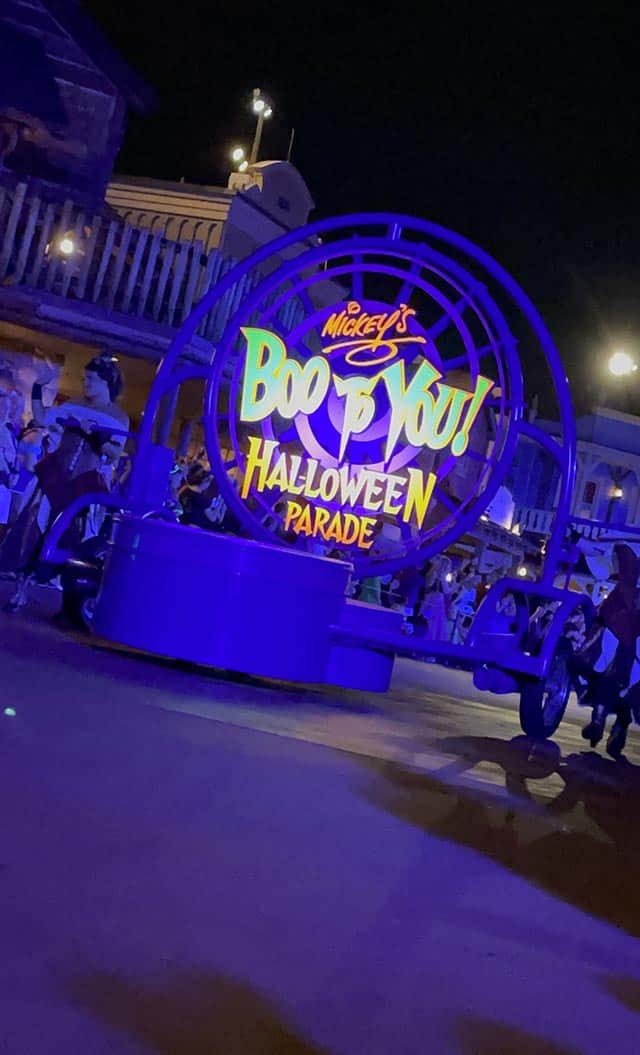 Previously, there was a black wreath located on the front door symbolizing mourning. However, if you attend Mickey's Not So Scary Halloween Party, you'll see it now on the Haunted Mansion float.
Not only that, but guest favorite Hatbox ghost has been missing for years. Imagineers just couldn't get the effect of him holding his head to work correctly. Now, we have wonderful news! The Hatbox Ghost is coming to Disney World's Haunted Mansion!
Two Designs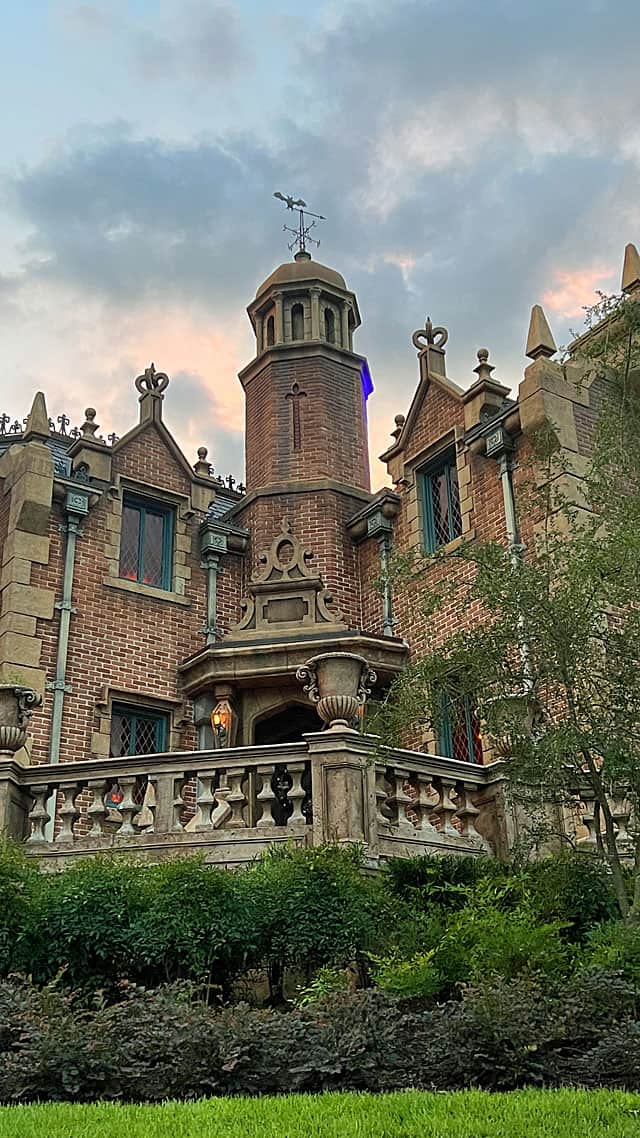 Although there is a ton of mystery surrounding Haunted Mansion's backstory, I (Susan) learned about the ride's design watching the Disney+ Behind the Attraction show. Walt originally hired imagineer Marc Davis who loved humor and played gags on people every chance he got.
However, Walt envisioned the Haunted Mansion to be a "house of weird things." He accomplished having more spooky elements when imagineer Claude Coats joined the team. He has an extraordinary eye for visuals and preferred a scary attraction.
The Haunted Mansion is a perfect blend of spooky and silly.
When Walt Disney developed the attraction, he didn't specify if it should be funny or scary. When completed, it became a perfect blend of spooky and silly.  It's interesting that Imagineers use the "Grim Grinning Ghosts" song the entire ride.  It only changes speed, getting faster as you travel through the Haunted Mansion.
Keepsakes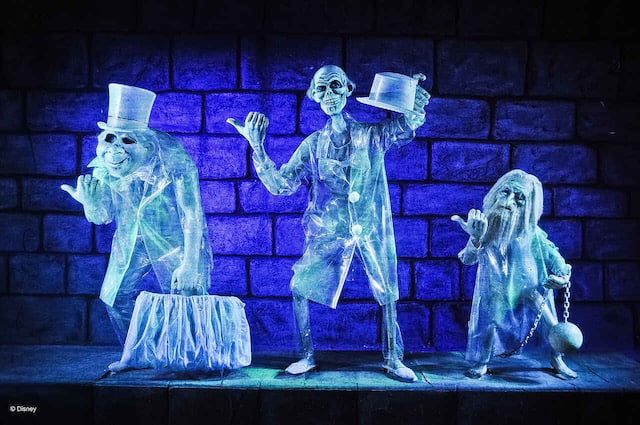 Previously, Cast Members would hand out death certificates as guests exited the ride. Now, you can find them online.
Don't forget to check out the former home of Madame Leota! Now it's a shop, called Memento Mori, where you'll find everything Haunted Mansion. If you're lucky, you may even hear Leota humming.
Do you know other Haunted Mansion spooky stories? Which Haunted Mansion scene or room is your favorite? Please share your thoughts with us on the KtP Facebook Page or on in the KtP Crew.