This restaurant is consistently rated as one of the top eateries at Walt Disney World. Why does it deserve this honor? Read on to find out!
Dining at Disney World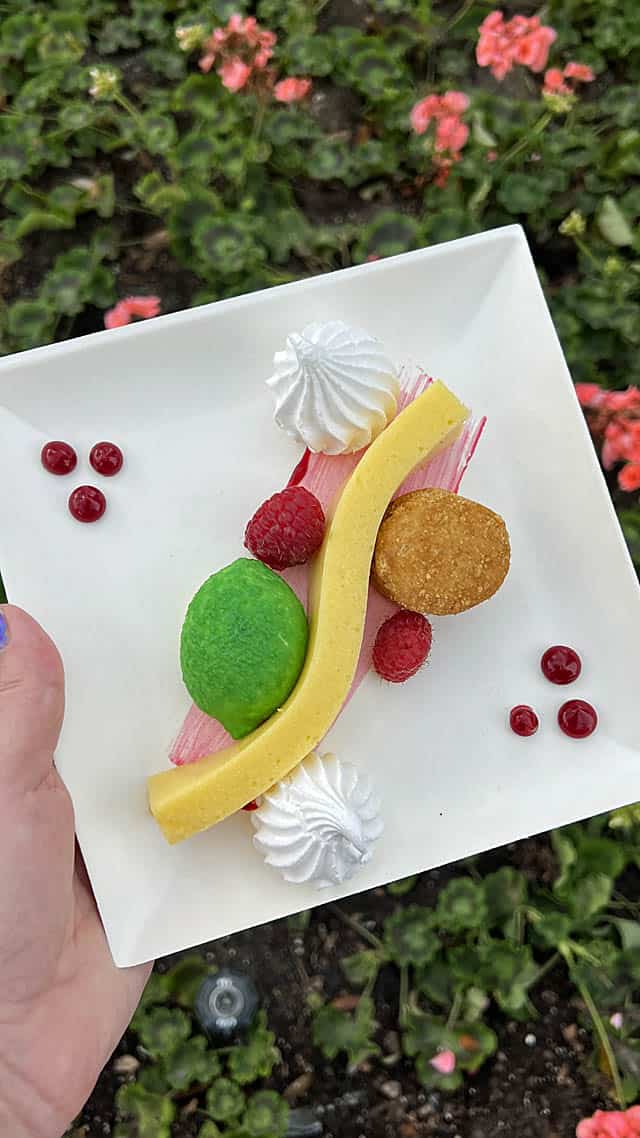 It is no secret that Walt Disney World is known for exceptional dining experiences. There are so many unique and interesting options, and there is certainly something that will appeal to every palate. From restaurants immersed deeply in atmospheric appeal to unforgettable character meals to even quick service or festival booth options at EPCOT, Disney is known for delicious eats.
Consistently, some of the same restaurants rise to the top of people's lists as they plan for dining reservations for trips. These restaurants are often hard to snag reservations for, even sometimes at the 60 day mark!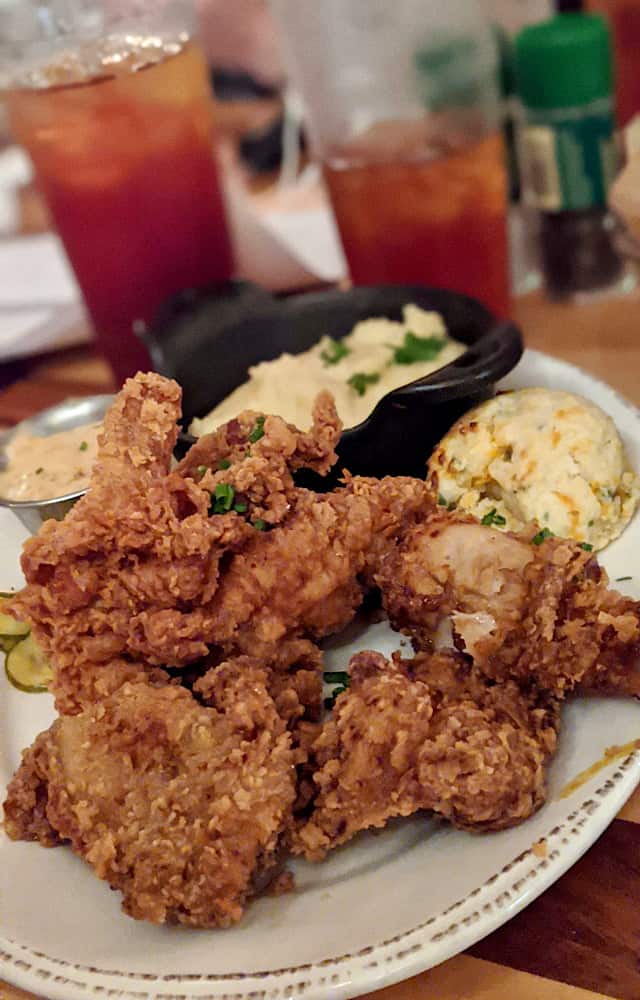 One restaurant in particular is always a favorite of many loyal Disney fans. This restaurant is located in Disney Springs, so it does not require a park ticket or park pass reservation. It has an approachable, yet delicious menu that can satisfy all types of eaters from the adventurous to the picky. The atmosphere is perfect for all groups, from large families with children to couples to even those groups celebrating a special event or occasion.
This restaurant is none other than Chef Art Smith's Homecomin'.
Restaurant Details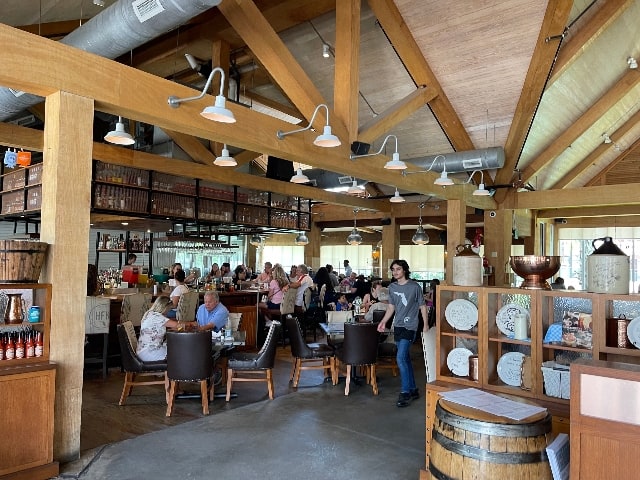 Chef Art Smith's Homecomin' is located in The Landing at Disney Springs. Known for its "farm-to-table cuisine featuring Florida's freshest flavors", Homecomin' has a menu that truly has something for everyone. Homecomin' serves lunch and dinner, with brunch offered every Saturday and Sunday. The menu's main star is the fried chicken, but there are several delicious choices for guests to enjoy.
Appetizers include options such as Church Lady Deviled Eggs, Gator Bites, Bunch of Puppies, and Key West Shrimp Cocktail. The menu includes entree salads and sandwiches as well as "main plates." Options like Fried Chicken & Doughnuts, Braised Short Ribs, Fried Catfish, and Shrimp and Grits can be found here.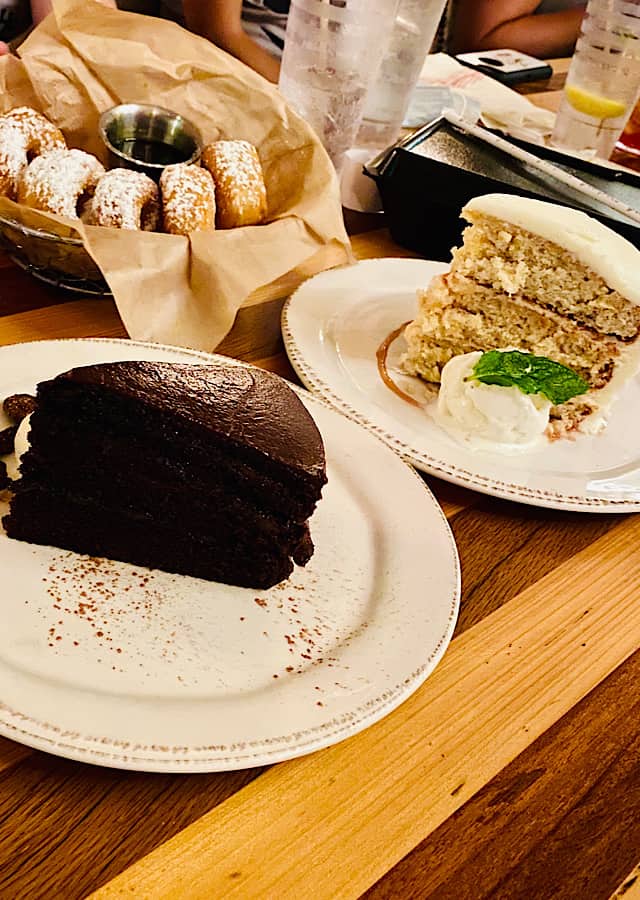 A southern-comfort meal wouldn't be complete without some great sides! A few stand out options include cheddar cheese drop biscuits, creamy mashed potatoes, and Momma's Mac and Cheese. Delicious desserts like Hummingbird Cake and the restaurant's famous moonshine, along with other cocktails and drinks, are also available for purchase!
A comprehensive review of the restaurant can be found in the great review linked here.
Reason #1: The Food is Phenomenal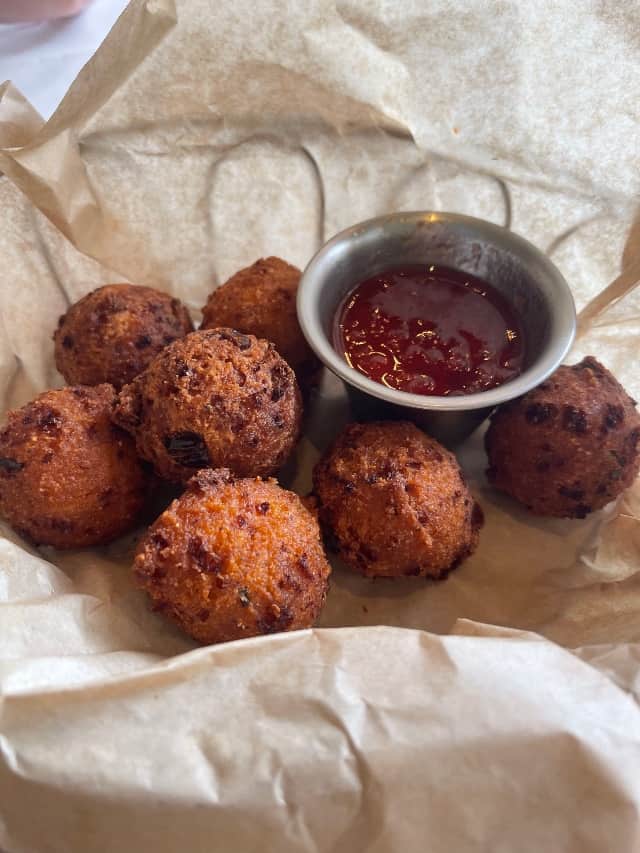 First and foremost, the food at Chef Art Smith's Homecomin' is phenomenal. The fried chicken was honestly the best fried chicken I'd ever tasted!
For my starter, I ordered the Bunch of Puppies. These come served with a pimento cheese and a red jalepeno jelly. I personally LOVE spicy food, so I definitely enjoyed the red jalepeno jelly. It added just the right amount of spice and kick to the dish.
As an entree, I ordered Fried Chicken & Doughnuts with creamy mashed potatoes as my side. I requested chicken breast and leg for my two pieces of chicken. The chicken was juicy, flavorful, and crispy. It is the kind of fried chicken that you dream about! My mashed potatoes were creamy and buttery delicious. I am not usually a huge fan of mashed potatoes, but I thought these were absolutely amazing and were the perfect side complement to the fried chicken. They were delicious but understated enough to allow the true star, the fried chicken, to shine.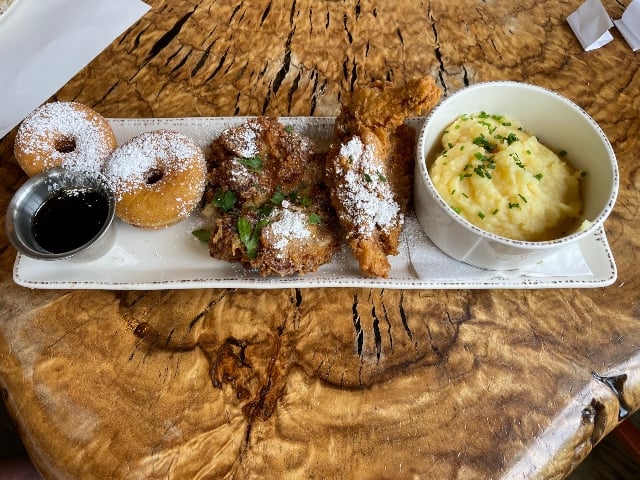 Possibly my favorite part of the meal, however, was the accompanying doughnuts. These freshly made doughnuts are topped with powdered sugar. I am a big doughnut fan, and these certainly did not disappoint. The combination of sweet and salty with the doughnuts and the chicken reminded me of the delicious chicken and waffles dish that I LOVE at the Grand Floridian Cafe. I wish I could order these doughnuts somewhere near my house!
While almost everyone in my party ordered this exact same entree (and all have rave reviews), it is clear that the menu is diversified and offers lots of great options for people who might not only want fried chicken. This makes the restaurant a perfect place to return to again and again in order to experience the many great menu offerings.
Reason #2: The Atmosphere is Relaxed and Friendly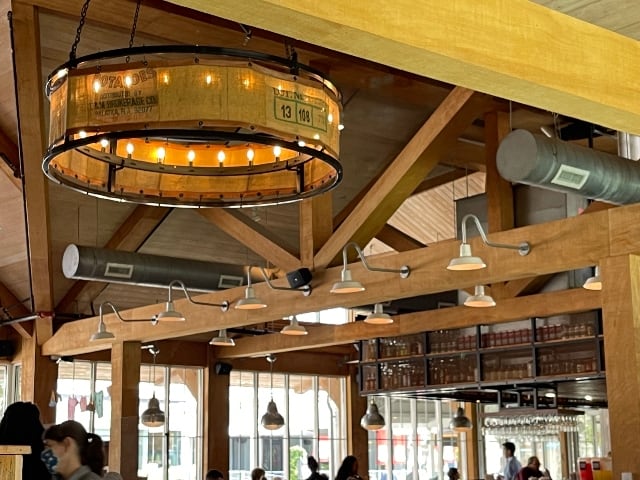 Walking into the restaurant, I was immediately struck with the way that Homecomin' lives up to its name. The restaurant truly feels like coming home. From the "rustic chic" decor to the cheerful servers and the bright natural light, walking into the restaurant feels like walking into your mother or grandmother's kitchen.
The atmosphere in Homecomin' is such that it is a perfect spot to go as a family with small children, but also a great place for a first date or even a business meeting. You get the vibe that all are welcome here and that this is a place where everyone can relax and sit around the table and enjoy great conversation while eating a delicious home-cooked meal.
In an environment that can seem constantly rushed and scheduled, Homecomin' invites guests to escape from the hustle and bustle of "rope drop", "Genie+", and "lightning lanes", and simply just be. This is a much needed respite for guests and a true "homecoming" guests can experience in the heart of their vacation.
Reason #3: The Restaurant is Grounded in its Roots in a Refreshing Way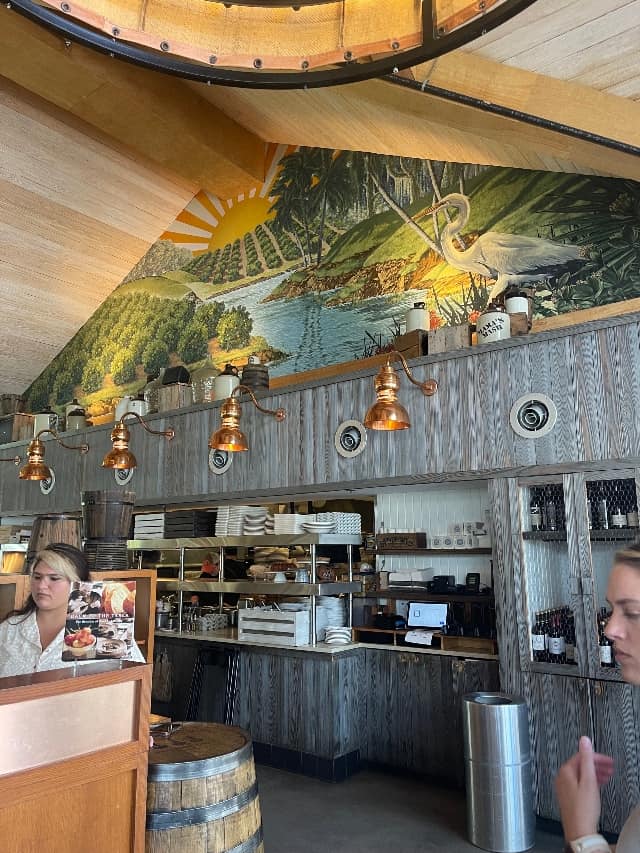 As a final and more analytical reason why this restaurant deserves all of the accolades that come its way, Homecomin' really connects to the roots and place-based feelings of the Walt Disney World resort. When we travel to Walt Disney World, we are often coming for the carefully constructed and designed experience. The entirety of the resort is located on swamp lands that have been reimagined in ways that don't even seem possible.
The same property houses a Polynesian themed experience, an experience themed to the French Riviera, an experience themed to the Pacific Northwest, and even an experience themed to a turn of the century Boardwalk. This goes without even mentioning the immersive lands of fantasy, such as Batuu or Pandora. It is sometimes so easy to forget you are even in Florida while you are at Walt Disney World Resort.
Homecomin' instead hearkens back to the Florida of days gone by, honoring the very land on which the property is built. This is, in its own way, a homecoming for Florida and for the history of the land itself. It is a unique and distinct way to honor the tradition and glory of that which is unique to the land that, in itself, has its own story to be celebrated.
My experience at the restaurant was nothing short of phenomenal. The food was great, the service phenomenal, and the atmosphere somehow fresh and nostalgic at the same time. Overall, Homecomin' blew away my expectations and raised the bar for exceptional dining at Walt Disney World and elsewhere. Have you dined at Chef Art Smith's Homecomin'? What was your experience? Comment below or share your experiences on our Facebook page. We'd love to hear from you!