Calling all Bluey fans! Did you know you can see Bluey live on stage and also enjoy a character meet? We have all the details.
Bluey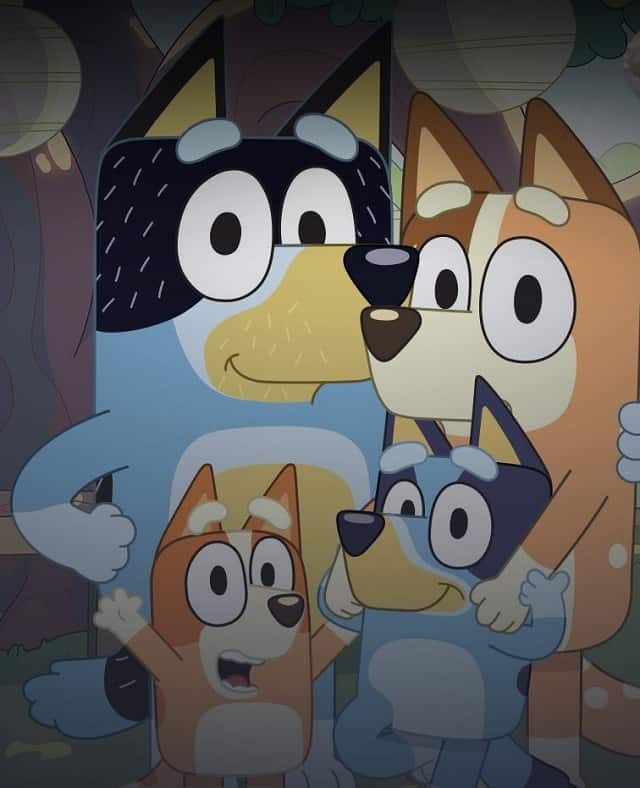 For those who have not been formally introduced, Bluey is a smash hit children's TV series streaming on Disney+. This amazing cartoon comes to viewers all the way from Australia. The show follows the day-to-day lives of two blue heeler pups, sisters Bingo and the title character Bluey, and their interactions with parents Bandit and Chilli. The family lives in Brisbane, Australia, and they spend their days finding bits of magic in the mundane.
Each episode of Bluey is only 6-7 minutes long, but it packs an endless amount of quality messaging into such a small space. Adults and children alike giggle, laugh, and sometimes even cry as the sweet yet occasionally deeply emotional stories unfold. This is a show that the whole family can enjoy! But, I know adults who love it as much if not more than their children.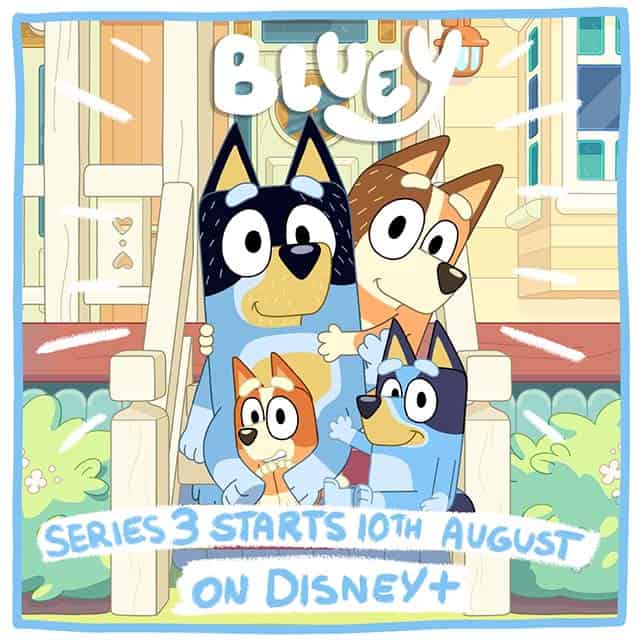 Season 3 of the beloved series recently came to Disney+. At least, part of it did. Only the first half of the season is currently available for streaming, and one episode was cut altogether (though rumor has it a reassessment is happening.) You can read all about this missing content here.
For the time being, US fans have something else to look forward to. A Bluey stage show is touring the USA, and tickets are now on sale for many of the locations! Also, fans have a chance to enjoy a Bluey character meet!
Bluey's Big Play
Very soon, Bluey's Big Play makes its debut in the USA. The show's tour kicks off in New York in mid–November!
Bluey's Big Play is a brand-new theatrical adaptation of the Bluey series. It features a story by Bluey creator Joe Brumm and also new music by Bluey composer, Joff Bush. This is the first stage show for Bluey, and its performance centers around beautiful puppets. If you like, you can take a sneak peek at the puppets in the video above.
The VIP Experience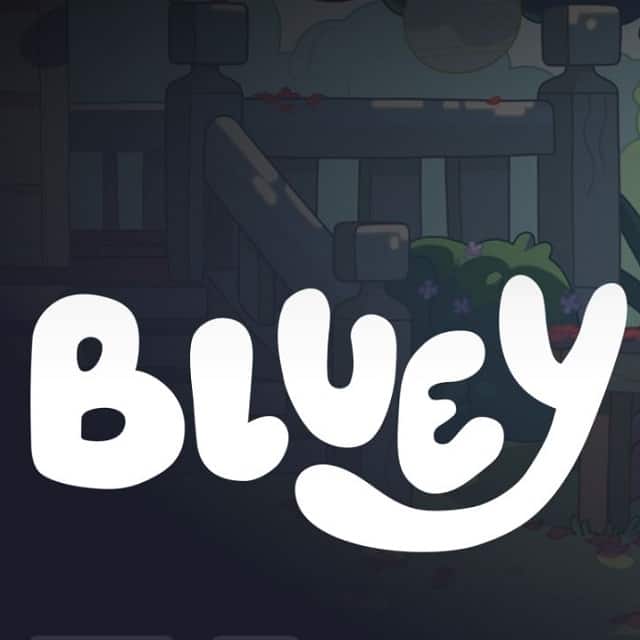 Not only can you see the fun stage show, but many locations are also offering a VIP experience. This experience includes a much-anticipated character meet! In addition to a photo op with a Bluey character, VIPs also receive an exclusive Bluey VIP lanyard and Bluey VIP gift.
The VIP package comes at an upcharge where it is available.
Tour Locations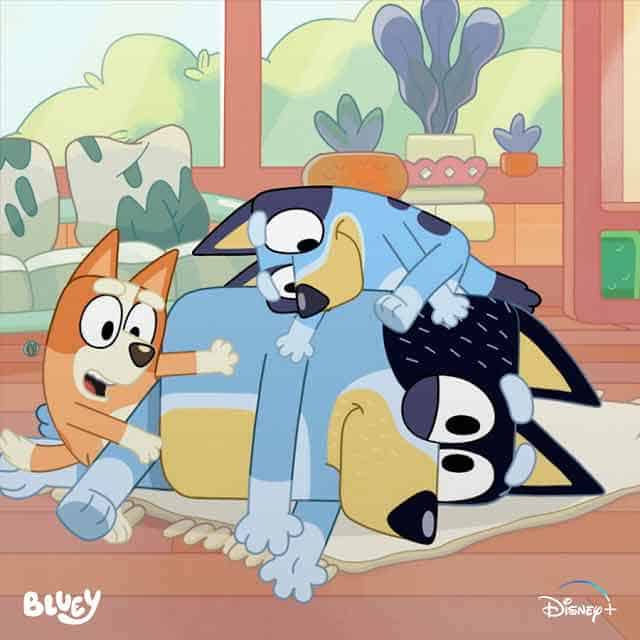 As I (Katie) mentioned, tickets are on sale for many of these tour dates, and the rest are coming soon. If you want to see the show, you are in luck because there are already a lot of dates. So far these are the stops on the tour:
Clemens Performing Arts Center, Elmira, New York: November 15, 2022
Hulu Theatre at Madison Square Gardens, New York, New York: November 18-20, 2022
The Kennedy Center, Washington DC: November 22-27, 2022
Hershey Theater, Hershey, Pennsylvania: November 29-30, 2022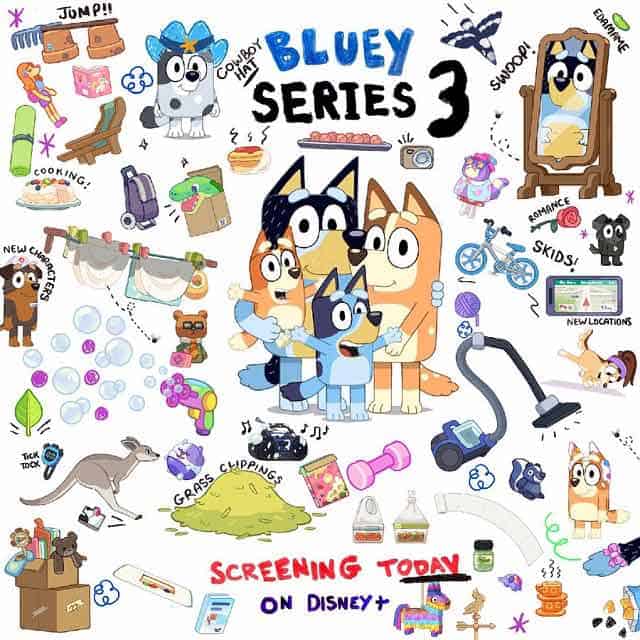 Kimmel Cultural Campus, Philadelphia, Pennsylvania: December 2-3, 2022
EKU Center for the Arts, Richmond, Kentucky: December 6-7, 2022
The Chicago Theatre, Chicago Illinois: December 10-11, 2022
Juanita Hammons Hall, Springfield, Missouri: December 13-14, 2022
Majestic Theatre, San Antonio, Texas: December 16-18, 2022
Walton Arts Center, Fayetteville, Arkansas: December 20-21, 2022
Century II Performing Arts Center, Wichita, Kansas: December 22-23, 2022
Civic Center, Des Moines, Iowa: December 27-28, 2022
Miller High Life Theatre, Milwaukee, Wisconsin: December 30-31, 2022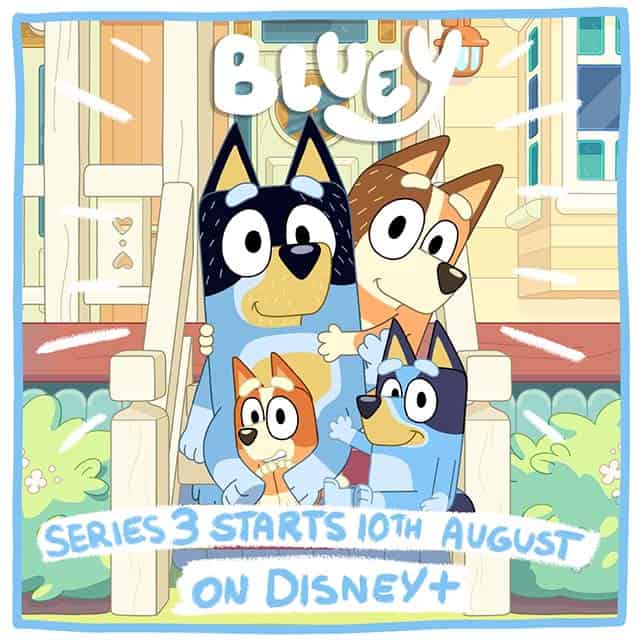 BJCC Concert Hall, Birmingham, Alabama: January 3-4, 2023
Heymann Performing Arts Center, Lafayette, Louisiana: January 5, 2023
Texas Trust CU Theatre, Grand Prairie, Texas: January 7-8, 2023
Abraham Chavez Theatre, El Paso, Texas: January 12, 2023
Arizona Federal Theatre, Phoenix, Arizona: January 14-15, 2023
Sacramento Memorial Auditorium, Sacramento, California: January 17-18, 2023
Mechanics Bank Theatre, Bakersfield California: January 19, 2023
Golden Gate Theatre, San Francisco, California: January 21-22, 2023
Centennial Hall, Tuscon, Arizona: January 24-25, 2023
Dolby Theatre, Los Angeles, California: January 27-29, 2023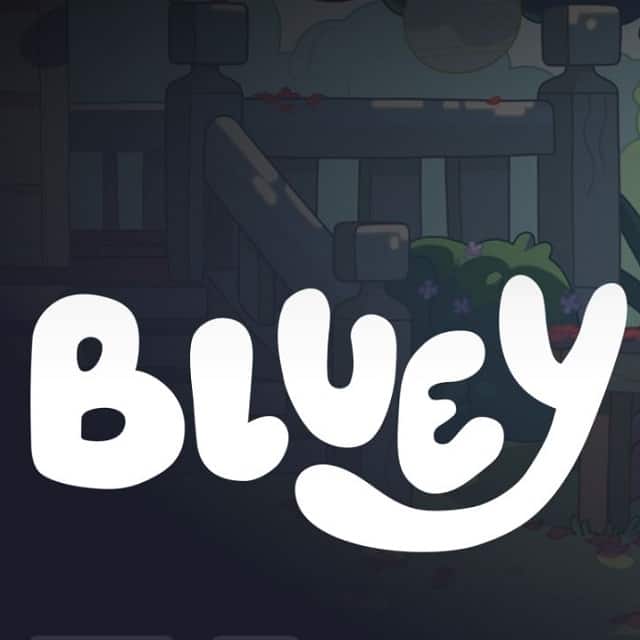 Pioneer Center, Reno, Nevada: February 1-2, 2023
San Jose Center for the Performing Arts, San Jose, California: February 3-5, 2023
Arlene Schnitzer Concert Hall, Portland, Oregon: February 7, 2023
First Interstate Center for the Arts, Spokane, Washington February 8-9, 2023
The Paramount Theatre, Seattle, Washington: February 11-12, 2023
Toyota Center, Kennewick, Washington: February 14, 2023
Velma V. Morrison Center, Boise, Idaho: February 15-16, 2023
The Eccles Theater, Salt Lake City, Utah: February 17-18, 2023
Fred Kaul Theatre, Thousand Oaks, California: February 21, 2023
Segerstrom Center for the Arts, Costa Mesa, California: February 23, 2023
Balboa Theatre, San Diego, California: February 24-26, 2023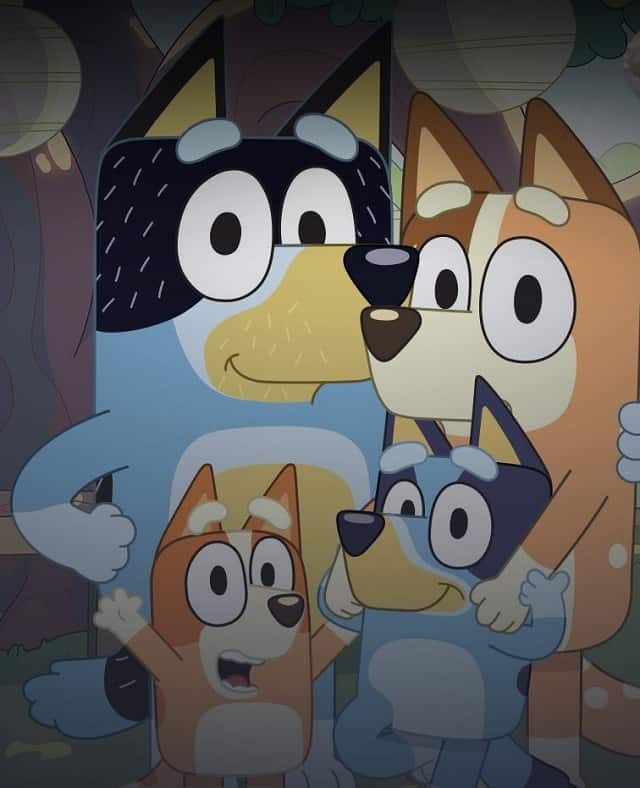 Embassy Theatre, Fort Wayne, Indiana: March 9, 2023
Auditorium Theatre, Rochester, New York: March 11-12, 2023
Landmark Theatre, Syracuse, New York: March 18-19, 2023
Steven Tanger Center, Greensboro, North Carolina: March 21-22, 2023
Chrysler Hall, Norfolk, Virginia: March 23, 2023
Toyota Oakdale Theatre, Wallington, Connecticut: March 25-26, 2023
The Stanley Theatre, Utica, New York: March 29, 2023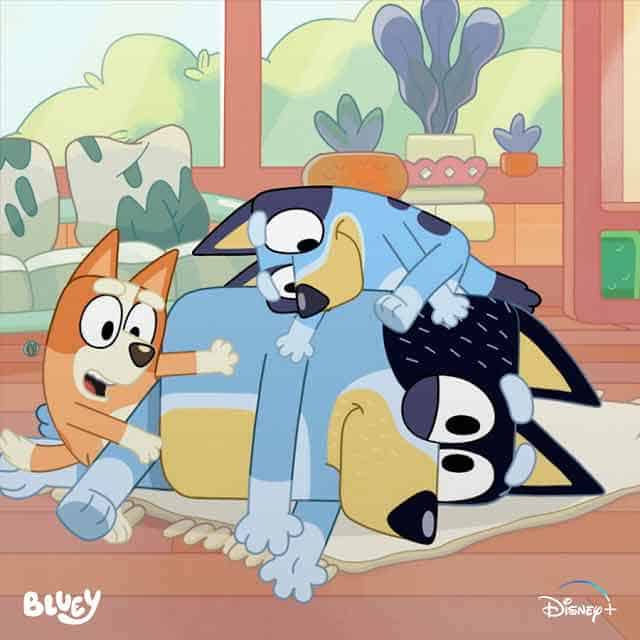 The Vets Providence, Providence, Rhode Island: April 1-2, 2023
The Proctor's Theatre, Schenectady, New York: April 4-5, 2023
Boch Center Want Theatre, Boston Massachusetts: April 7-8, 2023
Shea's Performing Arts Center, Reading, Pennsylvania: April 15-16, 2023
Santander Performing Arts Center: April 18-19, 2023
Fox Theatre, Detroit, Michigan: April 21-23, 2023
Altria Theatre, Richmond, Virginia: April 25, 2023
North Charleston Performing Arts Center, North Charleston, South Carolina: April 26-27, 2023
Straz Center, Tampa, Florida: April 29-30, 2023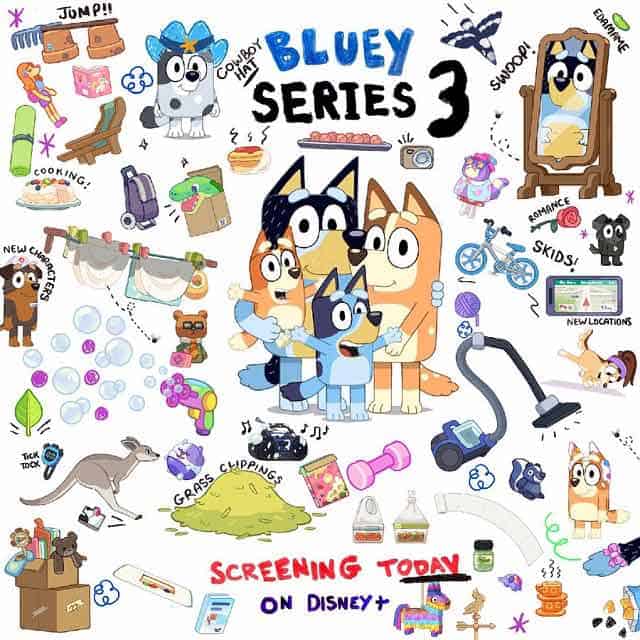 Walt Disney Theatre ad Dr. Phillips Center, Orlando, Florida: May 6-7, 2023
Kroger Center for Arts, Columbia, South Carolina: May 9-10, 2023
Peace Center, Greenville, South Carolina: May 11, 2023
Belk Theatre, Charlotte, North Carolina: May 13-14, 2023
Columbia County Performing Arts Center, Columbia County, Georgia: May 17-18, 2023
Fox Theatre, Atlanta, Georgia: May 20-21, 2023
The Long Center, Austin, Texas: May 27-28, 2023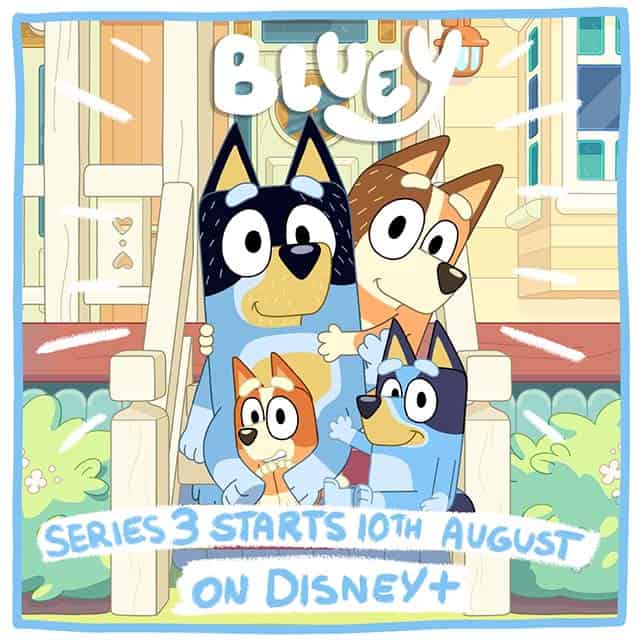 Carson Center, Paduch, Kentucky: May 31- June 1, 2023
Tennesse Performing Arts Center, Nashville, Tennessee: June 3-4, 2023
Durham Performing Arts Center, Durham, North Carolina: June 6-7, 2023
Clay Center, Charleston, West Virginia: June 8, 2023
Murat Theater at Old National Center, Indianapolis, Indiana: June 10-11, 2023
River Center Adler Theater, Davenport, Iowa: June 14-15, 2023
The Fabulous Fox Theatre, St. Louis, Missouri: June 17-18, 2023
Washington Pavillion, Sioux Falls, South Dakotah: June 21-22, 2023
Kauffman Center for Performing Arts, Kansas City, Missouri: June 24-25, 2023
Robinson Center, Little Rock, Arkansas: June 12-13, 2023
Tulsa Performing Arts Center, Tulsa, Oklahoma: June 15-16, 2023
Broward Center for the Performing Arts, Ft. Lauderdale, Florida: June 22-23, 2023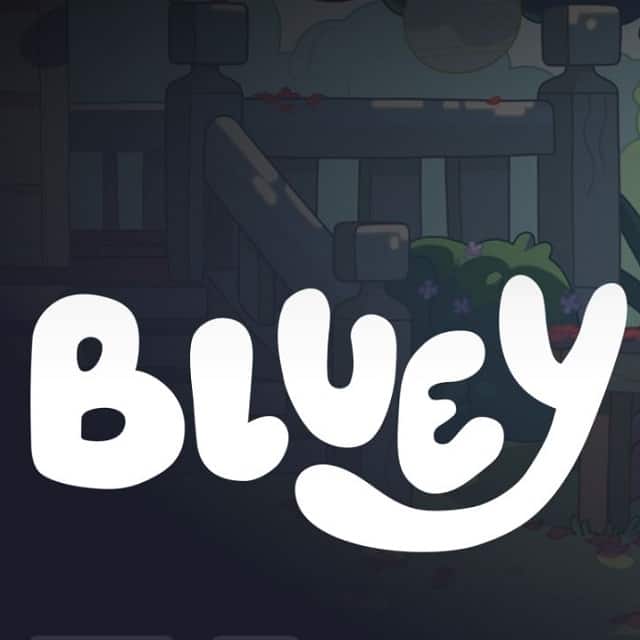 Saenger Theater, Pensacola, Florida: July 25-26, 2023
Brown Theatre, Houston Texas: July 29-30, 2023
Keybank State Theatre, Cleveland, Ohio: August 5-6, 2023
Overture Center for the Arts, Madison, Wisconsin: August 12-13, 2023
Lyric Opera House, Baltimore, Maryland: August 19-20, 2023
Saenger Theater, New Orleans, Louisiana: August 26-27, 2023
And more dates will be announced.
Final Thoughts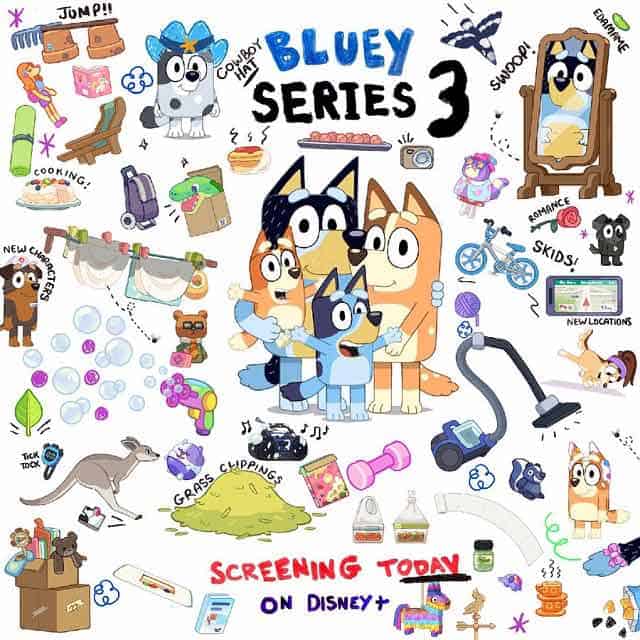 So, it looks as if there is a chance to meet Bluey coming to Orlando, just not to Disney. I am sure fans would love it if Disney somehow ended up with the correct licensing to host a Bluey meet in the Disney Parks. However, that day is not here just yet. I am not giving up hope that it will happen someday.
Are you going to take the kids to see Bluey's Big Play when it comes to a theatre near you, or will you be going without the kids? Let us know whether you are excited in the comments, or you can also join our friendly crew to continue the conversation on Facebook.
Are you planning a vacation? Reach out to our trusted travel agency sponsor Authorized Disney Vacation Planner
Mouse Class Travel
!