Building a lightsaber at Savi's Workshop is a bucket list item for any Star Wars fanatic. It is truly a must do experience during your visit to Batuu!
Savi's Workshop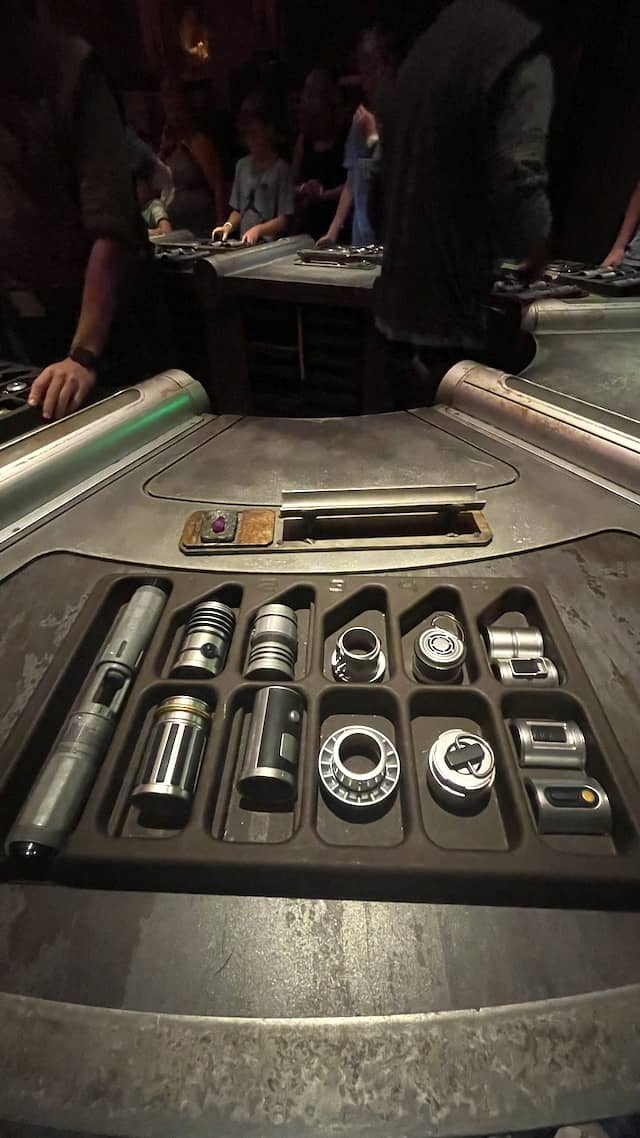 Build your own custom lightsaber at this secret workshop and continue the way of the Force at Savi's Workshop. Travel to Black Spire Outpost, where a group known as the "Gatherers" ushers you into a covert workshop packed with unusual parts, whimsical pieces and miscellaneous memorabilia collected from the far reaches of the galaxy.
Under their guidance, you can construct your very own lightsaber and bring it to life through the power of kyber crystals. Builders beware—you must protect the shop's secrecy to avoid being discovered by the First Order!
This is a very special experience that many Star Wars fans dream about doing. Do note that it is different than the other build-your-own lightsabers that can be found at Tatooine Traders. Read all about that option HERE.
Advanced reservations and pricing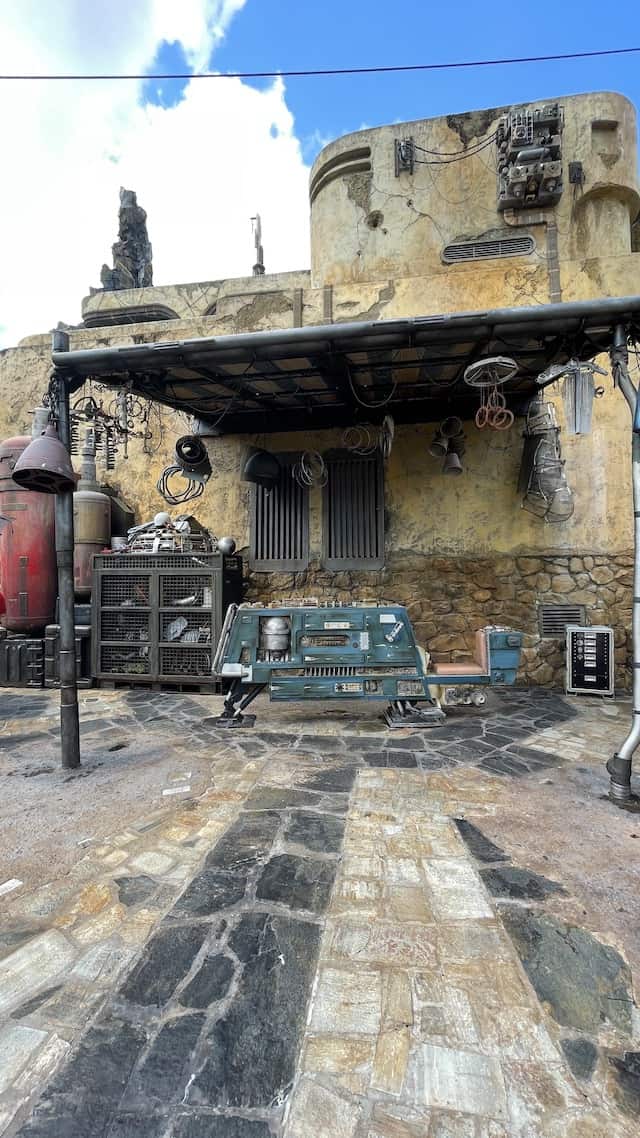 It is highly recommended to reserve your spot 60 days out from your trip. This is a popular experience and the dates/times you want may not be available the longer you wait. We chose to book our experience for 11:00 am after a 10:00 am reservation at Oga's Cantina.
A popular time to build a lightsaber is at night! The photos you can take in Galaxy's Edge with your lightsaber after dark are incredible, and there may not be as many people wandering around in Batuu. It also eliminates the need to carry your lightsaber around all day.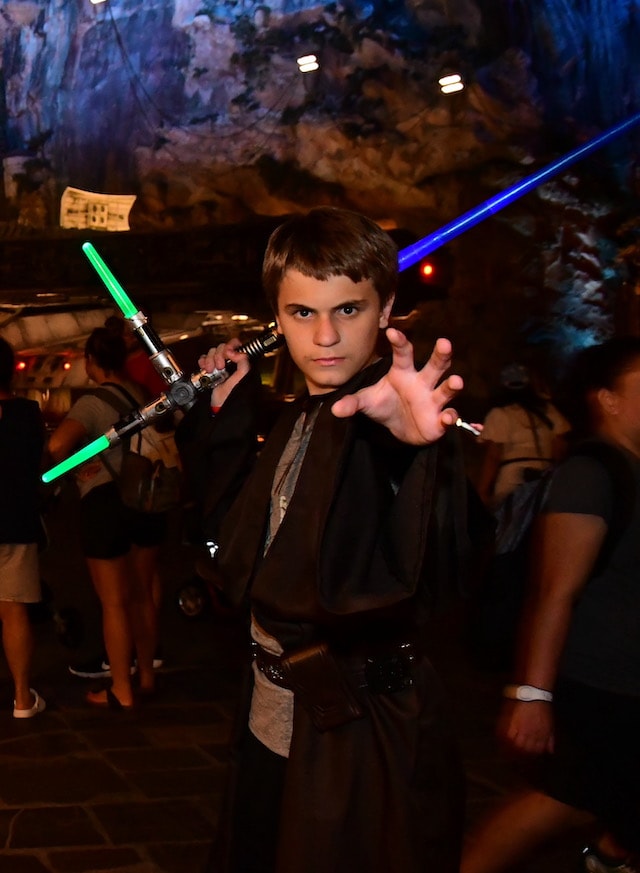 The entire process from entering the workshop to leaving is about 20 minutes. You will spend another 10-20 minutes waiting outside depending on when the group ahead of you went in. To be safe, I would carve out an entire hour for this experience.
Custom lightsabers cost $219.99 and are not eligible for any discounts. Disney recommends builders be at least 5 years of age. Only one other Guest is allowed with the builder as there is not much space in the workshop. You can find more customization items at the nearby Dok-Ondar's Den of Antiquities.
Checking in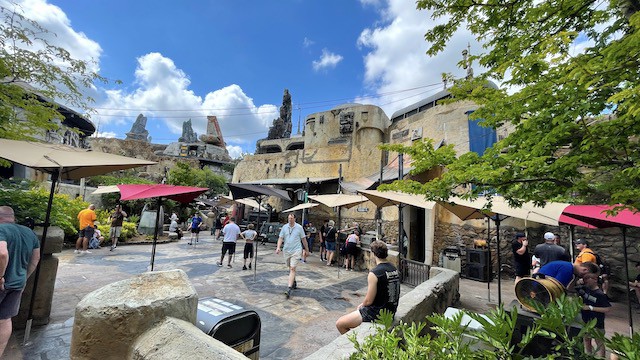 On the morning of our experience, we checked in at 10:50 am after enjoying Oga's Cantina. You can find Savi's Workshop across from Ronto Roasters and next to the Droid Depot.
A Gatherer greets you at the outdoor entrance to check you in. A nearby family (not building a lightsaber), wearing Darth Vader shirts, was taking a break and the Gatherer was hilariously trying to cover up the fact that it was a secret lightsaber workshop. He kept making references to the architecture which was code for the workshop and called them "bucket heads."
Cast Members add so much fun and magic to every experience.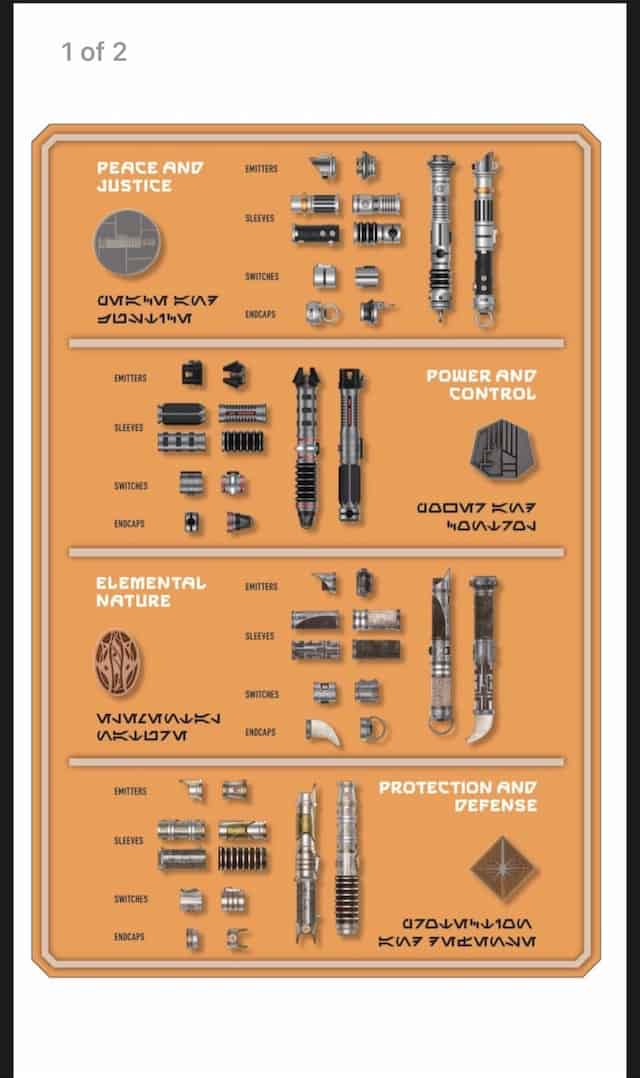 He gave us a QR code that showed the different hilt types and their meanings. We were then directed in and could look at all the pieces in person. There were a few Gatherers wandering around and available to answer any questions. Once we were ready, we headed to the register and told another Gatherer which hilt we wanted. The various hilts referenced different themes and included:
Peace and Justice: Jedi theme (metallic silver with black accents)
Power and Control: Sith theme (a lot of black)
Elemental Nature: Nature theme (woodgrain pattern and decorative embossing)
Protection and Defense: Old Republic theme (regal and ancient looking; silver with gold and bronze accents)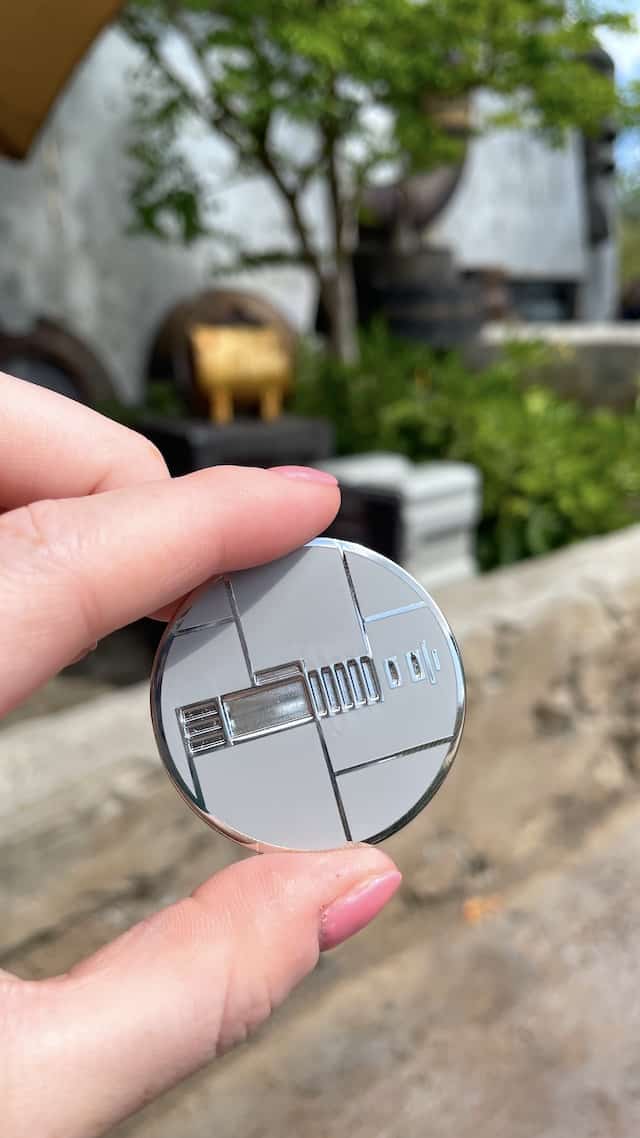 The Gatherer gave us a special cloisonné pin that matched the theme (hilt) we chose as well as our credit to take inside. Payment is expected at this time. We then waited in a separate section of the courtyard until it was our turn to go in. We had to wait until the group before us was finished.
Building the lightsaber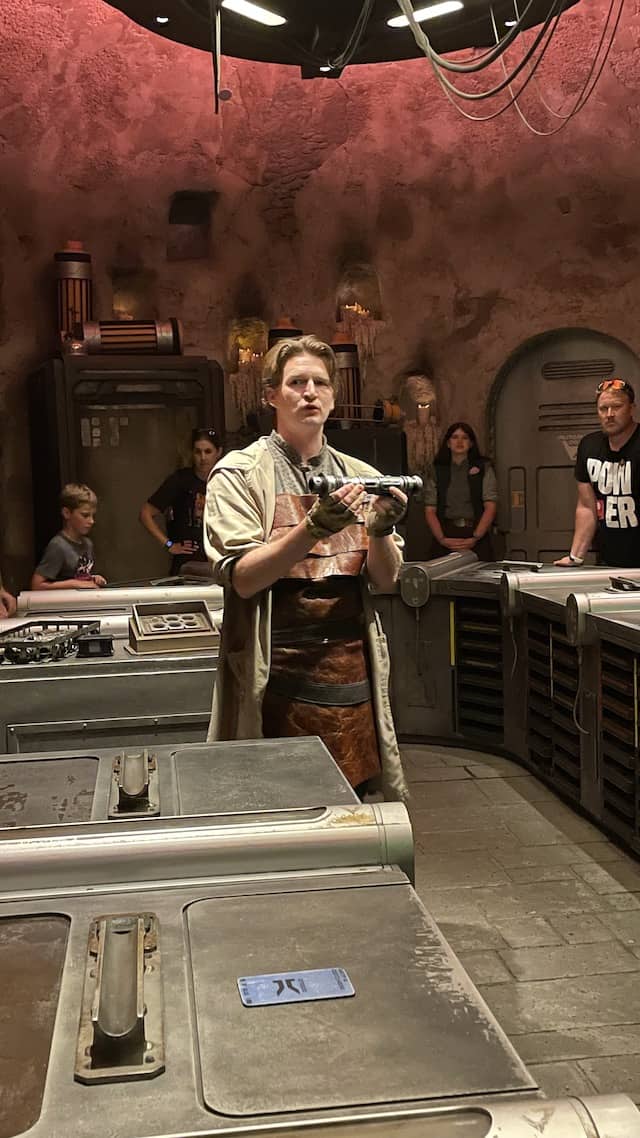 We walked into the workshop, and the stations were set up in a U-shape with a Gatherer in the middle. This Gatherer instructed us to lay our credit on our workspace, and he gave a speech about the experience before us. The atmosphere felt secretive and noble – like we were part of the Resistance and had to build this in secret.
With the help of other Gatherers, we then chose and assembled all the pieces of the lightsaber. First, we chose the kyber crystal color, and there was even a special spot on the workspace for it. Colors include red, green, blue, and violet.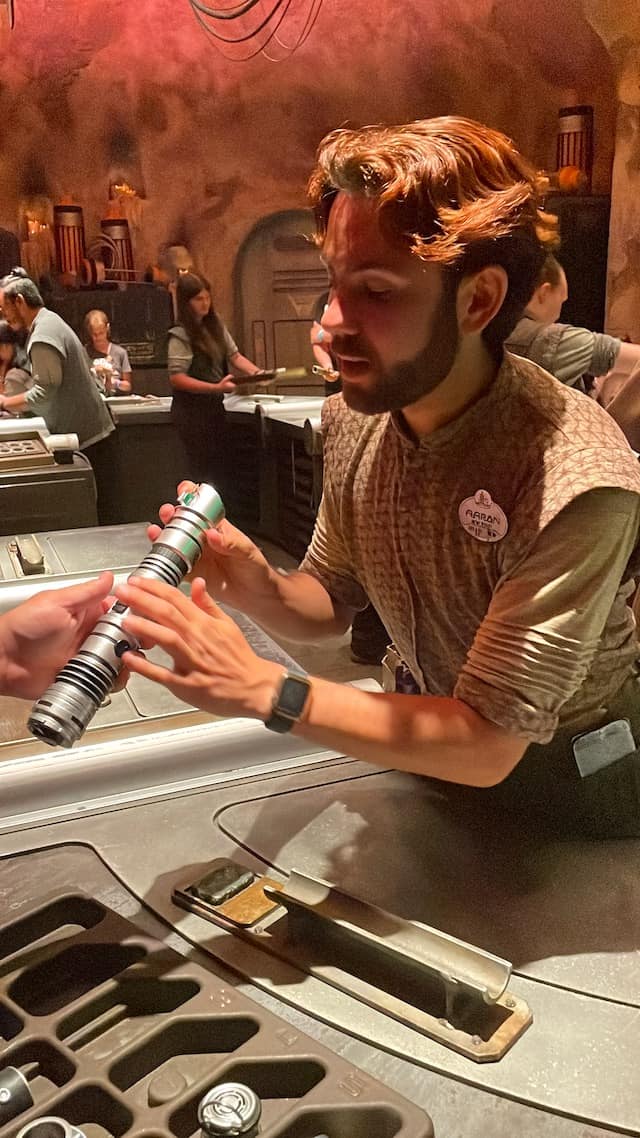 Next, they brought around a bin with various pieces specifically for the hilt you chose. Here is the order for assembling the lightsaber:
Put the kyber crystal in the hilt base
Assemble the switch and ensure it works
Construct the rest of the hilt by choosing which pieces you wanted for your custom lightsaber
Insert the hilt in the activation chamber to activate the kyber crystal
Final Ceremony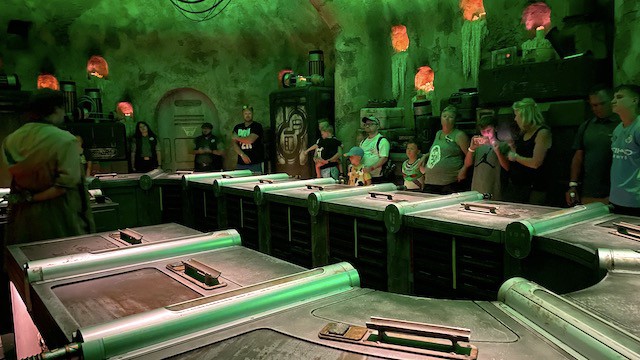 Building the lightsaber only took about 10 minutes. When everyone completed their lightsaber, the Gatherer gave a final ceremony to activate and remind us of the importance of the lightsaber we just built. Finally, we were all instructed to turn our lightsabers on for the first time.
It is an incredibly moving and emotional experience for those who just built their custom lightsaber.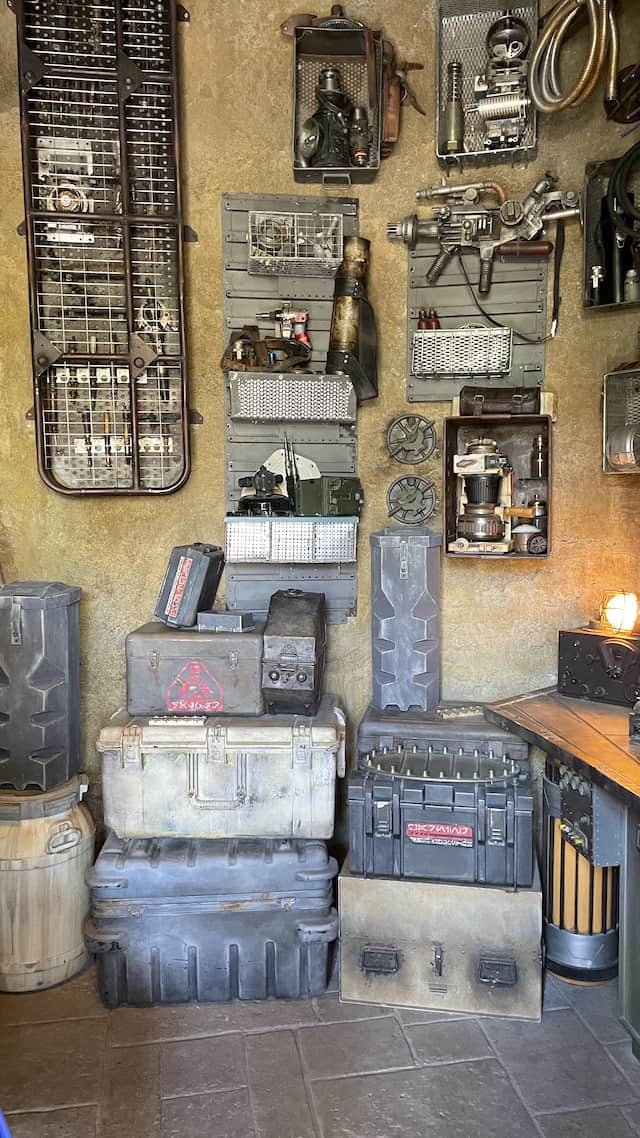 As we left, a Gatherer handed out the lightsaber cases and we went about our day. Custom lightsabers are not cheap, but for the most die-hard Star Wars fans Savi's Workshop really is a must do activity when visiting Disney World or Disneyland.
How many times can you say you built your own custom lightsaber in Batuu?!
Have you ever built a lightsaber at Savi's Workshop? What was the experience like for you? Let us know in the comments below and on Facebook.