Check out our review and photo tour of this French bistro with amazing crepes and atmosphere in this unique Disney World location.
Le Crêperie de Paris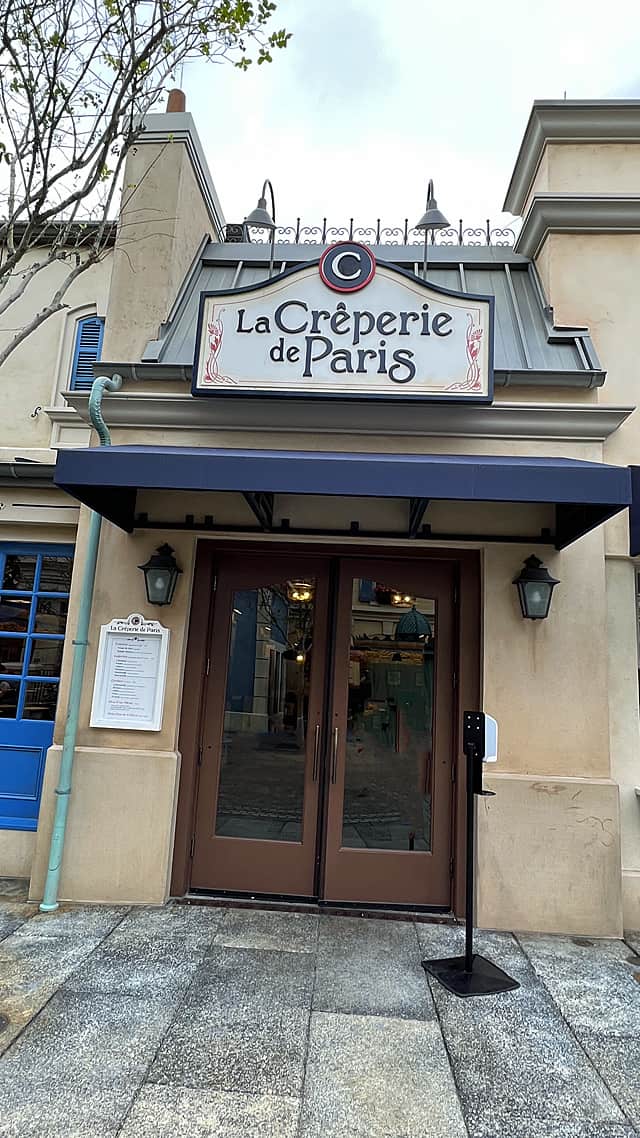 Although I (Susan) love everything new at Disney, I was a little unsure how I would like a crêpe restaurant. After all, how much can you do with crêpes? However, I couldn't stand not knowing and gave it a try anyway on my last Disney World visit. Read on to see if you should try Le Crêperie de Paris or not.
It's impossible to miss EPCOT's France Pavilion. Look up to see a model of the Eiffel Tower and look to the side to see a gorgeous flowing fountain. If you're coming from the United Kingdom or International Gateway, you'll travel across the Pont des Arts inspired bridge.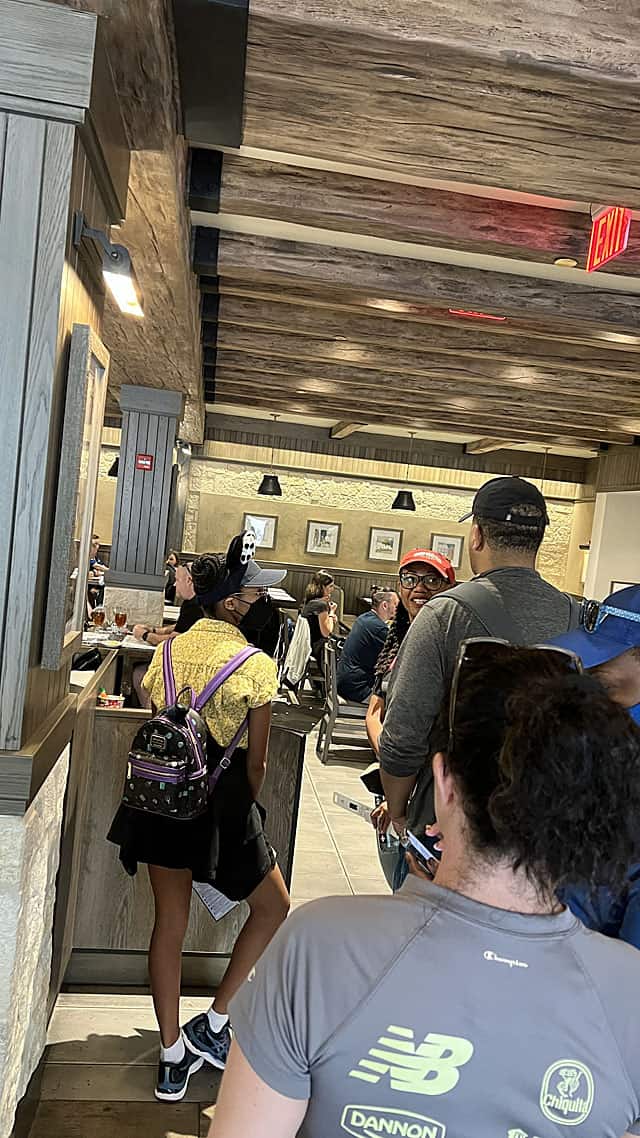 To locate La Crêperie de Paris, walk to the back where the France expansion is located. The restaurant is on the left before you reach Remy's Ratatouille attraction. As soon as you enter, you'll find the check-in area shown above.
Menu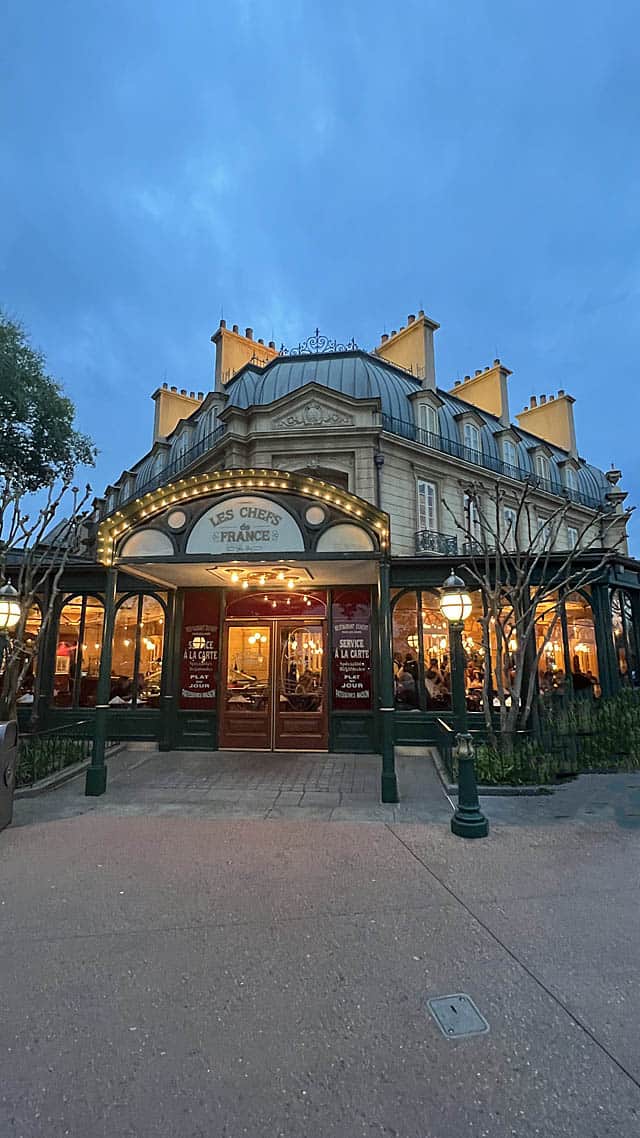 This crêperie's menu features dishes from celebrity chef Jérôme Bocuse. He's the son of Paul Bocuse who operates France's other two table service restaurants: Chefs de France and Monsieur Paul. Here, treat your senses to savory galettes and sweet crêpes at a restaurant inspired by the Brittany region of France. La Crêperie de Paris is open from 10:00am until 8:45pm daily. Note that the menu remains the same throughout the day.
Appetizers – $6.75 each
Salade Maison – Mixed Greens, Tomatoes, Onions, and Vinaigrette
Soupe du Jour – Soup of the Day
Galettes (Buckwheat Crêpes) – $16.95 each
Classique – Ham, Egg, Swiss Cheese
Poulet – Chicken, Bechamel Cheese Sauce, Mushrooms
Chèvre – Goat Cheese, Spinach, Walnuts
Saumon – Smoked Salmon, Crème Fraîche, Chives, Lemon
RatatouilleTomato, Zucchini, Eggplant
Savoyarde – Raclette Cheese, Caramelized Onions, Bacon, Imported Bayonne Ham
Crêpes (Dessert) – $9.95 each
Gourmande – Hazelnut-Chocolate Spread, Whipped Cream
Banane – Banana, Caramel Beurre Salé
Melba – Peach, Red Berries Sauce, Almonds
Poire – Pear, Chocolate Ganache, Whipped Cream
Pomme – Caramelized Apples, Caramel Beurre Salé
Crêpe Add-On's
Each: Whipped Cream, Ice Cream, Sauce $2.95
Shot: Grand Marnier, Rhum, or Calvados $7.00
Atmosphere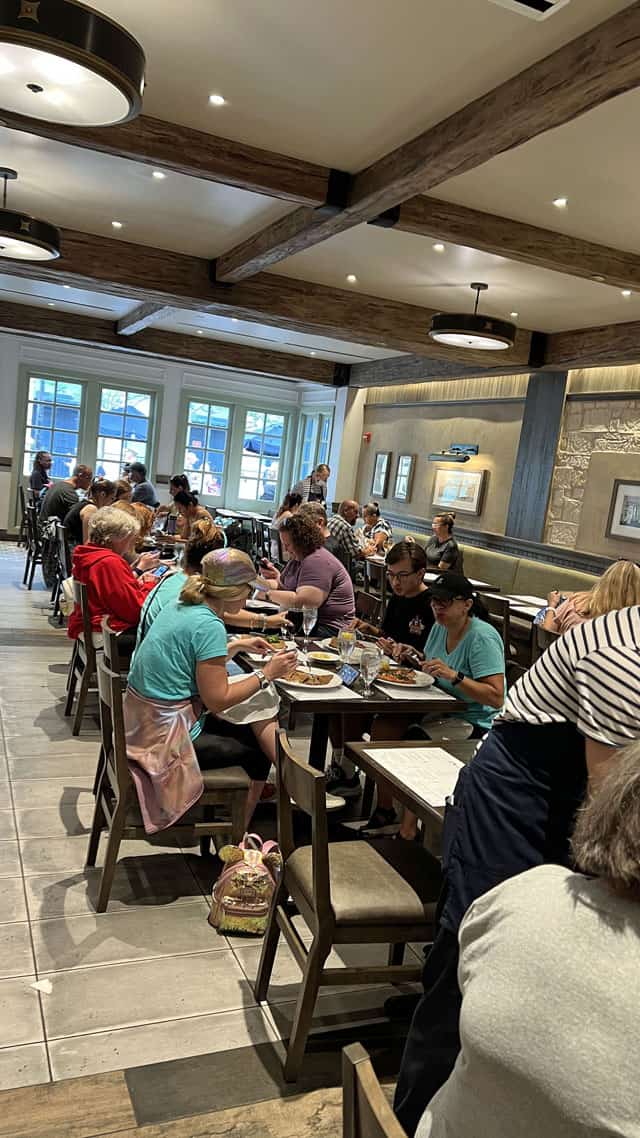 I really love the small size and the feeling you're not inside a theme park. Everything from the exposed wooden beams to stone walls and blue-glass windows give guests the feeling of being inside a French bistro.
I would have like to see more theming here, however. As in other Disney restaurants, the tables were a bit close, but we sat next to a beam so no one was beside us.
Service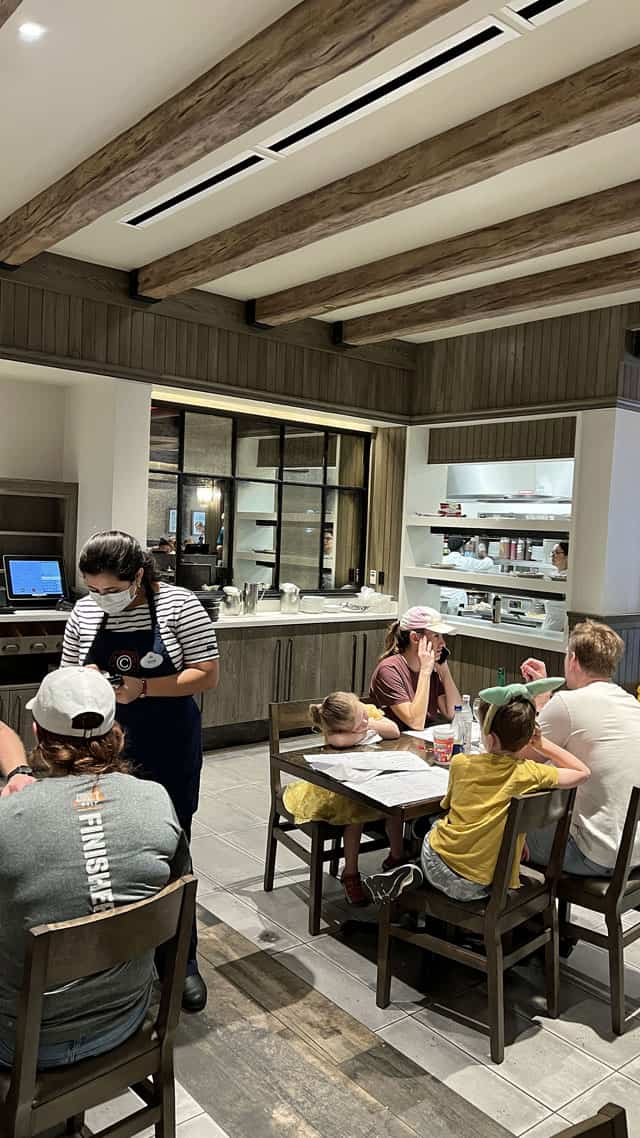 We had an event reservation right after lunch and were concerned about getting there in time. Once we were seated, it took a few minutes for a server to come to our table. The atmosphere here is relaxed, but once our server took our order, we received excellent service. Although each dish was made to order, our courses came out promptly after finishing the previous dish.
Even though food and drinks were brought out in a timely manner, our server assured us we could take as long as we wanted here.
Prix Fixe Menu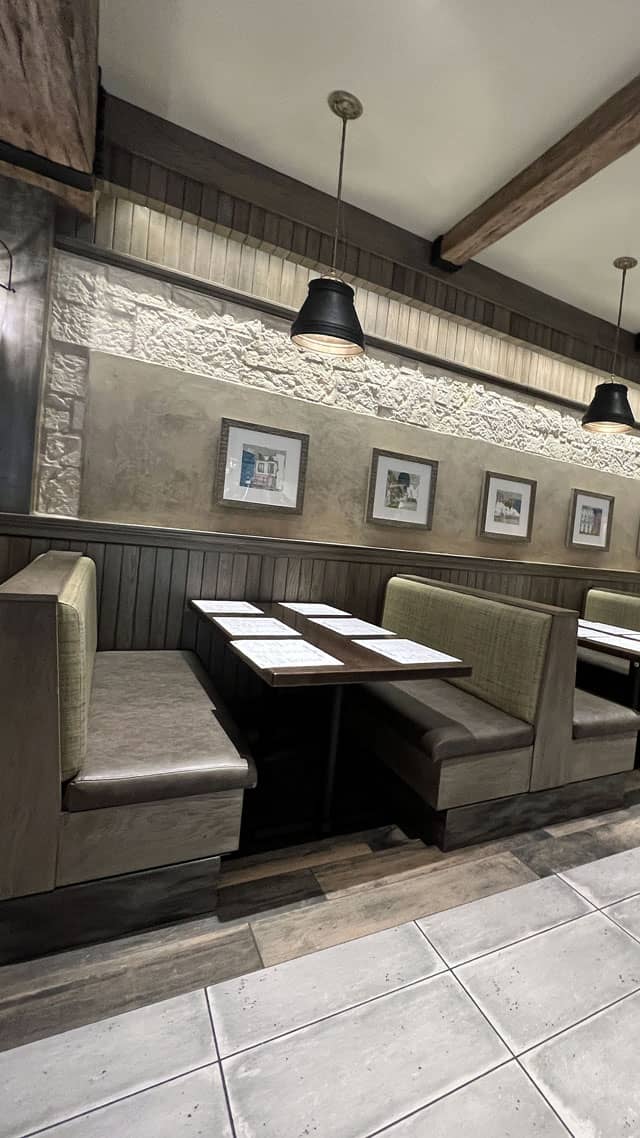 Since it was our first visit to La Crêperie de Paris, we wanted to try as many different dishes as possible. Because of this, we opted for the prix fixe menu. The prix fixe menu is $34.95 and includes choice of soup or salad, one savory galette, one dessert crêpe, along with a glass of hard cider, soda, or juice.
First Course
Soup de Jour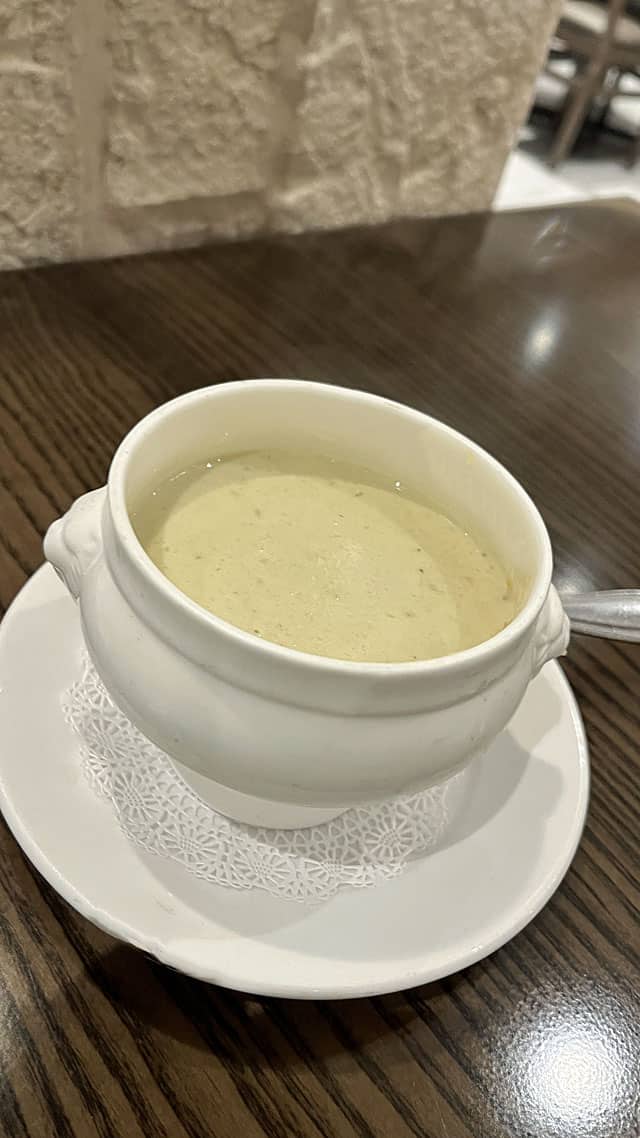 Although Americans don't feature leeks in many dishes, they are a favorite of the French. Check out the deliciously creamy leek soup above. I really enjoyed the soup, including the puréed texture and mild flavors of potatoes and leeks.
It was the "soup of the day," but when I asked how often it rotated, our server shared that it has been leek soup since opening. Although I would order this soup again, I would need to split it since it's quite rich and filling.
Salade Maison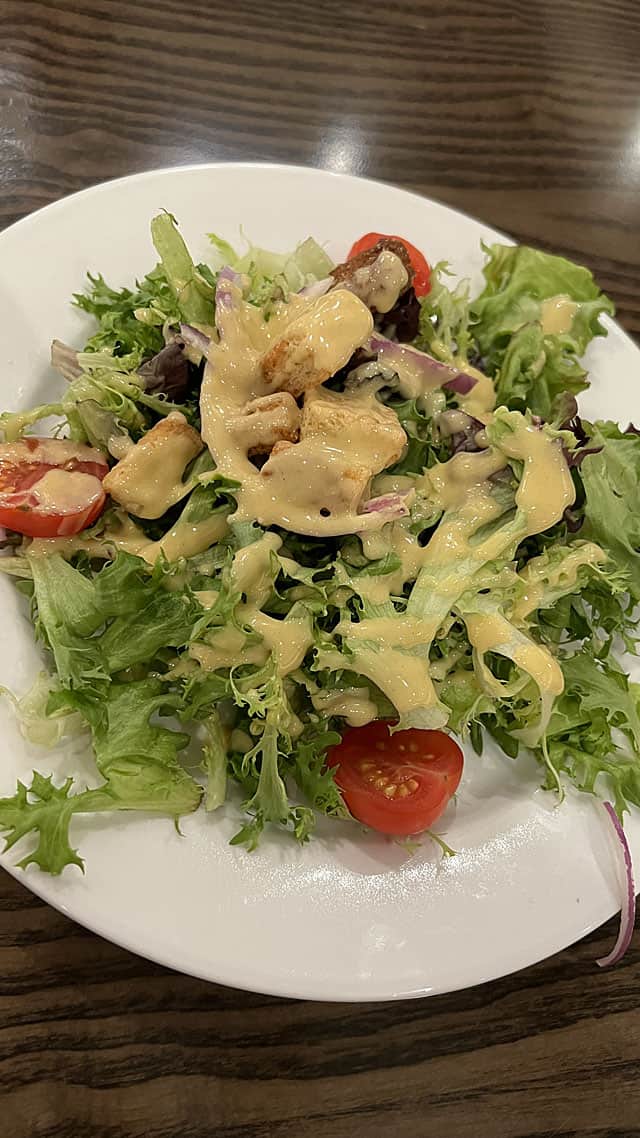 The salad was fresh, and the house made vinaigrette dressing gave a tart flavor. However, I wouldn't order it again due to the mustard in the vinaigrette dressing. Also, it's a pretty basic salad.
Second Course
Next, we were given our choice of galettes (buckwheat crêpes). I asked our server for recommendations and she said to try the chicken and mushroom crêpe.
Classique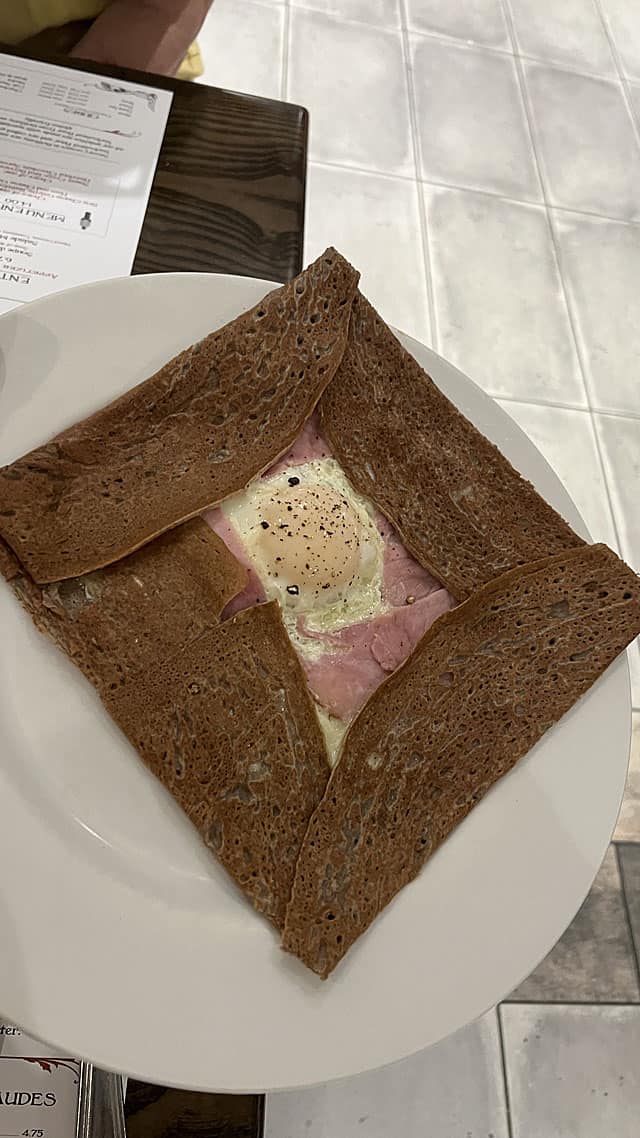 The basic ham and cheese crêpe is a safe bet if you are not adventurous. Although we enjoyed the ham and cheese, we were not expecting a somewhat raw egg right in the middle of it. Unfortunately, the yolk was open when it arrived and spread throughout the inside of the crêpe.
Poulet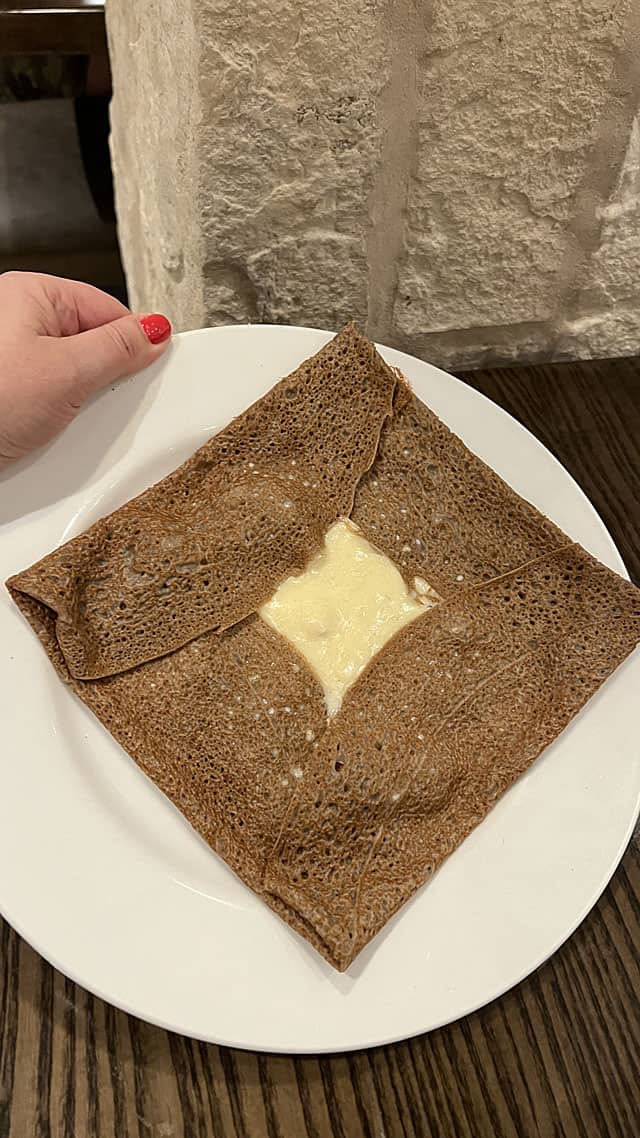 I'm not familiar with buckwheat crêpe and wasn't sure what to think about the darker color and texture. When ordering crêpe locally, they're more egg based. However, I found the slightly crispy crêpe light and tasty.
Also, the chicken, Bechamel cheese sauce, and mushrooms were plentiful and delicious. While I enjoyed these ingredients, I didn't finish the crêpe itself. I would order this again here.
Third Course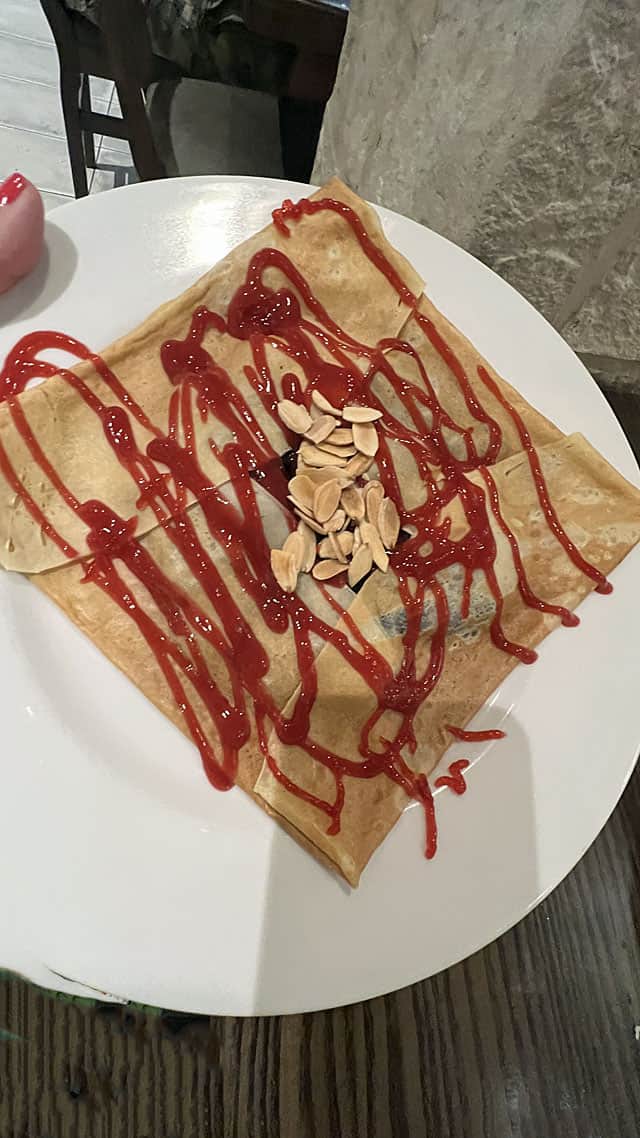 Now for my favorite part of the meal, dessert!
Melba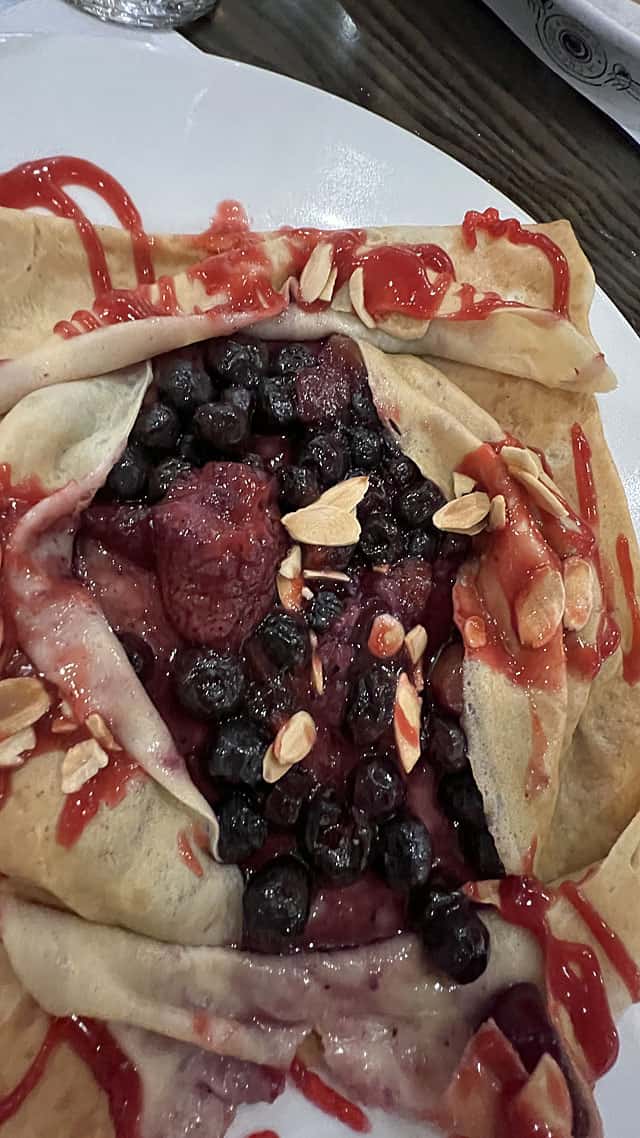 I ordered the Melba crêpe which was bursting with fresh peaches and red berries. The fruit was very fresh and delicious and the almonds were a nice touch. Of course, we both ordered a side of whipped cream. Yum!
Pomme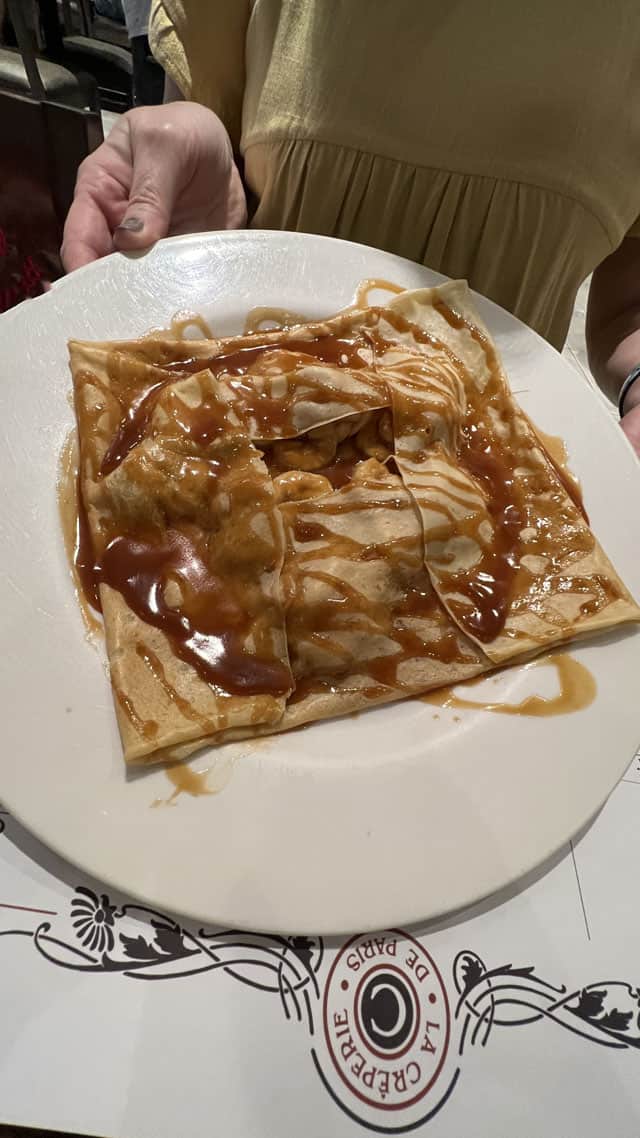 Last, but certainly not least, we also ordered the banana crêpe topped with caramel sauce. It was sweeter than the berry crêpe but also quite tasty. Both of the dessert crêpes had more eggs than the buckwheat main dishes.
Beverages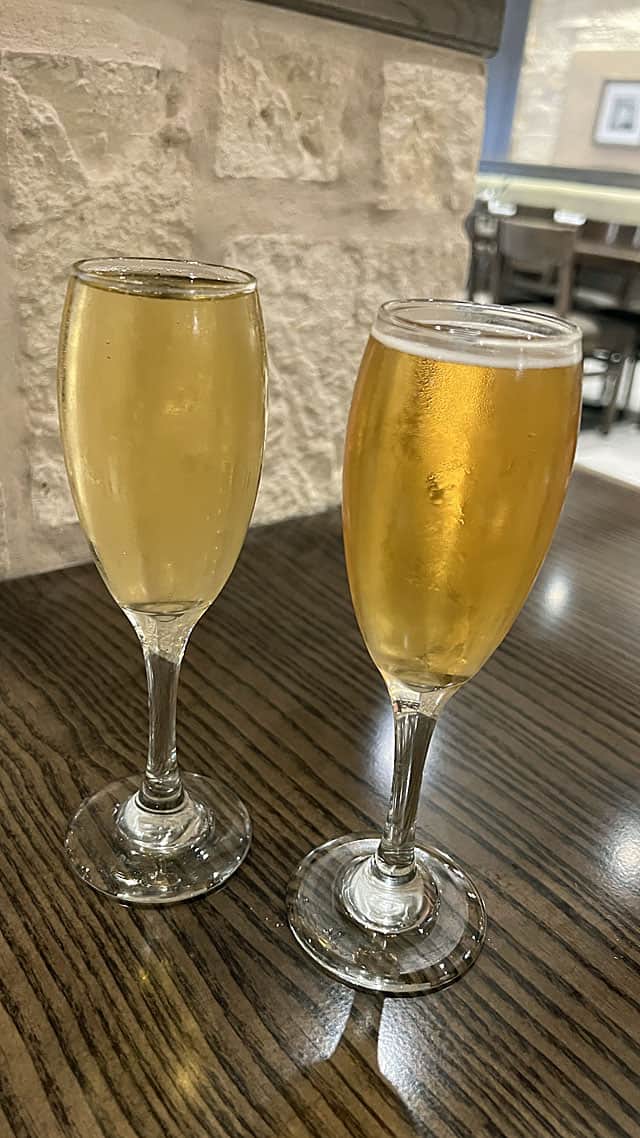 With the prix fixe menu, our meal included a glass of hard apple cider. There are several varieties, and our server explained each one varies from dry to very sweet. They were refreshing, especially with bubbles, but I don't think I would order them again.
Quick Service Option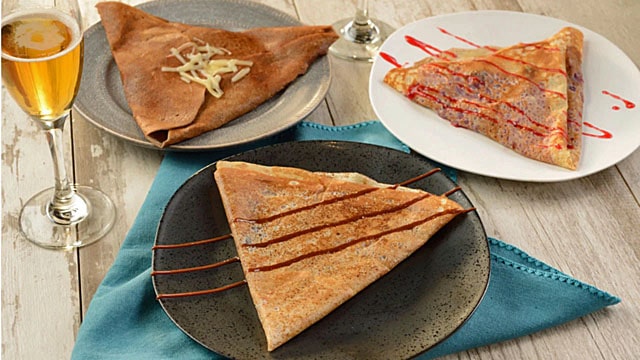 Wanting a crêpe without taking time out of day for a table service meal? Look no further than Crêpes À Emporter by La Crêperie de Paris. Located to the right of the entrance, there's a quick-service pick up window where you can do just that!
Here, you'll find savory galettes, like the Béchamel, cheese and ham, Ratatouille. Not only that, but you can also order sweet crêpes and soft serve ice cream along with an assortment of wines and ciders. This is a great way to try on of these amazing crêpes on the go!
Final Thoughts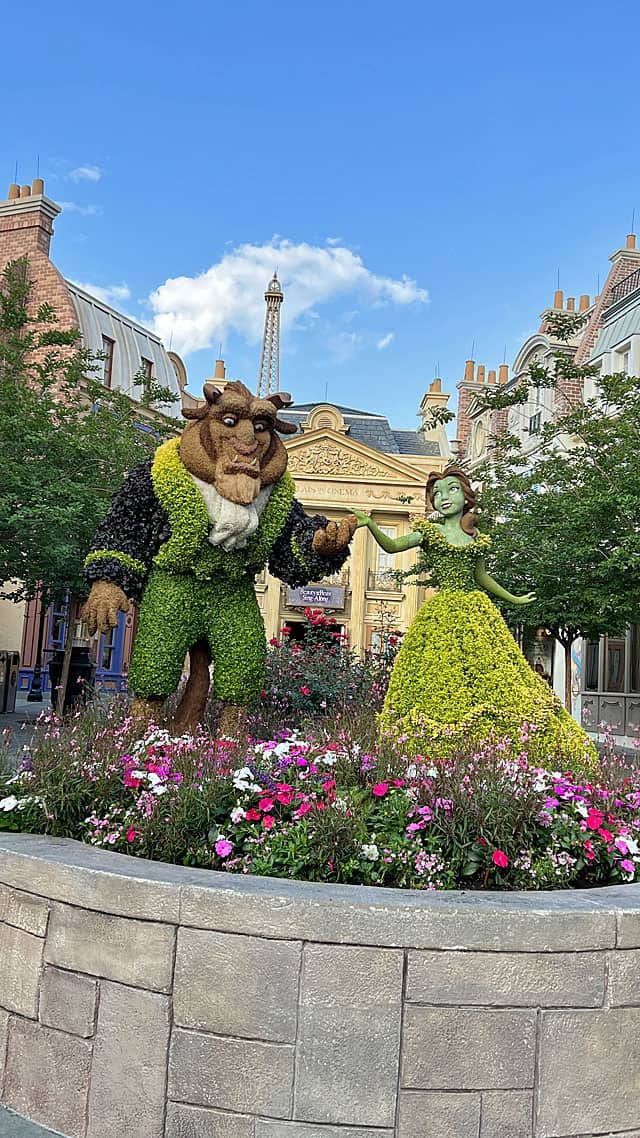 La Crêperie de Paris opened on October 1, 2022 along with Remy's Ratatouille Adventure. Since that time, I haven't seen Le Crêperie de Paris full of guests. Although you can book this restaurant in advance using My Disney Experience, you can also walk up and get a table pretty easily.
Would I return to this dining location? It depends on who I'm visiting the park with that day. My husband is more of a meat and potatoes guy and would not like it. However, I would go back with friends for dessert next time since that was my favorite. It was a very pleasant experience overall. And, having a few minutes to relax in the air conditioning is always a win!
It's one of the more affordable Disney table service locations. However, Le Crêperie de Paris does not accept discounts of any kind.
Have you tried Le Crêperie de Paris? Or, do you plan to try it in the future? Please share your thoughts in the comments below or on our Facebook Page.