I was quite surprised how much this fun vacation destination reminded me of Disney World.
Great Wolf Lodge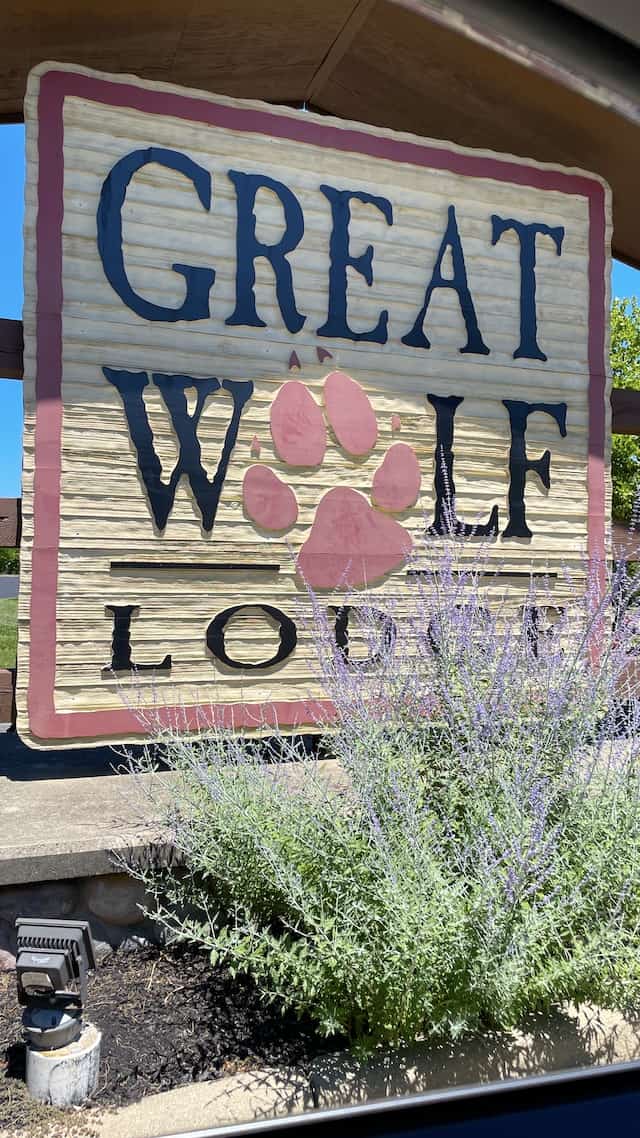 Maybe your travel plans don't include Disney World this year. Or, maybe they do but you want to try some other places, too! If you never thought you would be reading about Great Wolf Lodge on a Disney planning website…well, I (Monica) never thought I would be writing about it either.
But, after a recent visit I was able to identify some similarities between the two vacation spots. In fact, I was shocked at the conclusions I came to regarding a visit to Great Wolf Lodge and how it is kind of like a Disney World vacation (but with a much smaller budget and on a much smaller scale).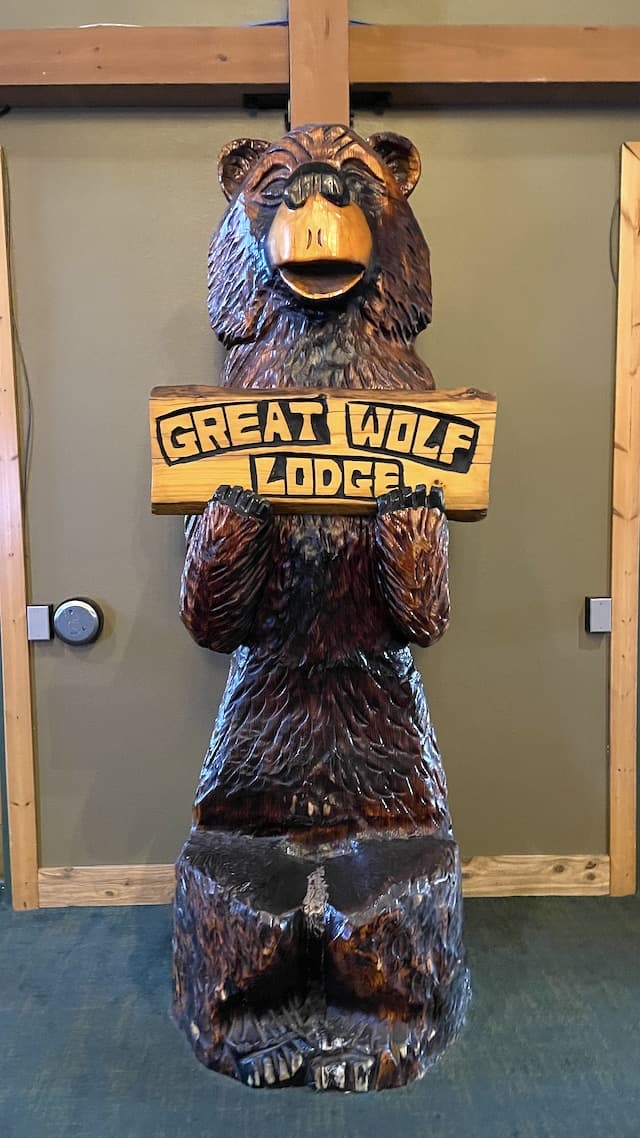 Great Wolf Lodge did not sponsor me or compensate me in any way. They didn't even know a Disney World blogger was going to be in one of their resorts. I was just a regular mom taking her family somewhere fun for a few days. These are my honest opinions based on my experience.
If you have never heard of Great Wolf Lodge, it is North America's largest indoor water park resort. The resort is geared towards families with lots of amenities and attractions to make an unforgettable vacation possible.
Locations, Accomodations, and Theming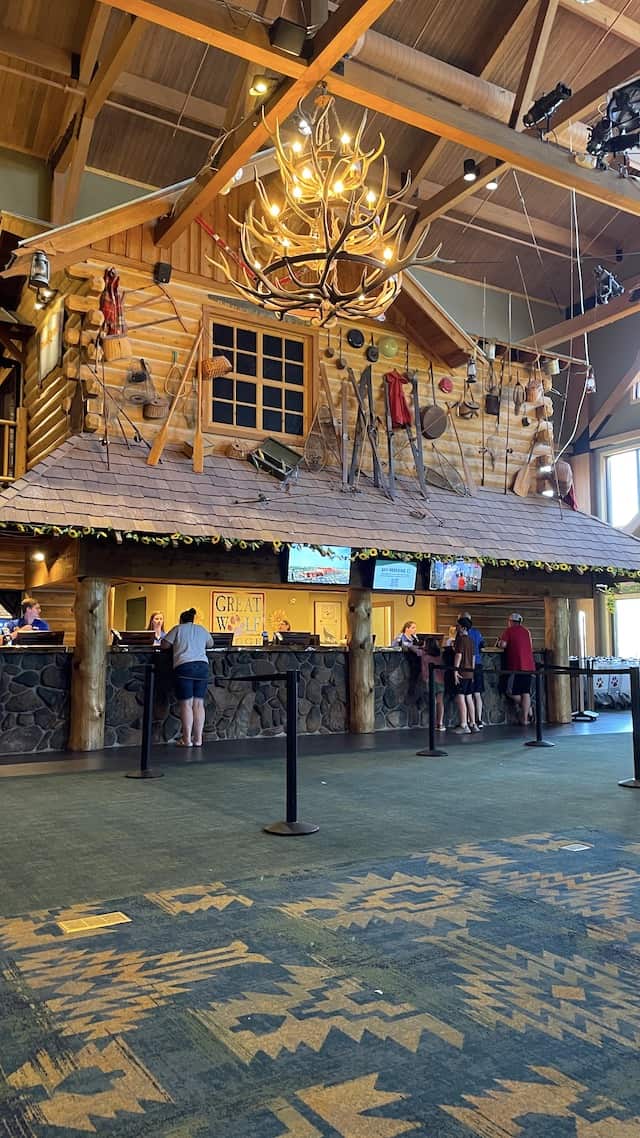 There are 19 locations throughout the United States and one more in Canada. They are spread out all over the country, so you may never be more than a couple hours to your nearest Great Wolf Lodge. Additionally, there is also one in Anaheim if you are visiting Disneyland!
Rates will vary based on the time of year you are traveling and the resort you are visiting. There are plenty of themed suites, and one thing I really love about them is the size. Almost all suites sleep 4-6 and several sleep even more. This is great for large families who are not used to standard size rooms at Disney World. You will not spend an arm and a leg on a hotel here.
As a bonus, the room rate includes water park passes for your entire party.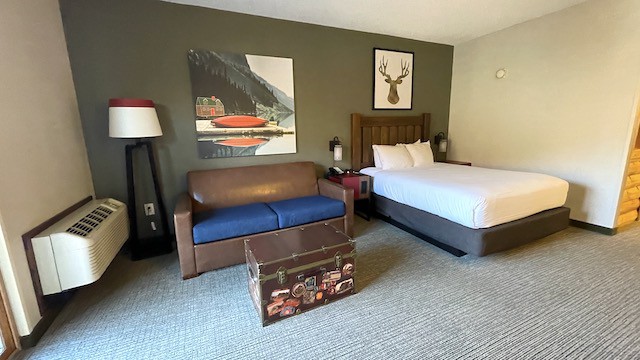 To sweeten the deal, consider booking during a promotion – either on the Great Wolf Lodge website or a third-party deal website. I have taken my family on several occasions, and I have never paid more than $200/night for a standard suite that sleeps 6. If you are looking for an upgrade, you may have some luck asking at check-in. I have been able to upgrade for as little as an extra $40/night. Once I paid $250/night for a two-bedroom suite that sleeps 8. Talk about "pixie dust!"
The theming of Great Wolf Lodge reminds me of Wilderness Lodge. Logs, fireplaces, wildlife, and woodsy accents are heavily present. While it may not have the Disney touch that makes Disney resorts so special, I think Great Wolf Lodge definitely achieved an immersive experience.
Water Park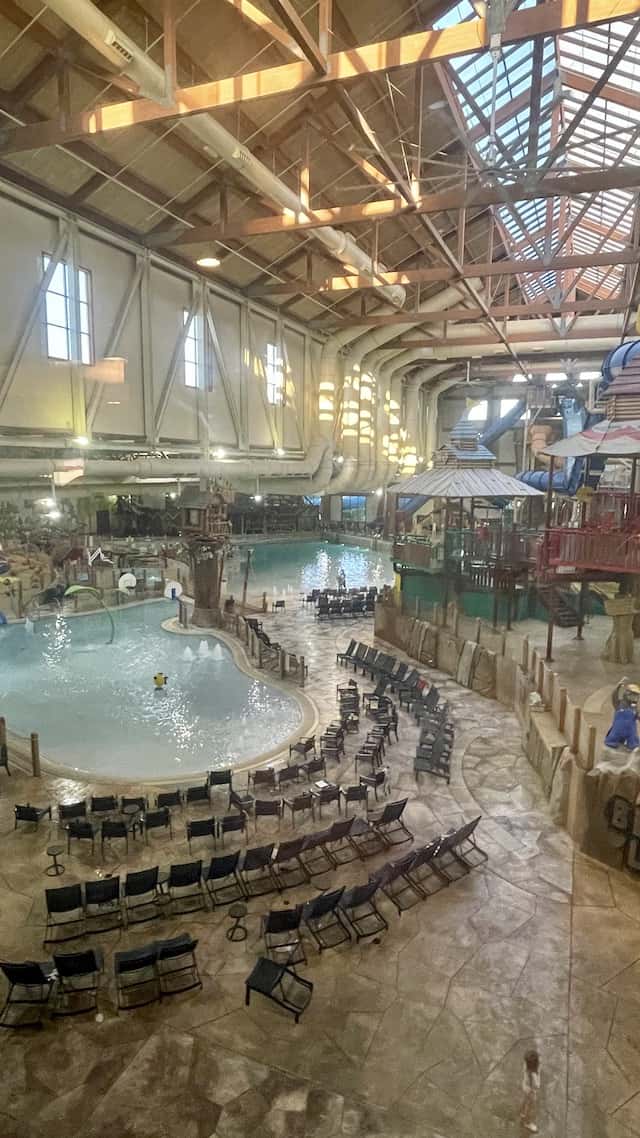 As I mentioned above, Great Wolf Lodge is the largest indoor water park resort in North America. At my location, there are 8 indoor slides, a lazy river, giant water playground, wave pool, an outdoor pool area, and an area specifically for younger children. Check-in begins at 4:00 pm, but you can use the water park as early as 1:00 pm. Additionally, check-out is at 11:00 am, but you are welcome to use the water park for the rest of the day.
The slides are my family's favorite. There are a variety of one person, two person, and even up to 5 people slides. Some use tubes and some do not. If possible, try to rope drop the slides in the morning. Yes, I said rope drop in a non-Disney post. I utilize rope drop in my non-Disney life, and it works frequently! If you rope drop you should get in at least one slide if not two pretty quickly before the line starts to build. The slides are definitely the most popular activity in the water park and can take 20-30 minutes each.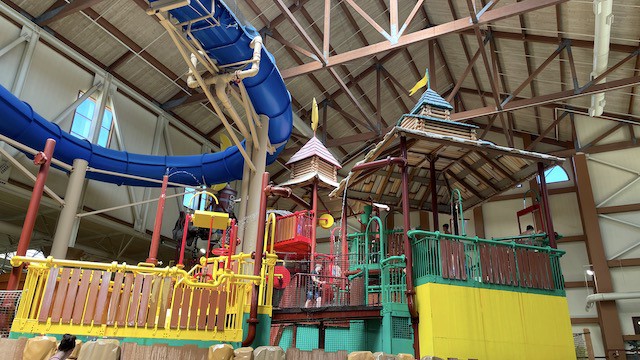 Do not worry about bringing life jackets and towels from home! Great Wolf Lodge provides both! For towels, you must scan your wristband (sound familiar?) and check out the number of towels you wish to use. Once you no longer need them, you must scan your band again to return them. If you do not scan them Great Wolf Lodge charges you $15/towel. This helps keeps the water park tidy!
I don't know about your family, but sometimes my kids just want to leave the theme park and go swimming. Great Wolf Lodge is like a Disney World vacation to Wilderness Lodge where all you do is hang out at the pool and swim.
MagiQuest and ShadowQuest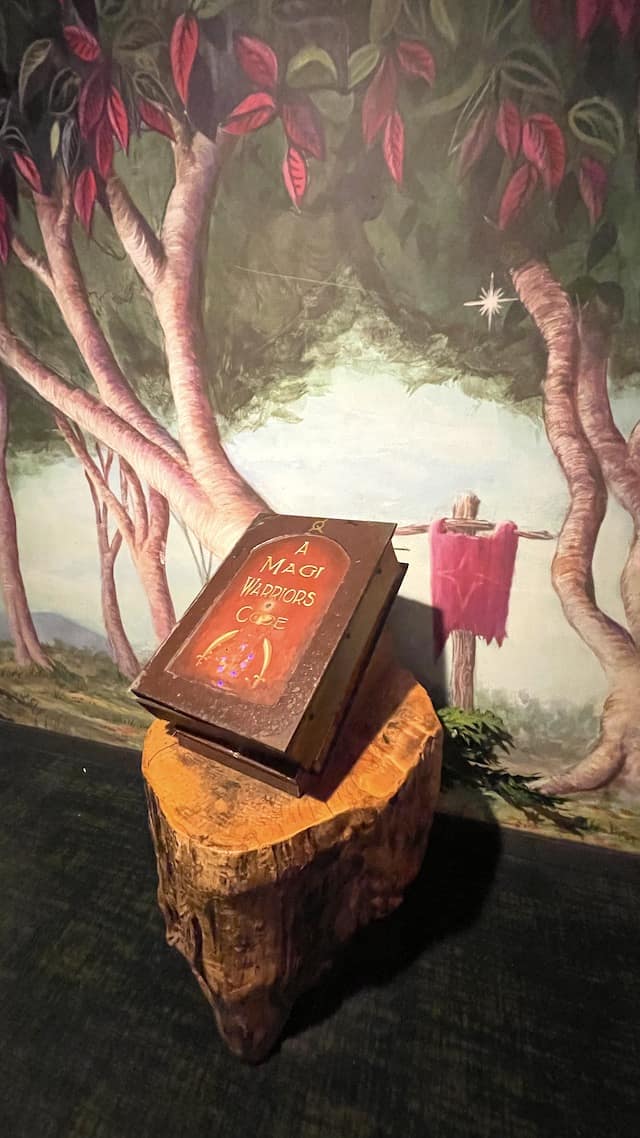 Other than the water park, the crown jewel of Great Wolf Lodge is MagiQuest and ShadowQuest. MagiQuest turns Great Wolf Lodge into a live-action game. Choose a special wand, top it with extra powers, and set off on a quest to complete adventures. The game is self-paced, and the wand holds your spot in the quest. So if/when you come back, you can pick up where you left off!
For little ones younger than 5, there is a Mini Magi Mode that gives younger children a similar but more age appropriate experience. And once you have completed MagiQuest, take it to the next level with ShadowQuest. Again, you'll use powers to complete quests and adventures to save the light before it vanishes forever.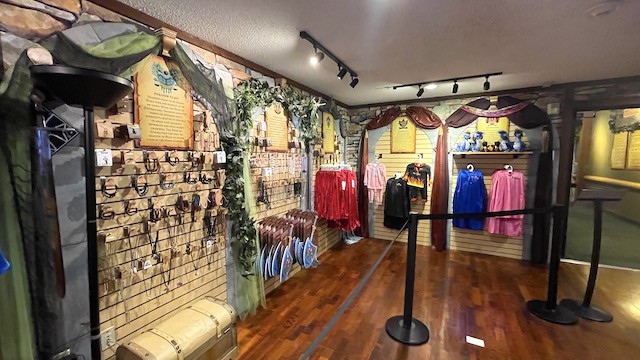 If you wish to complete the entire quest in one vacation, I recommend allocating 5 or so hours for older kids/adults and more for younger kids. My 12-year old son completed it in about that time, but he is also obsessed with it and had been looking forward to it.
Do be aware the missions can take longer when the water park closes for the night. This is due to the fact that there is now an influx of people playing. They also try to keep the hotel pretty quiet in the morning and nothing really opens until 9:00 am (with the water park at 10:00). It may be difficult to find the time to play unless you do it during regular daytime hours.
These quests will open and close each day, meaning you cannot play them any hour of the day.
Activities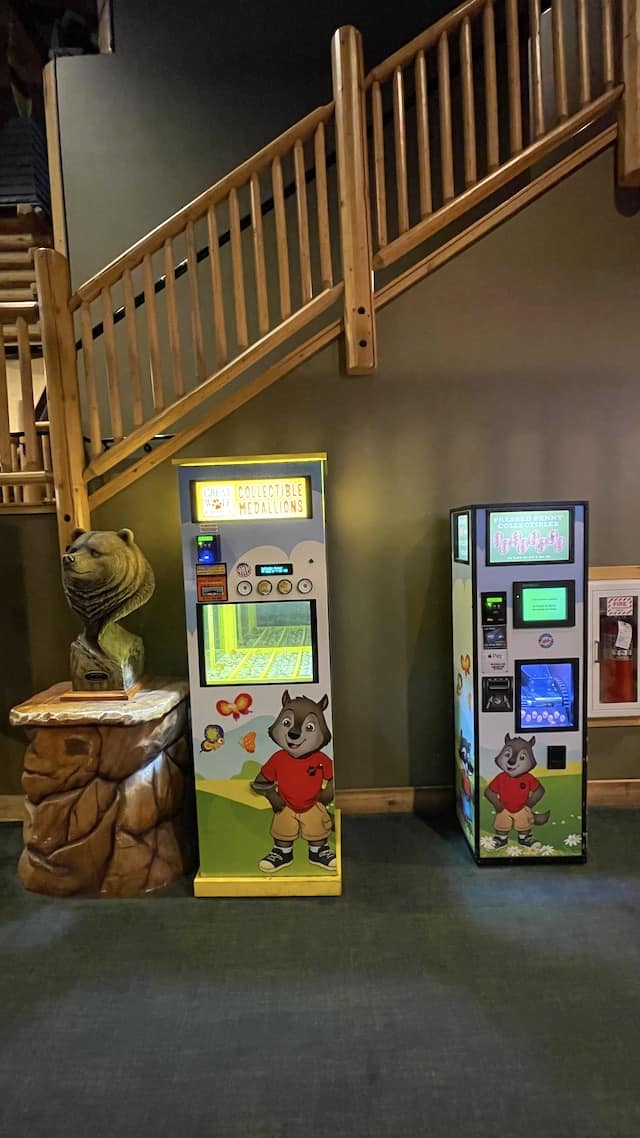 There are so many activities that are not swimming related at Great Wolf Lodge! While the water park is a huge reason many people visit, you may be surprised to see what else is offered. Here is a quick run down and some favorite tips.
Pressed pennies and medallions: Yes, just like at Disney! At our location, I spotted a place to grab some themed souvenirs to take home.
Characters: The Great Wolf Kids can often be spotted roaming about the lodge. At my location, this happens in the Grand Lobby twice a day. Be sure to check the schedule so you have a chance to meet Wiley, Violet, or Sammy!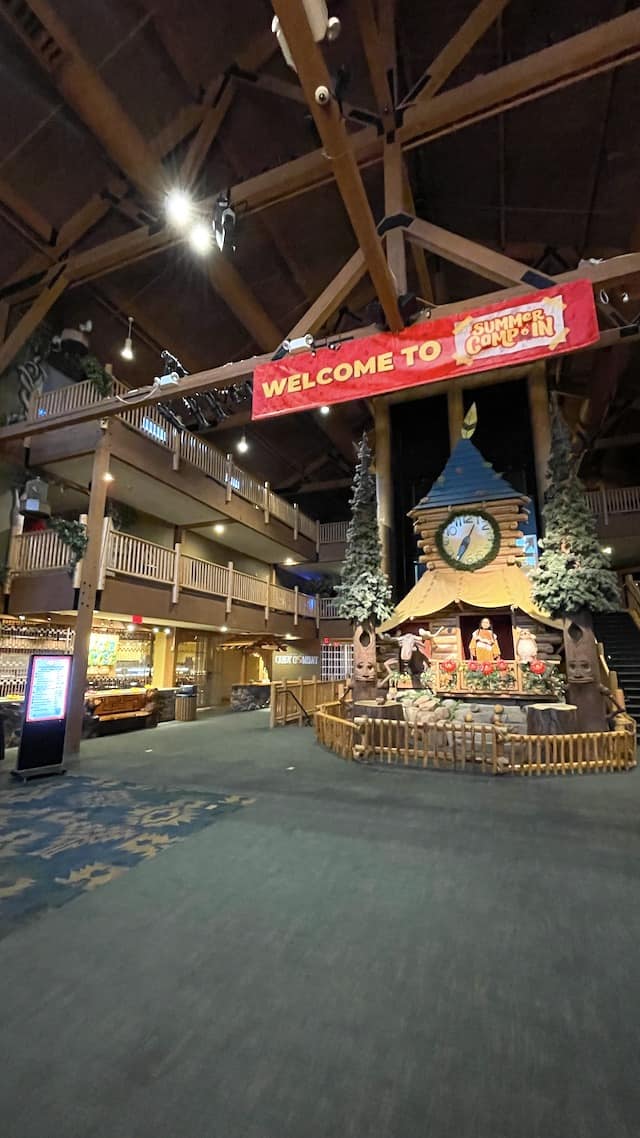 Tower Clock Show: The Great Clock Tower friends come to life in the lobby to entertain with songs and stories. You can catch the show several times a day, and it's a fun little way to keep kids entertained for a few minutes. I would say it is geared towards toddlers and preschoolers. My youngest is 5, and he was kind of bored of it.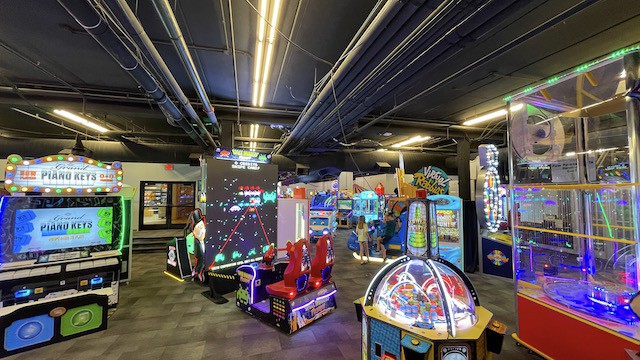 Arcade, Mini Golf, and Bowling: If you are looking for more family activities, Great Wolf Lodge has arcades, mini golf, and bowling. We only did the arcade because we needed a time filler before entering the water park. Personally, I would not recommend it. It can get very expensive very quickly especially if you have multiple children.
There are so many other activities like gem mining, bedtime stories in the lobby, dance parties, bingo, and arts and crafts.
How can you manage show times, dining, and other activities during your stay? Just Like Disney, there is an app. You can mobile order your food (more on that in a bit), see the schedule of events for the day, operating hours for activities, and more.
Great Wolf Lodge Passes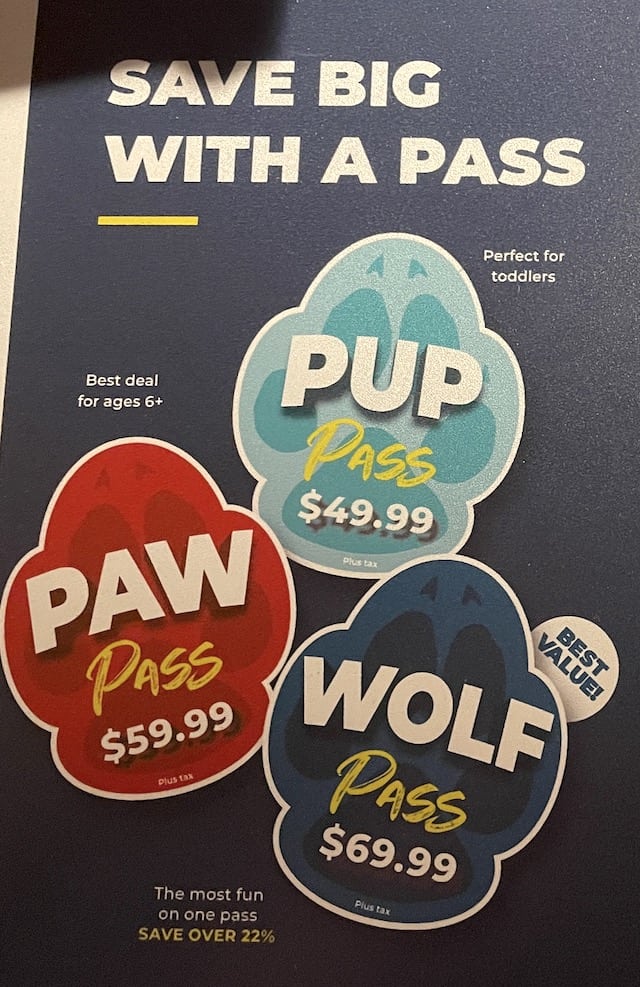 If you know you want to do a lot of activities like Build-a-Bear, MagiQuest/ShadowQuest, the arcade, bowling, and more consider a pass. Different tiers can get you different activities and it saves you a bit of money to pay for it all up front vs a la carte. Packages start at $50 and build from there. The more expensive the package, the more activities that are included.
Dining Options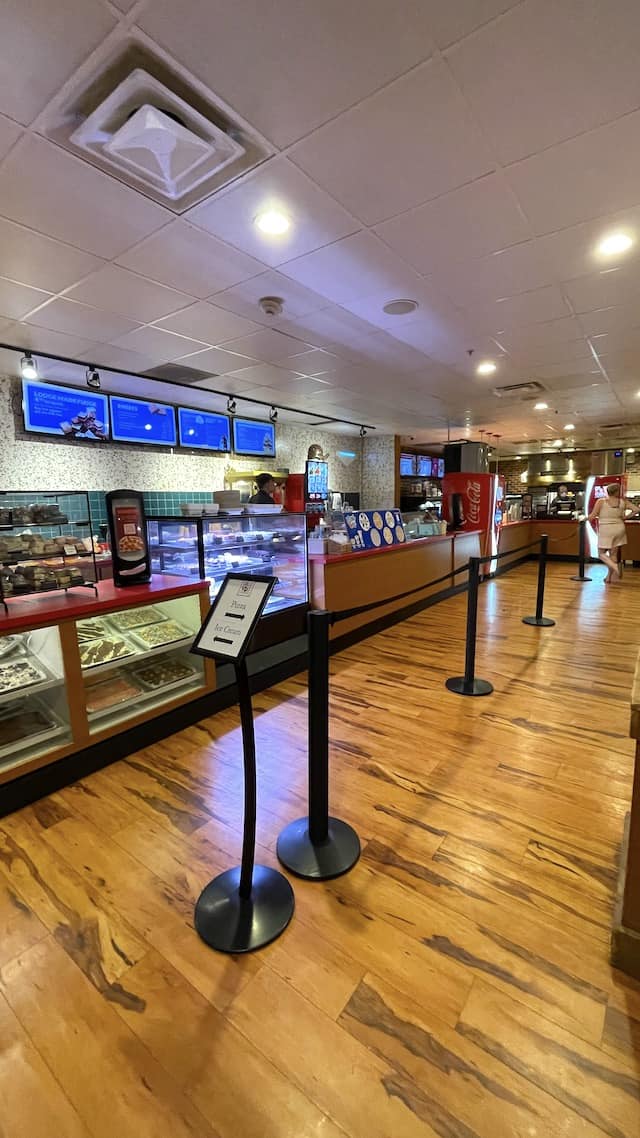 Great Wolf Lodge provides plenty of dining options for your stay. Our particular location has a snack bar in the water park, pizza place, sit-down restaurant, a bakery, grab-n-go snacks, a bar, Dunkin Donuts, and a buffet.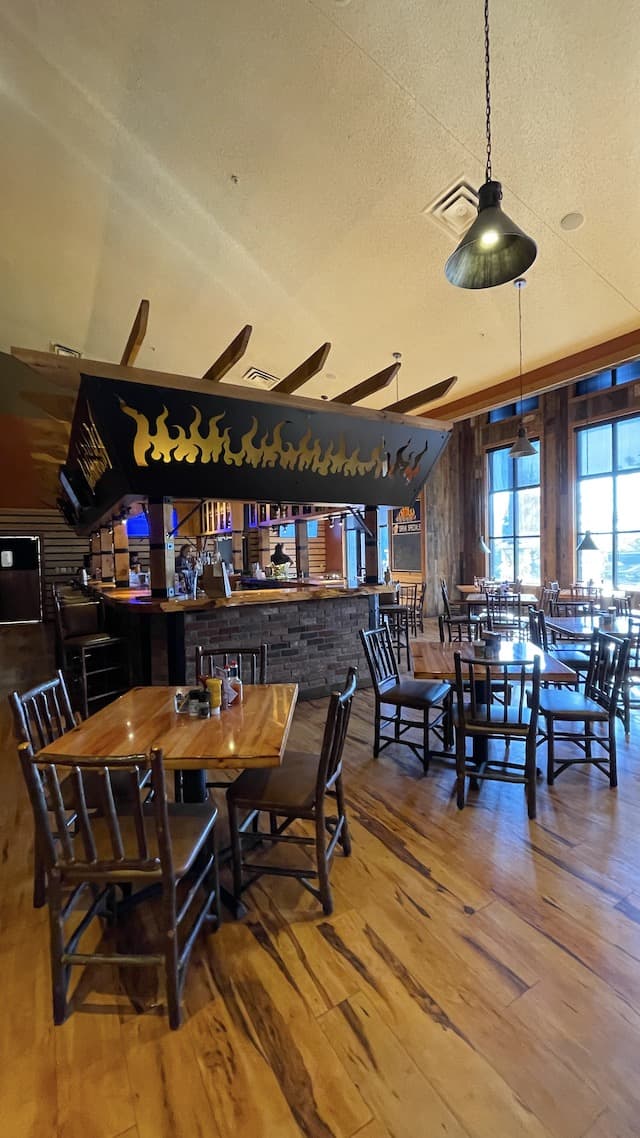 We chose to eat at the Lodge Wood Fired Grill for our dinner. This is the sit-down restaurant, and we loved it! We started with buffalo wings and a bbq pork chip appetizer. Both were fantastic and filled us up quite a bit for appetizers!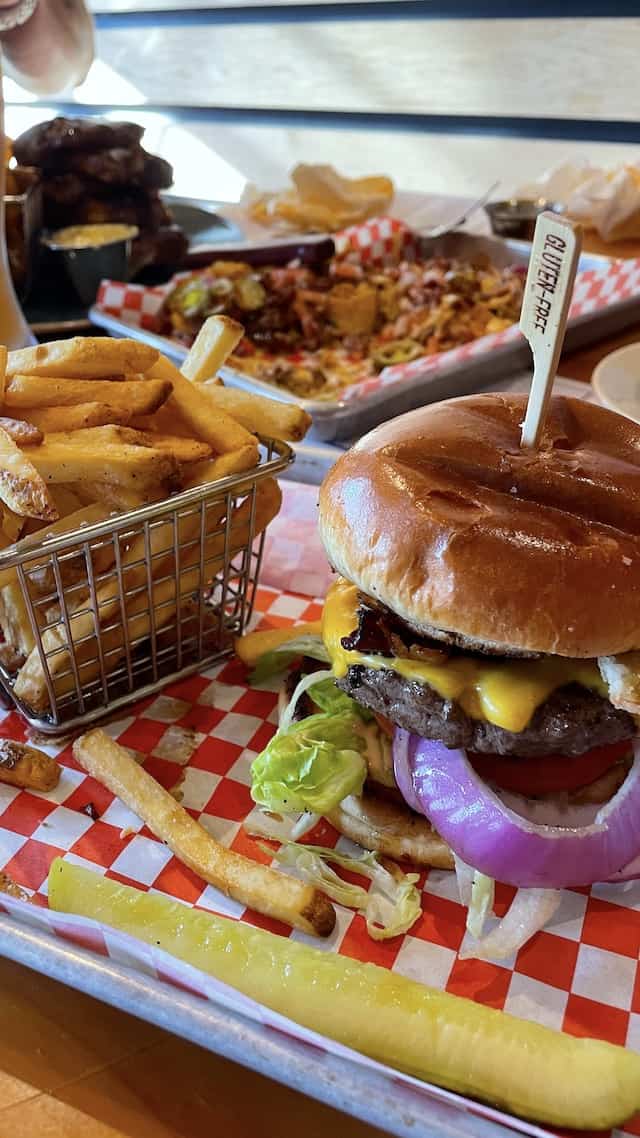 The burger was juicy, the ribs were tender, and the kids chicken tenders were very large. I definitely recommend splitting food, or plan to take some back to the room for a snack/leftover lunch.
During this visit, we also grabbed a large pizza for lunch. Personally, we did not care for it at all. None of my kids ate it but instead opted for leftover ribs and wings.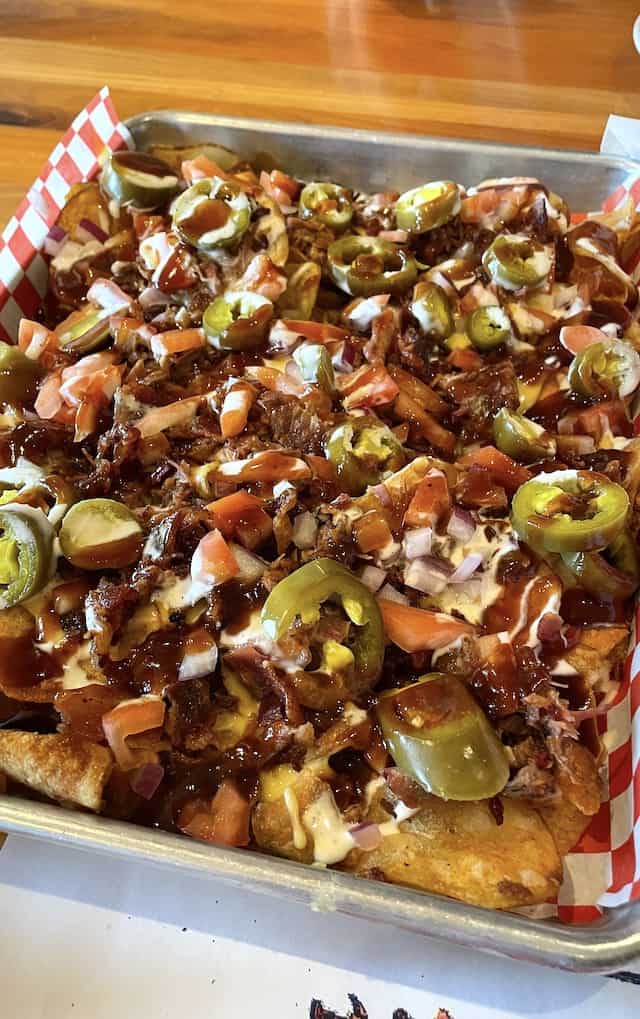 Dunkin Donuts is always a hit for an easy breakfast and coffee run. We have eaten at the buffet for dinner during a previous visit, and it was your standard American buffet. We will probably opt for that again next time instead of pizza.
Of course, you can always leave and hit up the nearest restaurant if you prefer chain restaurants. You are also allowed to bring in outside food.
Shopping and Making Purchases
One area that really surprised me was the gift shop. It was so much like Disney gift shops! There was a whole wall of themed wolf ears. Plus, they have tumblers, cups, mugs, t-shirts and so much more – all with the Great Wolf Lodge logo. There are also some necessities you can purchase if you forgot yours at home.
Pirate tip: make sure you grab a free pair of Wolf ears! They are generic brown fluffy ears, but they are fun to wear around and fun to take home as a keepsake.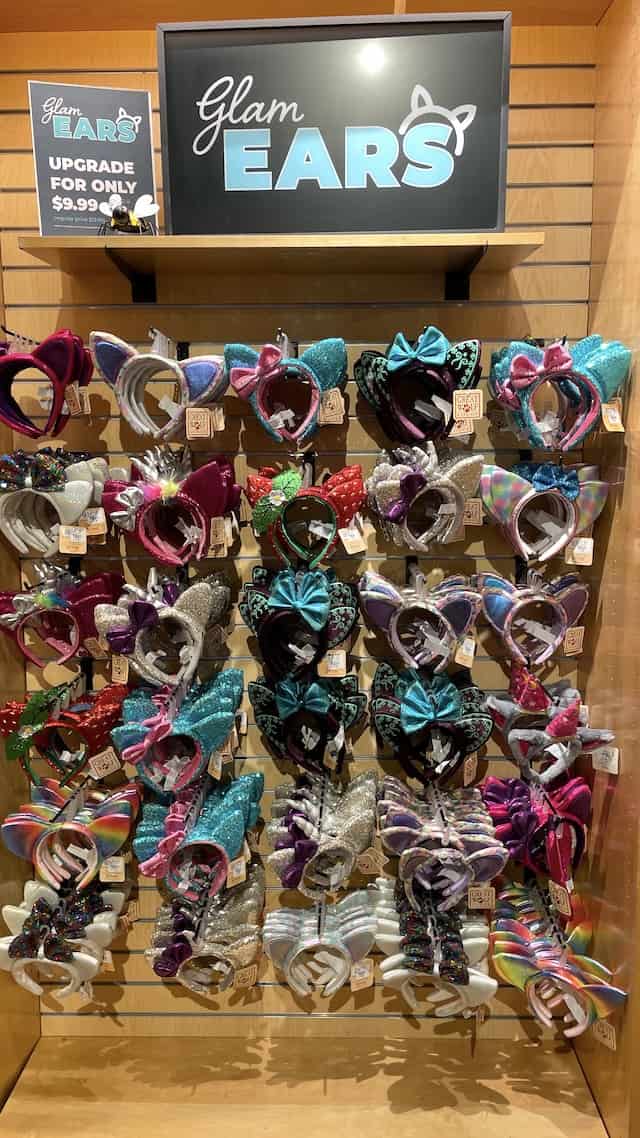 The best part: there is NO need to carry your wallet around! Each adult gets a special wristband with a chip that goes back to your room. You can charge merchandise, food, activities, and so much more to the card you have on file. This allows you to keep those valuable items locked up somewhere. However, on the flip side of that, kids cannot make their own purchases or get into the room without an adult.
Final Thoughts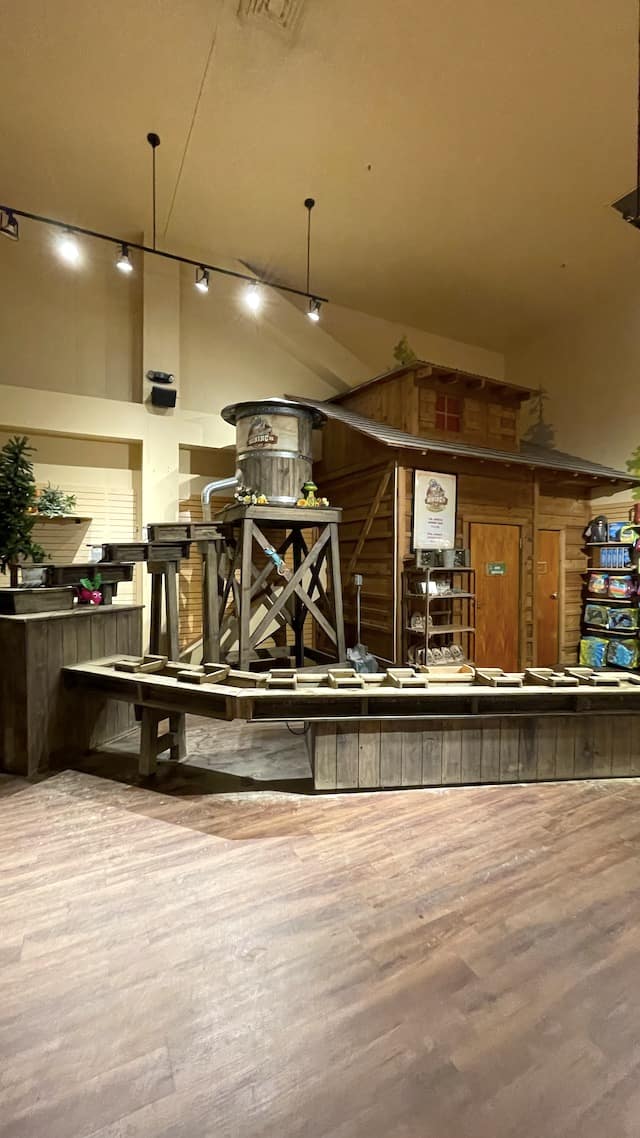 Great Wolf Lodge shares many of the same amenities and special touches that make a Disney vacation special. No you won't ride any attractions and you won't get a hug from Mickey. But, if you set some realistic expectations and think outside of that Disney box you may be surprised!
Does your family enjoy Great Wolf Lodge? How have you found it similar to Disney World? Let us know in the comments below and on Facebook.