Mother-daughter days are the best! They can be even more magical when you are spending them at Disney World! Some of my favorite experiences at Disney have been spending time with my mom. We have created new traditions and lasting memories together. If you are looking to plan the perfect mother-daughter day on your next Disney vacation you need to check out these ideas!
My mom and I have a very long tradition of taking a girls' trip to Disney every Halloween to experience the Epcot International Food and Wine Festival and Halloween festivities at the parks. While the pandemic has prevented us from returning, for now, we can't wait to get back and make some awesome memories.
Each person has a different idea of what their perfect mother-daughter day looks like. For some, that could simply be a day spent together at the parks or going shopping and enjoying lunch together. There is no wrong way to plan your perfect day, but if you are looking for something new to do together check out these ideas below!
Pick a Pearl
My mother and I have made it a tradition to pick a pearl on every trip. Our favorite location to visit was the Mitsukoshi merchandise store located at Epcot's Japan Pavilion.
At the current moment, the pick a pearl experience has yet to come back to Mitsukoshi, but with more and more experiences returning we hope this is a sign that Japan's pearl experience will return soon! However, you can currently still pick a pearl at The Pearl Factory in Disney Springs.
If you decided to take part in the experience at Mitsukoshi before the closure, you would first pay for your oyster at the register and be given a number card. When your number was called, you made your way over to the two large oyster tanks. The choice of oyster was entirely up to you.
Regardless of where you visit for your pearl experience, I have a few tips that may help your chances of getting a better pearl.
My secret tip is to pick the smallest and ugliest-looking oyster. You might think that picking a large oyster will yield a larger pearl, but it is most frequently the opposite case. Every time I have picked a small or weird looking oyster, I have received rare pearls. In my past acquisitions, I have picked twin pearls, green pearls, pink pearls, and an 8mm pearl by using this method.
After you pick your pearl, the Cast Member will walk you through the process of extracting the pearl. Everything is done for you, so just sit back and watch the magic unfold.
Some people may find it unnerving to watch the oysters being cut open, but I believe it is important to know that the oysters are NOT alive. You are not hurting them in this process.
Once the oyster is cut open, the Cast Member will feel around for the pearl. Once the pearl is extracted, they will measure it, clean it and hand it to you in a small plastic pouch.
From there, you can choose to have your pearl set in a variety of jewelry pieces available for an additional cost, or put it in a setting of your own at a later time. I have purchased pearl cage necklaces from Etsy that are far cheaper than the ones sold in Disney World and I have also purchased jewelry pieces at the Japan Pavilion. When it comes to having to glue the pearls into a setting, such as earrings or a ring, I let the pros at the store do it.
Picking a pearl is a fun and relatively inexpensive activity for moms and daughters of all ages to enjoy. My mom and I always put this experience on our must-do list when we visit Disney together. I have even made it a tradition to do this experience with my friends who have never been to Disney before. Not only is it a lot of fun, but you leave with a really unique souvenir.
While the pick a pearl experience is not currently available in Japan, you can still visit The Pearl Factory at Disney Springs for a similar experience.
Character Couture Makeover
This amazing experience will add the perfect amount of pixie dust (both literally and figuratively) to your perfect mother-daughter day! Unlike the Bibbidi Bobbidi Boutique, which is only for kids ages 3 to 12, adults and kids can both enjoy the Character Couture experience.
Your stylist will help you transform into your favorite Disney character, princess, villain or galactic hero. Plus, there are a variety of options and add-ons you can choose from.
Hairstyle package includes:
Full consultation
Hairstyle of your choice like cascading curls, intricate braids or an elegant updo
Heat styling
Select accessories available for an additional cost
Price: $75 ($60 for Guests 12 and under)
Makeup package includes:
Full consultation
Cosmetic application to eyes, lips, and cheeks―can be subtle or dramatic
Note: Guests should arrive with foundation already applied
Price: $50 ($40 for Guests 12 and under)
Nails (Add-On) includes:
In order to enjoy this service, you will need to book a hairstyle and/or makeup session.
Price: $20 ($15 for Guests 12 and under)
In-Room Services:
Price: an additional fee of $25 per reservation
This option is only available at participating Disney Resort hotels. Please call to find out more information.
Participating Locations:
Character Couture Makeovers can be booked at a number of participating locations including:
The Salon at Disney's Grand Floridian Resort & Spa
Salon by the Springs at Disney's Wilderness Lodge
La Vida Salon at Disney's Coronado Springs Resort
Ship Shape Salon at Disney's Yacht & Beach Club Resort
In-room services are offered for an additional fee at participating Walt Disney World Resort hotels.
On my last trip to Disney World, I booked the character couture makeover and asked my stylist for a Queen Anna hairstyle. I brought her photos for inspiration and she did the rest. I also purchased an emerald crown on Amazon for her to use in the style. Some hair piece add-ons may be available for purchase, but if you have anything special you want to add to your style, bring it with you.
My hairstylist was truly a fairy godmother in disguise and did an amazing job on my hair. All throughout the day, I had compliments from Cast Members and guests who wanted to know where I had my hair done. You can read all about my full experience HERE!
If you are looking for a super fun makeover experience both moms, grandmas and daughters can enjoy, look no further than the Character Couture Makeovers!
Note: this experience has not returned just yet, but we are hopeful it will be coming back very soon!
Senses Spa
Having a spa day is one of my favorite things to do with my mom. We are absolutely obsessed with the Senses spa experience. While there are different spa locations scattered across Disney property, our favorite location is the one at Disney's Grand Floridian Resort & Spa.
From the moment you walk in the door, you instantly feel at peace. The entire spa is a tranquil oasis away from the hustle and bustle of park life, family meltdowns and heat exhaustion.
The Senses spas have recently reopened and we are so thrilled to see them return!
One of our favorite treatments to book is a Swedish massage. This is a perfect treatment to book if you are new to the whole spa experience. Let me just say that there is nothing more magical at Disney. From the moment your treatment begins, the rest of the world will be miles away.
Unfortunately, all good things much come to an end, but the good news is that even after your treatment is over, you still have full access to the lounge and spa amenities all day! You can book as many treatments as you desire or simply spend the rest of the day relaxing in the whirlpool and sauna.
Another treatment that is great for moms and daughters of all ages is the manicure and pedicure services offered at Senses Spa. The whole experience was very luxurious and when we finished we were gifted the nail polish bottle for touch-ups on our trip!
The menu selection at the Senses spa is quite extensive so you are bound to find at least one treatment for your mother-daughter day! Though I won't judge if you find more – Live your Disney dreams!
Parasols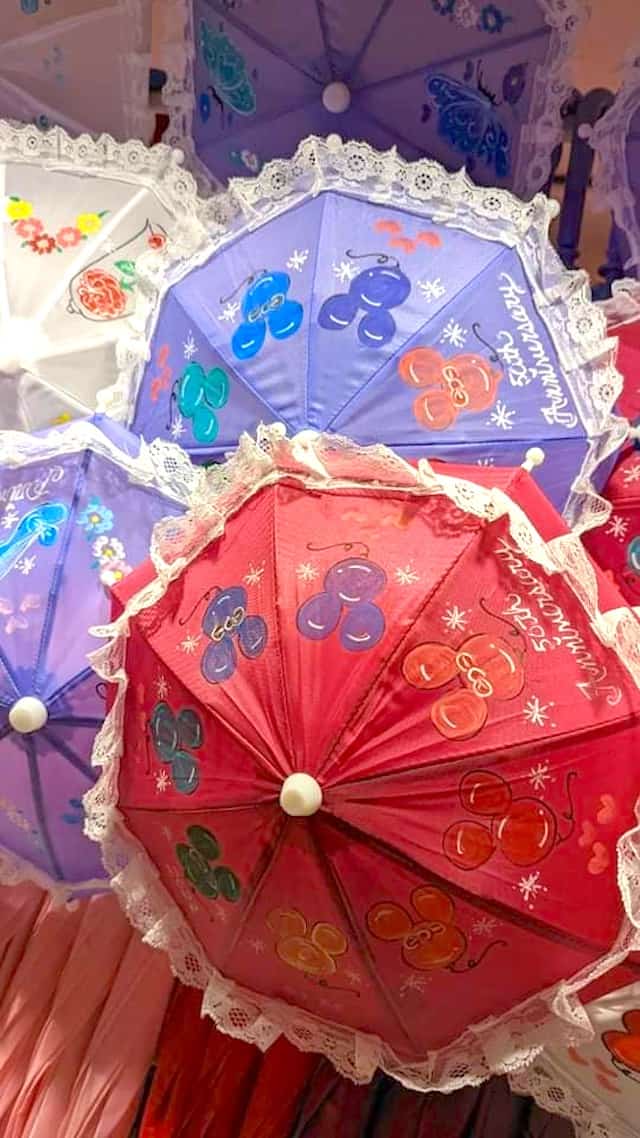 Another great souvenir to get on a mother-daughter trip is a hand-painted parasol. You can find these at the France and China Pavilions at Epcot or Magic Kingdom in Liberty Square. We usually get them done at the Magic Kingdom because they take a little while to paint and dry.
We go early in the morning to pick out our parasols and designs and then spend the day riding rides or shopping and snacking. Then, we pick it up in the afternoon and it's ready to go!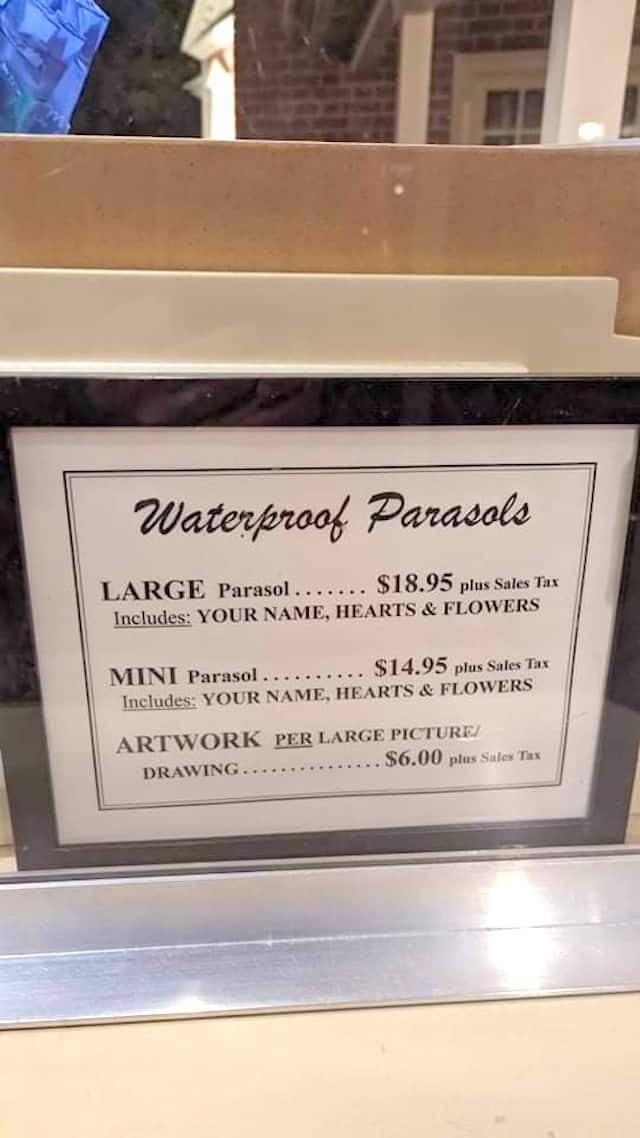 You can usually choose between two different-sized parasols. The large ones are similar to your average size umbrellas and the mini ones are mainly decorative or for a small child. Large parasols cost $18.95 plus tax. Mini parasols cost $14.95 plus tax and both sizes include your name, hearts and flowers.
If you are looking for more than just hearts and flowers, you can add artwork for $6.00 per drawing. If you wanted to add a drawing to each of the 8 panels on your parasol, that would cost an additional $48.00 – making a fully decorated large parasol cost a total of $66.95 plus tax.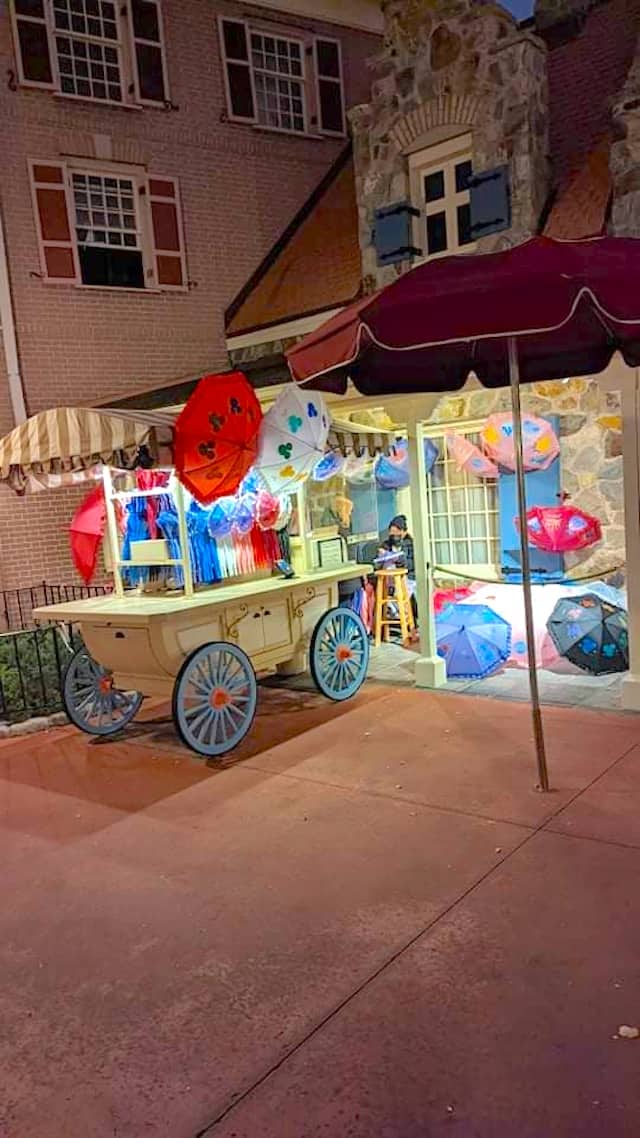 You do not have to fill your parasol with artwork designs, however, I had a simple Mary Poppins-themed parasol designed with white and pink flowers and the saying "Practically Perfect in Every Way" on one panel. 
The options are endless and the choice is up to you on how much you want to splurge on this souvenir.
Afternoon Tea
One of my favorite experiences with my mom was our afternoon tea at the Grand Floridian Resort & Spa. It has been some time since we have had the chance to return, but it is on our list of things to do when we go back.
When I was a little girl, my parents used to take me to our local tea room. Believe it or not, some of my best father-daughter days were tea parties at our Blue Butterfly tea room, so don't limit your tea time to just mother-daughter days. Tea time feels so dainty and it's a great vacation experience for moms, daughters, grandmothers, friends and dads, too!
The menu at the Garden View Tea room at Disney's Grand Floridan has changed a bit since we went, but many of the same offerings are still available.
When we went, our package included a pot of tea of our choosing, finger sandwiches, scones with jam and clotted cream, and pastries for dessert. Other packages may also include caviar, fruit, cheese and champagne.
If you are traveling with little ones, fear not. There are menu items to suit kids' palates, too, or you can visit for the Perfectly Princess Tea if you have younger ones who love Aurora. 
The Garden View Tea Room is still waiting on its reopening date, but we can't wait to be holding our pinkies out and sipping on some luxurious tea soon!
Shopping at Disney Springs
By far, one of my favorite things to do with my mom is go shopping. Even back at home, that is the number one thing we do when we spend the day together. Disney Springs has some fabulous shopping locations and when you need a break from lugging your merchandise bags around, grab lunch at one of the many delicious restaurants at Disney Springs!
Don't forget to take time to do the lesser-known activities at Disney Springs, too. Pick a Pearl at the Pearl Factory or stop by the PhotoPass location next to the Co-Op to get some unique pictures. Don't overlook artsy activities you can do together or unique souvenirs you can purchase to commemorate your day together!
Brunch
Brunch is one of my favorite meals. I absolutely love finding amazing brunch locations at Disney and there are some extremely unique brunch offerings on property. One of my favorites is located at the Grand Floridian Cafe. My family stopped in one day for brunch on a whim, and it has become our must-visit place each vacation. There is nothing quite like munching on a Lobster Thermidor Burger while also sipping on a Bloody Mary. 
Another underrated location for brunch is the House of Blues. We visited back in February 2020 when they were hosting their Bayou Brunch and it was phenomenal. While the buffet brunch has not come back, you can still get brunch on the weekends, with similar items, and select from a very extensive menu. I highly recommend asking for a side of whiskey butter on whatever dessert you choose. It is the most amazing thing in the world!
If you are looking for a delicious Southern home-cooked brunch, be sure to book a reservation at Chef Art Smith's Homecoming Kitchen. This restaurant has some amazing dishes and is beloved by many!
Special Photo Souvenirs
One of my favorite unique things to do with my mom, or really anyone I am traveling with, is to visit one of the Magic Photo Studios and take some "face-in-hole" photos.
So many people don't realize this experience exists in Disney, but they are so much fun! Some of these studios have disappeared over the years, like the one located in Tatooine Traders, but you can still find photo studios inside ImageWorks at the Imagination Pavilion and at the Rock Around the Shop store at Rock 'n' Roller Coaster.
You'll be able to insert your face into a variety of different photos and scenes with Disney characters, Star Wars characters, and even ABC television shows. It is free to take photos, but if you want to have a copy to take home, you will have to pay for them. Photos can be purchased in a variety of sizes and objects.
Once you have selected the photo (or photos) you want to take, the Cast Member will direct you on where to stand and where to position your head. If you don't like the first result, the Cast Members are very accommodating and will keep trying until you get the perfect picture.
I have purchased several of these special photos and have them framed. They make me smile every time I see them! If you are looking for a unique and quick activity to do on your mother-daughter day, consider one of these special photo shots. You will have something to commemorate your day for years to come!
There are so many different and unique ways to celebrate your perfect mother-daughter day together at Disney World. I know from my own experiences that sharing these special moments with my mom will be something I will always remember and cherish. If you are looking for something new to do on your next vacation, consider trying one of these different experiences together. You might just find a new tradition!
What are some things you like to do on your perfect mother-daughter days at Disney World? Share your experiences with us in the comments below and on Facebook!
-Christina