Disneynature's Polar Bear was given a tribute right at the front of Disney's Animal Kingdom. Check out how Disney displayed this new documentary and get a peek at the new trailer!
Disneynature's Polar Bear Coming to Disney+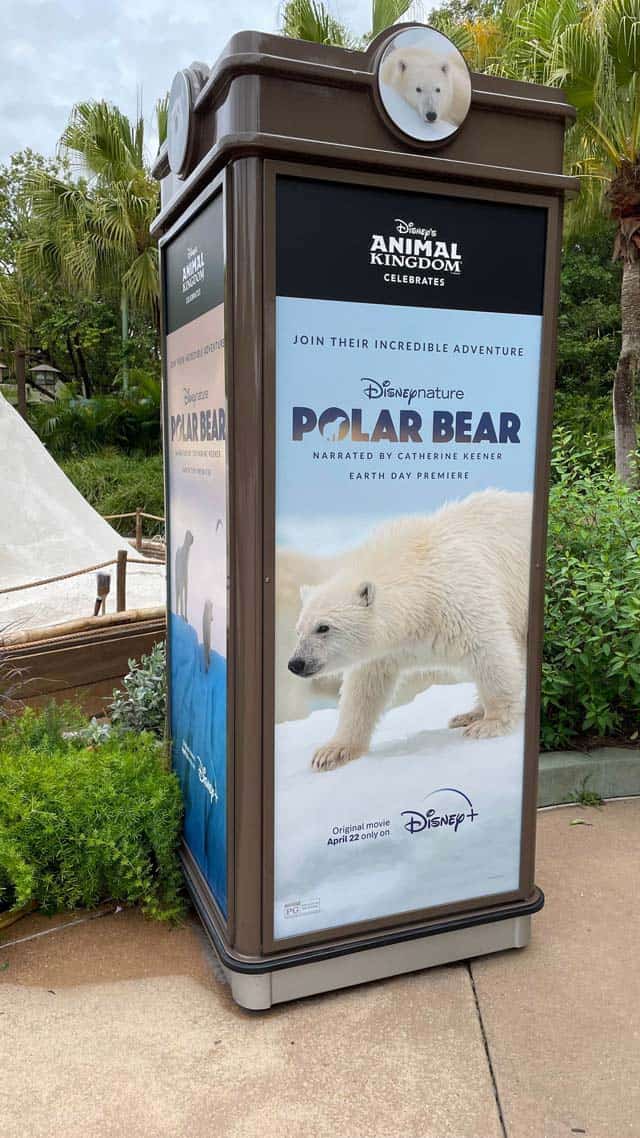 Disneynature is premiering their new film Polar Bear on April 22, 2022 on Disney+.
Polar Bear is narrated by Catherine Keener and will feature a story about a female polar bear as she navigates life as a new mother. The story will show the challenges that polar bears face through each season of life. The new mother and her cubs will grow as a family as they overcome dangers and take on new adventures in the toughest environments.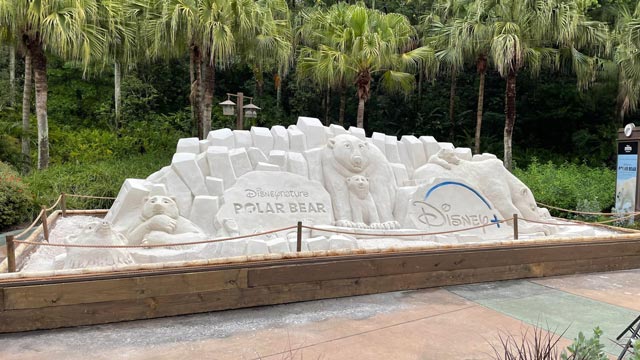 Sand Sculpture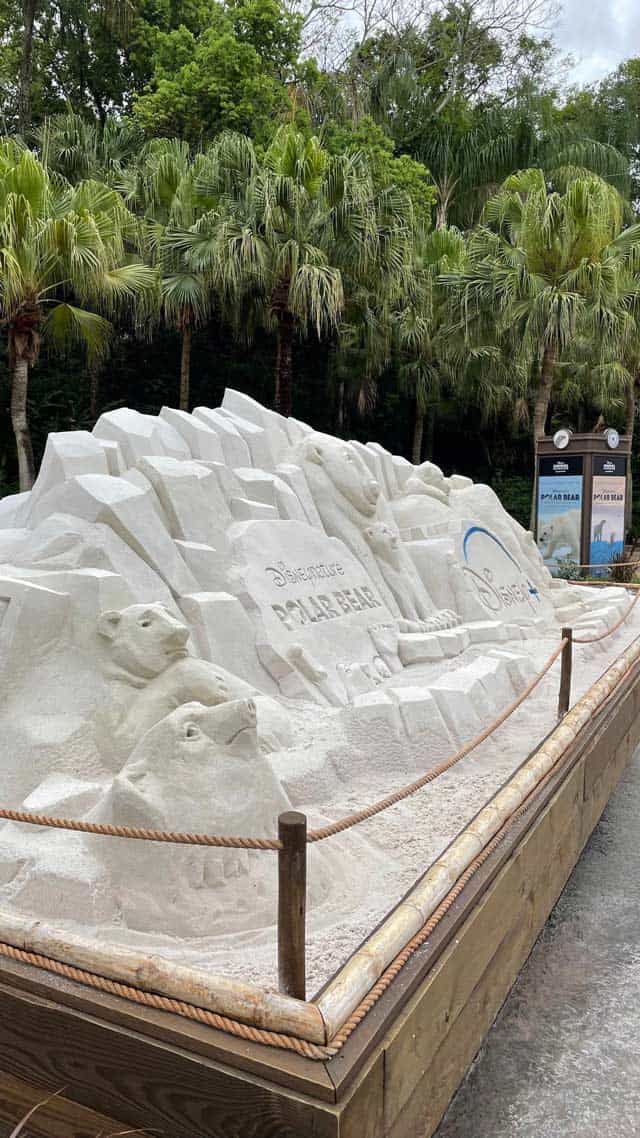 Back in February, we showed you a new sand sculpture inspired by The Ice Age Adventures of Buck Wild that Disney built at the main entrance to Disney's Animal Kingdom. The new Polar Bear sculpture has taken its place and guests can now get a photo right in front of it!
There are a few adult polar bears and 2 adorable cubs surrounded by a wall of "ice" made entirely of sand! I love the added blue touch included in the Disney+ logo. The day that I was visiting Animal Kingdom, a sand carver was finishing the backside of the sculpture.
Check out the Trailer!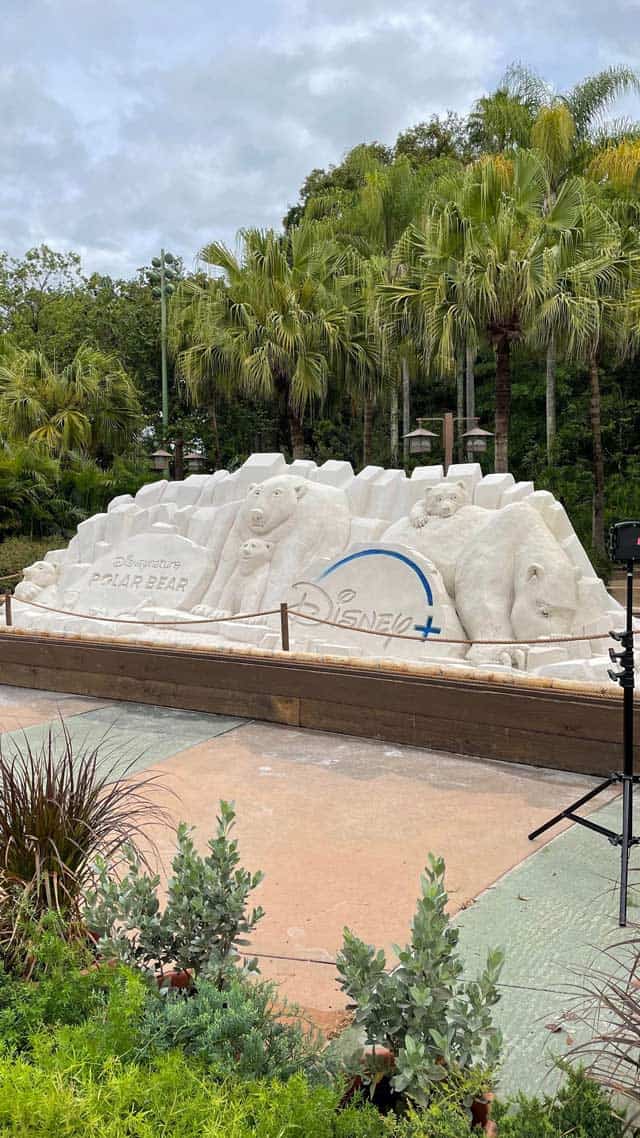 Disneynature is known for cinematic documentaries telling stories of real-life animals! They have produced beautiful movies about penguins, monkeys, pandas, and much more. This specific film will include footage of a real polar bear mother teaching her cubs about life on the ice.
Polar Bear is debuting on Disney+ on Earth Day, April 22, 2022! What a perfect way to showcase our magnificent Earth! Check out the trailer for Polar Bear here:
Starting April 22, 2022, Polar Bear will take the center stage as Disney celebrates Earth Day.
Sculpture Video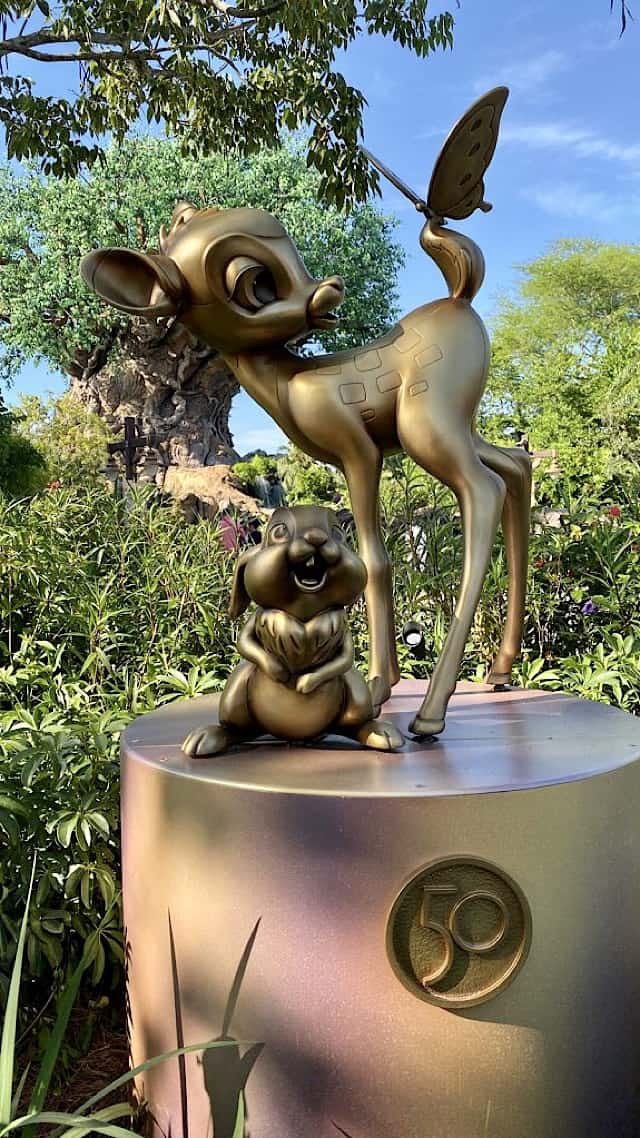 You can catch a quick glimpse of the sand sculpture in this Instagram Reel posted by the KtP team!
The Reel also features some hidden gems of Disney's Animal Kingdom. Leave us a comment on the Reel letting us know what your favorite hidden gem of Animal Kingdom is!
Will you be streaming Polar Bear on April 22? What do you think of the sand sculptures Disney has been creating at the entrance to Animal Kingdom? Share your thoughts in the comments below and on our Facebook page!