Are you a DVC member or thinking about renting DVC points for your next Disney vacation? Have you thought of staying in a one bedroom villa at Disney's Boardwalk? Read on for my full review.
Disney Vacation Club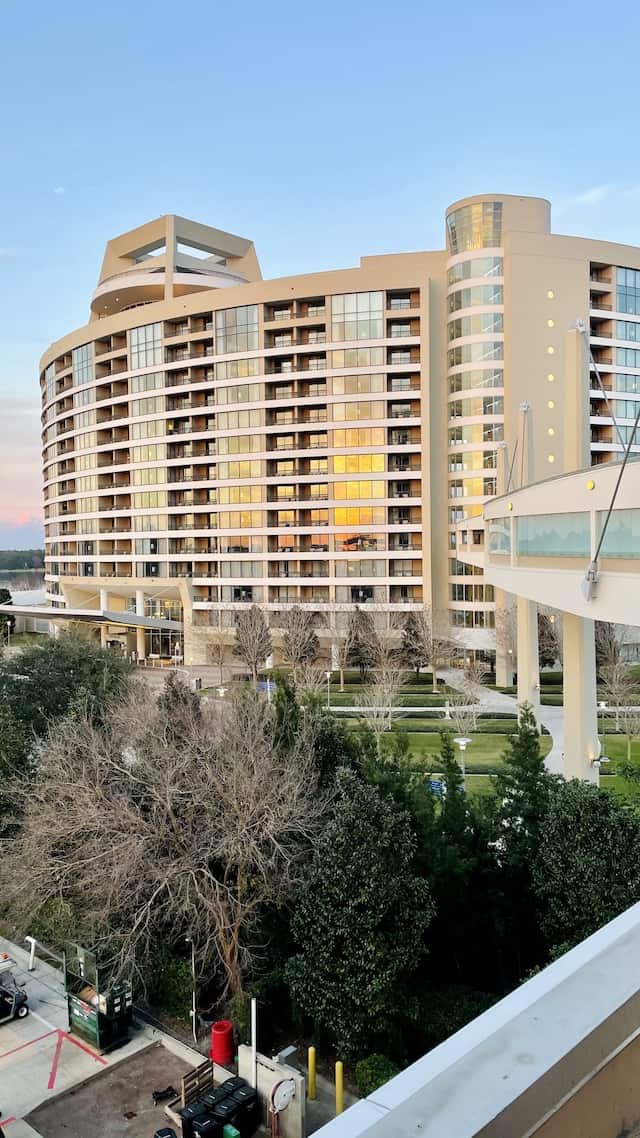 Disney Vacation Club (DVC) is Disney's version of a timeshare. They work off of a point system, so you are not stuck into a particular accommodation at a set time every year.
In Walt Disney World there are twelve Disney Vacation Club Resorts. They are:
Bay Lake at Disney's Contemporary Resort
Boulder Ridge Villas at Disney's Wilderness Lodge
Copper Creek Villas and Cabins at Disney's Wilderness Lodge
Disney's Animal Kingdom Villas – Jambo House
Disney's Animal Kingdom Villas – Kidani Village
Disney's Beach Club Villas
Disney's Boardwalk Villas
Disney's Old Key West Resort
Disney's Polynesian Resort and Bungalows
Disney's Riviera Resort
Disney's Saratoga Springs Resort
The Villas at Disney's Grand Floridian Resort
Want to know more about Disney Vacation Club? Read all about what Disney Vacation Club is HERE.
Boardwalk Villas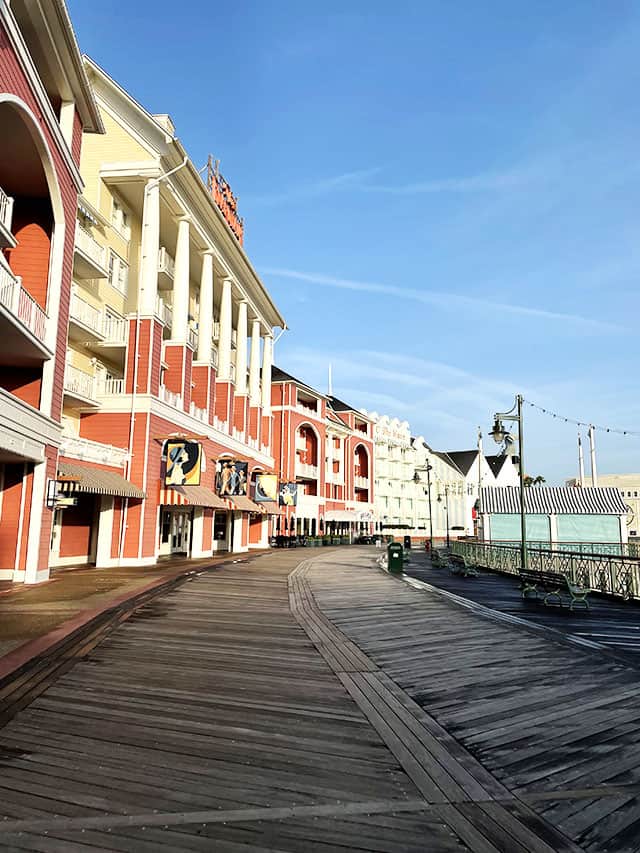 Disney's Boardwalk Villas is located near EPCOT. It has an amazing location. You are able to walk to EPCOT and Hollywood Studios. Don't want to walk? You are close to the Skyliner or can take the Friendship boats.
Check out Maggie's review on a deluxe studio at Disney's Boardwalk Villas. These studios are perfect for traveling with a small group of people who will spend most of their time enjoying the parks. Also, be sure to check out our guide on Disney's Boardwalk HERE.
One Bedroom Villa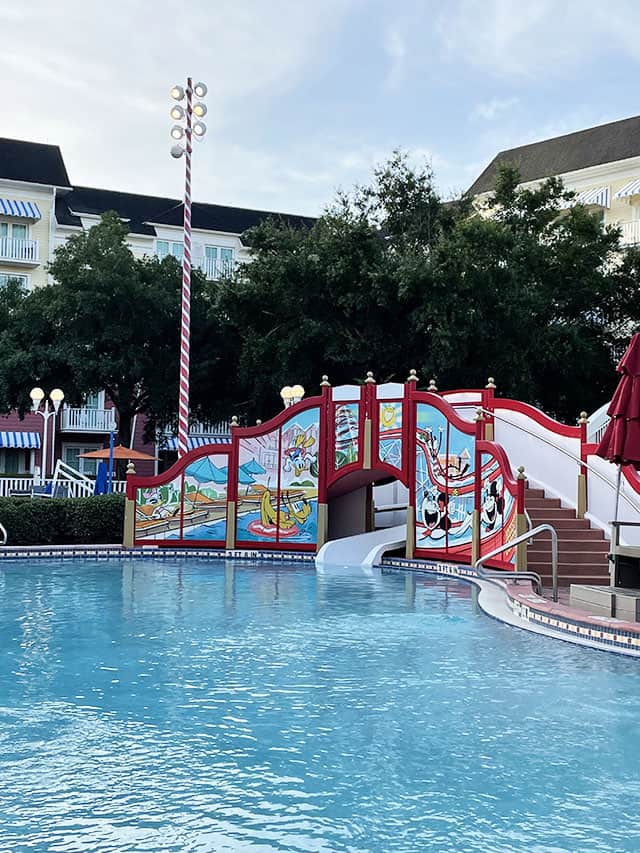 I (Heather) will take you through the one bedroom villa. I found this to be one of my favorite accommodations. With the space and location, it can't be beat! The one bedroom villa is perfect for a family or friends that want more space. You want lots of space? You got it! With a living room, kitchen, and separate bedroom, you and your family will have all the space to move.
Technically, the one bedroom villas at Disney's Boardwalk truly only have bedding, linens, and towels for four guests. However, a fifth guest can be accommodated, but no additional bedding, linens or towels will be provided.
There are only two sleeping surfaces in the villa. You will find THREE sleeping surfaces in a studio.
Along with everything I will share with you, below is additional amenities that are included:
Iron and ironing board
Hair dryer
In-room safe
Voicemail
Portable crib
DVD player
Flat screen television
Wireless Internet access
Entering The Villa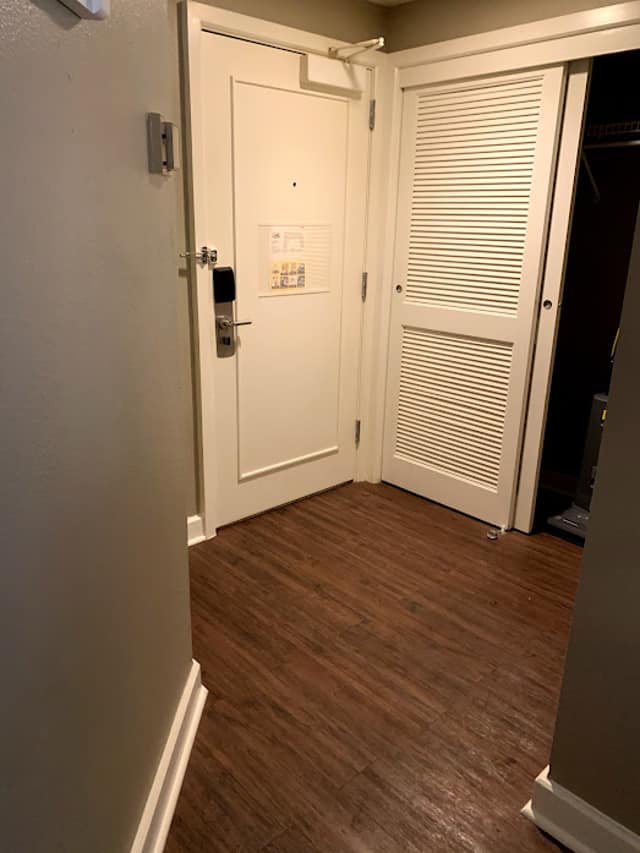 The entry way is nice and open! Plenty of room to get that double stroller in. Don't worry, I tested this! There is also room to park that double stroller near the door, so it's out of the way for the room's living space.
You can store suitcases in the front closet, but there is another closet that is easier to get to (if you park the stroller here). There is also a hooks to hang things on once you come into the room a little more.
The villa itself has a very open concept. So, once through the entry way you look straight into the kitchen and living room. In the picture above, I am standing in the living room looking back towards the entry way.
Kitchen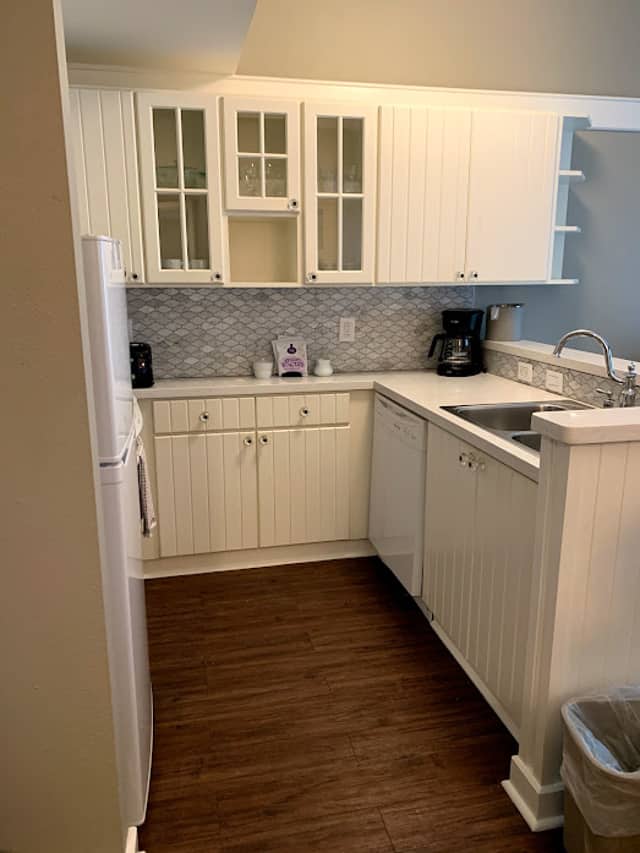 Want to save money and not eat in the park? Just don't feel like park food for every meal? You get a full kitchen in the one bedroom villa! You can cook whatever you and your family please. Your fully equipped kitchen will have:
Dishwasher
Dishes, glasses and utensils
Pots and pans
Refrigerator
Stove and oven
Toaster
Microwave
Coffee maker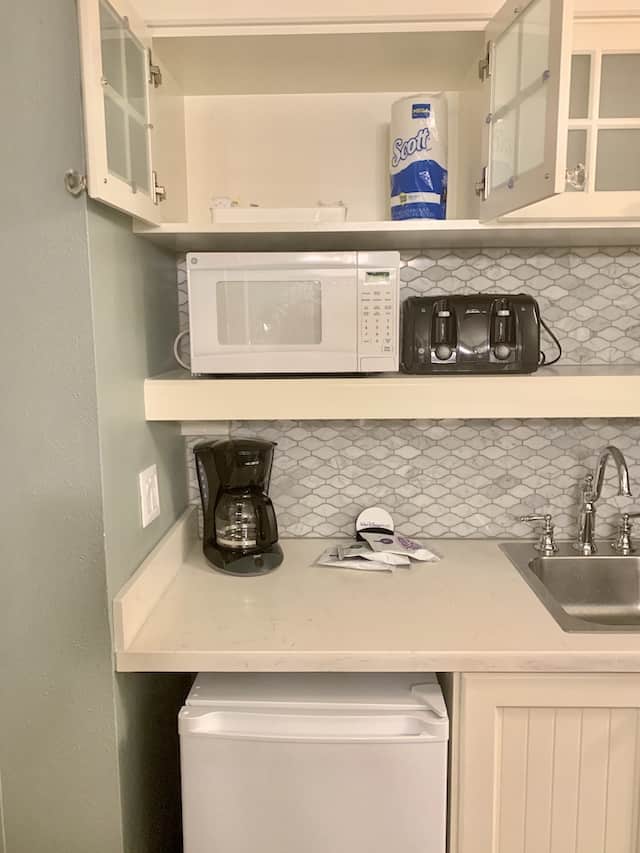 Missing something like a specific pot or dish? You can call to quickly have it brought to you. I was able to do this when there was no frying pan (I had to wait to do my Rapunzel impression, "frying pan, who knew?").
You will also find dish towels, paper towels, a sponge, dish soap, and dishwasher detergent. All the amenities of home to help you feel like you are "home."
There is also a table to eat at along with the island seating. Plenty of room to enjoy your home cooked meal! A high chair, if not already in the room, can be brought to you upon request.
Living Room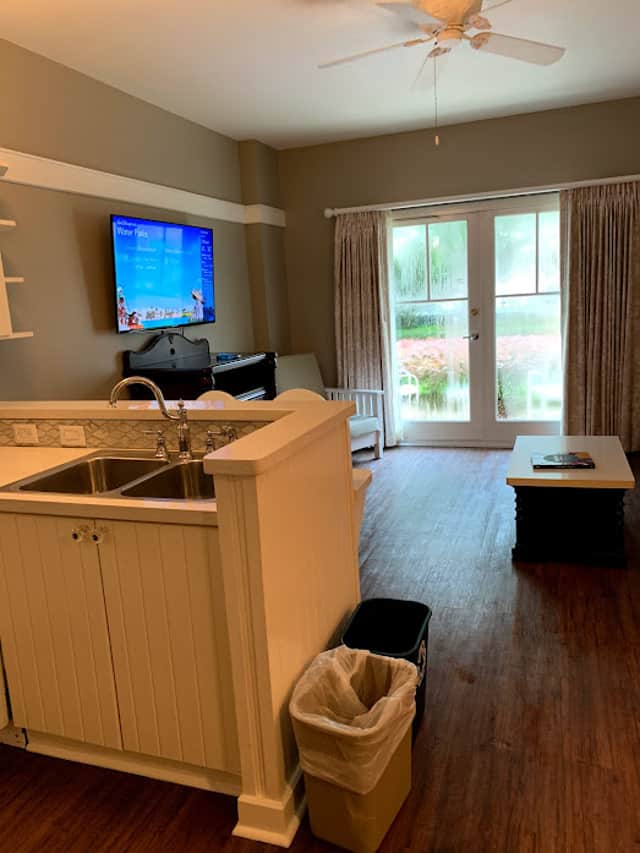 The living room has a couch and a chair for seating. There wasn't room for everyone to sit on living room furniture, but it worked out okay for us.
The couch unfolds to a queen size bed. This easily folds back up during the day for that extra living space.
Bedroom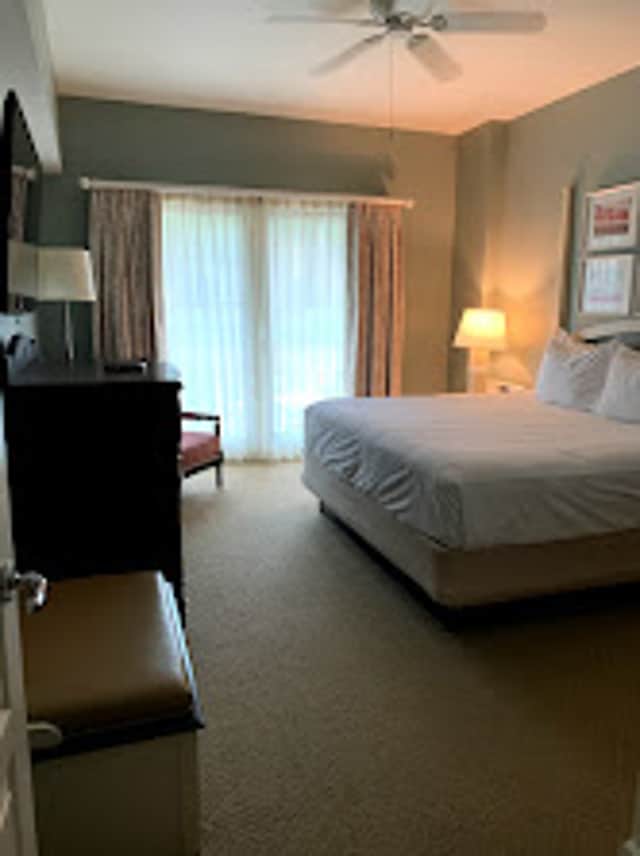 The bedroom has a king size bed. Additionally, there is plenty of floor space to walk around and not feel cramped. Even with the pack and play out, there was room!
I also felt there were plenty of outlets to charge all our devices. That is always an important detail when Disney has us doing so much planning on our phones (I'm talking about you Genie+).
Bathroom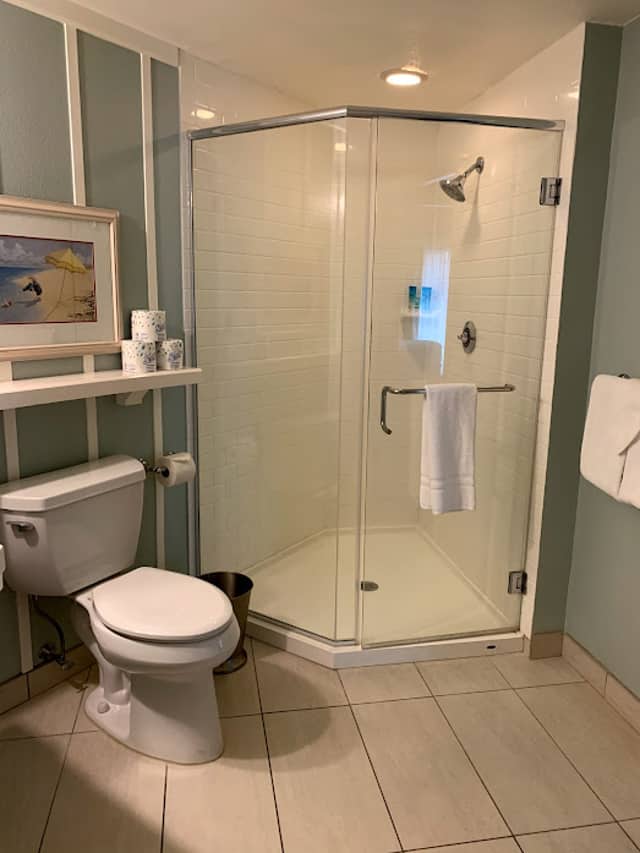 In most of the one bedroom villas the bathroom set up is a little different. A shower, sink, and toilet are in one room with the jetted tub in another.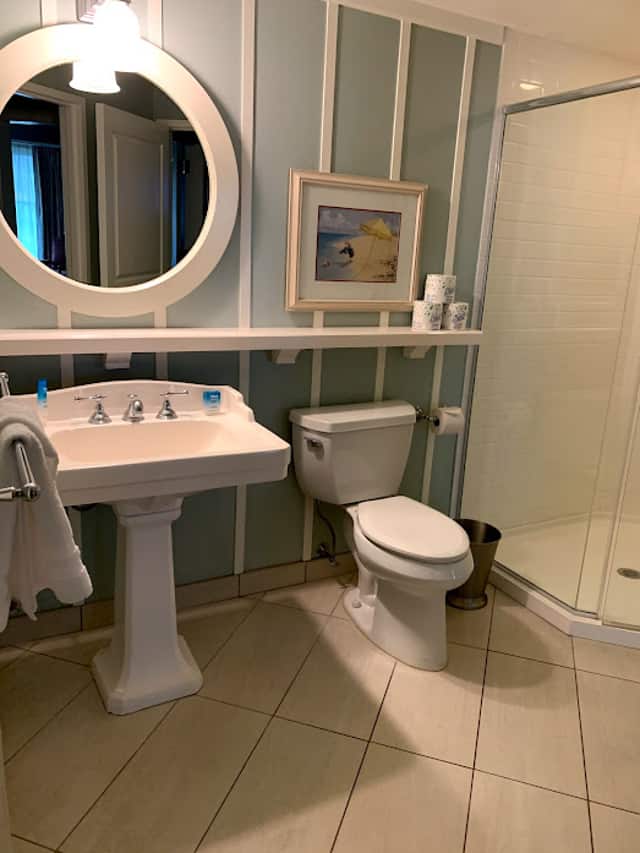 I do love the spacious stand up shower though. I also like that I could give the kids a bath at night and not take up the bathroom for everyone else.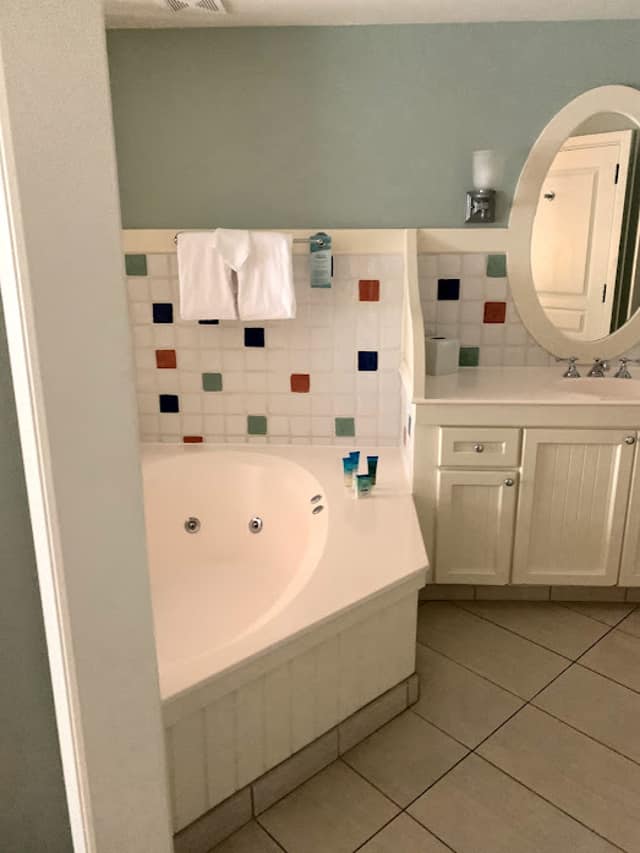 This separate room with the bathtub also had another bathroom vanity. This worked out well so we could all get ready at the same time.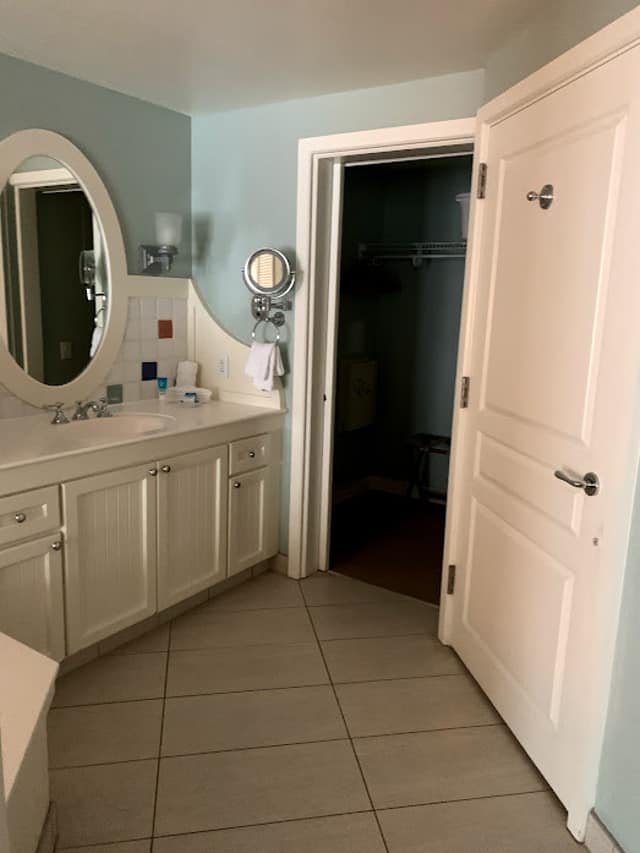 In the picture above the toilet and shower are through the door on the right. Straight ahead is an enormous closet! Perfect for storing that luggage until that sad time comes to head home.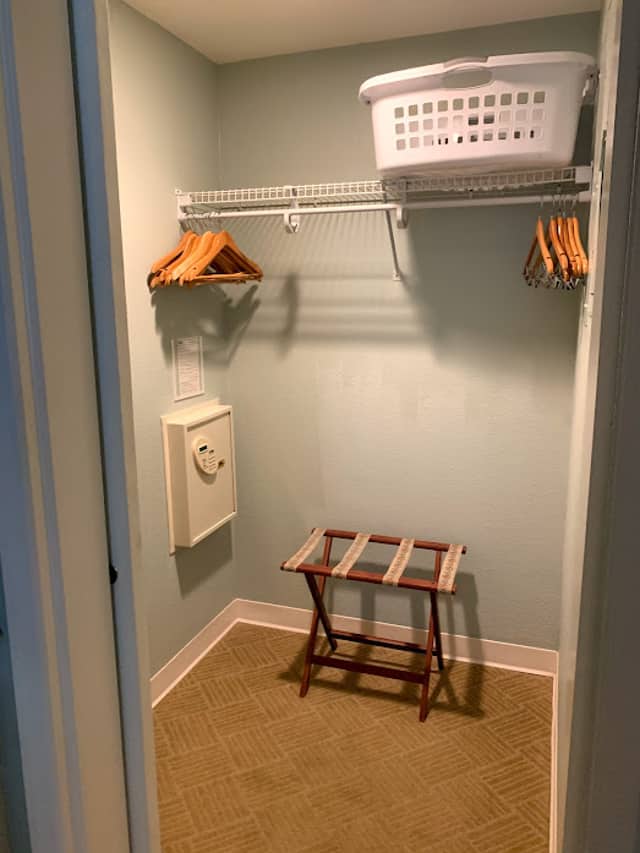 This closet is where you will find the in-room safe. If you look up on the rack you will see a laundry basket. Why you ask? Because one bedroom and larger villas have an in room washer and dryer!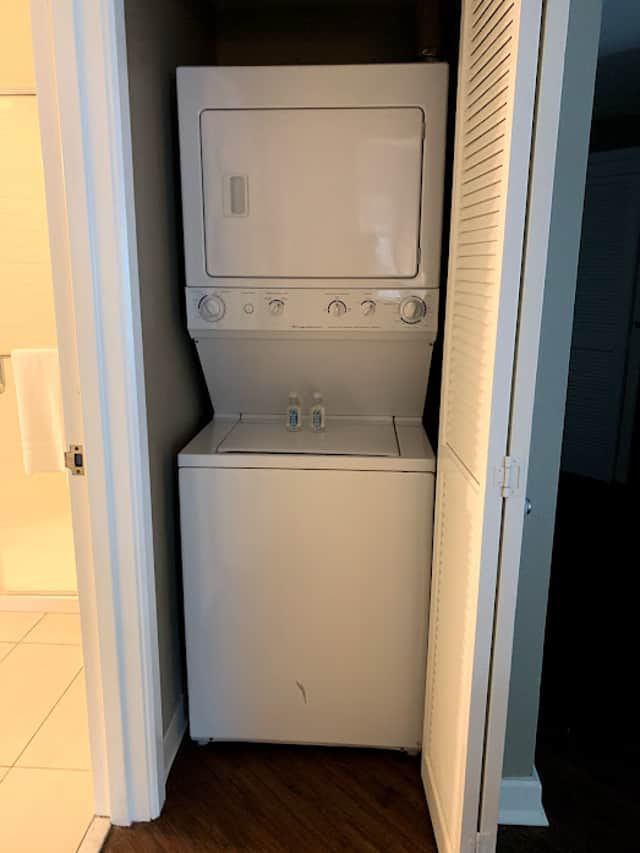 Just before you enter the bathroom there is a closet that houses this stacked washer and dryer. There is even laundry detergent for a load or two.
These aren't the quietest machines, but they get the job done. I travel with my kids, and spills are going to happen. Also, anything that lets me pack lighter is a win! Pack fewer outfits and throw a load in when you head to the pool!
Final Thoughts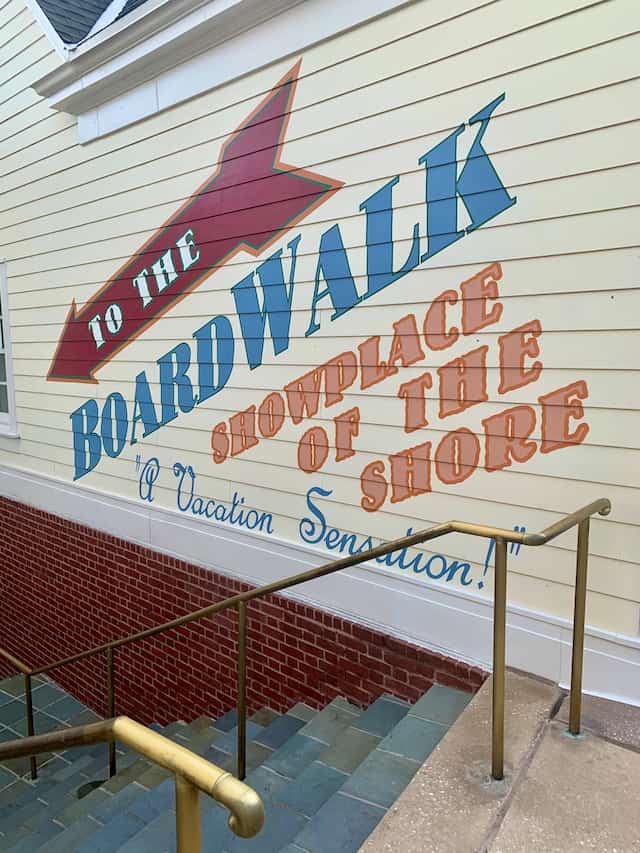 My family has always been a studio type family – mostly just using the room as just a place to sleep. Now that we are DVC members and know we will go back year after year, it is nice to slow down and enjoy EVERYTHING Disney has to offer. This includes not only the parks and resort offerings, but also the rooms. We all spend good money on our rooms, we should love those accommodations!
Having the space allowed my family to come back from the parks and let the kids nap or go to bed early (we are a rope drop family) without having to fall asleep ourselves. The one bedroom villas at the Boardwalk have quickly became one of my favorite stays.
We have always wanted to stay at all the DVC resorts, but I may not be able to pass up another stay here the next time I book a trip.
What do you think of Boardwalk's one bedroom villa? Have you stayed in a one bedroom? Let us know on the Kenny the Pirate Facebook page. Don't forget to join the KtP crew page, too!
-Heather Alosa
Are you planning a vacation? Reach out to our trusted travel agency sponsor Authorized Disney Vacation Planner
Mouse Class Travel
!