"It's beginning to look a lot like Christmas" and last week Christmas filming was underway at Walt Disney World. Get a "behind the scenes" tour of the filming.
EPCOT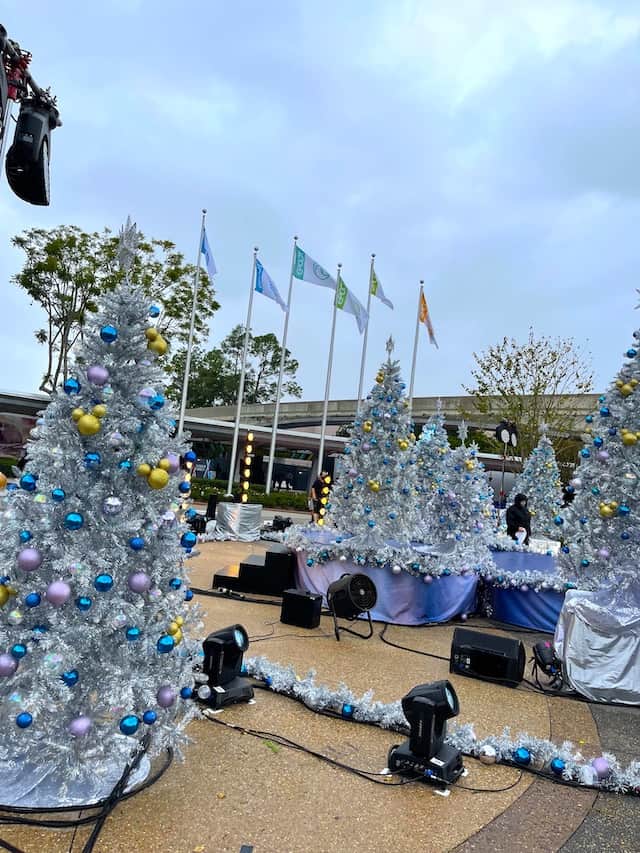 The Festival of the Holidays has not yet started in EPCOT but is already looking a lot like Christmas even while the International Food and Wine Festival is underway.
When we arrived at EPCOT on November 10, 2021, we were welcomed with a gorgeous stage surrounded by silver tinsel trees. We spotted a few beautiful Mickey Mouse ornaments that were absolute perfection.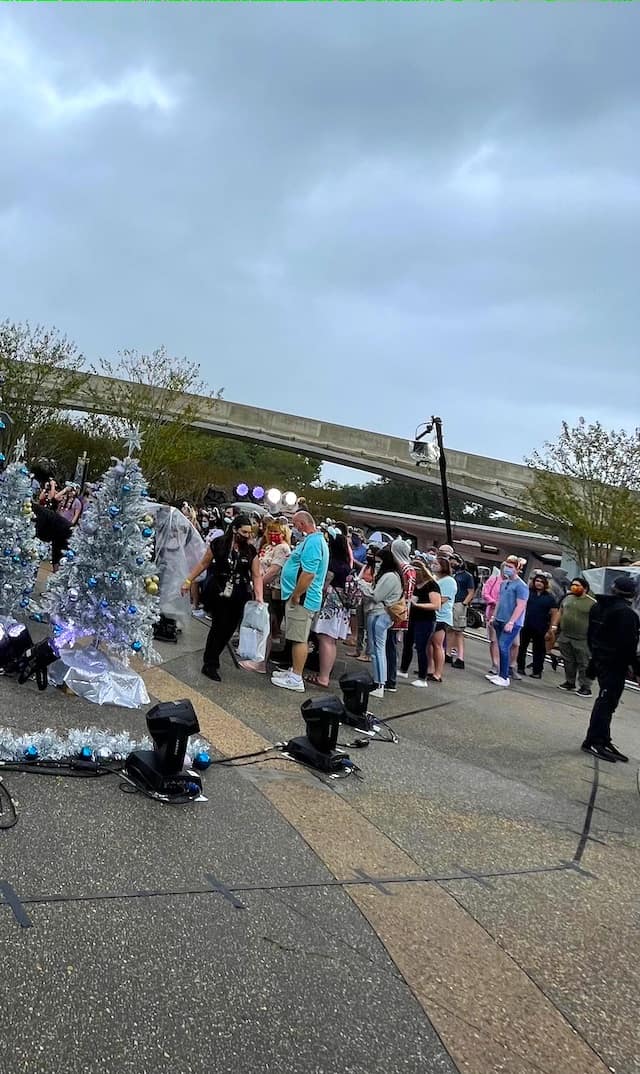 Filming had wrapped for a moment due to incoming rain. A friendly Cast Member shared that earlier that day country star Brett Eldredge had performed.
As you can see in this photo. Many Guests were surrounding the stage in hopes that filming would once again begin. We are unsure if this filming was for the holiday special that usually airs on Thanksgiving Day or the Christmas Day special.
A friendly Cast Member shared that earlier that day country star Brett Eldredge had performed.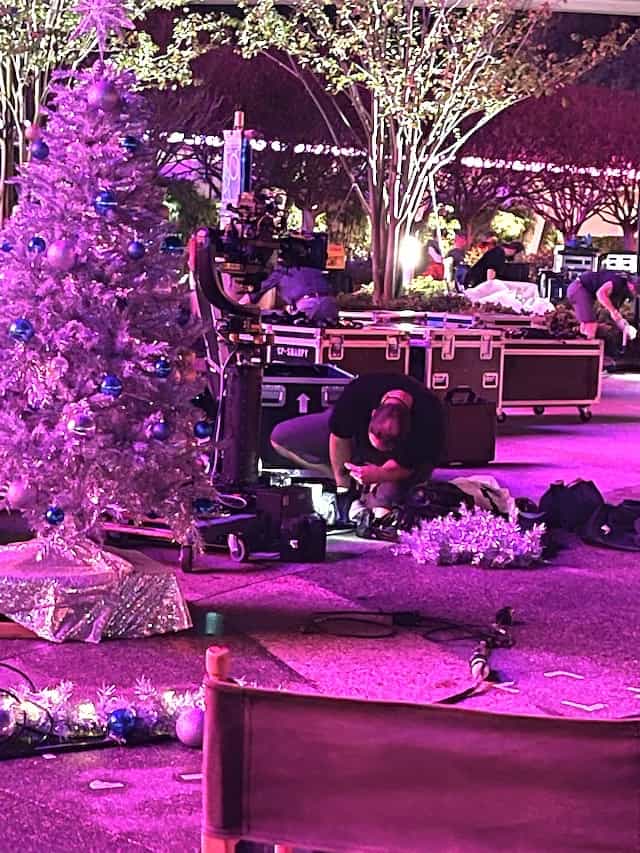 At the end of the night as we waited in line to have our photo taken in front of the illuminated Spaceship Earth, we saw a crew taking down this filming location.
This was rather a strange sight as typically this type of work is down after Guests have exited the Park for the evening.
Filming During After Hours Event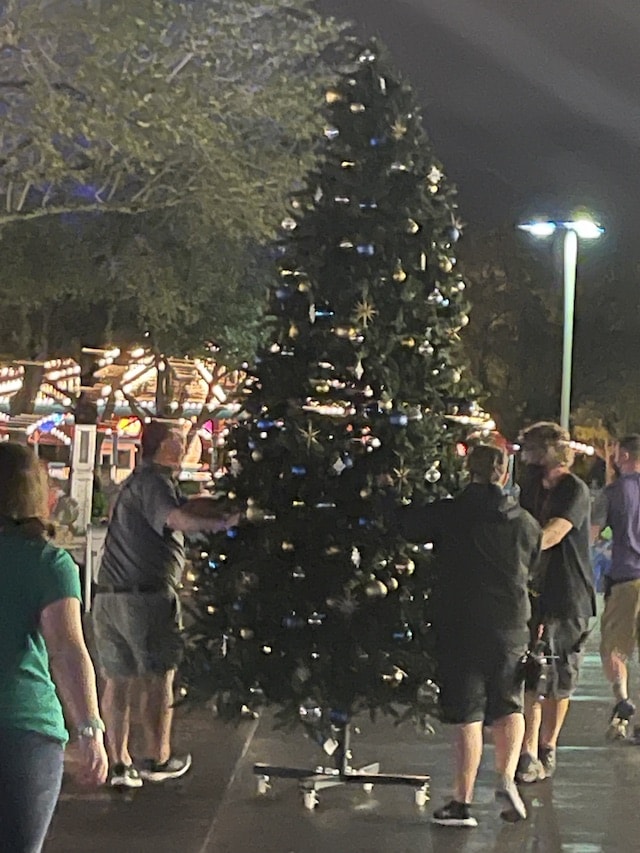 During Disney's Very Merriest After Hours event on November 12, 2021, we discovered a rather interesting sight as we were leaving Tomorrowland. Before us was a Christmas tree on wheels that was being rolled throughout the Park.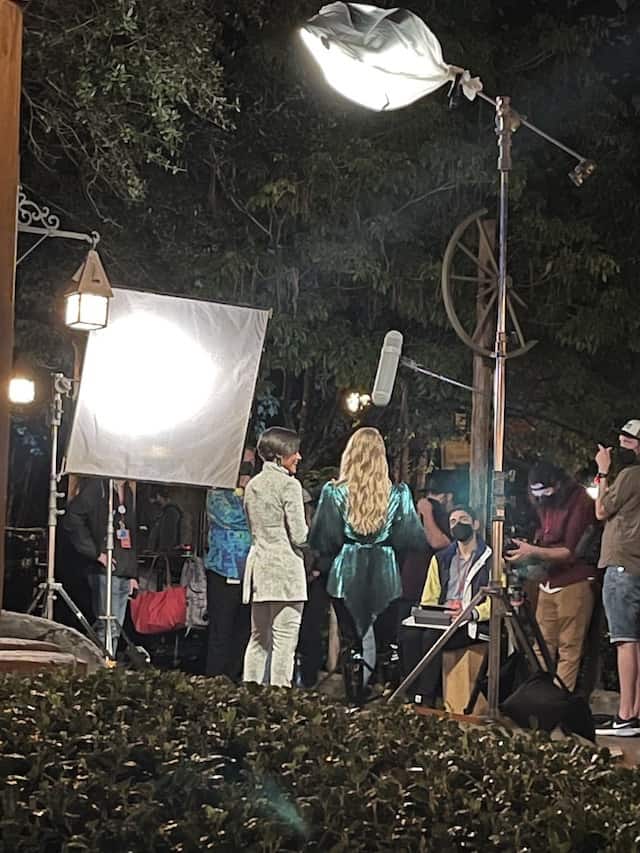 I was a bit curious and was told that this was needed for a Christmas filming location. As we were exiting Fantasyland we spotted holiday filming underway. This area was marked off from After Hour Guests, but I was able to snap a quick photo on my way through the area.
Magic Kingdom Filming
On November 13, 2021, we planned to visit Magic Kingdom. As we were walking towards the Park entrance we could hear small fireworks such as the ones used for the stage show that welcomes Guests.
I started to get a bit nervous that Park hours had changed without my knowing. Once we walked down Main Street I discovered that these fireworks were in use for the Christmas filming.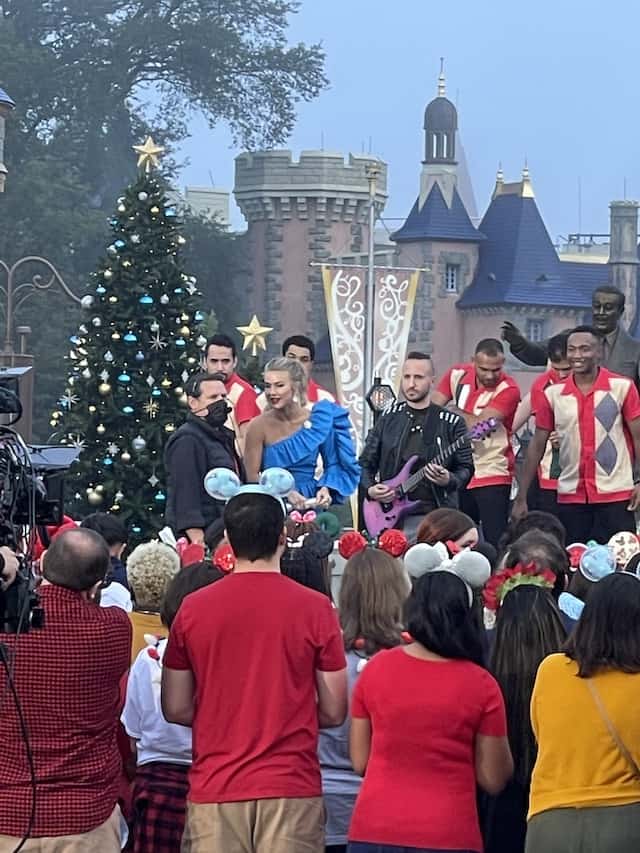 We were able to see the gorgeous Julianne Hough as she will serve as a host for this year's holiday television event. She would be introducing Disney Channel star Meg Donnelly onto the stage (Donnelly can be spotted in the black dress in the photo above). Donnelly is probably best know for her role in the movie Zombies on Disney Channel.
At Magic Kingdom, Meg Donnelly and Kristin Chenoweth were among a few of the stars performing for the Christmas filming. Julianne Hough could be seen hosting this event.
Also present for the filming on this day was the very talented Kristin Chenoweth. She truly is talented both musically, on Broadway, and television as well. It appeared that her new fiancé, Josh Bryant (seen in the photo above with the purple guitar), may have been on lead guitar for Meg Donnelly's musical number.
What was it like to visit while filming?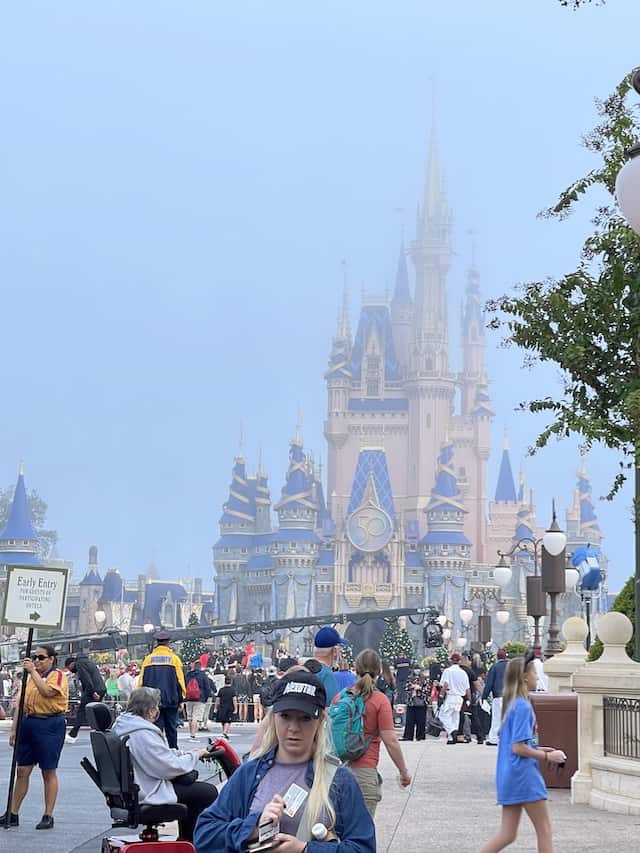 I had mixed emotions about visiting Walt Disney World during filming. It was interesting to see the production aspect of this event, but this also brought an increase of Park Guests as well.
Upon entering Magic Kingdom, the iconic walk down Main Street was quite different with production crews and cranes obstructing the view of Cinderella Castle.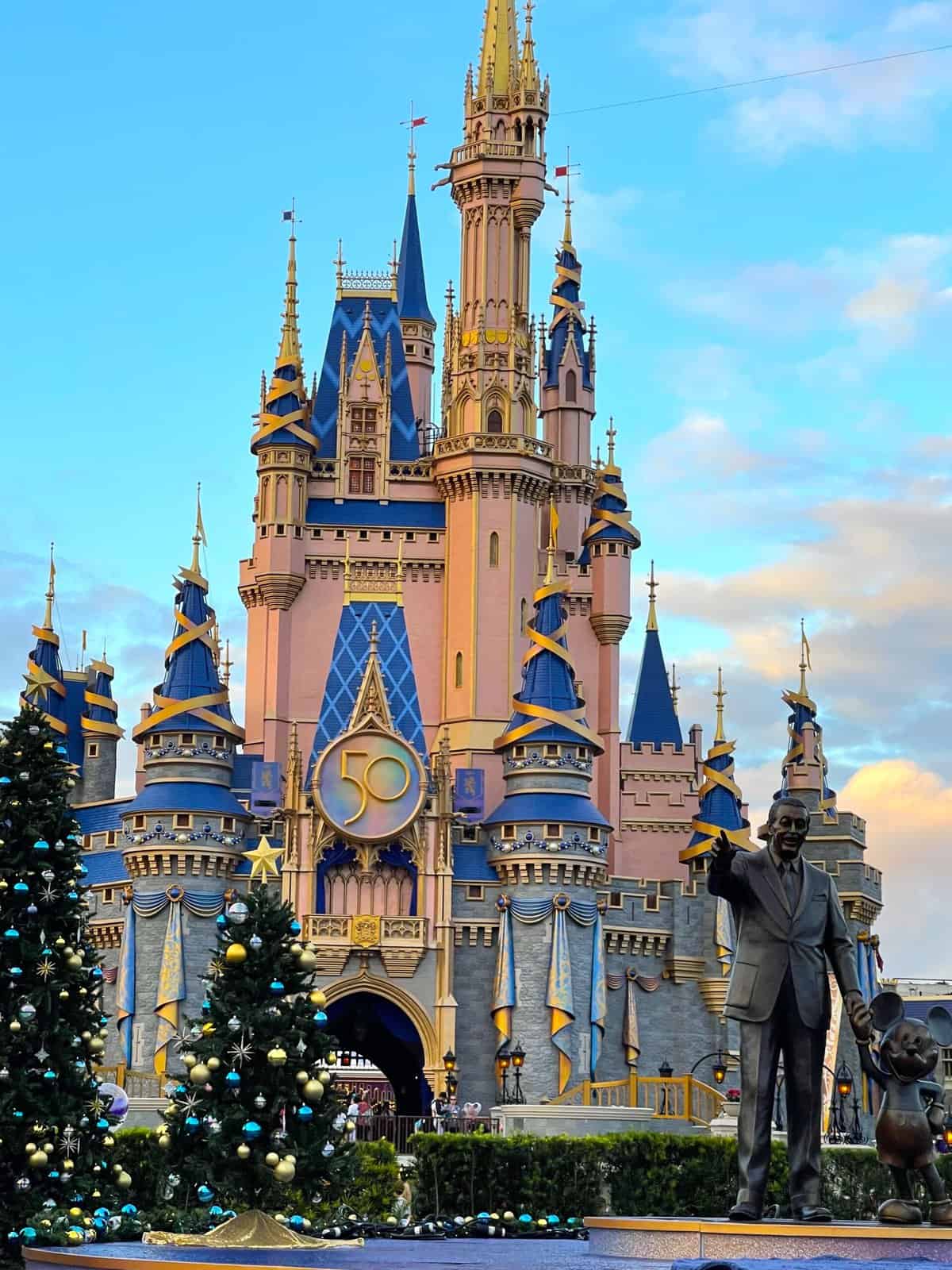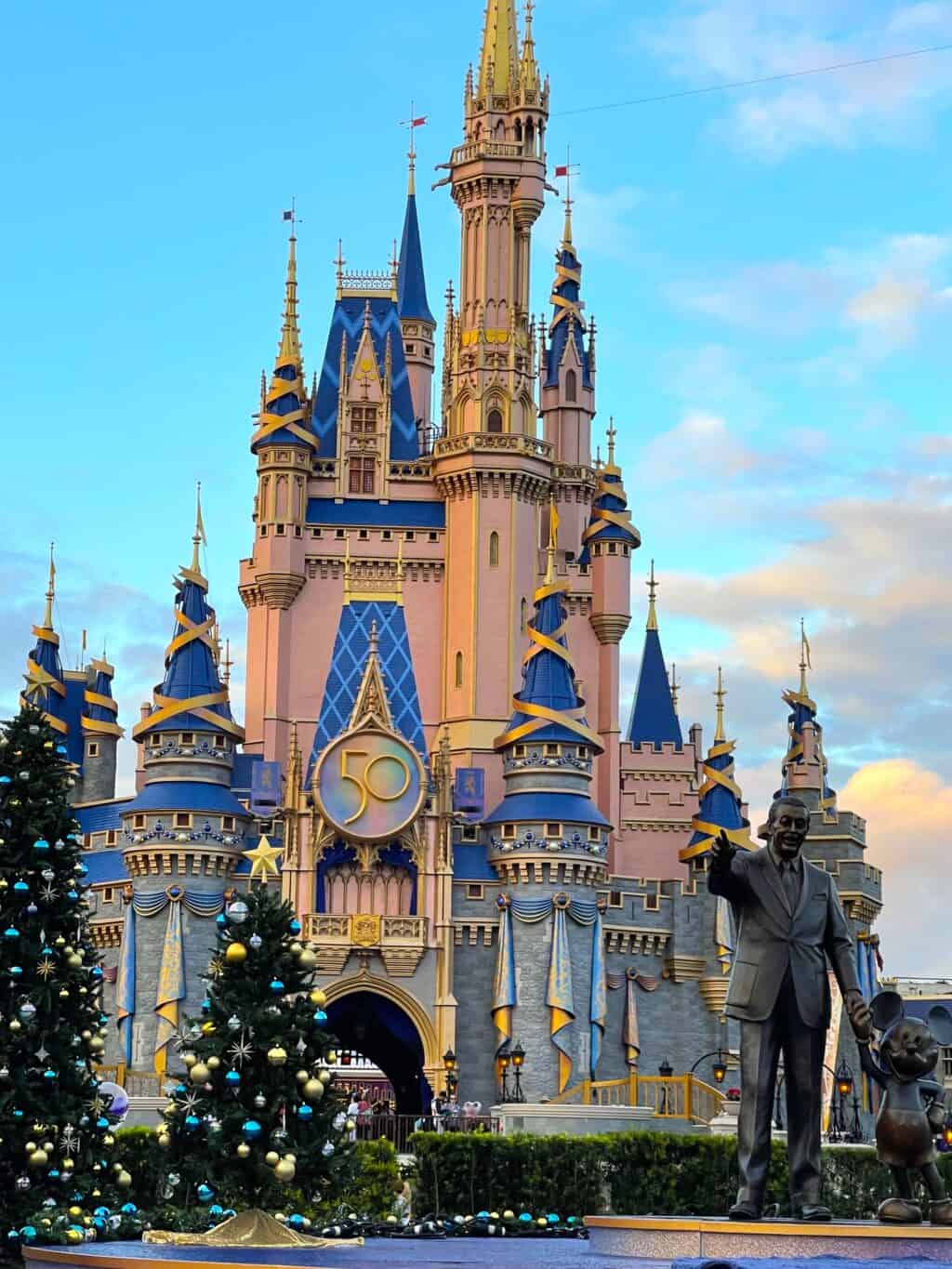 The bright side was a truly beautiful shot of the Partner's statue. After the film crews had left by mid-afternoon, we were able to catch a stunning glimpse of the Partner's statue.
This is one of my favorite locations to snap a few pictures in the Magic Kingdom. I absolutely loved the Christmas trees decorated with the 50th anniversary inspired colors with Cinderella Castle as a backdrop.
What do you think about these behind the scenes filming images? Will you be turning in for the Disney filming specials? Have you been in the Parks for special filming before? Share your thoughts with us on our Facebook Page.