Everyone has a different style of travel and packing. Some prefer to carry a little as possible while others bring their entire closet with them. There's nothing wrong with either method if that is what works for you. We have compiled a list of some travel must-haves you should definitely consider packing all year long in your Disney park bag!
Packing for Disney
I (Christina) am the kind of person who tends to overpack for my Disney trips. I like the security of knowing that I have everything I could possibly need when I am in the parks. While I'm not saying that you have to pack as much as I do, I have compiled a list of park essentials that you might want to consider packing on your next vacation!
As a childless millennial, my packing needs are a lot different than if I were traveling with children, so stay tuned for an upcoming article on what to pack if you are traveling with little ones in tow!
For an in-depth look at all your hot weather must-haves, Check out Donna's guide HERE!
Park Bags
There are all different kinds of bags you can choose for your park days. Some prefer to go with a small crossbody satchel, while others might prefer a Loungefly bag or full size backpack. There's not right or wrong. You should pick whatever feels most comfortable to you.
Though I have just recently been enabled by my lovely writer family to buy a bunch of Loungefly bags, my most used park bag is my Vera Bradley backpack. I like having a larger bag to carry all my necessities and the quilted fabric helps keep everything lighter.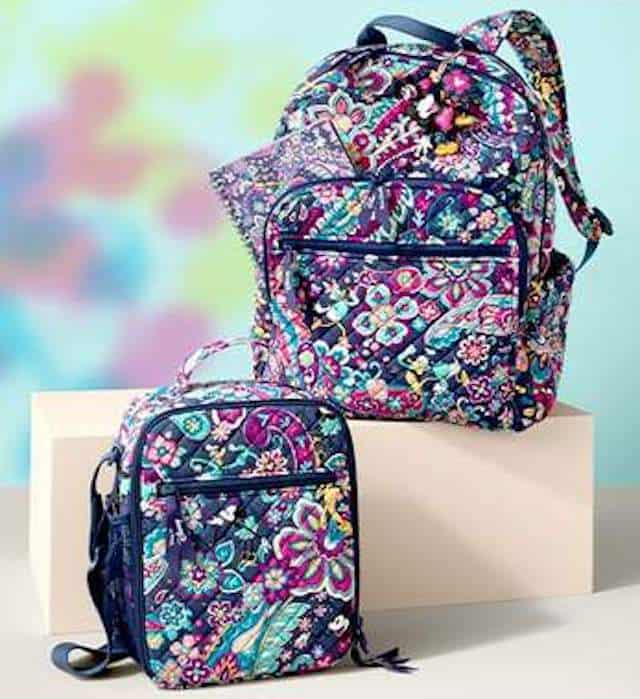 The other beautiful thing about the Vera Bradley backpacks are the pockets. The thing that sold me the most on buying my backpack was how much storage space it had.
Another fun thing is if you buy your bag at the Vera Bradley store in Disney Springs, they sometimes have pre-embroidered floor model bags that you can buy.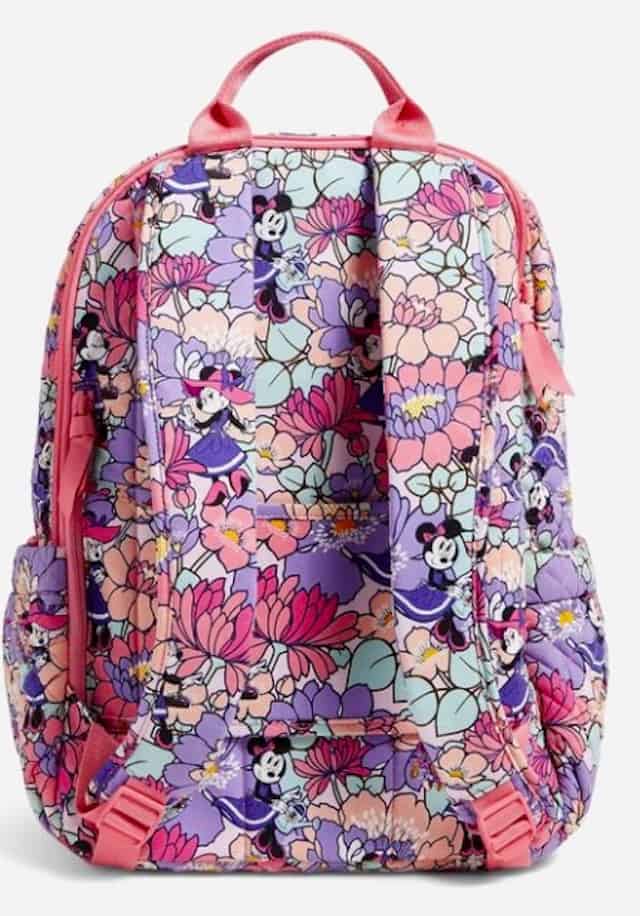 I got my backpack with the word Dream on it for free because they had pre-embroidered it to advertise that feature.
Wallet Essentials
Credit cards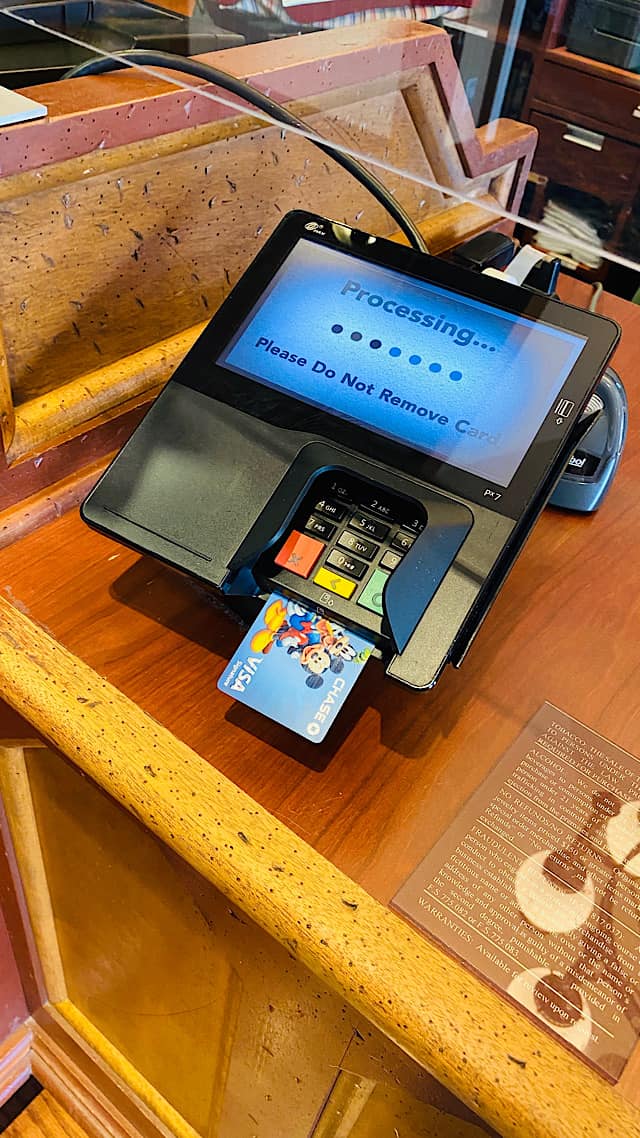 When heading out to the parks, it's important to always have your wallet on hand. Even if you plan to pay with your Magicband, be sure to have a back up credit card or cash in case of Disney systems glitches that render your Magicband temporarily unusable.
I also always carry some cash with me for tipping valet, bell hops, etc. throughout my stay.
License & Medical cards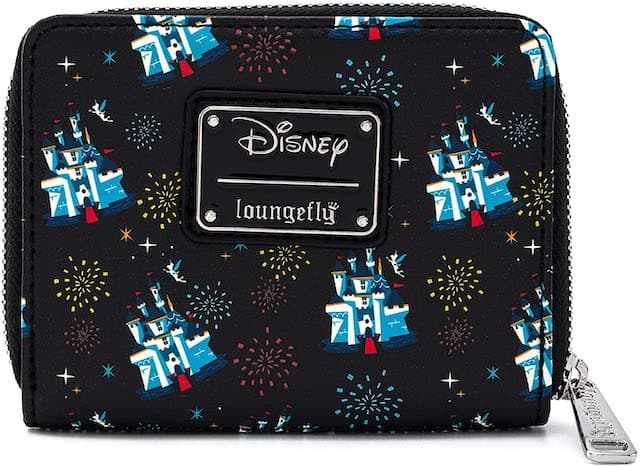 Don't forget your photo I.D.! You'll need this not only for airplane traveling but for passholder discounts, cocktail purchases and any age-restricted events or tours. You'll also need to bring any medical insurance cards in case of emergency. 
My family has ended up in the emergency room quite a few times on our Disney trips. These are not things you plan for, but you need to be ready in case the unexpected happens.
Be sure to consult the back of your insurance card to find a facility that is in your network. I did not do this and got burned badly by this. I ended up paying over $500 for an acute ear infection.
Water Bottle and Refillable Mugs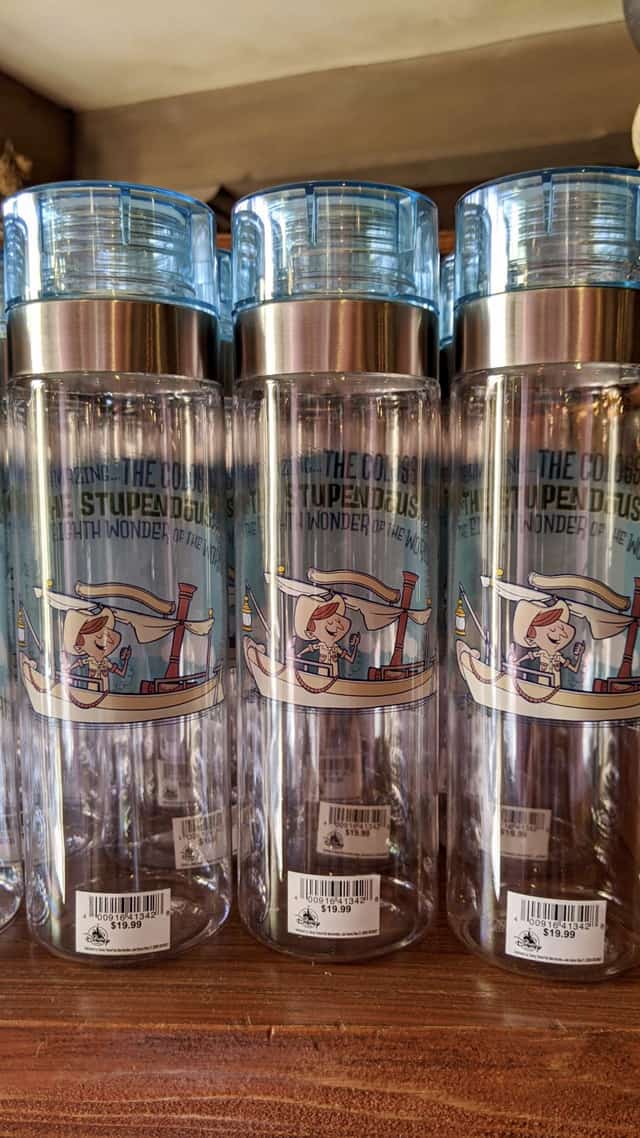 It's important to stay hydrated when at Disney World. It's so easy to get caught up in the hustle and bustle of the fun that you forget to drink water. I was told by an ER doctor that if you don't visit the restroom once every 6 hours you are likely very dehydrated.
It's also easy to think that because you're drinking any type of beverage you'll be fine. Things like alcohol and sugary drinks and sodas can be very dehydrating. If you plan to enjoy these beverages, make sure you are still getting in plenty of water throughout the day.
You can get free ice water at many locations throughout Disney to refill your water bottles. The best place by far is Starbucks, however, because they give you the big cups!
My favorite water bottle I have found so far is the EcoVessel Boulder water bottle. I have taken this bebe on multiple trips and it keeps my water cold all day long. I can put ice in it in the morning, and there is still ice leftover the next day!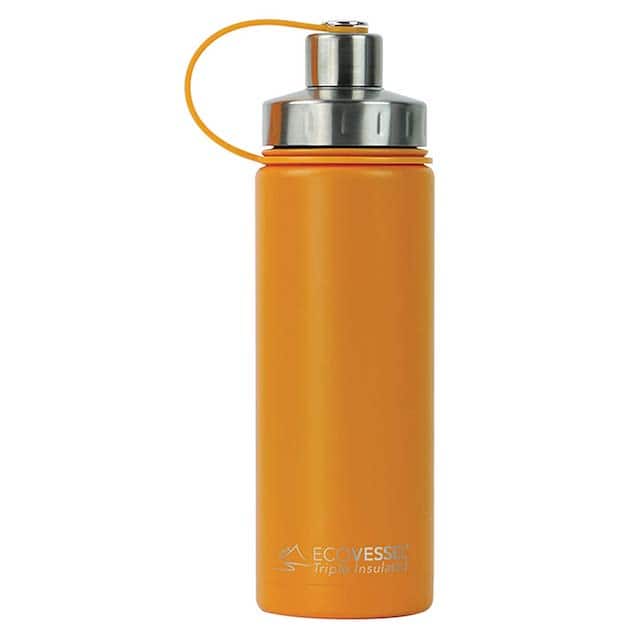 There are lots of great water bottles out there, so just make sure you find one with with at least 2-3 layers of insulation. 
In the morning, I make sure to take my resort refillable mug with me, too. I will usually use this as my caffeine kick for the morning, opting for either coffee or coke to give me that jolt I need to withstand rope drops.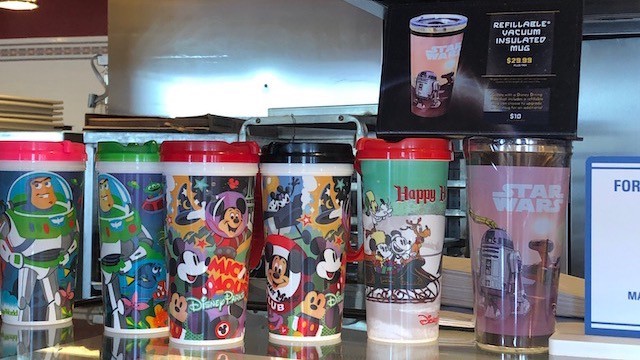 When my mug is empty, I will rinse it and stick it in my bag. You can even buy a carabiner to clip it onto your park bag.
Sun care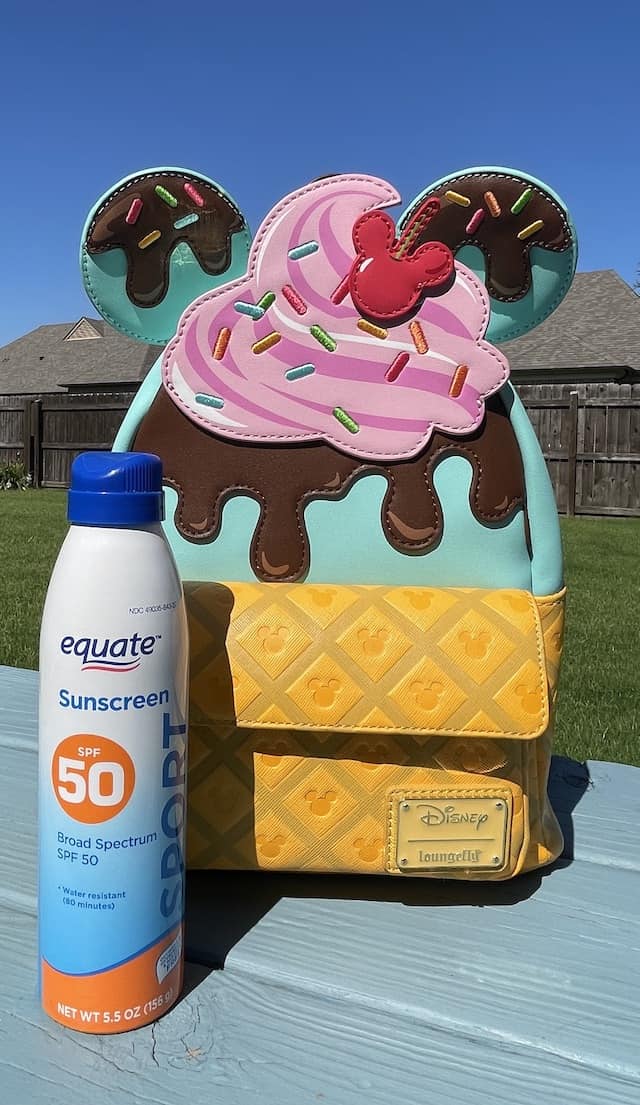 It should go without saying that you need to have basic sun care supplies with you throughout your day. It's extremely easy to get a nasty sunburn or sunstroke in Disney.
Bring a hat for when you have to stand outside in a long line and be sure to reapply sunscreen often. I love using Coppertone sport sunscreen because it doesn't feel greasy.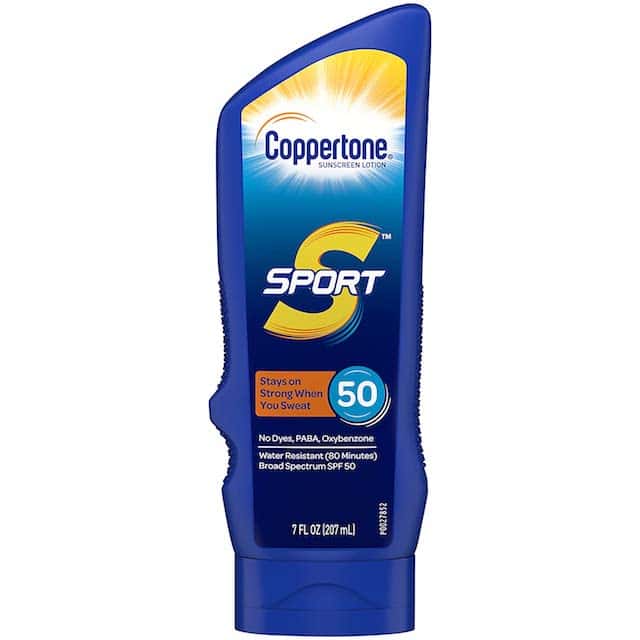 Many people also prefer to use aerosolized sunscreens to quickly spray themselves down in line. Whatever items you plan to use, be sure to pack them in your bag ahead of time. I once forgot my sunscreen and had to pay $15 for a bottle of coppertone spray in the parks.
Make sure to always have at least one pair of sunglasses in your park bag (more if you are prone to losing them, like me). I also suggest putting them in a protective case so they don't break.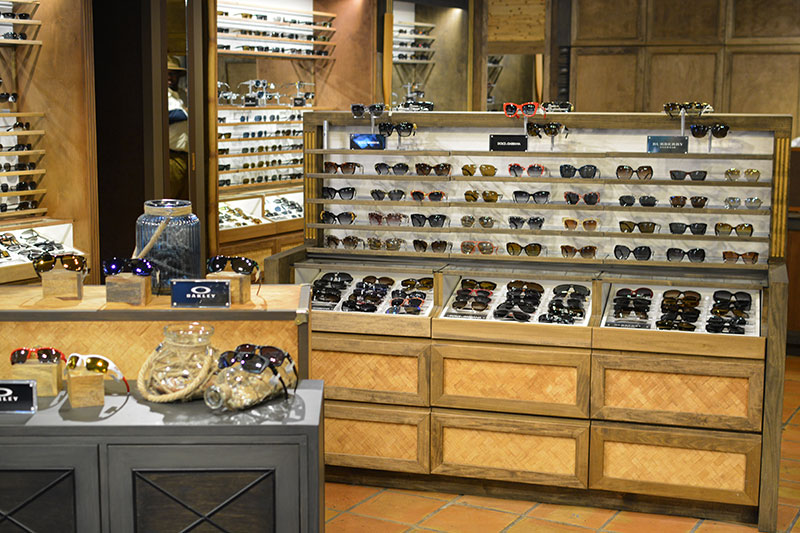 Sunglasses are important to protect your eye health regardless, but did you know that some eye colors are more sensitive to the light than others? If you have blue eyes, for example, you eyes are more sensitive to light than brown colored eyes.
Exposing yourself to prolonged sunlight without proper eye protection can cause floaters so be sure to keep those sunglasses on hand all all times.
Autograph Books and Sharpies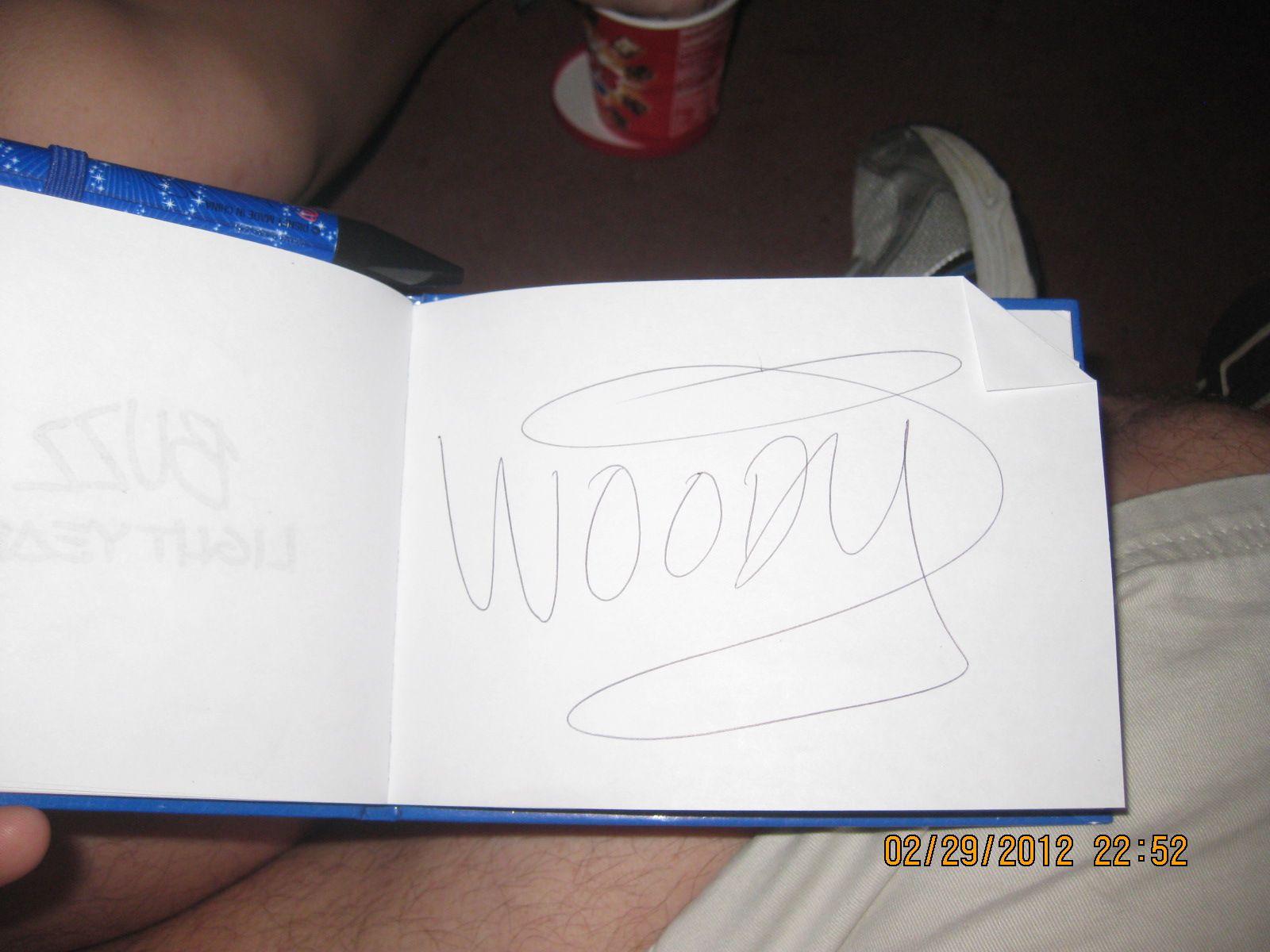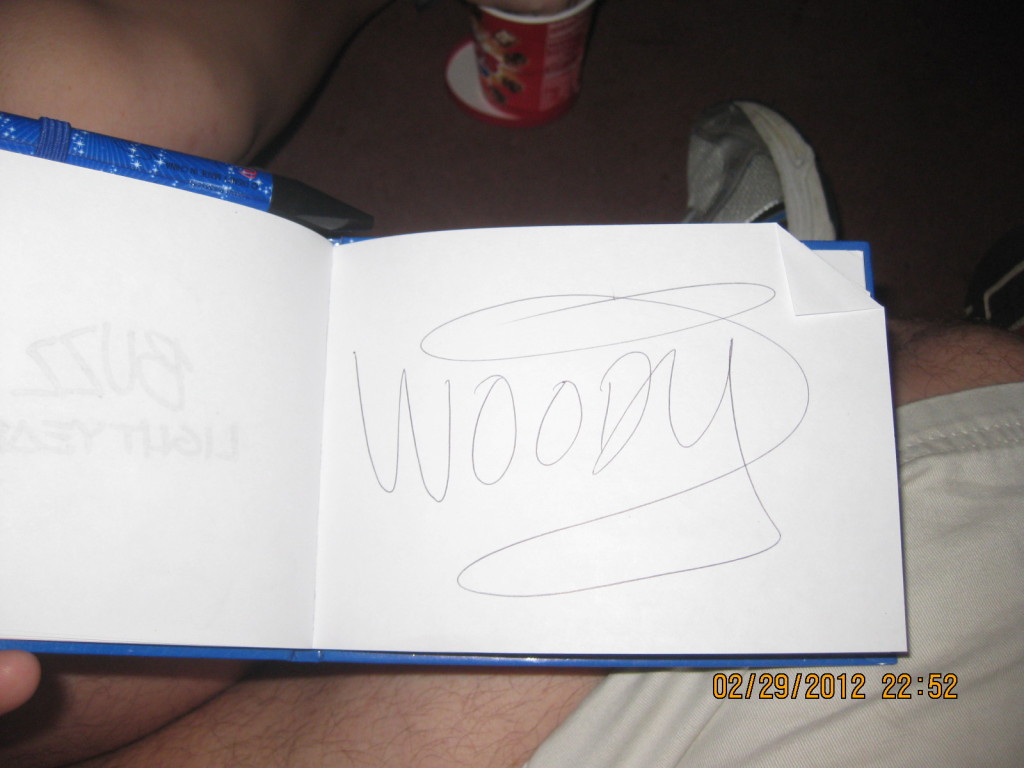 I look forward to the day that we see the return of character meets. When that glorious day does come, you'll want to be ready with all the necessary tools. Make sure to have your autograph books and a bag full of colorful sharpies on hand.
A few fun things you can do is to bring other items to have signed. We have done shoes, shirts and hats. I have also seen people bring ornaments, frames and backpacks, too.
If you are a Cricut crafter, scan in your autograph pages to your computer and upload them into Design Space. You can then cut them out in Heat Transfer Vinyl and iron them onto fabric items!
Phone Supplies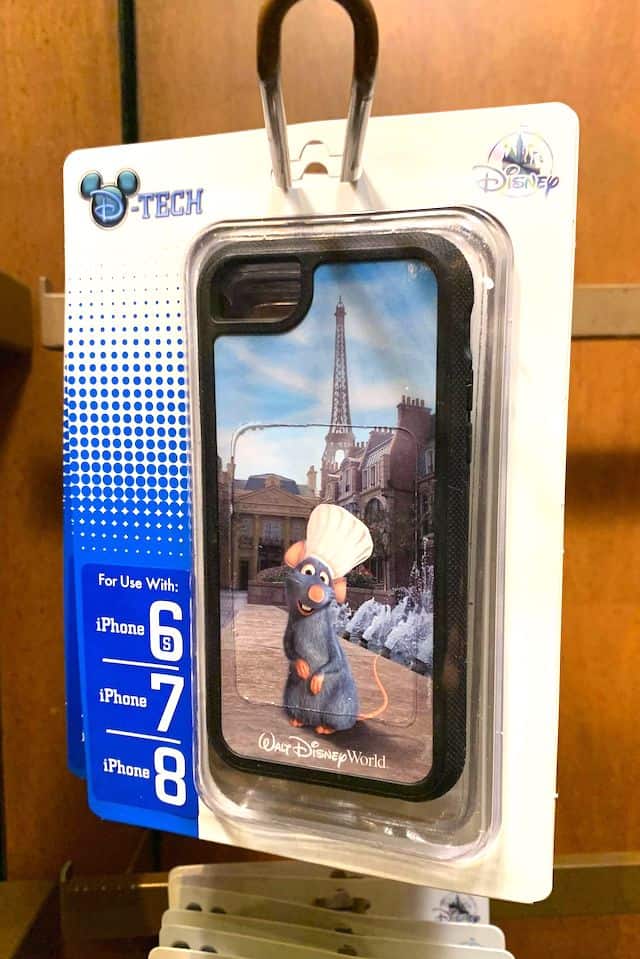 You definitely don't want to forget your phone. While that's not as likely as forgetting other less crucial items, it can still happen as you are in a rush to get out the door. In addition to making sure you have your phone, don't forget about phone accessories!
Do you use a stabilizer or special lens attachment for your phone? What about an extermal charger and cord? You'll want to make sure you have all the necessities with you at all times.
I bought an Anker power charger to keep in my bag when my phone battery gets low. There are lots of different external chargers on the market and they aren't very bulky. You just have to remember to put them back in your bag the next morning after recharging.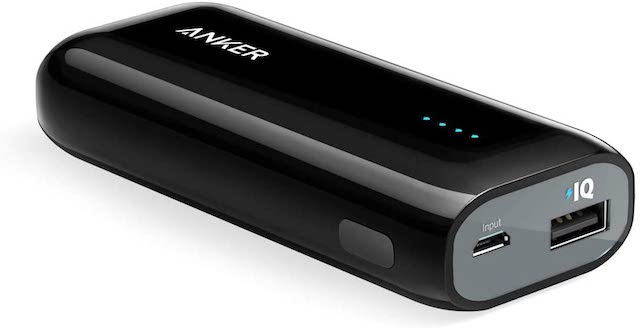 If you don't want to worry about charging your external charger, consider investing in the Fuel Rod service. There are locations throughout the parks where you can swap out your depleted Fuel Rod for a fully charged one and keep on with your day.
Medicines
If you take any medications throughout the day, be sure you have them on hand. Pill cases come in handy, but I prefer using small snack bags so I can easily see and grab the pills I need without them falling out of a pill case.
Camera and/or Video Camera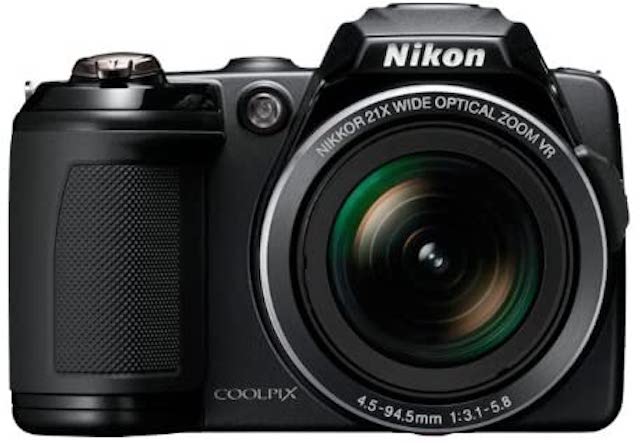 While most people these days rely solely on their smart phones for photos/videos, if you are bringing a professional grade camera or video camera along be sure you have what you need including any batteries.
Hand Sanitizer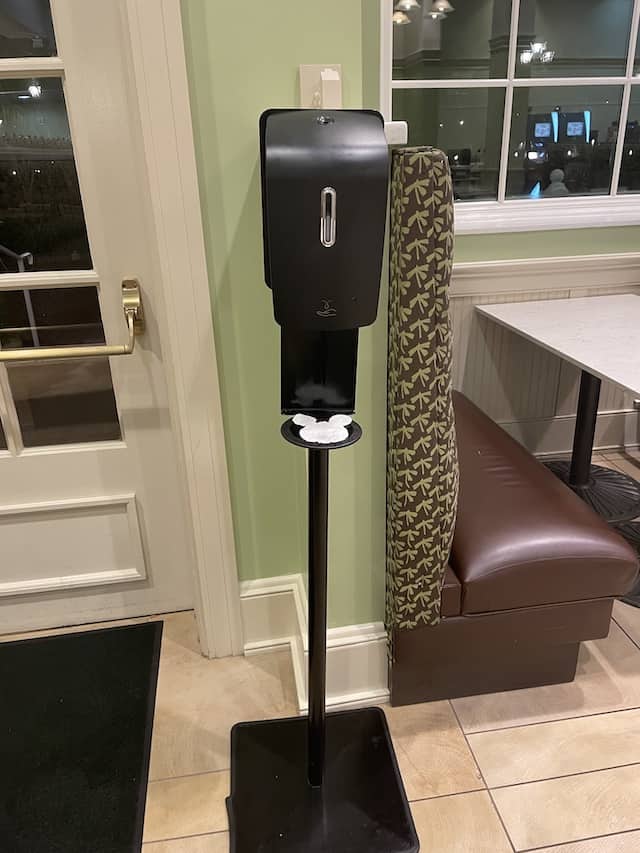 Disney is germy. There's no getting around that. There are people coming from all over the world, and it's easy to pick up all kinds of viruses. Now with a global pandemic, it's more important than ever to keep your hands clean.
My favorite hand sanitizer of all time is Zylast. It works better than regular hand sanitizers and doesn't dry out your hands. I used to catch many stomach bugs at Disney. Since I have started using this product, I have saved myself from a lot of ER visits.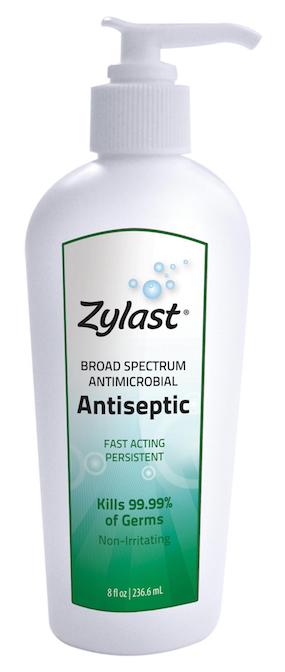 I usually take a small handheld sanitizer bottle, fill it with my Zylast, and clip to my park bag. Every morning I make sure it's filled and use it throughout the day after engaging in high touch activities. 
If you find normal sanitizers dry your hands out, consider bringing along a small bottle of hand lotion, too.  
Hand Wipes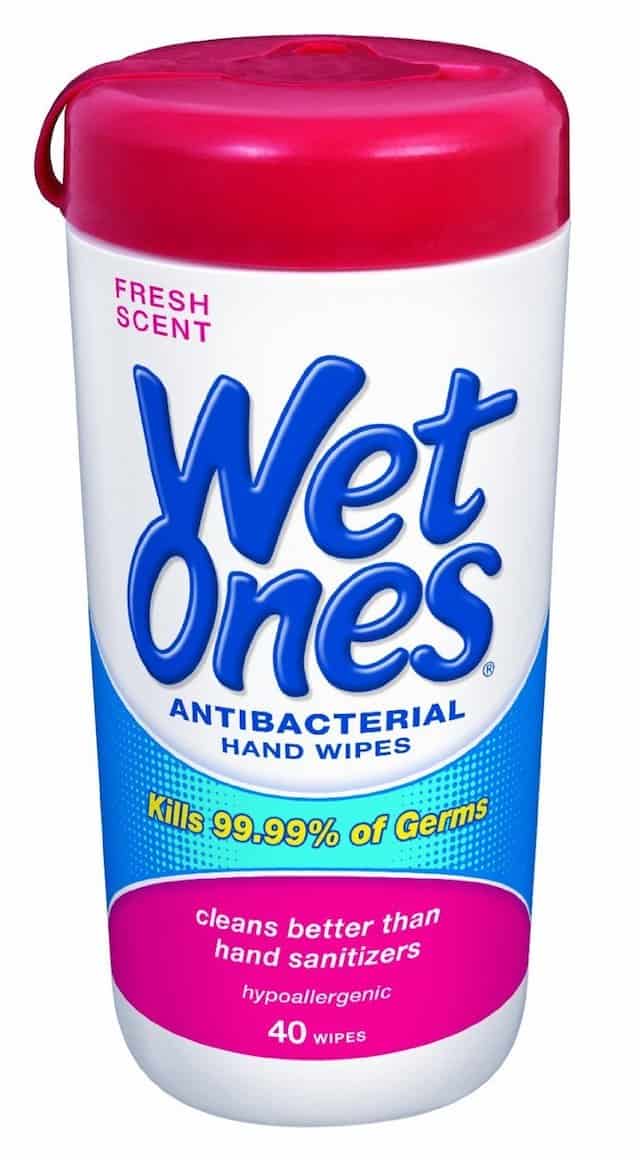 It's always a good idea to keep a pack of hand wipes in your bag. These are great for kids (and adults who eat like kids) to help clean up sticky ice cream drippings or melted chocolate off your hands.
Plastic Bags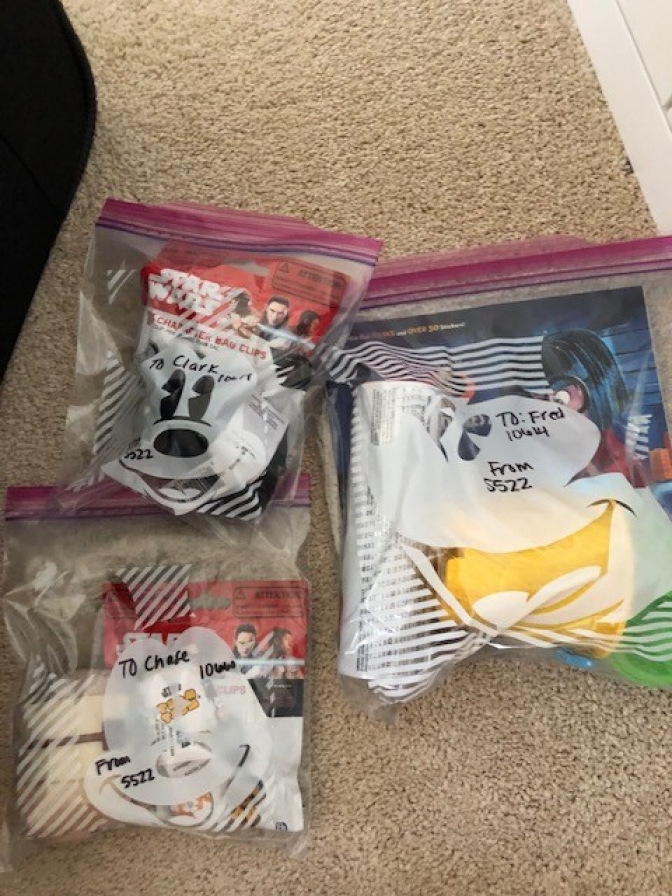 You wouldn't believe just how handy it is having a couple of Ziploc bags in your backpack. The small ones are great for storing items you may not want to get wet on water rides.
The big ones are perfect to store that other half of your Mickey Pretzel for later. I have often put my refillable mug in a ziploc bag before I put it in my backpack to prevent leakage, too. 
Rain Gear
More often than not you will likely to experience some type of rain storm in Disney, especially in the summer months when it rains almost every afternoon. Make sure you have some sort of rain gear such as a poncho or rain jacket.
Umbrellas are really hard to navigate with in the parks especially in crowded areas and ponchos have the added benefits of protecting your backpack.
If you have good sneakers to protect, you can also buy shoe ponchos (yes they really do exist) or a pair of cheap sandals that you don't mind getting wet. There is really nothing worse than walking around all day in wet sneakers.
Deodorant/Perfume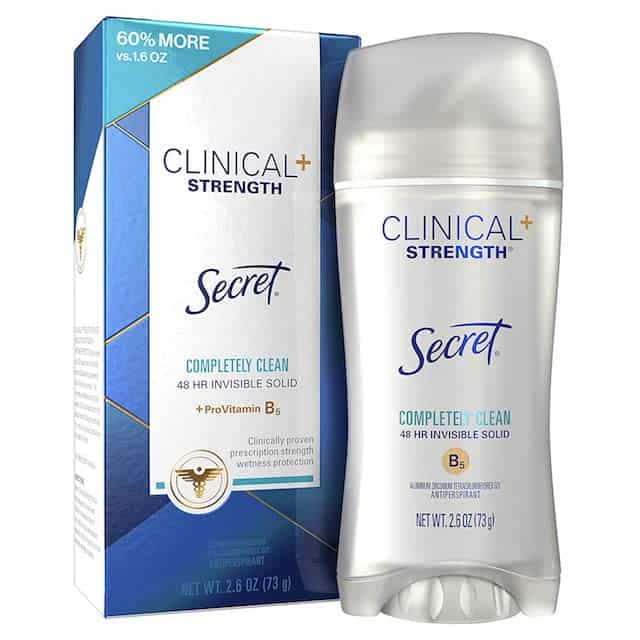 There's nothing less magical than getting caught in someone's BO cloud. Now that Disney is making us fill in all available space again, it's important to bring along some travel sized deodorant or spray to freshen up.
Makeup for Retouches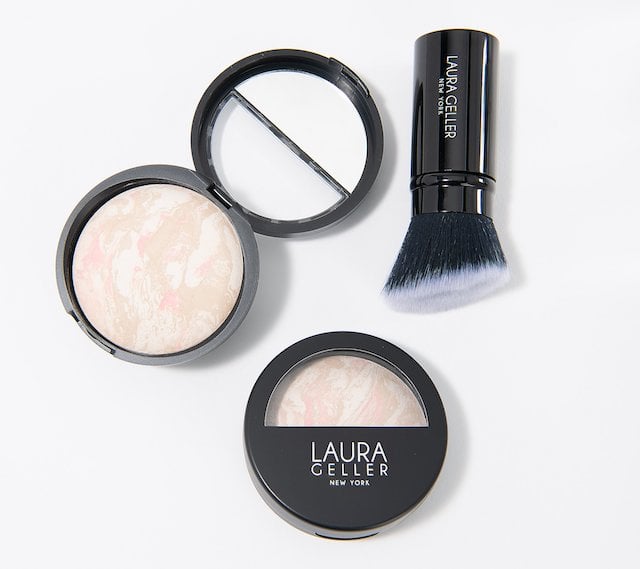 If you wear makeup in the parks, bring along some small products in case of touch ups. I usually pack a small powder compact and brush to help blot away the dewiness from sweating in the parks.  I also keep a tube of lipstick on hand in case I want to freshen it up after meals. 
See my best makeup products for Disney HERE.
First Aid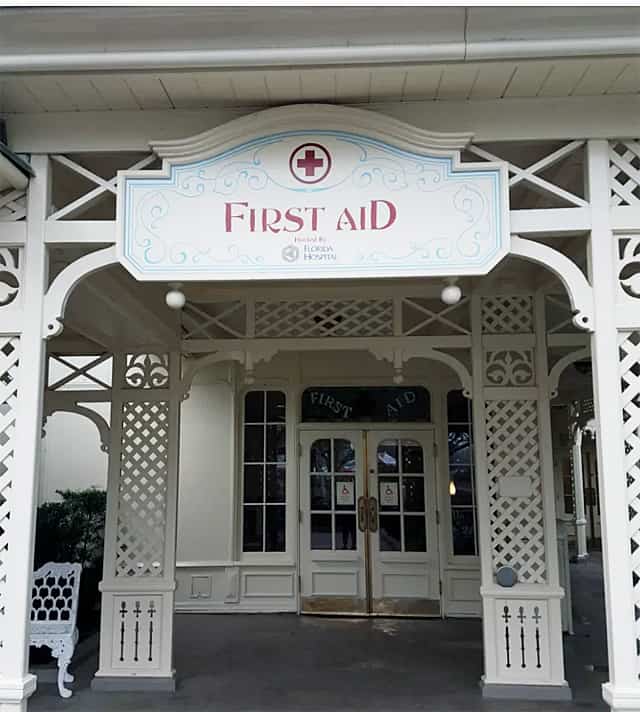 You never know when you might need some basic First Aid essentials. While you absolutely can get some free supplies at the Disney First Aid Centers, you might just want to have them with you if you need them fast.
A few items I always keep in my bag are bandaids, Tylenol and advil, miniature nail clippers and alcohol wipes. 
Another thing I keep on me at all times are lens wipes for cleaning my phone screen, camera lens and glasses/sunglasses.
Minnie Ears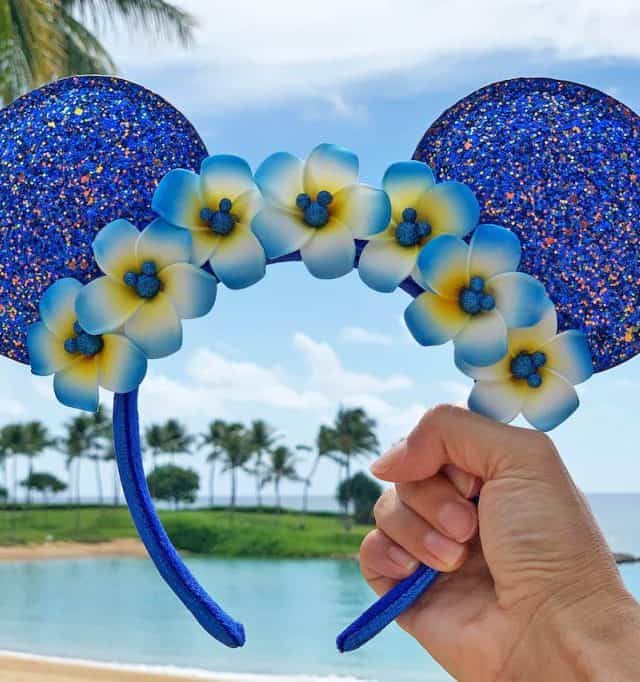 Don't forget your Minnie ears! Disney is just better when you wear your ears! You can find many unique products to affix your ears to your backpack when you need to take them off or carefully store them inside. 
Cooling supplies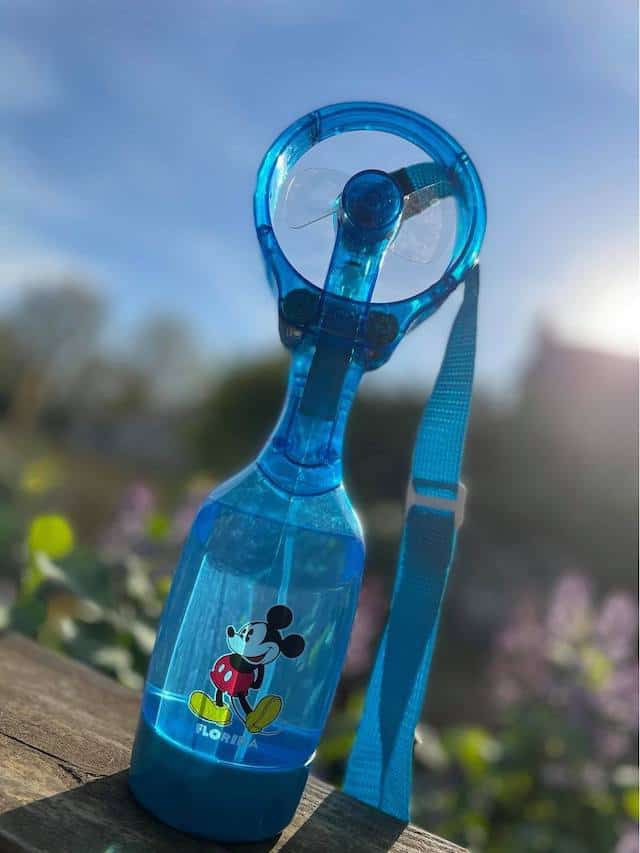 We normally try to avoid Disney in the summer, but we did visit in July of 2019 and it was extremely hot. We bought cooling towels and a mister fan that were sold in the parks and they helped immensely.
If you plan to visit Disney during the hotter months, be sure to buy these ahead of time to say some money because everything will be more expensive at Disney.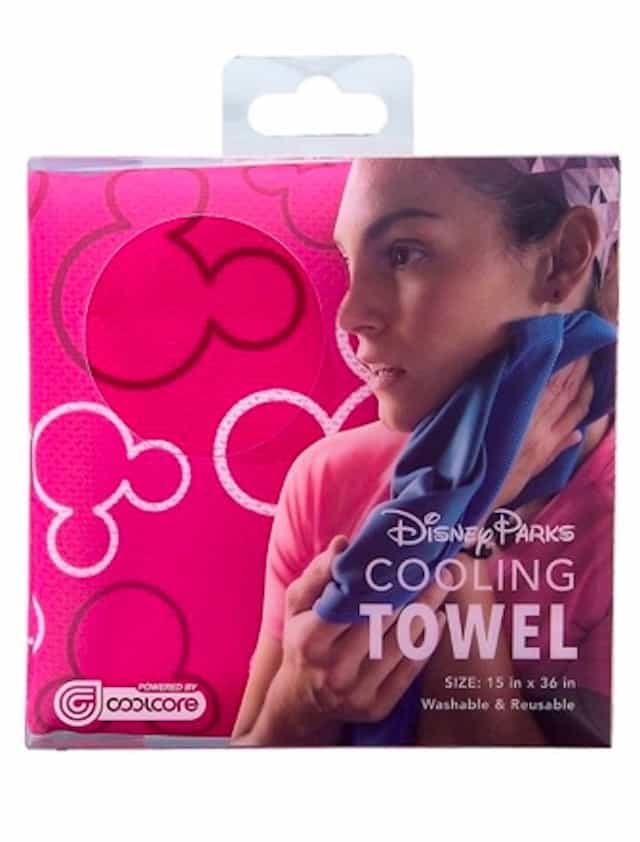 There is so much to think about when packing your bags for the parks! Be sure to mentally walk yourself through your day and think about what you might need as you go. Make a checklist that you go through every morning before leaving your hotel room so you know that you have everything you need!
What items do you bring in your parks bags? What things have you found helpful to have? Let us know in the comments and on Facebook!