While we still await an opening date for Remy's Ratatouille Adventure, we have a squeak peek of the newest merchandise. You will not believe all of the great merchandise!
Opening of Remy's Ratatouille Adventure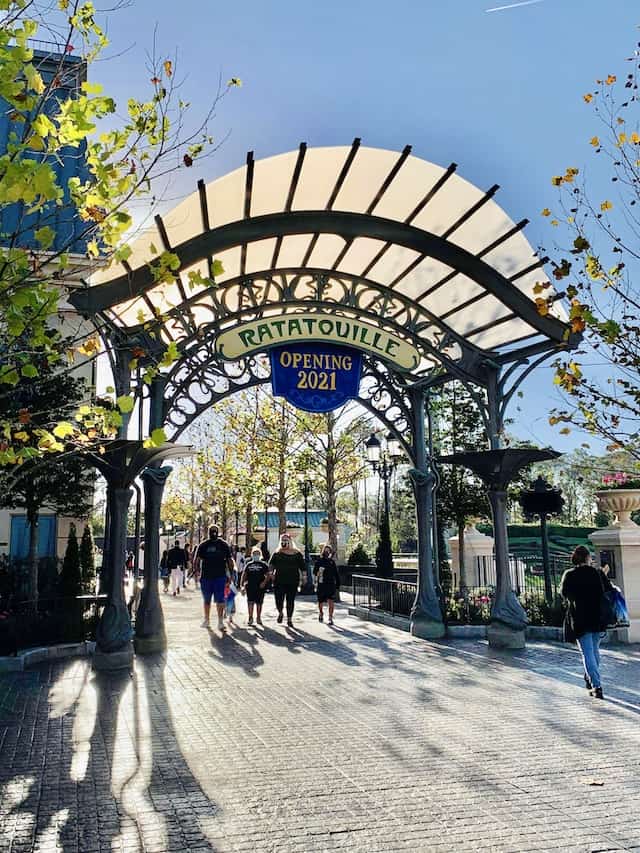 Remy's Ratatouille Adventure was originally set to open in 2020, but due to the Park closure, this opening was postponed to 2021. You can check out Josh D'Amaro's opening announcement HERE. We have been overjoyed to see the progress of this attraction. Check out the new updates HERE.
Recently, Disney opened up most of the newly expanded area within the France pavilion. The photos of this newly imagined pavilion are so inviting. Guests can enjoy the benches, restrooms, and design elements until the new restaurant and attraction open. You can see all the photos HERE.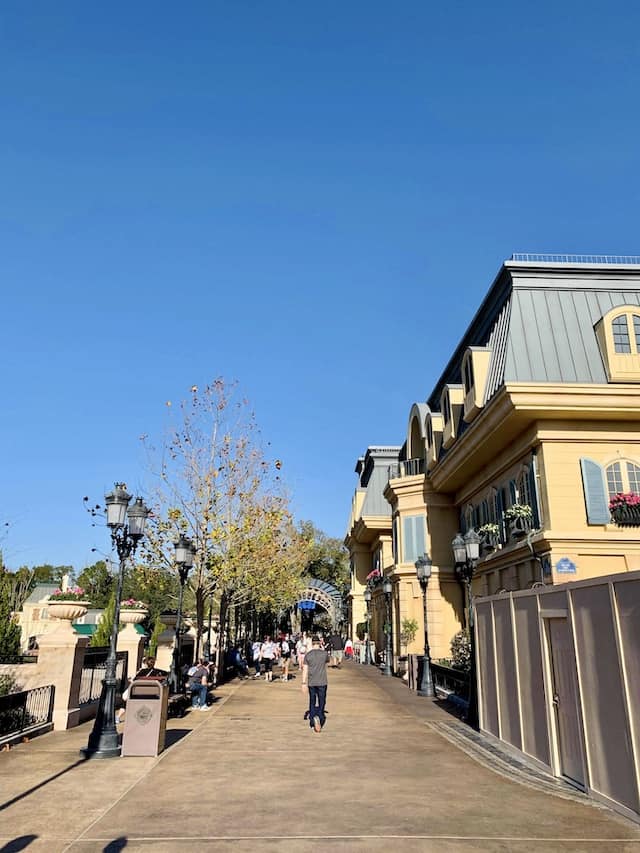 Although an opening date has yet to be announced, we do have some indications that an opening may occur very soon. Check out the possible opening date HERE.
Remy's Clothing Merchandise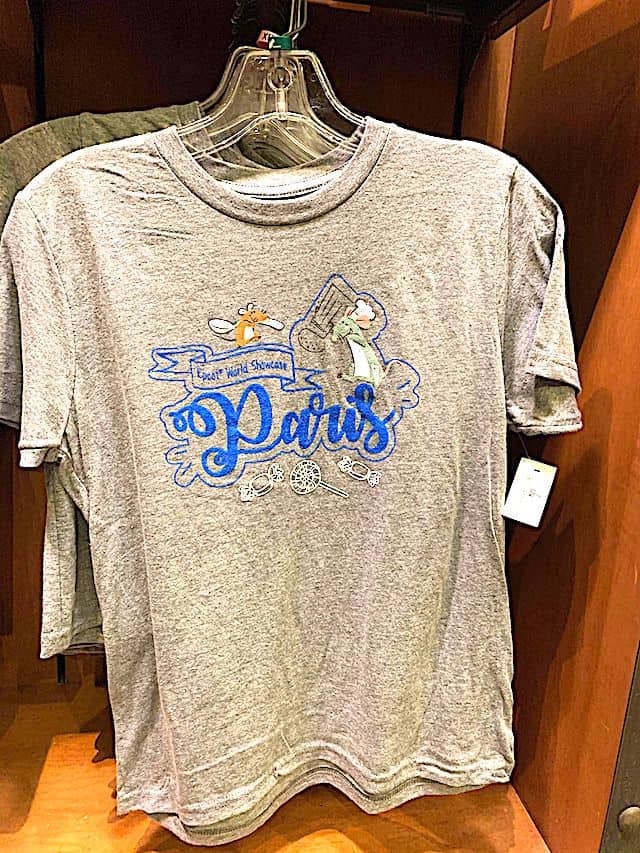 This new merchandise is now available at the Souvenirs de France in EPCOT's France Pavilion. There are a few different tees available. One of our favorites is this gray tee featuring Epcot's World Showcase in bold, blue lettering. Both Remy and Emile are cooking up a bit of magic on this tee.
Great new Remy merchandise is available at the Souvenirs de France in EPCOT's France Pavilion.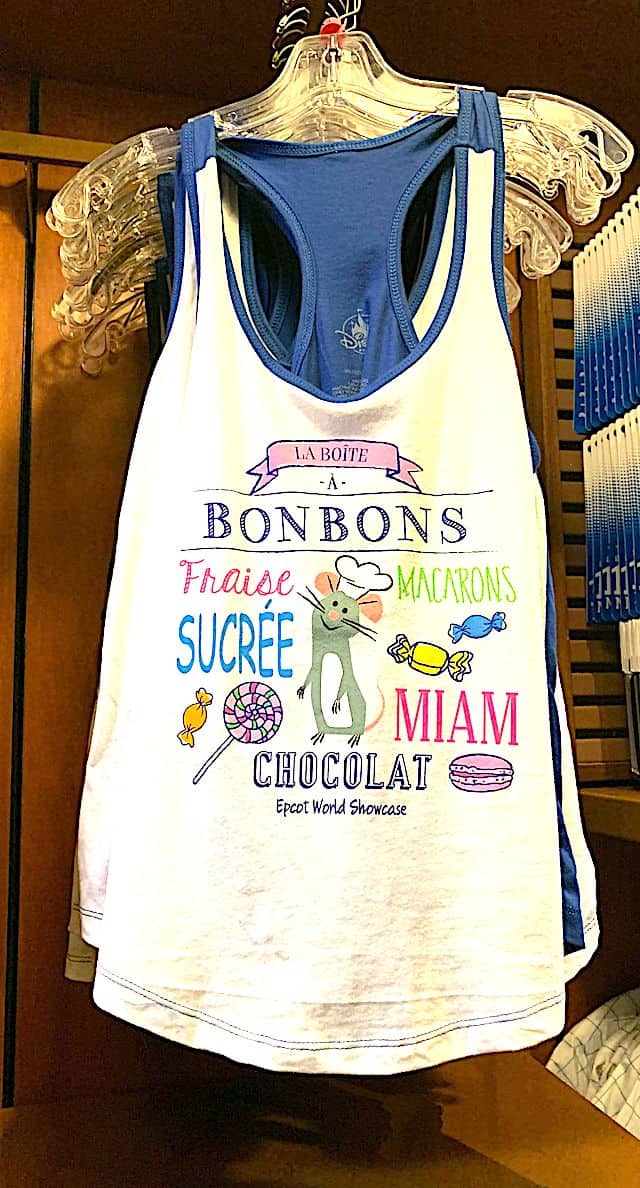 Also available is this adorable racerback tank. With delectable treats and Remy as cute as ever, I am in love with this tank. I can't wait to purchase this tank during my next trip around the World Showcase.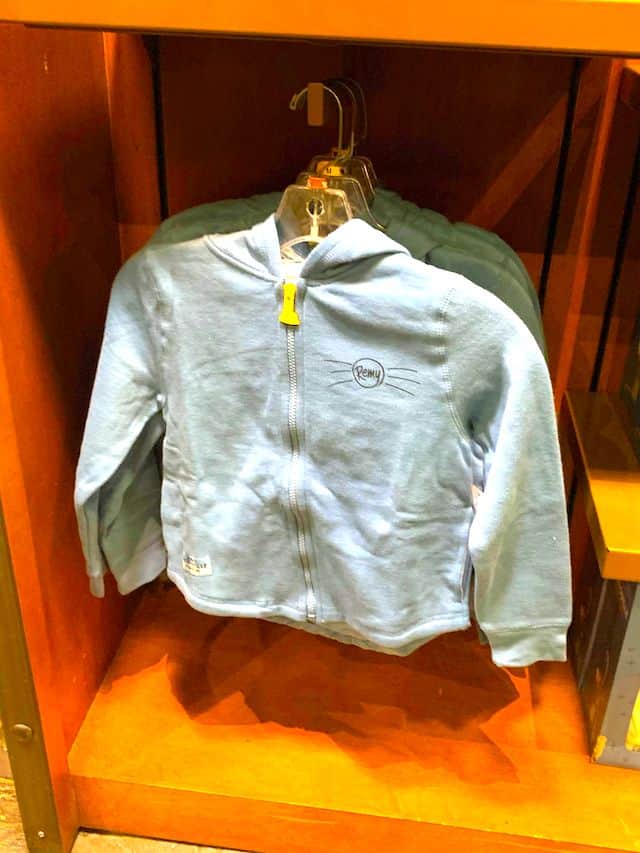 Check out this adorable child's themed hoodie. From the cheese zipper pull to Remy's signature on the hoodie this is such a fun souvenir.
A fun surprise is that when Remy's ears, eyes, nose, and whiskers are featured on the hood of this jacket. Your little one will look adorable scampering throughout the French pavilion in this hoodie.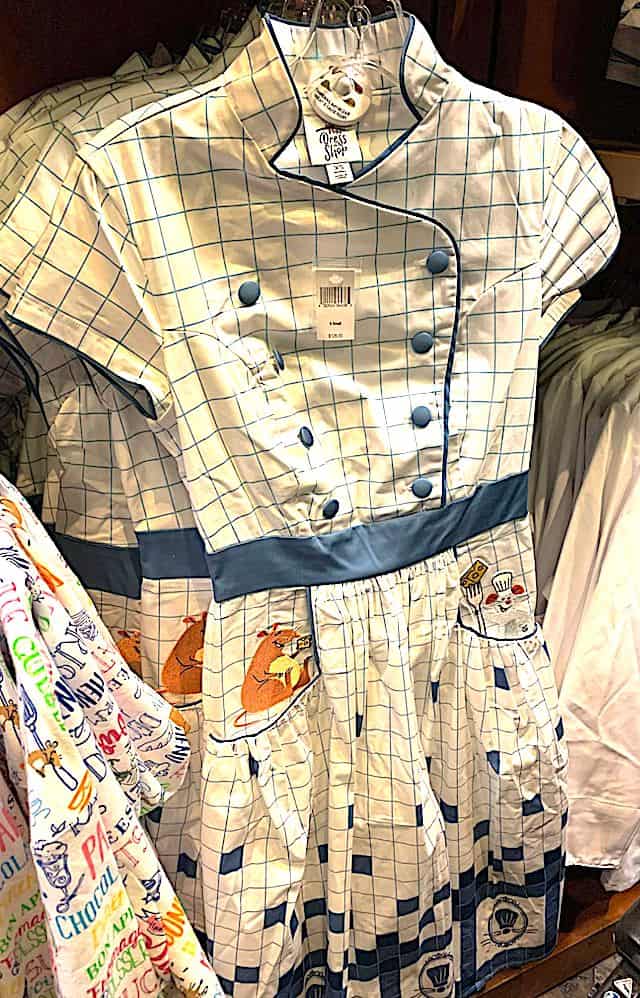 Although this dress is not "new" it is still quite stunning at $128.00. I love the classic chef theming of this classic dress. Both Remy and Emile can be found peeking from the pockets of this dress. You will truly feel like "anyone can cook" in this breathtaking dress.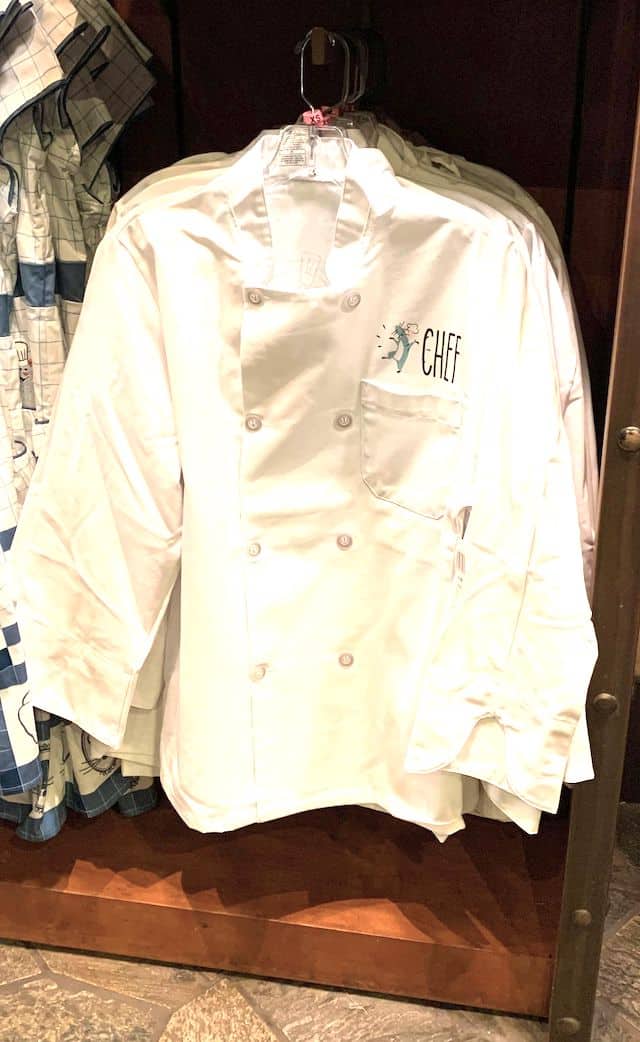 You can also give the perfect gift to your favorite chef with this great chef coat. The front of this coat is adorable, but the real magic is on the back. The back of this jacket showcases Remy with the Gusteau's restaurant logo. "Ici c'est moi le chef" is printed on the back which roughly translates to "It is me, the BOSS."
Remy's Accessories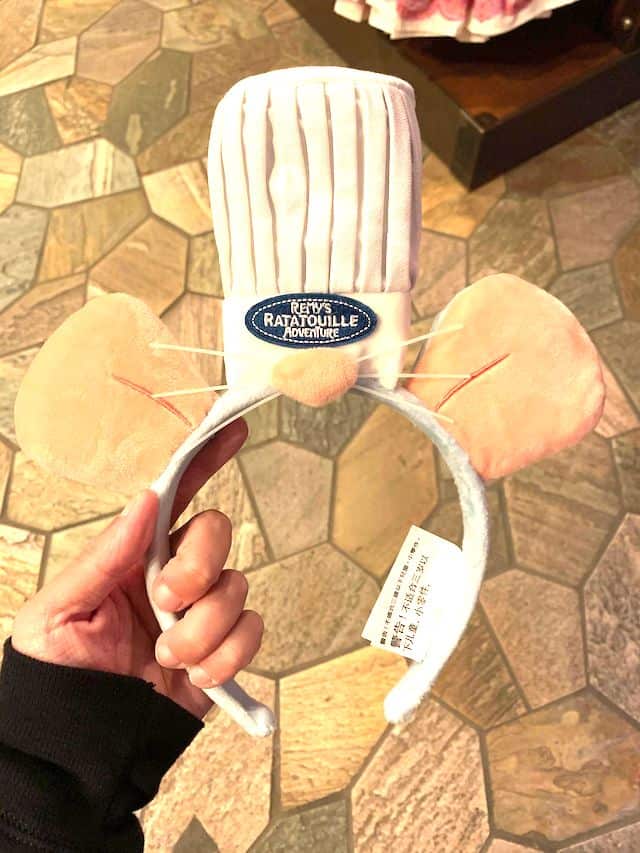 My favorite accessory has to be the Remy Ear Headband. This headband is available for $29.99 and it is absolute perfection. I love Remy's nose and whiskers peeking out from his chef's hat.
Remy Ear Headband is available for $29.99 and is absolute perfection!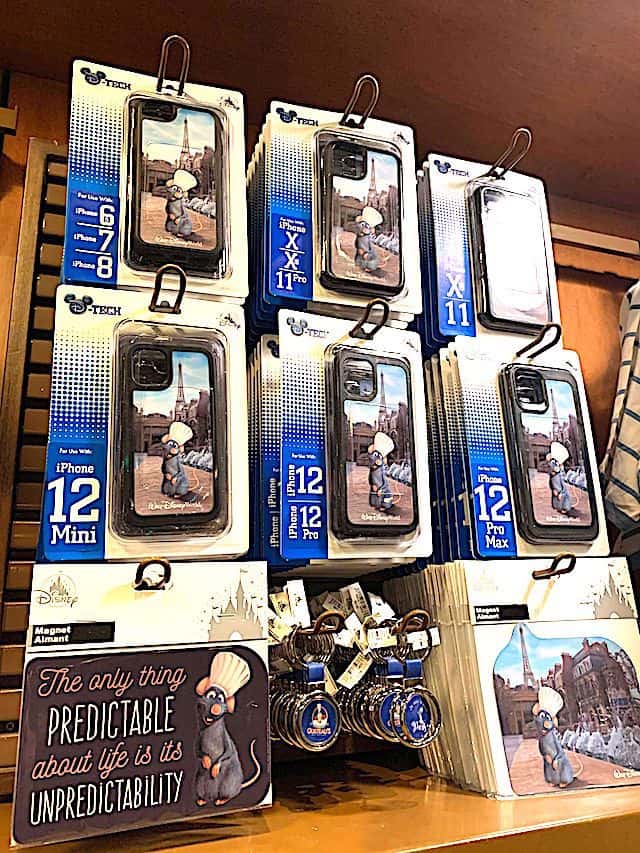 Check out all of the great accessories. There are 2 great magnets. The largest magnet features Remy with the great saying, "The only thing predictable about life is its unpredictability." The smaller magnet is adorable with Remy featured with the beautiful Eiffel Tower behind him.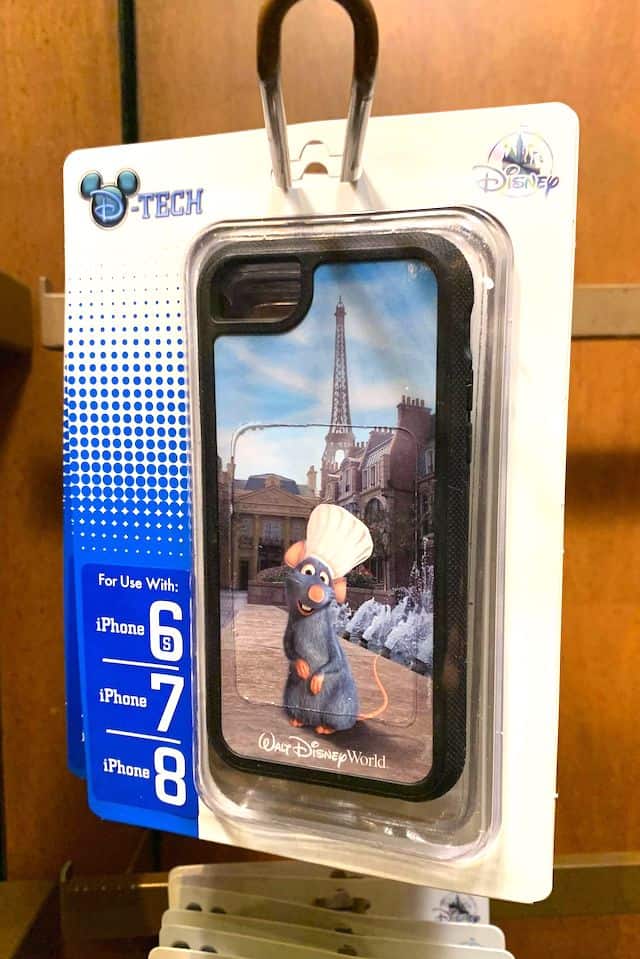 This fun image of Remy doesn't stop with just the small magnet. Remy is also featured on this cute iPhone case. This will fit iPhone 6s, 7, and 8. We hope this phone case will soon include additional iPhone models as well.
Which merchandise is your favorite? Will you be visiting the France pavilion on your next trip to EPCOT? When do you think Remy's Ratatouille Adventure will open? Share your thoughts with us on our Facebook Page.