We have seen quite a few rides and attractions experiencing technical difficulties lately. One fan-favorite operated even though an important part of the attraction was missing. Today Guests were left dissatisfied with yet another major change to remove important parts of the ride. Find out which attraction has been "modified" and why fans are left wanting a bit more.
Gran Fiesta Tour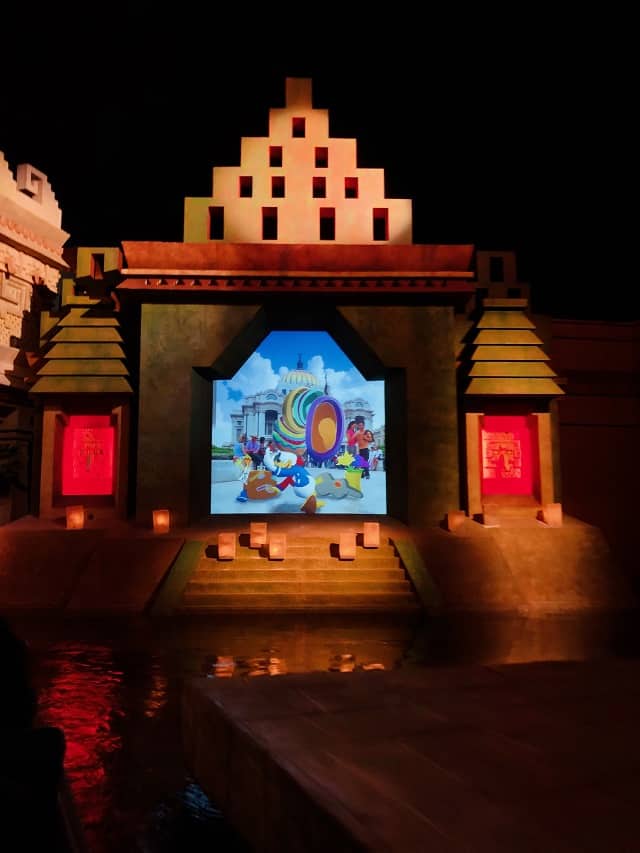 In EPCOT, fans enjoy unique attractions that allow them to experience many different cultures. My family usually starts our tour around the World Showcase in Mexico. This leads our first stop to be at the Gran Fiesta Tour.
This ride is housed in the large pyramid and offers a relaxing boat ride similar to "it's a small world." The ride is based off the film The Three Caballeros, which was released in 1944. The movie is presented in vignettes and stars Donald Duck, Jose Carioca, and Panchito Pistoles.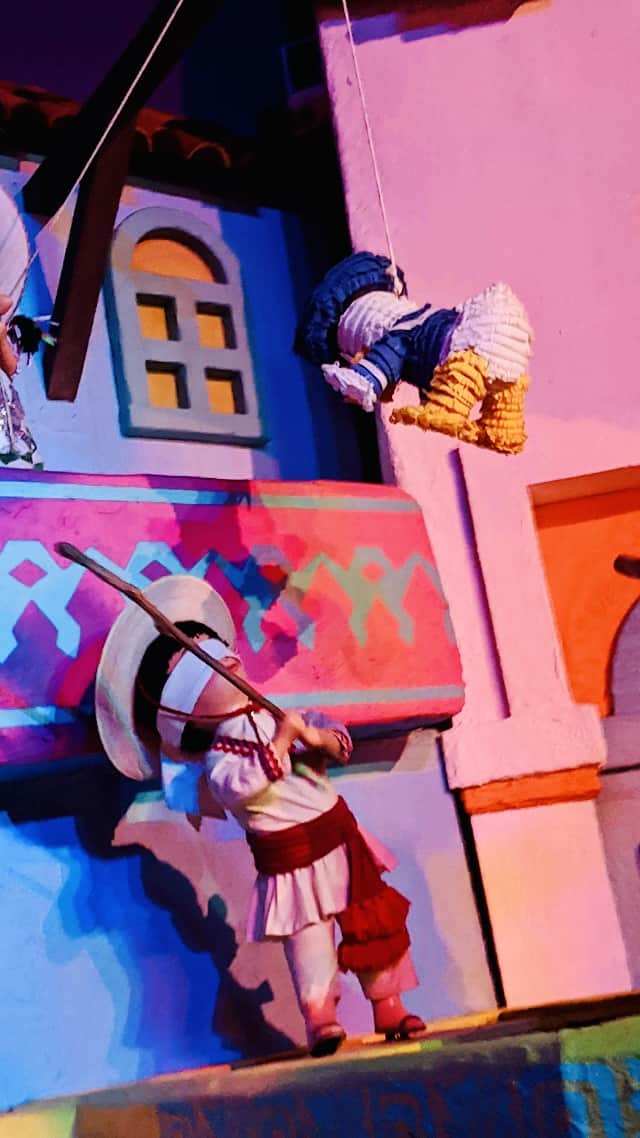 As Guests sail along, they see that Jose Carioca and Panchito Pistoles are trying to locate Donald Duck. At the end of the ride, Guests both young and the young at heart cheer that all 3 Caballeros are together again.
Something Missing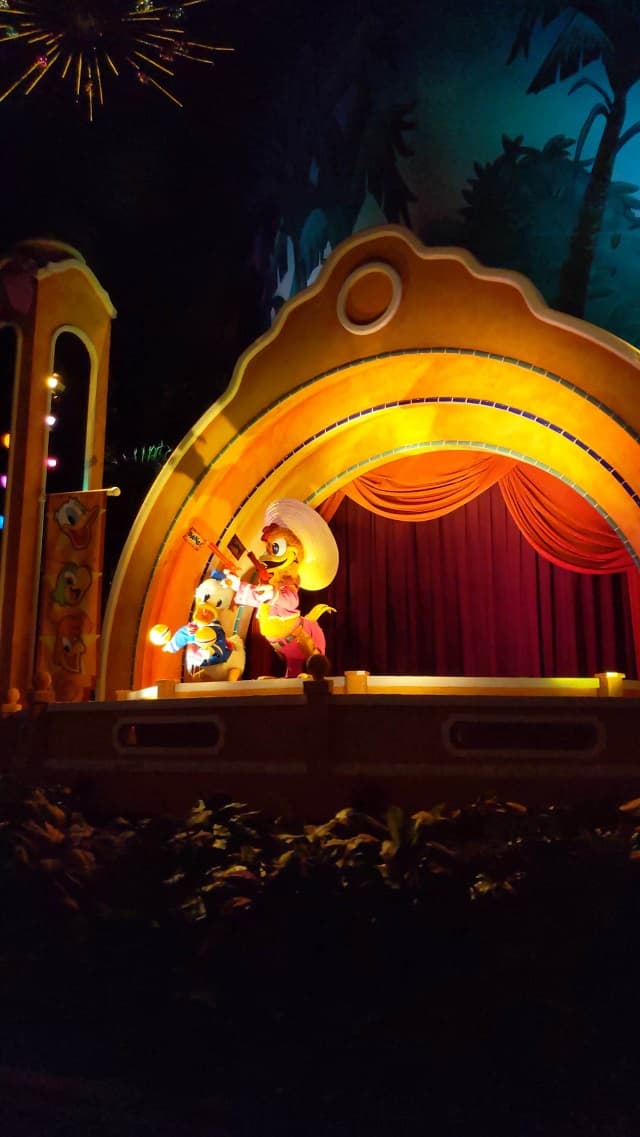 The real joy of this ride is in seeing the 3 Caballeros reunited. This past summer, Guests were surprised to find a the end of the ride that only 2 Caballeros were reunited. Jose Carioca was nowhere to be found, but a plant was seen in his place. See the video of this missing Caballero HERE.
Jose Carioca was later repaired and rejoined his amigos. Fans were overjoyed, but this was short-lived. On January 9, 2021, we shared that now Donald was missing from the end of this ride.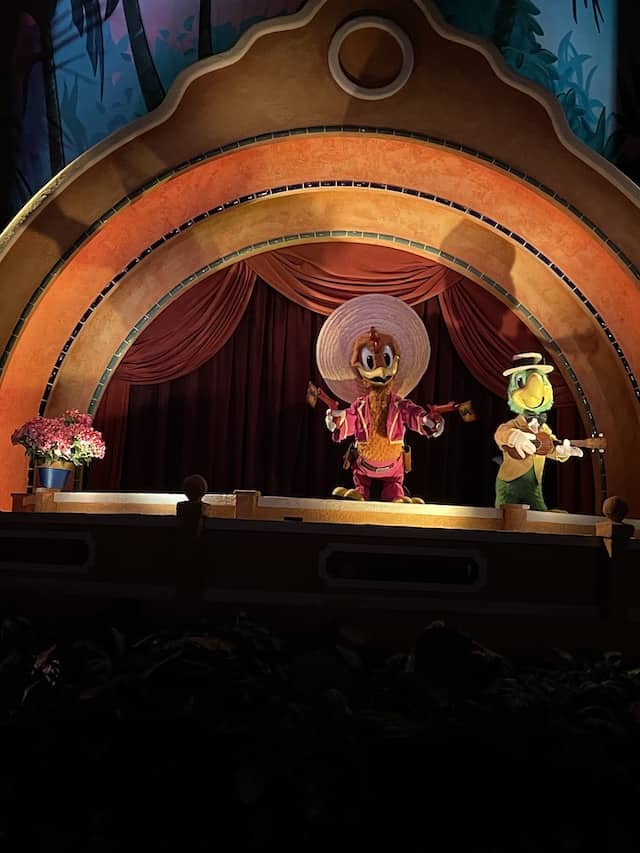 This was a bit anti-climatic in that the entire ride is about Jose and Panchito finding their pal Donald. In the first couple days, Donald was replaced with a cactus that wore his signature sombrero. A few days later the cactus and sombrero were removed. A flower pot was used to replace poor Donald.
Today the ride was "repaired." Now all 3 Caballeros have been reunited, but in a rather lackluster manner. We saw a photo shared on Instagram shared by mainstreetespanol. Check out the large cut-outs of the 3 Caballeros are now in place of the animatronics.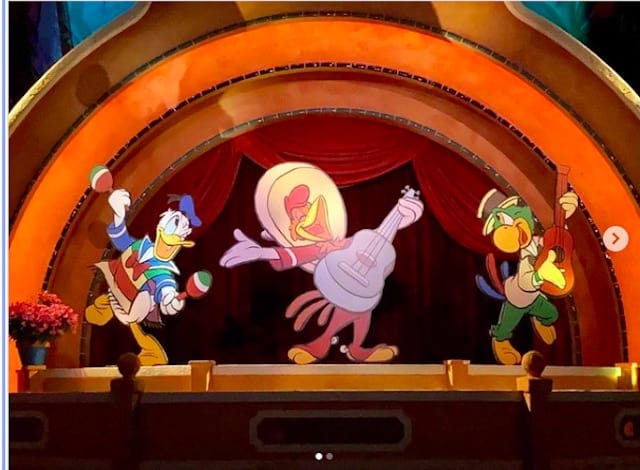 Disney World has not mentioned if this is a temporary fix, but it seems a rather odd solution for the 20 days that Donald has been missing. We hope to share that a new update for these 3 Caballeros may be in the works.
Large cut-outs have now replaced the animatronics of Donald, Jose, and Panchito. Disney has not mentioned if this simply a temporary solution.
The 3 Cardboard Cutouts. The 3 Cardboard Cutouts. They say we are boxes of a feather…
What do you think of this new ending? Will you and your family still enjoy this ride on your next trip? Do you think Disney is working on a reimagined ending for this ride? Share your thoughts with us on our Facebook Page.
Are you planning a vacation? Reach out to our trusted travel agency sponsor Authorized Disney Vacation Planner
Mouse Class Travel
!