Disney Christmas ornaments are probably my second favorite Disney item to collect (after Disney purses of course). Come take a look at all the Disney ornaments I've collected over the years and my dedicated Harry Potter Christmas tree!
Disney ornaments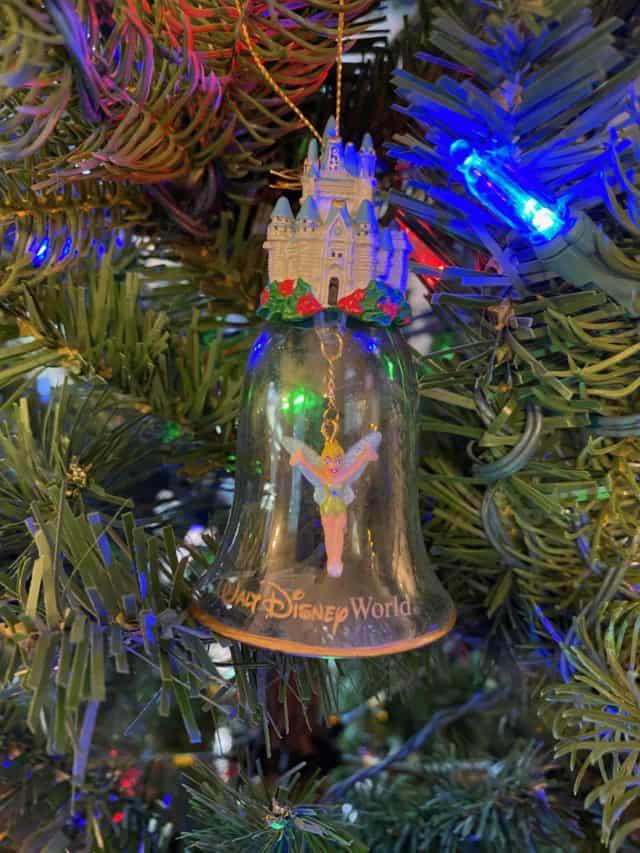 This was the first ornament I purchased at Disney World. I bought it on my first Disney Christmas-time trip in December 2003. It includes two of my favorite things – the castle and tinkerbell!
On the same trip I also purchased this adorable ornament of Sorcerer Mickey's hat. It was these two ornaments that got me hooked on collecting Disney Christmas ornaments!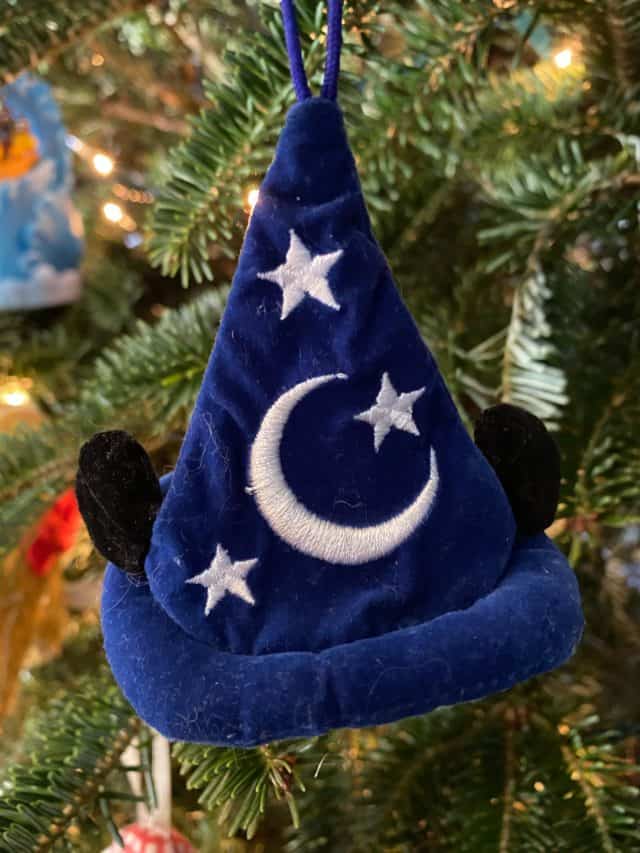 I love this one of Peter Pan in a sparkly red Christmas scarf! He was my son's favorite Disney character when he was younger so it's very special to me. I remember how excited he was when I unpacked this ornament.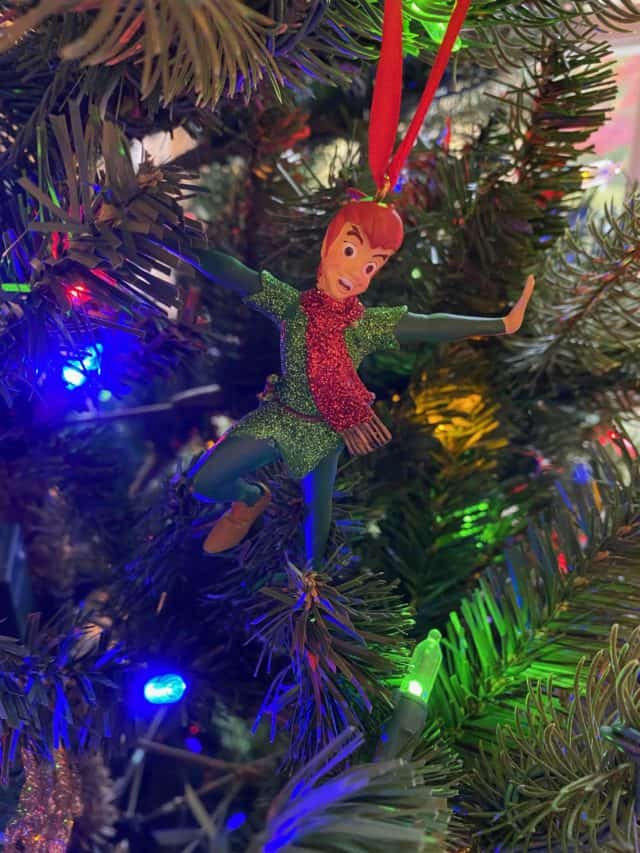 One of my all time favorite Disney characters from my childhood is Figment! So of course I had to include him in my ornament collection! I love his sparkly Christmas sweater and presents!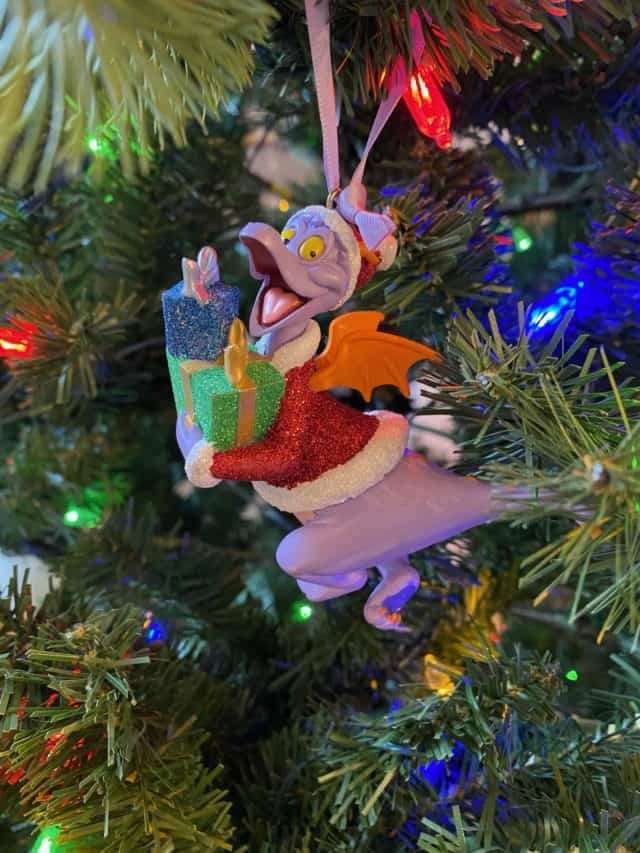 One of the best parts of decorating my tree is re-living the memories that come with all my ornaments! This green alien hat ornament brings back memories of my first visit to Toy Story Land with my son.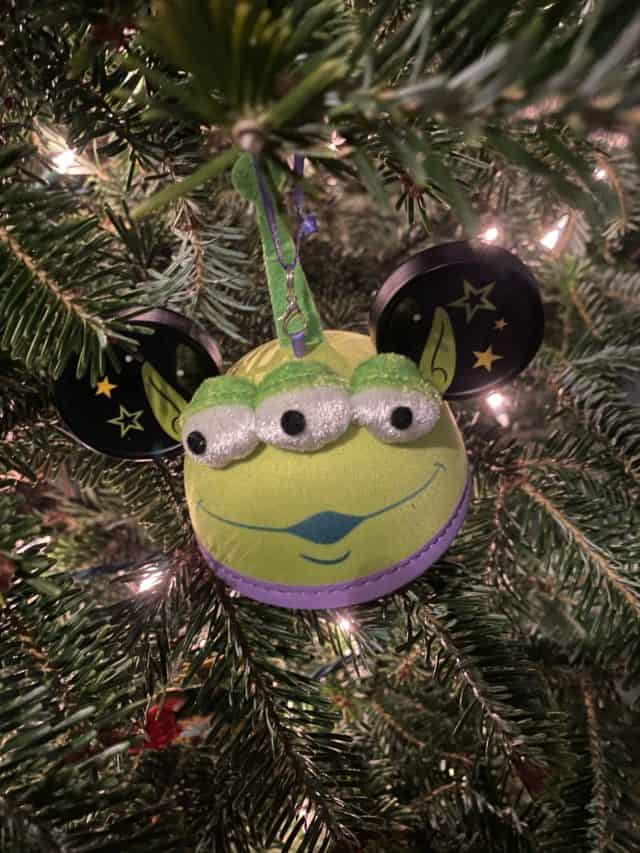 This sweet ornament will always remind me of our first Disney Cruise!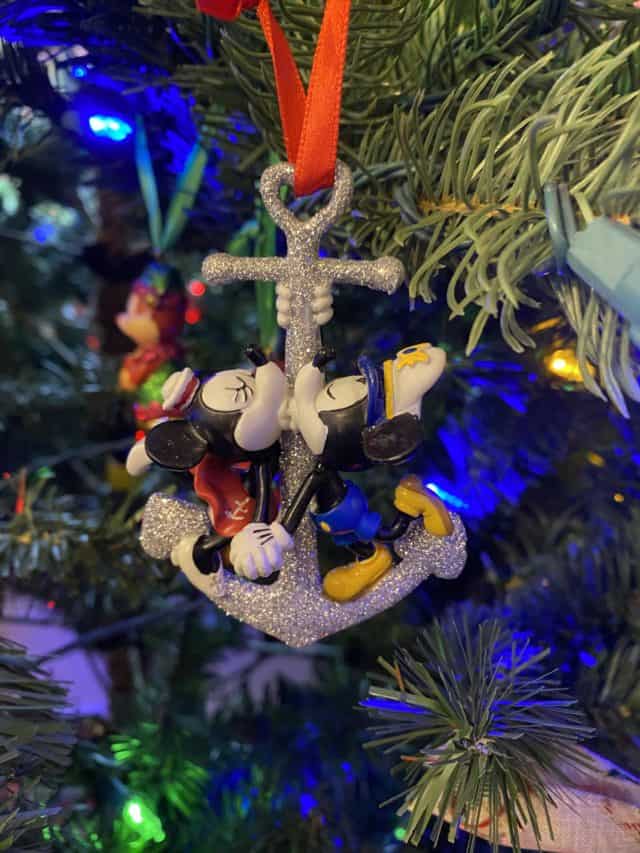 The Haunted Mansion is one of my favorite attractions so I couldn't resist this ornament depicting the hitchhiking ghosts in a doom buggy.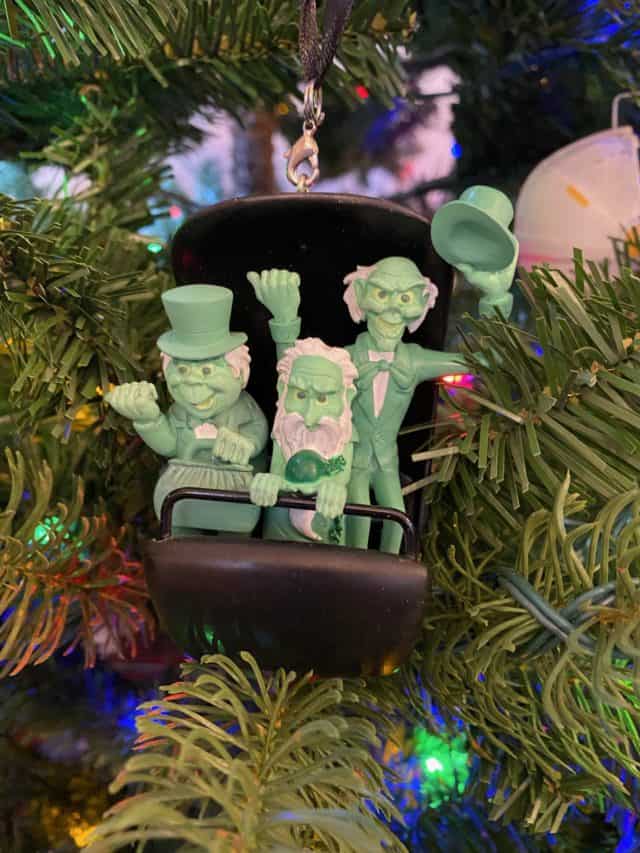 The Kenny the Pirate bloggers did an ornament exchange this year, and Susan gave me this beautiful Haunted Mansion ears ornament! I love it!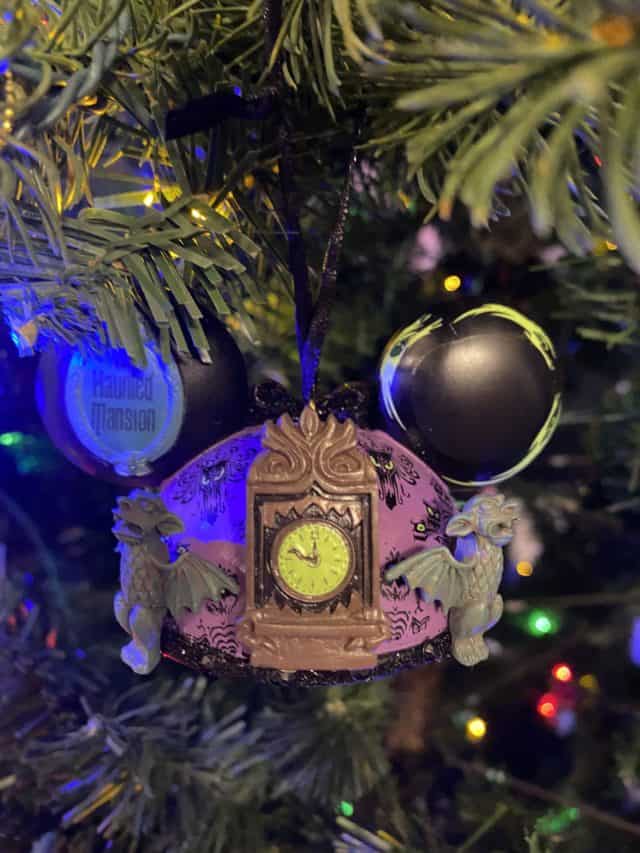 I'm also a huge fan of the Nightmare Before Christmas and own a few different NBC ornaments – like this one of Lock, Stock and Barrel on their way to kidnap "Sandy Claws" and Zero napping with a candy cane in his mouth!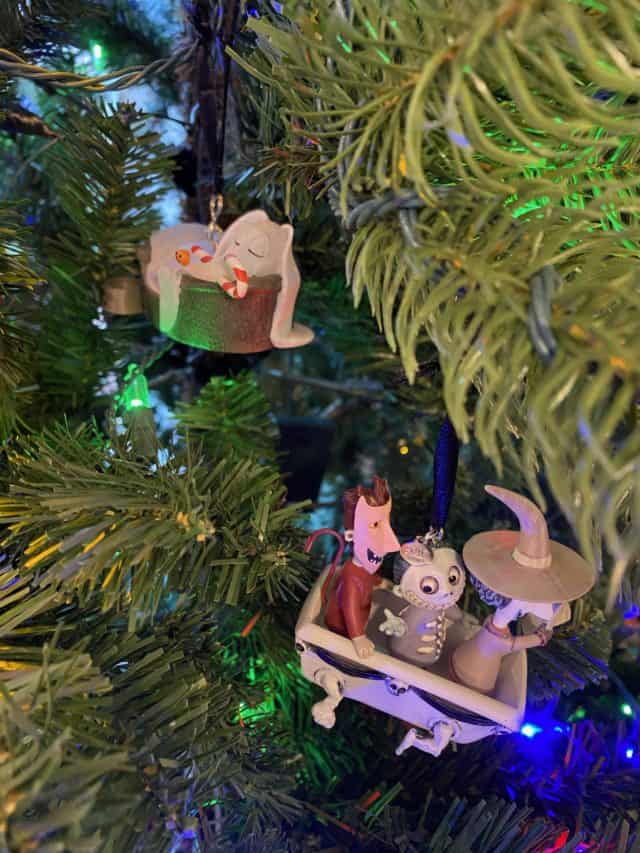 And of course I had to get one of Jack Skellington as Sandy Claws himself!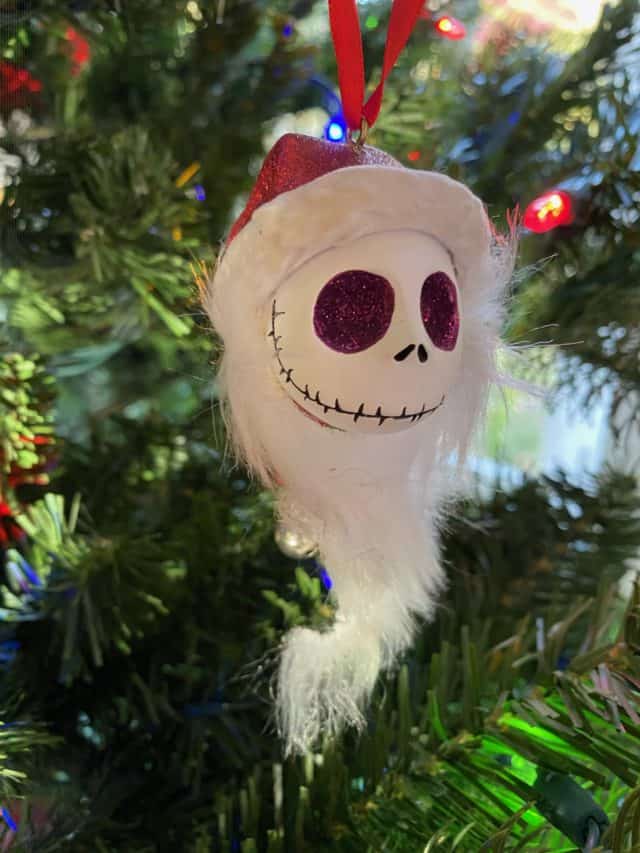 I was obsessed with the ink and paint collection when it was released and (along with half the collection) bought this ornament depicting a Sorcerer Mickey framed picture. I love how it looks like original artwork!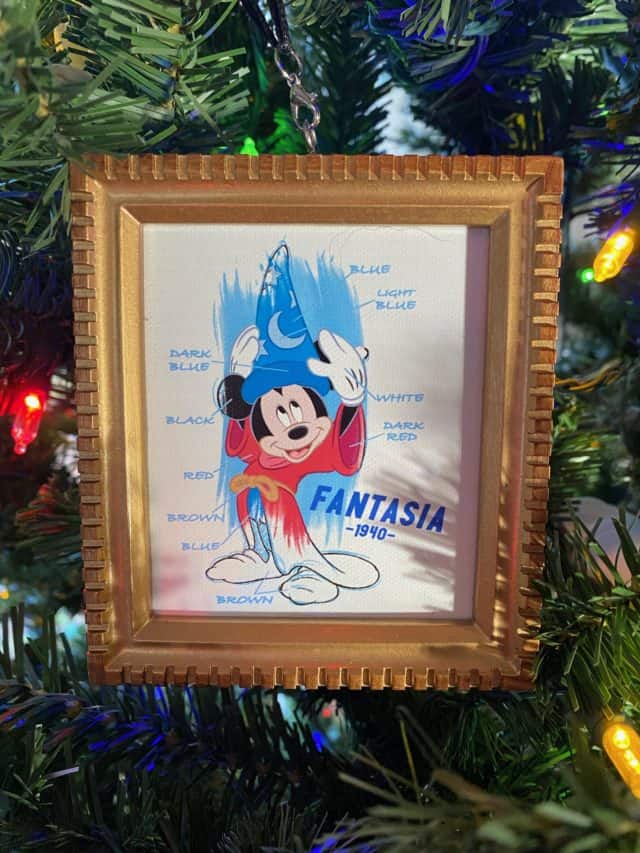 One of my new favorite ornaments is this beauty that I purchased on shopDisney this year featuring Peter Pan, Wendy, Michael and John perched on a snow capped Big Ben.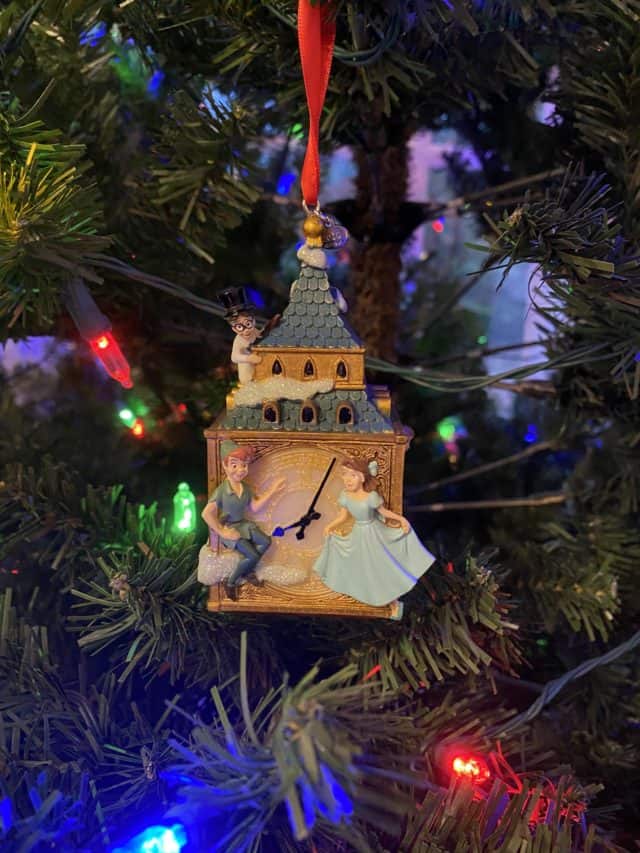 This new ornament may be my cutest ornament yet! I love little Dumbo with his goggles! The way it looks like he's flying under the clouds is pure Disney magic!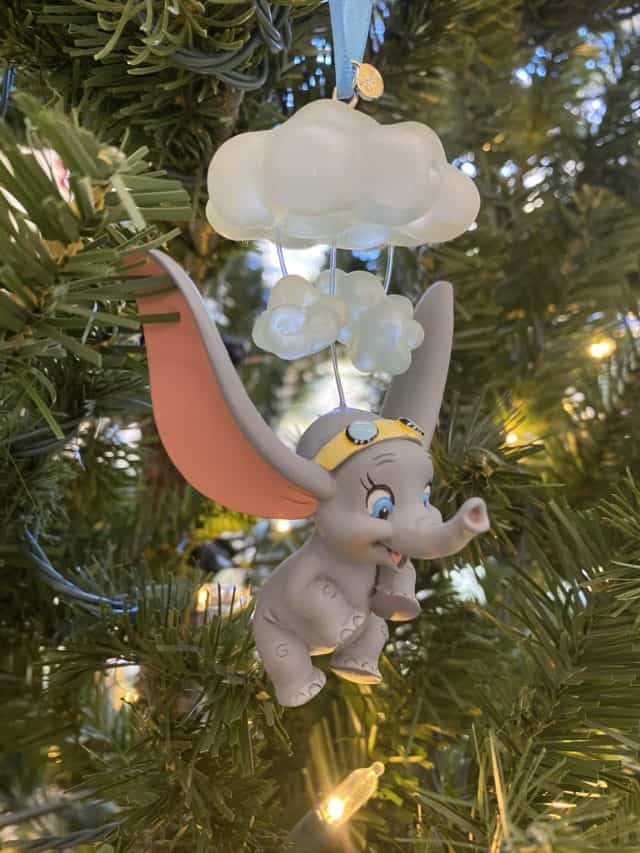 Another shopDisney favorite from this year is this one of Alice and Dinah peering into the White Rabbit's hole.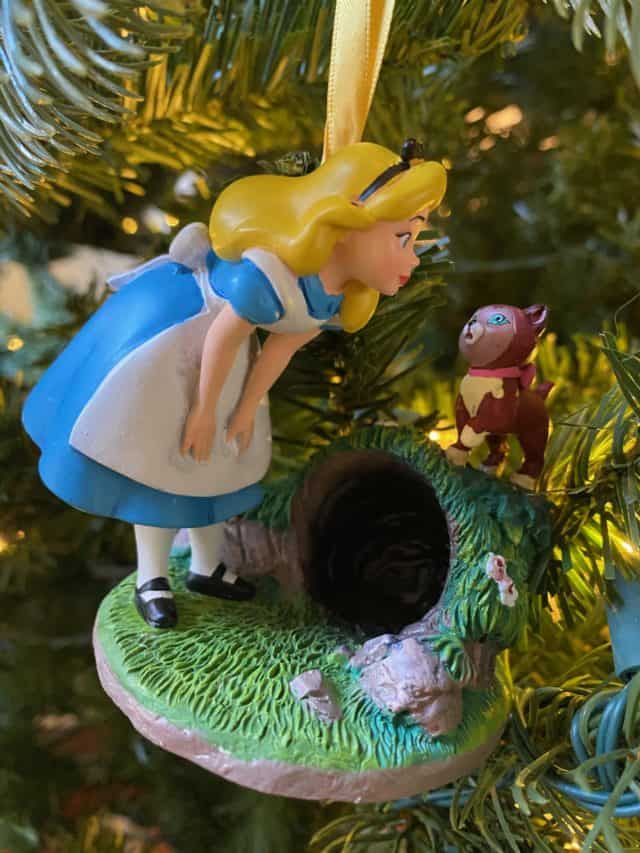 My favorite new ornament from 2019 was this adorable fuzzy mickey head with a buffalo plaid bow and string. It's so cozy!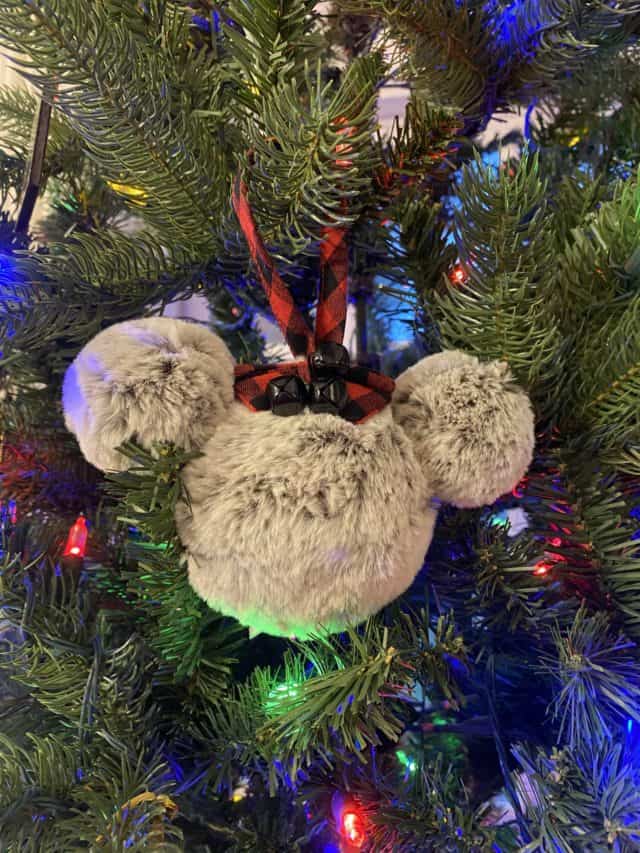 This Dumbo wearing a Christmas hat and sweater was an outlet find that matches my Christmas tree skirt featured below! Behind him is Dopey tangled in Christmas lights. So cute!
On the same outlet trip, I also found this Tiki Room bird wearing a Christmas hat that also matches my Christmas tree skirt!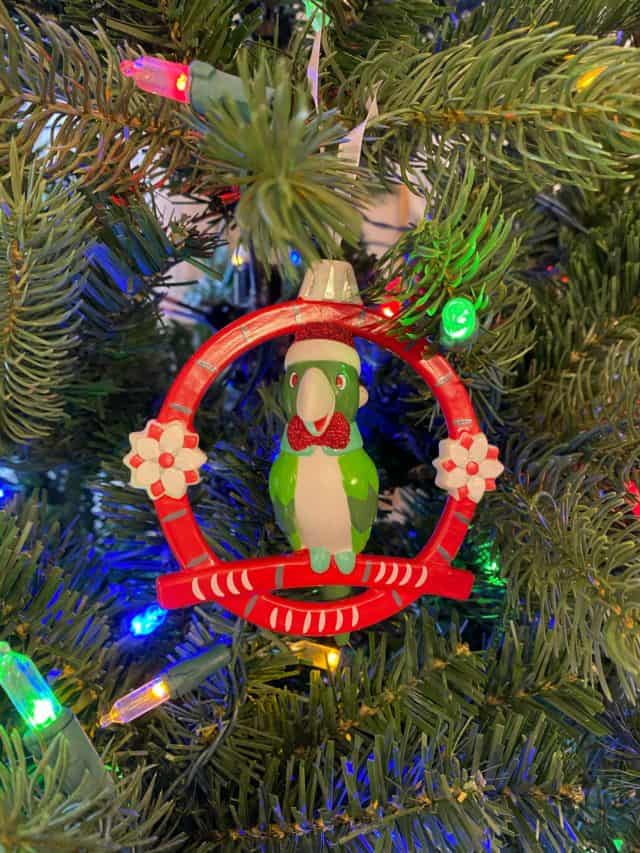 Disney Christmas Tree Accessories
I love all the characters depicted on this Christmas tree skirt! Can you spot the Dumbo and Tiki Room bird?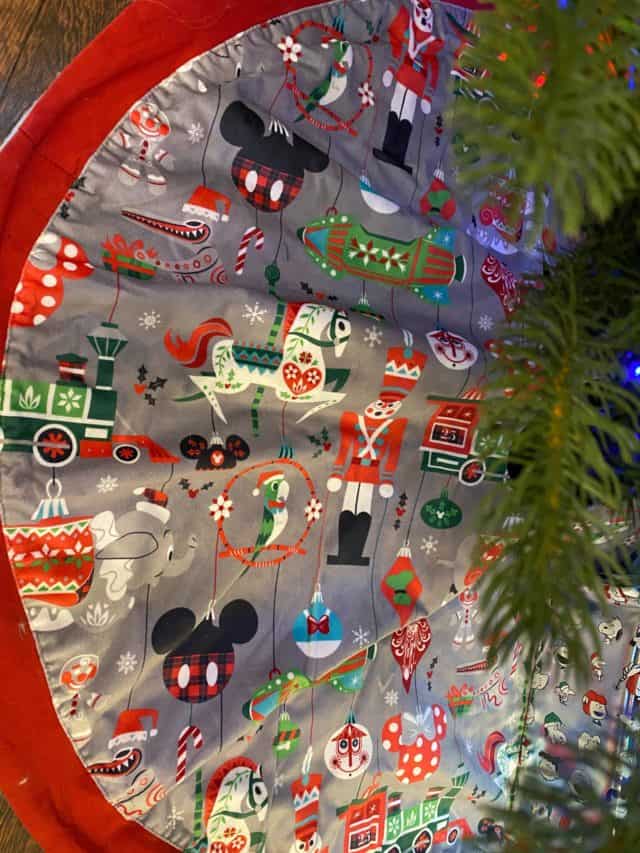 And finally my tree is topped off with this magical light up tinkerbell star! I love her red Christmas dress!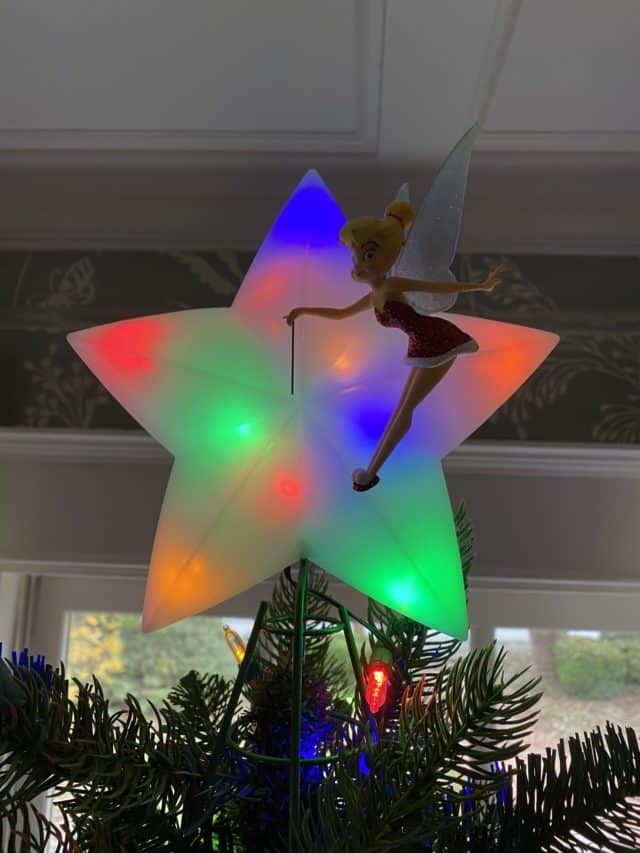 My ornament collection has become so extensive that we have two full sizes trees – an artificial tree in our dining room and a live tree in our living room. Our living room tree has our monorail circling it which makes it extra magical!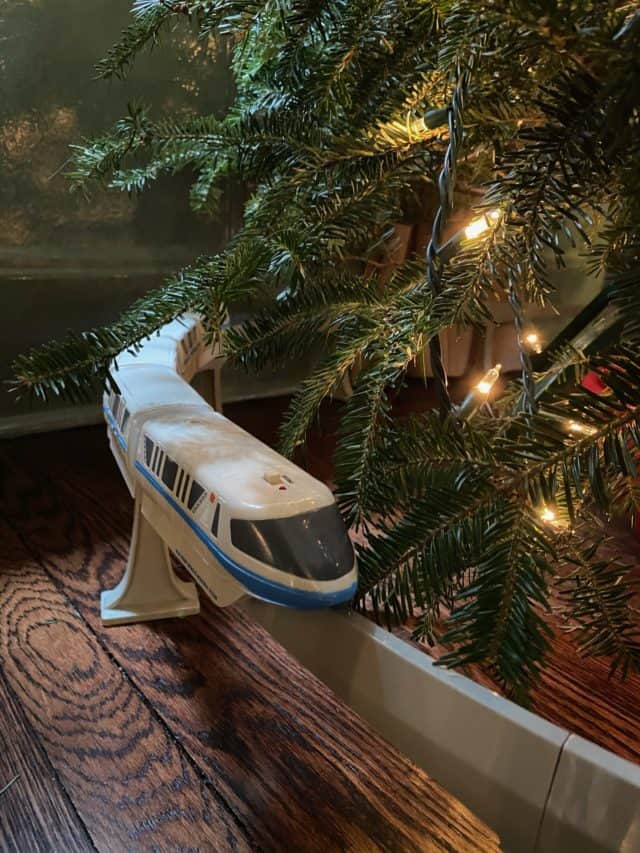 "Please Stand Clear of the Doors!" Check out the video below of the monorail whizzing around my tree:
2020 Hallmark Ornaments
Hallmark came out with some amazing ornaments this year including tons of Disney ones! You can see more of the wonderful collection in this post.
This Jungle Cruise tramp steamer with Mickey as a skipper was a must-buy for me this year!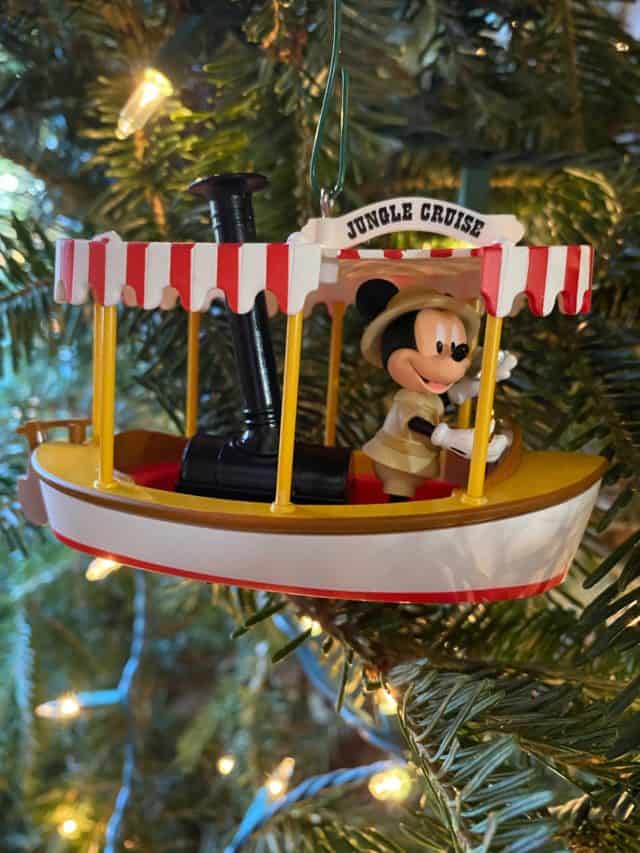 J'adore this ornament capturing a moment between Duchess and little Marie. As a cat loving family, it was also a must-buy for us this year!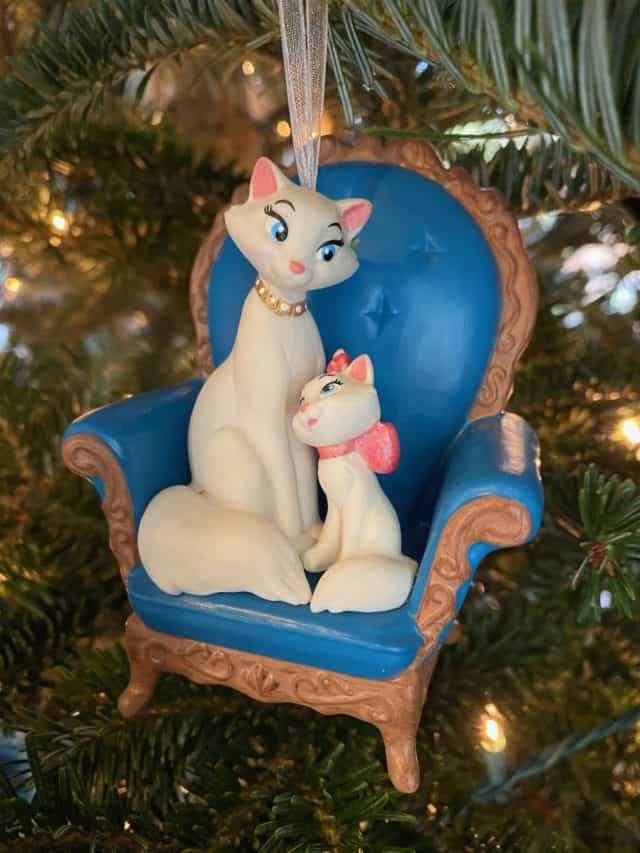 This adorable ornament features Lucky from 101 Dalmatians eagerly watching the Kanine Krunchies commercial. When you insert a Christmas light bulb into the bottom it illuminates the screen. Very creative!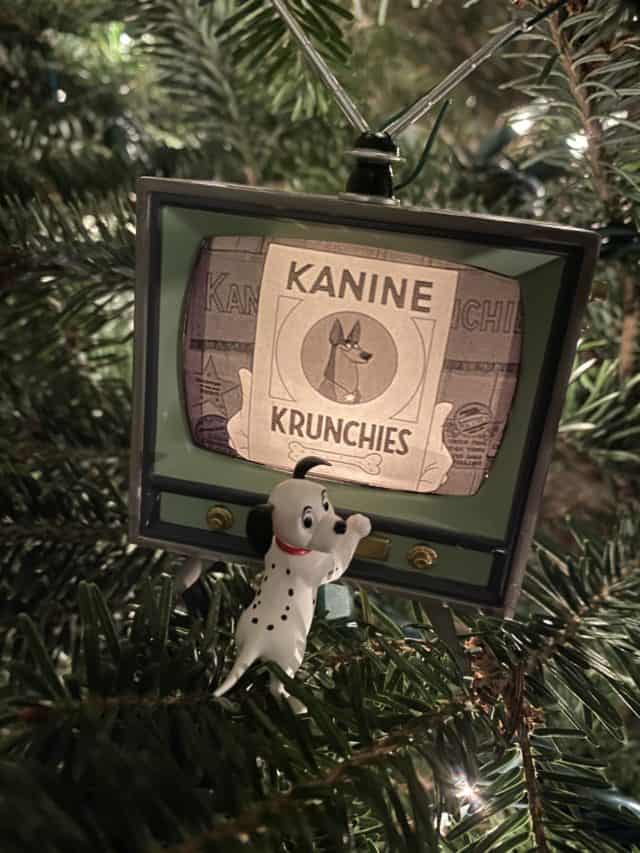 Hallmark also came out with several amazing Star Wars ornaments. I wrote a detailed post about this collection which you can read here.
My favorite new Star Wars ornament was this adorable depiction of Baby Yoda in his pram.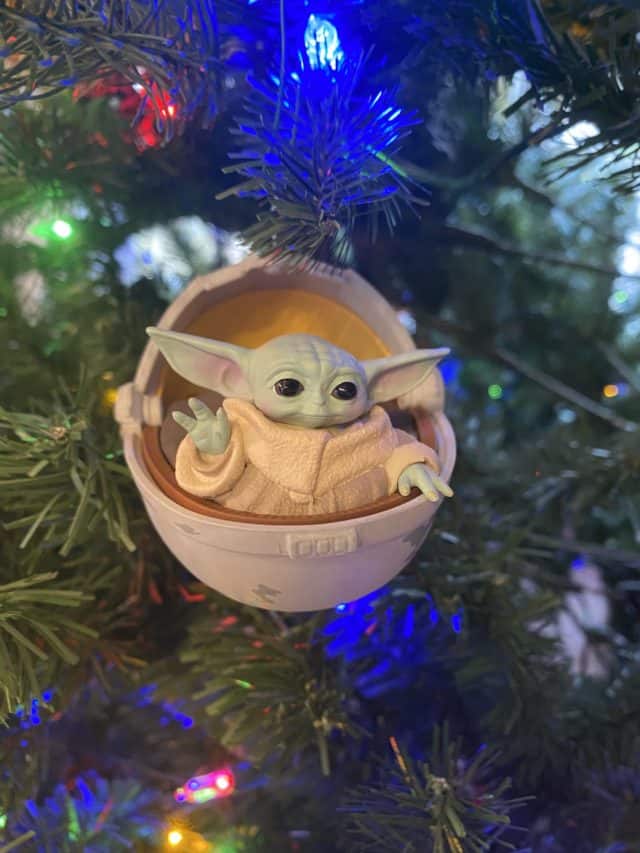 My other favorite Star Wars ornament at Hallmark this year is Luke's X-wing after he raised it from the Dagobah swamp using The Force. I love the details on this one.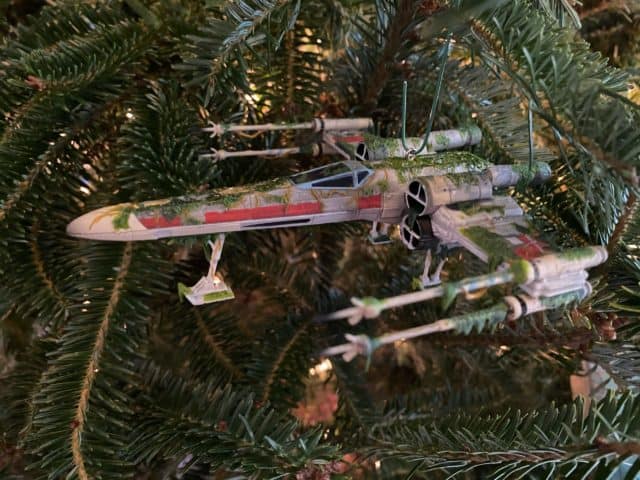 Hallmark is also known for creating some amazing light-up and musical ornaments. I'm obsessed with this one depicting the Hitchhiking Ghosts and playing Grim Grinning Ghosts. You can see it in action below:
This creative ornament features Grumpy from Snow White and the Seven Dwarfs playing the pipe organ. You can turn the crank to see the pipe organs move and hear a clip of the Silly Song.
This Sorcerer Mickey ornament inspired by Fantasia is pretty spectacular. When you press a button, it lights up and plays a clip of the iconic song "The Sorcerer's Apprentice" while the enchanted brooms march around the winding staircase. Check it out:
2020 Disney Attractions Ornament Collection
This year Disney released an amazing new ornament collection that features different attractions and buildings from the parks with the backside showing scenes found inside. I was lucky to get my hands on a few of them!
Here is Cinderella Castle! They also created a Sleeping Beauty castle sold at Downtown Disney at Disneyland.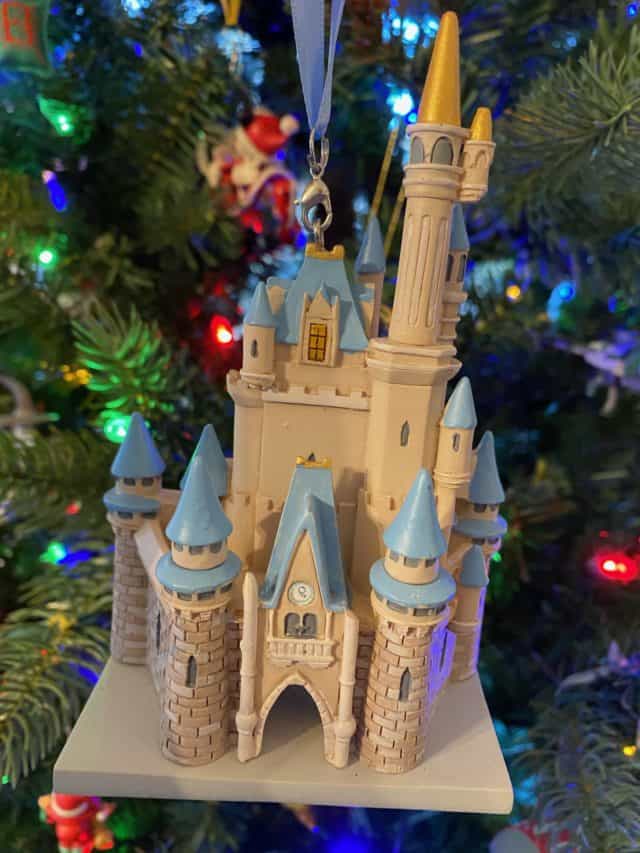 The back depicts the castle suite (aka my dream room!)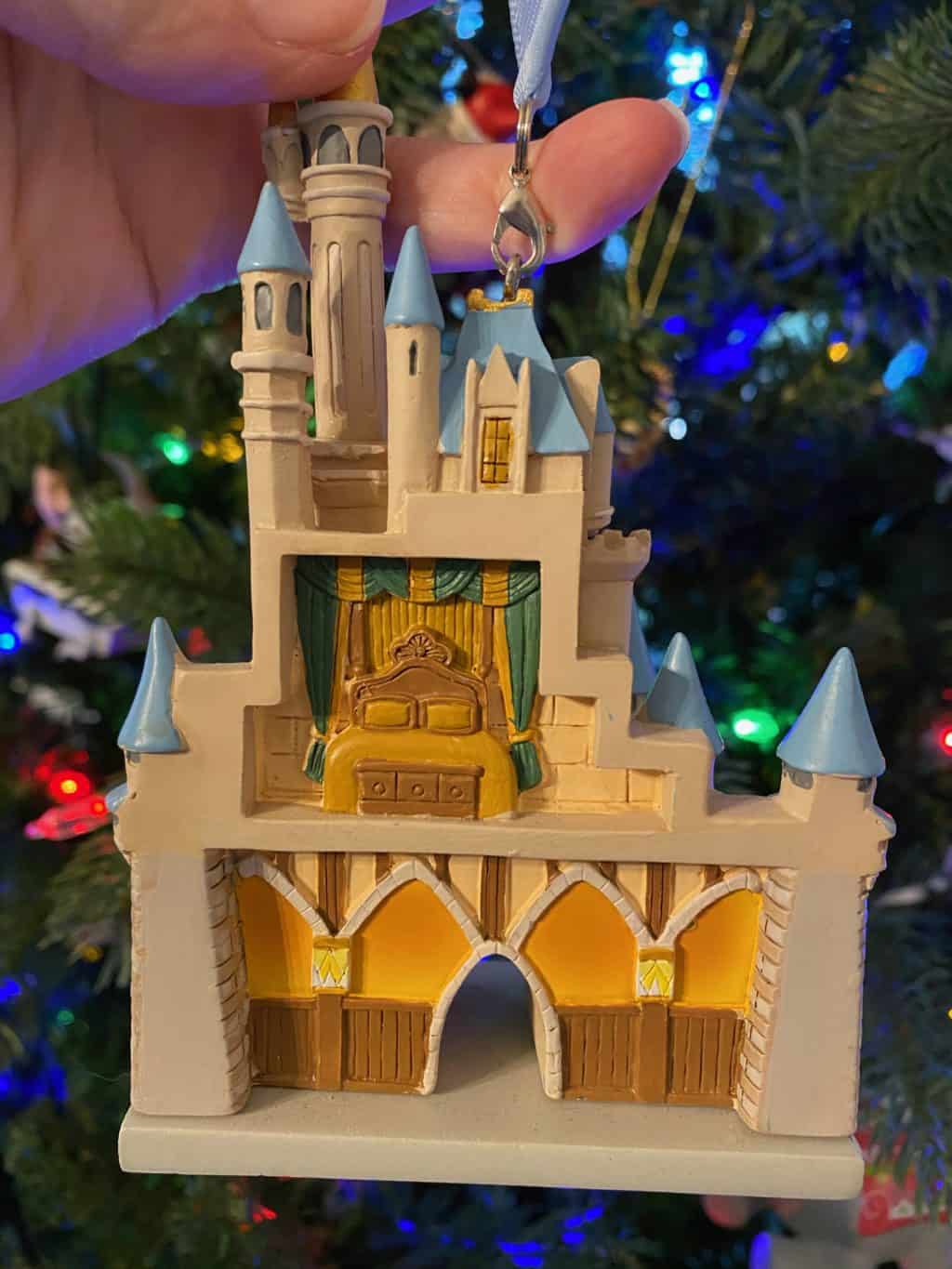 Disney also created two versions of the Haunted Mansion. The Haunted Mansion holiday version was sold at Downtown Disney Disneyland and this one was sold at Disney World.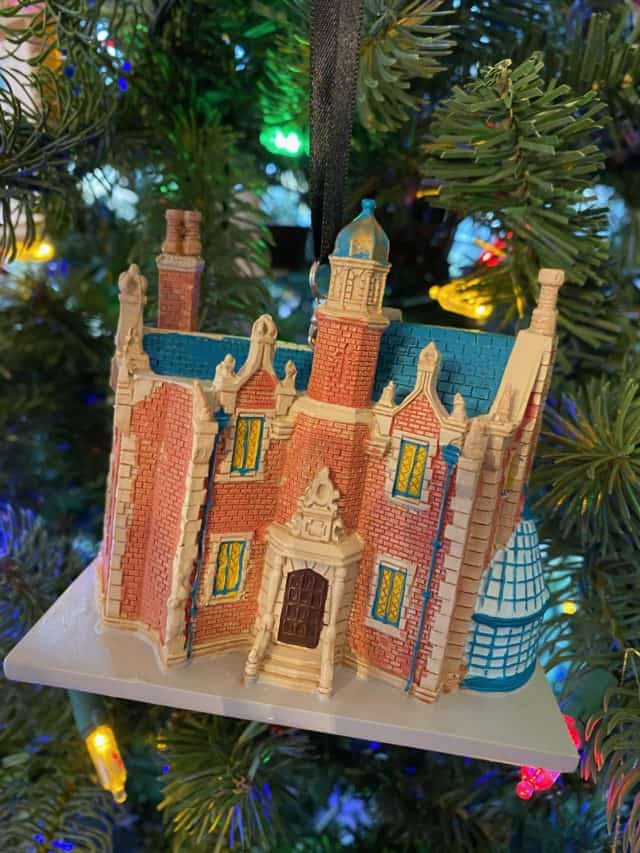 As a big Haunted Mansion fan, I was so happy to get my hands on this one! I love the details like the portraits and bride. It feels like you're transported right into the ride!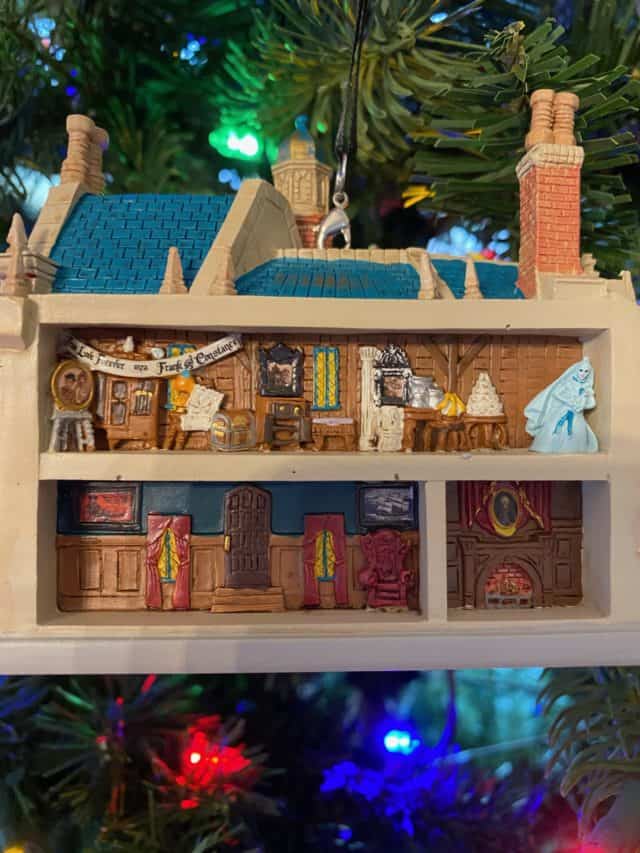 Another favorite is the small world ornament. The details on the facade are amazing.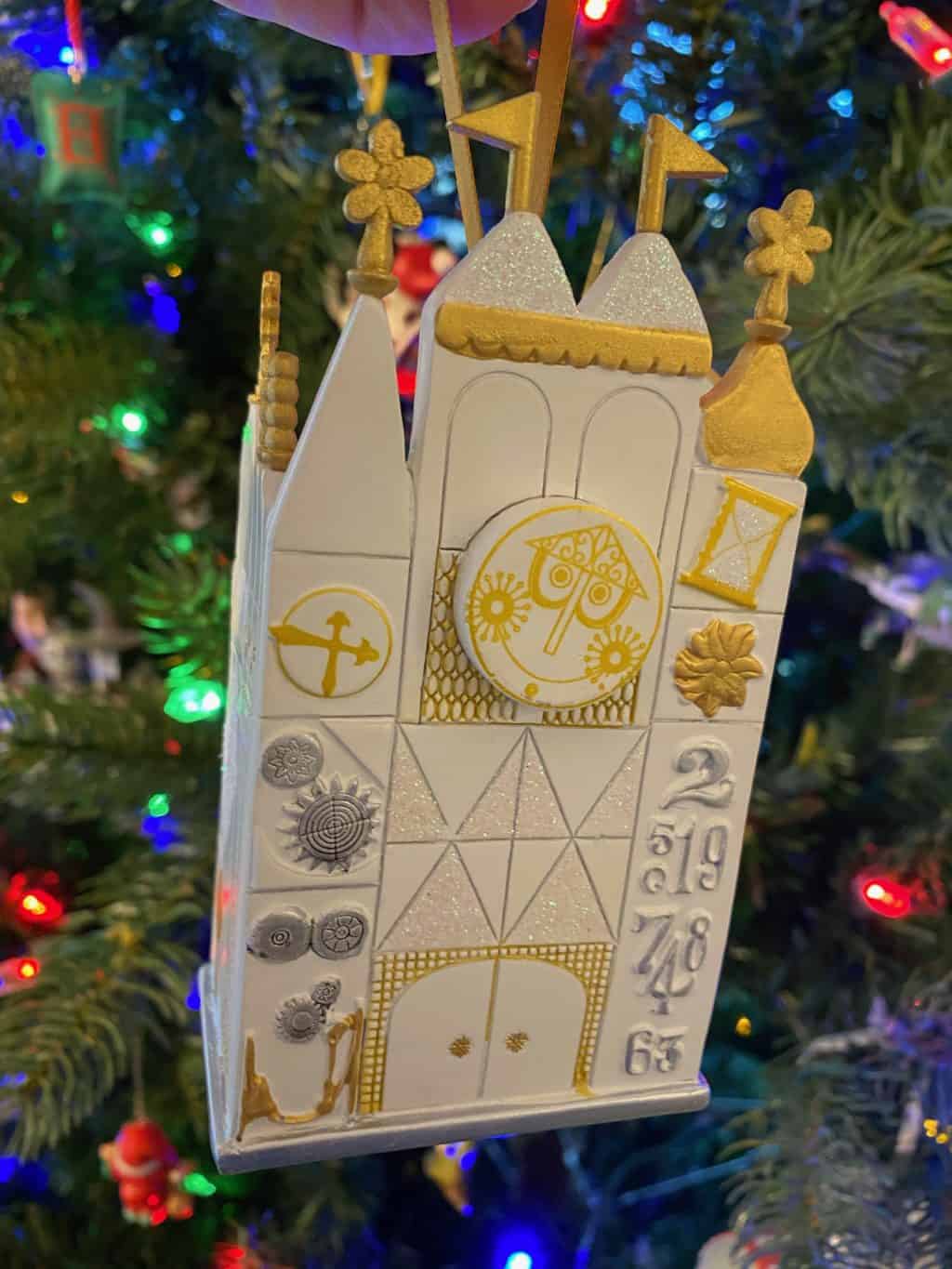 And the figures on the backside are adorable! I can practically hear the music!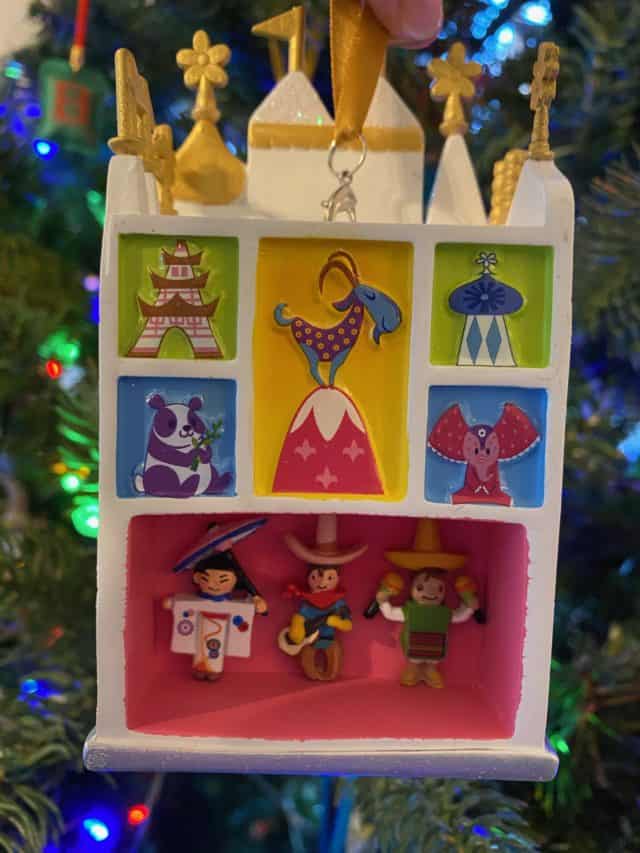 Here is the Country Bears Jamboree ornament from the collection.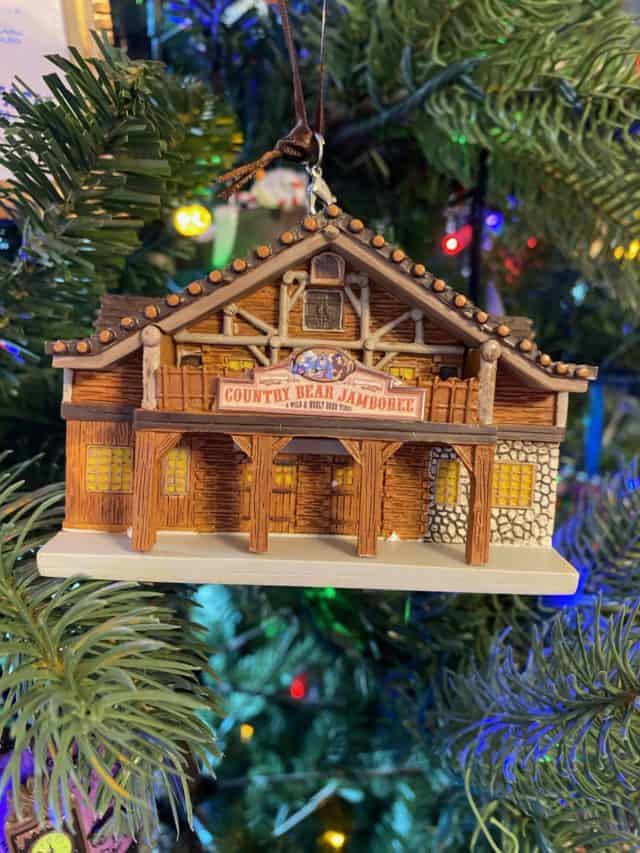 I love how it shows different scenes from the show on the backside. Big Al is a favorite in our family!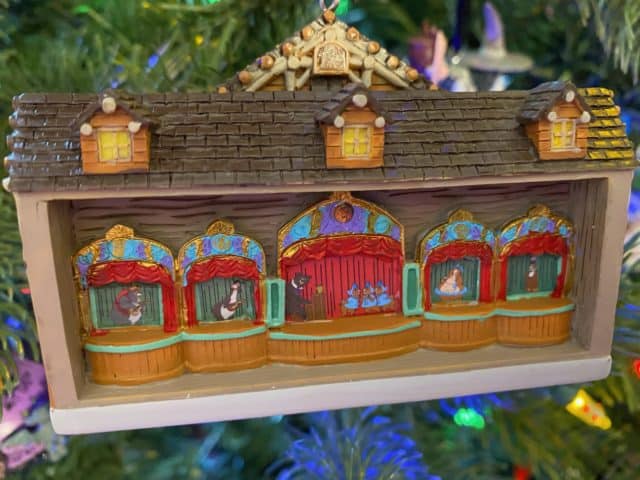 I also adore the design of the Enchanted Tiki Room.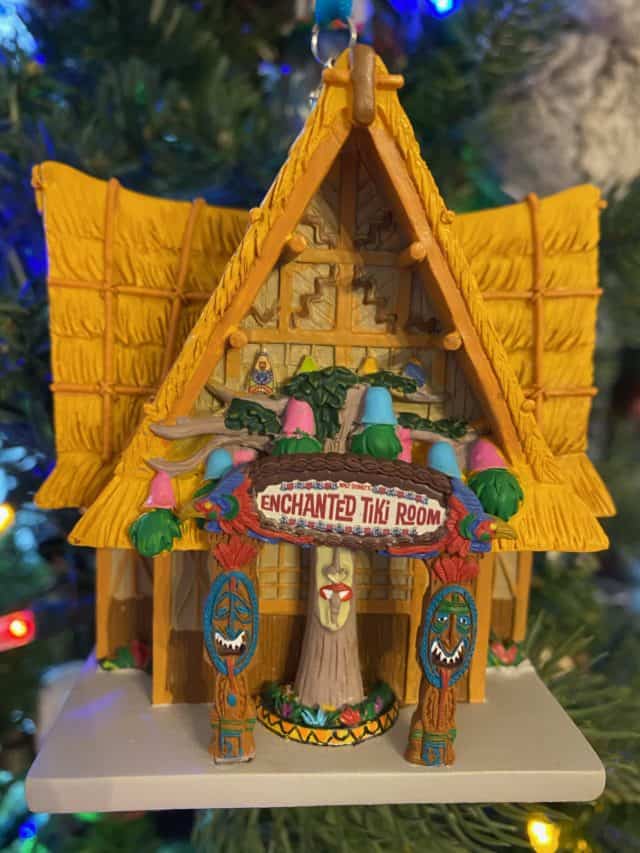 The details of the tiki posts and drummers are wonderful though I wish they had included some of the iconic Tiki Room birds!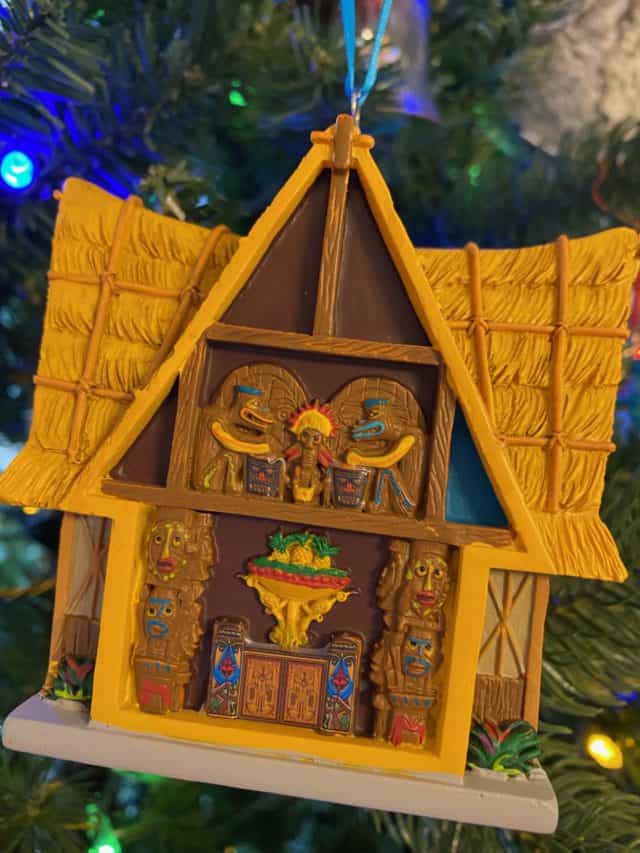 I also own this Disneyland specific design of the Main St Cinema.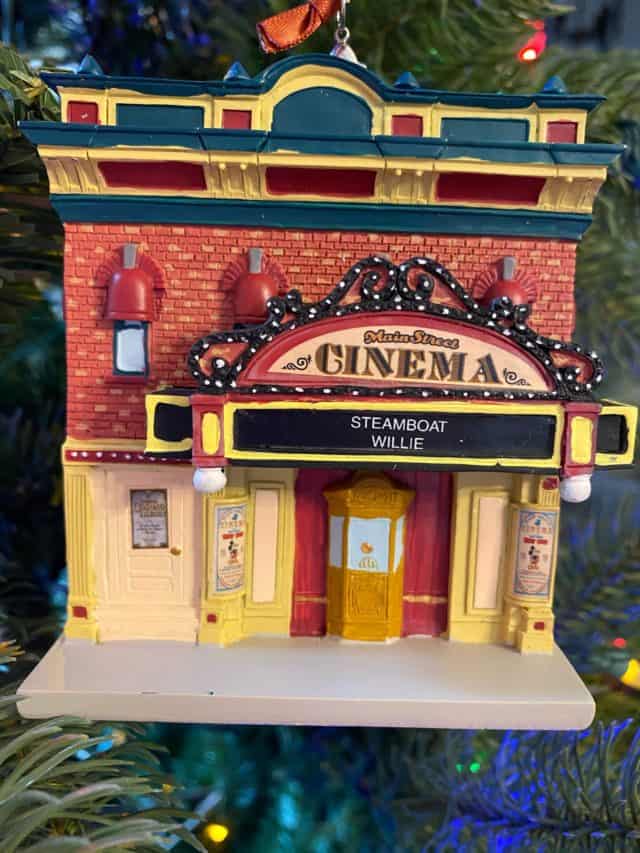 I love the little screens showing Steamboat Willie. This was something we didn't have a chance to see on our Disneyland trip but is on my list for next time!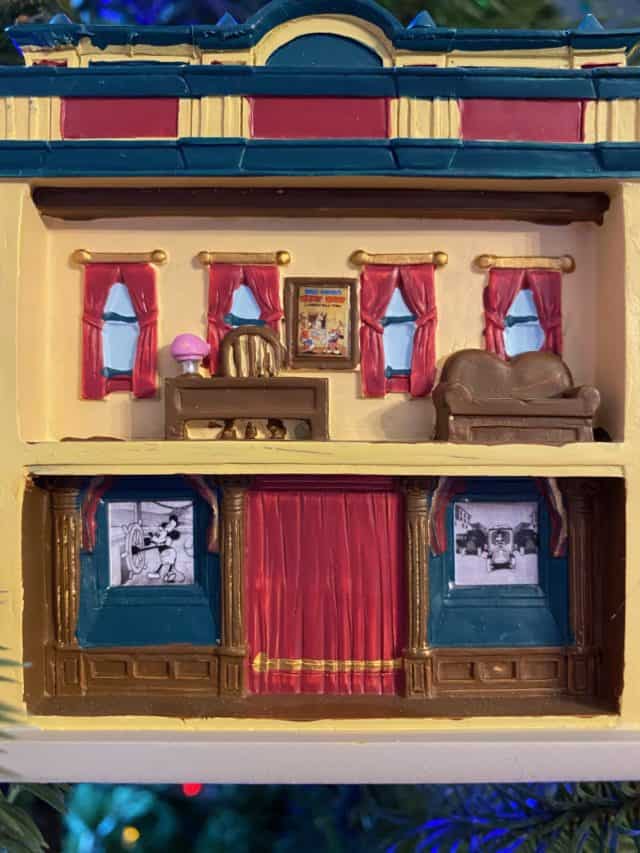 And finally I have the Tower of Terror.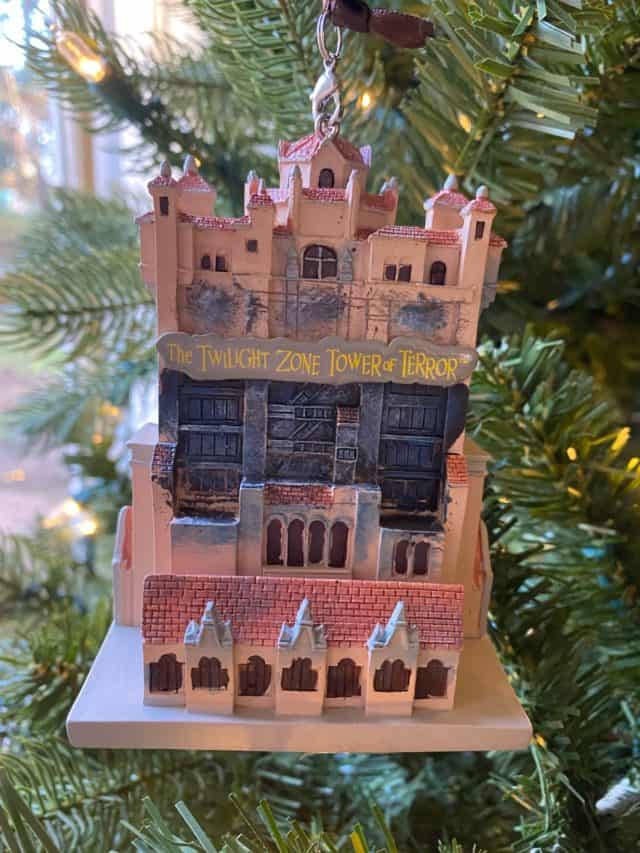 The back features the bellhop and the ghosts you see when the elevator doors open.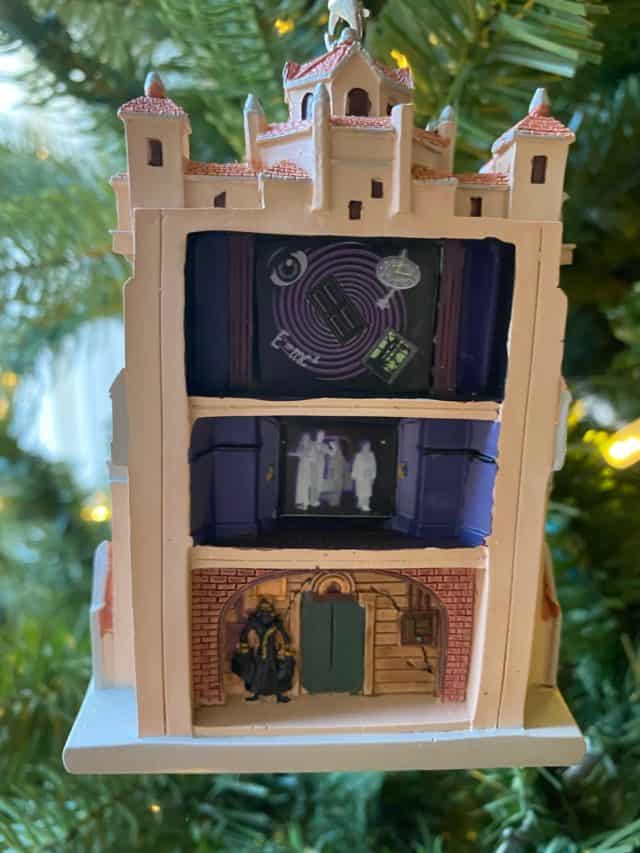 I have also seen the Disneyland firehouse which includes Walt's apartment on the second floor. It really is an amazing collection!
Harry Potter Christmas Tree
I also own a smaller artificial tree that we decided to make into a Harry Potter themed Christmas tree! I love how it looks against the wallpaper in my son's Star Wars bedroom.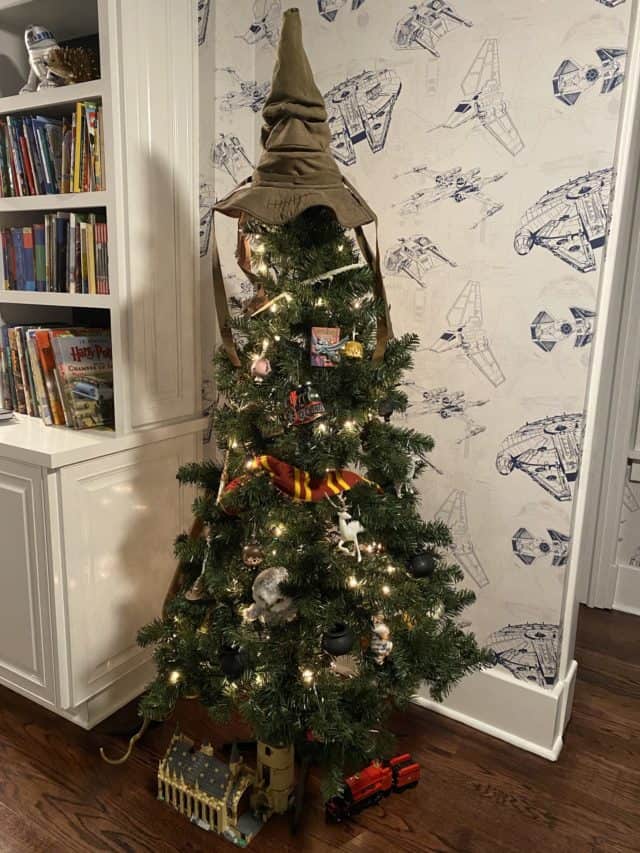 All the ornaments depict Harry Potter characters as well as owls, stags, trains, and cauldrons.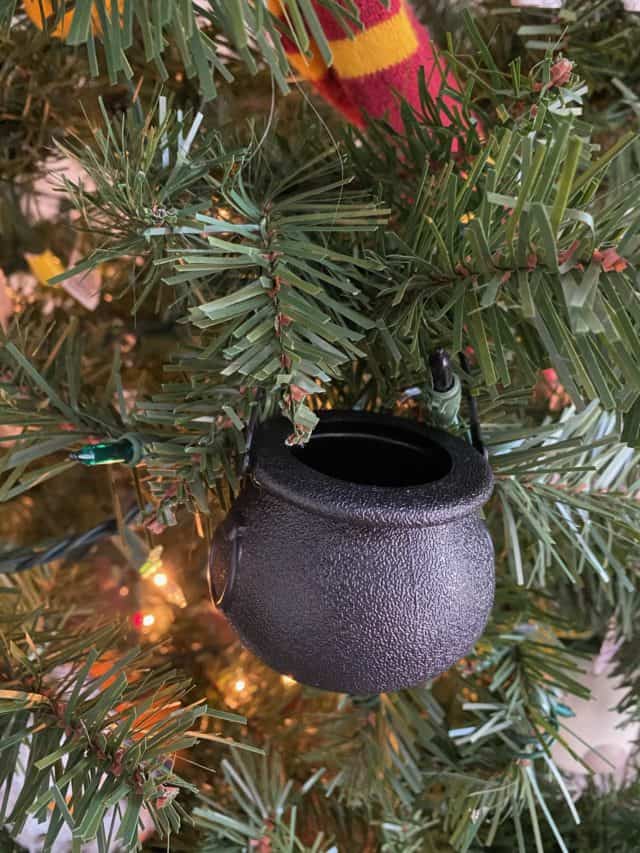 We also draped my son's Gryffindor scarf on the tree which is a fun touch!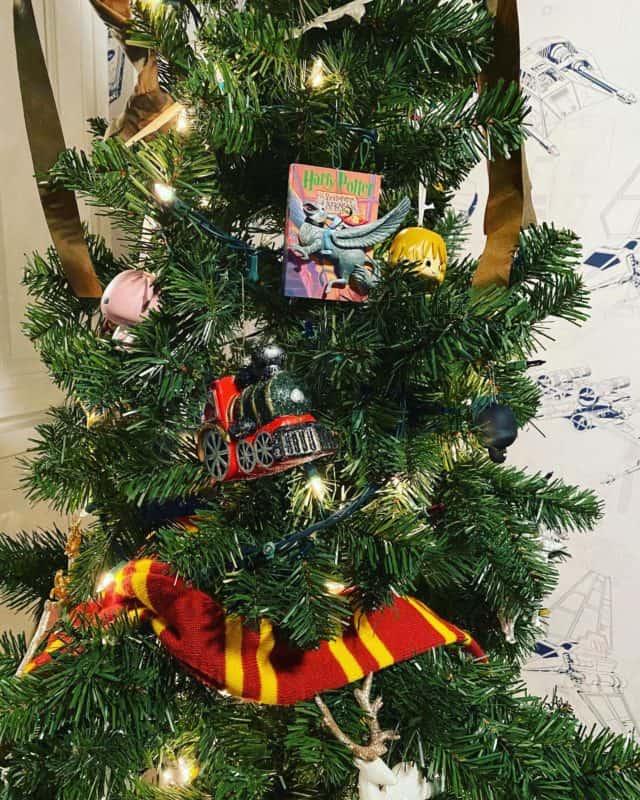 This ornament featuring the Hogwarts crest is one of my favorites on the tree!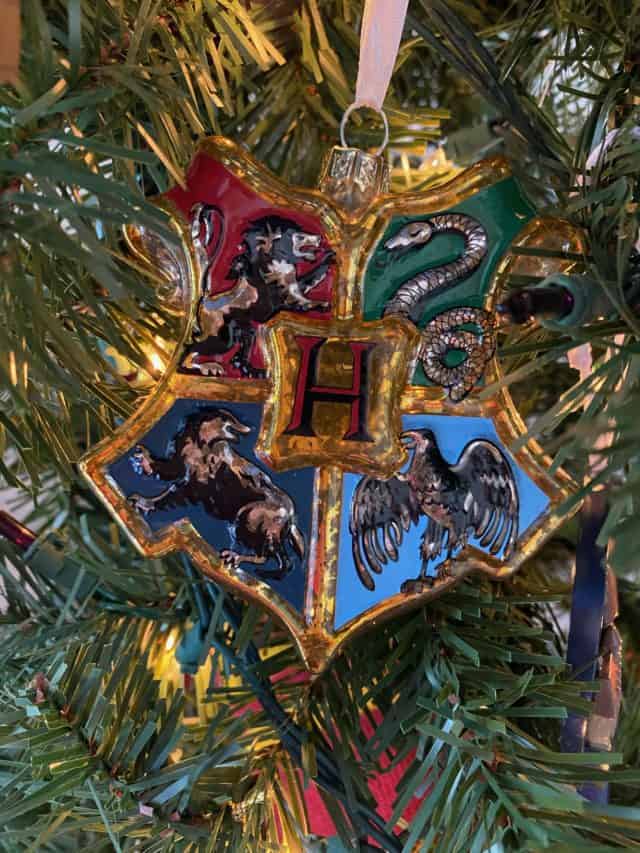 We topped off the tree with a quill pen and our sorting hat…..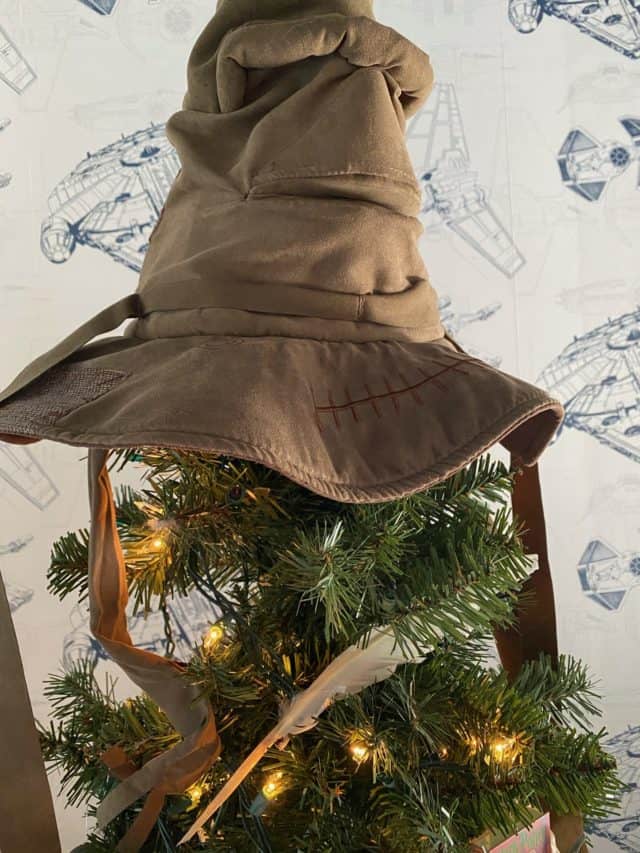 …and underneath displayed our Harry Potter LEGO castle, Hogwarts Express, Hagrid's Hut and Whomping Willow.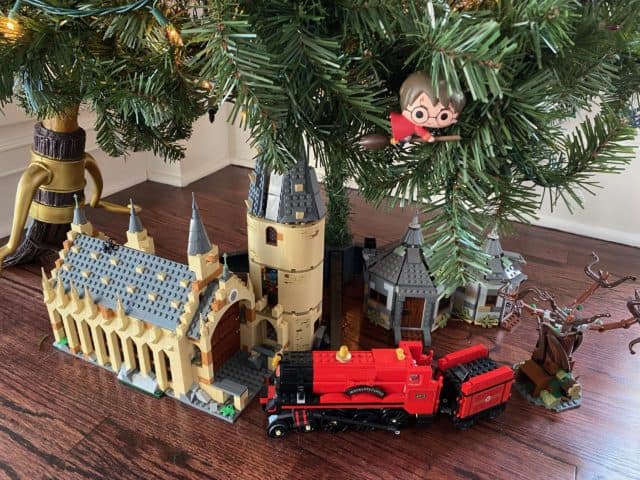 One of my favorite new Harry Potter ornaments on my Harry Potter tree, depicting a 3D image of the cover of Prisoner of Azkaban came from Hallmark this year.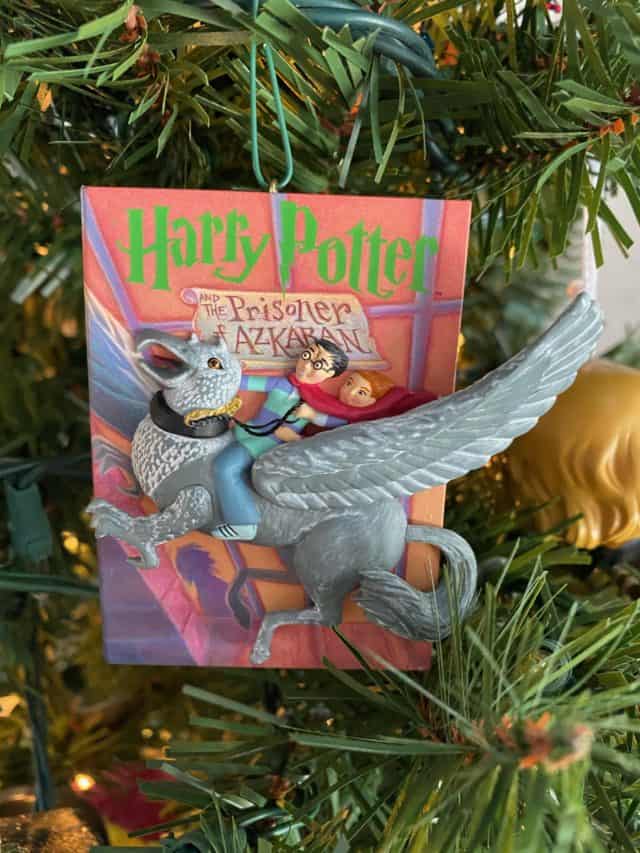 Do you collect Disney ornaments? Share pics of your favorites by commenting on Facebook!
Ashley Beckwith McKellar
Follow me on Instagram: @disneyparksmom