Find out here how to purchase Disney Hanukkah merchandise and create Disney Chanukah themed crafts here – including links.
Recently, a Kenny the Pirate Crew member asked where to find Hanukkah themed Disney merchandise. With so many holiday celebrations this season, it's wonderful to see Disney adding Hanukkah items. Check out all the details here.
Hanukkah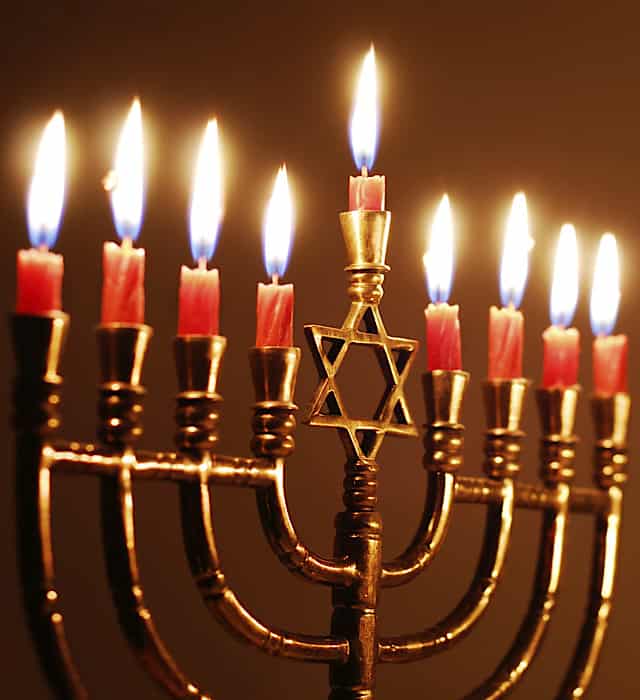 Hanukkah or Chanukah, is the Jewish eight-day, wintertime "festival of lights." It's celebrated with a nightly menorah lighting, special prayers and fried foods.
In 2020, Hanukkah runs from the evening of December 10 through the evening of December 18. The Hebrew word Hanukkah means "dedication," and celebrates the rededication of the Holy Temple.
How Hanukkah is Celebrated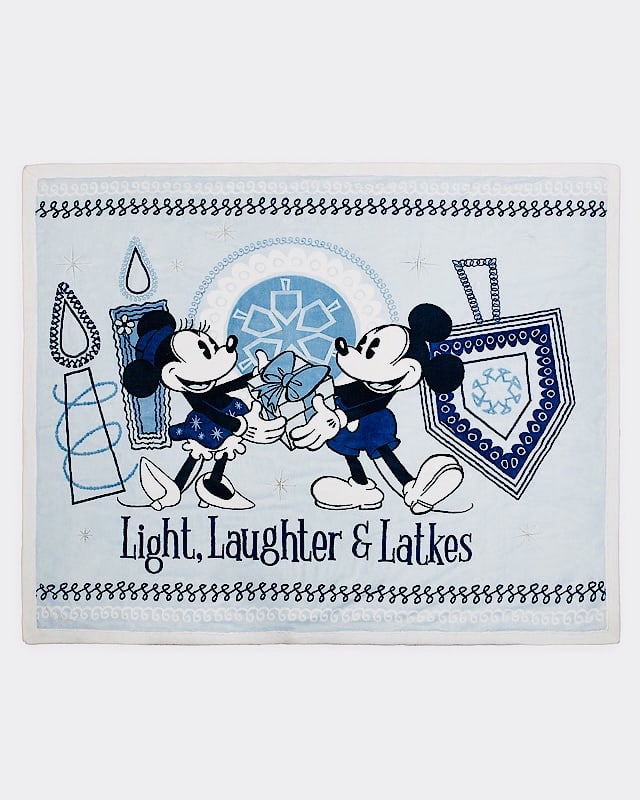 The menorah is at the heart of Hanukkah, which holds nine candles. The first candle is used to light the other eight. On the first night of the festival, one flame is lit. On the second night, an additional flame is lit. All eight flames are lit by the eighth night of Hanukkah.
Before the lighting of the menorah, blessings are recited. After the lighting, participants will sing traditional songs. In addition to homes, the menorah is also lit in synagogues and various public places.
'Tangled" Inspired Menorah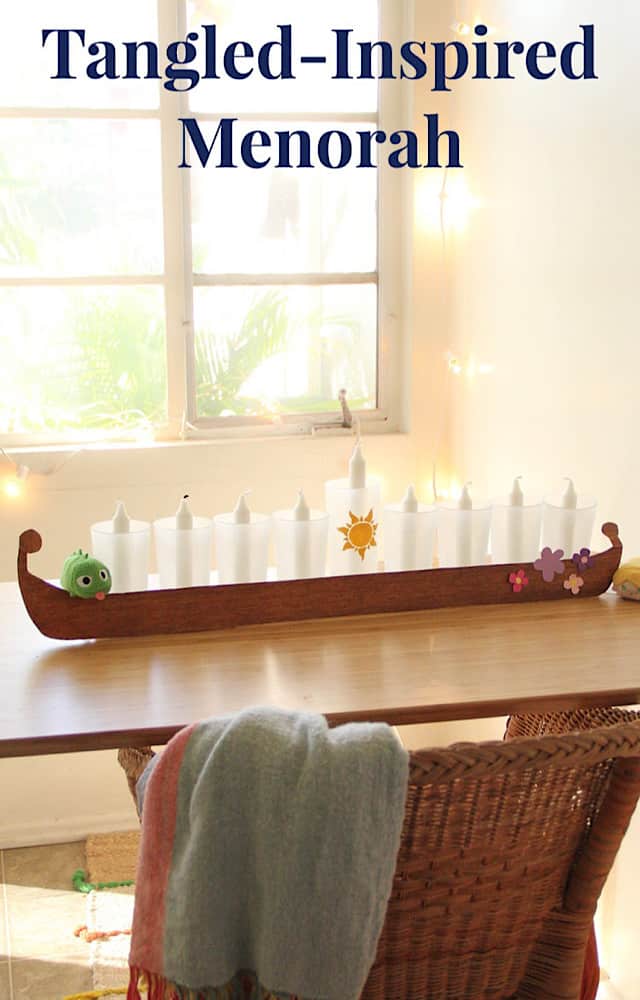 Celebrate the Festival of Lights with this Tangled-Inspired Menorah! Spread joy and light with each "lantern," lit over the eight nights of Hanukkah. This sweet craft is inspired by the beautiful boat scene.
You'll need the following items to create this craft:
9 glasses, 1 taller than the other 8
Frosted glass paint
Long piece of balsa wood
Wood stain (optional)
Scissors
Long, flat piece of wood
Hot glue
9 tall candles
Knife (optional)
Sun template
Cardstock
Yellow paint
Small paintbrush
Purple, pink, and yellow paper
Also, read here for step-by-step directions and a free printable 'Tangled' sunburst.
Menorah Centerpiece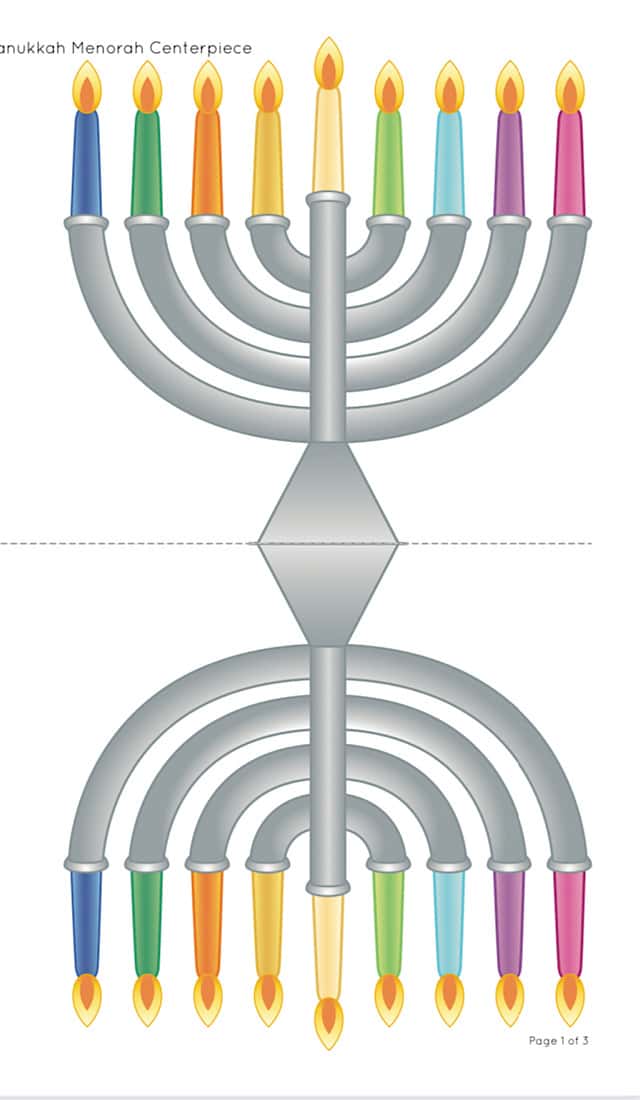 Celebrate Hanukkah with Mickey and Friends. Make this festive centerpiece to decorate in a fun way. For this craft, you'll need cardstock, scissors, and tape. In addition to supplies, print the free downloadable pdf and directions here.
Where to Find Merchandise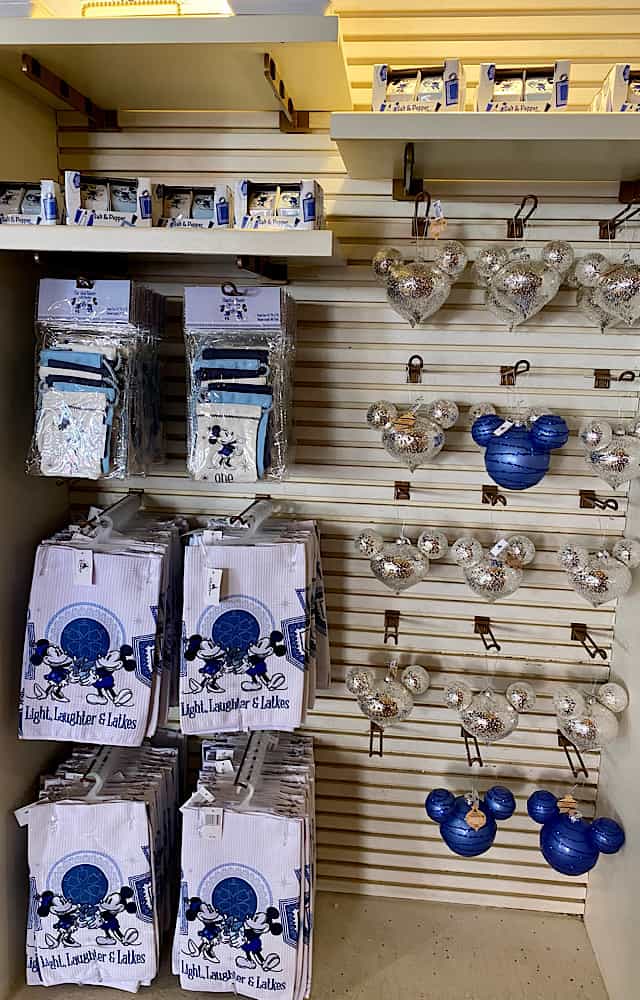 On a recent trip, Christmas merchandise and theming filled up many shops at Disney World. However, I was on a quest to locate Hanukkah merchandise. Also, the only shop to stock Hanukkah items was the Ye Olde Christmas Shoppe located in Magic Kingdom. To find this display, look for a tiny nook inside the store, or ask a Cast Member.
Pirate Tip: Be sure to add discounts to your purchase on ShopDisney. Annual Passholders can save 20% at Ye Olde Christmas Shoppe.
However, this morning I also spotted several Hanukkah items available for pre-order now on ShopDisney.com. Both locations have similar, but not identical merchandise.
Serving Dish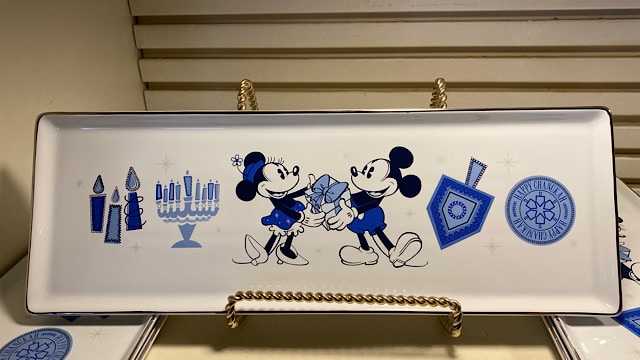 Share smiles as you celebrate the Festival of Lights with Mickey and Minnie on this ceramic Chanukah tray. Perfect for serving holiday foods or just adding flair to your décor for eight delightful nights.
This ceramic tray is available on ShopDisney for pre-order and Ye Olde Christmas Shop at Magic Kingdom. Retail price is $24.99, and measures 5" W x 1/2" D x 14" L. Not machine washable or safe to put in dishwasher, per ShopDisney.
Printable Dreidel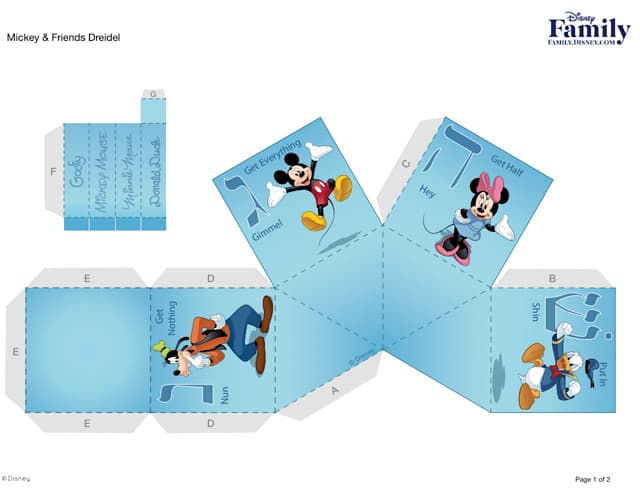 Dreidel is a traditional Hanukkah game. Make your own Mickey and Friends dreidel to bring your family together! All you need to create this adorable dreidel is cardstock, scissors, and glue or double-sided tape.
For complete instructions and the Mickey and Friends dreidel color printable, read here.
Dreidel Salt and Pepper Shakers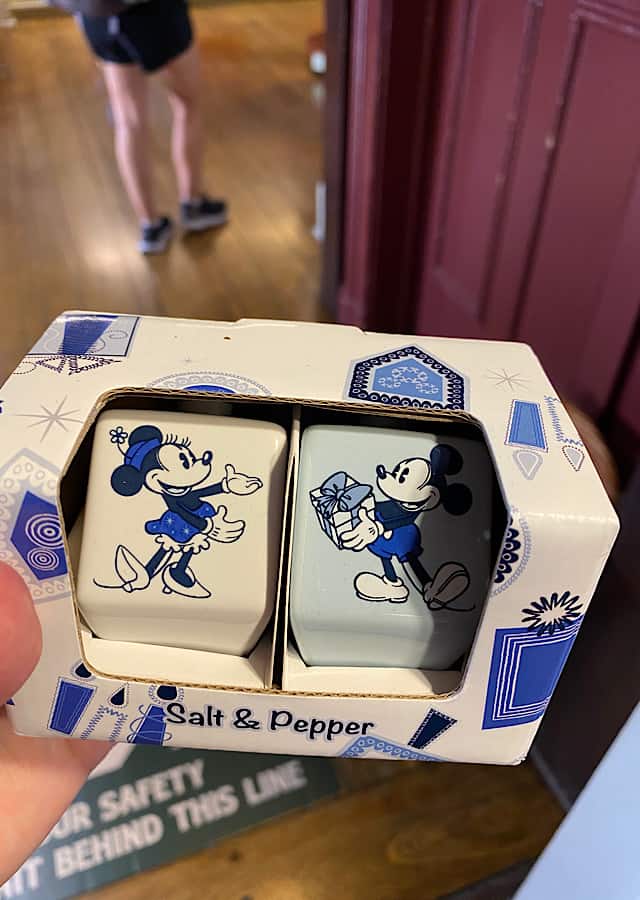 I spotted the dreidel salt and pepper shakers at Magic Kingdom's Ye Olde Christmas Shop. They retail for $19.99. Also, the dreidel design adds a whimsical feeling to your holiday decorations.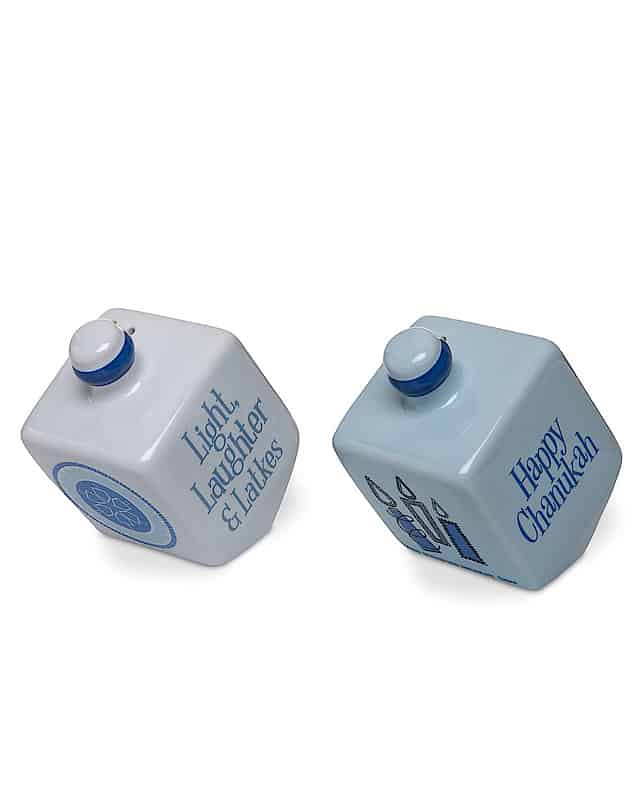 These adorable dreidel salt and pepper shakers are available for pre-order now on ShopDisney also. They can be purchased by following the link here.
Place Cards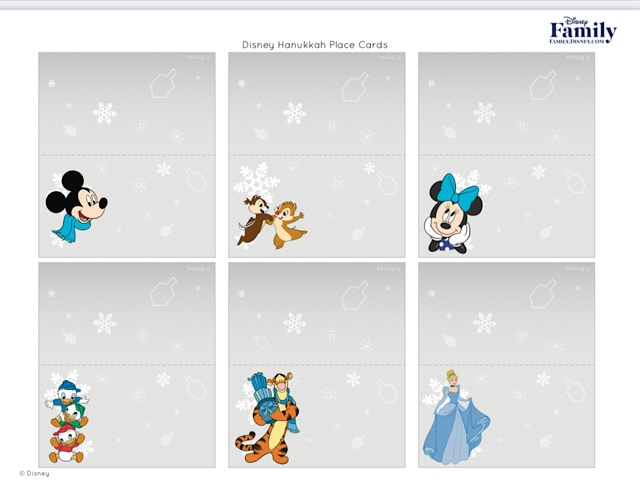 Hanukkah is a time for creating special family memories. Welcome your guests to your Hanukkah feast with these adorable place cards. All that's needed is cardstock, scissors and Disney's free color printable place cards found here.
Banner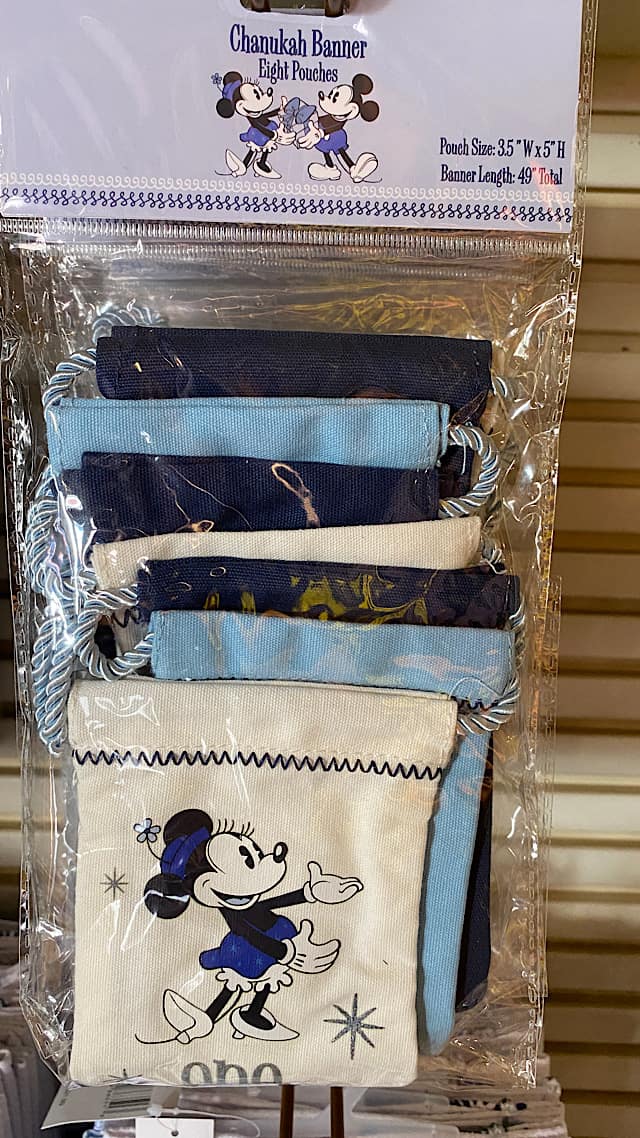 Another item available at Ye Olde Christmas Shoppe in Disney's Magic Kingdom is a blue and white Hanukkah banner. As of now, the banner is not available on ShopDisney.
The Chanukah banner contains 8 pouches, each measuring 3/5″ wide by 5″ high. The total banner length is 49 inches. It retails for $24.99.
Gift Tags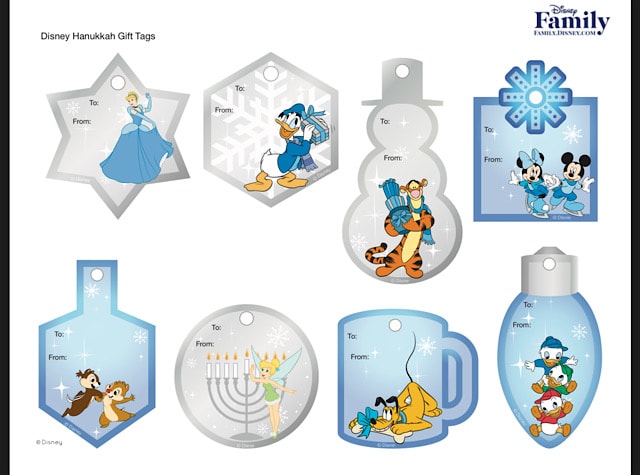 If you're giving gifts this holiday season, Disney provides free Hanukkah gift tags to add a little extra fun to the party! Colorful designs including our favorite Disney characters can be downloaded and printed here. All you need for these fun tags is white cardstock, scissors, and a hole-punch.
Kitchen Towels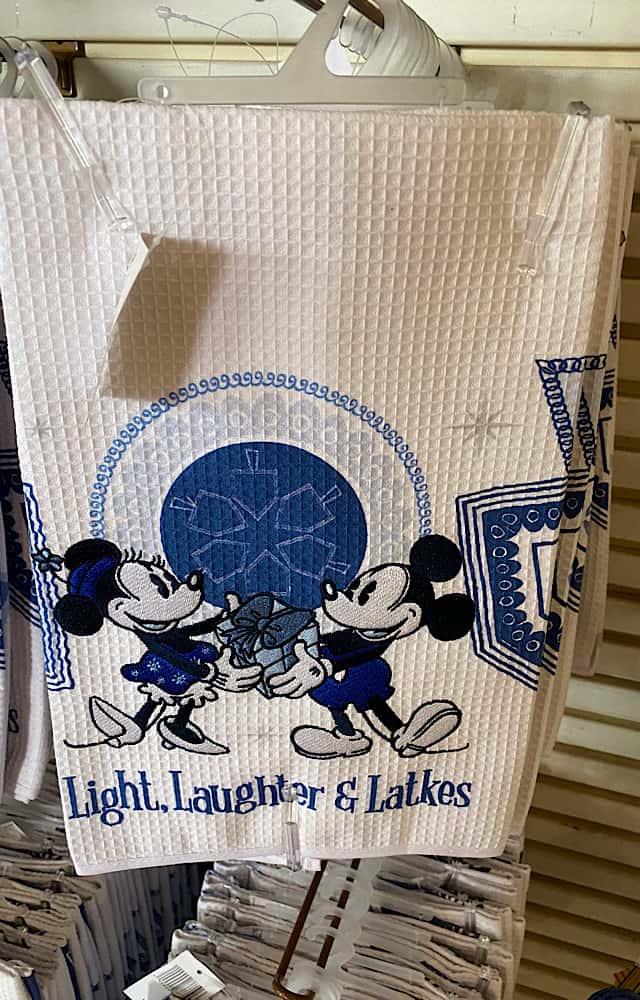 Celebrate Hanukkah with Mickey and Minnie with these charming kitchen towels. This set is sure to light-up faces as our famous couple exchange presents on one towel. Also, the other features a festive blue screen art pattern along with "Happy Chanukah."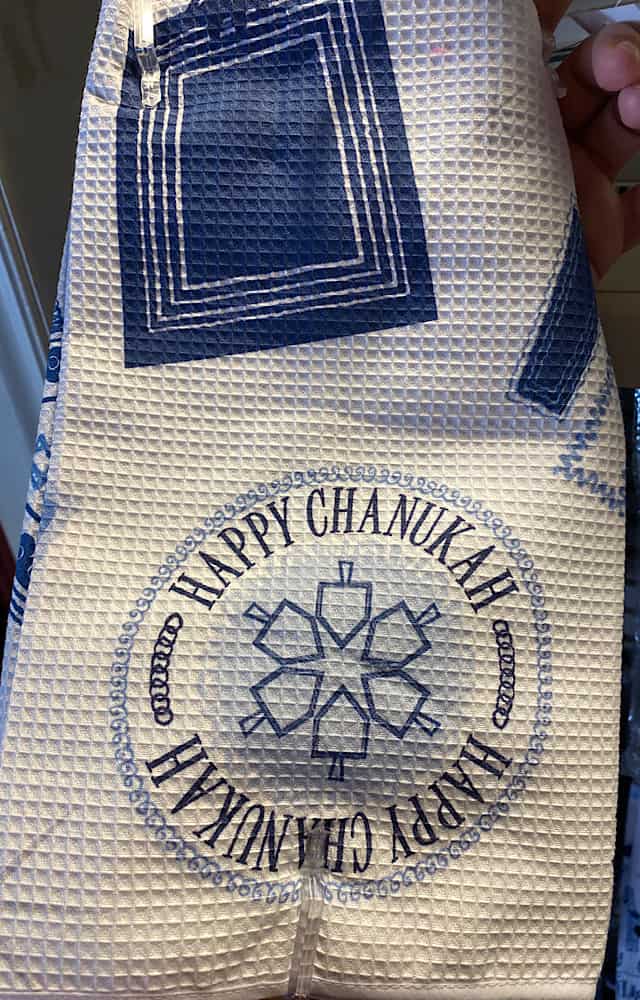 These towels come in a set of two, with each measuring 15 1/2"W x 24" L. They're washable and retail for $21.99. In addition, I spotted these waffle-weave cotton towels in Magic Kingdom's Ye Olde Christmas Shoppe and on ShopDisney for pre-order. Per ShopDisney.com, these items are expected to ship 11/27/20.
Mickey Candy Box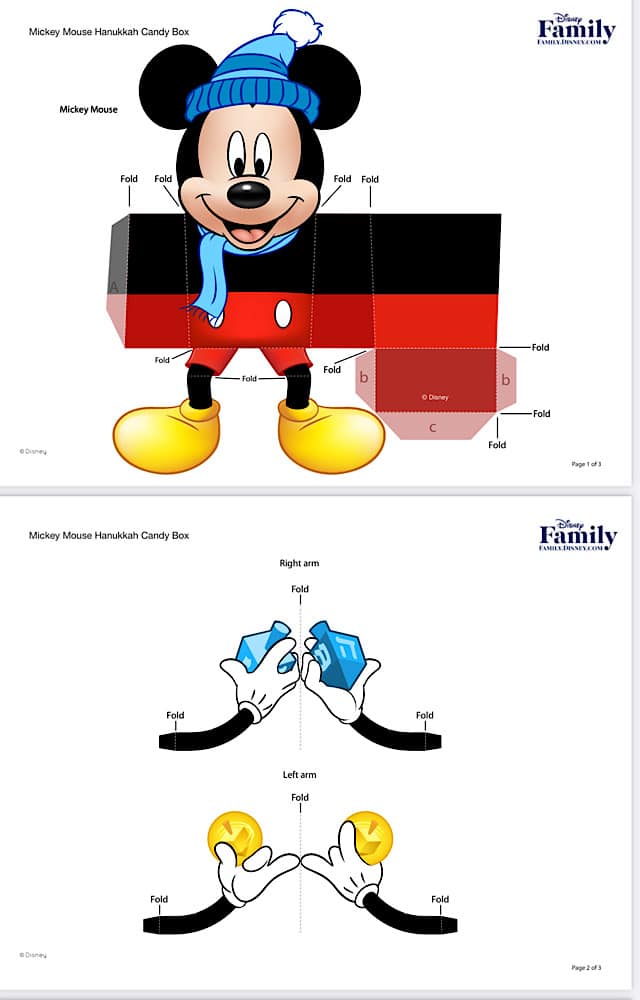 Drop a few sweets into this Mickey Mouse candy box and give someone a special Hanukkah treat! These are adorable and will be loved by children of all ages.
For this craft all you need is white cardstock, scissors, and tape. Check out step-by-step instructions, along with the free pdf printable here.
Fleece Throw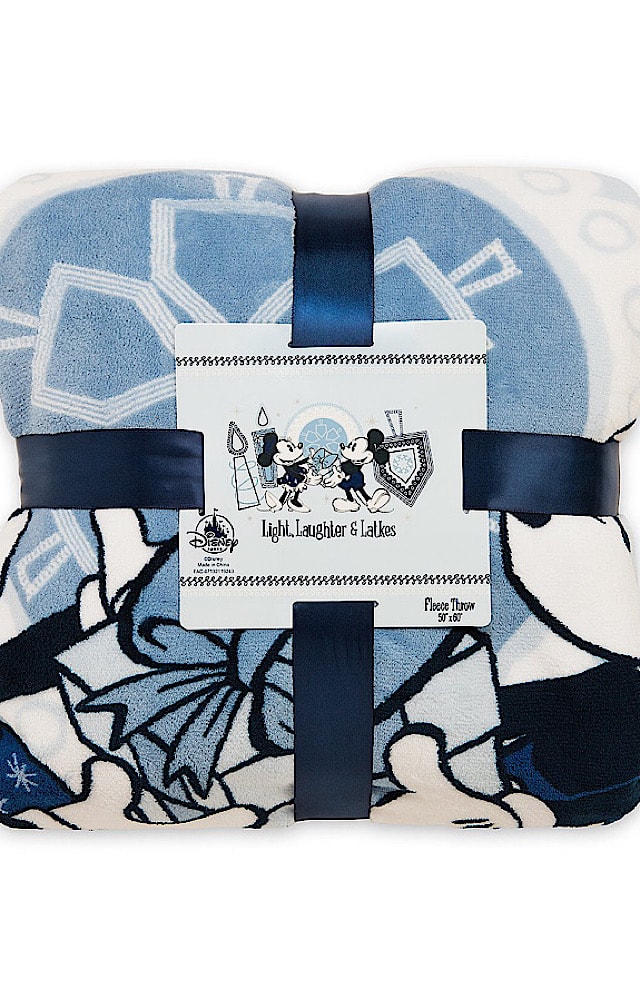 It seems that Disney creates a fleece blanket for almost every occasion. Although not offered in person at this time, I spotted this beautiful blanket available on ShopDisney.com.
Cozy up under our festive fleece throw this Hanukkah for all eight nights. Mickey and Minnie exchange gifts on the front of this large blanket and appear atop the text "light, laughter & latkes." Fastened with a blue satin ribbon, this throw makes a perfect present!
Disney states this throw is part of the "Disney Parks Chanukah Collection" so hopefully it will show up soon in Disney Parks. Also, the throw is 100% polyester, and measures 50″ x 60."
Throw can be purchased on ShopDisney.com here.
Ornaments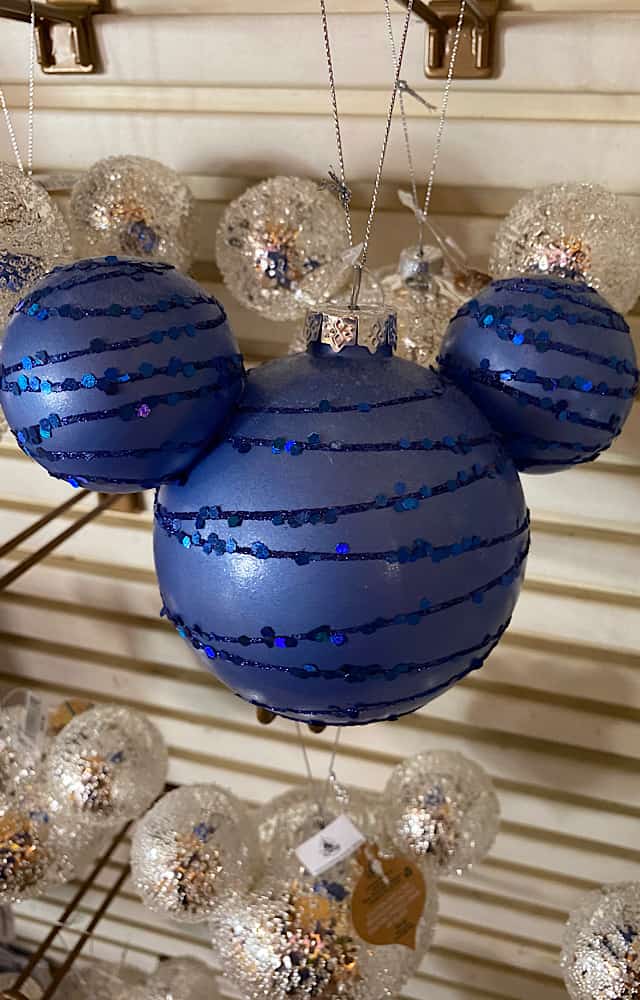 Ye Olde Christmas Shoppe also placed a few ornaments that fit in with Hanukkah colors. In case you're interested in these, these glass ornaments can be also be purchased on ShopDisney.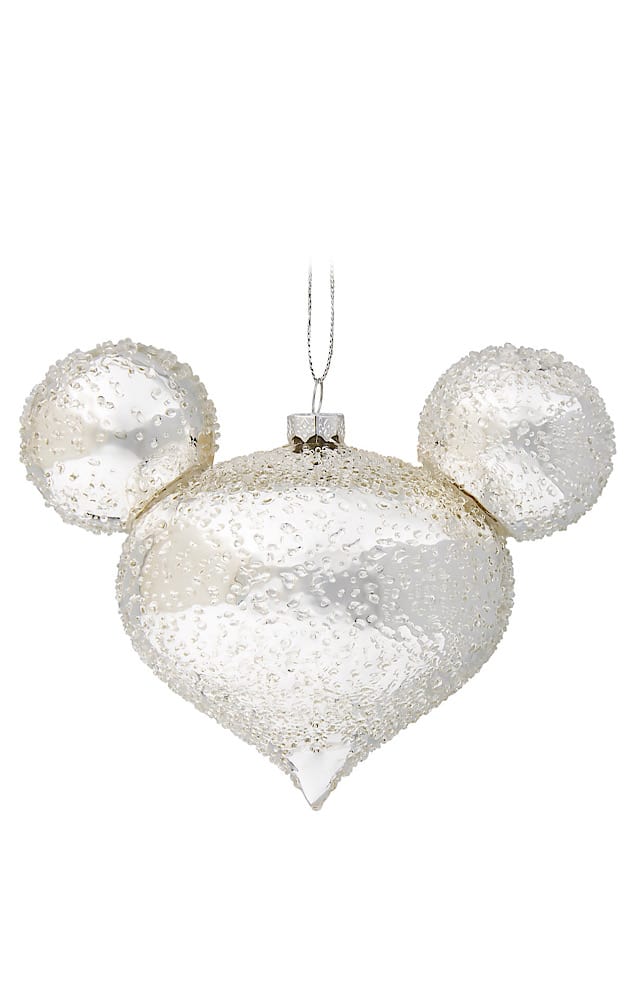 Each glass ornament retails for $26.99, and comes with a cord for hanging.
Final Thoughts
I love seeing Hanukkah merchandise both online and in the Disney Parks. If your family celebrates Hanukkah, what traditions do you cherish most? What holiday products would you like to see Disney create?
We would love to hear your thoughts, comments, and ideas on our Facebook Page and the Kenny the Pirate Crew group.
Source for Hanukkah Information: chabad.org