With so many projects delayed at Walt Disney World, we are happy to see the ones that are progressing. Here is a look at the latest construction updates for TRON Lightcycle Power Run.
TRON
Are you excited for TRON Lightcycle Power Run's grand opening? If so, you are not alone; this attraction is hotly anticipated.
TRON Lightcycle Power Run is a rollercoaster that is under construction right now in Walt Disney World. It will be located in Tomorrowland in the Magic Kingdom.
The attraction is based on Disney's 1982 film TRON. The movie has the distinction of being the first film to combine live-action sequences with computer-generated and animated elements.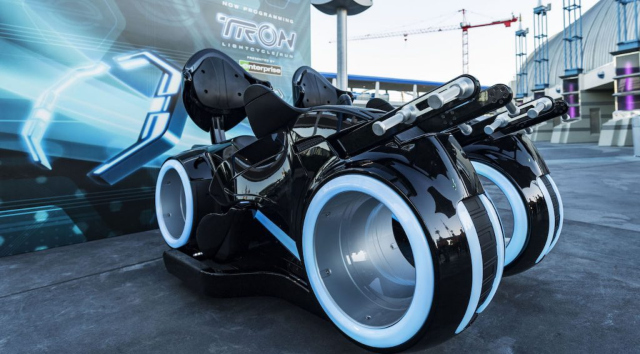 The original version of the attraction is in Shanghai Disneyland. It is described as a dark thrill ride with large drops.
Riders hop aboard motorcycle style ride vehicles as they speed through the dark ride. If is all the more thrilling because it is one of the fastest indoor coasters in the history of Disney's parks.
Disney has a great video of the attraction. You can check it out below.
Shanghai's finished attraction looks amazing. It is no wonder it has been so popular.
But, where does the Disney World version stand?
TRON Updates
Recently, Imagineer Zach Riddley provided intell on where TRON is in terms of construction. He took to Instagram to share photos and videos with fans.
You can see from the photos that the ride's tracks have taken shape. Additionally, you can see the beginnings of the installation of the first section of the canopy.
In his post, Riddley shares his excitement for the ride's progress. He states,
"This is one of nearly 40 pieces that will create a dramatic 'curved wave' canopy, known as the Upload Conduit, which will flow organically over guests as they race underneath on their Lightcycles" (2020).
In addition to the photos, Zach Riddley shared a video compilation of work being done on the attraction. Disney Parks Blog shared it on their Intagram as well.
As you can see, progress on the ride is moving along. While construction in other parts of Disney World has come to a halt, Tomorrowland looks as if it has a Great Big Beautiful Tomorrow well under way.
When to Expect TRON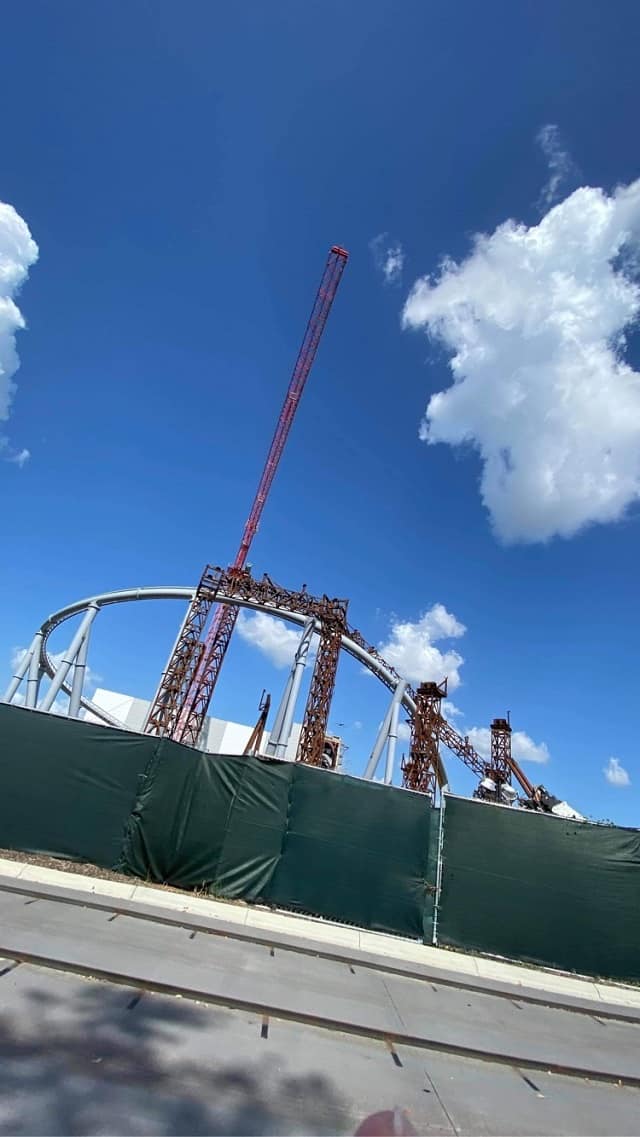 At this time, TRON is still slated to open sometime during Walt Disney World's 50th Anniversary in 20201. Naturally, the KtP Crew will keep you updated if any more news arises concerning the opening.
TRON is COMING IN 2021!
Currently, guests visiting the park are taking notice of the construction. In fact, KtP writer Susan sent some fun photos from her most recent trip.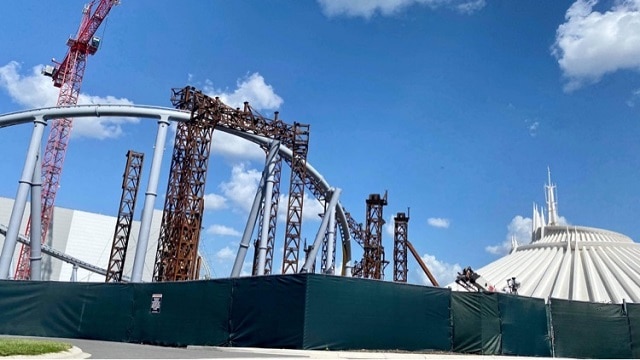 Guests who visit the parks frequently will be able to see it come together over the next few months. It will be exciting to see how it fits in with the familiar Tomorrowland skyline along with familiar fan favorites like Space Mountain.
More importantly, it will be exciting to see Tomorrowland with no construction walls! We can hold onto hope that MK's anniversary will be free of green walls and cranes and filled with new fun to be had.
Are you getting excited for TRON? Are you one of the lucky people who has ridden Shanghai Disneyland version? Let us know on the Kenny the Pirate Facebook page. Don't forget to join the KtP crew page too!