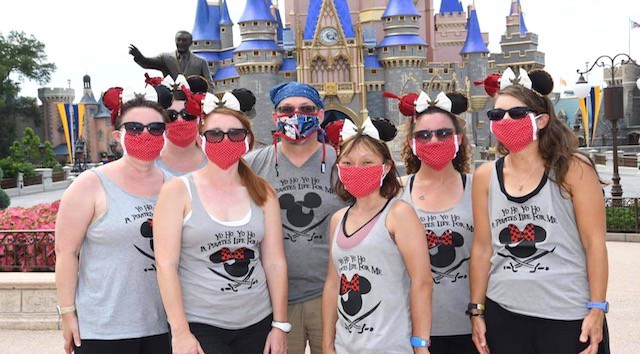 13 years ago a man named Kenny stumbled across a contest called the "Career Builder Disney Dream Job Contest" at Disneyland. Our KtP writing team recently gifted him something special to show our appreciation for him, and I think you would love to check out the business behind the gift, AMountainMadeHome. Bonus: they are fellow KtP followers!
Through a process of video entries and online voting for the Career Builder Dream Job contest, he was chosen to be one of 5 contestants in the pirate character category and the rest, as they say, is history!
I personally, have been a subscriber to Kenny's website and the Character Locator website since 2014. I have been visiting the parks with my family since I was 3 months old and never realized that we were doing everything wrong until I stumbled upon his site. 
Over the years, I have had the honor of watching the Kenny the Pirate blog blossom and expand to offer more tips and tricks to make our vacation the best it can be.
I was fortunate to spending a Mickey's Not So Scary Halloween Party night with him and his daughter Debbie back in 2016, and there is nothing else to say except Kenny and his whole family are the best people you could ever hope to meet.
They are kind, generous, caring and funny.
Last August, Kenny reached out to the crew looking for some writers to join his team. I knew this was something I absolutely wanted to be a part of. Being a follower of Kenny the Pirate and a member of Character Locator app for years, I wanted to do anything I could to help promote his business.
It has been an amazing journey so far! The writers are now some of my best friends and I will always be grateful to Kenny for allowing me to be a part of this family.
Even during these difficult times, Kenny has consistently remained a positive person. He has an ability to see the hope in any situation.
As you can imagine, being a Disney blogger when the parks are closed presents quite a challenge.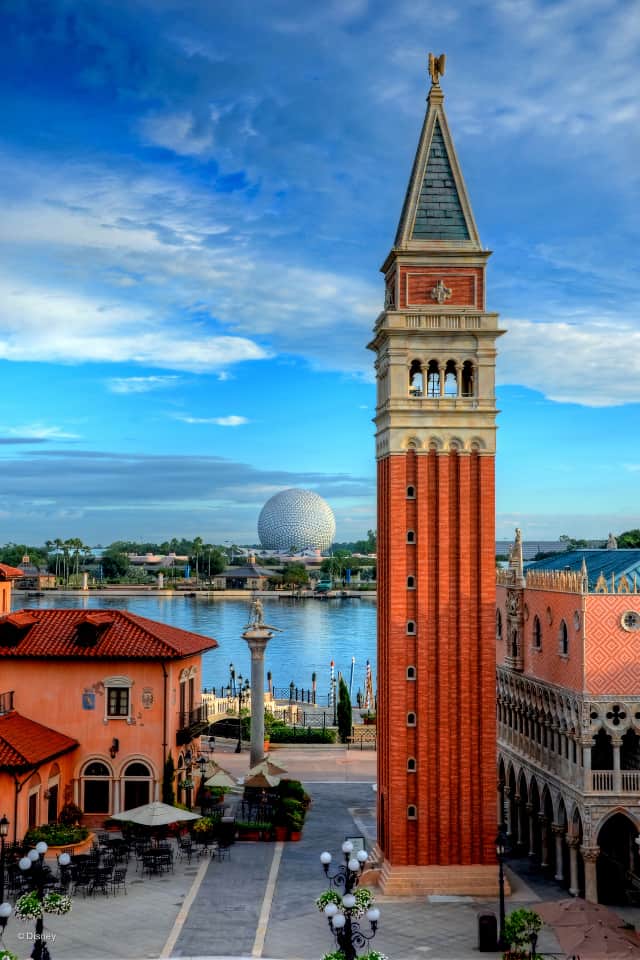 Most things we report on are heavily related to the theme parks, resorts, and attractions. When those don't operate, finding writing content can be a struggle.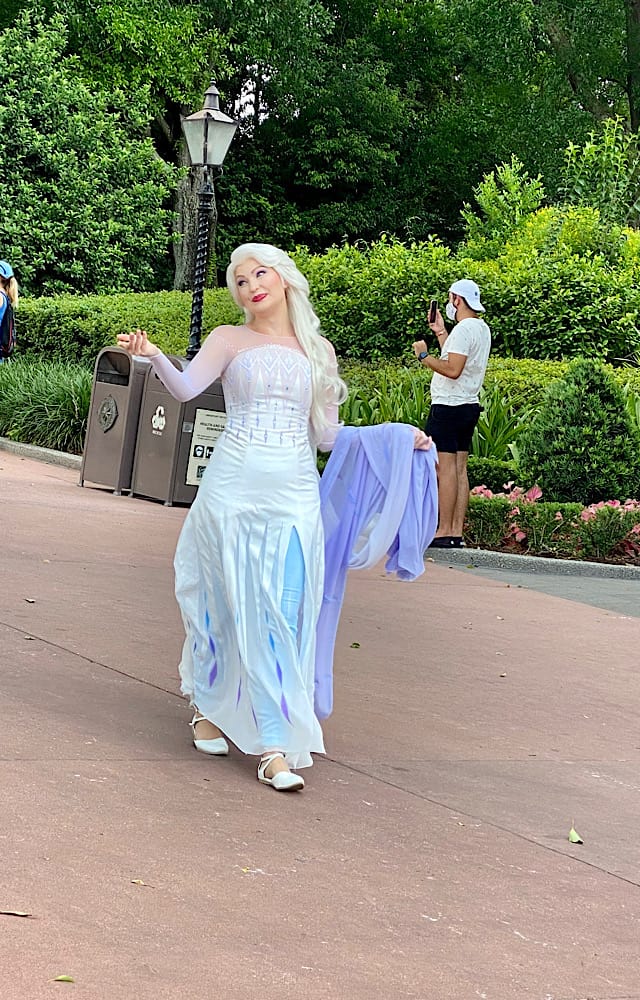 When the news of the theme park closures came out, Kenny immediately began to think about what our readers wanted to see from us, as he always does. He knew that in order to maintain the blog and continue to provide quality content, we had to temporarily shift our focus away from the parks. 
I am constantly in awe of how the entire KtP writer team stepped up and continued to produce great content despite there being no parks open.
We focused on fun crafts and activities for families to do at home together, posted delicious Disney snack recipes to try, made up March Madness character and attraction brackets to vote on, and continued to report on updates relating to the parks reopening.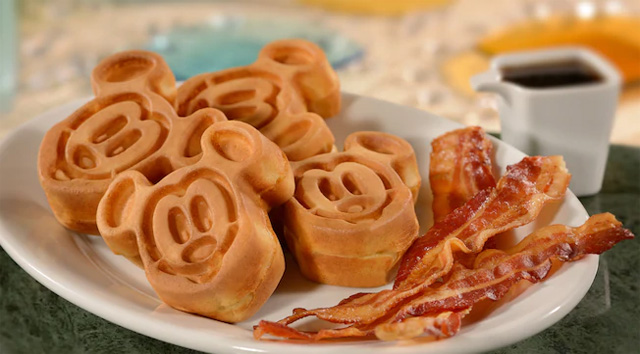 None of this could be possible without our fearless pirate captain at the wheel! He inspires us everyday to be our best selves.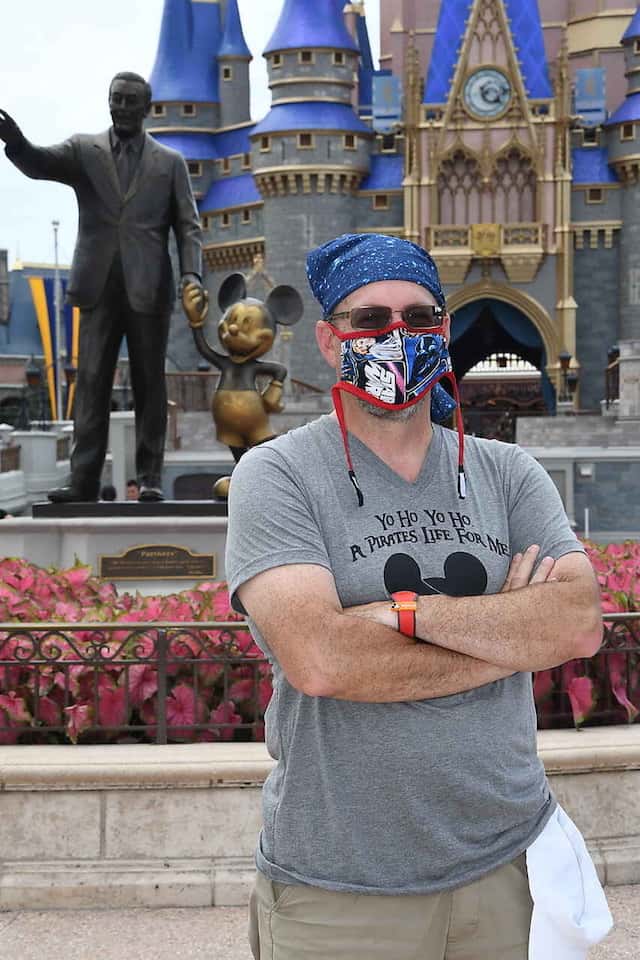 For all Kenny has done, our team of 15 writers wanted to do something special for him as a thank you for all he has done.
He has been a constant support to us and kept our spirits high during the quarantine.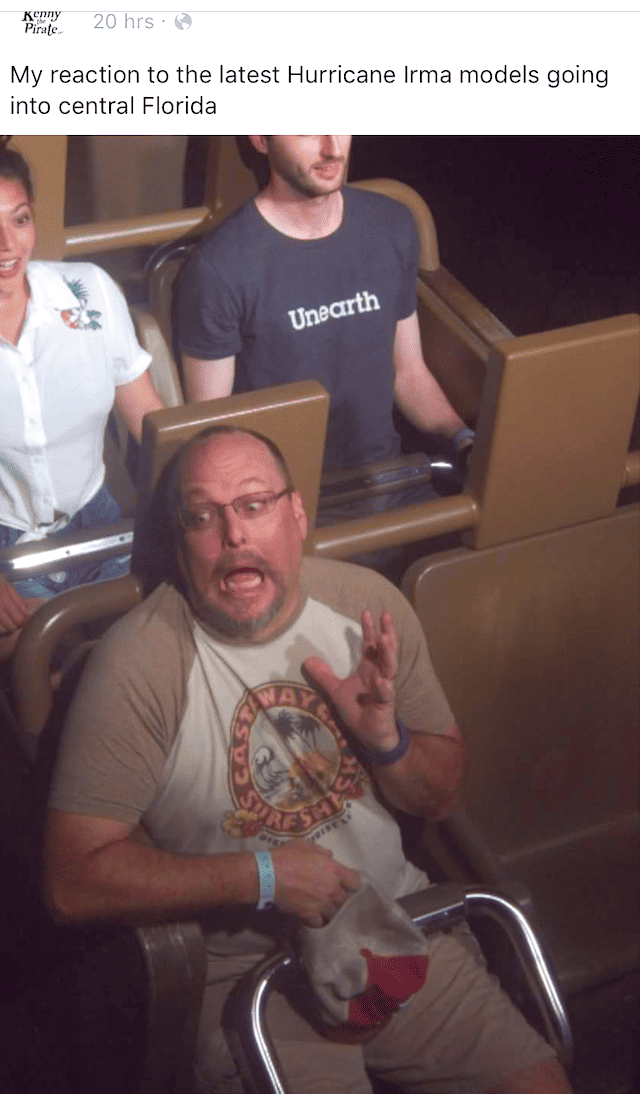 Planning the Perfect Gift
We decided to put together a Shutterfly photo book compiling a history of Kenny's best adventures.
Everything from his Dream Job contest to his various park challenges that he has completed over the years was included. We also added personal thank you notes from each writer.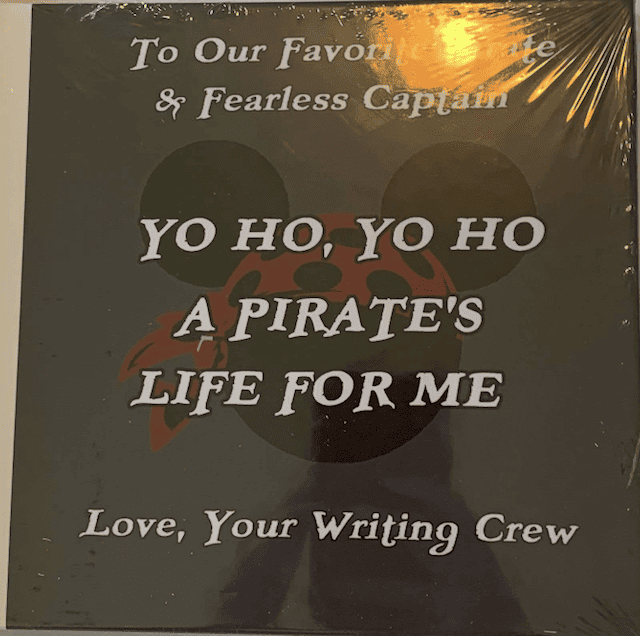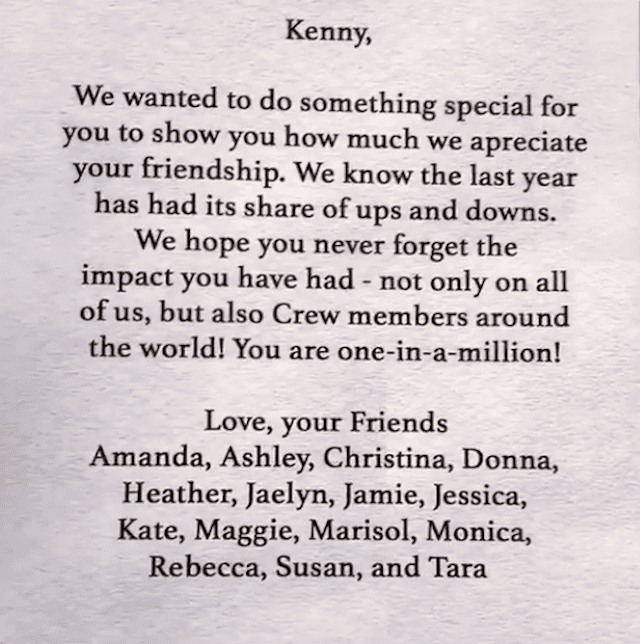 On a whim, I decided to google Disney pirate gifts in hopes of finding something cool that we could give to Kenny with the book.
I stumbled upon an Etsy shop called AMountainMadeHome. They specialize in custom wood crafts and gifts.
The reason their shop popped up in my search results was this plaque: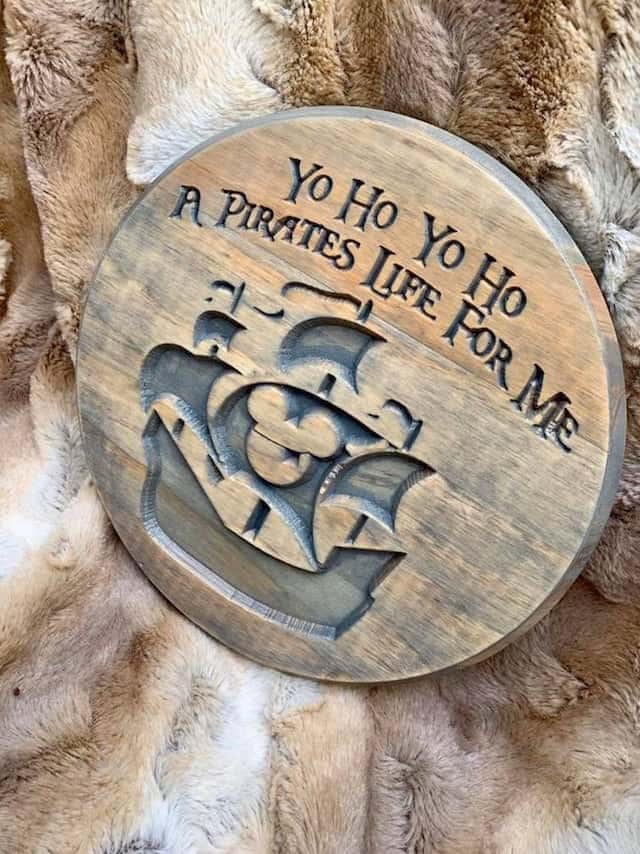 When I saw it, I knew immediately this was the perfect gift for us to give to Kenny. The Pirates of the Caribbean attraction references coupled with the pirate mickey in the center was everything we were looking for and more.
I reached out to the Sellers to see if it was possible for them to customize the plaque with "Kenny the Pirate" at the bottom. The Sellers were absolutely amazing to work with! They responded to all my messages quickly and answered any questions I might have.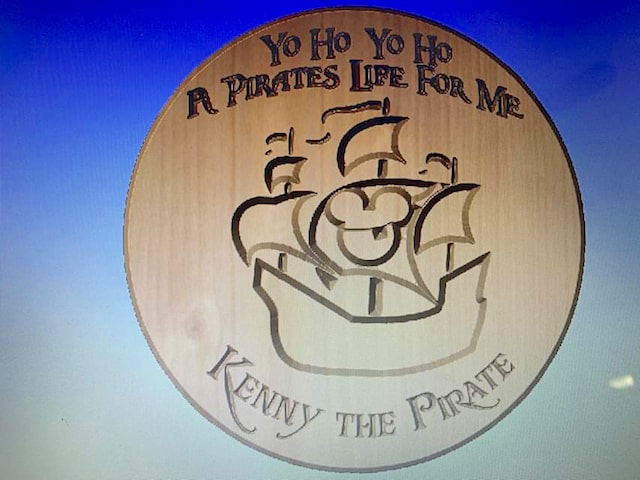 Through the entire process they sent me mock-up drafts, so that I could request minor changes and make sure we loved the product.
When I asked them to write Kenny the Pirate down at the bottom, I received a message back asking if this was for THE Kenny the Pirate. Turns out, their family are members of our pirate crew!
This is just another example of how far Kenny's impact extends, and it warmed my heart that his very own crew members would be involved in making his special gift.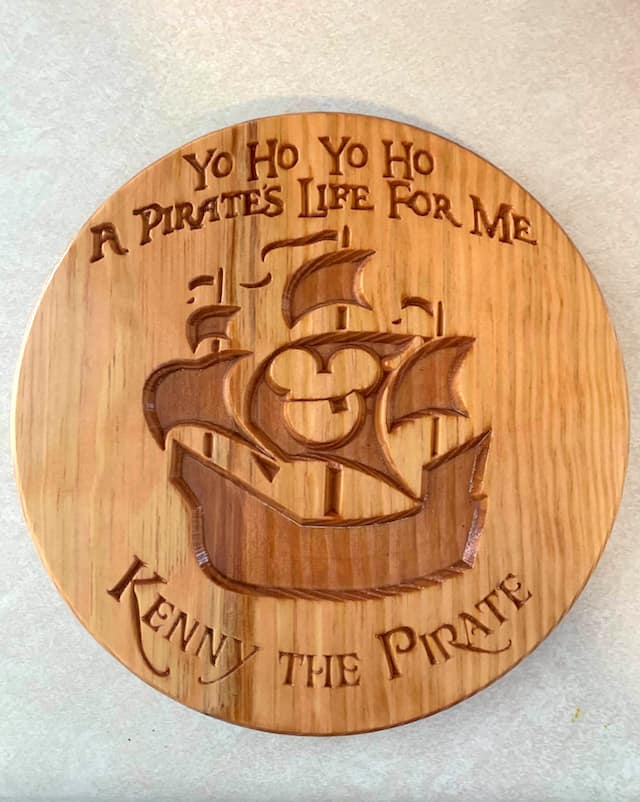 Each plaque has a cut out in the back to properly sit on a wall hook if you are looking to hang it.
They also had a ton of wood stain color options to choose from and many different designs in their shop. You can also ask if they will custom-make an item for you.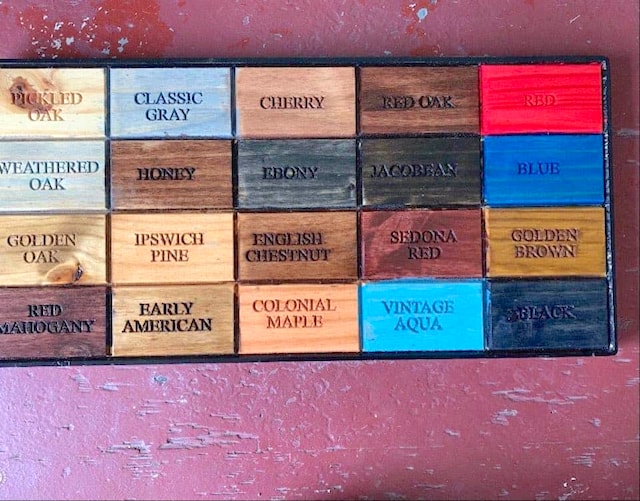 I also asked them to make me a custom-made Adventurer's Club Member plaque for my dad for Father's Day.
They worked with me until they got it to look exactly how I wanted it. My dad absolutely loved his gift!
The Big Reveal
We had planned a writers trip get-together at Walt Disney World this July. Unfortunately, due to Covid-19 and travel restrictions, many of us were not able to attend as planned.
A small group was fortunately able to still go and brought his gifts with them to the parks. They video-called those of us stuck at home so that we could watch him open them live.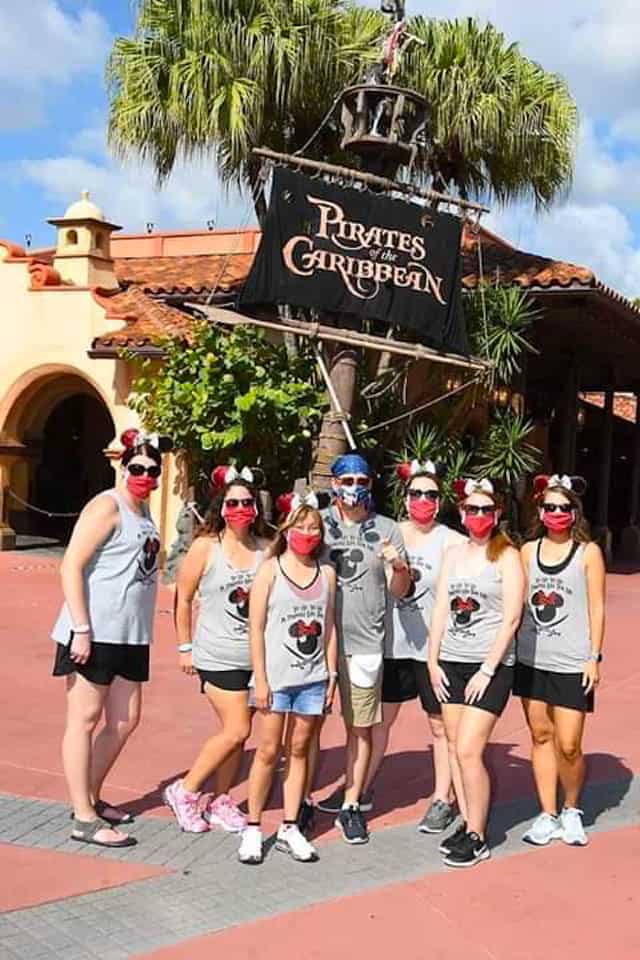 We even had our own Top Secret Facebook chat to discuss the planning of his gift so that we wouldn't accidentally spill the beans before the big day! I can't tell you how hard that was for some of us…(ahem, Kate…)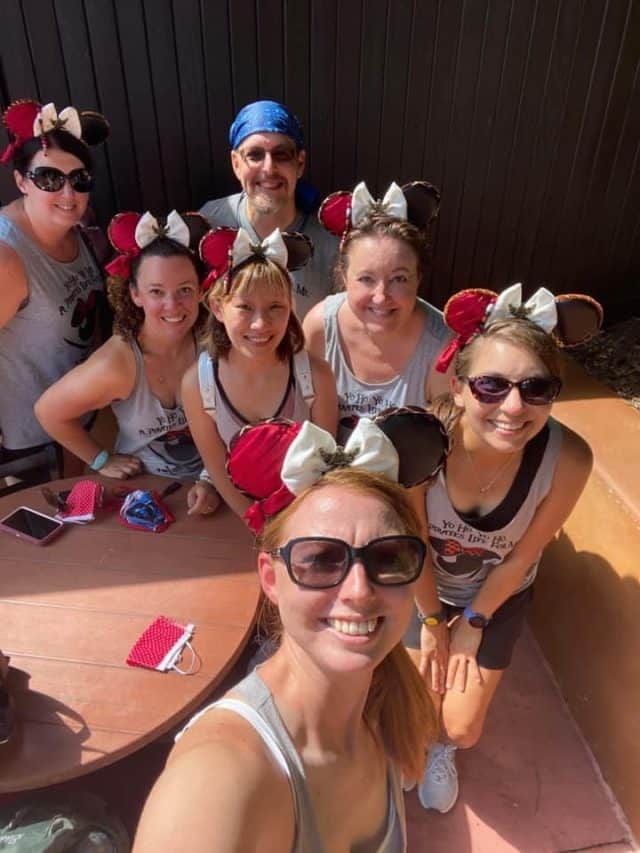 Our amazing editor, Monica, handled putting together the photo book. You can see some of the pages she made below.
There was a lot of hard work put into this as well, and I think it meant a lot to Kenny to see on paper how many lives he's touched.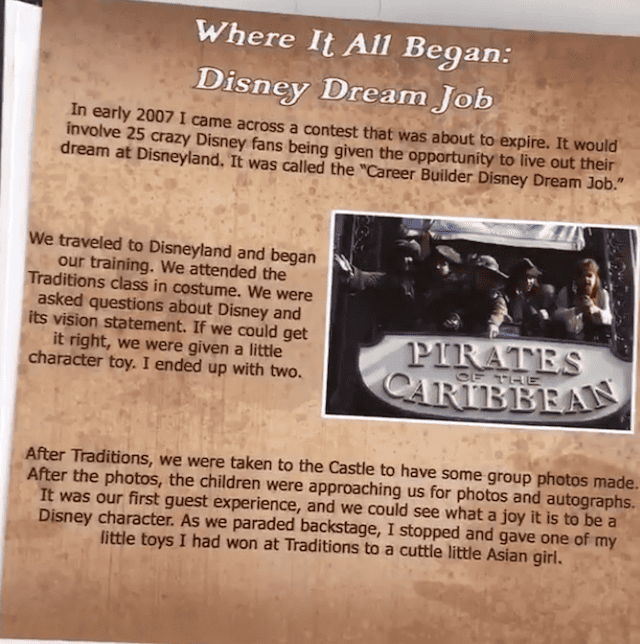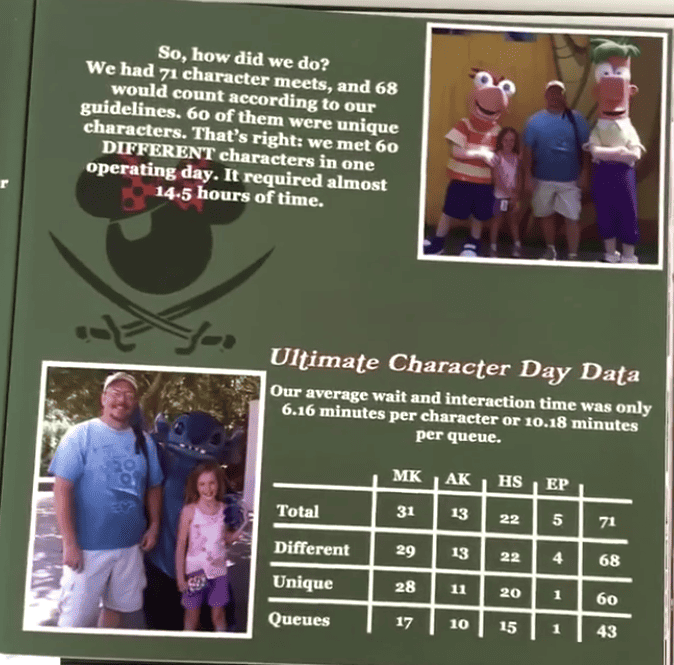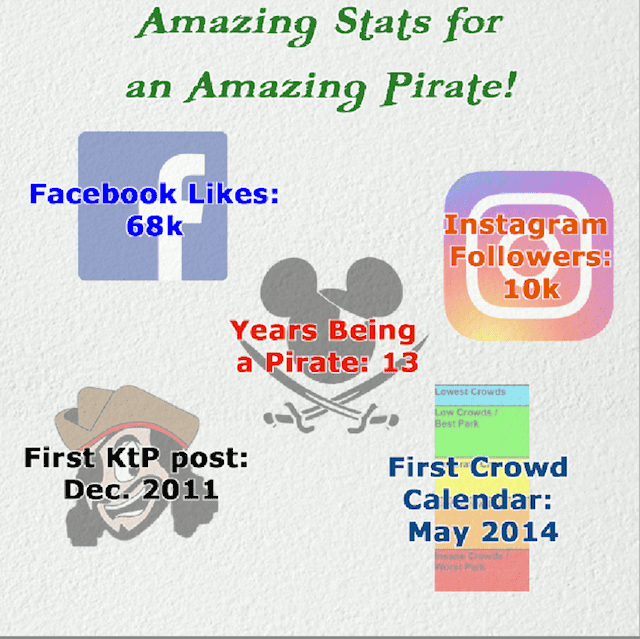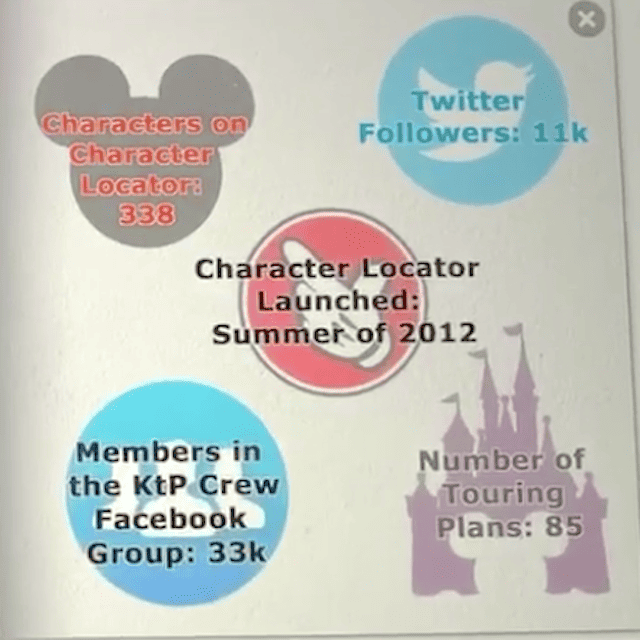 It was so great to see Kenny open his gifts! Even though I couldn't be there in person to witness it, I got to see his reaction in live-time.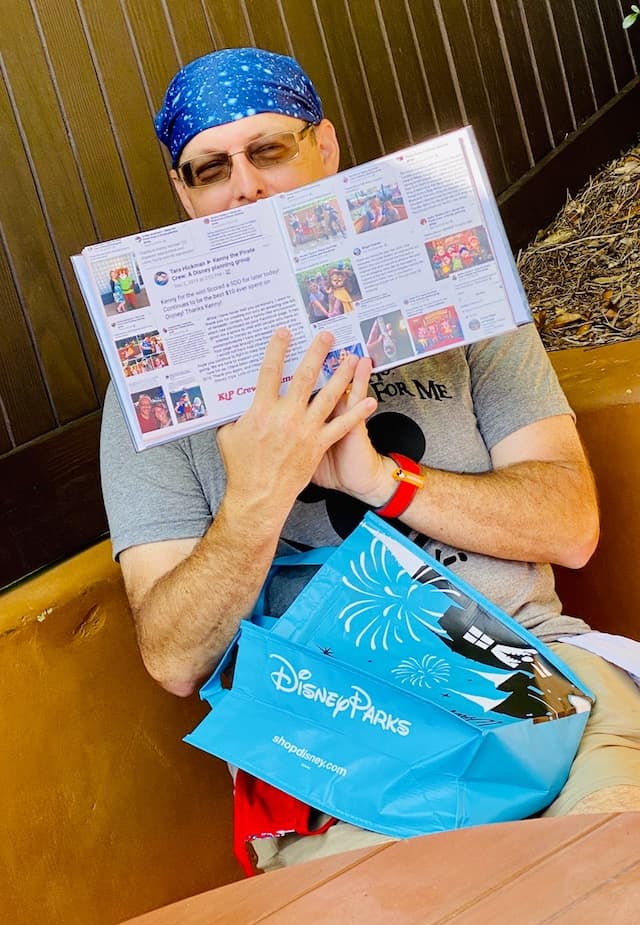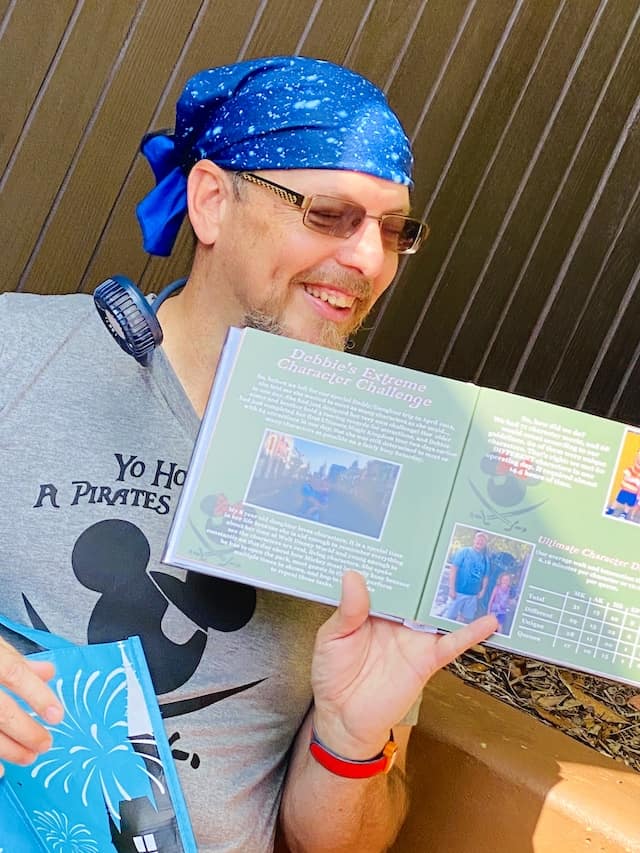 I think that day was super special for all the writers. There was a labor of love put into picking the perfect gifts for such a special person, and I know he loved them.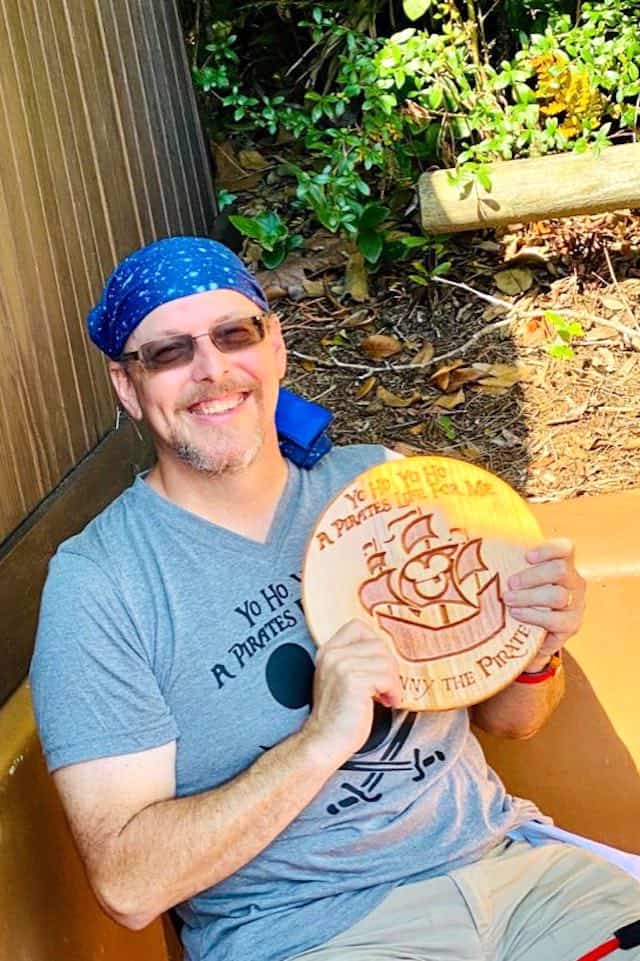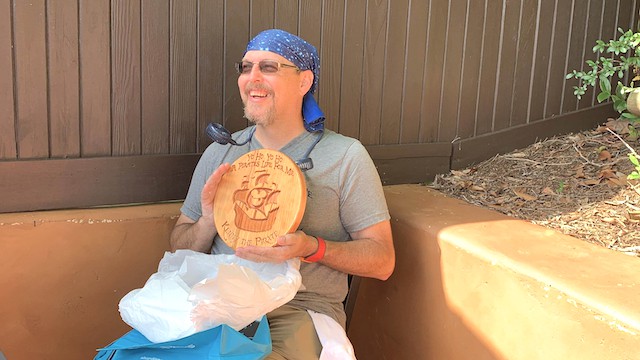 Kenny has taught us all to live by Walt Disney's words "if you can dream it, you can do it". I know all of us on the KtP writer team can't wait to see what's in store in the future for our wonderful leader.
There's a Great Big Beautiful Tomorrow, Shining at the end of every day! There's a Great Big Beautiful Tomorrow, Just a dream away!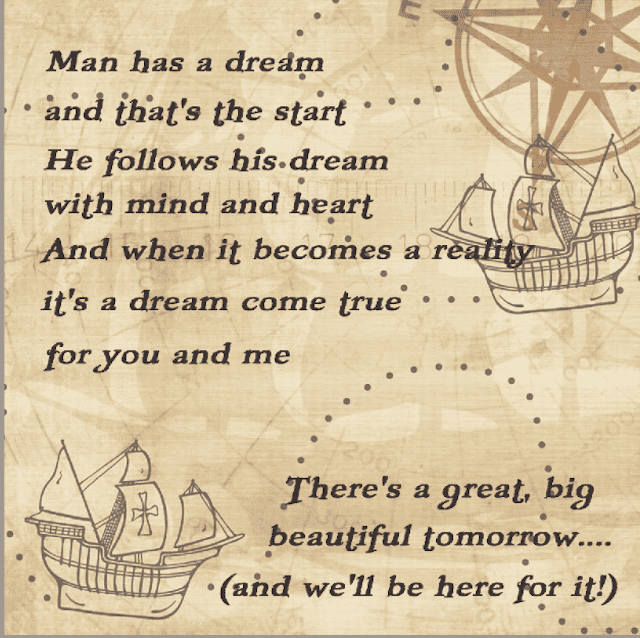 About AMountainMadeHome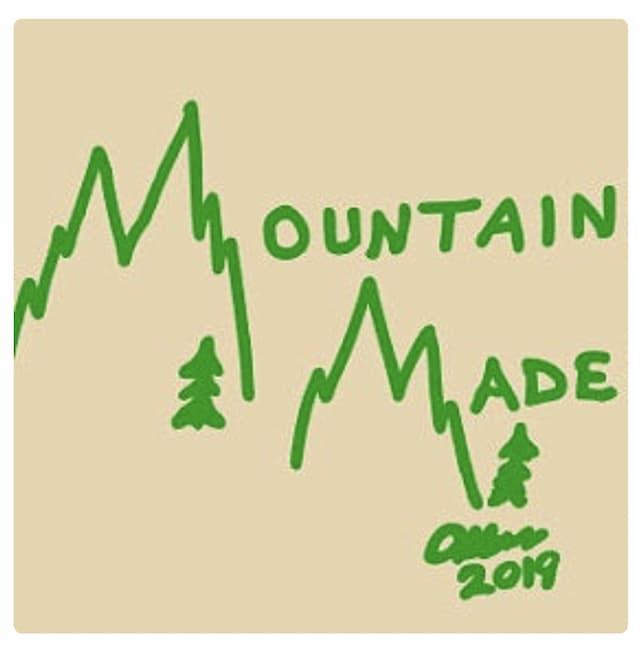 We wanted to take the time to also feature the wonderful owners of AMountainMadeHome Etsy shop. As previously mentioned, we found out along the way that they are followers of Kenny the Pirate and wanted to send our thanks and gratitude for helping make this surprise gift so magical!
The shop is a family business based in Pennsylvania, run by Karen Hibler and her boyfriend John Hatton. Karen's daughter Danielle also helps out with the website and social media components of their business.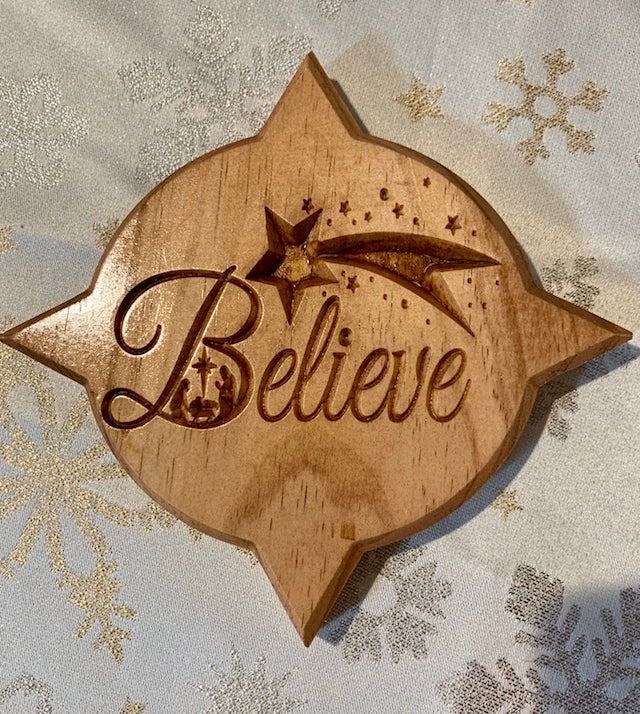 They started their business only a few years ago as a fun and unique retirement project and pride themselves on being able to create "ANYTHING" a customer is looking for. Custom products are their specialty. They love taking a customer's idea and turning it into a wooden art piece.
"It's awesome to see them come to life, and so rewarding to get good feedback." – Karen
Making a Masterpiece
It takes about 2 weeks to create a project from start to finish. The designs are created on a computer and then carved onto wood by a machine.
Depending on how detailed a design is, the carving can take hours to finish.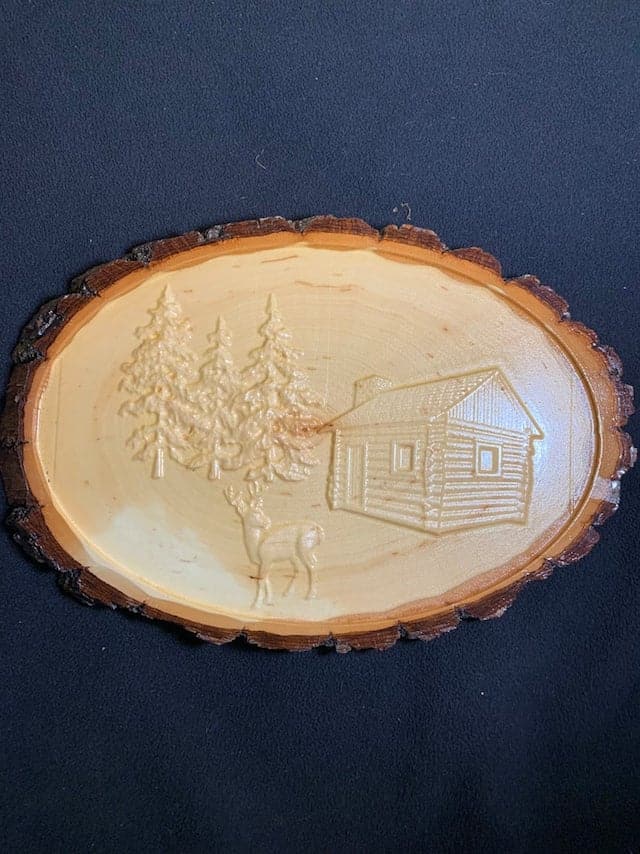 Once the design has been carved, they sand it down and stain it with one of their many stain color options (seen in previous photo above).
After the staining process, it is sealed numerous times to ensure a perfectly smooth product.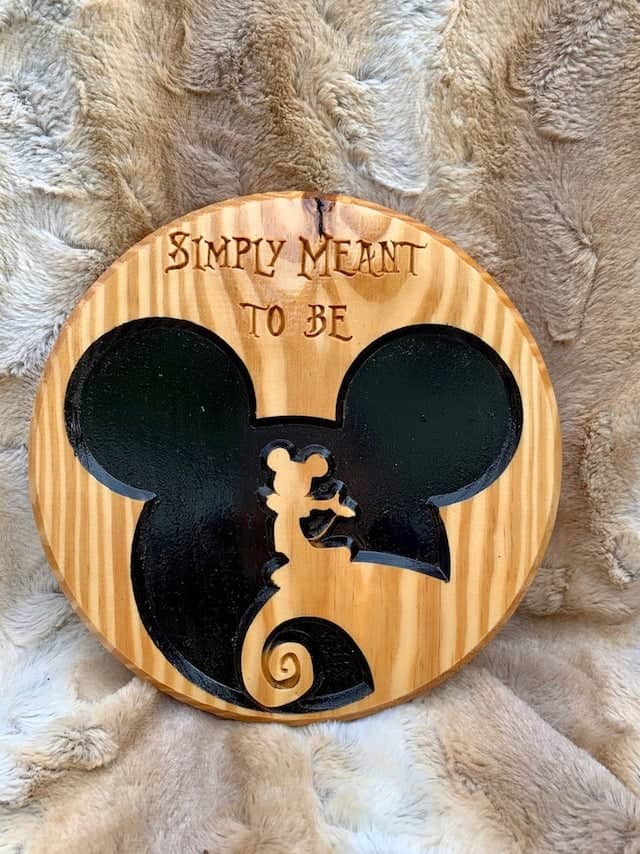 Once the item is finished and ready to be shipped, you simply get a notification of shipment from Etsy.
When I had accidentally paid twice for shipping on my custom order, Karen was quick to contact me to refund my payment. They were just amazing to work with all the way around!
I can say with pure confidence if you are looking for a special gift for a friend, or family member, consider checking out their shop. They are wonderful people to work with and part of our KtP family!
Has Kenny vacation planning expertise helped your family make more of your vacation? Do you own any wood art from AMountainMadeHome? Let us know in the comments below or on our Facebook page!
-Christina