While the state of Florida is still struggling to control the outbreak of the novel Coronavirus, some localities, including the area that contains Disney World, are improving.
If you're following the latest wave of the Coronavirus outbreak, you've likely heard in the news that the state of Florida is getting hit hard at the moment.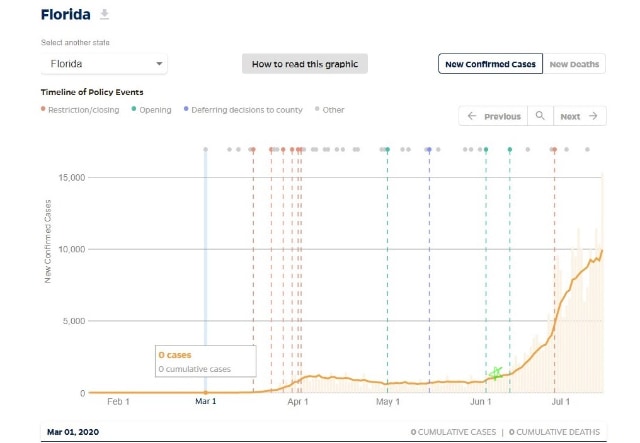 It was unfortunate for Disney's grand reopening that it occurred at the same time Florida was declared the world epicenter of the virus.
However, if you're planning a trip to Disney World soon and still deciding about whether to take it, we have some good news about the Orlando area!
One of the best metrics to look at is the percentage of tests that are coming back positive. This metric is preferred by epidemiologists because it can not be explained away by an increase in testing.
The coronavirus tool on the Johns Hopkins University site states that too high a rate of positives may indicate that the locality is not casting a wide enough net with testing, only testing the sickest in the community.
Looking at the John's Hopkins coronavirus tool, the state of Florida today has an 18.72% rate of positive tests.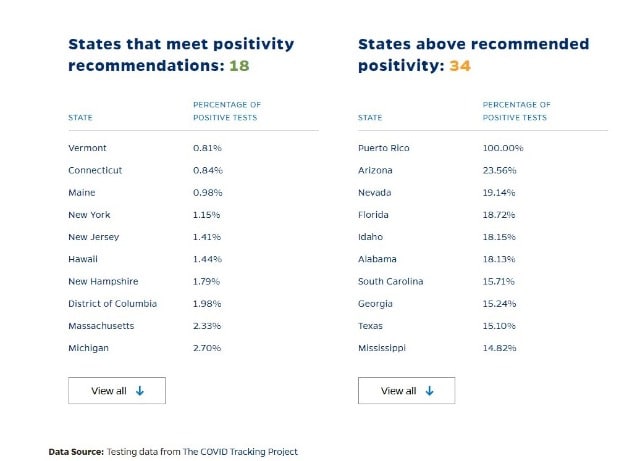 The World Health Organization recommends that localities remain closed for non-essential businesses until the rate of positive tests goes down to 5%. According to the Johns Hopkins site, only 18 states currently meet this criterion for reopening their states.
But here's the good news: Orange County Florida is seeing the rate drop down! Yesterday, July 19, 2020, the rate was all the way down to 7.4% positive after a 14 day high of 15.1% on July 8, 2020.

I (Rebecca) personally plan to keep my planned September trip if the rates in Orange County continue to plummet. Some of our writing team was there for opening week and had nothing but good things to say about the measures in place and the safety they felt in the parks!
Orange County Florida has mandated masks, as have several large chains including Publix, Target and Wal-Mart. Hopefully these measures will help Orange County, Florida and the rest of the United States get their numbers back down.
Today, Dr. Raul Pino who leads the Health Department for Orange County Florida, had a press conference in which he was asked about tracing any outbreaks back to Disney or Universal Orlando. In short, no there have not been any outbreaks traced to any of the parks at this time.
All of us at Kenny the Pirate have been following this information closely! We will continue to keep you updated on how things are looking in Florida and locally in Orange County as time goes on.
Do you have a trip planned? Had you considered looking at the data more locally given that a lot of Florida's outbreak is happening in Miami? Let us know in the comments on Facebook and in our Facebook group!
-Rebecca W Davis