There's been a lot of talk about guests wearing face coverings to the theme parks. Universal Orlando is offering an alternative option for guests with certain disabilities, but Disney World is not issuing any exceptions. Read on for details.
Universal Orlando is offering an alternative face covering for guests with disabilities. They address this issue on the frequently asked questions on their website.
Guests with certain disabilities that would prohibit them from wearing a traditional face covering can stop by guest services and will be offered the opportunity to wear a face shield rather than a mask that fits securely around the nose and mouth: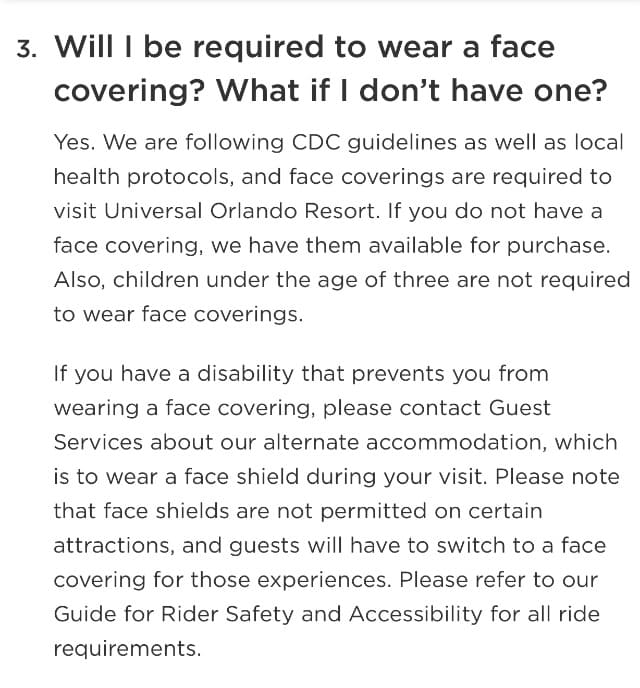 Note that the answer here states that some rides will not allow a guest to wear a face shield and the guest will be asked to temporarily switch to a regular face covering to ride the ride.
If you're impacted by this, be sure to bring a regular face covering and ask the Team Member outside of each ride if you will need to change into it for this particular attraction as a list of attractions that require a regular mask is not provided. Definitely assume that anything with an inversion would be on the list.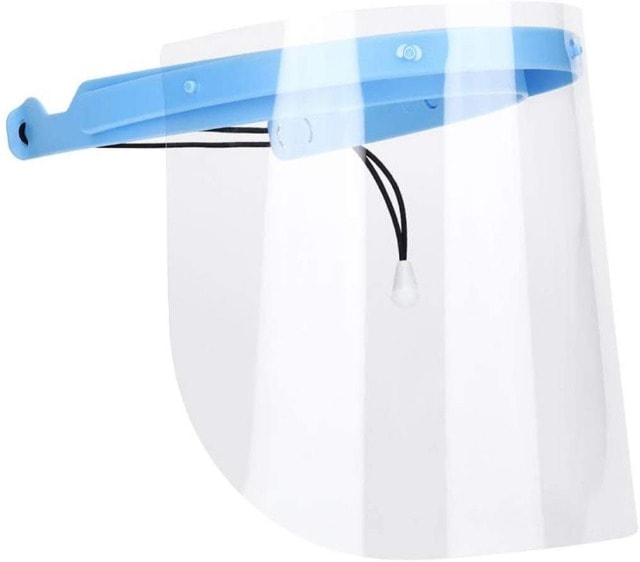 It also is not clear whether the face shield is to be provided by Universal Orlando or if you will need to bring your own.
Down the road at Walt Disney World, it seems that no exceptions to the face covering rule are allowed. ALL guests must wear a face covering that fits snugly over the nose and mouth to enter the parks.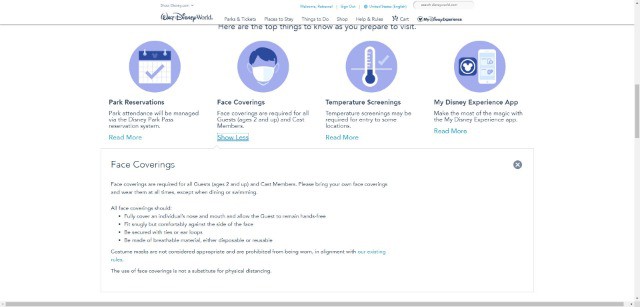 I checked with the Disney Parks Moms Panel on face shields, but their answer as of June 2 says they don't know and to check with guest services.
I called Disney Disability Services today to confirm that they are not making any exceptions. They reiterated that ALL guests 2 and up must wear a face covering that fits snugly over the nose and mouth.
Disney has since come out with a policy specifically stating that Neck Gaiters, like the one pictured below, are not permissible inside the Disney Parks.
The Cast Member I spoke to confirmed that a face shield does not meet this requirement and is not considered a face covering for the purposes of entering the Disney Parks.
Luckily my (Rebecca's) family members are able to wear our face coverings. We have been practicing in the Virginia heat but it's clear we won't last long in the parks this summer.
How are you impacted by this? Will you be putting off your trip because of the face covering requirement for guests in your party with disabilities? Let us know in the comments on Facebook and in our Facebook group.
-Rebecca W Davis