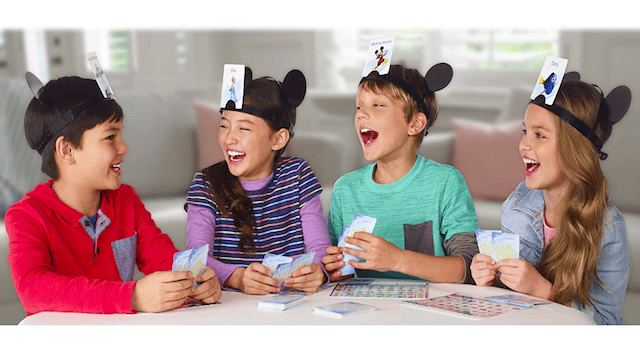 My family loves Disney and my family loves playing games together, so with the help of our KtP writing crew, I have compiled a list of our favorites for family game night. Check out our favorite Disney themed games below and maybe you will discover a new game to play on your next family fun night!
Sunday night has been pizza and game night in our house for many years. It was something we all looked forward to each week. Since we have been spending most of our time at home the past few months, we have been able to play a game almost every night after dinner.
It has been a blessing to have more time to spend as a family each evening with practices and social events being cancelled. We take turns picking out the game we play.
We have several Disney themed games in our collection and I am always looking for a new fun game for our family to try, so I decided to ask our KtP writers what their favorite Disney game is and here is what they had to say:
Kenny the Pirate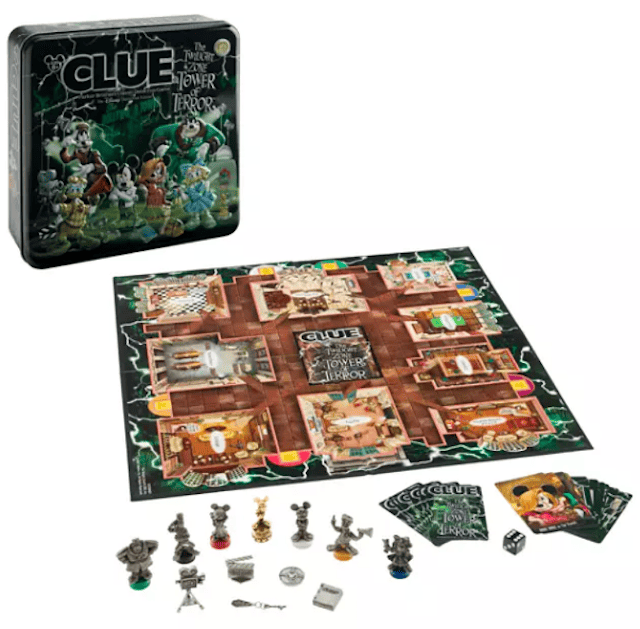 Kenny and his family enjoy Clue, The Twilight Zone Tower of Terror Disney Theme Park Edition.
In this game, "Mickey and friends star in this Twilight Zone Tower of Terror edition of the classic mystery game. When the power goes out in Hollywood Tower Hotel, you're the only one who can discover who's missing, where and with what!"
It is recommended for 3-8 players, ages 8+, and also features a fun glow-in-the-dark die.
Rebecca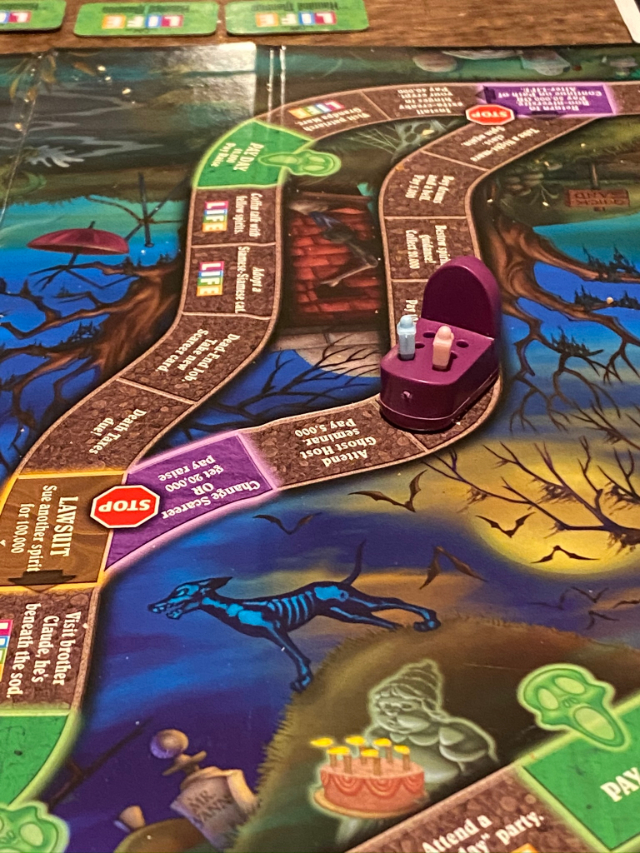 Rebecca's favorite game is The Game of Life, The Haunted Mansion Disney Theme Park Edition. Beware of hitchhikers because "this re-incarnation of the classic board game scares-up a lifetime of fun as you race for a final resting place."
The board features glow-in-the-dark elements and you will drive around in a Doom Buggy as you play this game recommended for 2-6 players that are 9 years old and up.  
Maggie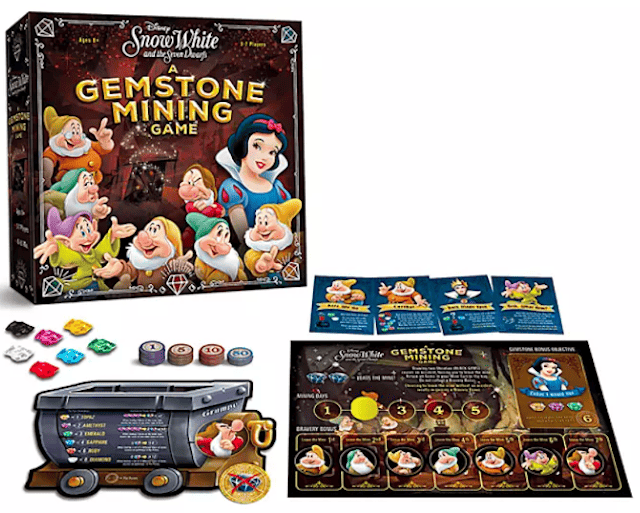 One Disney game I play with my boys is this Gemstone Mining Game based on Snow White and the Seven Dwarfs. My family and I love Snow White, so this game is really fun for us.
The object of the game is to mine for gemstones.  The goal is to return from the mine safely and with as many gems as you can collect. You need to watch out though because accidents happen and you need to avoid obsidian gems!
I find the instructions a little complicated for younger children, and to be honest, most of the time I just make something up and we have fun playing with the different gems. It's still a lot of fun! This game is recommended for 2-7 players and ages 8 and up.
Kate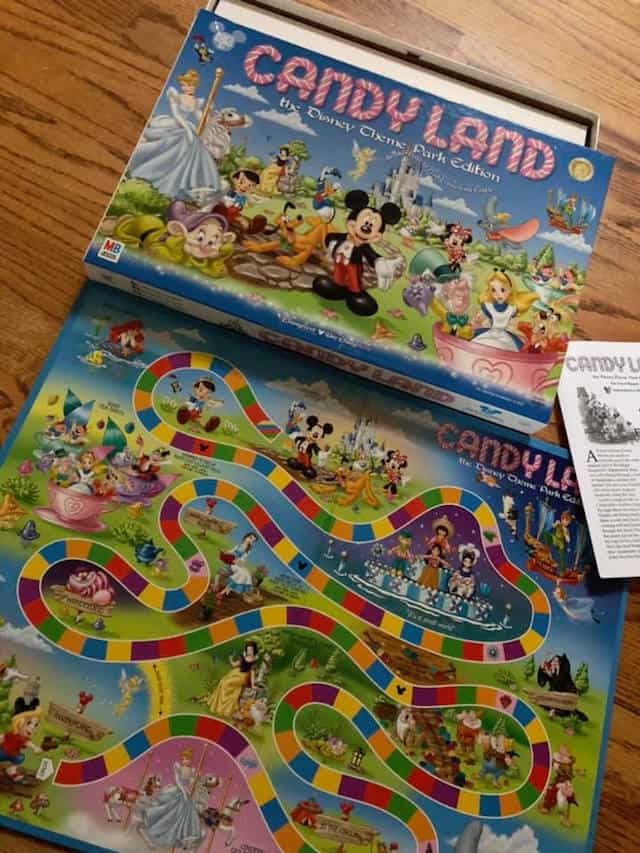 My family loves to play Candy Land the Disney Theme Park Edition. We received this game on a recent trip as a surprise "In Room Celebration" package from a family member.
The game follows the same rules as the original version, but the gingerbread men game pieces all have Mickey ears! Additionally, the special spots on the game are Fantasyland theme park attractions like the Mad Tea Party and "it's a small world" and "Dumbo."
It's a magical twist on a classic that even our very littlest Disney fan can enjoy. The first player to reach Cinderella Castle wins this game that is recommended for 2-4 players and ages 3 and up.
Tara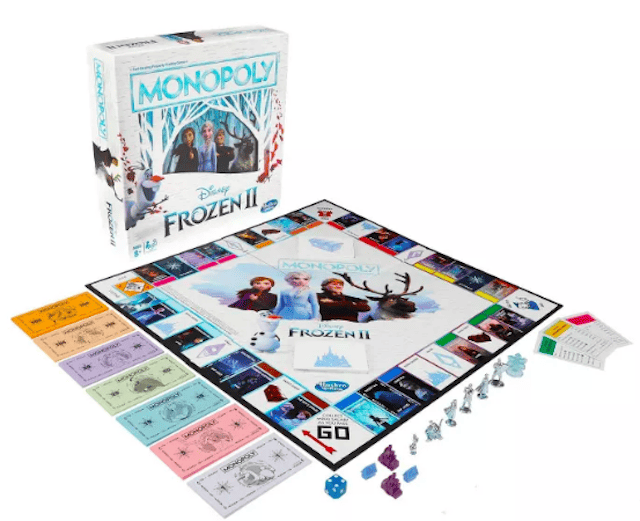 Frozen 2 Monopoly is a favorite around our house. It can feel like a never ending game though since it takes such a long time to play. Sometimes we start a game, take a break and come back to finish up our game.
We also enjoy playing many hours of Frozen 2 Monopoly at our house. One thing my daughters love is that this game "FEATURES AN ICY TWIST: When players land on a Snowflake space or draws a certain Chance card, they can place the Snowflake token on any scene they own. Whoever lands there has to pay double rent!"
This game is recommended for 2-6 players that are ages 8 and up. 
Donna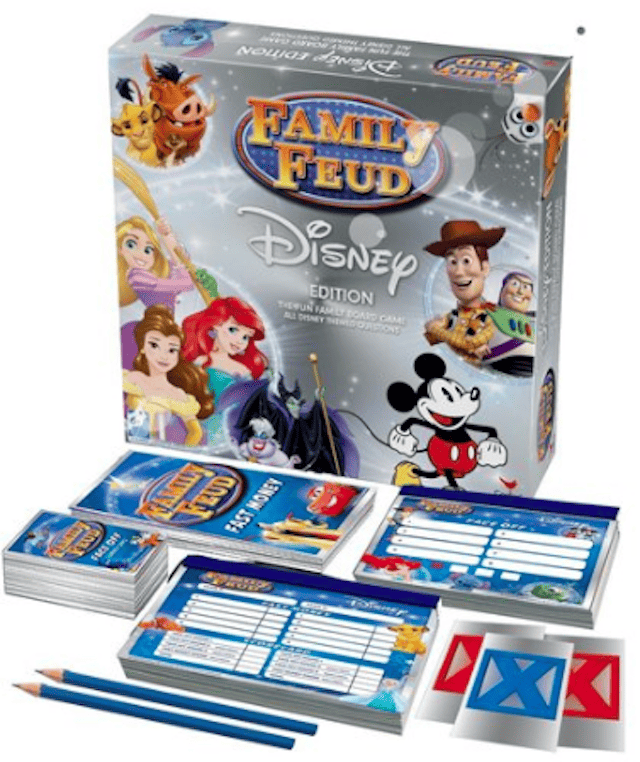 Our family enjoys playing Family Feud: Disney Edition. It is a lot of fun in a large group setting, and the variety of questions makes it fun for the young and the young at heart to enjoy.
Survey says that you will love this classic family fun game with a Disney twist! It is recommended for 3 or more players and ages 6 and up.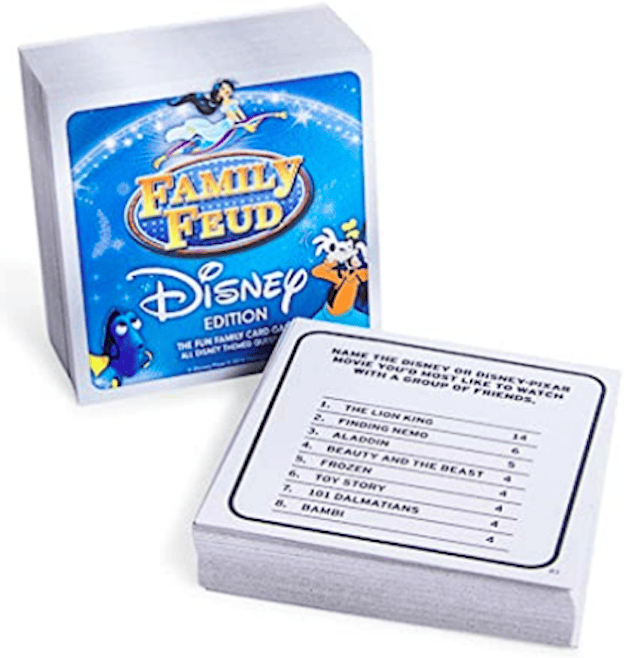 Our family has a travel version of Disney Family Feud that we love to play in the car. The whole family competes to see who knows Disney best!
Jamie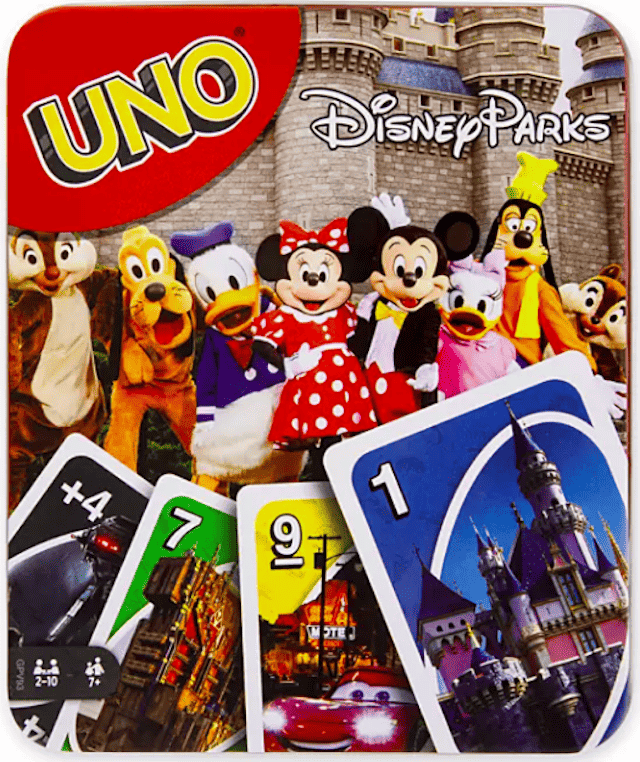 Jamie's family enjoys playing Disney Parks UNO, Disney Parks Monopoly, Family Feud: Disney Edition, HedBanz Disney and a bunch more!
Disney Parks UNO features 112 iconic characters, attractions, and landmarks from around the Parks, giving this classic family card game a magical twist.
There is also a Sorcerer Mickey Card, and when a player uses this card everyone must pass their entire hand to the player on the left. This game is for 2-10 players that are ages 10 and up. 
Hedbanz Disney is a game full of laughs where you put on a Mickey shaped headband and ask other players questions to figure out which Disney character you are wearing. It is a fun family game for 2-4 players and ages 7 and up.
Christina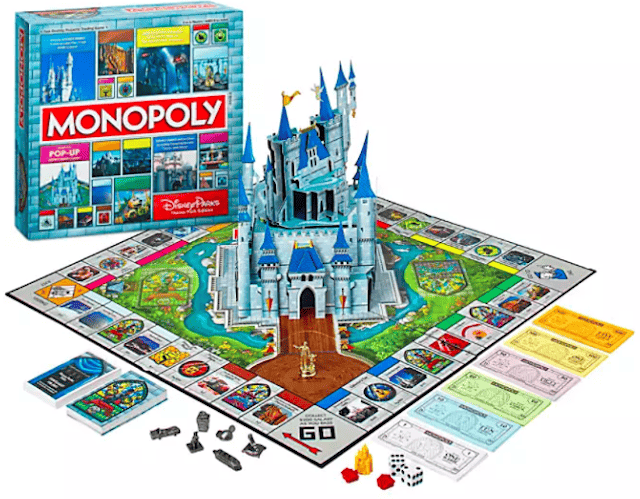 My family doesn't play games. I have no clue why because I love games. The only time I get to play any of our board games is if someone else comes over. We have Disney Parks Monopoly and Disney Scene It though which I love.
Disney Parks Monopoly includes a pop-up Fantasyland Castle and features attractions like Sleeping Beauty Castle, Space Mountain, Disney Skyliner, and The Haunted Mansion. It is recommended for 2-6 player and ages 6 and up.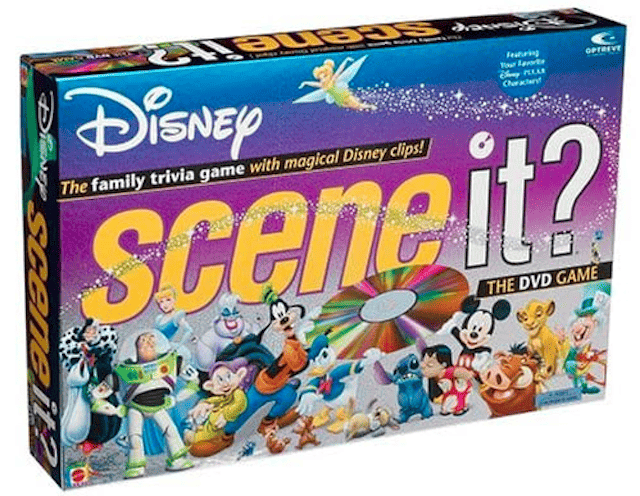 Disney Scene It is a perfect family game where you watch movie, song and character clips to answer trivia questions. There were several editions released from 2005-2010 that feature scenes from classic Disney and Pixar films.
The game is designed for 2-4 players or teams that are ages 6 and up.
Jessica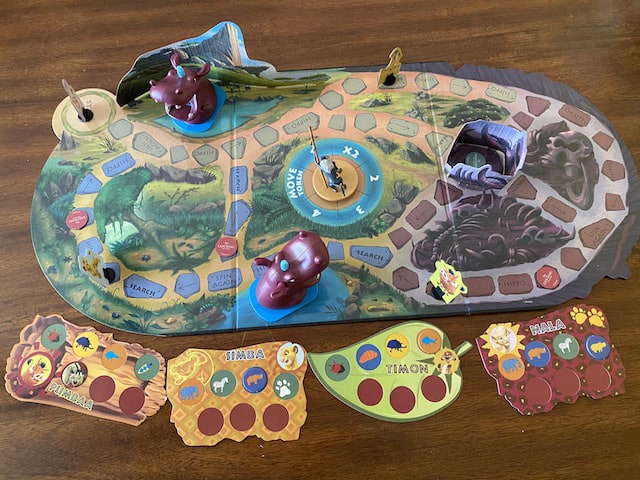 The Lion King The Game is one of our favorite Disney games to play on family game night.
In this game you try to avoid Scar and the hyenas as you travel through the African savanna. In order to win you must collect 4 matching tokens as you make your way around the game board. The hippos spit out the tokens from their mouth when you press their head.
It is recommended for 2-4 players, ages 6 and up.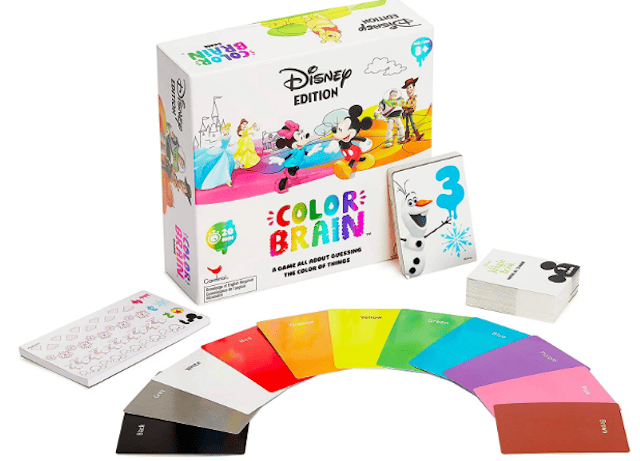 Our family loves Color Brain Disney Edition because you work in teams. Each team has 11 color cards that they use to answer 'color related' questions about Disney characters. My daughters love it when both teams answer correctly and we have to play a tie breaker challenge.
This game is requires 2-4 teams and is recommended for ages 8 and up.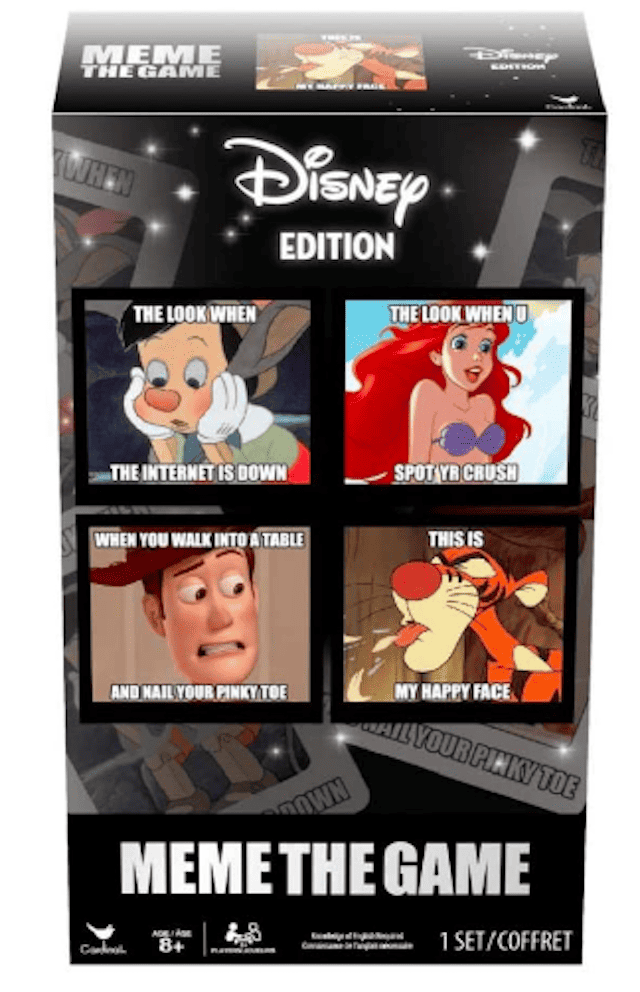 Our house is full of laughs and giggles when we play Meme the Game Disney Edition. In this game you match silly pictures of Disney characters with word cards to try and create the funniest meme.
It is recommended for 2 or more players, ages 8 and up, but we have the most fun playing with a large group of friends or family.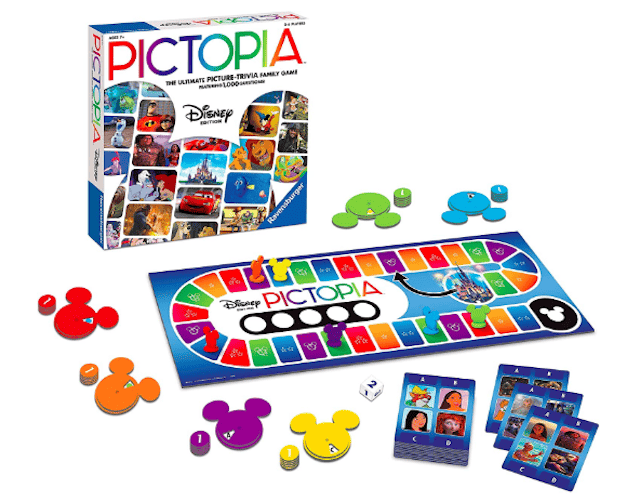 We love trivia games in our house, especially when the questions are Disney related! Pictopia Disney Edition is another great trivia style game for families.
In this game you are given four character photo choices on a card and you must answer a question that related to the photos. There are individual and team based types of questions. This game is for 2-6 players and for ages 7 and up.
A New Disney Game!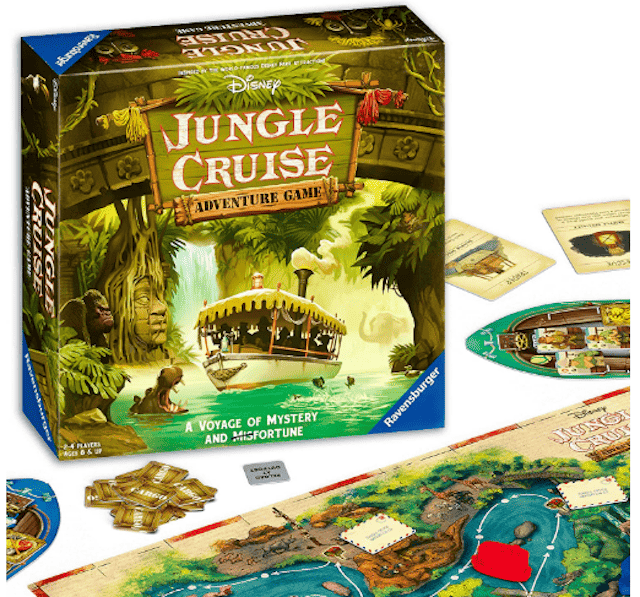 You may have to wait a while to see the new Jungle Cruise movie in theaters, but the brand new board game is finally available to purchase. You can read all the details on when Disney plans to premiere the movie here and watch the official Jungle Cruise movie trailer here.
In this game, skippers must transport a valuable boatload of cargo and passengers to headquarters in order to win. True to theme, every card has a Jungle Cruise joke for Skippers to tell as they play!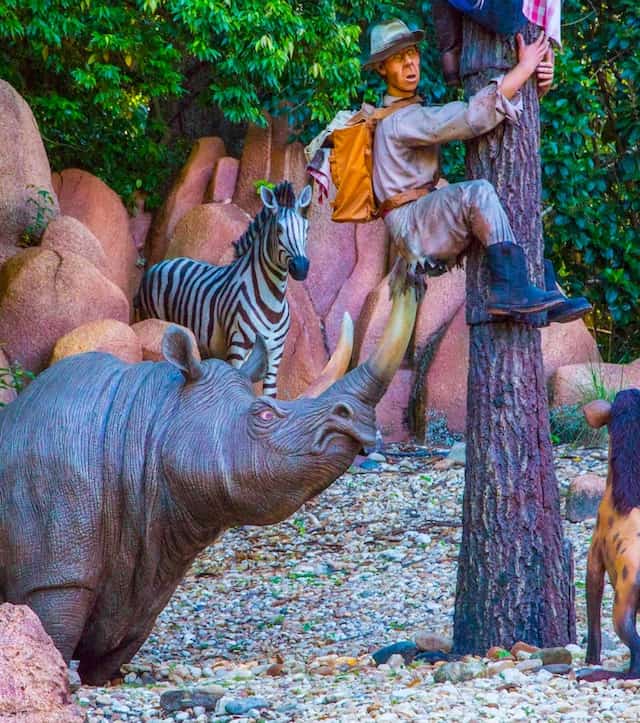 I just ordered it and look forward to playing it with my family this week. This game is for 2-4 players and is recommended for ages 8 and up.
What Disney themed game are you excited to try on your next family game night? Do you have another favorite to add to our list? Tell us in the comments below, on the Kenny the Pirate Facebook Page, or in our exclusive KtP Crew Facebook Group!
Jess Watkins
Jess is an experienced Disney traveler, wife, mom of two beautiful girls, and golden-doodle Maui. Disney World has always been her Happy Place. She embraces the motto 'Hakuna Matata' and looks forward to sharing her love of all things Disney with you!