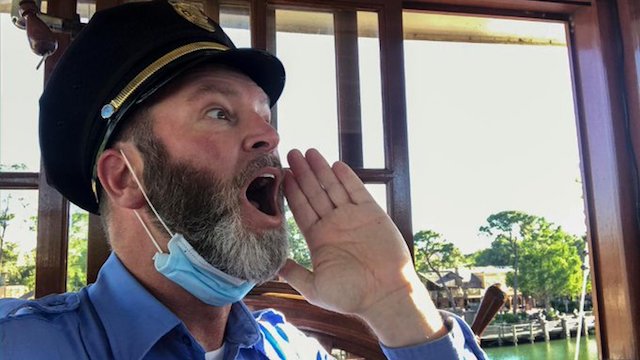 Although Walt Disney World, Disneyland, and Aulani remain temporarily closed, there are still Cast Members working at each resort to protect the magic and keep each place safe. Let's join them as they tour some of our favorite places: Magic Kingdom in Walt Disney World, Disney California Adventure at the Disneyland Resort, and Aulani in Hawaii!
We are all eagerly awaiting the news of the reopening of our happy place, Walt Disney World. During the temporary closures, Disney has done a wonderful job of keeping us in touch with the magic.
Recently, Disney Security Hosts Elio and Tina gave us a glimpse at what was happening during the closures in Hollywood Studios and Disneyland as they toured the parks.
It was such a treat to see the parks through their eyes, and reassuring to know that our beloved parks were being well taken care of while they are closed.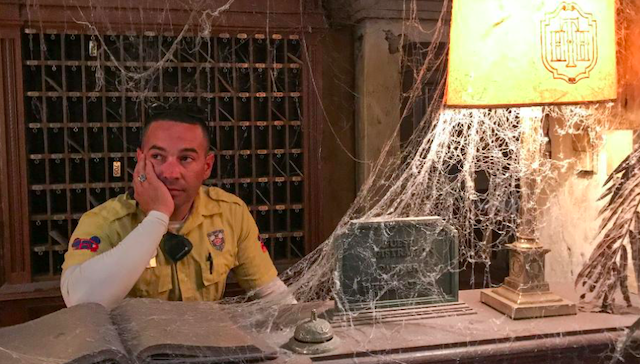 Now, Security Host Tina is back with a tour of Disney California Adventure. This time, she is joined by Security Host James from Magic Kingdom, and Pua, Guest Service Manager from Aulani.
Adventure is out there!
Our tour starts in Disney's California Adventure Park with Tina! It was a welcome sight to see her smiling face in Disneyland! Let's have a look around this fun park!
What a fun place to enjoy the great outdoors! Wow, check out that bear profile!
Grizzly Peak is home to Grizzly River Run, an adventurous water ride, and Soarin' Around the World.
You can also find the Redwood Creek Challenge Trail here at Grizzly Peak.
We can bear-ly wait to be back, Tina!
Let's head over to Pixar Pier for Jessie's Critter Carousel!
Looks like rootin' tootin' fun!
Next up, a challenge. Do you know where these mailboxes are located?
Looks like Buena Vista Street! But I do have to wonder, are these elusive residents still receiving mail?
Now, let's take a trip down Route 66!
Hi there, Stanley!
Our tour of Disney California Adventure ends with one last look at one of my favorite places in Disneyland, the Storytellers Statue.
I can't help but wonder what Walt and Mickey might be saying to each other here. Right now I'd have to guess they might be saying, "We'll see ya real soon!"
Thank you for this beautiful tour, Tina!
The Adventure Continues
Let's head across the country to Walt Disney World Resort in Florida! Here, we'll get a peak at the Magic Kingdom with Security Host James!
What a special picture! How many of us would love an opportunity for a chance at this photo op in front of an empty Cinderella Castle?
Let's head down Main Street, to the Harmony Barber Shop.
Have you ever had a haircut there? Read why we think you should definitely visit on your next trip to Walt Disney World!
Don't worry, they won't take that much off the top for you!
"How do you do? Mighty pleasant greetin'!" James headed over to my favorite ride, Splash Mountain! Now this song will be stuck in my head for the rest of day, and I don't mind a bit!
Brer Bear and Brer Rabbit are on the lookout for our return!
Next up, the Liberty Belle! James is rubbing it in a little here, reminding us that we can't ride with him, yet!
Yo ho, yo ho, a pirate's life for me! A favorite among many of our pirate crew, James hit Pirates of the Caribbean next.
This one made me giggle! There's nothing like the Enchanted Tiki Room for a little silliness!
Grim grinning ghosts are out to socialize, and James is making sure they aren't causing too much trouble over at the Haunted Mansion!
We can't wait to hurry back!
Our tour ends right back where it started, Cinderella Castle. What a beautiful photo of the castle lit up for the evening. Thank you, James!
Let's add some "Aloha" to our adventure
Now, we'll travel all the way to Hawaii and check in on how Aulani is doing!
Say "Aloha" to Pua, Guest Service Manager at Aulani!
I have not yet been lucky enough to travel to Aulani, but this picture has me excited to take this tour with Pua!
That waikolohe certainly looks inviting, even if it is slightly mischievous!
Menehune are mythological people in Hawaiian tradition who like to stay hidden away. I wonder how many of them are hiding out in Aulani?
I have definitely been wondering how Stitch is doing! Thanks for the update, Pua!
What a stunning and inviting picture of Rainbow Reef snorkel lagoon! It's so reassuring to see the animals being cared even though Aulani is currently closed.
The DVC Villas are ready to welcome back you and your 'ohana soon!
Maholo, Pua, for this beautiful tour of Aulani! A hui hou!
What an adventure! I can't decide which of the three tours I loved the most!
It was so nice to see the parks again, and to know that they are ready for us when they all reopen and we are ready to come back!
If you were a Disney Security Host, which of the Disney Parks would you love to tour during the temporary closure? Let us know on Kenny the Pirate's Facebook Page, or join our crew and continue the discussion!
Are you planning a vacation? Reach out to our trusted travel agency sponsor Authorized Disney Vacation Planner
Mouse Class Travel
!