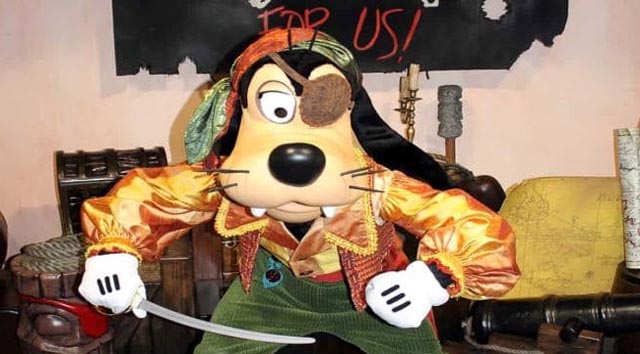 Gawrsh! Today we are celebrating 88 years of fun and laughter with one of the most beloved dogs there is! Ah-hyuck! Join us as we take a look at Goofy's first years as Dippy Dawg to today's big lovable huggable Goof complete with fond memories!
Early Years
Goofy debuted as Dippy Dawg in the black and white animated short Mickey's Revue on May 25, 1932 along side Mickey Mouse, Minnie Mouse, Horace Horsecollar and Clarabelle Cow.
He annoys other spectators during the song and dance show, put on by the above mentioned crew, by loudly crunching his peanuts until two other spectators knock him out with mallets!
His name remained Dippy Dawg in comic strips up until 1939 with the release of his first solo film Goofy & Wilbur on March 17th, in which his name officially changed to Goofy.
This animated short features Goofy and his pet grasshopper, Wilbur, going on a fishing adventure.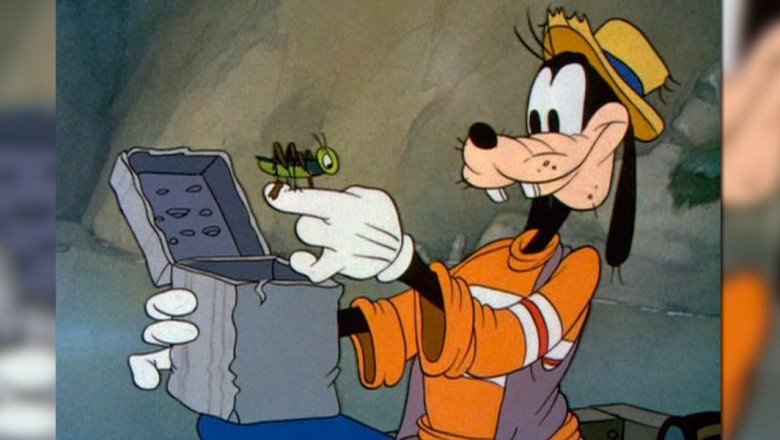 The 1940's brought us Goofy's "How to" series in which Goofy very clumsily demonstrated how to do everything from sleeping, riding a horse, and baseball.
During World War II he was also drafted and became the mascot emblem of the 602nd Bombardment Squadrant and the 756 Bombardment Squadrant U.S Air Corps.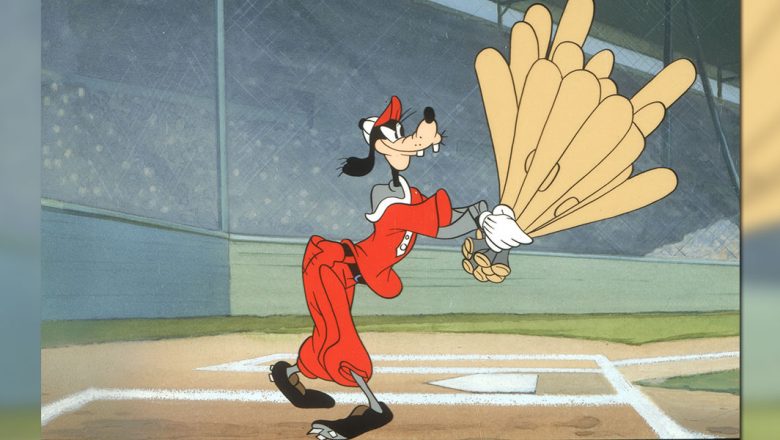 The 1950s brought us The Everyman Years where we follow Goofy (renamed George Geef) as he transforms into a family man going through a variety of different trials of everyday life such as dieting and raising children.
Later Years
Goofy then receded to only making sporadic appearances throughout the 70s and 80s. Finally, in 1992 he made a strong come back with the animated series Goof Troop.
This series followed the life of Goofy and his son Max as they face everyday adventures and struggles against their neighbor Pete and his family.
This popular series, and newfound love for Goofy and Max, led to two movies, A Goofy Movie (1995) and An Extemely Goofy Movie (2000).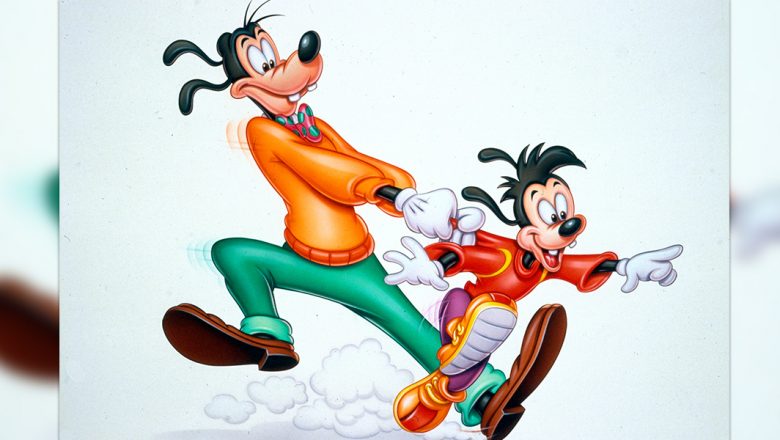 Fast forward to the year 2020 where we have Goofy as a staple of the Fab 5 regularly appearing in the Disney Parks for meet and greets and even his own roller coaster, the Barnstormer!
In addition, we get to enjoy his lovable personality on popular animated TV series such as Mickey Mouse Clubhouse, Mickey and the Roadster Racers, and the Mickey shorts series. You can even meet him in his Roadster Racer gear at Hollywood & Vine at Disney's Hollywood Studios!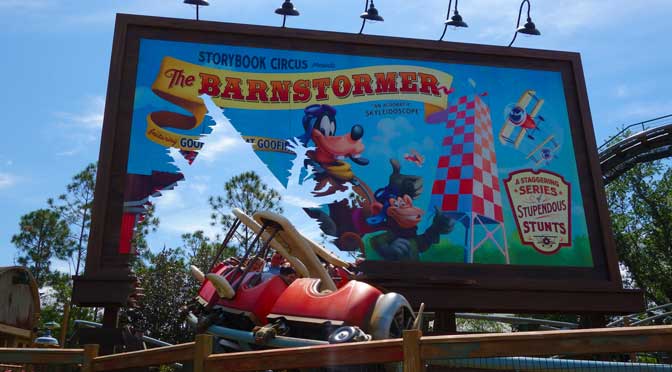 Fond Memories with Goofy
My fellow KtP Writers and I have each made special memories with Goofy over the years that we will share with you below in celebration of The Goof! These are sure to put a smile on your face!
Amanda
Happy Birthday Goofy! No one puts a bigger smile on our face like you do! You made a memorable day for my daughter when you thought she was the real Minnie Mouse! We enjoy our meet and greets with you! Can't wait to see you in the parks again soon! We love The Goof!
Monica
Happy Birthday, Goofy! You are one of our favorite pals to visit when we visit Disney World!
We have enjoyed meeting Goofy on past trips! My 3 year old is kind of obsessed (who isn't, to be honest). We loved meeting him at Hollywood & Vine for breakfast. My son is also really excited to "have breakfast with Goofy" for his birthday this fall.
We have reservations at Chef Mickey's and plan to bring some presents for him to unwrap when Goofy visits our table.
I guess eating breakfast with Goofy is becoming a tradition!
Maggie
Happy Birthday, Goofy! My boys have always loved meeting Goofy because he's goofiest and just so much fun!
We have had so many fun, silly character meets with him and he is always a favorite.
Jessica
Happy Birthday Goofy! We loved your silly pirate games on our Disney Cruise and when you came to limbo with us in the kids club! Love, Brooklyn & Brielle

We had so much fun meeting Santa Goofy at our very first Mickey's Very Merry Christmas Party and can't wait to see him again this holiday season!
Donna
My husband and I celebrated our 18th wedding anniversary at "The Most Magical Place on Earth." We were visiting with Mickey Mouse at Epcot and we didn't realize until the photographer started giggling that Goofy was photo bombing us.
This was such a fun memory that we will never forget.
Rebecca
Happy Birthday, Goofy! You're always so much fun to meet, and this is one of my all time favorite PhotoPass photos because of how silly it is and how much my son loved it!
Honorable mention to that time we were hanging out at the Yacht and Beach Club pool and the characters came out after Cape May breakfast, and Goofy let me give him a soaking wet hug in my swimsuit!
He's the best to goof around with.
Tara
Happy Birthday Goofy!
It's always so much fun to see you, but my favorite memory is from my daughter's fourth birthday. Thanks for making it such a special moment for her!
Susan
Goofy is always such a vibrant, bubbly personality! His enthusiasm is contagious! We always leave with a huge smile on our faces after meeting Goofy!
My favorite time meeting Goofy was at the Hollywood & Vine Seasonal Dine. He was decked out in his Santa suit, and meeting him was the perfect ending to our meal. Happy Birthday Goofy!!
Goofy greeting guests walking by:
Heather
Happy Birthday Goofy! Every time we have visited you, you know how to put a smile on our faces. Hope you have the best birthday and can't wait to celebrate with you soon!
Jaelyn
Happy Birthday Goofy! Thanks for dancing with my little guy!
Kenny the Pirate
I had the privilege of meeting Goofy in his Tower of Terror bellhop attire during a visit to Disneyland Paris. Goofy is one of my favorites! Happy birthday, Goofy!
Cheers to many more years to our most favorite dog with the long ears! Happiest of birthdays Goofy! Thank you for 88 years of laughter! We look forward to seeing you real soon!
Do you have a favorite memory with The Goof? Share with us in the comments on the Facebook page! Let's show Goofy some love!
Amanda Wesche