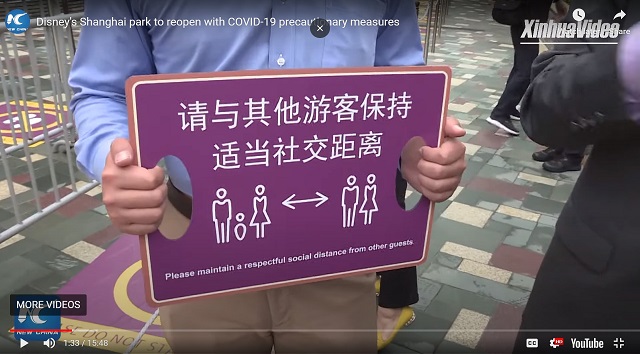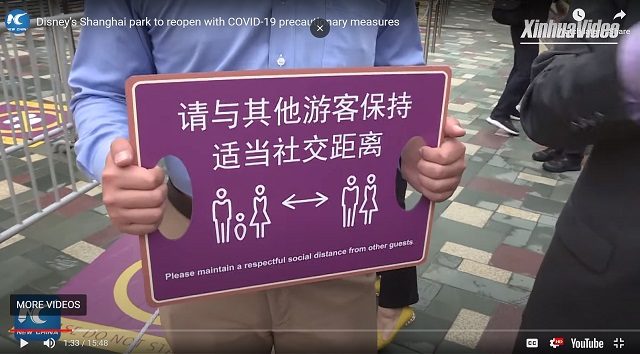 Since the news first broke out last week that Shanghai Disneyland will be reopening on May 11, 2020, many of us have been wondering what they may look like. Today we received a video walk through from Disneyland's Vice President of Operations, Andrew Bolstein, on the new safety measures.
Admission and Entrance
The video is quite lengthy at fifteen minutes in length. It covers safety measures ranging from the moment you enter the park, to visiting characters, going on rides, shopping, viewing day shows, and visiting restaurants.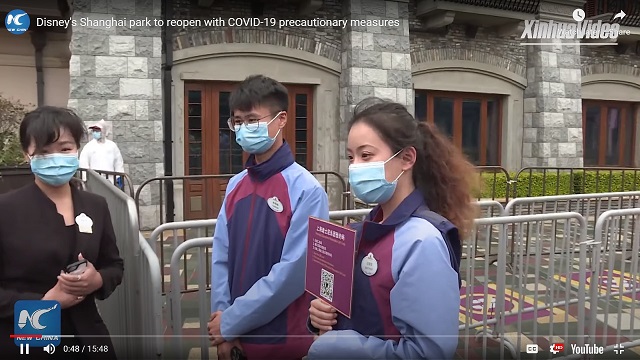 The video begins with Bolstein saying guests would have already gone through temperature screening and they would also have showed their health QR code.
We then see a demonstration of what he describes as a Disney Reservation QR code redemption process. We see a lady with her phone as a Cast Member holding a sign that has a QR code.
From the looks of this clip, this provides you access into the park without having to worry about scanning a ticket.
The next step is for guests to go through security screening.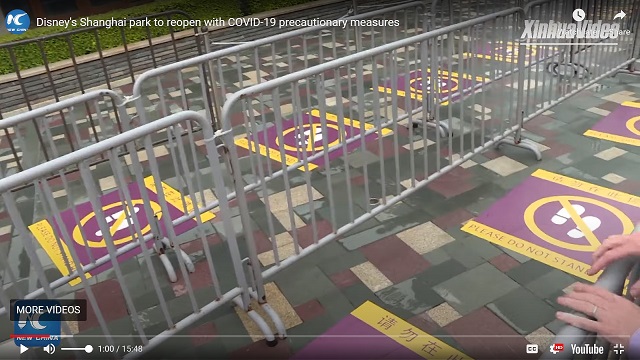 Bolstein then shows the various markers on the ground to show social distancing guidelines. He makes the point that through studies and observations with guests and they found it easier to tell the guests where not to stand.
Each marker is 1 meter in distance from the next space.
Throughout the park, guests will find Cast Members holding signs reminding guests of social distancing as well as verbally reminding to main social distancing.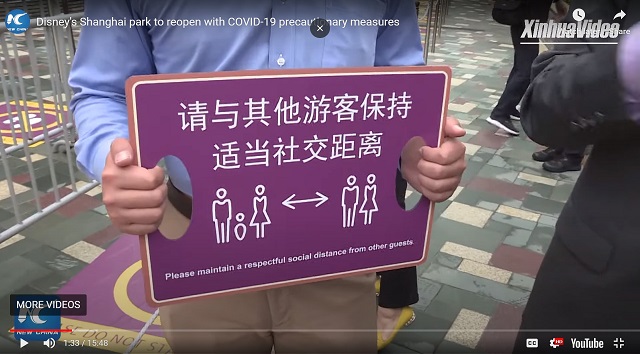 The next part of the video is a little confusing because Bolstein again mentions admission into the park, but in this clip he mentions that this is where guests will redeem their park ticket and Government ID upon entry.
You also see a gentlemen that is having his bag checked through security.
Character Interactions
We then see that he has entered the actual park and he begins to talk about meeting characters and having that character experience but in a different way as guests will not have up close meet and greets.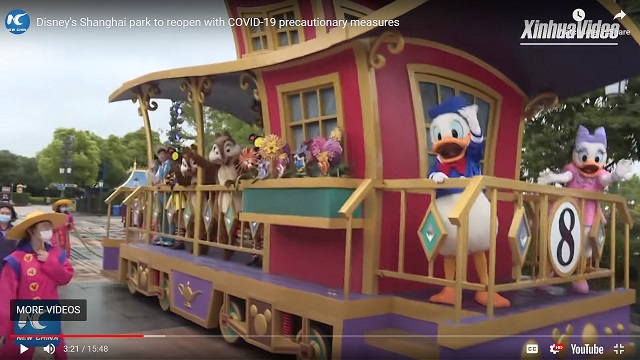 A small cavalcade with characters aboard will stroll within the park throughout the day for guests to take pictures.
Daytime Performances
Shanghai Disneyland offers the character atmosphere show "Tai Chi with Donald Duck" which will encompass performers in the center and a viewing area of a yellow boxes that again are 1 meter apart from one another to create social distancing.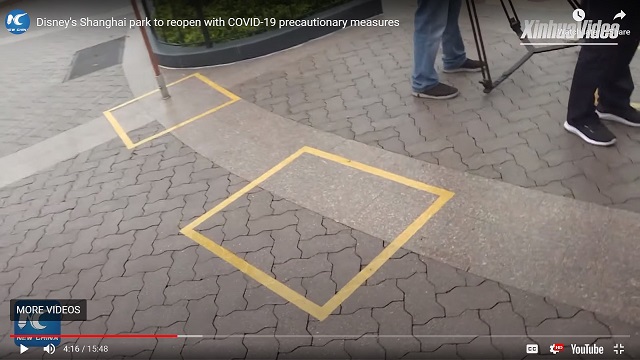 If the squares are full, guests will be invited to come back at a different show time.
Bolstein reassures that "due to the limited numbers attendees per day he believes everyone will have a chance to see almost everything they want to see."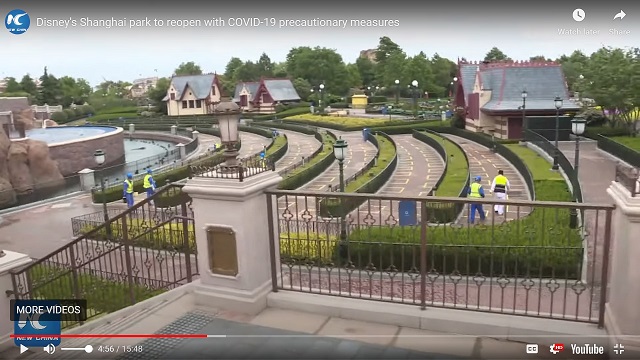 In the next clip of the video, we see many yellow boxes in a bigger area for the Golden Fairytale Fanfare performance that occurs in front of the castle.
Food Kiosks and Restaurants
Both food kiosks and restaurants will both have markers on the ground indicating the social distancing measures.
As they do not anticipate having long lines that will be out the door due to limiting numbers of guests, they are already prepared to do so just in case with markers seen outside the restaurants and kiosks.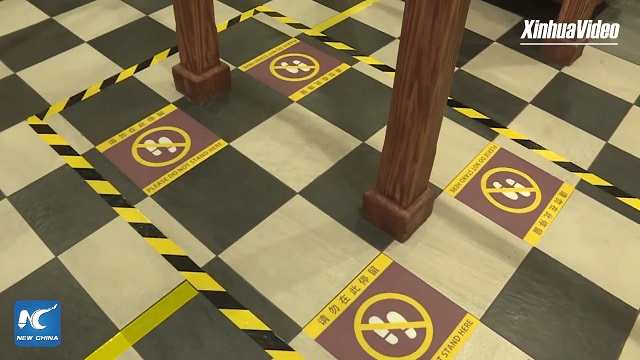 Many times throughout the video, Bolstein repeats that their number one priority in restaurants is "to maintain social distancing as their number one priority, along with enhancing safety and hygiene inside the restaurant."
There will be no more than 50% seating capacity in restaurants.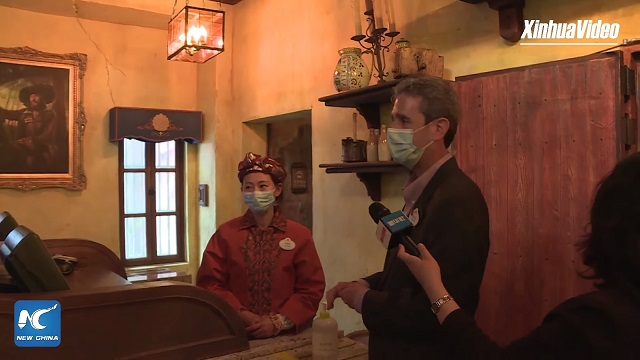 They are also encouraging no-contact payments, but he indicates that for guests who have cash and/or credit cards, guests and the Cast Member are both encouraged to sanitize their hands using the hand sanitizer provided at the register.
Rides
It is no surprise that social distancing will also take place within ride queues as well as once guests are on the actual ride itself. In the video, we are shown guests loading into two different rides which shows that rides will utilize an every other row rule for guests to maintain social distancing.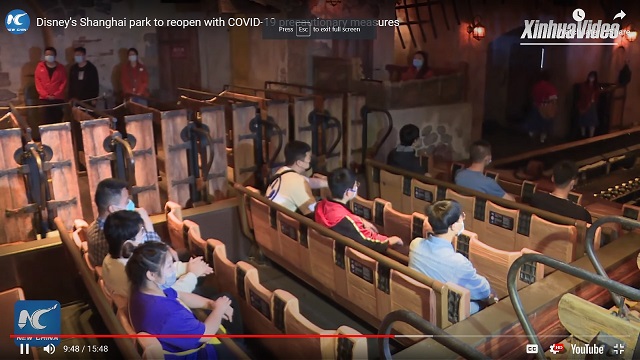 We also are shown different sanitizer stations that are mounted on the wall. In this particular clip, we see it immediately after exiting the ride.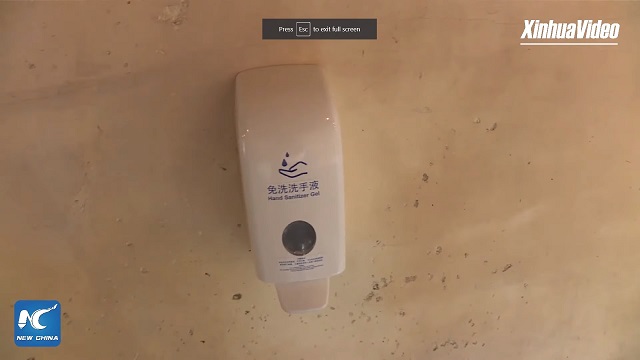 Shopping
Although Bolstein is shown walking around a merchandise store after exiting a ride, he does mention that Cast Members will be making sure that there are only a certain amount of people within the store.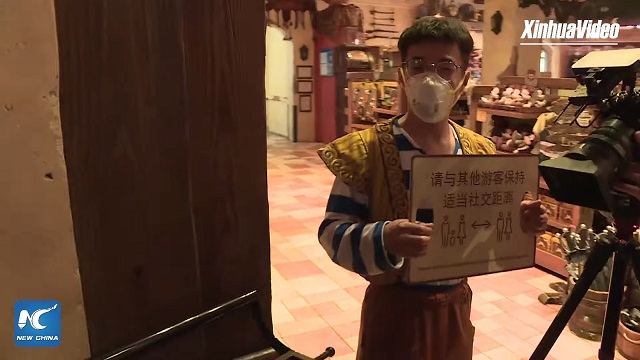 He then asks in the video if they can go over to the registers (I'm personally wondering if it is to show the plexiglass guards), but the clip then cuts to an outside shot getting ready to enter a restaurant.
Ending Remarks
Bolstein closes the video again emphasizing the importance of insuring limited numbers of guests for social distancing through markers on the ground, utilizing every other row on rides, sanitation wall mounts, and limiting the number of guests in the park.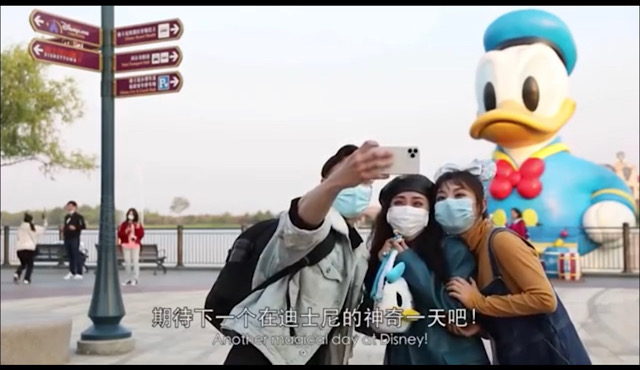 Tickets for May 11, 2020 became available online on Friday, May, 8th and almost immediately sold out.
Additional videos and information about Shanghai Disneyland's reopening procedures can be found HERE and HERE.
You can watch the entire video here:
Future Indicator of Other Disney Parks
CEO Bob Chapek recently commented that the re-opening process at one theme park may not be the exact replica by which all parks will follow. After watching the video a couple of times, I can't help to think to myself if this is what the parks will look like when they reopen at Walt Disney World and Disneyland.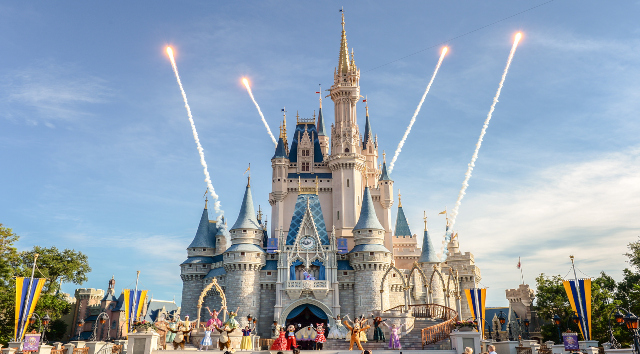 My brain cannot stop spinning with so many comments and additional questions! Share your thoughts on our KtP Planning Group and on our Facebook Page.
-Marisol White
Are you planning a vacation? Reach out to our trusted travel agency sponsor Authorized Disney Vacation Planner
Mouse Class Travel
!