We are all looking for ways to bring a little Disney magic to our homes during this time that the parks are closed indefinitely. I have learned through quarantine that I don't do well without a project and that my hobbies revolved around Disney. We have transformed our yard to remind us of Disney World!
We have been experiencing a beautiful spring, and that has led to fun ways to bring the magic of Disney outdoors. Find out how you can add a few fun touches to your yard to bring you back to the "Most Magical Place On Earth."
Doc McStuffins Play House
My youngest has been a fan of Doc McStuffins for years. We have all of the merchandise, the Doc McStuffins hospital, Pet Vet Clinic, and even the crash cart. Basically, if it has Doc McStuffins on it we probably have it.
My daughter absolutely loved the opportunity to meet Doc McStuffins on the Disney Cruise Ship a few years ago.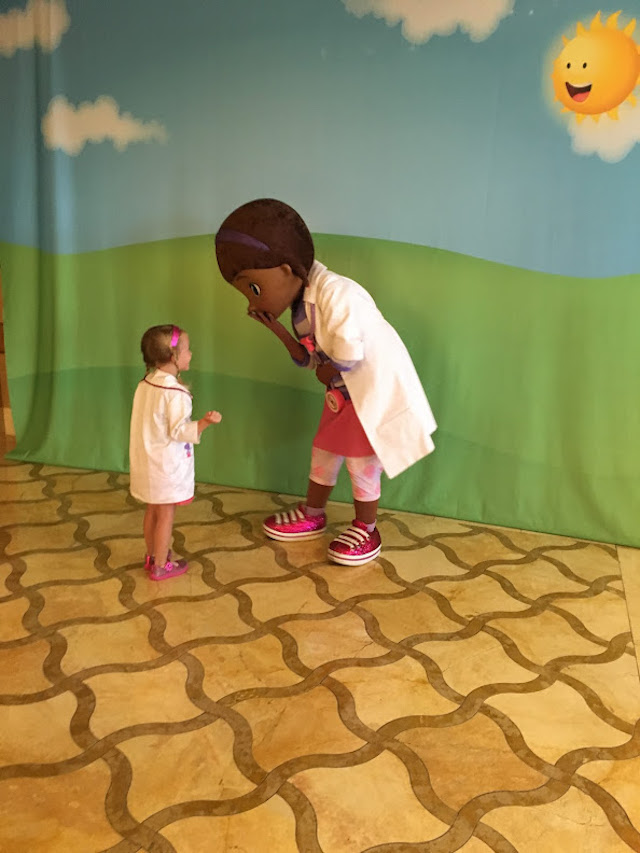 It seemed like a great fit to bring a bit of the Doc McStuffins fun to our own backyard. I found a play house for sell on a local resale site, and I paid $20 for it. It was a a little worn, but that was okay because I had a plan to spruce it up a bit.
I wish I had taken a picture of the original house, but this is a photo of the house that we purchased. Brand new it costs just under $300. Yikes!!!
We took this on as an episode of "Flip This House" and transformed this into a Doc McStuffins clinic in no time at all. The main tools that we needed was spray paint that would mimic the colors of the Doc McStuffins hospital.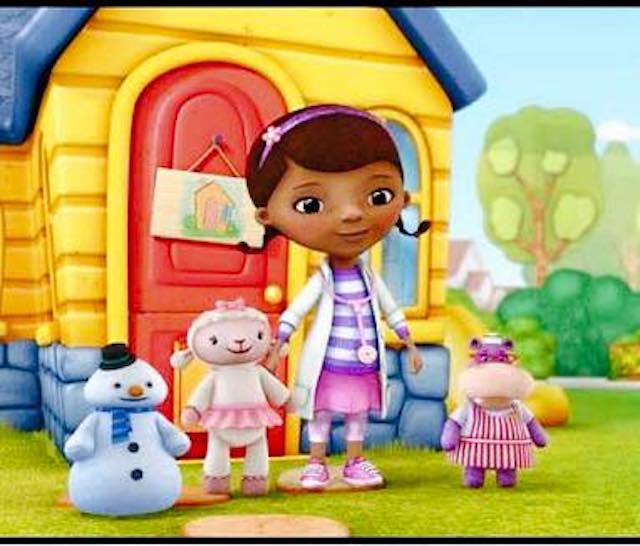 In my experience, the most important thing to look for in spray paint is that it will adhere to plastic. Don't ask me how I know this, but if you try to use a different type of spray paint on a plastic or metal surface then you will not have a great result.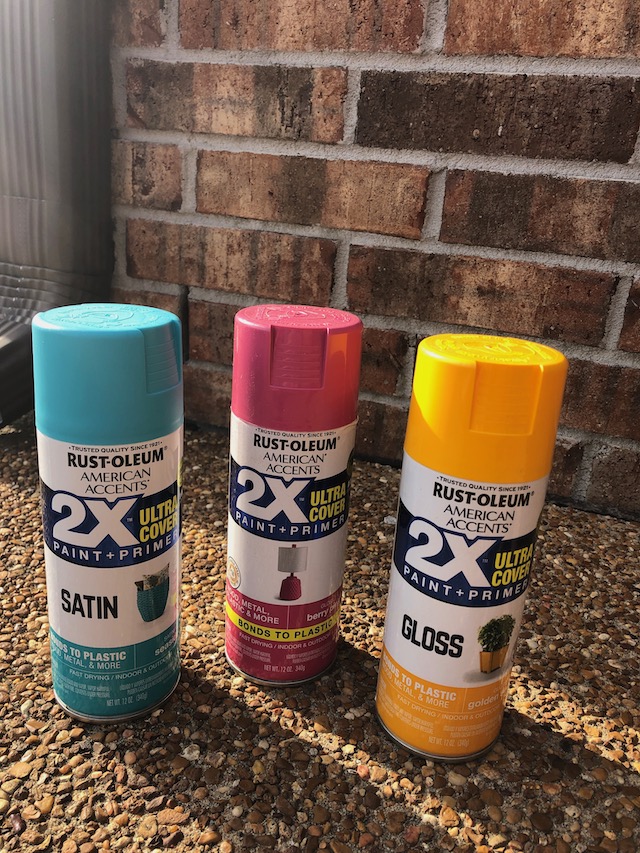 For best results, take the house apart and lay each piece flat to apply spray paint. This will help to prevent dripping while applying and give your a better overall effect.
Here is our completed Doc McStuffins hospital. Complete with paver stones that we made from cement and then spray painted to match the hospital.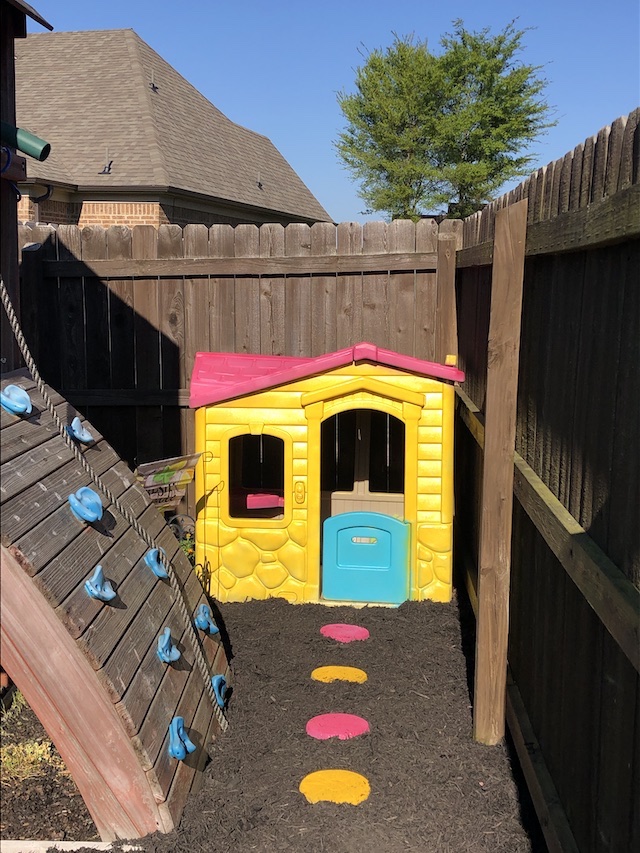 Once her hospital was completed we added a small flower bed to the side. My children love to be able to join me outside when I am gardening, and this little space allows them to have a sense of ownership in the yard.
They had a blast planting the flowers and we found this inexpensive plastic fence at our local dollar store to complete the look.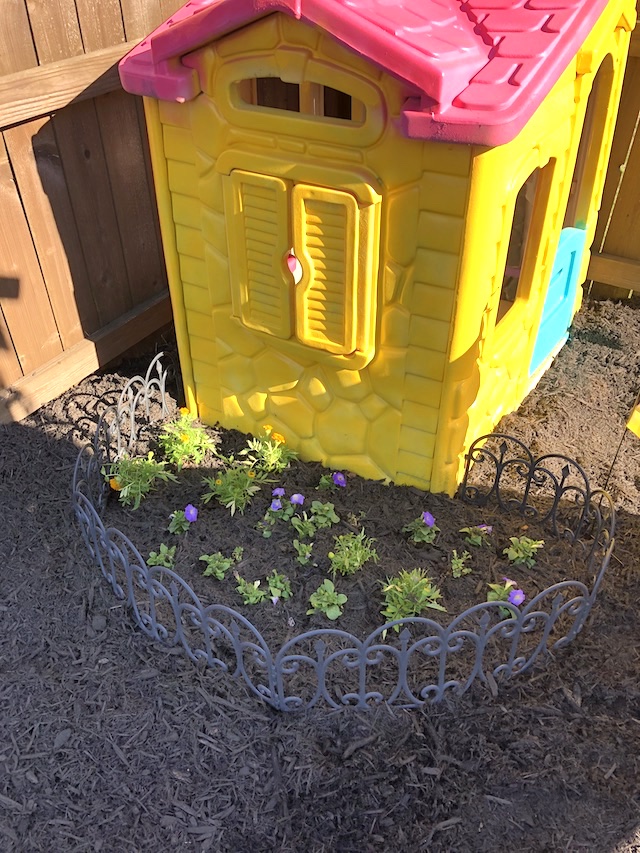 Front Door Wreath
We wanted to add a little fun and, of course, Disney to our front door this spring. We found a 15″ grapevine wreath at our local craft store, and 2 smaller grapevine wreaths available at our dollar store.
I used florist wire to attach the 2 smaller wreaths on either side of the larger wreath to form the Minnie Mouse head.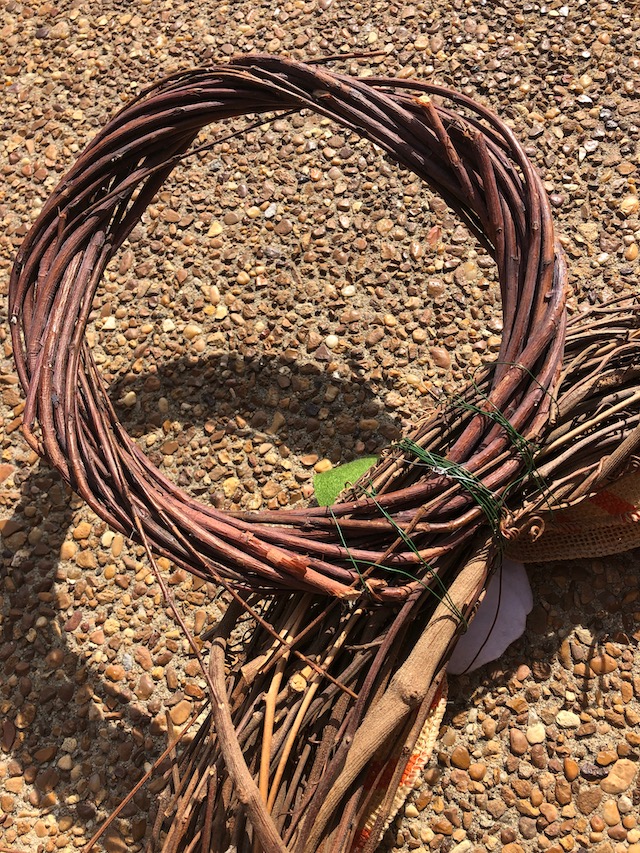 These felt flowers were found on clearance at Walmart, but you could also use artificial flowers for a different look.
These felt flowers were attached by threading florist wire through the base of each flower and attaching them to the wreath by twisting the ends around a branch of the wreath.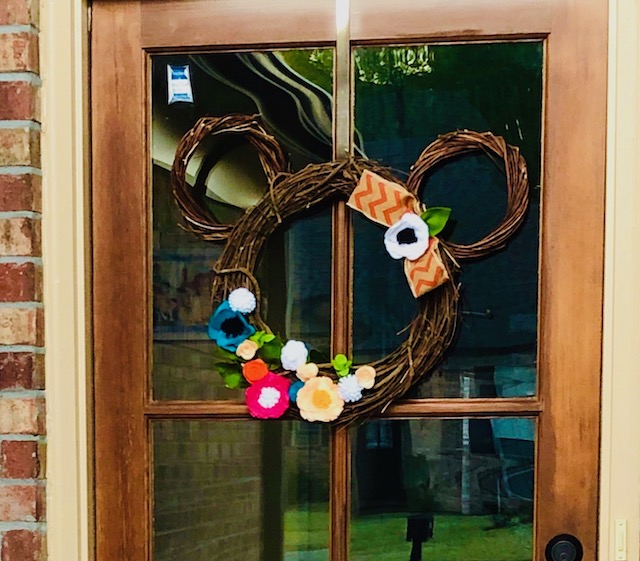 Disney Inspired Flower Pots
Be sure to check out my post on how to create your own Mickey Mouse and Pals inspired flower pots HERE.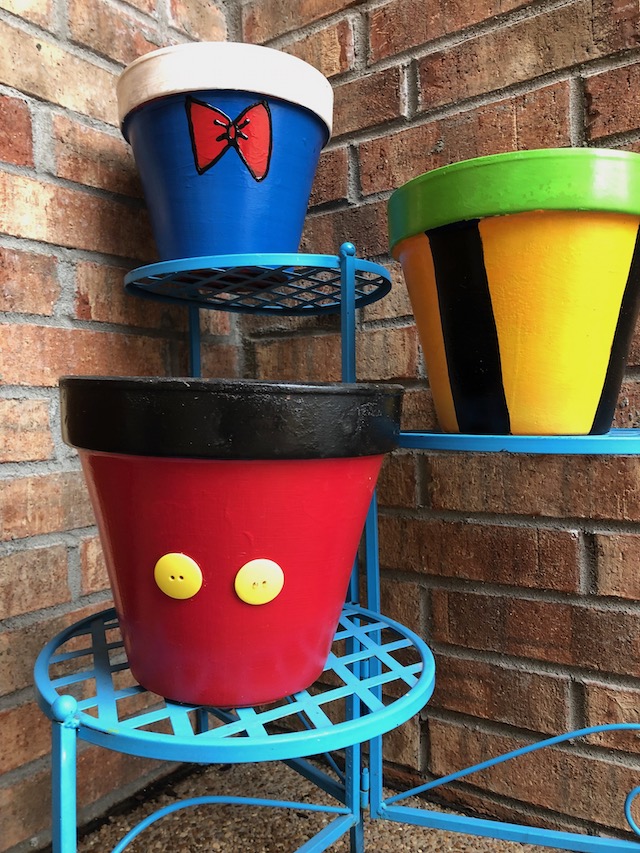 Mickey and Minnie Lanterns
A few Mother's Days ago, I received Mickey and Minnie Mouse solar lanterns.
These lanterns were a beautiful addition to my garden, but as the years had passed, they were beginning to look a little worn. I decided to spruce them up a bit by repainting them.
I was careful to remove the inside lantern film and I used painters tape to protect the solar light switch at the top of the lantern.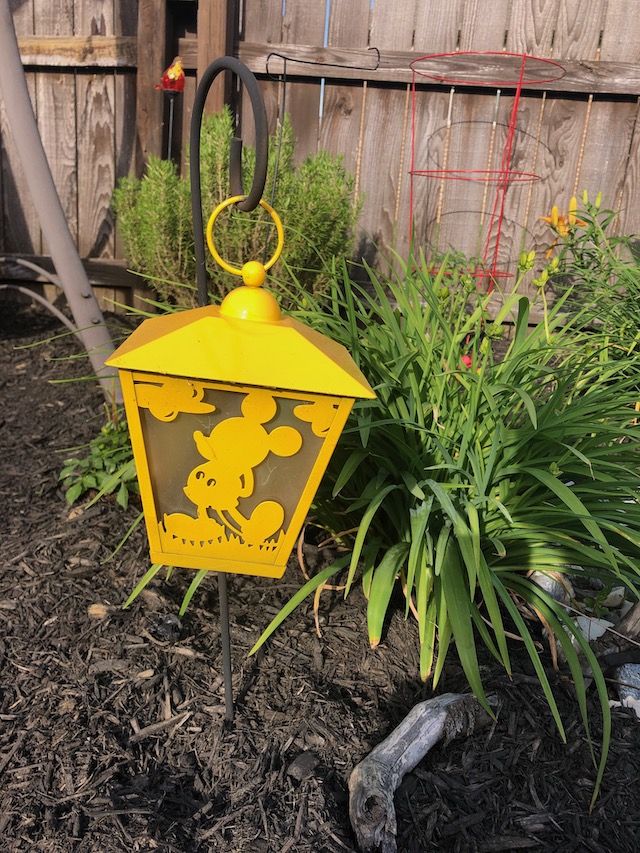 It was back to the trusty spray paint for this project. I again used the spray paint that adheres to metal and gave these lanterns new life.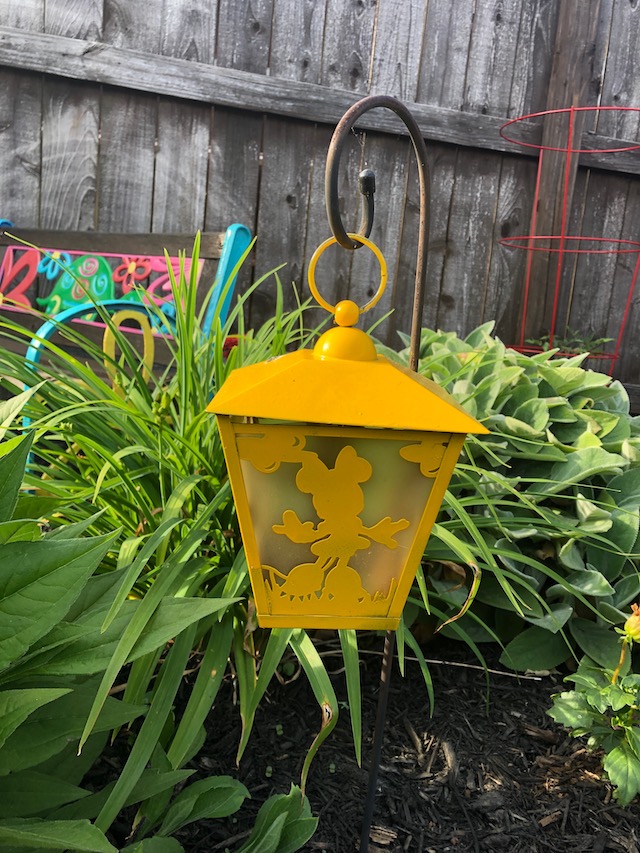 Mickey Mouse Bird Feeder
In celebration of Mickey Mouse's 90th birthday they sold this Mickey Mouse bird feeder and I was delighted to receive this as a gift. We have this located right outside our kitchen.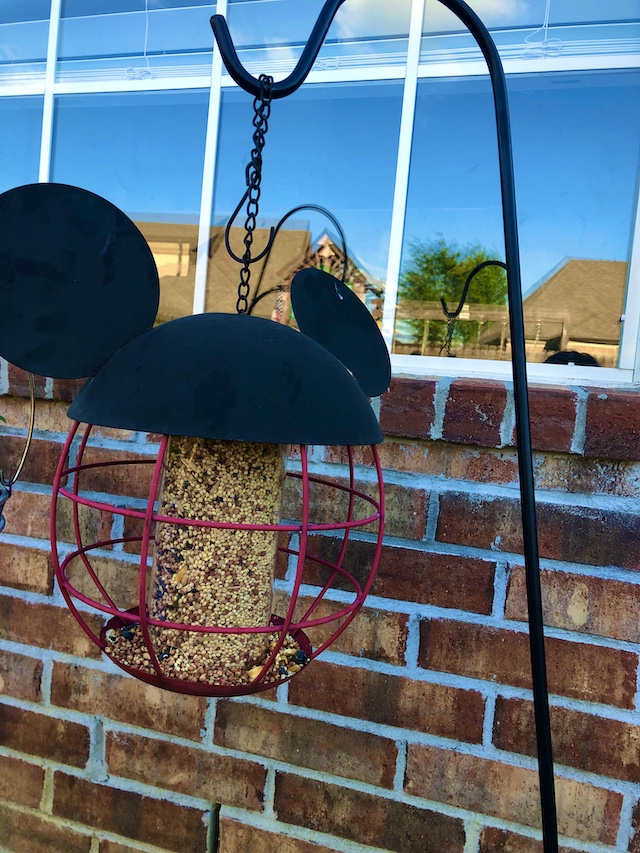 This brings so much fun and entertainment to us while we enjoy family meals together and serves as form of entertainment for our 2 furry felines, Flynn Rider and Maximus (Flynn is pictured here).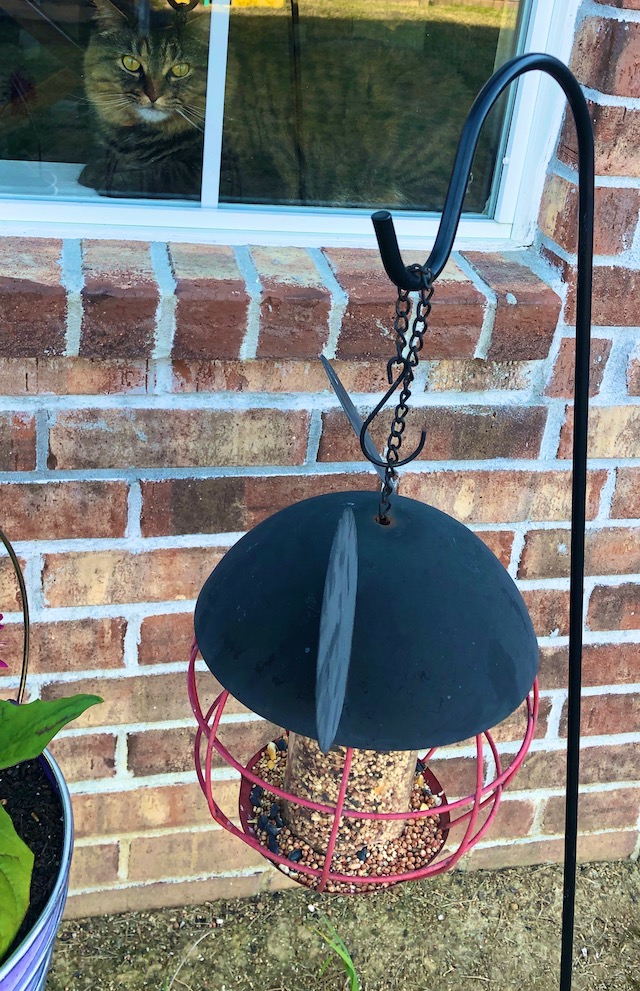 Mickey Inspired Wooden Swing
I received an early Mother's Day gift last week of a wooden swing. It had been sitting outside for a little while and could use a new coat of stain. So we decided to give this swing a new life!
The first step was to sand the swing to prepare it for the stain.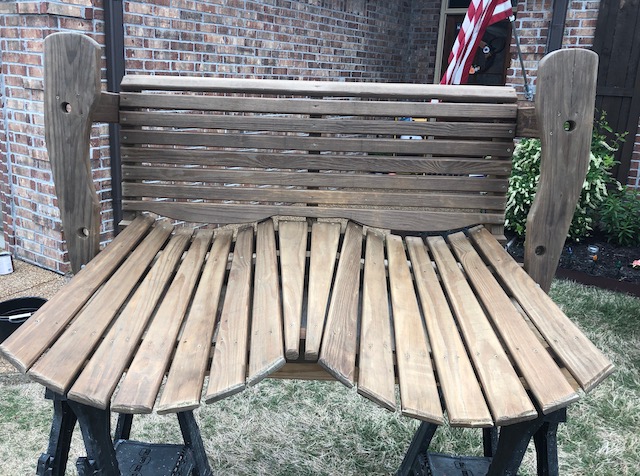 My husband recommended giving it a Disney twist by staining it black and red for Mickey Mouse. I absolutely loved the idea! This was the stain that we chose for the back of the swing. We had it tinted the color Darkest Night in the paint department at Lowes.
And for the seat of the swing we chose a Redwood Latex stain. I would have liked for it to be a big of a brighter red, but this was the brightest that we could find available in a stain.
We chose to stain this rather than to paint it simply to preserve the wood and to have lower maintenance.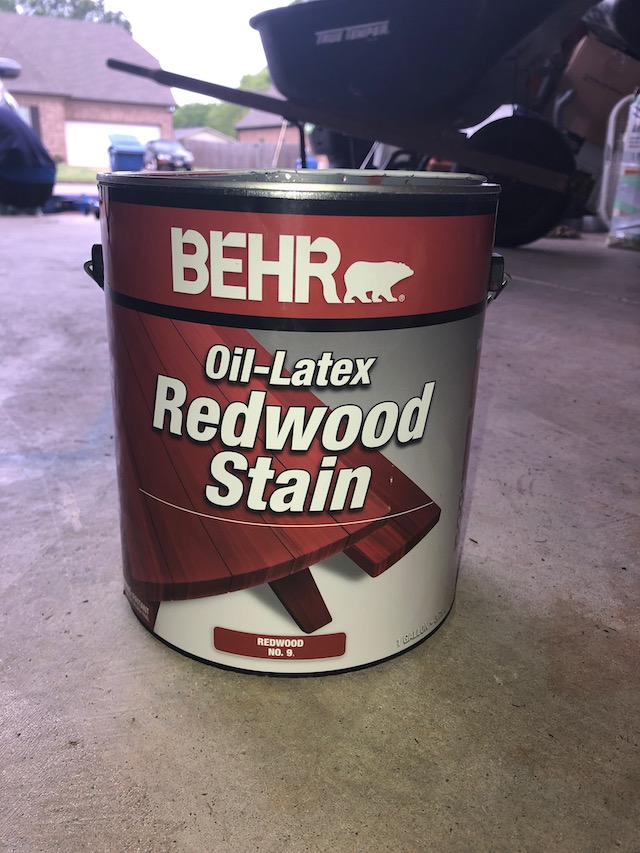 After the first coat of stain, the swing was beginning to look so much better. Since we wanted to have a bit of a richer color, I added a second coat of stain.
The directions on the stain recommends to only apply 1-2 coats of stain to prevent the stain from peeling.
I again lightly sanded the swing to prepare it for the second coat of stain. It is important to lightly apply the stain so that the stain will not peel or bubble up once exposed to the elements.
This was after the second coat of stain.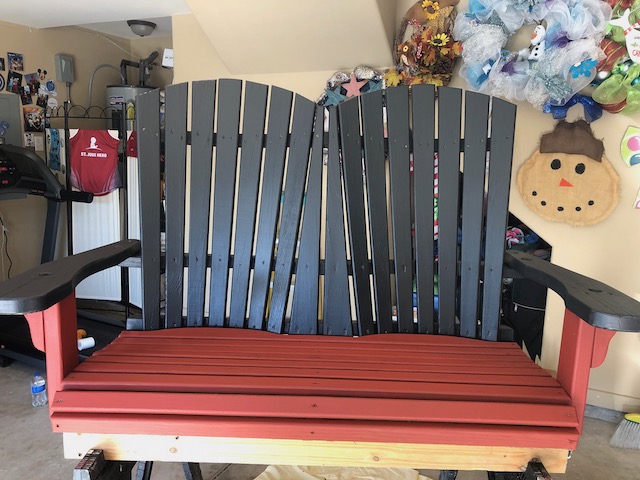 All that is left was to attach the chain to hang the swing. We chose to add a yellow chain to mimic Mickey's iconic buttons and yellow shoes.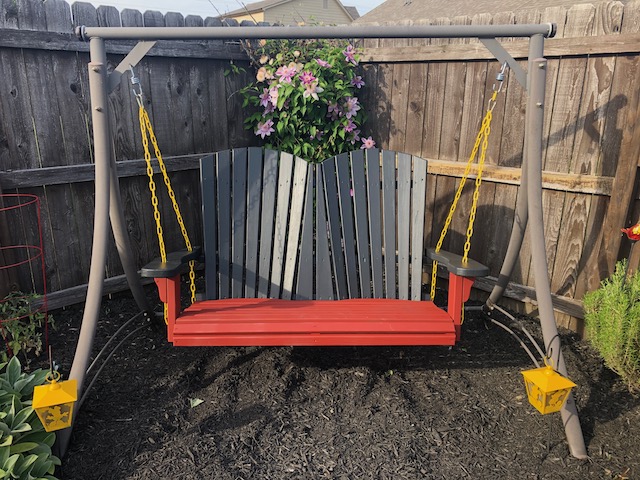 What are ways that you have added the fun of Disney in your yard? We would love to see your photos. Please share them with our KtP Planning Group and on our Facebook Page.