Back in 2009, my family and I participated in a competitive puzzle event at Disneyland! It was a lot of fun, and I got permission to share this puzzle with you all! It's one you can do at home!
First, I'll give you a little background on the event. The puzzle event was put on by a San Francisco based company called Shinteki. My husband is a competitive puzzler and competes in events from Microsoft in Seattle to M.I.T. in Boston.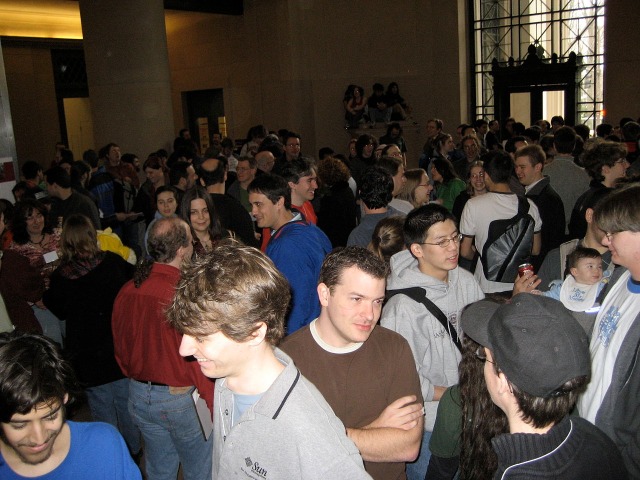 This event, which was not sanctioned by Disney, was titled "Field Trip – Disneyland." The puzzles inside the binder we were given were organized by land, as some of the puzzles were ones that needed to be completed on the rides.
All of the puzzles solved to a single word or short phrase. Participants were provided an answer sheet.
At the end of the day, you turned in your answer sheet with as many puzzles solved as possible and you received either a bronze, silver, or gold designation!
I enjoyed this format because I'm not a professional puzzler, so if we saw a puzzle that we didn't want to solve or didn't know how to solve, we just skipped it.
The one I am going to share with you was from New Orleans Square. It was one of the simpler ones, but it was about my favorite ride, The Haunted Mansion. The puzzle was titled "You Don't Know Jack Skellington."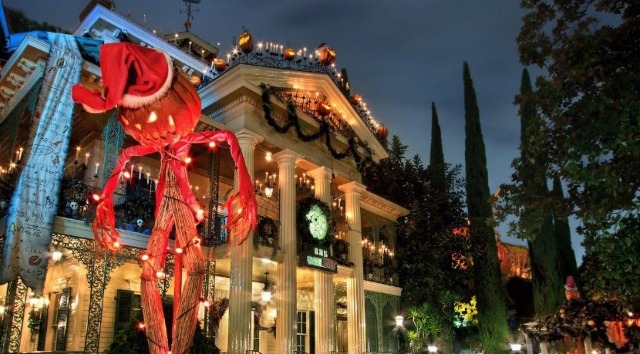 The best part is, you do not need to be at the park to solve it!
Instructions
"You might be able to make it out of the Haunted Mansion Holiday alive, but can you figure out how to actually answer these questions about it? Let the voice of reason guide you on how to approach this puzzle."
If you correctly answer all the questions, the letters spell out a word!
Puzzle:
1. Is this haunted room actually stretching?
A. The four portraits are getting taller.
N. The floor is an elevator that moves downward.
S. The ceiling rises upward while the floor remains in place.
2. Are these haunted pictures actually changing?
P. The pictures are composed of many slats that spin around to reveal other pictures on the other side.
O. The front layer of each is made of a fabric that turns transparent when it is lit from behind, revealing a different image behind it.
W. The people and things in the pictures change back and forth for real.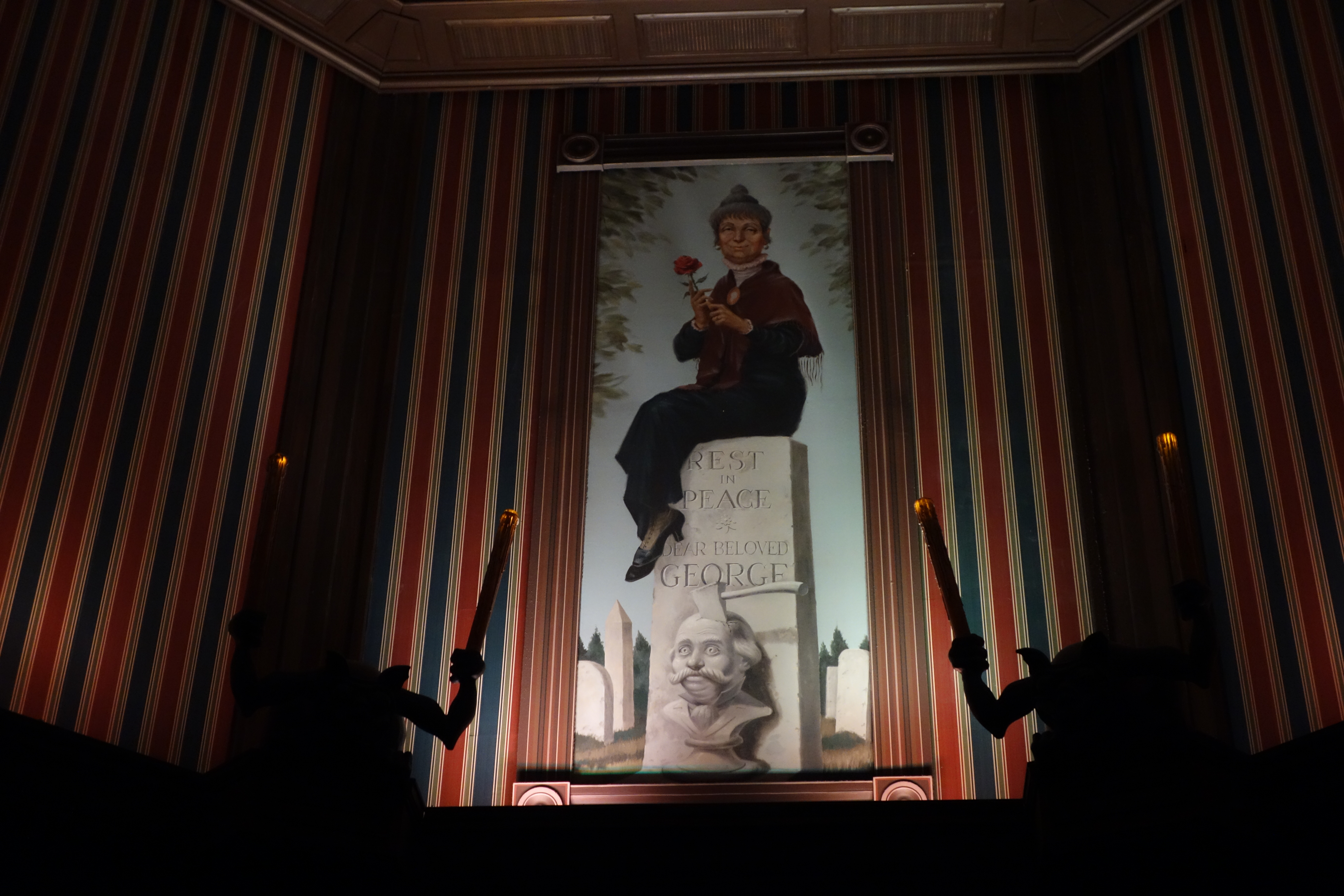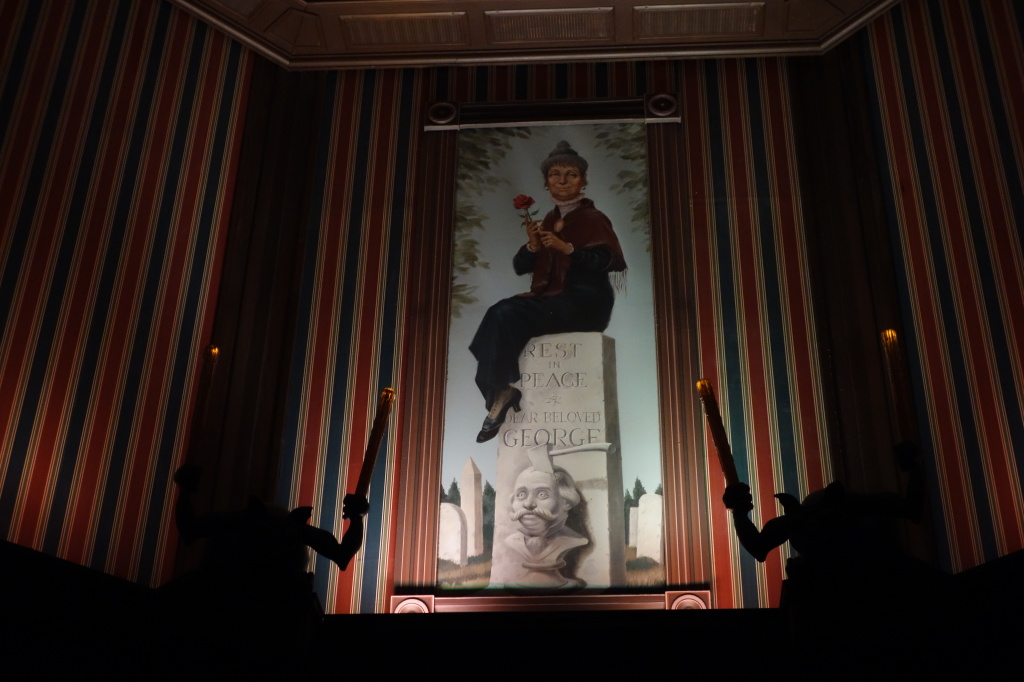 3. Are those busts actually following you?
E. They always know where I am, so they turn to look at me.
G. They detect guest's positions via infrared beams and swivel to face them
W. They only appear to do so because they are concave versions of faces
4. Is that dog actually floating?
B. It's suspended with a hard to see fishing line.
S. Of course! He's a Ghost dog!
T. It's mounted on a somewhat visible pane of glass.
5. Is this hallway actually endless?
E. Mirrors and careful painting (to minimize some reflections) create an illusion of infinity.
I. It goes on for several hundred feet as part of the cast members' underground network of tunnels.
T. I can't see the end, it must go on forever.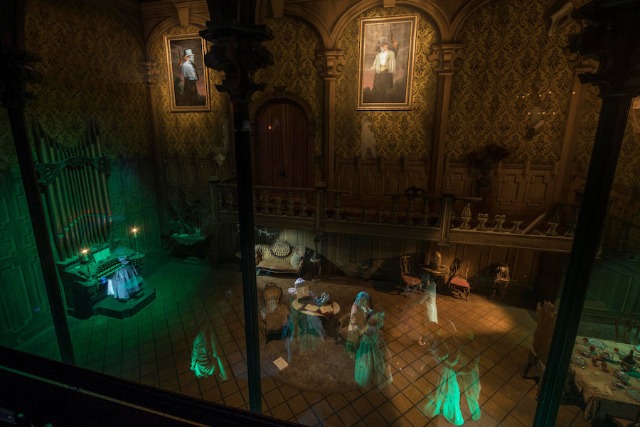 6. Are those actually ghosts dancing in the ballroom?
A. They are reflections (through a pane of glass) of real objects in another room; that's why the women are leading the men.
E. They are holograms- among the first in the world to be produced, in fact!
R. They are dancing in midair because ghosts can float!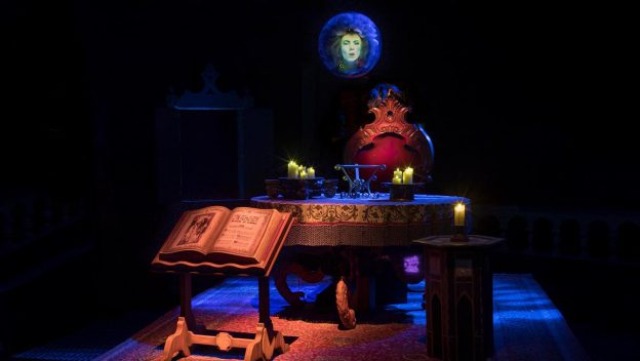 7. Is Madame Leota the seer actually speaking while floating?
G. The head and ball together are an immaterial projection
K. She's a movie projected onto a blank faced head.
U. Wow, how'd she get her head in that ball?
8. Is this graveyard actually covered in snow?
C. The snow must have come from the night sky above.
I. The snow is synthetic. The falling snow consists of small soap bubbles.
M. The snow is real but has a special additive to keep it from melting at above freezing temperatures.
9. Have presents actually appeared in your Doom Buggy?
D. They are reflections coming through one way mirrors
E. They are holographic projections that come out of the top of the buggy itself.
K. They appeared out of thin air. I can almost touch them!
Solving the Puzzle
Did you answer all of the questions accurately? Maybe technical accuracy isn't the goal here? Ask a kid to answer them instead! Let us know in the comments if you think you have the answer!
More Puzzle Fun
If you enjoyed this family-friendly puzzle, let us know in the comments! I have more Disney-themed puzzles to share because our family also does an annual puzzle hunt that most often takes place at Walt Disney World!
I'd love to share some of my favorites with you all!
So, did you get the answer? Comment on Facebook or in our friendly pirate crew Facebook group!