Over 10,000 women and over 1,000 men laced up their running shoes during the early morning hours to begin an Enchanted 10K race through Epcot and Disney's BoardWalk. Continue reading to find out more about running the Princess Weekend Enchanted 10K and all of the fun characters that were found along the race course.
Transportation
One of the best features of staying at the Disney resorts is that bus shuttle is included for all racing events. The buses began to run from 3:30 am to 5:00 am for the 10K race. I stayed at Pop Century for the race weekend, and I was greeted with a sea of fellow half-asleep runners donning tulle and spandex in the early morning.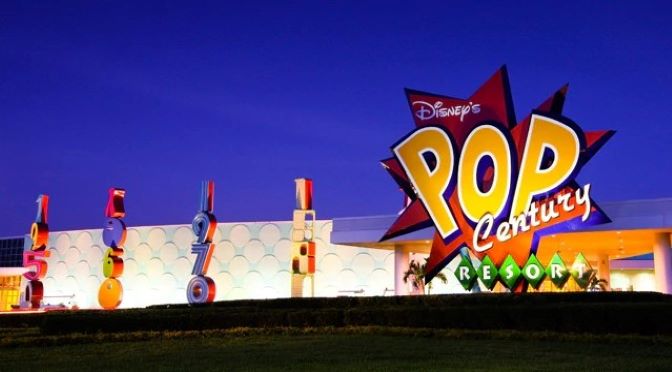 For race weekends Disney uses a third party transportation system in order to get all runners and guests to their desired location right on time.
There was a fleet of busses waiting at the front of the resort to take us to the race.
Pirate Crew Tip: Be sure to arrive at the busses early. With an early arrival, there were plenty of busses to walk right onto. I had also heard from a variety of veteran princesses that since these busses are driven by a third party, bus drivers sometimes got lost and they were late in delivering their princesses to the ball, I mean race.
Meet Characters Before and After the Race
This was my first runDisney event, and I was a little overwhelmed with so much activity prior to the race. There were tents to purchase drinks and food, porta-potties, semi-trucks available to check gear bags, center stage entertainment, and meet and character meet and greets.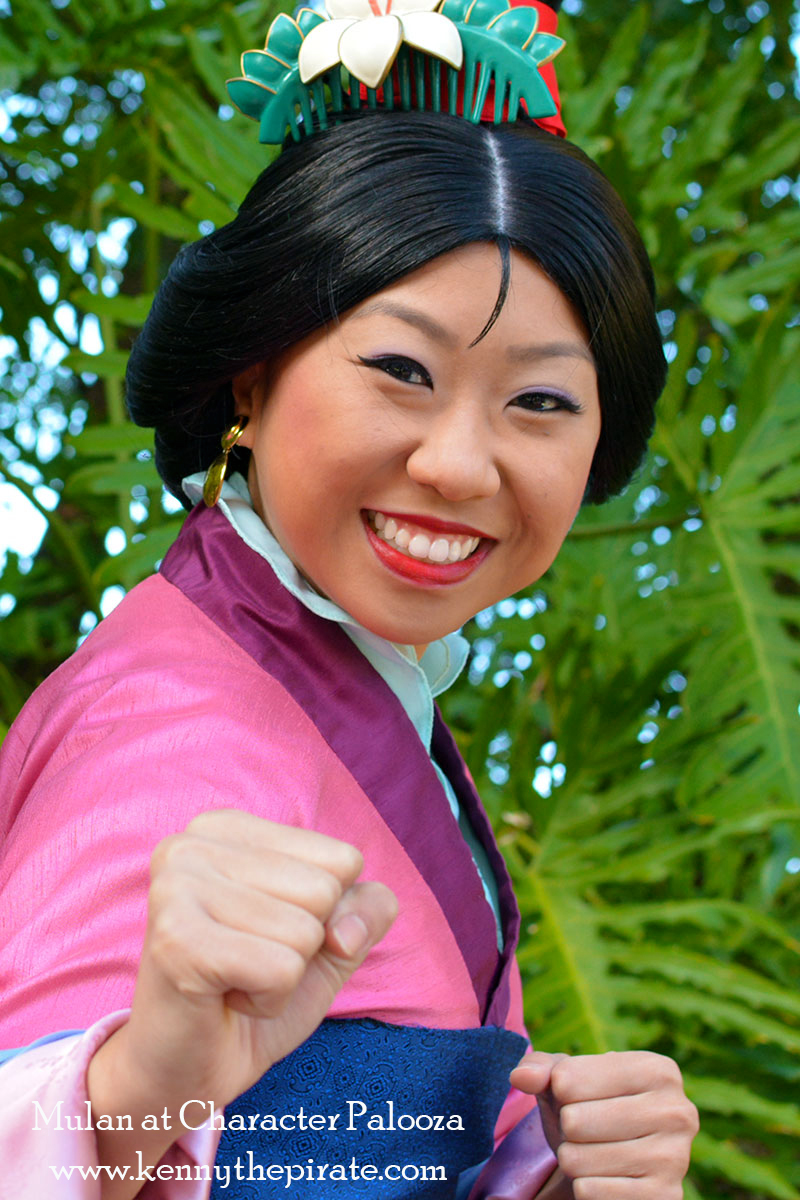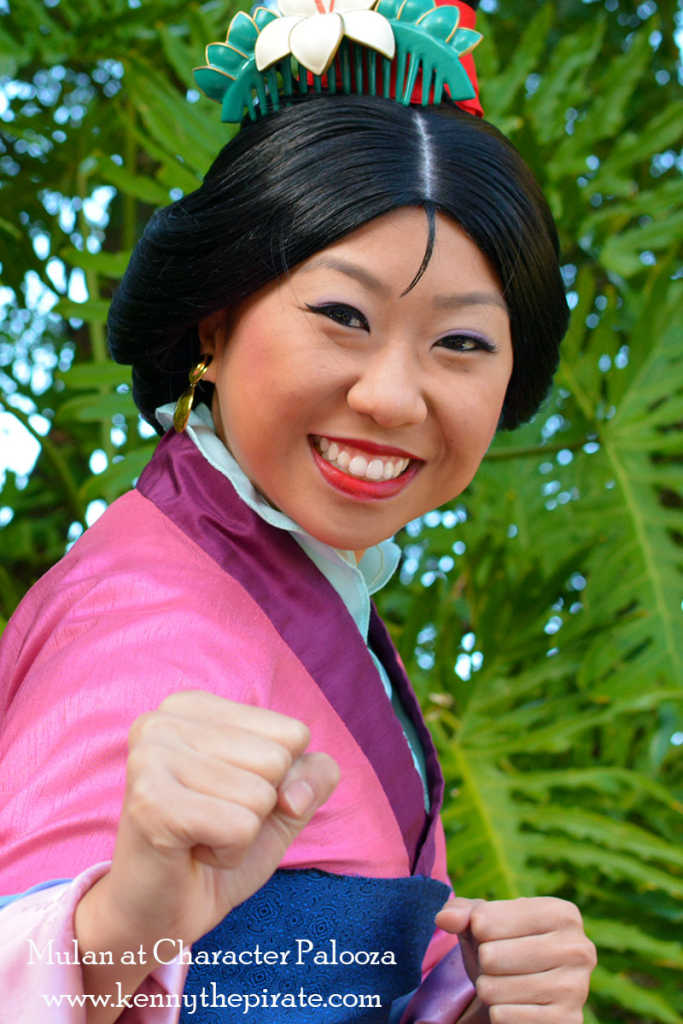 On the morning of the race, the characters available were Anna and Elsa (they rotated meeting runners), Minnie Mouse, Mulan, and Ariel. You had an option to stand in line and meet them before or after the race.
I attempted to wait in line for Elsa or Anna before the race, but the meet and greet closed due to the running corrals opening.
Corrals
My race bib had a corral letter for the 10K based on the Proof of Time that I had submitted. I greatly encourage the Pirate Crew to submit a Proof of Time from a previous race if you can.
I was able to be placed in corral B, and even though I was rather far back in that corral from tying to meet Elsa, I was able to start the race at 5:44 am. The official start time for the race was 5:30 am.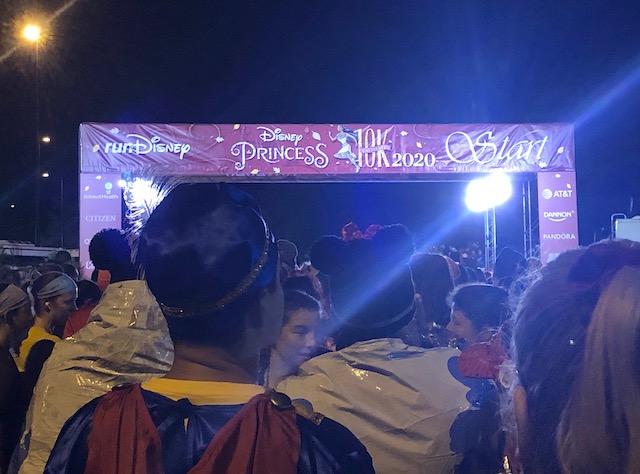 The walk to the corrals for the 10K was a short distance from the main running staging area. There were also ample porta-potties available for one last trip prior to the start of the race.
Magical Extras
Pocahontas was the featured princess of this race. The race began on the road, and as we started our first mile I saw Pocahontas in her canoe on the above overpass.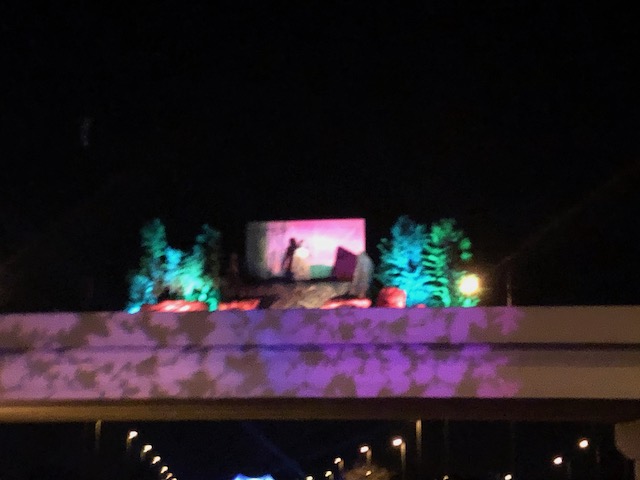 Throughout the race course, there were televisions showing scenes from Pocahontas and Disney music could be heard throughout the course. RunDisney's tagline is "Every mile is magical" and they delivered 6.2 magical miles for this 10K.
Each mile offered themed mile markers and many runners stopped to grab a quick selfie documenting their journey. The mile markers were set to the start of the actual race even though corral placement caused many to start a bit later.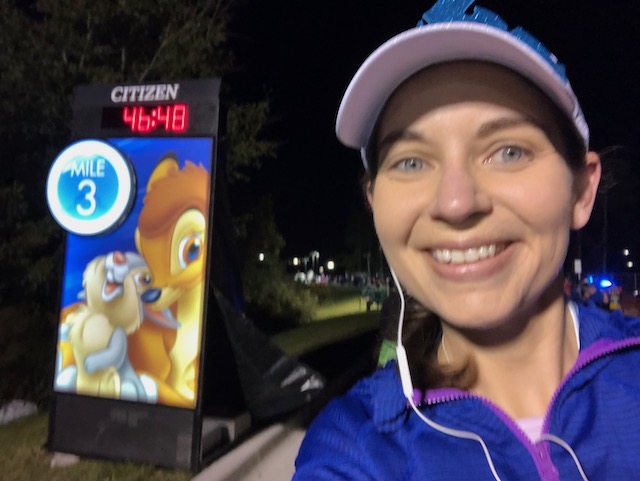 Characters
This was my first runDisney event and my first time completing a challenge of 2 consecutive races. My goal for the 10K was to have fun, have an easy run, and take in all of the magic of the race.
I met so many great characters along the course, and there were even more characters that I didn't stop for.
The first 3 characters that I saw were from Pocahontas: John Smith, Governor Ratcliffe, and Meeko. Meeko was the first character that I stopped for.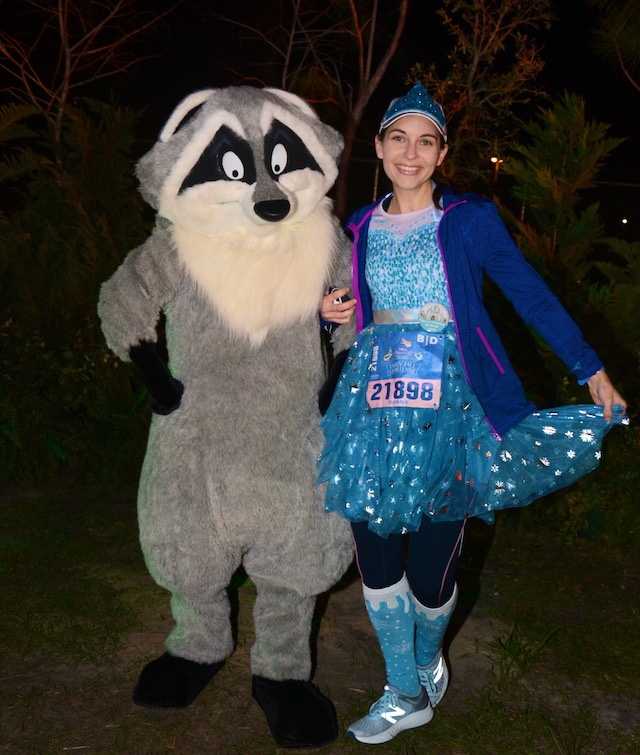 The next character that I came upon was Miss Bunny from Bambi. She had a very short line, and I couldn't resist meeting a character that I have personally never met before.
Characters in Epcot World Showcase
As I began to enter into Epcot's World Showcase, the characters were themed based on the lands. In Germany, I found Pinocchio and Geppetto.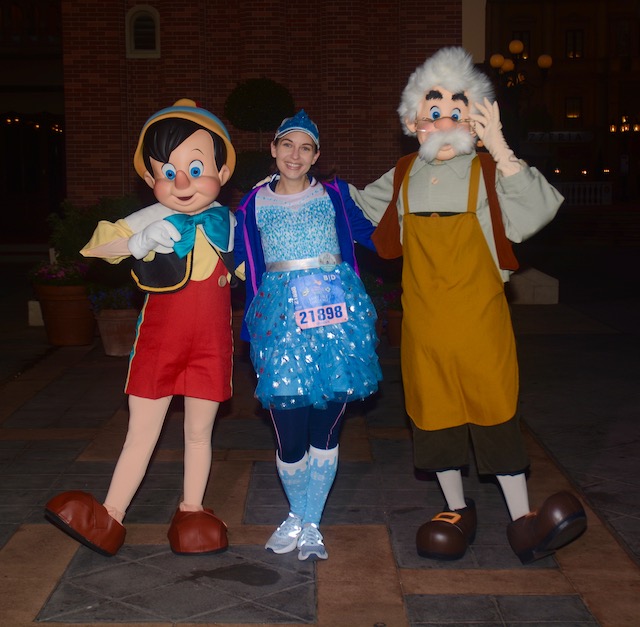 The PhotoPass photographers clicked a quick picture for each runner and you were then on your way. This kept the lines moving fairly quickly and helped to have more opportunities to meet additional characters.
As I come upon the China Pavilion I saw Mushu from Mulan. I knew that this was another unique character to stop for.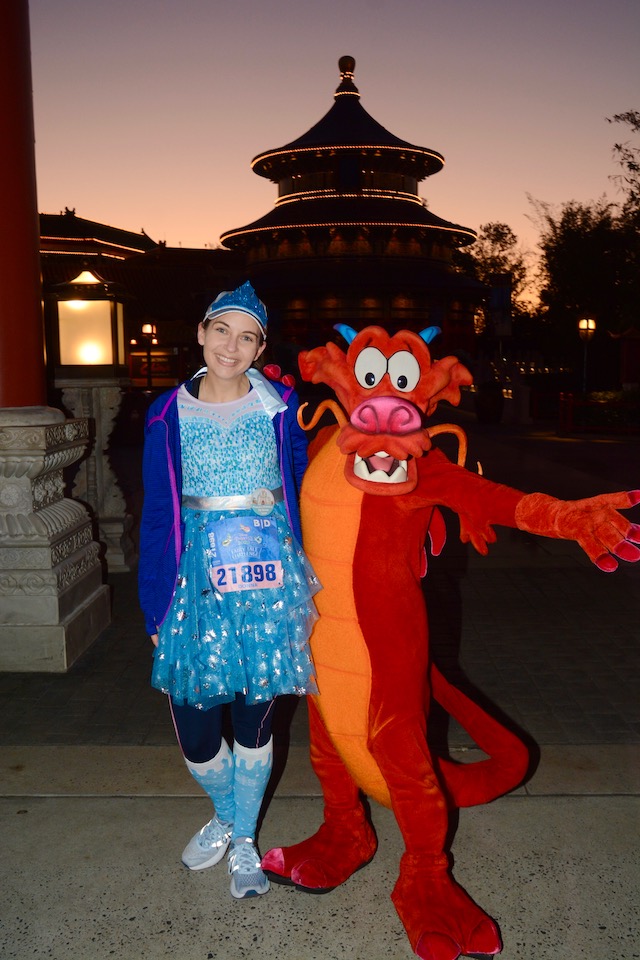 Disney BoardWalk
I thought that I was well on my way to finishing the race with Mushu being my last character stop. However, I saw my favorite character of all time, Mickey Mouse. He was located near the ESPN Club as we entered the Disney BoardWalk. With only two people in line, this was an easy choice to stop for.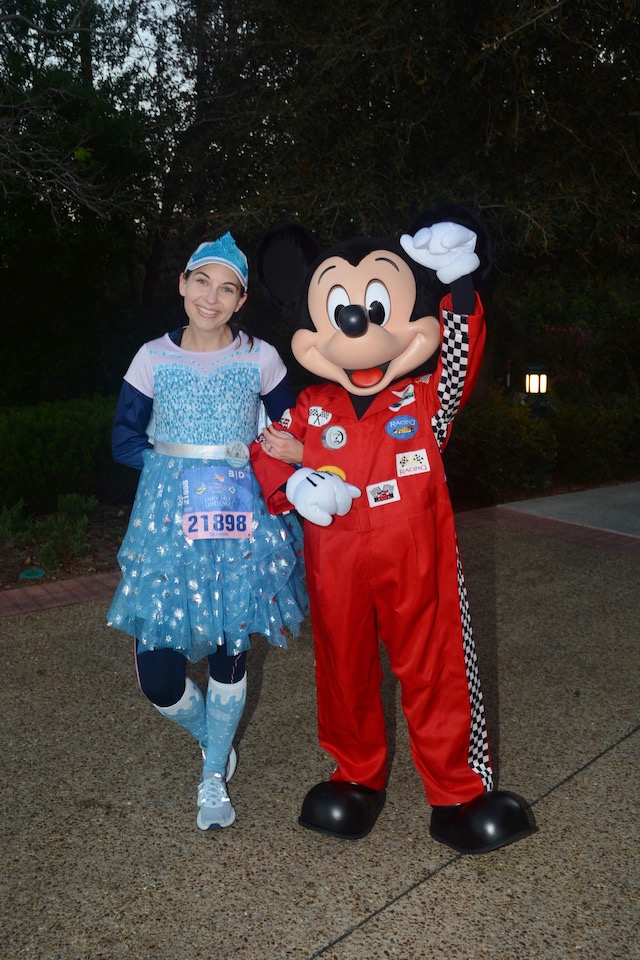 We looped along the Disney BoardWalk and made our way back to Epcot towards the finish line. It was gorgeous to see the sunrise on the BoardWalk.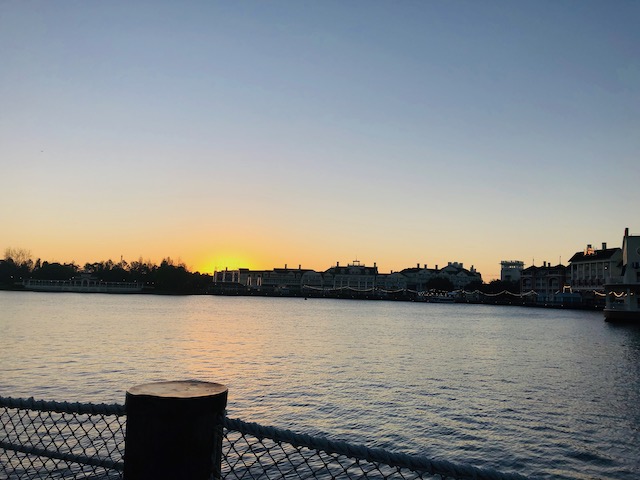 There were many other characters that were available for pictures that had significantly longer lines, such as the three fairies from Sleeping Beauty. That would have been an awesome photo opportunity, but I was so close to the finish line that I chose not to wait in the 30-minute line.
Finish Line!!
There is no Finish Line quite like a runDisney Finish Line. Friends, loved ones, volunteers, and Cast Members were lined up cheering finishers on. Also at the finish line were PhotoPass photographers to capture the magical moment.

After crossing the finish line I received my medal, a mylar blanket, banana, Powerade, water, and Snack box. RunDisney really made it a smooth transition to move all runners through the finish corral. PhotoPass photographers were available to take pictures after receiving medals.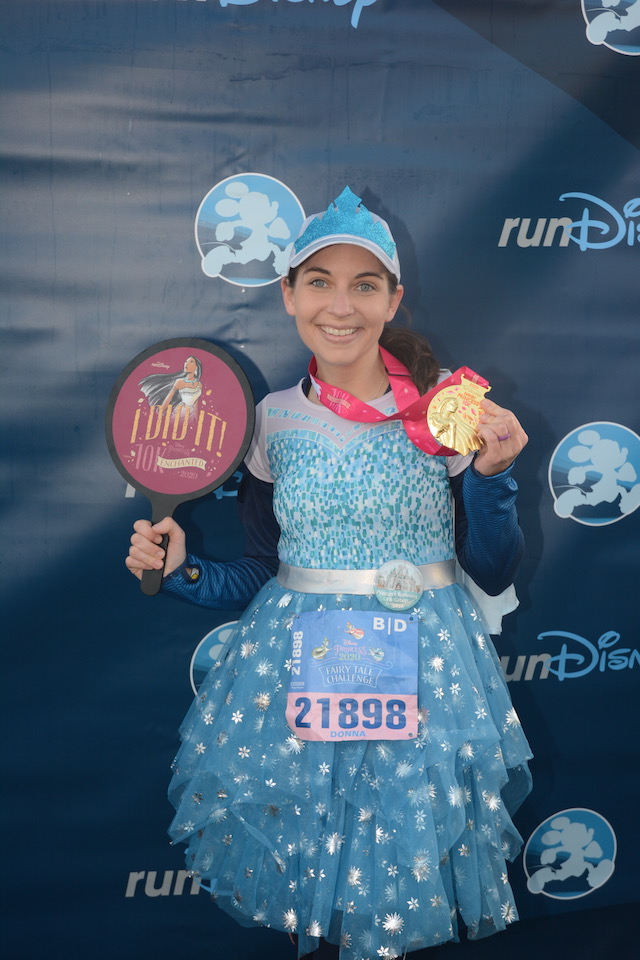 Character Meet and Greets
After the race, the princesses I mentioned at the beginning were again welcoming runners. I was finally able to make it through the line to meet Queen Elsa. It was truly the perfect ending to my run.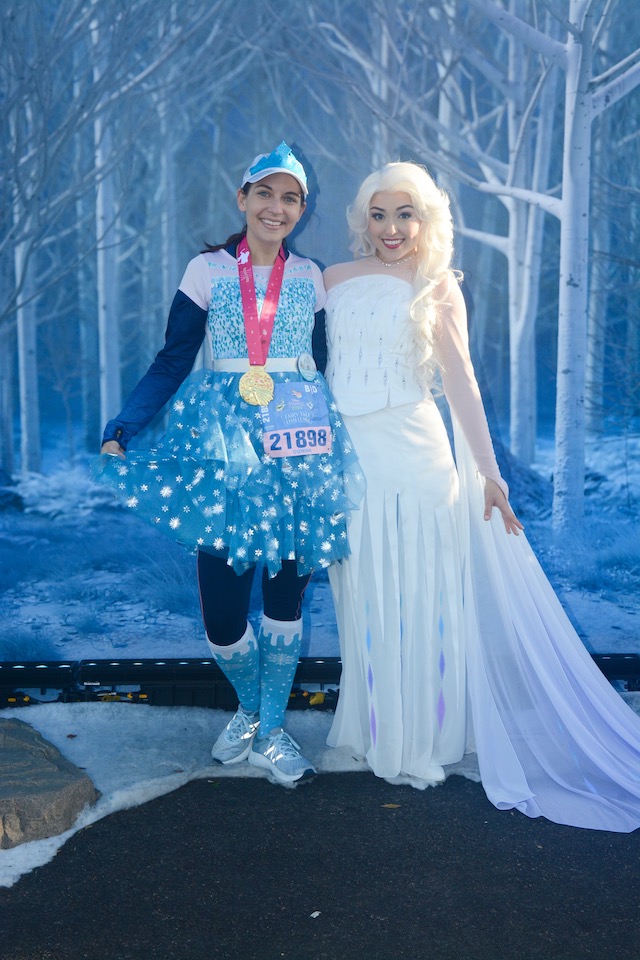 Pirate Crew Tip: For runDisney races, pack for the unexpected weather conditions. Those that ran in the Marathon Weekend in January experienced hot and humid temperatures. Read Heather's article regarding her Magical Miles during Marathon weekend.
Many fellow Princess Weekend runners that I spoke with had also completed the Moana inspired 5K the previous day. That race included 40 degree temperatures and steady rain.
The morning of the Enchanted 10K was 40 degrees and quite windy. I wore so many layers under my costume and I was still shaking as I boarded the bus to head back to the resort.
One fellow runner gave me a tip to use a ThermaCare heated back pad to help warm you up for a race. This will help to warm up your core and can easily be tossed if needed. This is a great tip that I will plan to use for future runs.
I absolutely loved the entire experience and truly every mile was magical. Have you participated in a runDisney event or a Princess Half Marathon weekend? Do you have any additional tips for the Pirate Crew, magical moments, or photos? Share them on our facebook page. You can also continue the discussion in our KtP Crew planning group!