Last weekend I ran the Half Marathon of the Walt Disney World Marathon Weekend. I'm sharing my experience of the race!
My family and I recently traveled to Walt Disney World for Marathon Weekend. I ran the Half Marathon with my mom.
This was not my first runDisney event, but my first Marathon Weekend. I have run the Tower of Terror Ten Miler (no longer running) and several Wine and Dine Half Marathons.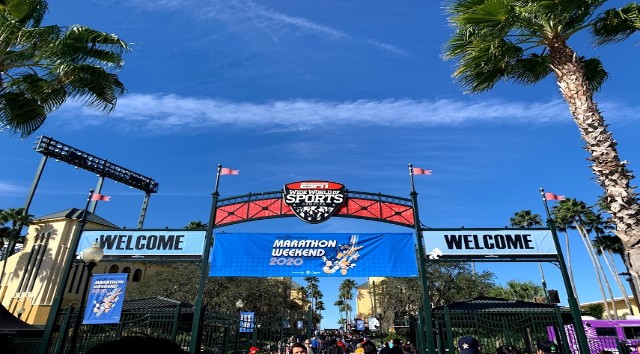 We stayed at Old Key West. This was not my first choice for hotel accommodations, but when we decided to book on the later side, this is all that was available with Disney Vacation Club. Click HERE if you want to learn more about Disney Vacation Club.
We had a one-bedroom villa. It was nice to have the extra space with mom along, but we were not close to the hospitality house. Overall I do like this resort, but it was just over a half-mile walk to the bus for the race events, so it seemed far at times.
As the weekend got closer, I began to see things around Disney World welcoming runners. Signs at the resorts and Disney Springs were all around.
Signs with information for weekend events were at the resort. These signs included transportation information and schedule of events.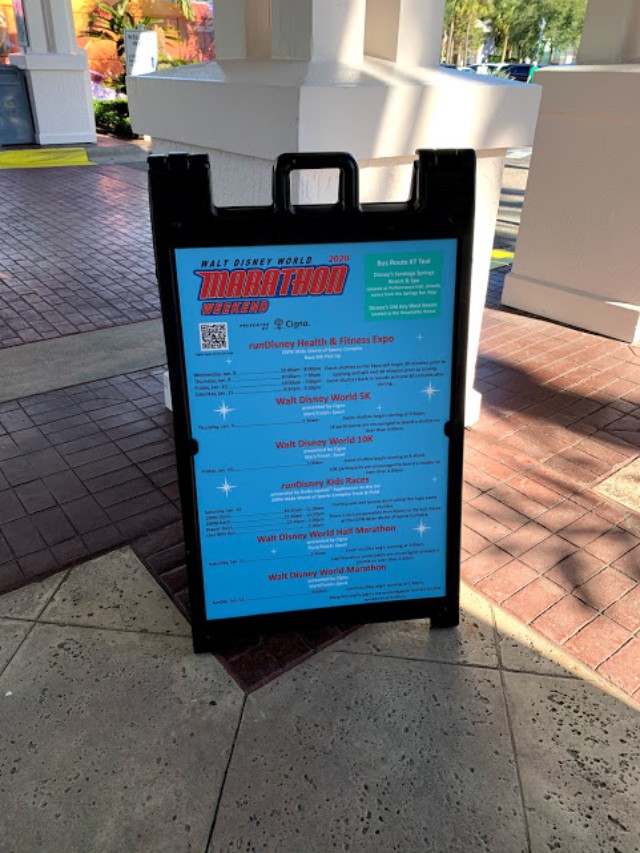 It is important to know that other forms of Disney Transportation besides busses will NOT be running when you will need to be traveling to the start. For example, the Monorail or the Skyliner were not running.
Guests were also not able to use the International Gateway entrance to get to the front of Epcot. People were instructed to go to the front of the resorts to take race transportation to get to the start in the Epcot parking lot.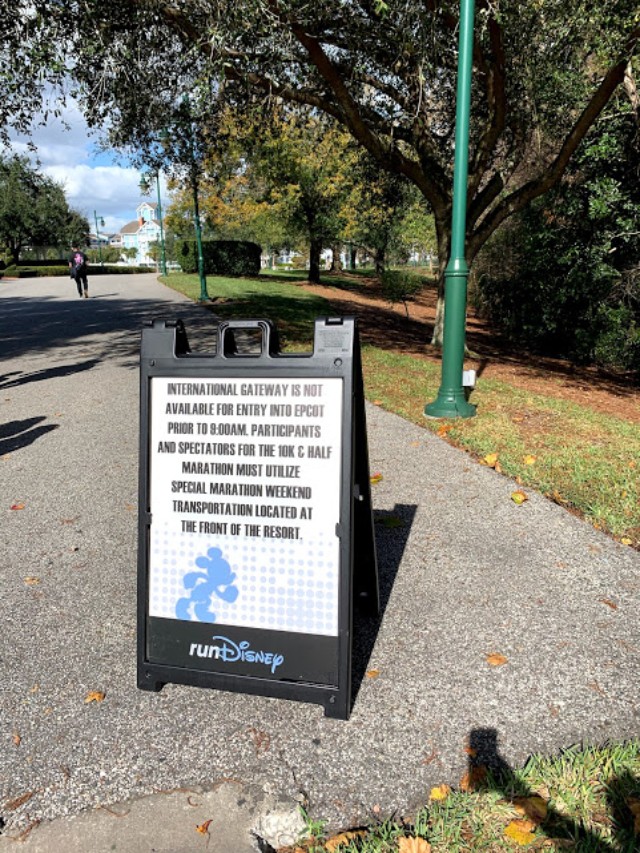 We went to the Expo on the first day, Wednesday. Click HERE to see my experience with this year's event.
The night before the race, I was sure to lay out all my race gear. This included my fuel, outfit, sneakers, Flipbelt, sunglasses, and a granola bar for breakfast. Having everything out the night before makes the early morning wake-up much easier.
We were up and out of the room and walking to the bus stop by 2:15 A.M. Transportation to the race started at 3 A.M. and runDisney recommends boarding a bus no later than 3 A.M.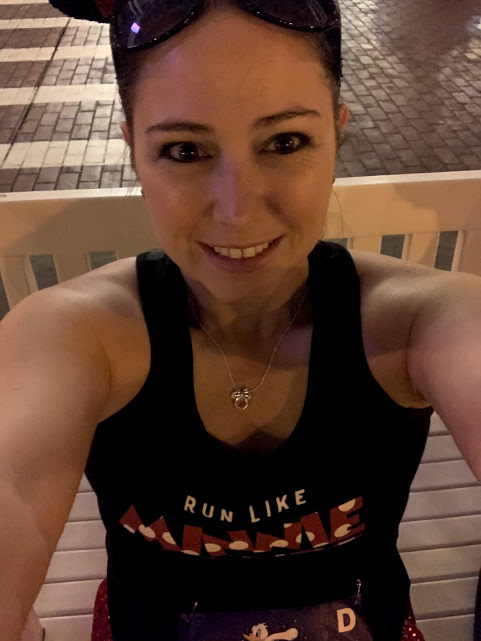 From past races, I knew we wanted to be on the first bus. I had also seen some pictures of people waiting in long lines for buses for the 5k and 10k the previous days. I wanted to get there early and take it all in!
We were the first runners at the Hospitality House and there before the first bus arrived. However, it was not long for the first bus to arrive along with other runners.
We got on the first bus and were off to the race shortly. We arrived at Epcot shortly after 3 A.M.
Upon arrival, everyone had to go through security. Anyone with bags had to go through a separate line.
Once we were through security, we went straight for the characters. Some lines were longer than others. Donald was very popular being that he is the headliner for the half.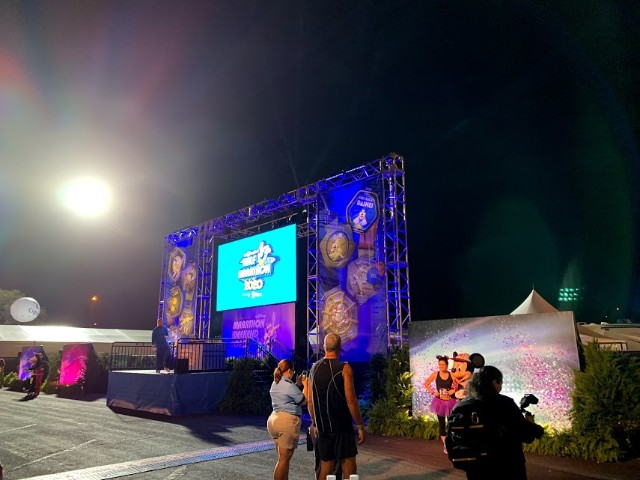 We got in line for Mickey. There are no real interactions with these meets. The fact that interactions are brief, these lines move quickly.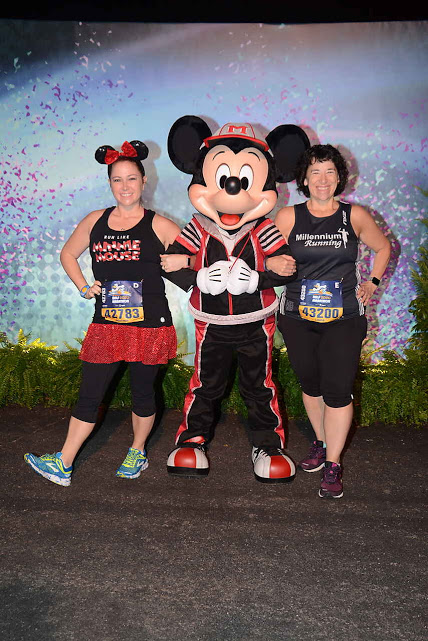 You get to the character, quick hug or high five, and then smile for the camera. PhotoPass photographers are there to take pictures, but character attendants are also fabulous and will take pictures with your phone.
Even though we weren't running the Dopey Challenge, we jumped in line to meet him as well. He was the next shortest line, and I couldn't miss a chance to take a quick picture with him!
Once we took those two pictures, lines were well over 30 minutes for any character. If you are not worried about where you are in your corral then stick around.
We headed over to the runner only area to wait to be let into our corrals. We wanted to be closer to the front of our corral for more buffer of time for character pictures on the course.
They let runners into the corral walkout area at about 4:10 A.M. Even though I had seen the map of the start staging area, I was not expecting the length of the walk. I wish I had tracked it to see how far.
When I ran Wine and Dine Half, the corrals were right near the start staging area. For this race, we had to walk out to the road versus starting in the parking lot.
Once you are at your corrals, the volunteers make sure you are entering the correct corral. You can move backward, but can not move into an earlier corral. I moved back one corral to run with my mom.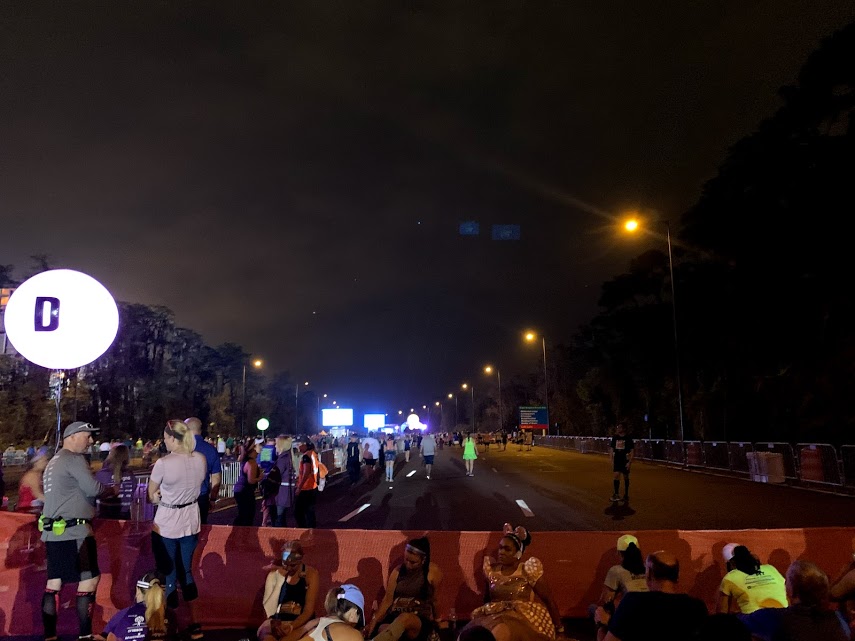 It didn't feel like we hung around too long. The race started at 5:30 A.M. They have entertainment with music and race announcers.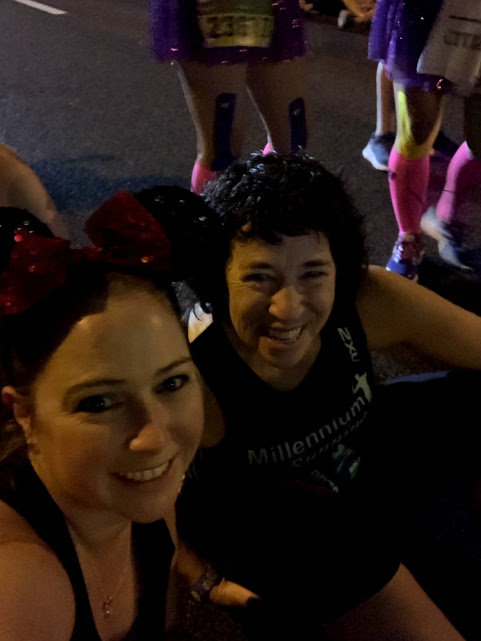 Finally, it was our turn. We started off, and it was CROWDED. I was expecting it to thin out eventually. Not like local races, but just a little where you didn't feel like you were on top of everyone. It did not, it stayed crowded throughout the entire race.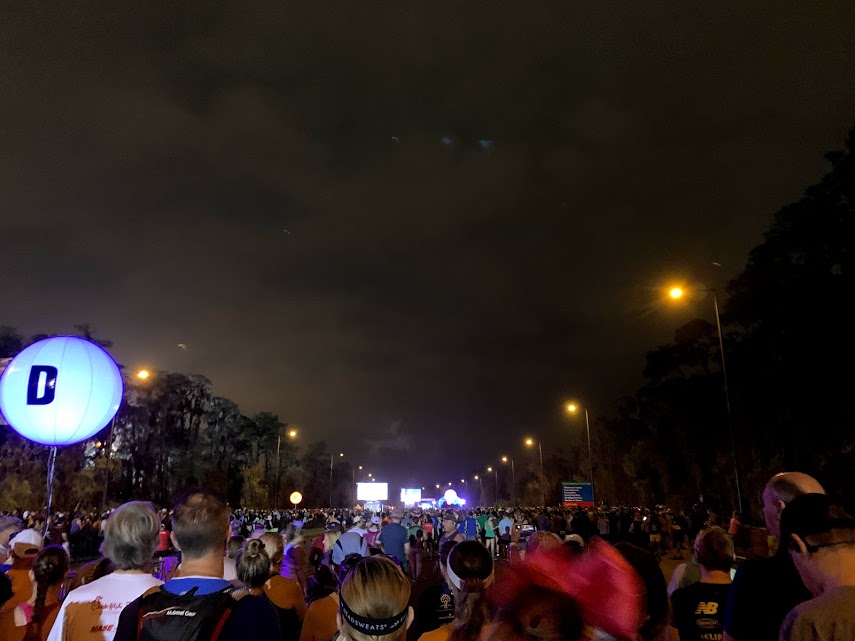 This is a victory lap, and you will probably not get a personal best. It was even stressed to us by race announcers with the humidity and heat that this is not the race to try that.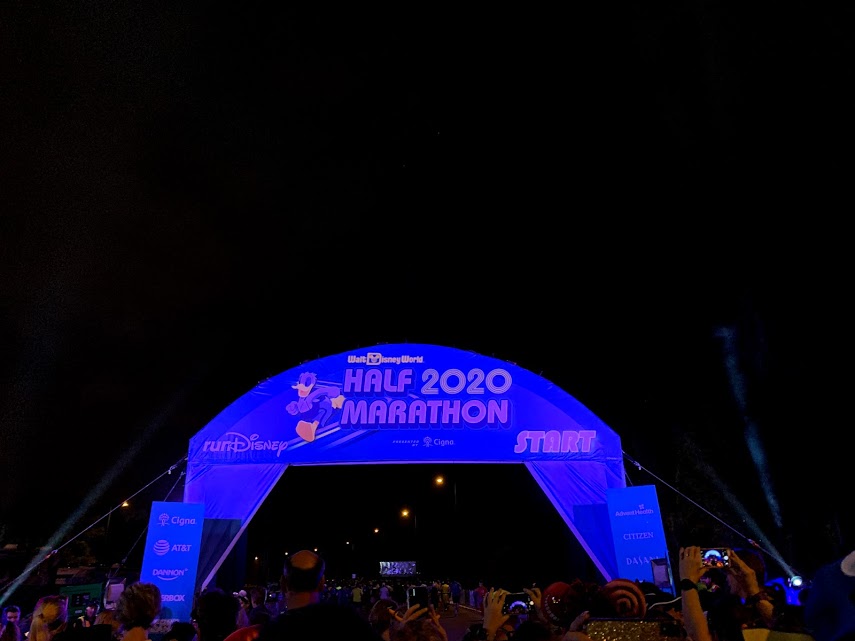 The announcers also informed runners that it is up to race officials to determine any changes with the course if need be to maintain runner safety with flag warnings.
Our goal was to get to Magic Kingdom before sunrise. I wanted a picture in front of the castle all lit up.
We missed about three character stops before hitting the Magic Kingdom toll booth. These characters included Esmeralda and Clopin, Lilo, and Pirates of the Caribbean.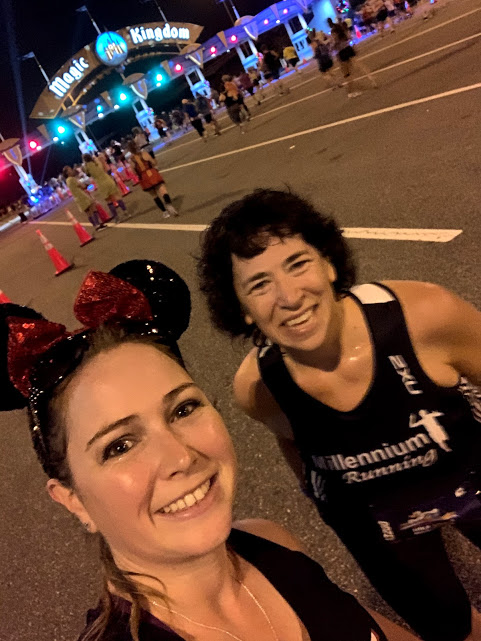 In the Magic Kingdom parking lot there were two more character stops. The toy soldier with a reindeer and Duffy the Disney Bear. I would have liked to stop, but was really wanting to get pictures with that castle all lit up!
We made it to Magic Kingdom in the dark! Running down Mainstreet U.S.A. was amazing. Lots of crowd support! There were so many more people spectating than I had imagined.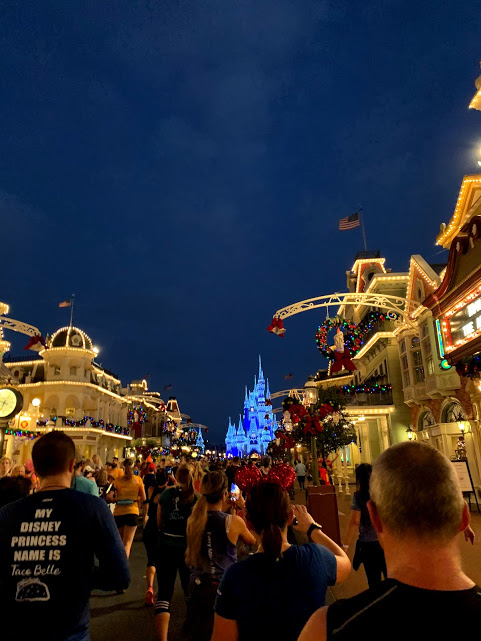 We ran through Tomorrowland and into Fantasyland. Stitch was meeting outside of his normal meet and greet spot. The Queen of Hearts was meeting in front of the Teacups. We opted to take pictures with characters after the castle.
Then it was time! Straight through the CASTLE! Disney Photopass photographers were at the bottom of the ramp and then they had three photographers in front of the castle for more pictures. As I write this, I am still waiting for all of my Photopass pictures to be linked to my bib number.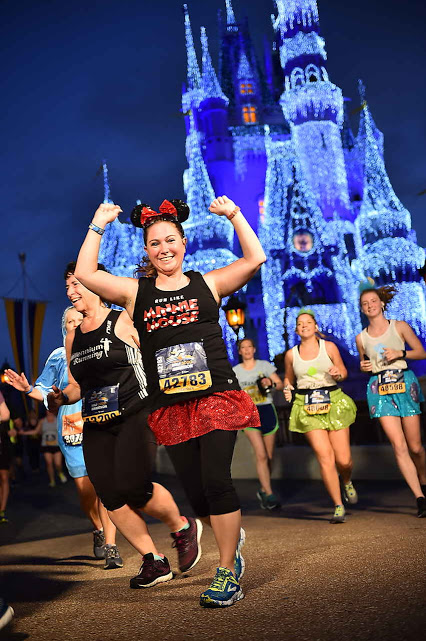 Now, it's character time! Our first stop Woody! He was meeting in Frontierland.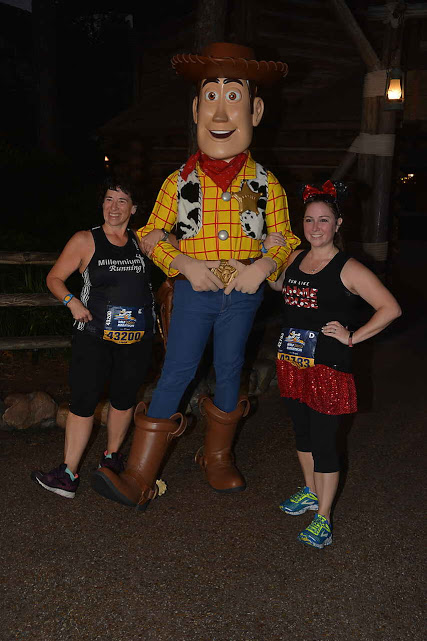 We then ran backstage near Splash Mountain. Here we met Pinocchio with the Festival of Fantasy Parade floats.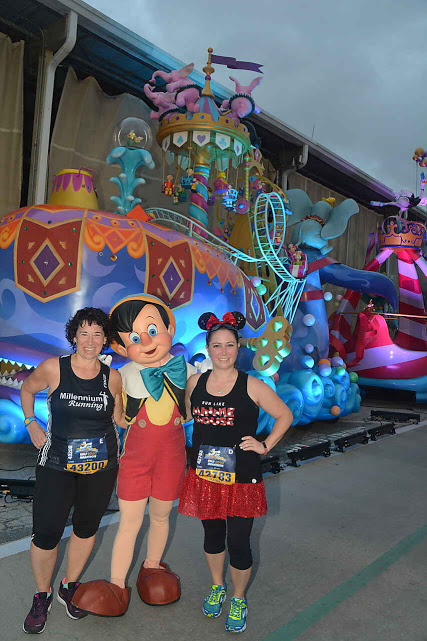 Continuing out of Magic Kingdom we met Chicken Little. We then exited out onto the roads again.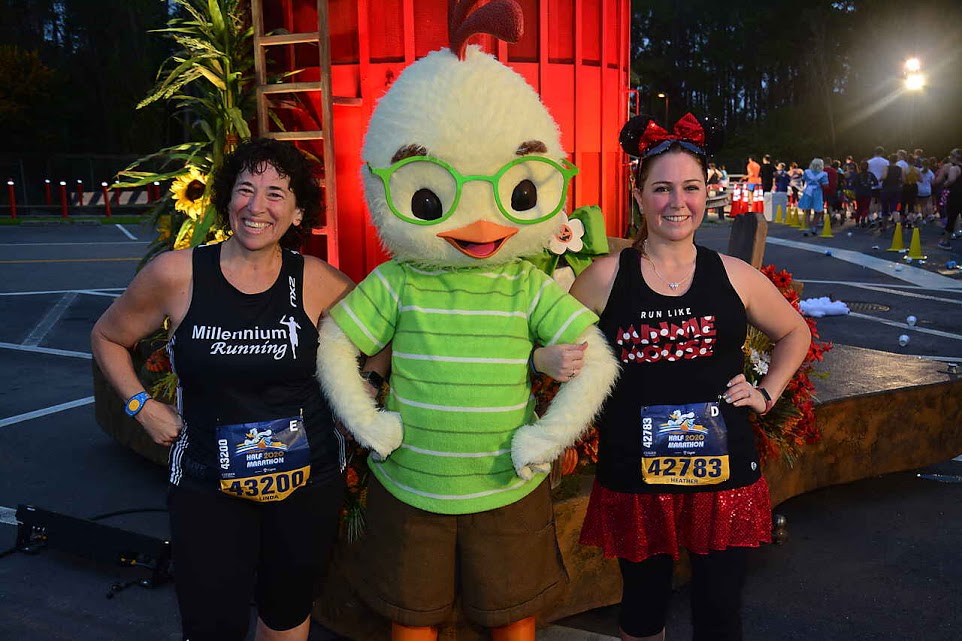 Near the Grand Floridian and Polynesian were two more character stops. We met Pluto and Daisy Duck.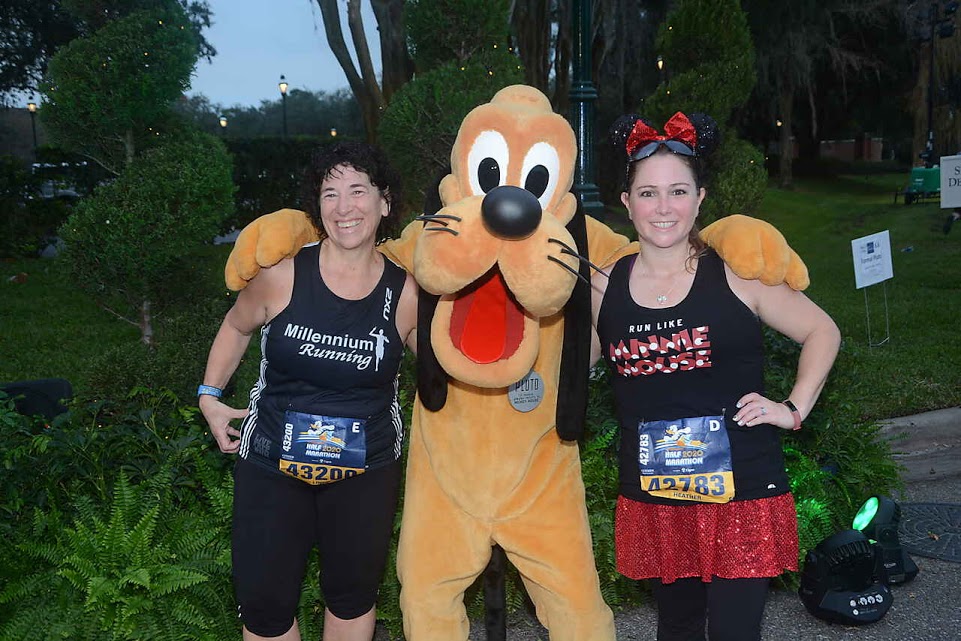 The rest of the course was mostly highway until we got back to Epcot. We stopped at four more character stops.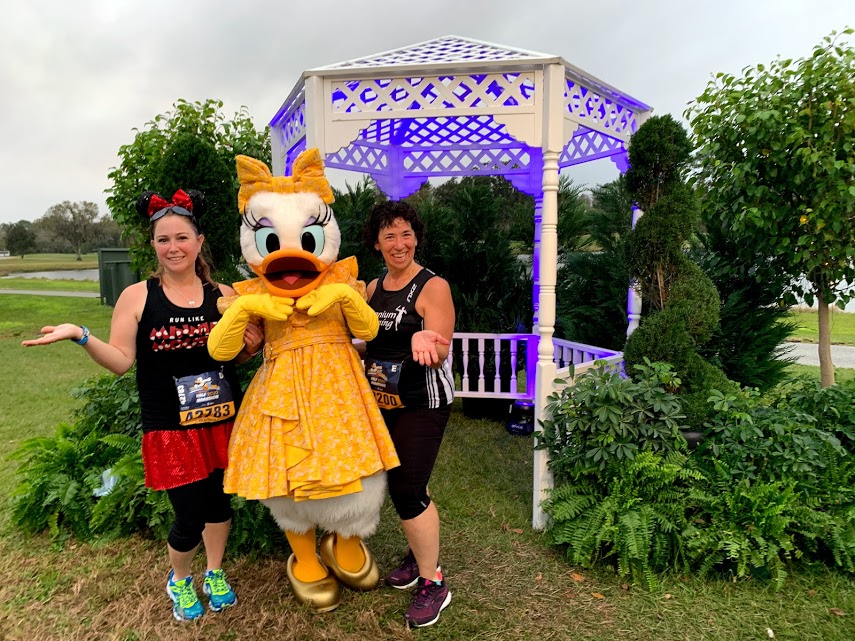 We stopped to meet Goofy, Lightning McQueen and Mater, Pirates of the Caribbean, and Lilo. The pirates and Lilo switched sides of the road for our return back to Epcot.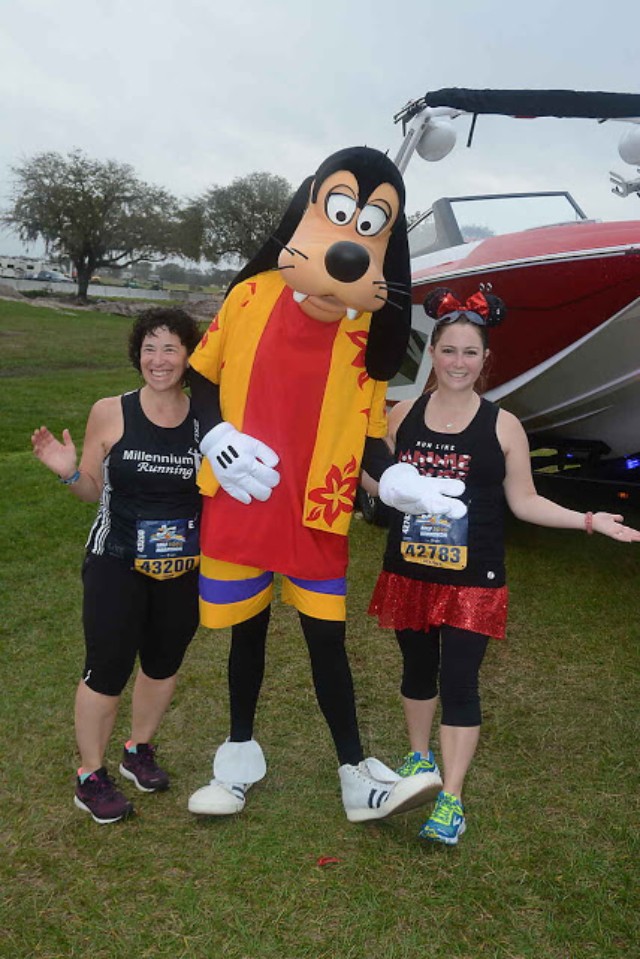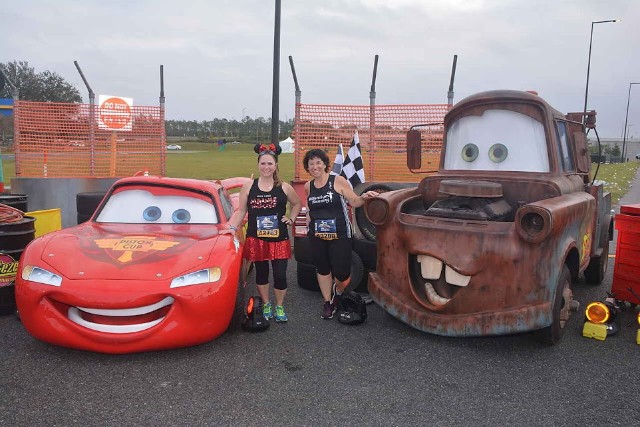 Once inside of Epcot there were two more character stops. These included Horace Horsecollar and Panchito Pistols. Horace was meeting in a backstage area when we first entered Epcot and Panchito was meeting in Mexico.
We didn't stop for these two characters. Unfortunately, the heat was getting to us (from New England and trained in the cold) and that humidity was no joke!
Thank God for a mostly cloud-covered run, when that sun was out it was HOT! We saw many racers walking more, and sharing that they had NOT planned to walk as much as we all were.
The rest of the course was backstage to get back to the Epcot parking lot. Even with the crowds, I managed a solo picture!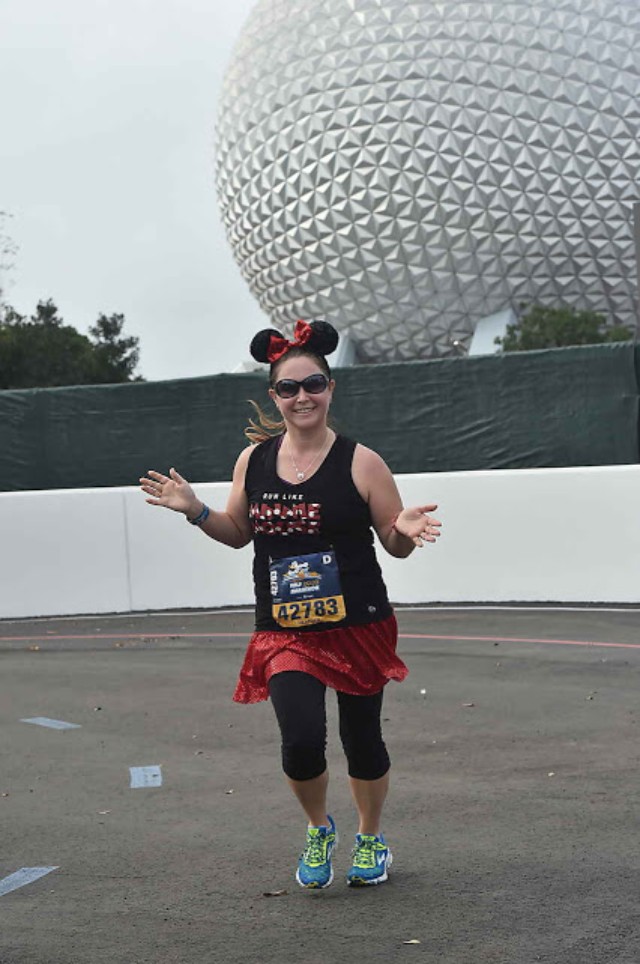 FINISH LINE! WE MADE IT!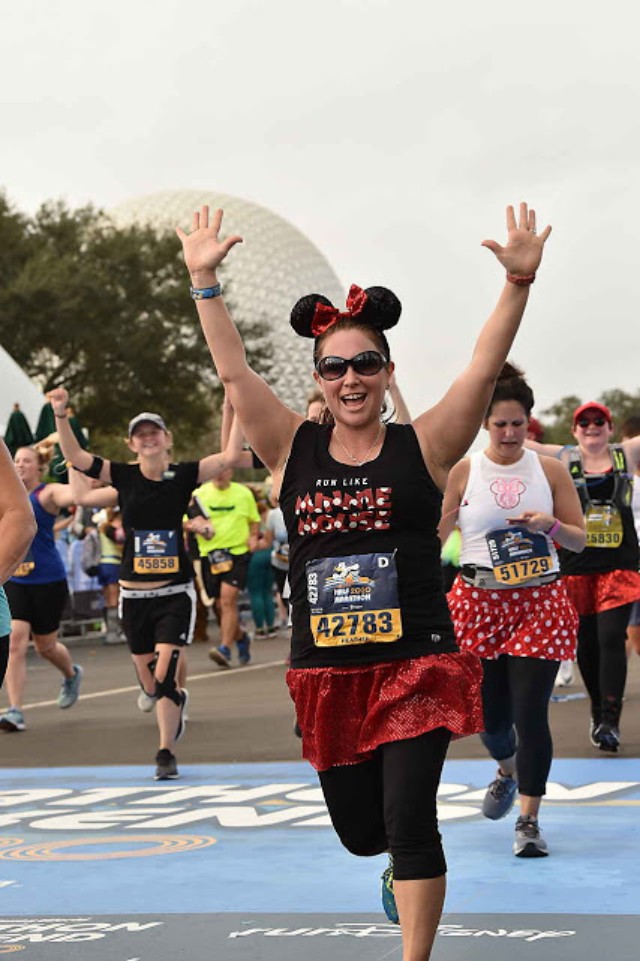 Once through the finish line, you receive your medal. There is then a self-help medical tent. You can get ice or Bio-Freeze here.
Water and Powerade are further down the finish chute. We continued to walk and grabbed our water and Powerade (full size!).
Everything is labeled clearly on where to go and there are lots of volunteers to help direct runners. We then picked up our snack box and banana.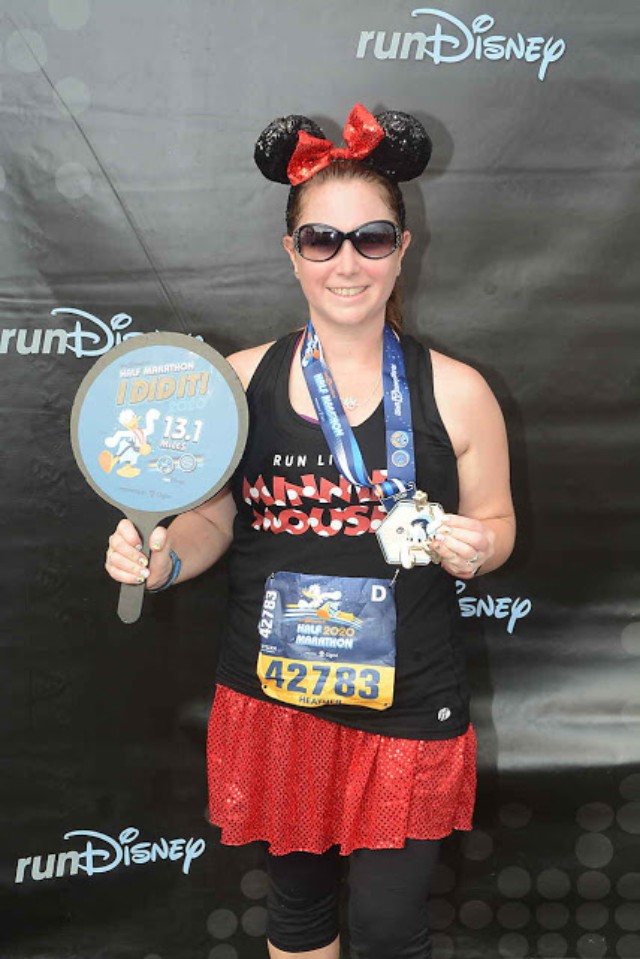 Next stop, finisher pictures. Here you can hold up the "I did it!" sign with the runDisney backdrop.
We then found a spot to stretch and enjoy our snack box. This is what the snack box contained.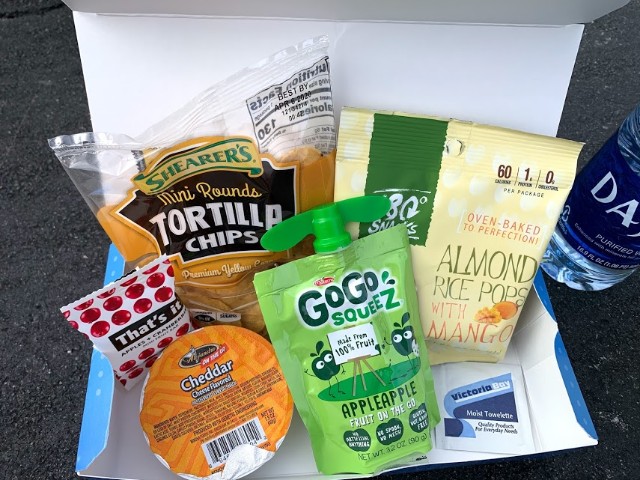 In the finish area, there are places to buy food and drink, event merchandise, and the characters meet again from the starting area.
We then met up with my husband and son, and we decided to head back to the hotel. Everything was clearly labeled on where each hotel bus stop was. Volunteers held up signs showing where the end of the line was.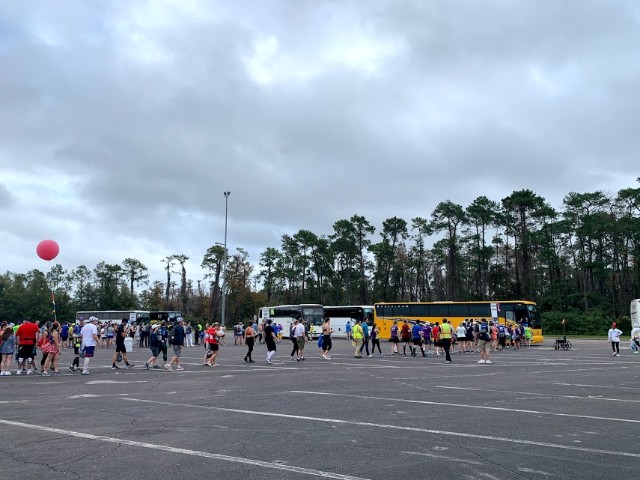 Buses came often. When we got on our bus, they were filling two buses for Old Key West and Saratoga Springs.
When we got back to Old Key West, the Cast Members had signs for us to take pictures with! This was a nice surprise. We did not have this experience with Wine and Dine.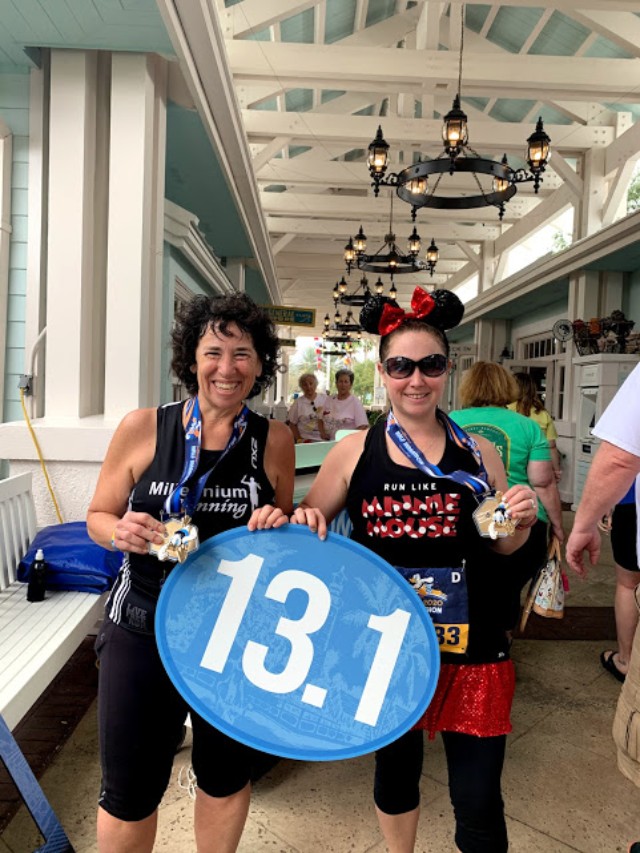 We then showered and headed off to Magic Kingdom to get pictures with our bling! I had to get the picture in front of the castle now that I finished!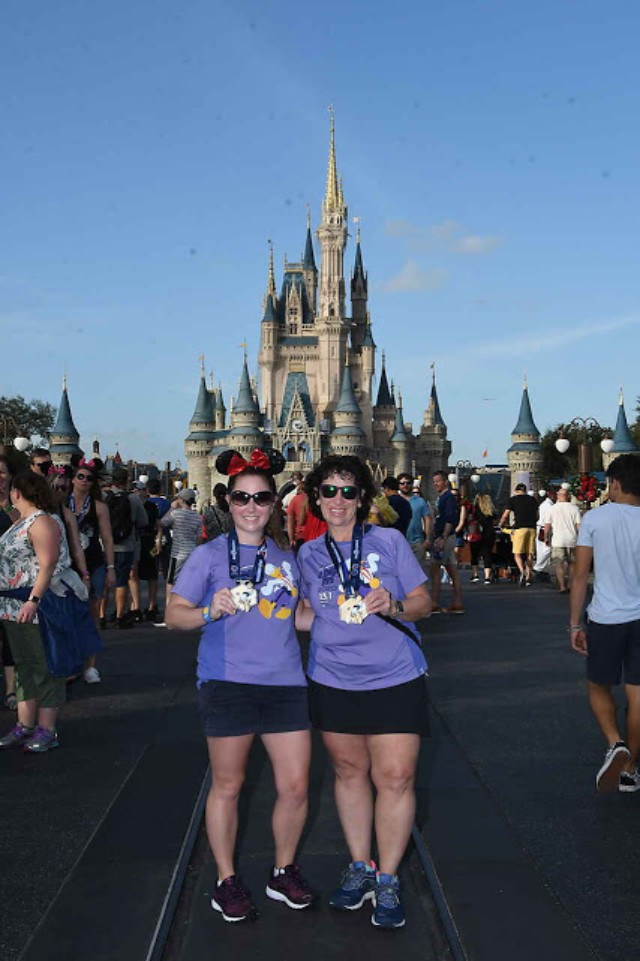 After the marathon runners were done on Sunday, Goofy was meeting at our hotel. We grabbed a picture with him and our medals.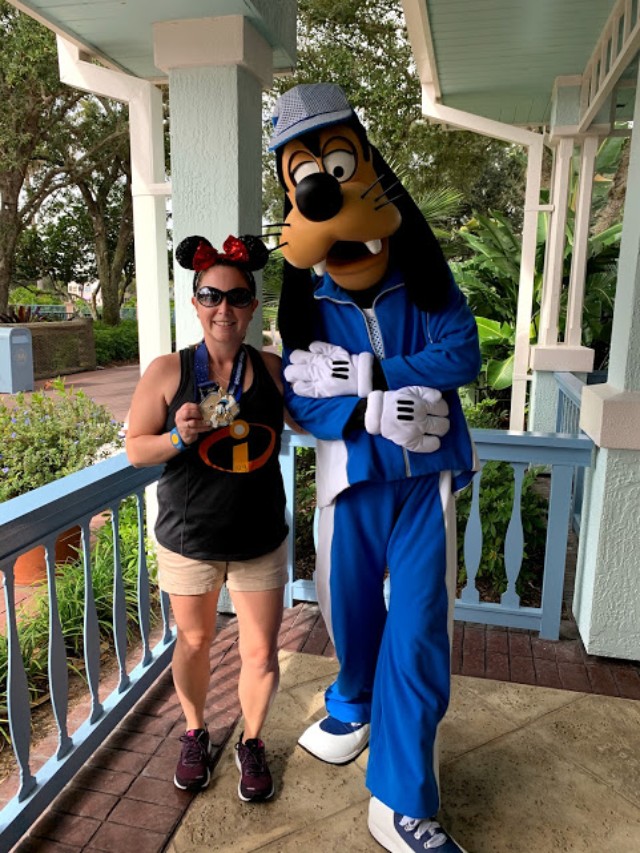 I LOVED this event even though it was much more crowded than Wine and Dine. I can't wait to go do it again!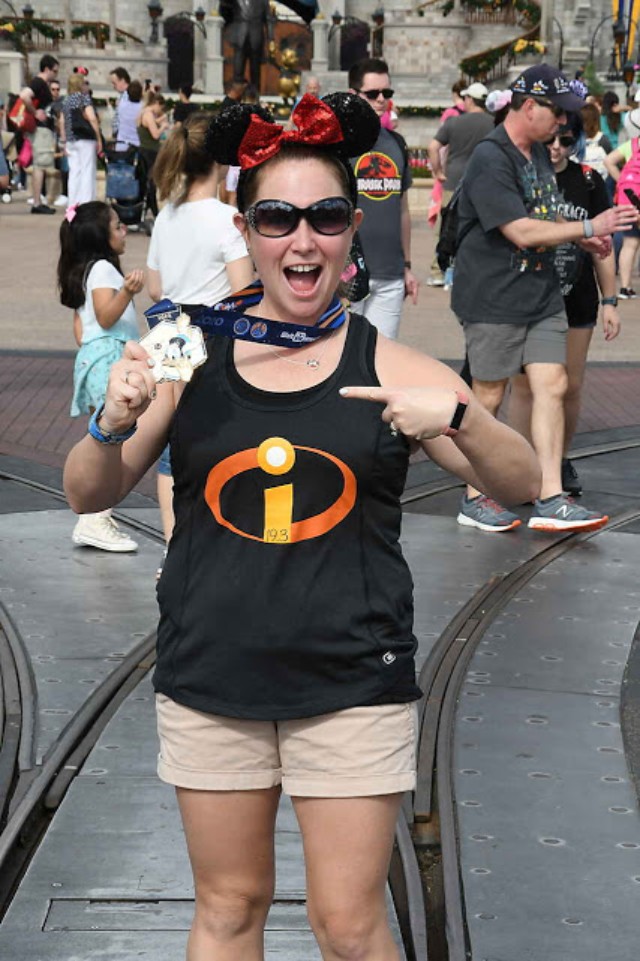 Being there during Marathon Weekend definitely gave me the desire to run the full marathon someday. I guess I better get training!
Were you there for Marathon Weekend? Have you ever participated in a runDisney event? Plan to? Share your thoughts or expereince on Kenny the Pirate's Facebook page.
-Heather Alosa