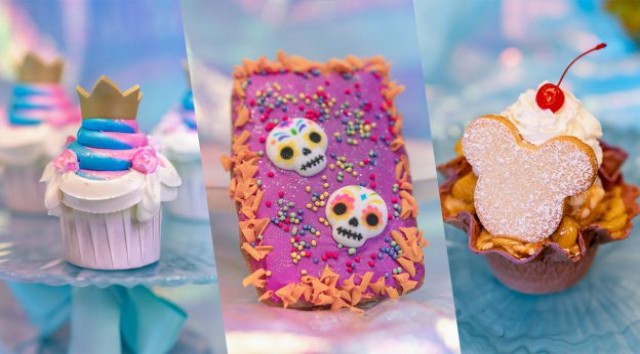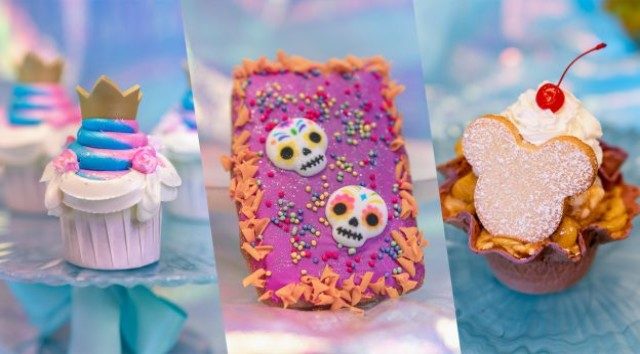 Heading to Disneyland soon? Disneyland is offering some new enticing treats to celebrate their newest parade! They have also introduced a new dining package that gets you reserved viewing for "Magic Happens!"
The newest daytime entertainment addition has just arrived at Disneyland. The parade "Magic Happens" has made its debut! Kenny was there yesterday to grab photos and a full video for us, which you can see HERE.
As always Disney knows how to celebrate and they have continued with some special treats for this new parade. These treats can be found right on Main Street, U.S.A. which is perfectly fitting for the parade's route. Treats can be found at Gibson Girl Ice Cream Parlor, Refreshment Corner, and Jolly Holiday Bakery Cafe.
All of these amazing treats are now available starting TODAY! Check out what Disneyland has to offer.
Special Treats
Find the Dulce de Leche Sundae at Gibson Girl Ice Cream Parlor. This sweet treat comes in a waffle bowl with a double scoop of dulce de leche ice cream topped with caramel, bananas, a Mickey sugar cookie, whipped cream, and a cherry. Everything tastes better when there is some sort of Mickey-shaped food on it!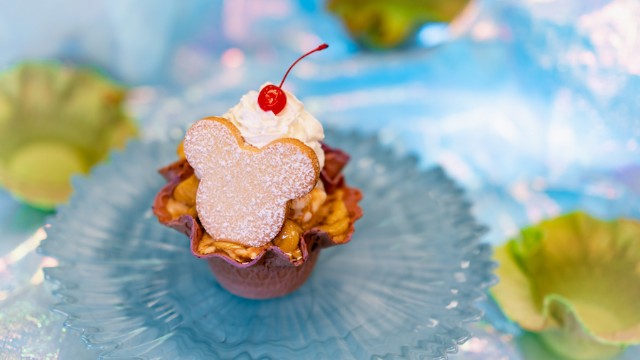 Want a savory treat instead? Head on over to the Refreshment Corner and get the Esquite Hot Dog. This is a foot-long hot dog with crushed corn chips and corn esquite mix topped with cotjia cheese and chili-cayenne powder. This is also served with fresh fruit or chips.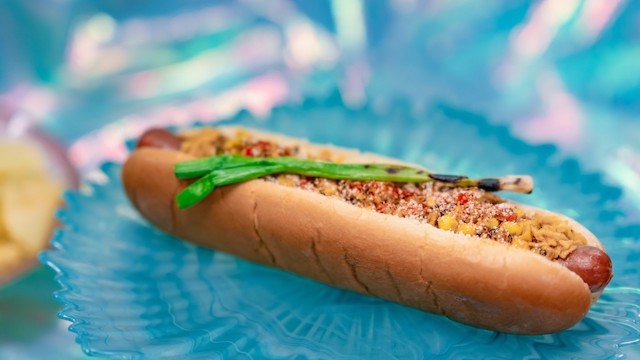 At Jolly Holiday Bakery Cafe you will find some savory and sweet treats. Start off with a savory Island Pork Toasted Sandwich with Black Forest ham, kalua smoked pork, pineapple relish, Monterey Jack cheese, and cilantro. This sandwich is also served with house-made chips. Sounds and looks delicious to me!
Don't forget the sweets here! They are offering a Royal Cupcake, which is a vanilla cupcake with buttercream icing. Yes, please! I am always a sucker for a Disney cupcake!
Another offering for all you sweet lovers is the Dia de los Muertos Hand Pie which has a guava filling. Grab one of these and watch Miguel in the parade!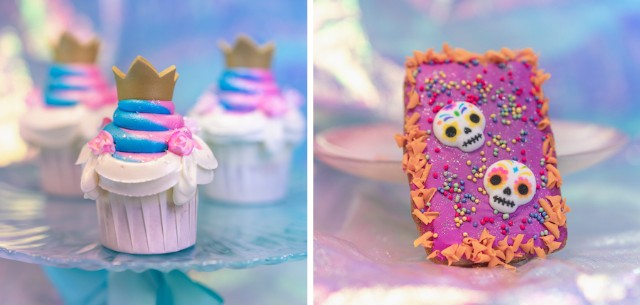 Don't forget to use mobile ordering through the Disneyland app at quick-service locations to skip the lines!
Dining Package
As if these treats weren't enough to celebrate the new parade, there is also a new dining package being offered at the Plaza Inn! Here you will be able to have lunch and then have a reserved viewing for "Magic Happens."
The Plaza Inn dining packages include one lunch entree, one beverage, one Plaza Inn credential, and one voucher. The voucher provides your access to the reserved parade's viewing area.
What can entrees can you enjoy here? Adults will enjoy slow-cooked short rib with chimichurri, chicken thigh fried to a golden brown roasted seasonal vegetables, corn relish, and dessert.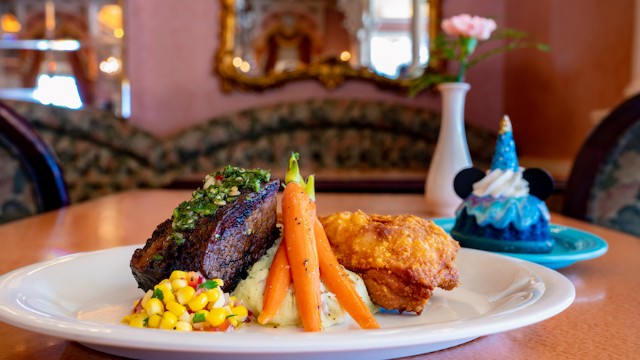 Kids will enjoy fried chicken tenders, mashed potatoes, corn relish, and a choice of apple sauce or baby carrots. They will also receive a dessert. Kids meals come with either a small Dasani water or small lowfat milk.
Vegetarian options are available upon request.
For more information or to book this package click HERE, check out the Disneyland app, or call 714-781-DINE (714-781-3463).
I can't wait to hear what people think about these new treats!
What do you think of these new celebratory treats? Will you be trying any? Let us know by commenting on the Kenny the Pirate Facebook page.
-Heather Alosa