The Magic Happens parade is set to officially begin tomorrow, February 28, at Disneyland. However, Disneyland guests visiting today got a special viewing of the parade! Come check out photos and full videos straight from KennythePirate!
Magic Happens
According to Disney, this parade celebrates awe-inspiring moments of magic that are at the heart of so many Disney stories. Featuring stunning floats, beautiful costumes, and beloved Disney characters, this show is sure to be a hit with all Disney fans!
Mickey Mouse will lead this new daytime spectacular down Main Street, U.S.A. Many different characters and scenes will be celebrated, demonstrating the magic that happens in Disney movies and in the experience of visiting the Disney parks.
Characters featured in the parade include Anna and Elsa, Moana, Coco, Sleeping Beauty, Cinderella, Merlin, and more!
Tips for Viewing the Parade
The parade takes place twice each day, and times can be found on Character Locator.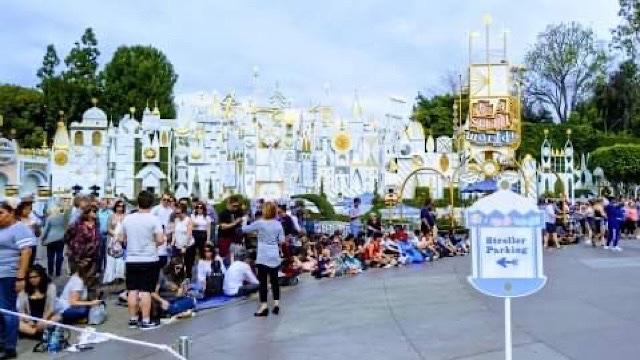 The first showing of the parade begins at "it's a small world." The second showing starts in Town Square. You should plan to arrive one hour before the parade starts to secure your spot.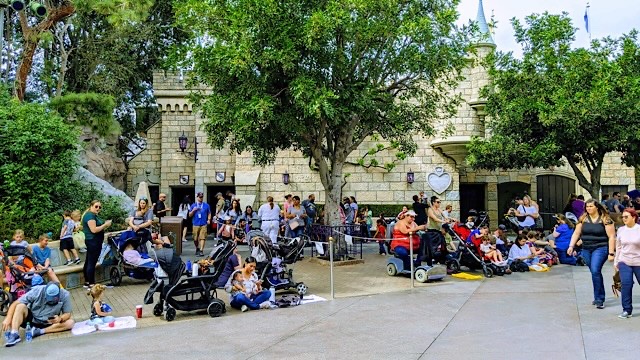 There are a few locations that are optimal for viewing the parade. Some good places are near the "it's a small world" gate or in Town Square. The best spot, however, is in front of the Alice in Wonderland restrooms, which is shown above.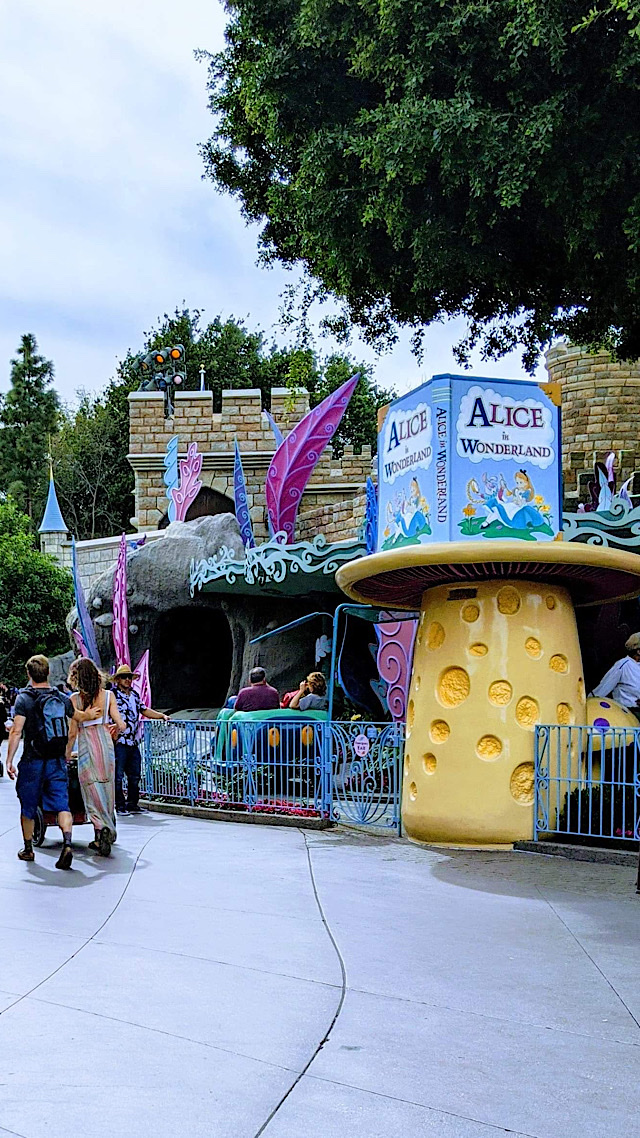 Since no one can sit directly across from the restrooms, the characters in the parade focus on guests only on one side of the street!
Now, let's get on to the parade!
Mickey and Friends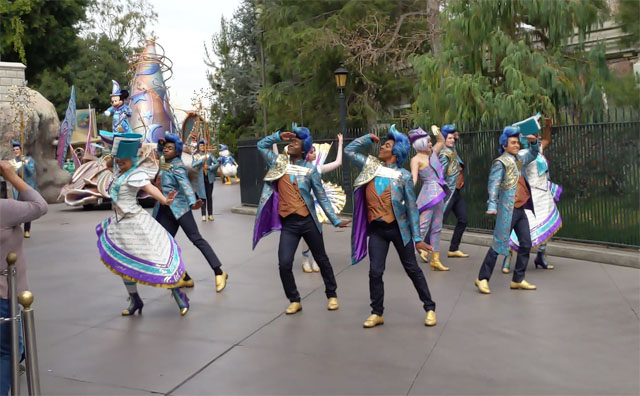 The parade begins with a group of dancers and then Mickey himself!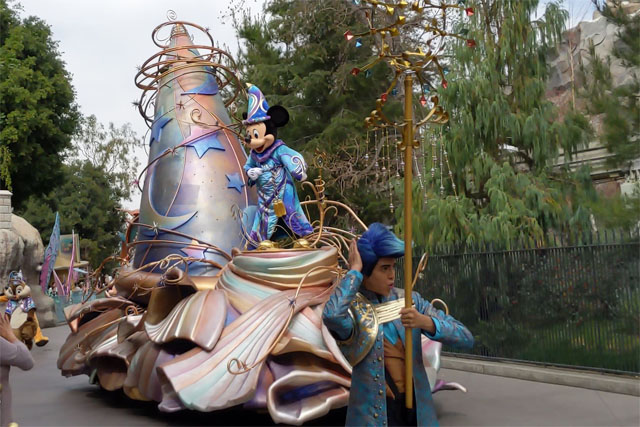 Mickey is on top of the float with his Sorcerer's hat. We have already seen a sneak peek of his look. All of the costuming and hat itself is very artistic, with purples and blues featured.
Then, Mickey's pals join him! Minnie Mouse, Donald, Goofy, and Chip and Dale are all there to dance and greet you.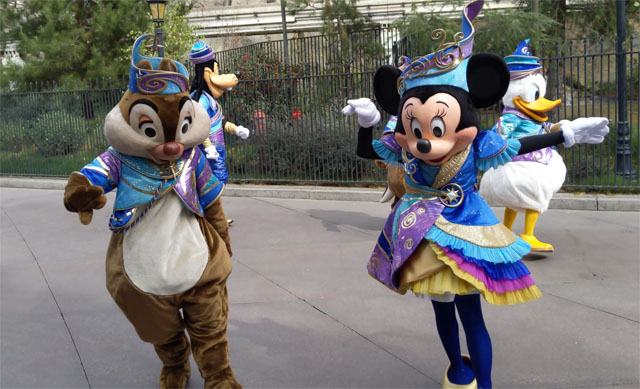 What a wonderful start to the parade!
Moana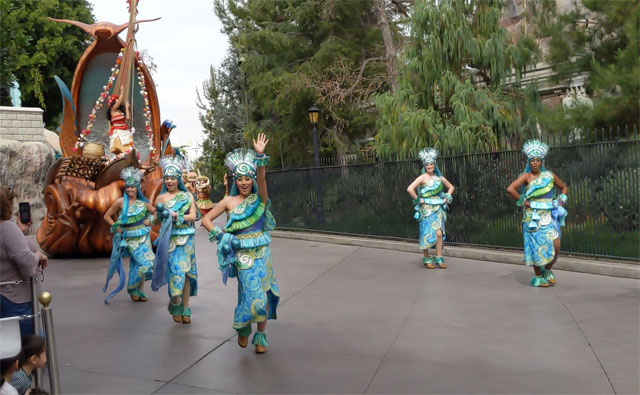 Next up on the parade line is Moana! A group of dancers dressed in blue to represent water lead the float. This provides a true Polynesian appeal.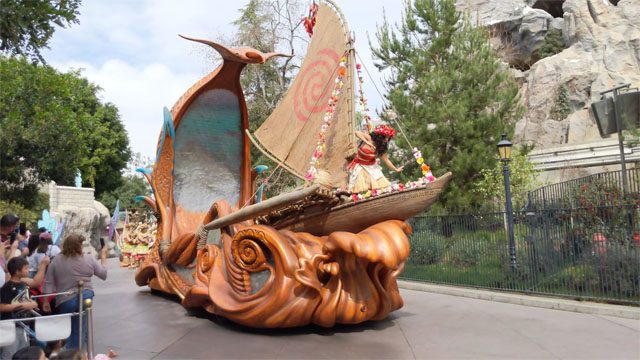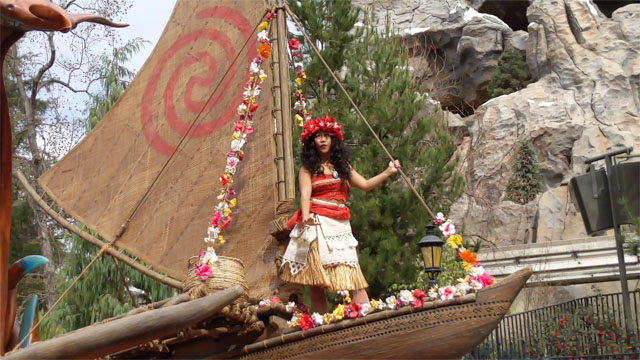 Moana is featured on her boat where she waves to guests and dances. She did demonstrate her "wayfaring" ability as well.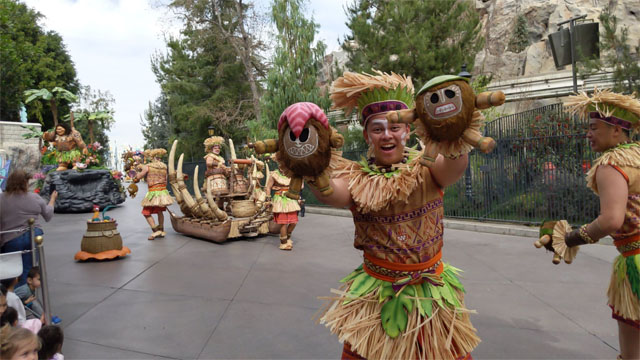 Next, Kakamora dancers interact with guests viewing the parade. There is also a smaller float with a drummer.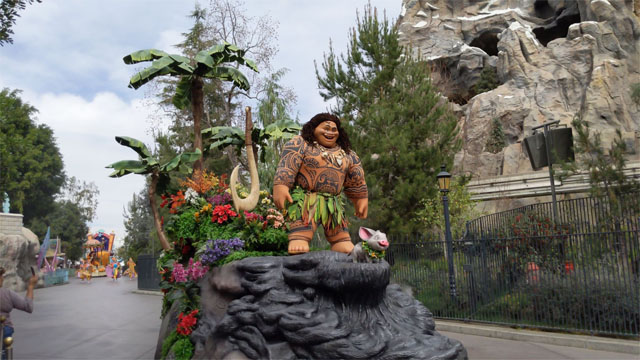 Finally, it's Maui time! He finishes up the Moana parade sequence.
Coco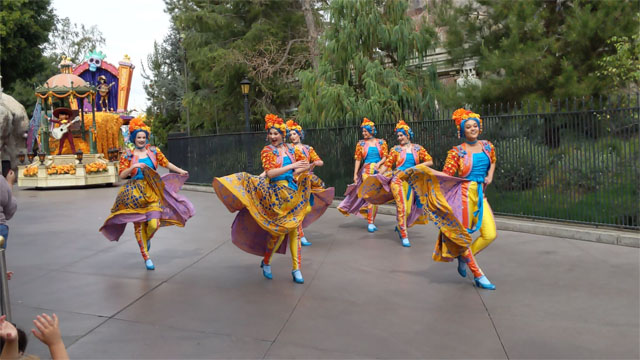 The film "Coco" is featured next in the Magic Happens parade. Dancers in vibrant costumes lead the float.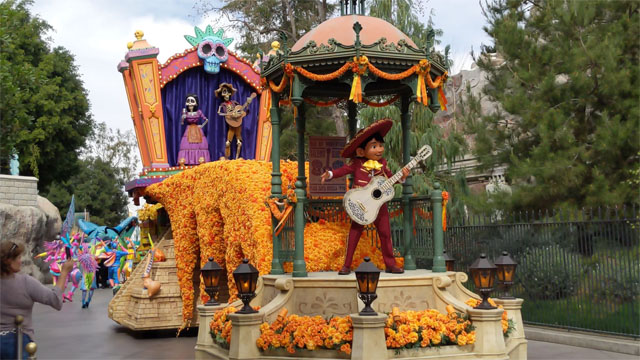 Then, Miguel and his relatives play music for parade viewers! I love that this film was incorporated into the parade. Doesn't Miguel look amazing?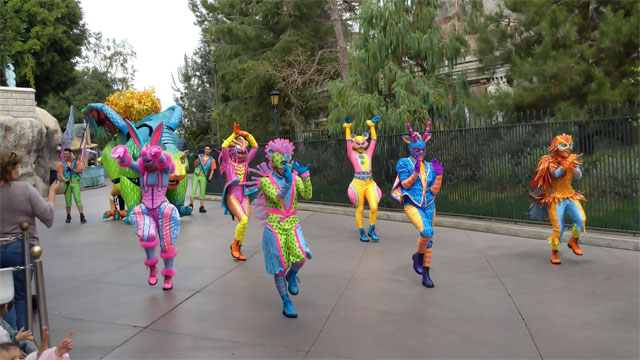 Finally, more dancers and even the jaquin from the movie are in the parade too!
Frozen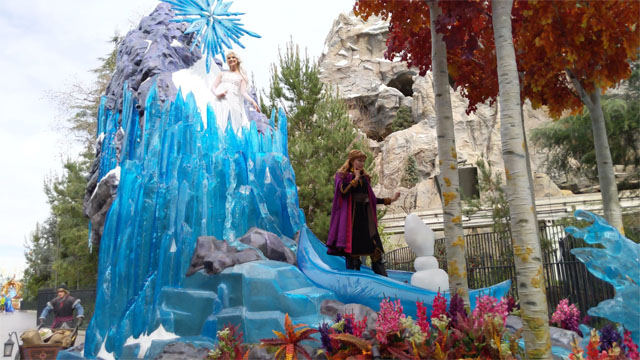 Frozen 2 is featured in the Magic Happens parade. First, we see a group of dancers and then Anna and Elsa are in the float.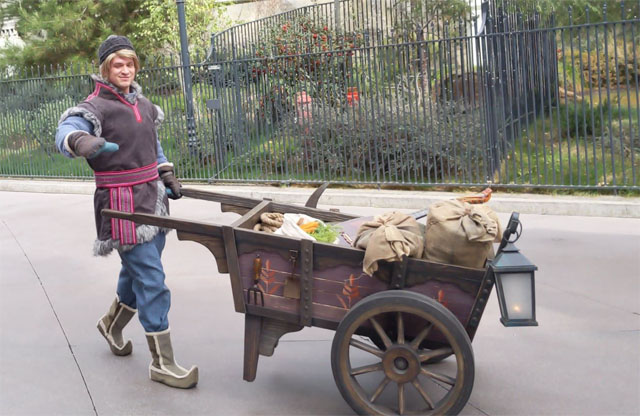 Kristoff and Sven bring up the rear for this Frozen sequence. Looks like there are plenty of snacks for Sven!
Cinderella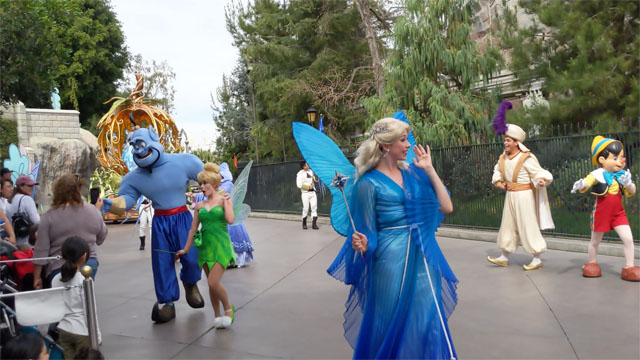 Several characters from our favorite, classic Disney movies are with Cinderella in her pumpkin float. Tinkerbell, Genie, Aladdin, and more are there to greet guests.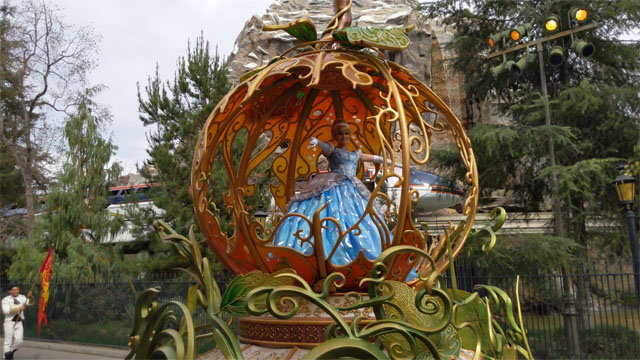 Cinderella rides in her pumpkin float! Doesn't she look beautiful in her dress?
Sword in the Stone
Sword in the Stone is featured in the new parade, and I love this! It is such a classic film and is rarely represented in the parks.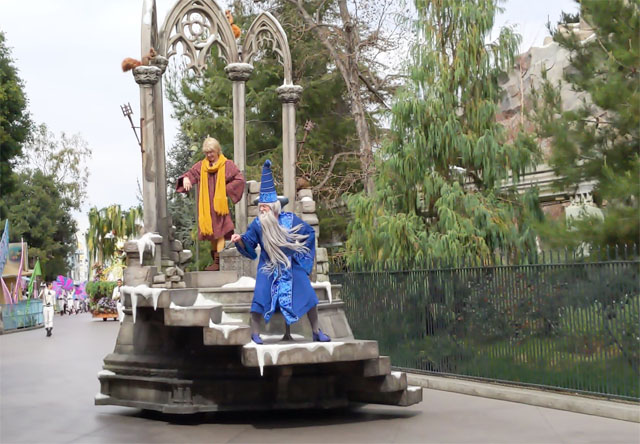 Merlin and Wart are both in the float with the sword and stone as well!
Princess and the Frog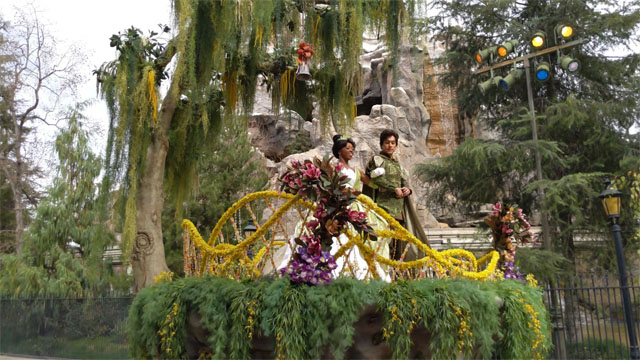 Tiana and Prince Naveen have a simple float sequence in the parade but a beautiful float!
Sleeping Beauty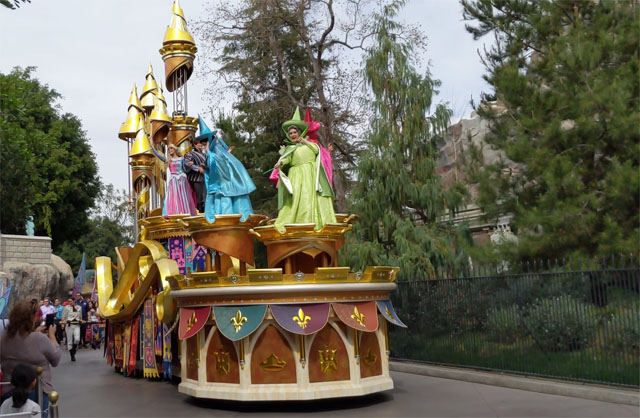 Sleeping Beauty wraps up the Magic Happens parade at Disneyland. All three fairies are featured on the float with Aurora and her Prince.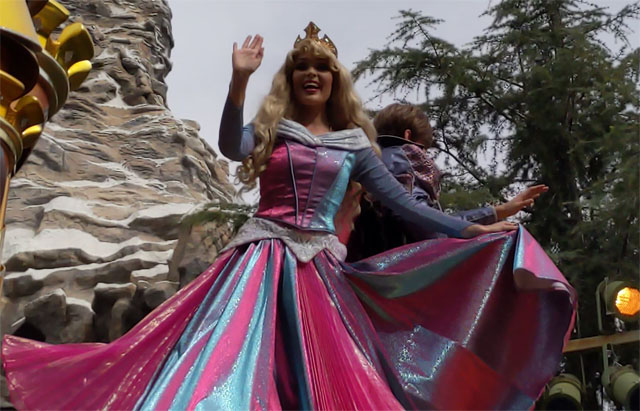 Her dress absolutely steals the show, though! It is stunning!
Full Parade Videos
You can see the full video of the parade below!
Part One:
Part two:
Magic Happens is a terrific new parade addition to Disneyland park. Make sure you find a spot at least an hour prior to the parade, as Disneyland guests love live parades!
-KtP