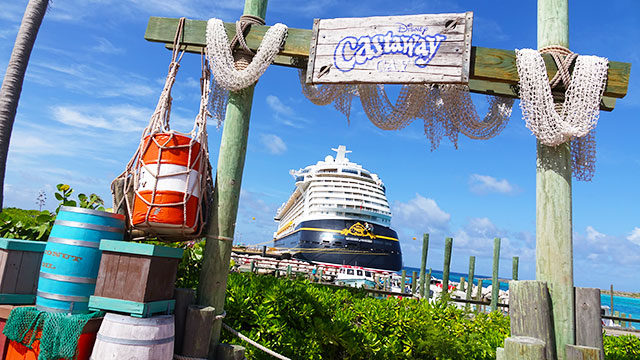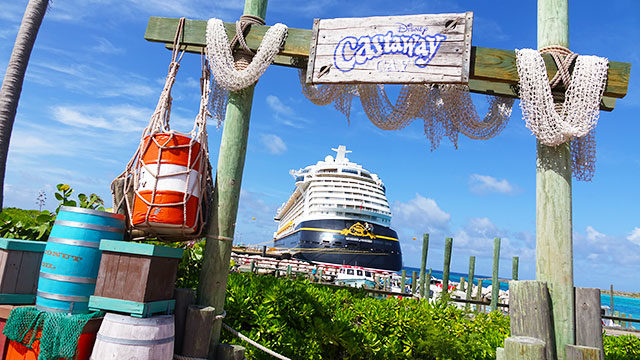 So, you're thinking of taking a Disney vacation with your family? Here's 7 reasons to choose a Disney Cruise for a great first trip!
When it comes to vacations, Disney Cruise line is always a great choice. Disney has amazing customer service but the Disney Cruise Line cast members make all guests feel like they are V.I.P.s.
1. Deluxe accommodations
Your stateroom accommodations are deluxe and well-appointed. You get a stateroom attendant who sees that your room is made up morning and evening and ensures you have everything you need.
Standard staterooms include a queen sized bed, a pull out sofa bed and a murphy bed. The stateroom host will do all the work for you! The restroom is equipped with a shower and toiletries are provided.
KtP Tip: Choose a stateroom near midship at least 2 floors above the dining areas. You won't feel the ship move, you will be near elevators and you won't hear kitchen noises.
2. Fantastic servers
Your dinner servers will change dining rooms with you throughout the cruise and will get to know your preferences. They go above and beyond to make your evening meals a delight.
We've had some fantastic server teams. The team includes your server and the assistant. They will bring you ANY food on the menu! You can order more than one entree and more than one dessert too! Soda and coffee is included, but specialty drinks and alcohol are at an additional cost.
When you purchase an alcoholic beverage or specialty drink, the server will put the charges on your Key to the World and you'll see it on your Stateroom charges at the end of the cruise.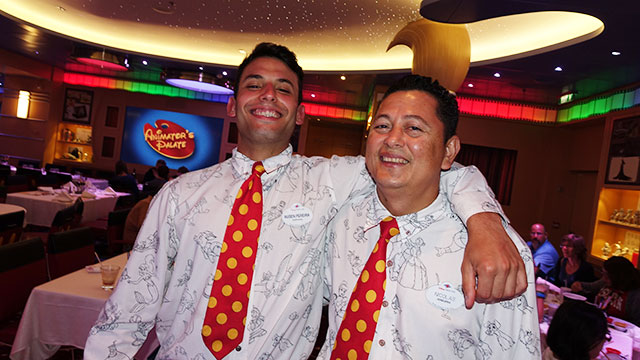 Check out this brief video of the animation magic at Animator's Palate. You draw a little stick man character and Mickey will bring your artwork to life!
3. Oceaneer's Club
The kids love the Oceaneer's Club, which is basically like Mickey Mouse day camp. Some parents report it can be tough to pull the kids out of the club because they aren't ready to leave!
The kids clubs are staffed by trained Disney Cast Members who love children and are attentive to their needs. They are full of energy and will entertain and educate your kids while you're enjoying other parts of the ship.
You'll be asked to check the children in and out and they do use MagicBands as well. You can purchase the special band to take home as a souvenir.
To see all the different youth clubs available on Disney cruises head HERE!
4. Adult-only spaces
While the kids enjoy the Oceaneer's Club, you can enjoy adult–only areas or special adult-only meals, like Palo (Italian) or Remy (French). These meals come at an additional cost but are well worth it!
Adults enjoy their own quiet pool, their own night clubs and special dining. Palo and Remy offers some of the most scrumptious food you'll ever consume and you'll have a quiet, romantic, if you wish, brunch or dinner.
5. Island hopping
Depending on your itinerary, you make many wonderful, if brief, stops! We loved the chance to explore various islands such as Tortola and St. Thomas all while feeling confident that our excursions were secured by Disney to ensure they were safe and fun!
We've taken part in speed boat rides, gone zip lining, taken bus tours to beautiful locales, and taken quiet strolls through cities and along the beaches. Disney Cruise line travels to many destinations.
6. Castaway Cay
Caribbean Disney Cruise Line sailings make a stop at Disney's Private Island, Castaway Cay (pronounced "Castaway key"). With only the other guests on the ship, it feels like an island all your own.
On Castaway Cay you'll find a large island buffet lunch, beaches for the family or a quiet beach for the adults, water slides, character meet and greets, Stingray petting zone, volleyball, basketball or just relax on the beach in a chair and enjoy a drink.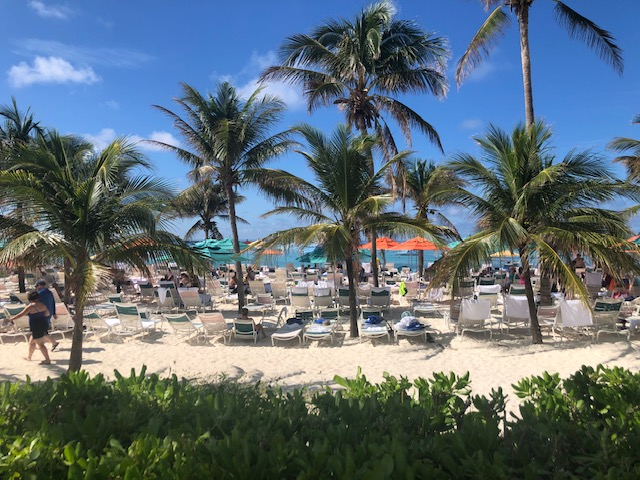 7. Balanced vacation
7. A Disney Cruise offers the perfect balance between relaxation and fun family time! With the kids club available, I can book a spa appointment and then pick my son up to do a game show in one of the lounges. Me time + Family time + Couple time = The best time!
Have you taken a Disney Cruise? What would you tell someone about their first time on Disney Cruise Line? Let us know in the comments on Facebook, and let's keep the conversation going on our private Disney Cruise Line group.
-Rebecca