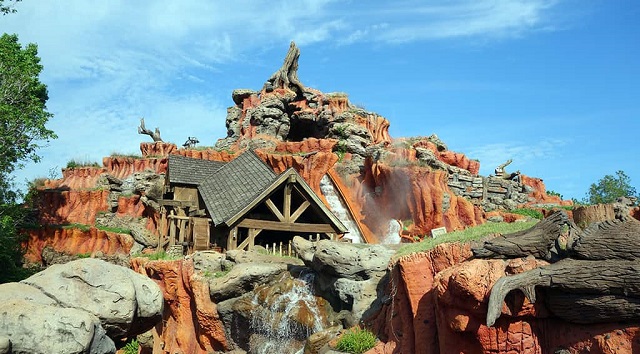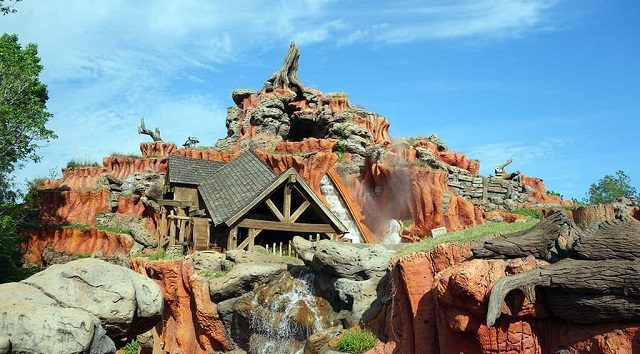 One of the things Walt Disney World is known for is being a destination that families can enjoy. Many families want to know whether an attraction might frighten or bring about anxiety for a member of their travel parties, particularly if they are traveling with small children. Here, I will round out the "Is it Scary" Magic Kingdom Series with Frontierland and Liberty Square.
If you missed the other parts of this series, you can find Fantasyland here, Tomorrowland here, and Adventureland here.
Please, keep in mind that everyone's definition of what is scary is unique to the individual. Some travelers will find virtually none of Walt Disney World's offerings to be intense. But for others, just stepping onto a ride might be a huge feat of bravery.
My hope is to provide information to help Walt Disney World guests make decisions about what members of their travel party will enjoy so that they can plan appropriately for a trip full of fun.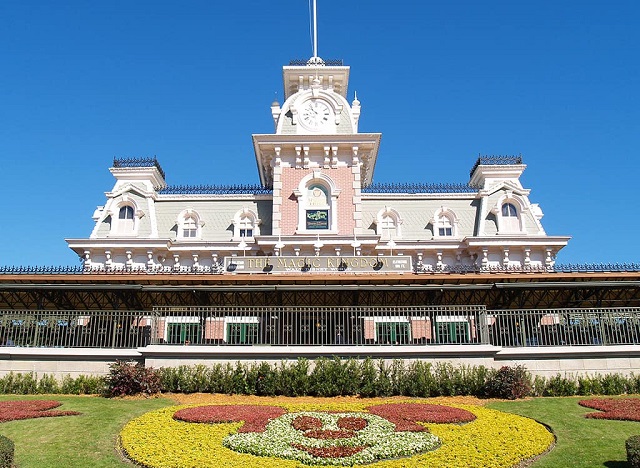 SPOILER ALERT! If you do not want ride spoilers, do not read any further. This post keeps no secrets and may include details you would like to experience firsthand. But, if you are looking for a compilation of as many attraction "warning labels" as possible, you have come to the right place.
Frontierland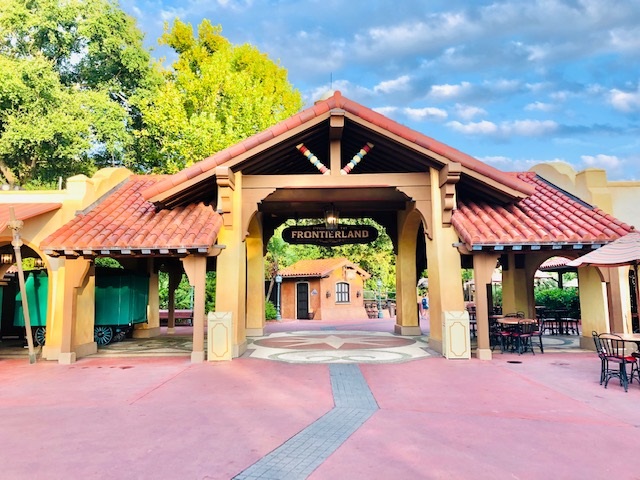 Frontierland is home to two of Magic Kingdom's Mountains, so if you want to conquer the mountains, this part of the park is a must-do. Subsequently, it is also has a higher thrill ratio than many of the other lands in Magic Kingdom.
Splash Mountain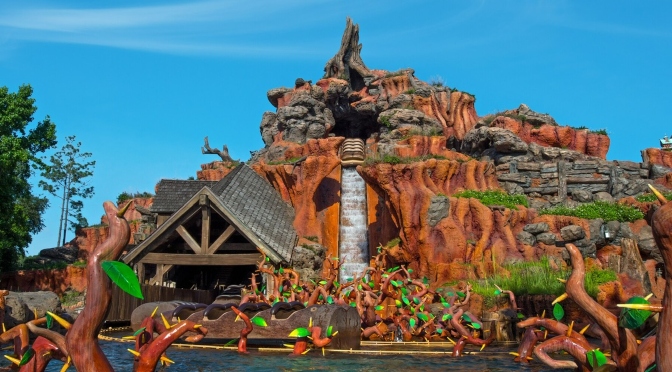 I love, love, love Splash Mountain. My husband loves it, my little boy loves it, even my mother, who is a self-proclaimed hater of roller coasters, loves it. My sister, cousins and I once convinced her to ride it 3 times in a row without getting off. I love it so much that I have a Splash Mountain coffee mug.
Even so, I still have to psych myself up for it every time I ride because it is one of the few Disney attractions where the thrill factor gets to me.
You WILL Get Wet: Now, I will say, I have been on this ride at times where I only got splashed a little bit. BUT, this ride also has the potential to completely drench you. The last time I rode, my little boy and I were in the front, and we were soaked long before we even took the big plunge. When we exited, the guest boarding after us said, "did that happen to you on here?" My little boy patted her on the shoulder and said, "You might want to take off your Mickey ears." Pirate Tip: The driest spot seems to be the back left. If you sit in the front, you are getting soaked. That said, you will probably get at least a bit wet regardless of where you sit. Plan accordingly.
Darkness: Some parts of the ride are dark.
Small Drops: Splash Mountain has several small drops. If you cannot handle small drops, you should avoid this ride because it also has a…
Big Drop: This ride has a big 50-foot drop, and it is clearly visible from the outside. This can be visually intimidating and heighten anticipation enough that some would-be riders back out before they even scan their FastPasses.
Dramatic Music and Menacing Characters: As you approach the big drop, the setting shifts and becomes stormy and serious. A pair of vultures await you. This can create a lot of angst in guests as they approach what they know must be the drop they saw from outside.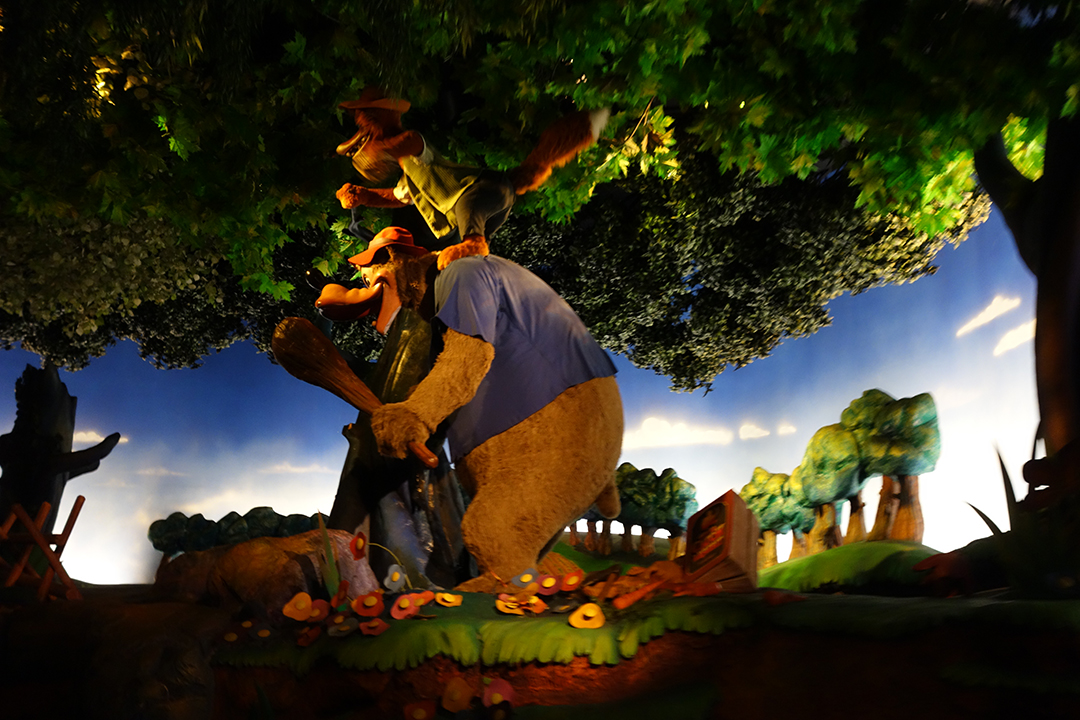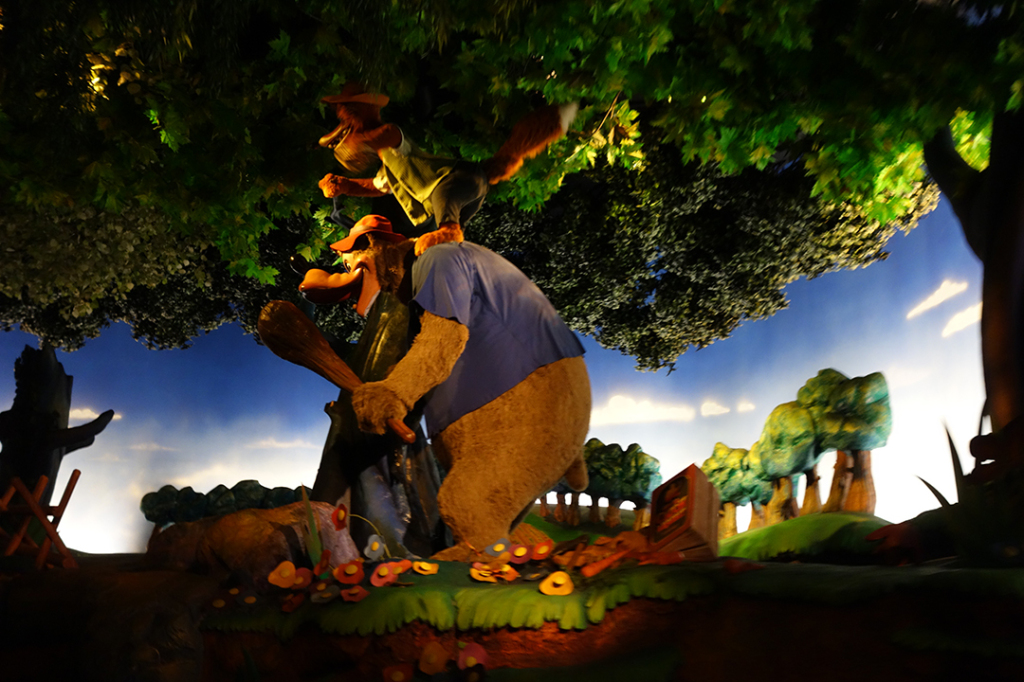 The rest of the ride is delightful, cheery, and fun! The story is that of Br'er Rabbit's attempts to elude Br'er Fox and Br'er Bear, and the animatronics are among my favorites.
There is a fun alternative for children who are too small or too afraid to ride. They can play at the Laughing Place Playground with the supervision of an adult from their travel party. It makes for an easy rider switch if the need should arise. Since this ride does tend to soak us, we try to schedule it right before our midday break or as our last ride of the evening. Some also suggest riding it during the hottest part of the day.
Big Thunder Mountain Railroad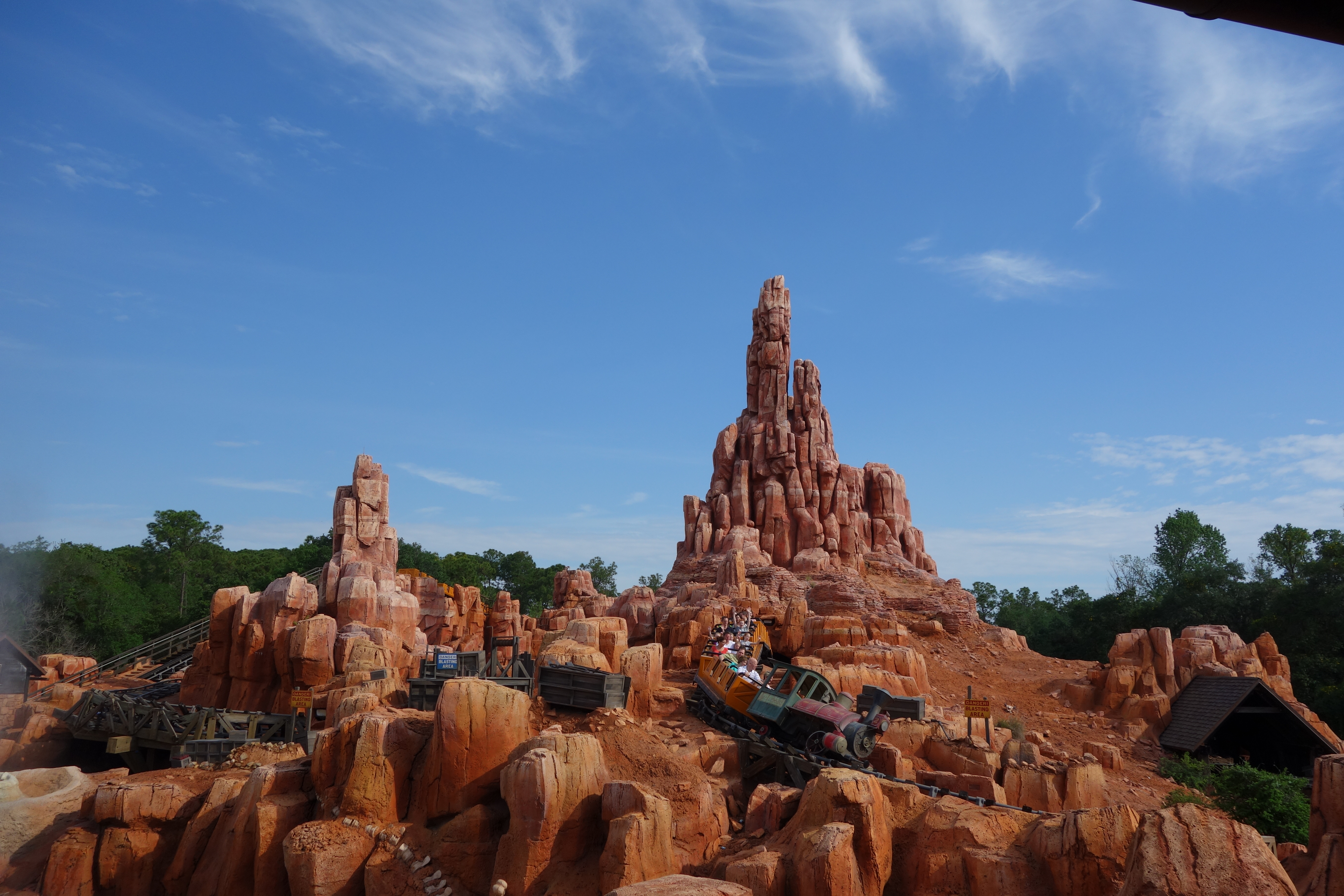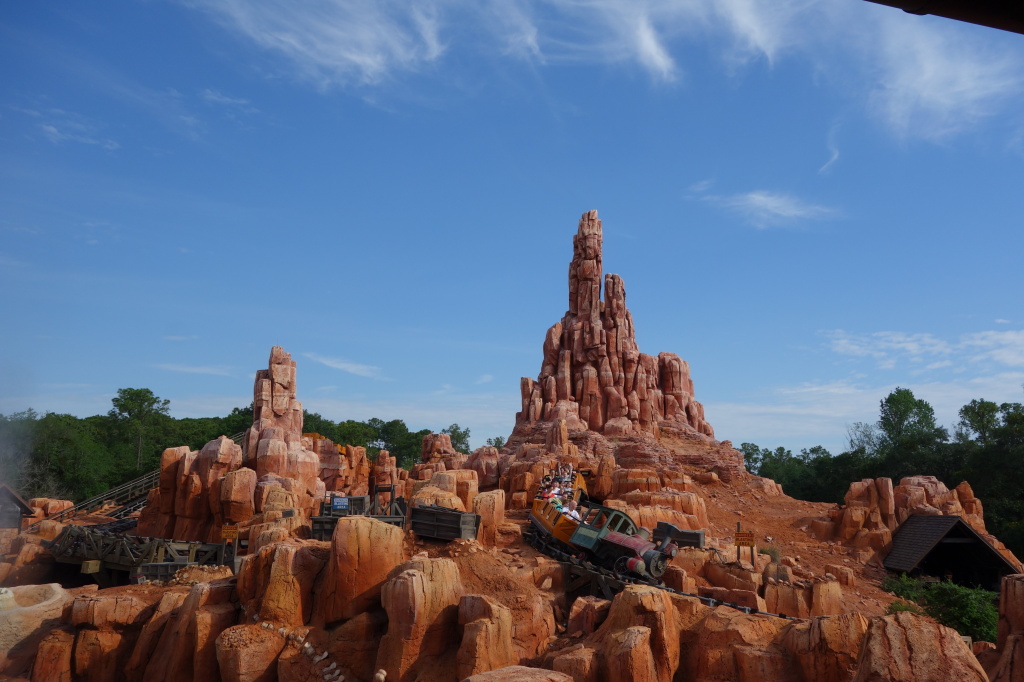 Thunder Mountain is Frontierland's roller coaster. The ride vehicle is a train that takes passengers on a journey through Thunder Mountains mine shafts. It's a ride that is somehow both tame and rough at the same time. It does provide moments of beautiful views and fun peeks at prop wildlife to break up the intense parts. I love looking for the goats.
High Speeds: Although the coaster reaches speeds of 30 mph, it feels faster.
Loud noises: The ride is loud, particularly as you ascend the first two hills. You may consider sound protection for those in your party who are sensitive to sound.
Turbulence: This ride is not smooth at all. In keeping with its mine theming, it is bumpy and jerky and rickety. You will definitely notice it.
Heights: This ride will be intimidating for people who are wary of heights.
Bats: There are prop bats and bat noises on this ride.
Drops: This ride has drops and dips.
Dark tunnels and mine shafts: The ride plummets into a dark or dim mineshaft and makes an ascent in a dark tunnel.
Lapbar: unlike Expedition Everest, Space Mountain, and Rock 'n Rollercoaster, this ride relies solely on a lapbar that goes across both or all people in the seat. This can bother parents of small children because it will not be securely pressed against their laps if they are seated with someone larger than them. Some guests also experience the feeling of coming out of their seats.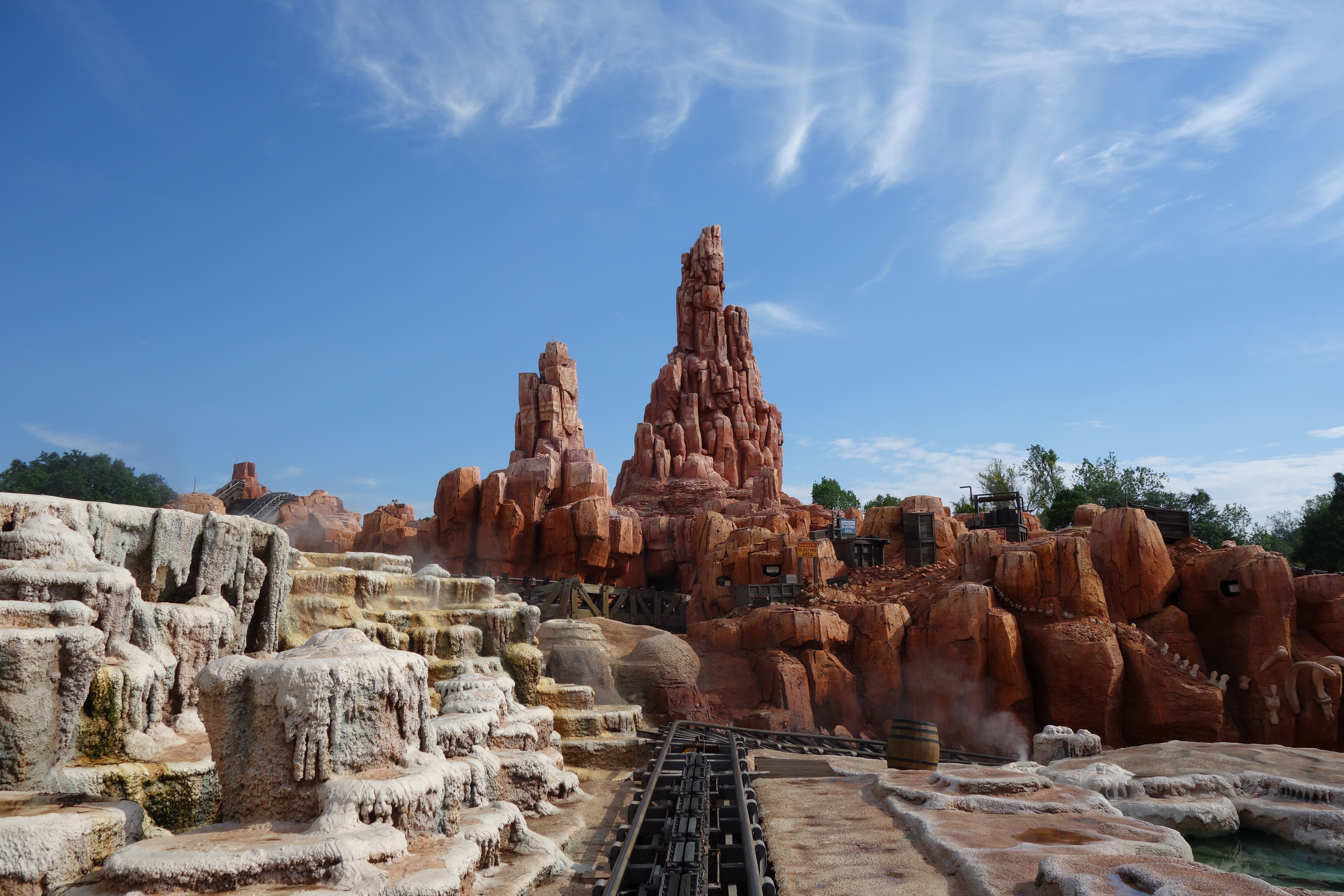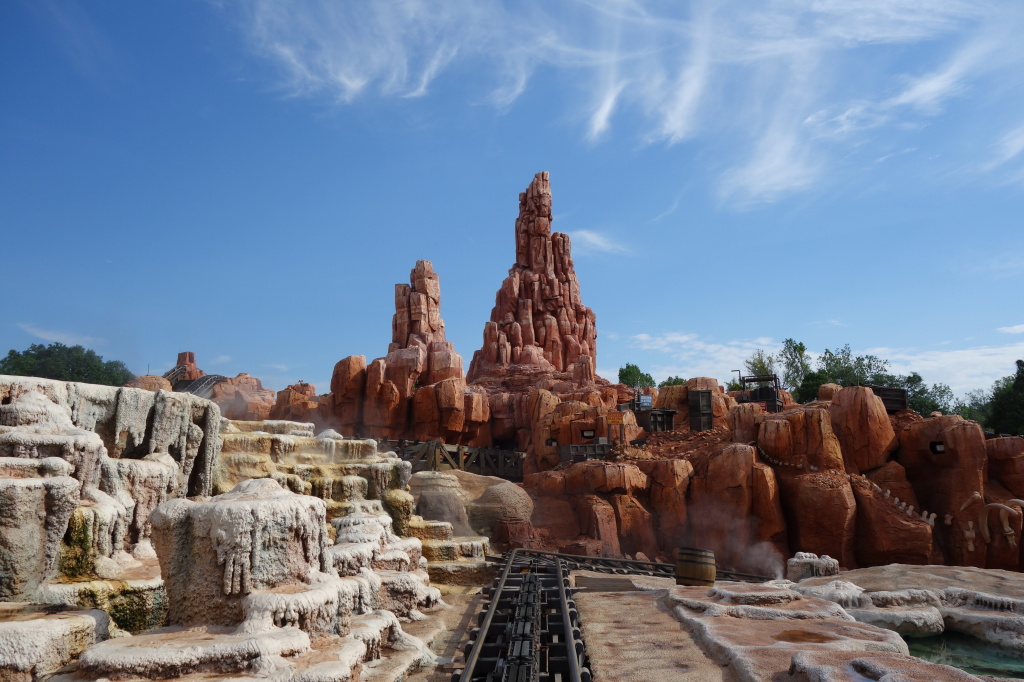 If you have never ridden a coaster with your child before, this one may not be a great place to start because you may feel worried that you need to keep a death grip on him/her.
Additionally, it is a relatively long roller coaster, so if your child doesn't like it, you are in for a long ride. If possible, you may be better served to start with Seven Dwarfs Mine Train, or even Slinky Dog Dash, which both secure each passenger individually and provide smoother rides overall.
Country Bear Jamboree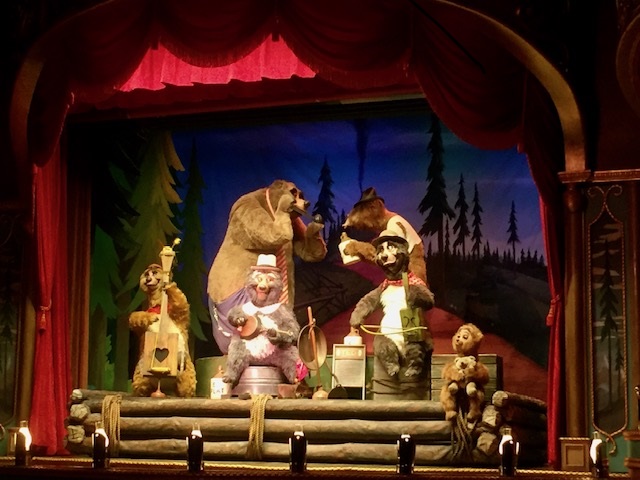 Country Bear Jamboree is not supposed to be scary. What could possibly go wrong with singing bears right? I remember experiencing it with my family when I was a little girl, and I have no recollection of it being anything but fun.
So, we decided to take my little boy, who was 2 at the time, to see it. He had just ridden 7 Dwarfs Mine Train multiple times and was fascinated by the Pirates of the Caribbean. But we only made it through a minute or two of Country Bear Jamboree before he got scared, and we had to exit. Luckily we were close enough to Aloha Isle to recover with some Dole Whip, which was gifted to him by a Cast Member.
Bears: Some children have a healthy fear of large predatory animals and don't trust them, not even the singing ones.
Loud sounds: The show can be loud because Disney does like to pump up the volume a bit. We left my little boy's hearing protection in the stroller, and perhaps if we'd thought to have him wear it, he would have enjoyed the show.
Talking Animal Heads: These are what did us in. There are a buffalo head, stag head, and moose head that "come to life" and speak. They are loud, and my little boy was terrified of them. He actually was wary of a restaurant in our home town for several months afterward because it has a Buffalo head on the wall, and he was afraid that it too would come to life. At the very least, perhaps the entire experience has saved his future soul mate from being subject to someone who wishes to decorate a home Gaston-style.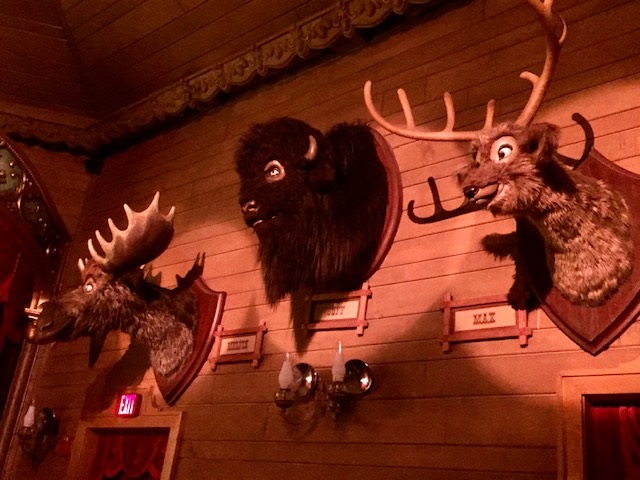 I cannot think of anything else that may be frightening in the show. But, if I missed anything, let me know in the comments. I am still baffled that it frightened my child, but it did. I think we will try it again someday now that animatronics do not seem as real to him.
Tom Sawyer Island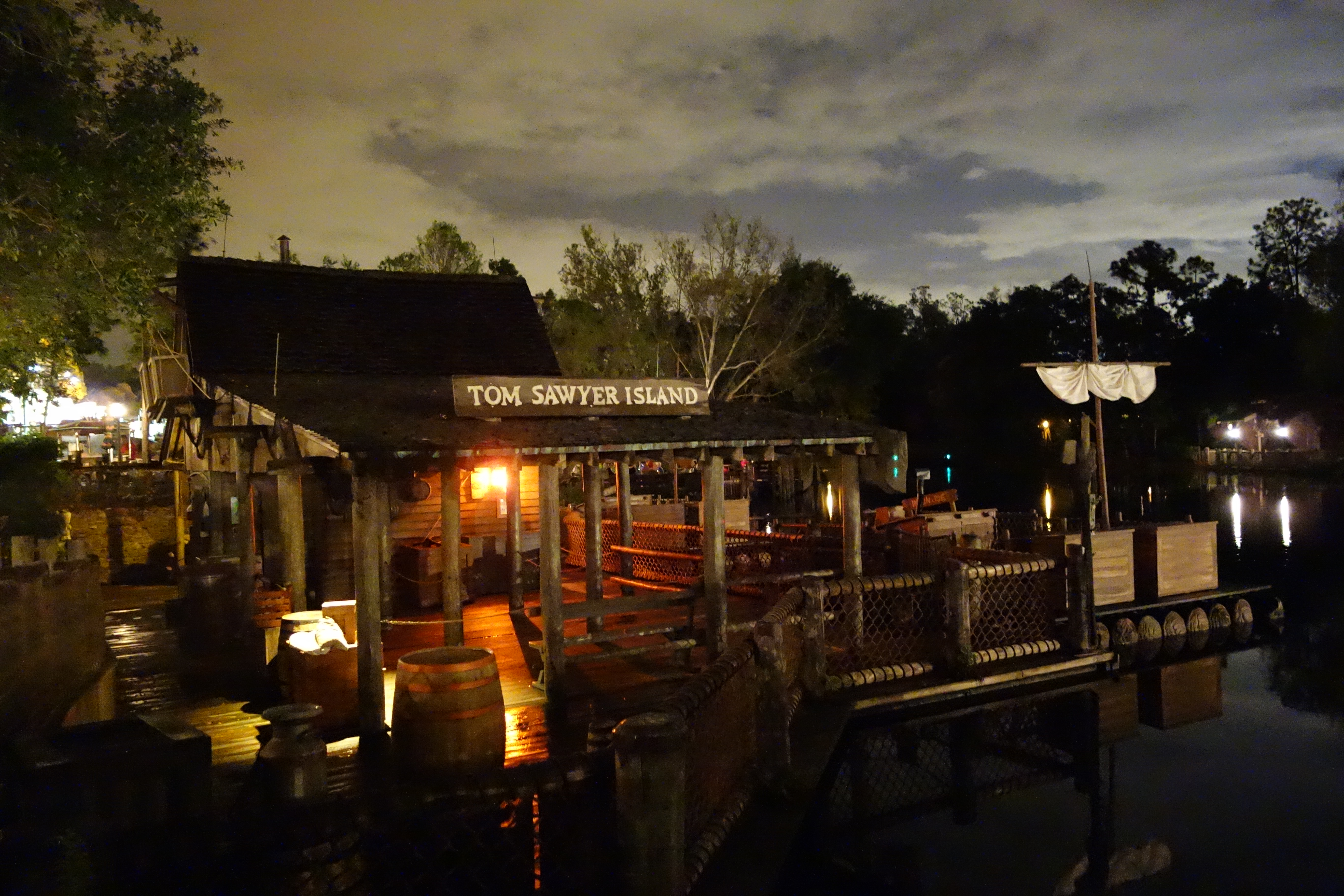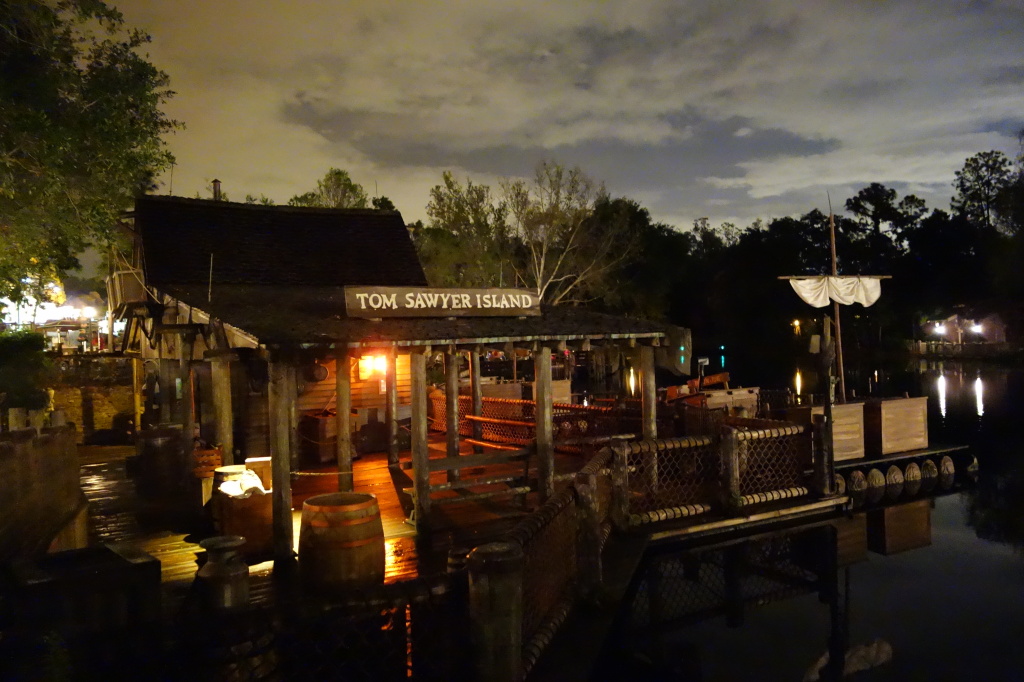 Based on Mark Twain's Tom Sawyer, this attraction allows guests to escape the bustle of Magic Kingdom by raft and deposits them on Tom Sawyer's Island. Many visitors don't even know it is there. But those who cross the water can enjoy exploring a fort, a mill, mines, a cave, and even a few animatronic creations.
This attraction is only open for a limited time each day, typically 10:00 am-4:30 pm. But there is no limit to how much time you can spend there during those hours.
The Raft: Some guests may take one look at the raft and decide that they do not want to board it. Since the raft is the only way to get there, if you don't want to ride, you cannot go.
The Bridge: There is a bouncy old bridge to play on. Some guests may be very nervous about crossing the bridge because it bounces and sways and feels unstable, so it may be disorienting.
The Cave: The caves are dark, and they might be problematic for those who are afraid of the dark or who are uncomfortable with small spaces.
The Mine: The mine is also dark and pretty tight in some places. As with the cave, those who are afraid of the dark and those who are claustrophobic will probably not enjoy it. I cannot bring myself to do it.
Toy Firearms: There are ammunition-less rifles in the fort, and guests can aim them at the river. If you do not want your children to play with toy firearms, or if anyone in your party will be made uncomfortable by them, you will want to avoid this part of the attraction.
Warning Signs: There are a number of signs posted warning guests that they may see snakes or alligators in the area. This may make guests who are wary of these reptiles edgy and cause them to be on pin and needles the entire time. Although animal sightings are rare, they are not unheard of. Additionally, you will probably see some actual spiders.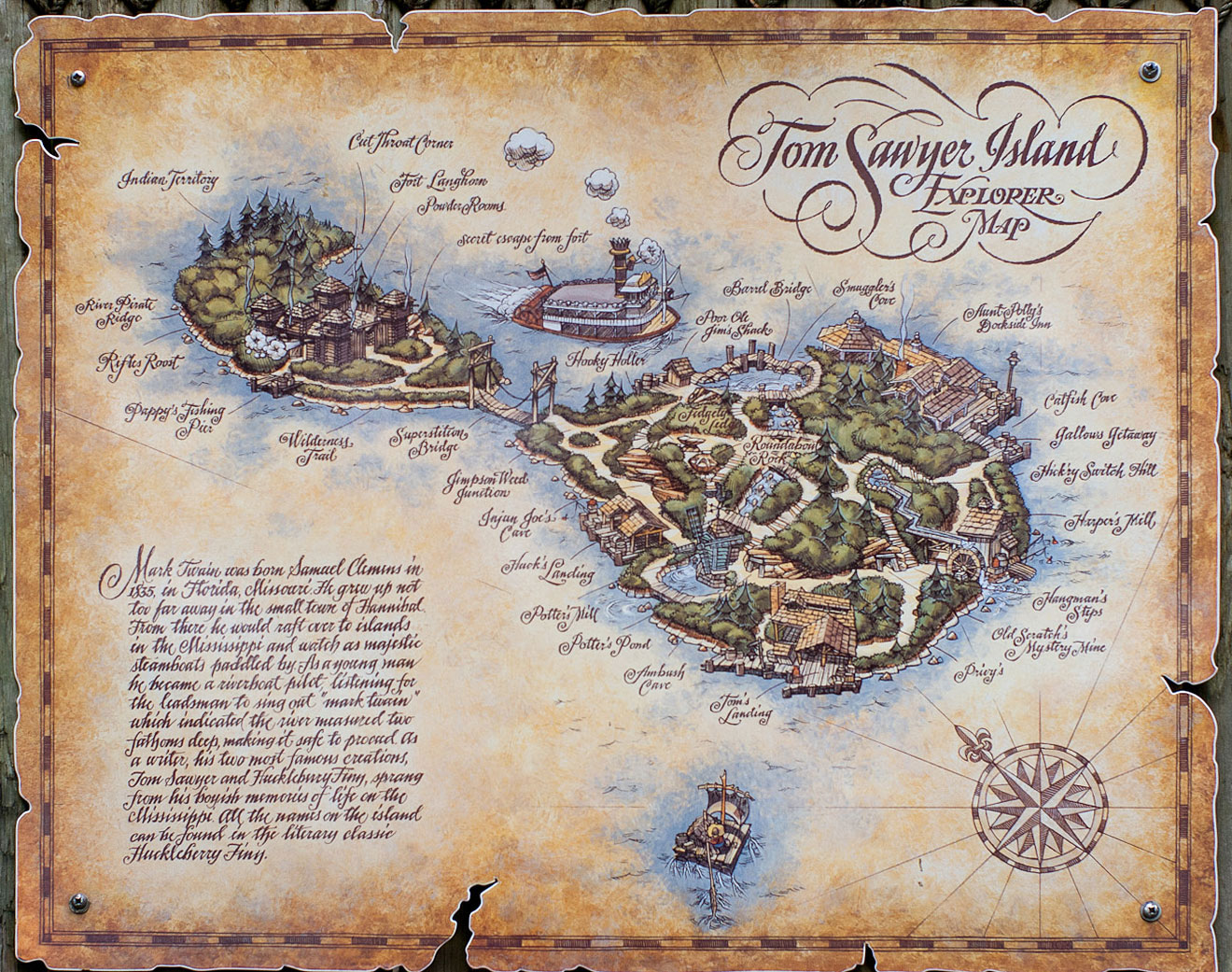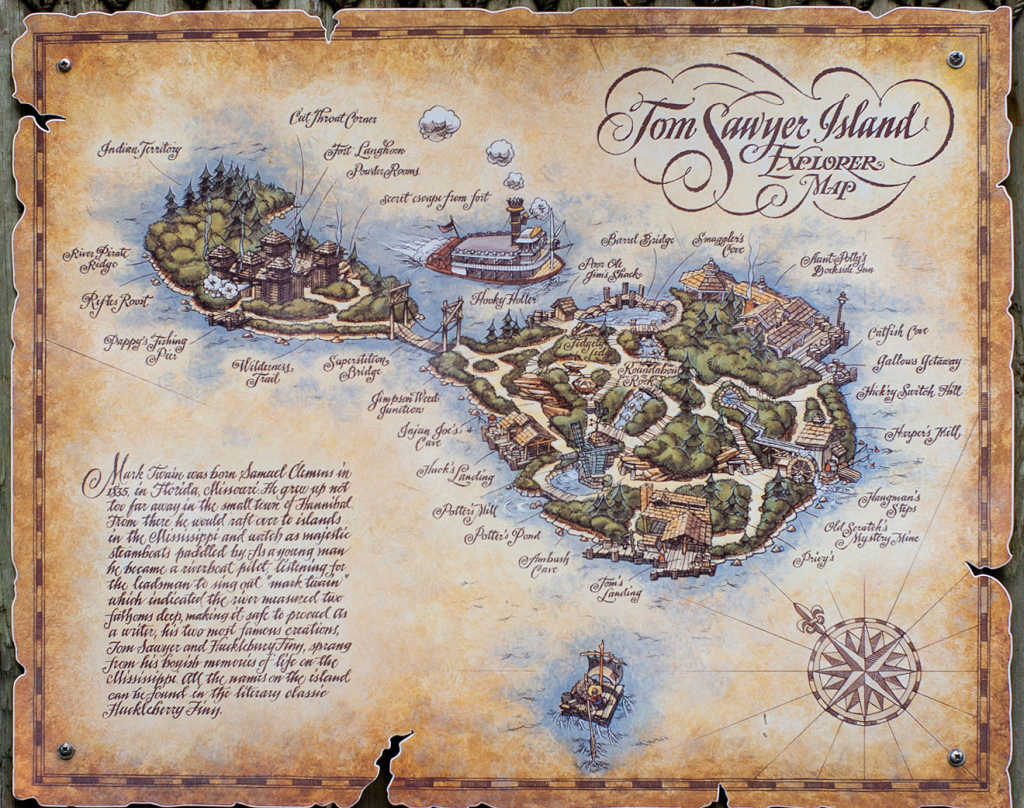 If what really scares you is heavy crowds, then this attraction may be just the thing for you. It is typically uncrowded and has many places to sit by yourself or with a companion and have a break. I have even known Passholders who go to the park just to read on Tom Sawyer's Island.
Liberty Square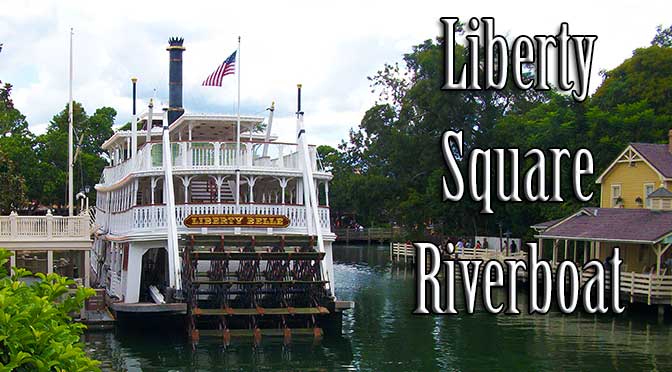 Liberty Square Riverboat
Magic Kingdom's Liberty Square Riverboat is a calm ride aboard a paddlewheel boat. It is a 17-minute experience, narrated by Mark Twain, that gives you views of Frontierland, Tom Sawyer's Island, and even a few special animatronic scenes visible only from the boat.
Unless you are afraid of boats, the primary thing to fear is hearing the words "I need to go potty," on a lengthy attraction. You may want to stop by the restroom before you do this one.
Haunted Mansion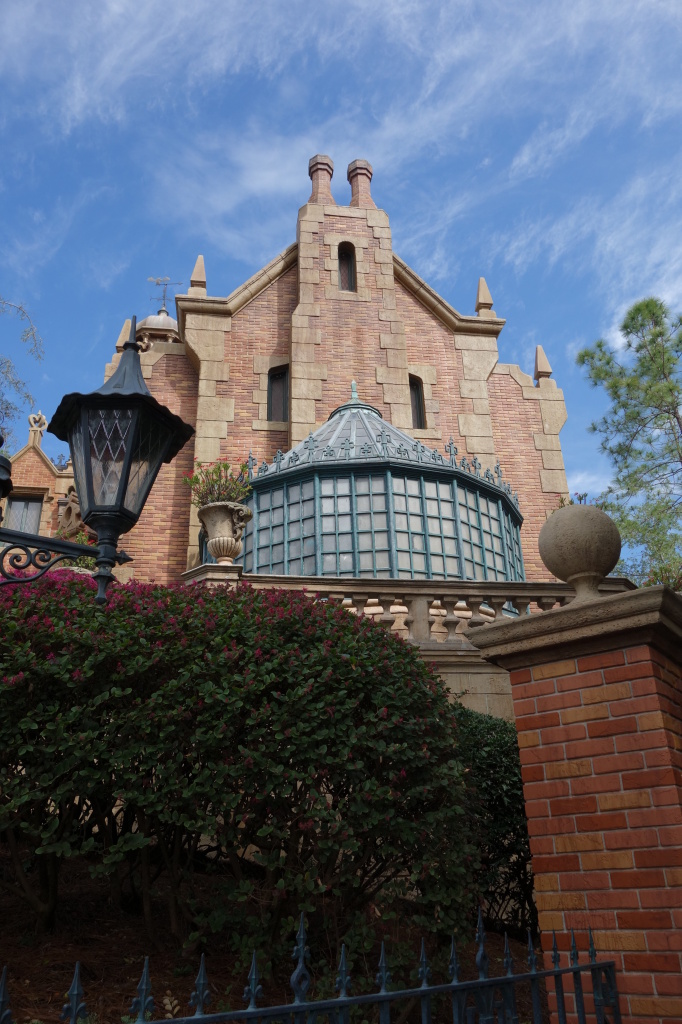 Haunted Mansion is another Disney attraction that has no height limit but may not be fun for your children. The storyline is that the mansion is inhabited by 99 happy haunts.
Although it is not gory or violent, the ghouls and effects may still be too spooky for many guests. My little boy rode it when he was three, and he absolutely loved it. However, when my little girl rode it for the first time, which was at her request, she did not like it at all and hid the entire time.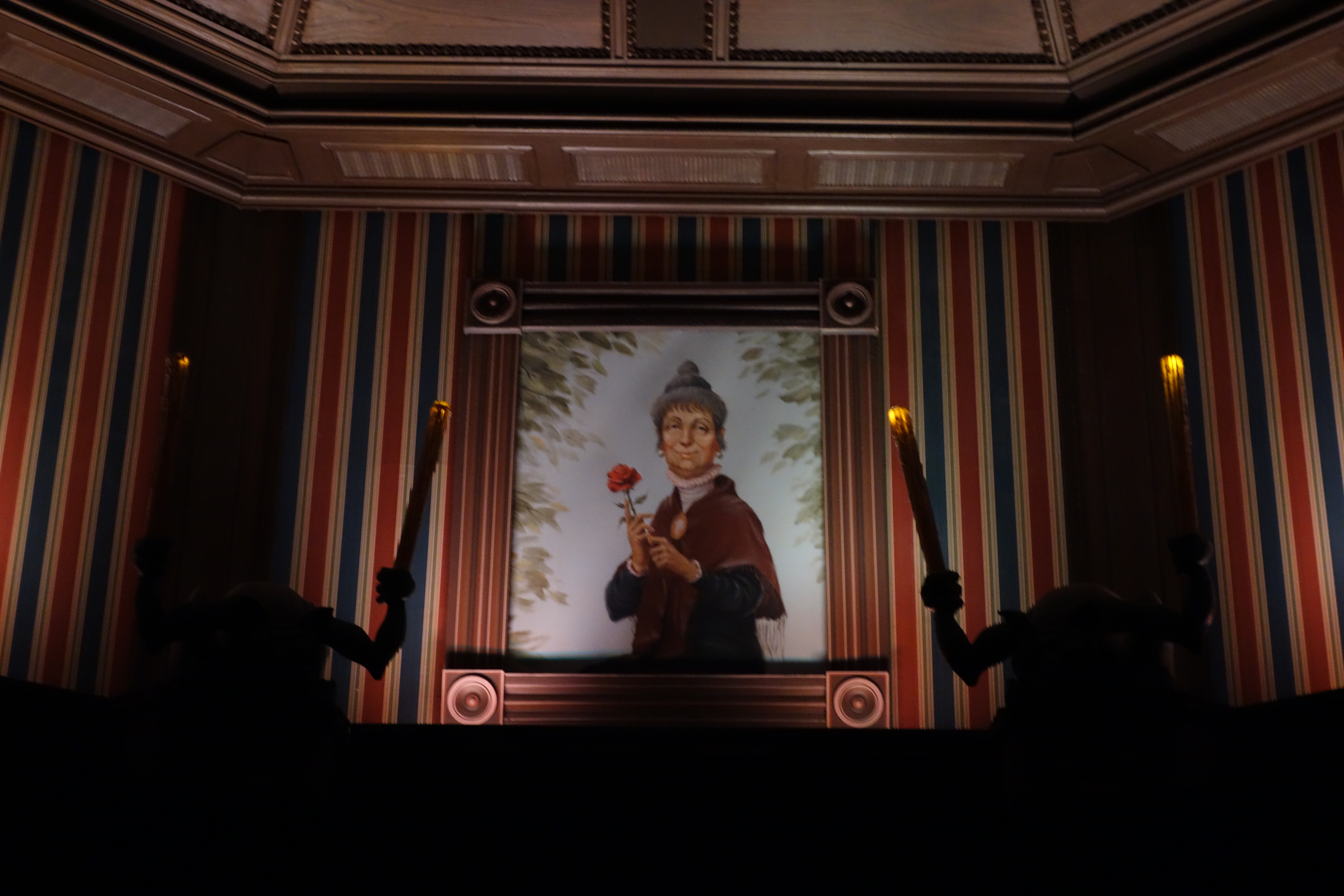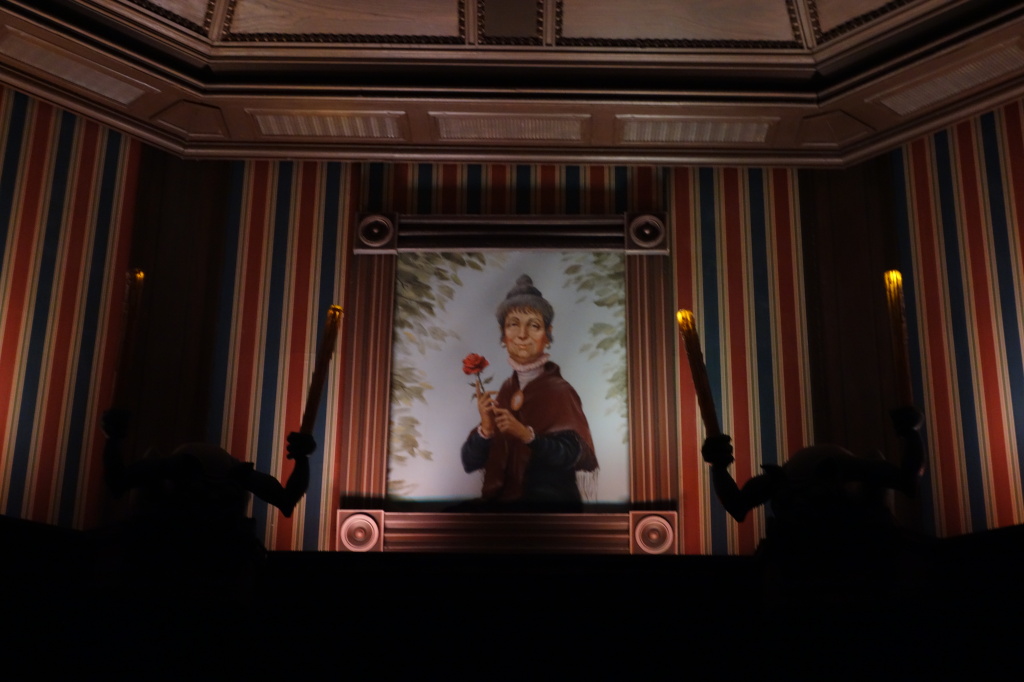 The Preshow: The preshow sets the tone for the entire ride. It takes place in a room with no doors or windows. This could be problematic you are claustrophobic. The room "stretches" to reveal some pretty creepy paintings. The lights go out in time with stormy sound effects, and it is temporarily pitch black. This intrigues some, but it terrifies others. Pirate Tip: You can speak to Cast Members about skipping the pre-show if you think your travel party would enjoy the rest of the ride.
Cast Members: The Cast Members on this attraction are very good about staying in character. They do not smile. This can bother some little ones.
Dim Lights and Darkness: The ride is pretty dark, though it is not pitch black outside of the preshow.
Creepy Music and Sound Effects: The music sets up a chilling tone. There are howls and claps of thunder even as you climb aboard your Doom Buggy. Small children are super susceptible to tone, and if something is set up to be scary, they tend to be scared. Shrieks, creeks, bangs, and howls continue for the duration of the ride.
Thunder and Lightning: As you enter the attraction in your doom buggy, thunder and lightning effects come in through the windows lining the corridor.
Loud Sounds: A phantom piano player bangs on the keyboard, a clock ticks loudly, and all of this is on top of the continual howls and shrieks.
Ghosts and Happy Haunts: Ghosts are inherently unsettling for little ones. And there are many on this ride including a head floating in a glass ball, dancing phantoms, a bride clutching a hatchet, singing busts, and ghouls popping out from behind tombstones.
Hitchhiking Ghosts: This is my personal favorite part of the attraction, but some guests may be put off by the scene where it appears a ghost is sitting in your Doom Buggy with you.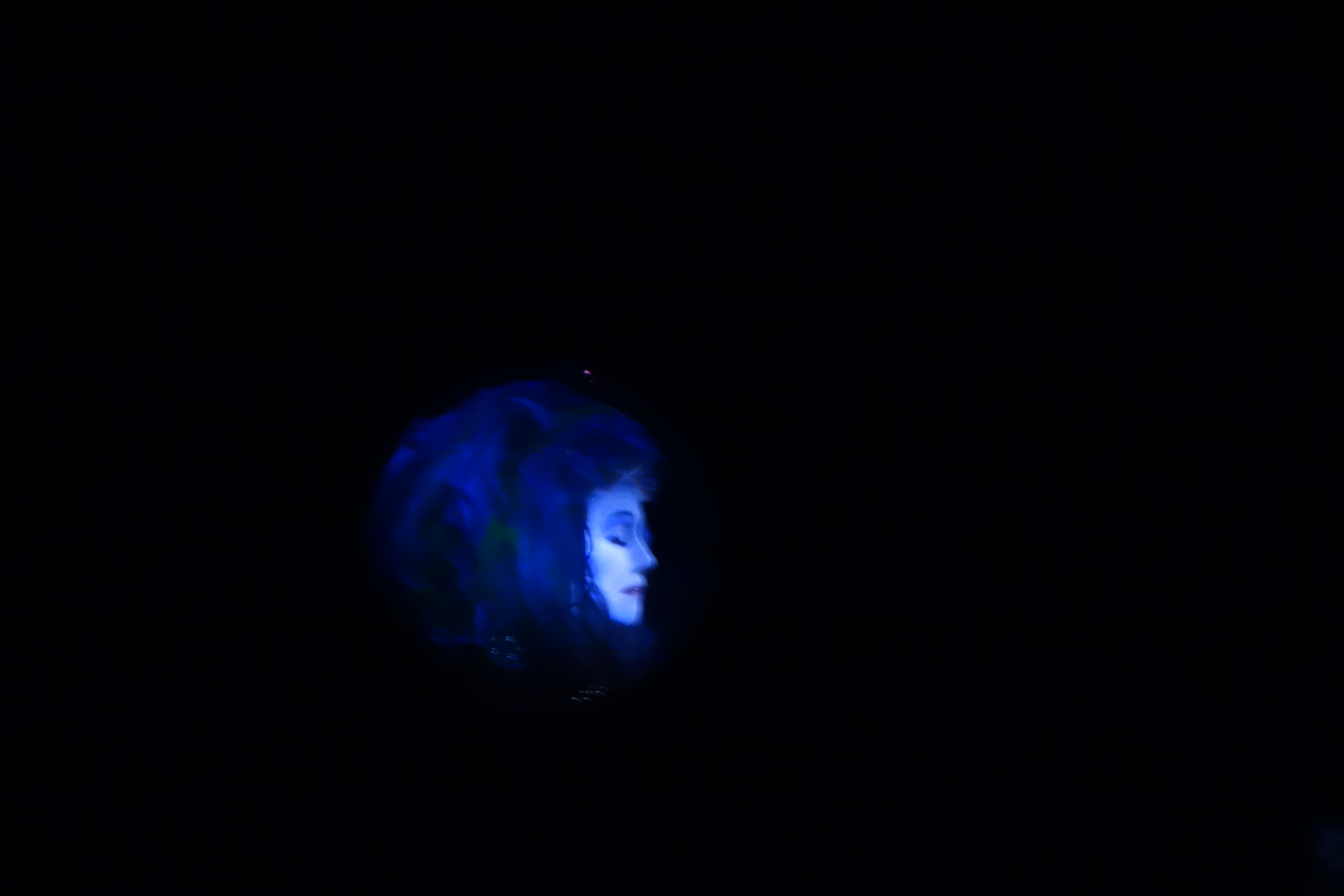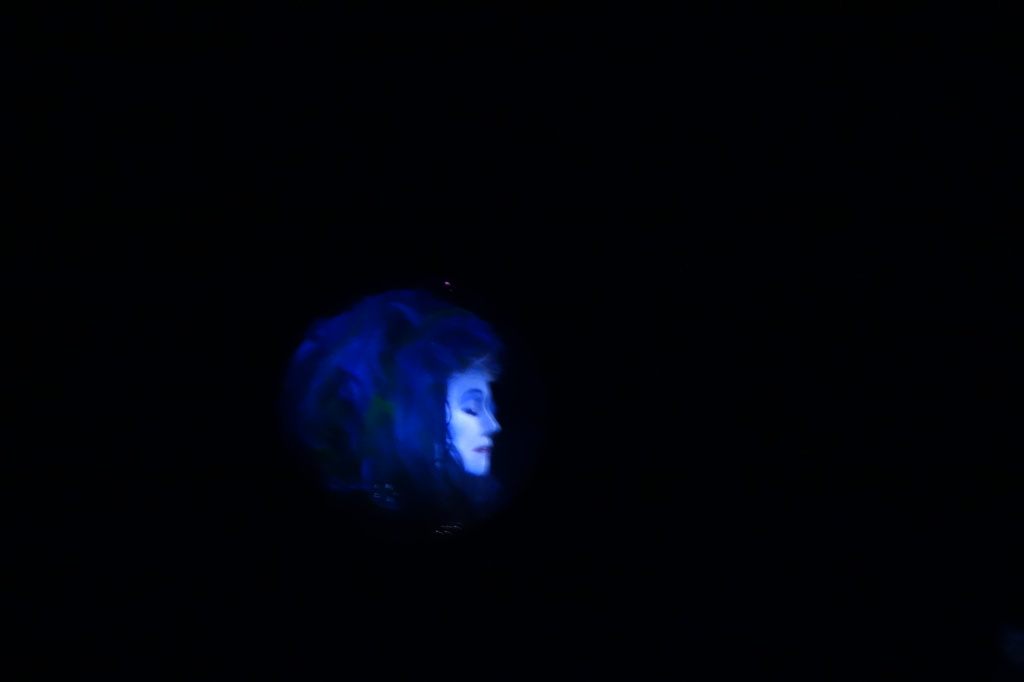 Despite the fact that the soundtrack for this ride claims, "They pretend to terrorize/Grim grinning ghosts come out to socialize," many guests both young and old will not see it that way. This is one where my family will probably be requesting Rider Swap for at least a few more years.
Hall of Presidents
This attraction is a mix of film and animatronics that features our country's presidents. It is not meant to be scary. The attraction is about 23 minutes in length, and it may not hold the attention of younger members of your travel party.
Main Street U.S.A.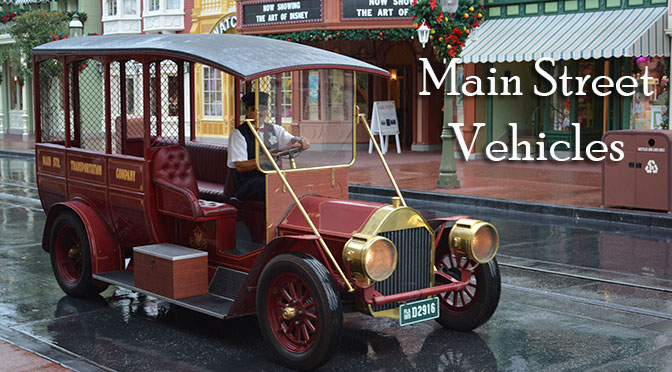 Main Street Vehicles
The Main Street vehicles provide guests with a choice of a horse-drawn trolley, omnibus, jitney, or fire engine for a ride down Main Street. They are available for only a short time each day, typically from opening to 10:30 am. They are not meant to be scary. At most, they may be a touch bumpy.
Walt Disney World Railroad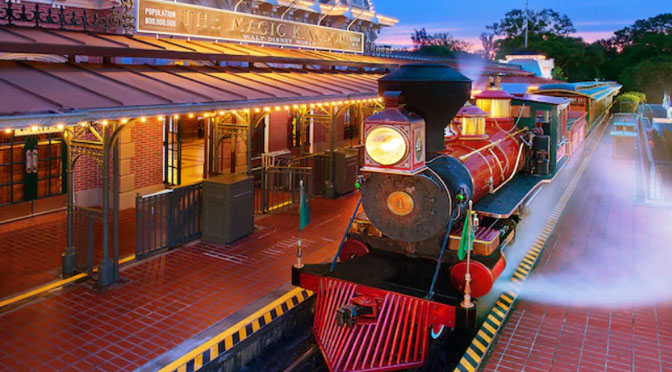 Technically, this attraction could fall under several lands because it has stops and stations at Main Street U.S.A. as well as Frontierland, and Fantasyland. But I am placing it here because to me, its presence is most visible on Mainstreet.
The train might be too loud for some travelers, but otherwise, it is not scary. I am looking forward to its return once its refurbishment is complete.
Final Thoughts
Overall, you know your travel party best, and you will be able to best decide what attractions various members of it will enjoy. You may find that you are surprised by what bothers your family members or friends and you may be equally surprised by what does not bother them. These lands contain an eclectic mix of attractions, and you will likely find something for everyone. Happy planning!
What attractions are your favorites? Have you ever been surprised by something that your child really loved or really reacted poorly to? Let us know! To post in the KTP Facebook Group, click here. Or you can click the Facebook button.
Want to read about other parks? Click here for Epcot.
Stay Tuned for Animal Kingdom and Hollywood Studios!