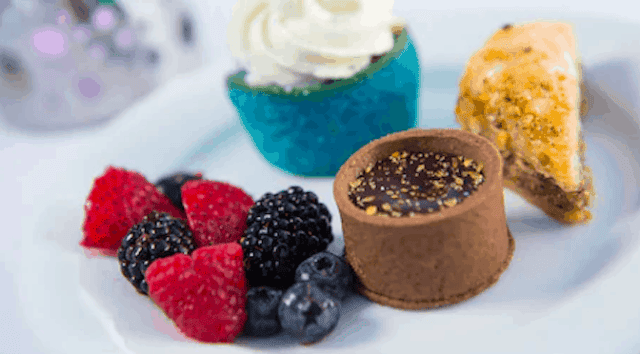 Guests attending the Frozen Ever After Dessert Party will see a variety of new treats to try while enjoying their private viewing location for Epcot Forever Fireworks.
Our Family attended The Frozen Ever After Dessert Party in 2019 and it quickly became our favorite Disney splurge. You can read more about our experience attending the Frozen Ever After Dessert Party here and see the updated food and drink offerings.
Sweets Station
Kristoff's Kransekake Almond Cookie
Honeymaren's assorted Carolines
Sven's Cheesecake Filled Cream Horns
Troll Rock Coconut Bon Bon's
Anna's Sunflower Birthday Cake Cupcakes
Elsa's Blue Raspberry and Coconut Shimmering Mousse Push-Pop
Olaf's Summer No Sugar Added Lemon Blueberry Parfait
Nitro Station
Bruni's Nitro Fried S'more Chocolate Mousse, Graham Cracker Crumbs, Fresh Toasted Marshmallows and Color Changing Spoon
Ryders Savory Station
Mixed Grill Focaccia Sandwich
Cheese Puff Sliders with Pimento Cheese
House Fried Kettle Chips with Lime Seasoning and Enchanted Forest Dip
Hot and Cold Sweets Station
Agnarr's Warm Short Dough Cookies with Warm Grilled Peach and Strawberry Compotes, Whipped Cream, Fresh Fruit,
Hand Dipped Vanilla Bean Ice Cream
Jimmies, Nuts, and Cherries
Drinks
"Frozen Heart" and other nonalcoholic beverages
Summertime cocktails, like margaritas and piña coladas
Beer and wine
A new menu also means some of our favorite drinks and snacks will no longer be available, I will definitely miss Duke of Weselton's Cheese Fondue!
Wandering Oaken's Eclairons
Hans' Key Lime Tarts with Orange Glitter Glaze
Elsa's Blue Velvet Cupcakes
Kristoff's No Sugar Added Lemon Curd with Blueberry
Freeze Fried Salted Caramel Popcorn
Olaf's Warm Double Chocolate S'mores Pudding Cake
Anna's Warm Cottage Pudding with Salted Caramel Glaze
Sven's Fresh Fruits with Berries
Grand Pabbie's Mystical Winter Spiced Snack Mix
Duke of Weselton's Cheese Fondue—served with country bread cubes, broccoli, and grilled flatbread
Menu courtesy of Orlando Parks News.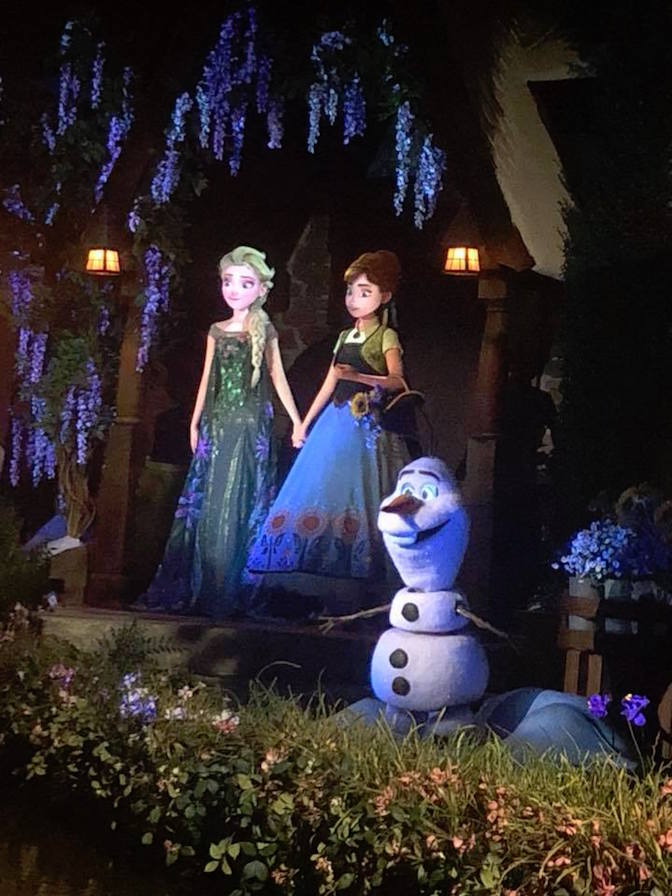 As a bonus, guests attending the Frozen Ever After Dessert Party get an exclusive ride on the Frozen Ever After attraction to end their magical evening.
Disney recently extended dates through the end of April for the Frozen Ever After Dessert Party. The price is $99 per adult (ages 10 and up) and $59 per child (ages 3 to 9). Separate admission to Epcot is also required.
Which of the new menu items are you looking forward to the most? Are there any special Frozen-themed treats you are sad to see go? Let us know on the facebook page.
Jess Watkins
Jess is an experienced Disney traveler, wife, mom of two beautiful girls and golden-doodle Maui. Disney World has always been her Happy Place. She embraces the motto 'Hakuna Matata' and looks forward to sharing her love of all things Disney with you!