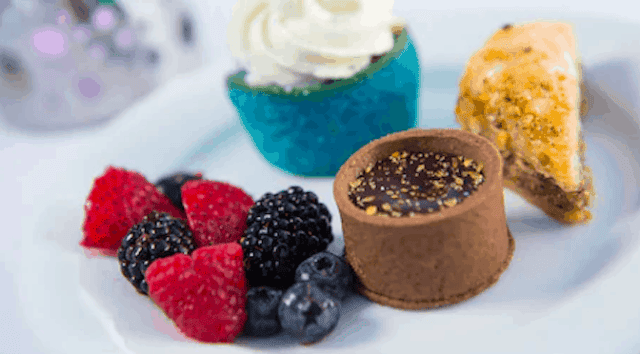 If you are a Frozen fan, what better way to embrace the excitement than an evening filled with amazing desserts, fireworks and a private ride on Frozen Ever After? Our family has been in love with Anna, Elsa, and Olaf since day one and that is why the Frozen Ever After Dessert Party at Epcot was a must-do for us. Read all about our evening below and decide if you're ready to "Let it Go" and reserve a table for your next trip.
We checked in for the party about 75 minutes before Illuminations (Now Epcot: Forever) began and received a wristband so we could come and go as we pleased.
We were escorted to a private table along the fence with a perfect view of the World Showcase Lagoon.  We were in awe of the large variety of unlimited drinks and desserts to choose from and got started right away.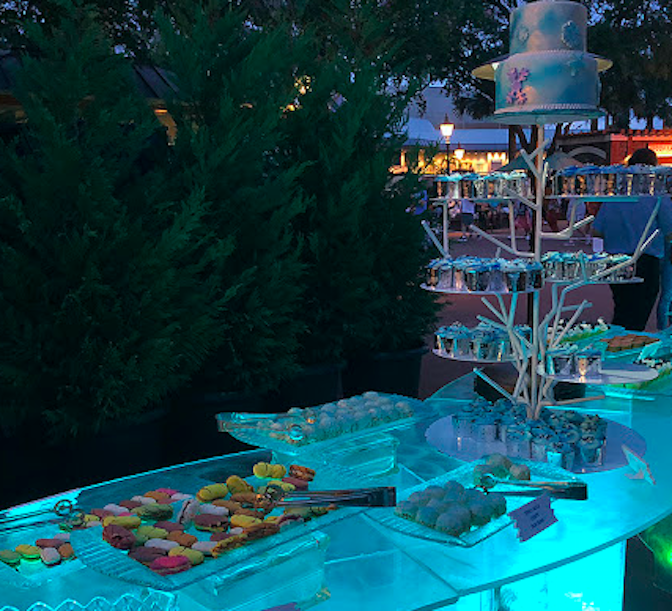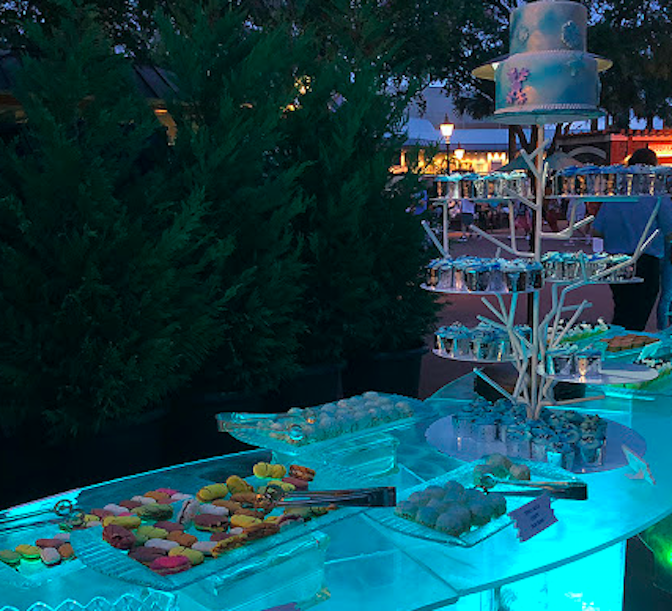 One of my favorite treats was the Duke of Weselton's cheese fondue served with country bread cubes, broccoli and grilled flatbread. I also enjoyed a few of Olaf's Summertime Cocktails. My husband loved Anna's Warm Cottage Pudding with Salted Caramel Glaze and the option to have a beer as he was not interested in Summertime Cocktails. The girls ate several of Troll Rock Crispy Bon Bons and Elsa's Blue Velvet Cupcakes. We all loved watching the dry ice special effects and munching on the Freeze Fried Salted Caramel Popcorn.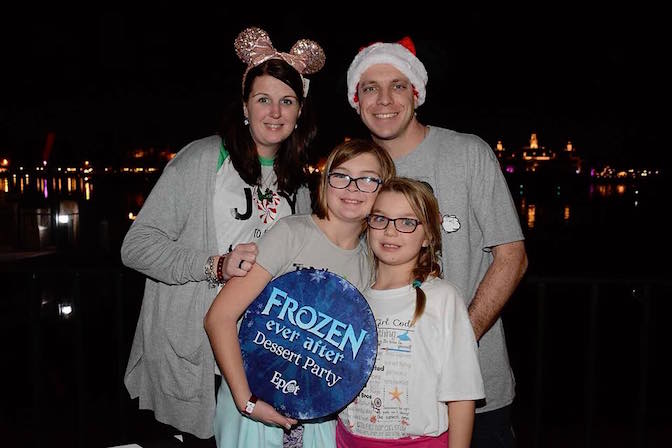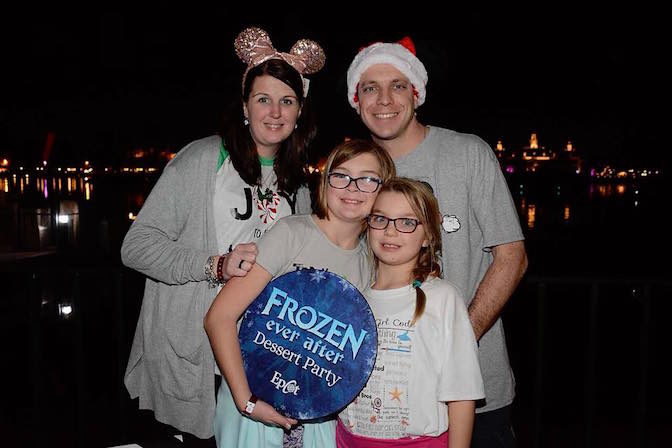 A Disney photographer came around and took family and candid photos of us during the event. There were also some fun photo props available for us to use. Shorty before Illuminations began a cast member brought us special snowflake glasses. The glasses turned the fireworks and laser show into colorful little snowflakes. Our family still enjoys using them at local firework shows.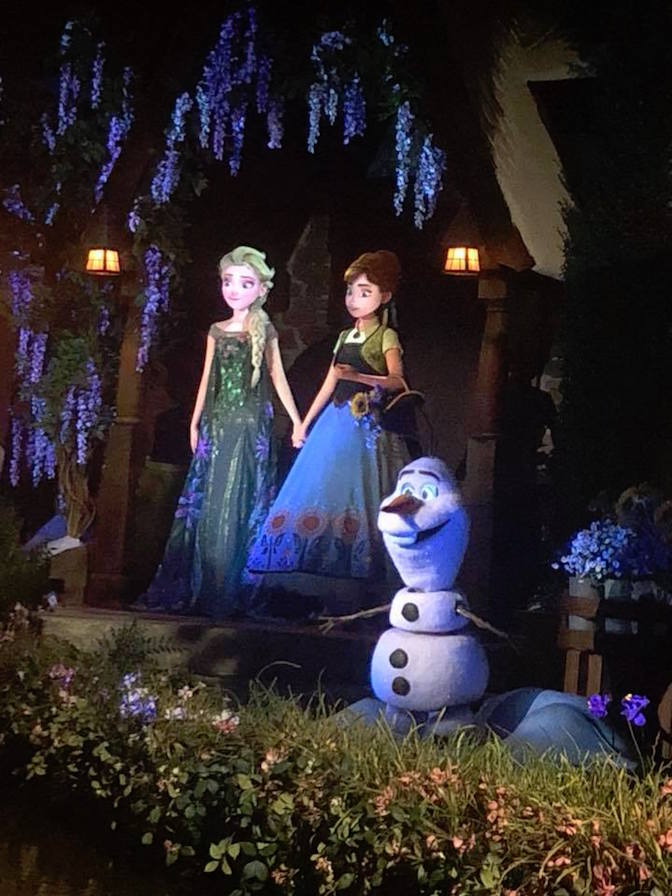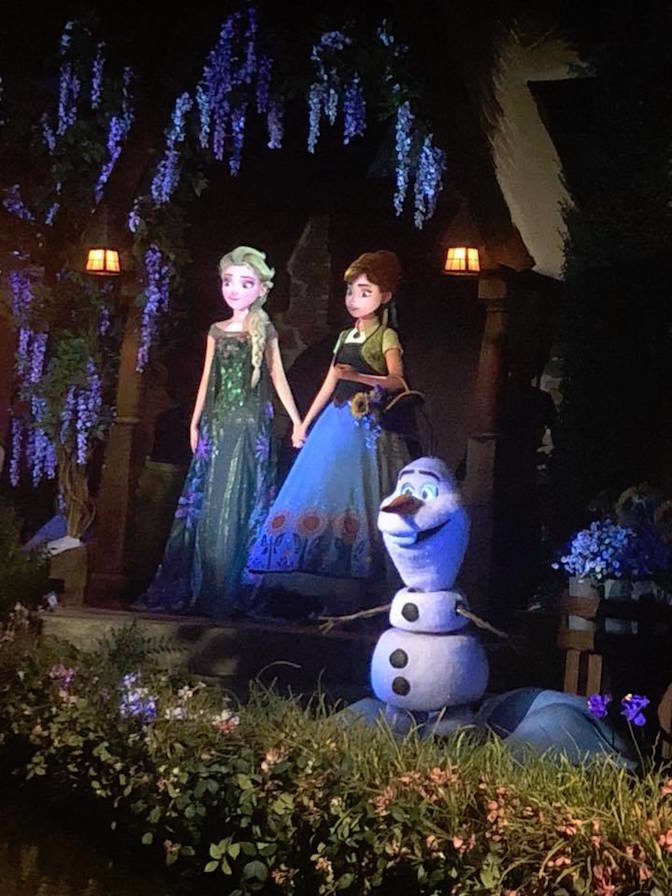 After our front row viewing of Illuminations we waited about 10 minutes for some crowds to clear and were escorted by several cast members to the Frozen Ever After Ride. This was our first time on the ride and it was perfect because we didn't have to use a fast pass or wait in a long line because we booked the Dessert Party.
Disney recently extended dates into December for the Frozen Ever After Dessert Party. Guests will view the new nighttime spectacular Epcot Forever. Pricing for the party for now through November 30, 2019 is $79 per adult (ages 10 and up) and $47 per child (ages 3 to 9). Starting December 1, 2019, the price increases to $99 per adult (ages 10 and up) and $59 per child (ages 3 to 9). Separate admission to Epcot is also required.
Are you as excited as we are to see Frozen 2 this November? Will you be enjoying the frozen treats of Arendelle on your next Disney trip?
Jess Watkins
Jess is an experienced Disney traveler, wife, mom of two beautiful girls and golden-doodle Maui. Disney World has always been her Happy Place. She embraces the motto 'Hakuna Matata' and looks forward to sharing her love of all things Disney with you!