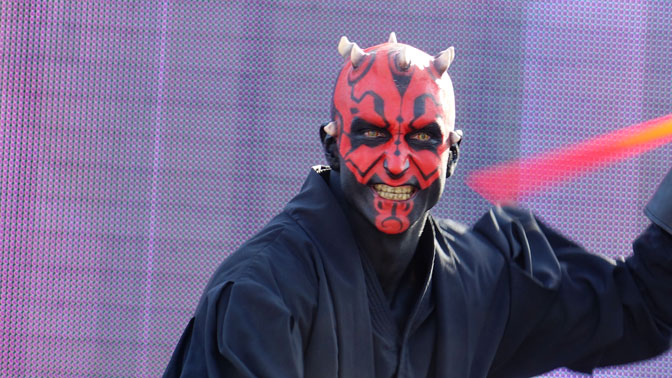 Can you remember your favorite Disney memory? Being a frequent visitor to Walt Disney World, it is hard for me to pick just one.
However, one of my favorite memories that is fresh in my mind is my family's first Disney Cruise.  Our ship was the Disney Fantasy and we cruised to the Eastern Caribbean.  I was pleasantly surprised to find out that our cruise itinerary had been changed to one of the themed cruises Disney Cruise Line offers, Star Wars Day at Sea.  This meant that our cruise would include one full day of Star Wars entertainment ranging from movies, special meet and greets and a bonus fireworks night.
We began the trip by flying into Orlando Airport and staying at the Hyatt Hotel overnight.
This allowed us to relax the day before departure.  No need to worry about hurrying to the port or missing anything due to potential delays.  It is easy to spend the night, take a break and if you are using Disney Cruise Line transportation, they make it even easier for you by handling your luggage the next day.  All we had to do was hop on the bus and we were taken to Port Canaveral to board the ship.  We were on the ship before noon and we were able to take advantage of the pool before it got too crowded.  Our luggage was magically delivered to our room later that day.
The first couple of days were sea days. What is there to do while you are at sea? Everything!  My boys (ages 7 and 8) enjoyed going to the Kid's Club at least once a day.  While they were in the Kid's Club, it gave us some time to relax and just enjoy the ship's amenities.
I liked visiting the Tiffany's Store.
Everyone loves going on the Aqua Duck, shown here.  You ride a raft and it takes you around the entire deck of the ship.
Our cruise itinerary was seven days long with stops to the following ports: Tortola, Virgin Islands, St. Thomas, and Disney's private island, Castaway Cay with three days at sea.
Tortola was one of my favorite ports. We took a beach excursion to Jost van Dyke and it was just a day to enjoy the sun, sand and beautiful island.
Our next port was St. Thomas.  It's a beautiful island and one of the famous stops is Meghan's Bay.  The picture below is from above looking down at Meghan's Bay.  Beautiful view!
After St. Thomas was another day at sea, but it wasn't any ordinary sea day. It was Star Wars Day at Sea!  It was a day devoted to Star Wars activities, entertainment and food.
We watched BB-8 races (pictured below).  A select number of guests were able to sign up to race their own BB-8.
My sons enjoyed Jedi Training.  This is one of the events we pre-registered for after checking in online.  Each participant is able to train with Darth Vader and challenge him to a Jedi battle.  All participants receive a certificate as shown below.
Throughout the day, guests are able to watch Star Wars movies and characters roam all over the ship.  We even ran into some Storm Troopers by the pool area.
Star Wars Day at Sea does not end there. It would not be complete without food!  The menu items are all Star Wars themed.  A couple of examples of food selections were: Sand People Salad and Lord Vader's Nerf Steak.
My dessert was this Princess Leia dessert.  Delicious!
The night ended with a Star Wars show followed by fireworks.
Our next stop was Castaway Cay, Disney's private island paradise in the Bahamas.  What's not to love about Castaway Cay?  You have all of the things you love on the ship, including the Cast Members and servers right on the island with you and it's private.  One of my favorite things that happened while on the island was I was walking back to our table with a plate of food.  Our dinner server saw me and said, "Hello, Mrs. Baltz. Please, let me take this to your table for you." and he took my plate and walked it over for me. Did that really  happen? Yes. Disney magic and service at its best. It is one of the special touches Disney puts into on their cruises.
Castaway Cay offers a wide variety of activities for guests, including excursions, children activities, an adult only beach and shopping.   Our final night included Pirate Night, which is similar to Star Wars night, in that it has a themed menu and ends in fireworks. Guests love dressing up like pirates.
Our Disney Cruise is one of my all time favorite memories of Disney.   After visiting the theme parks for many years, it was a whole new experience for me to see Disney in a new way.  While I love visiting the parks, being on the cruise seemed more relaxing.  We were away from the crowds.  Our days were not meticulously planned and I really just had time to take it all in.  My boys both told me after our trip that it was "the best vacation they had ever been on", and that was after visiting the parks at least three times for them.   Because of that, the cruise is one of the most magical memories my family will have.
What is one of your favorite Disney memories?
Maggie Baltz