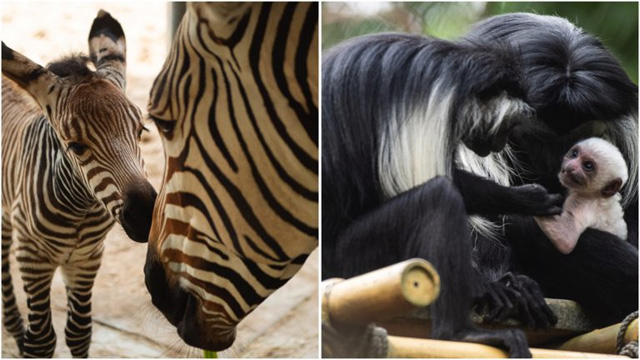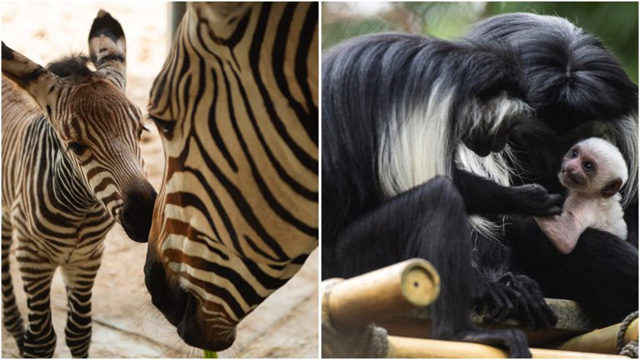 Disney is celebrating the new year right because some very adorable babies have recently been born at Animal Kingdom. Check out these adorable little creatures!
A Hartmann's zebra and Angolan black-and-white colobus monkey join the family at Animal Kingdom!
Hartmann's Zebra
On January 21, a Hartmann's zebra foal was born to mom Prima. He is still unnamed, but I think whatever they choose will be cute and appropriate. Born under the care of the West Savanna team, the foal was 65 pounds at birth and standing within 30 minutes of birth.
He is staying with his mom, nursing and napping well. The two are bonding and playing together as well, which is great to hear! When he is ready, he will be introduced to the rest of the zebras and then eventually with the rest of the herd on the savanna.
This zebra is NOT the same one Kenny saw last week on Kilimanjaro Safari. Other Hartmann's zebras were introduced last week. You can check out photos of that encounter from late last week HERE.
Angolan black-and-white colobus monkey
Swinging on to the next baby born at Animal Kingdom: a male Angolan black-and-white colobus monkey named Douglas was born on January 15 to mom Zahra at Gorilla Falls Exploration Trail.
Right now, he is mostly white but will change to look like other colobus monkeys as he gets older. Adult colobus monkeys are black with white around the face and on the tail.
Look at his older sister, Alika (on the left), helping their mom by preening him! She was born in 2018 and looks to fit the big sister role very well! If only my older kids helped their younger siblings like this!
You can learn more about zebras and black-and-white colobus monkeys and how you can help them by visiting DisneyAnimals.com.
Be on the lookout for these animals during a future trip to Disney World! Head over to the facebook page and let us know what you think of these adorable babies!
-Monica S.