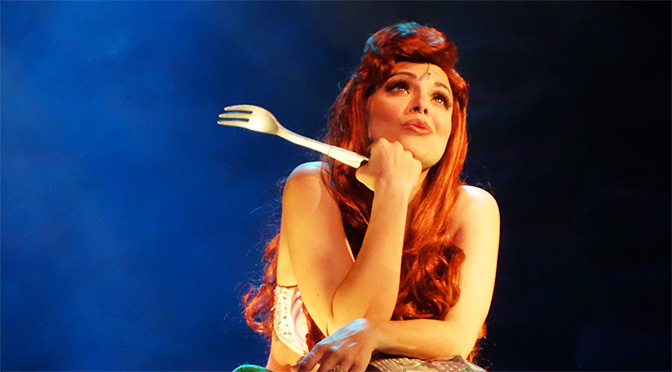 Thanks to the Imagineering Story on Disney+ (who else is obsessed?!) we have been channeling our inner Walt Disney and discussing what our dream 5th park would be in Walt Disney World! We've come up with quite a few interesting ideas! Enjoy! "If you can dream it, you can do it" –Walt Disney
AMANDA'S Dream Park:
I'm a huge villains fan so my dream 5th park is of course "Villains Kingdom" (VK). The focal point of VK would be Maleficent's Castle within the Forbidden Mountain. Maleficent herself would meet guests here. This could also house character dining similar to CRT at Magic Kingdom but it would actually be reminiscent of the now-extinct Club Villain at Hollywood Studios. The park would be designed similar to MK and divided into 3 or 4 "lands".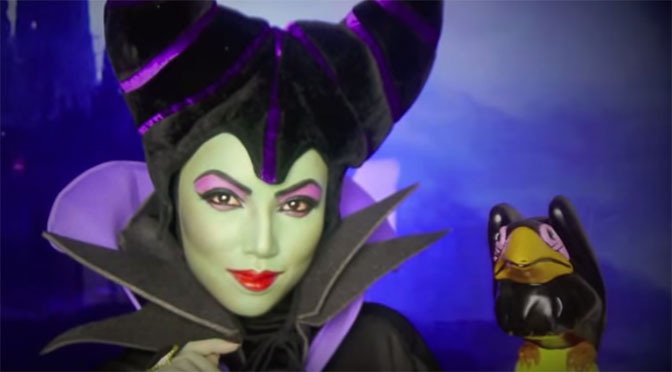 Examples of some of my dream lands:
"WonderLAND"
Featuring the Queen of Hearts. I picture a "Tower of Terror" style attraction here with the feeling and theming that you're Alice falling down the rabbit hole. Next door, The Mad Hatter would host and meet in a restaurant that is mad tea party themed with large tables and mismatched chairs. The look and feel of this land would be more Tim Burton style vs the animated style. Flowers and other scenery would randomly come to life similar to Divine in AK.
"Holiday Land"
My park wold have a Halloween Town with characters, scenes, and attractions based on The Nightmare Before Christmas and Hocus Pocus. Halloween Town will have a portal into Christmas Town where again more scenes and characters from NBC. There would also be the house from Home Alone all lit up for Christmas and you go inside pretending to be Kevin and defeat the burglars (maybe an attraction similar to Toy Story Mania).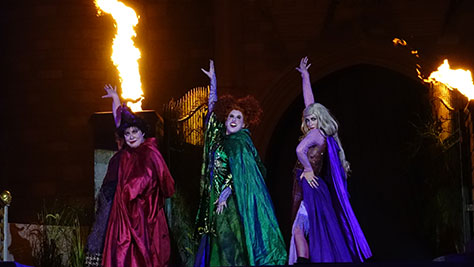 From here, a portal into New Orleans takes us down Bourbon Street celebrating Mardi Gras. Dr. Facilier is up to no good and turns us into the size of frogs for a dark boat ride "down the bayou" that is larger than life.
MAGGIE'S Dream Park:
I first asked my two sons, ages 7 and 8. My 7 year old said he would have the fifth park based on Mickey Mouse Clubhouse. He would have Mickey's Clubhouse as the focal point and there would be a huge slide like in the cartoon! All the characters would be there: Mickey, Minnie, Donald, Daisy, Pluto, Pete and everyone else. Of course a lot of handy helpers would be everywhere.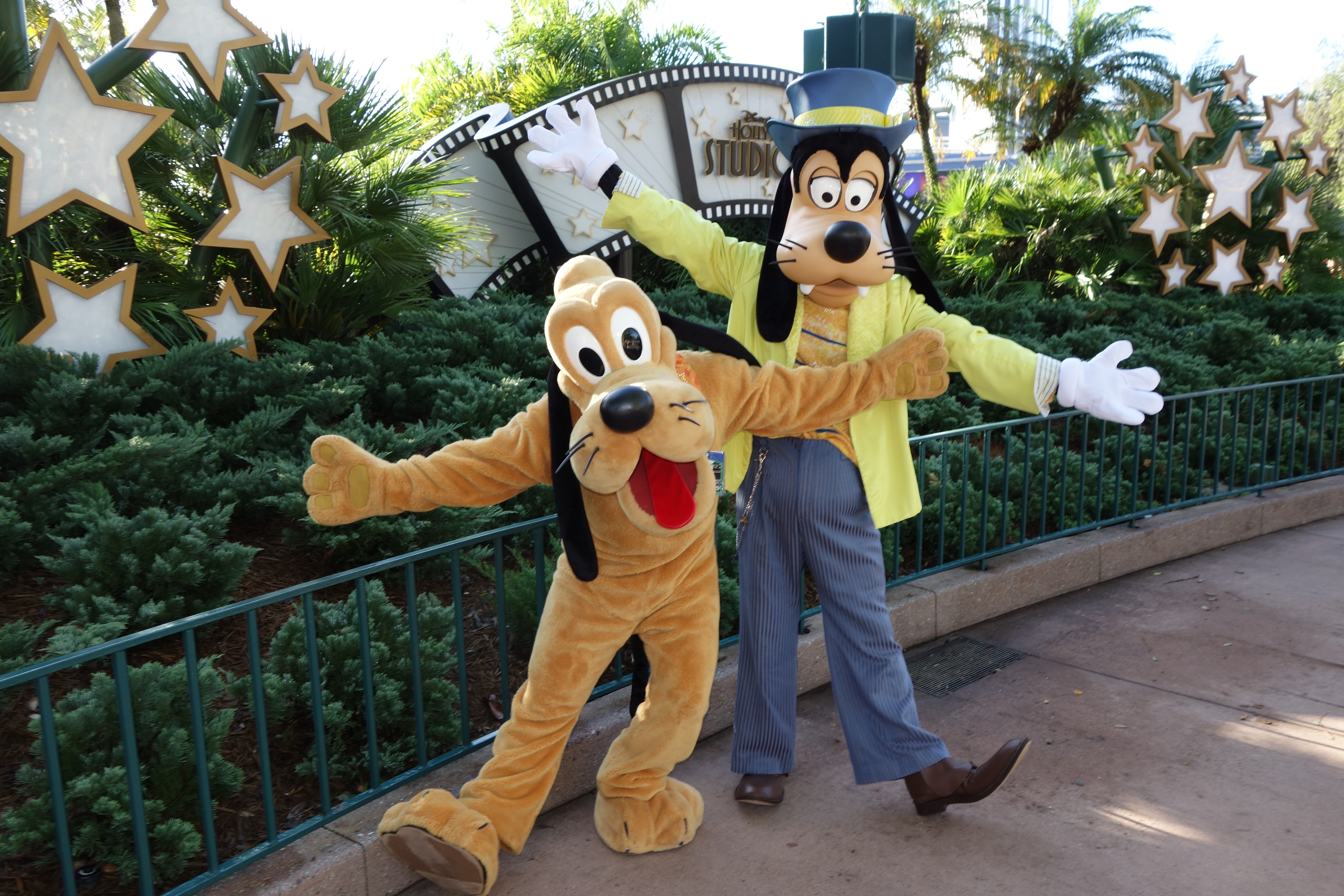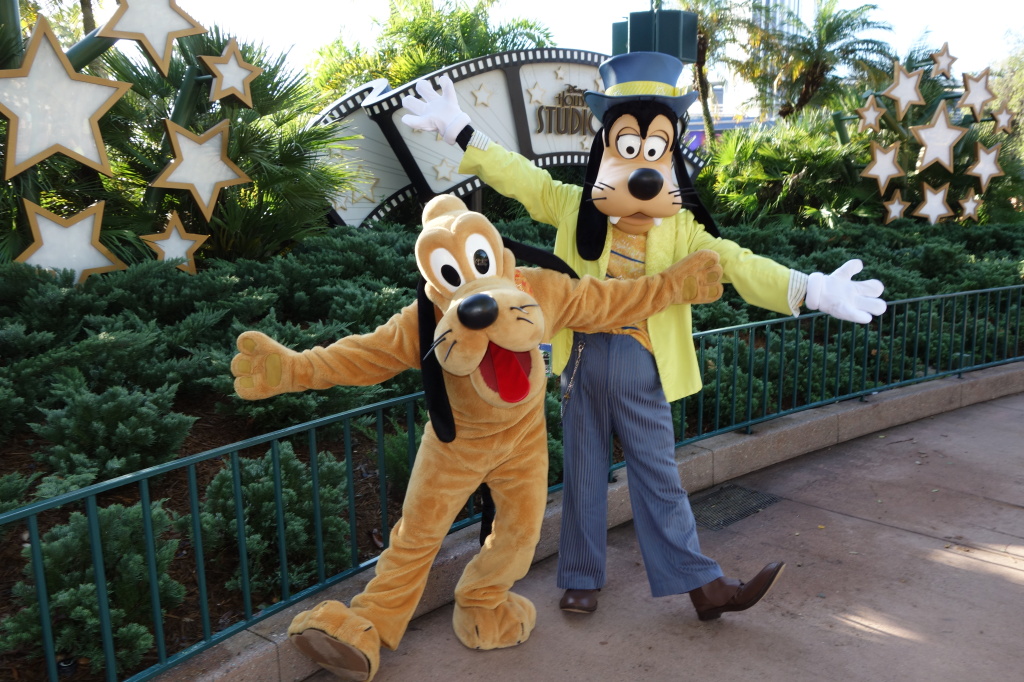 My 8 year old said he would just have a land completely devoted to Star Wars (Galaxy's Edge is apparently not enough)!
I was thinking about what my dream fifth park would be like, so I thought to myself, "what do I love?" I love Disney and I love animals, especially pets. So, my dream fifth park would be the Kingdom of Pets (KP) and it would focus on all Disney pets.
Lands would be Puppy Land (101 Dalmations, Lady & the Tramp, Puppy Dog Pals, etc.); Cat Land (Aristocats, Lucifer (villain cat), siamese cats from Lady & the Tramp etc.); Bird Land (Iago); Home of the Mice (Mickey, Minnie, Remy); and Forest Creatures (squirrels, rabbits, birds, raccoons – so Snow White's animals, Thumper, Meeko).
There would also be areas for therapy dogs, police dogs, service dogs, and then another area for adoptable animals. All hotels near the park would be pet-friendly and offer lodging. There would be special events like adoption days, or days where all the proceeds went to a local animal charity.
Restaurants would have to be themed, but also offer different areas for eating and the pets (because it has to be clean and regulated) and there would be a Cat Cafe! People can go to hang out, have some coffee or tea and pastries. We have one by us and I'm dying to go! Around the Super Bowl, they would host the Puppy and Kitten Bowls too, which would be fun.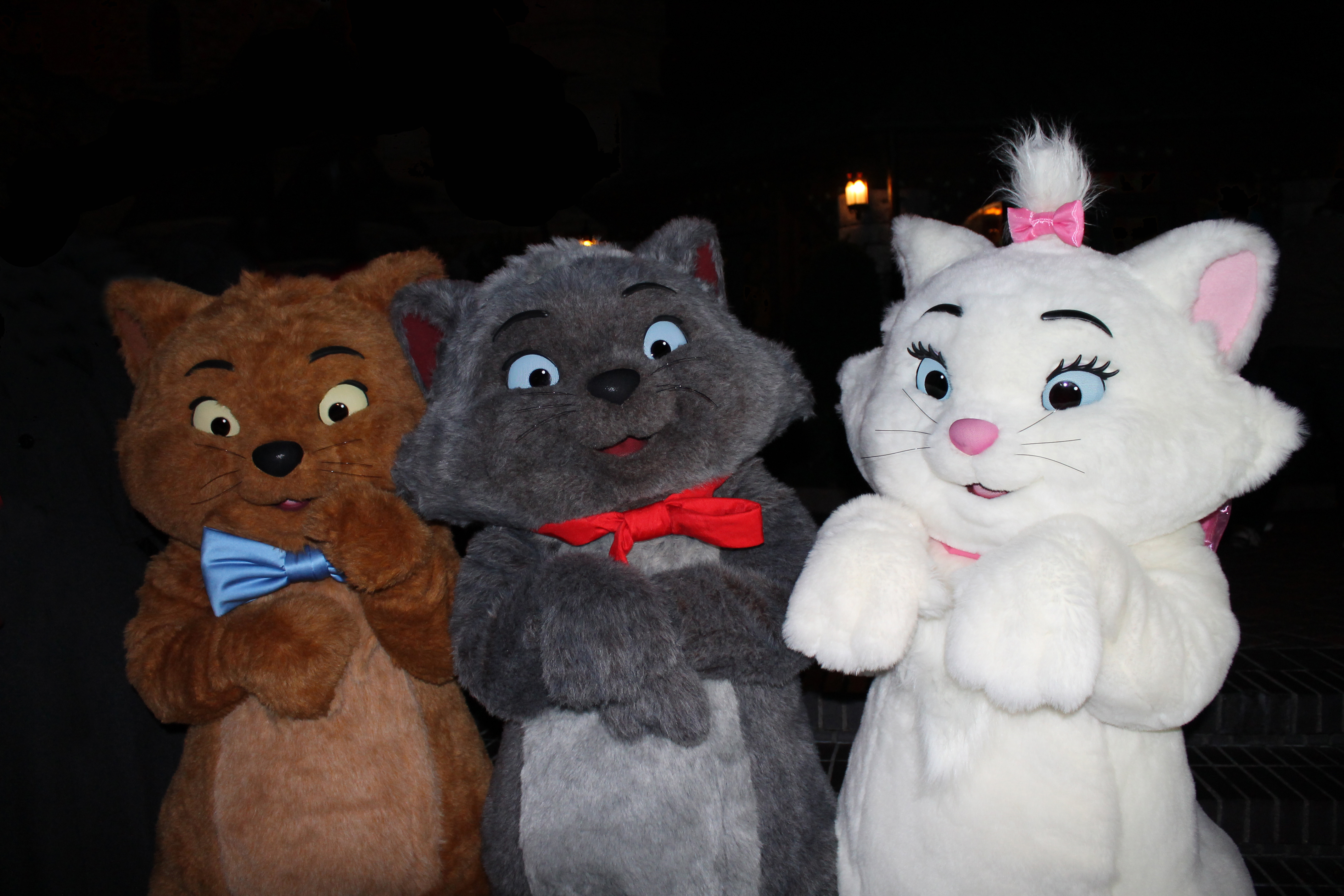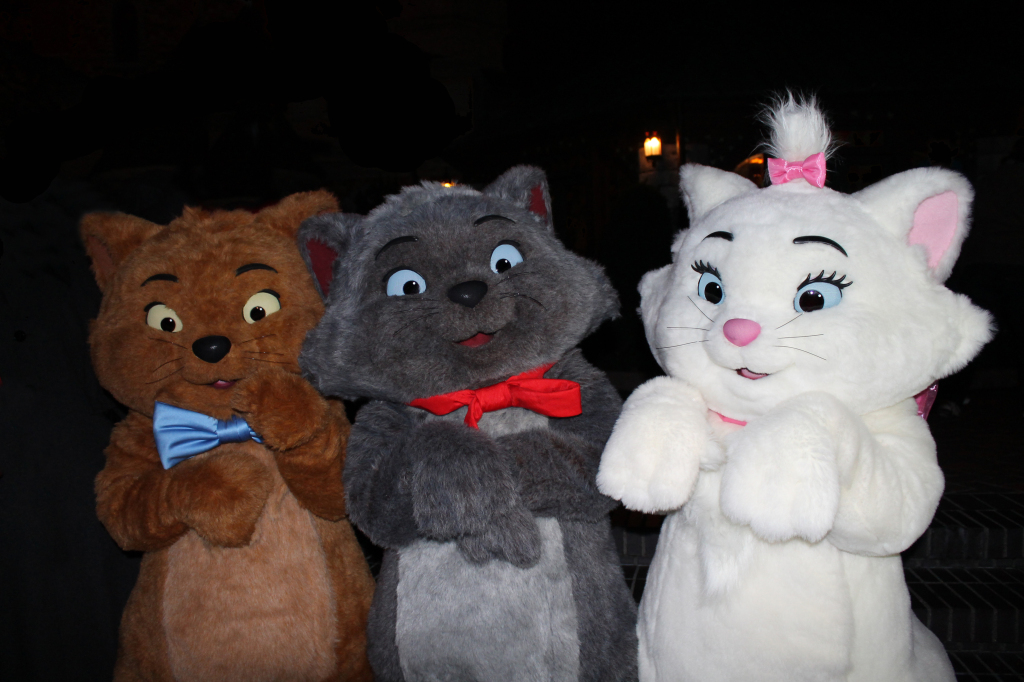 MONICA'S Dream Park:
I would love a Disney Jr park. There are so many shows from years ago that I miss because they remind me of my kids' childhoods. I would love to see all kiddie rides so height restrictions wouldn't be an issue.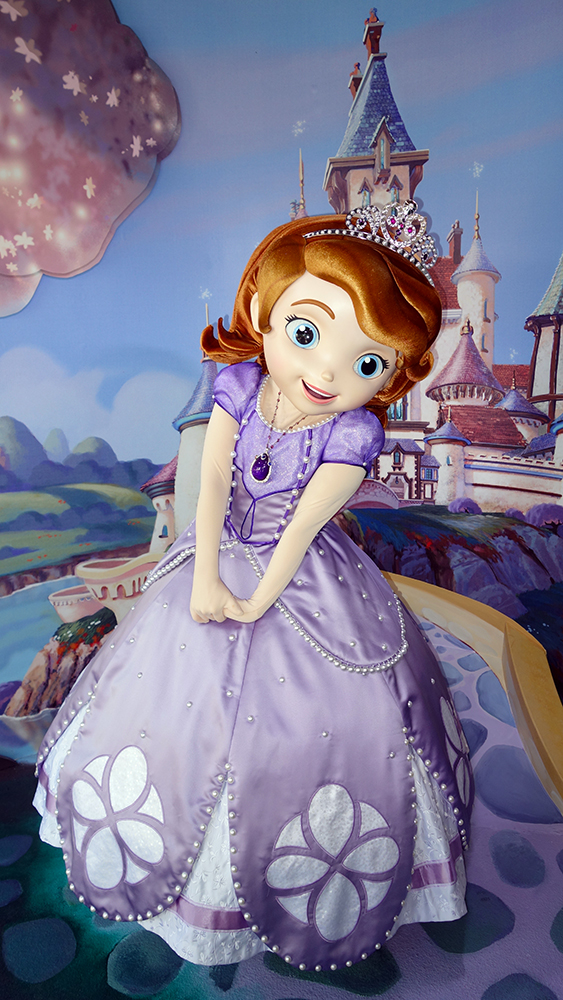 More meet and greets and character meals would be fun along with ways to interact like they do on the Disney Cruise Line with themed parties. A Disney Jr themed hotel right next door would be so cute too! Each building would be specially themed after several Disney Jr. shows.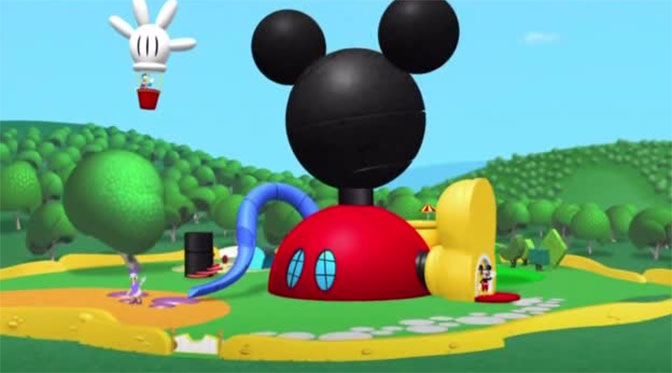 REBECCA'S Dream Park:
We have been planning a Pixar themed park! My son suggested an UP house hot air balloon type ride, my husband a Monster's inc rollercoaster ride, and I suggested a Train of Thought train going around the park.
The Up ride starts at the base of the mountain and you go into the house and it lifts off, and just like an elevator with glass windows and scenes appear through the windows until you reach the top!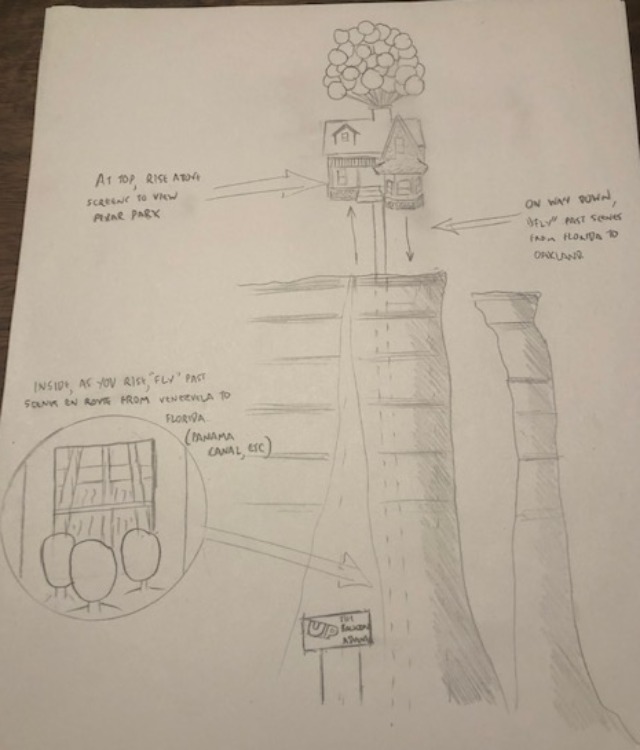 Also, the park would have Harryhausen's sushi restaurant in the Monster's Inc. area even though I don't eat sushi. maybe they can have seafood too. "Sushi? you think this is about SUSHI?"
And, bring Radiator Springs to Disney World (it's so cute!) We also want more experiences rather than shows – more Jedi training type things where you sign up by time but have Ratatouille cooking class, Monsters inc scare lessons, Incredible hero school, etc.
KATE'S Dream Park:
I'd call it "Animation Nation." I can't decide whether Mickey Mouse Club House would be the center or not, but Mickey Mouse Club House would need to at least be a playground for kids to enjoy. It would also need to have a Glove Balloon ride nearby. There would definitely be a Toon Town with a re-creation of Mickey and Minnie's houses.
Next, we'd find the Pride Lands centered around Pride Rock with a Lion King Attraction. Timon and Rafiki would have character spots.
A recreation of Radiator Springs would fit in nicely. I'd love to see it come to WDW. The Villains would have an evil corner of the park to lurk in with a wicked coaster and a spooky dark ride. They'd definitely have a villainous character meal.

Another corner would be called "The Woods" and would feature Sleeping Beauty Cottage and some sort of Bambi attraction – perhaps a skating rink. Both Snow White and Kristoff would be lost in the Woods. The Seven Dwarfs would have a character spot. There'd be a section of woods devoted to Sherwood Forrest with the best character meets, a stage show, and a dark ride.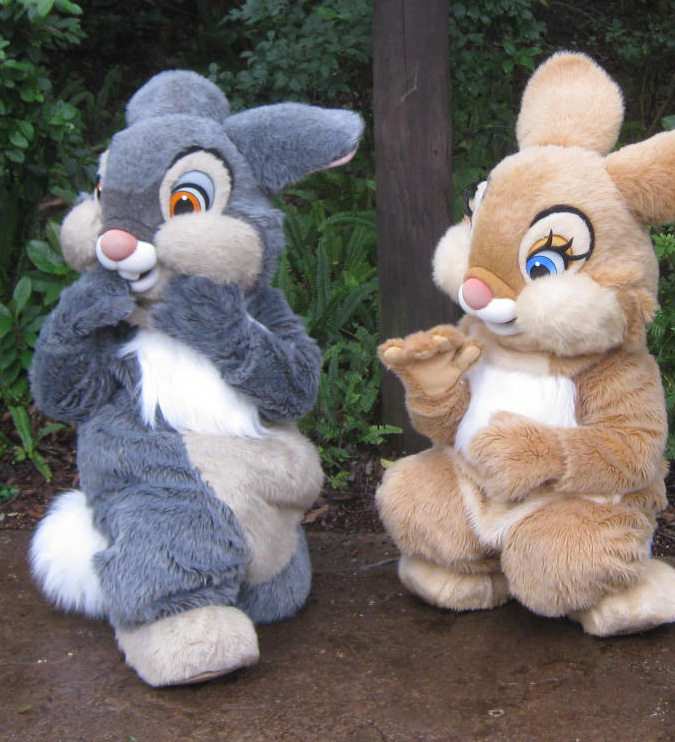 Next, we'd have the Sea with a Moana ride and musical. The Finding Nemo crew would get a fun new attraction-perhaps it would be an inverted Ray Rollercoaster coaster! Would it be wrong to have a Sushi restaurant here? There would be a thrill ride featuring Monstro the Whale as well.
There would also be a land called The City where we could find Tiana's Place restaurant as well as a 101 Dalmatians Dark ride (Escape from Cruella). We'd find a theatre there, which would show animated features. Maybe it would have a rotation of Disney Classics to watch, maybe it would feature old nostalgic pieces like Silly Symphonies. I can see there being a Disney Museum in the city as well.
The final land would be Wonderland with a playground where guests are tiny and wander through a Garden as shrunken Alice. There would be a thrill ride and a pretty creepy dark ride. Finally, there would be a place to take tea and eat unbirthday cake.
The whole thing would have to connect to Art of Animation/Pop's Skyliner station.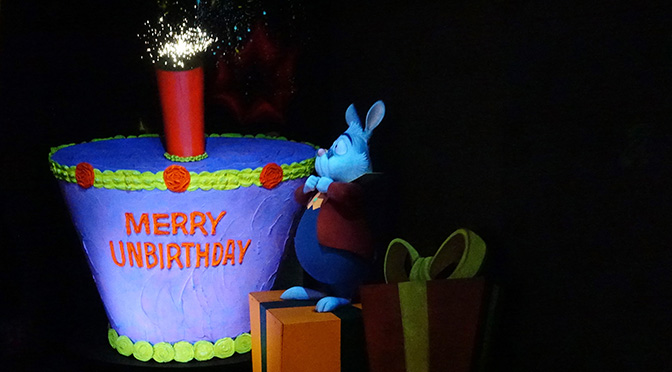 HEATHER'S Dream Park:
My dream park would be a Pixar park. It would be so cool to have a Cars land here. My son loves Lightning McQueen! It would also be really fun to have a ride for Monsters inc. Imagine riding the rails of the doors like Sully and Boo do! The Pixar stories are so fun and family-oriented that it could really be an exciting experience the whole family could enjoy!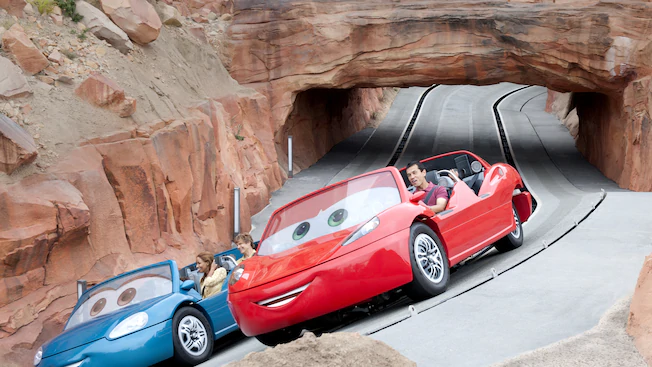 JAELYN'S Dream Park:
My dream 5th park would be a "Behind the Scenes" Disney Park. There could be an Imagineering land where guests could meet and learn from Imagineers and maybe design their own ride. An Animators' land so guests could learn how to animate favorite characters from experts (similar to Festival of the Arts festival events).
Also, an actors' section similar to the original goal of the Hollywood Studios Park, and a Musical land where guests could step into a recording booth and create Disney Magic would be included.
It would also be awesome to have an area where guests could learn about how to be a Cast Member and the behind-the-scenes elements of the various Disney careers. A history section similar to what was delivered by The Imagineering Story would also be great! I think this would be a great park for Disney lovers!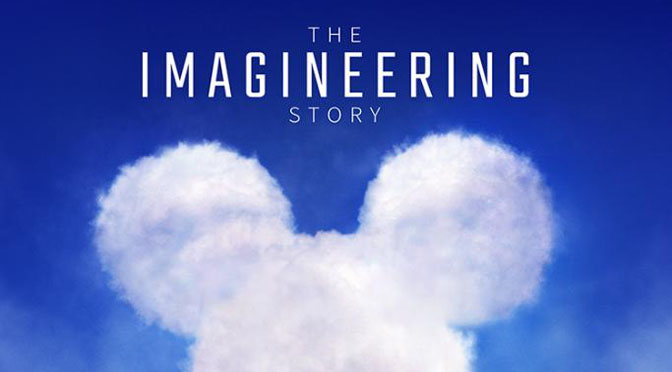 All of our KtP Writer's dream parks sound so magical! Which one would you choose? Do you have anything you would add to any of our park ideas? Do you have a dream park of your own? Please share with us on Facebook! We would love to hear from you!
I only hope that we never lose sight of one thing- that it was all started by a mouse. –Walt Disney