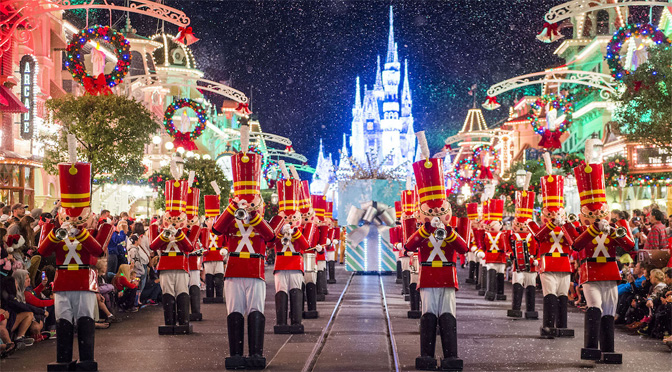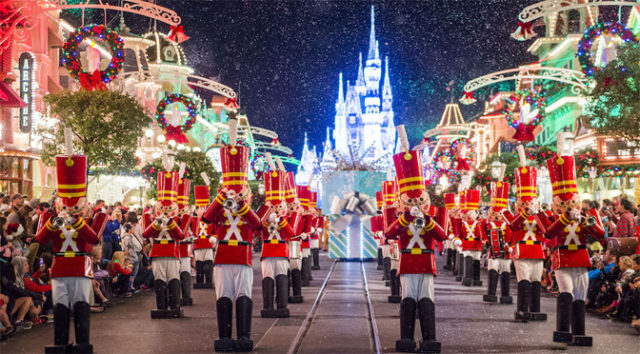 Have you ever paid extra for a special event at Disney, and the rain completely ruined all the fun? It is bound to happen – the weather is unpredictable! So, how does Disney compensate for this?
Surely, they aren't required to do anything. Every special ticket I have purchased has had the disclaimer that these tickets are non-refundable and non-transferrable.
You can wait of course to purchase the ticket the day of the event, but that's also a gamble because there is the chance that the event will sell out. We have seen many Mickey's Not So Scary Halloween Parties and Mickey's Very Merry Christmas Parties sell out this year.
Last night, December 17, was one of these instances when bad weather really put a damper on the evening. It down poured for a portion of the evening, and the first parade was canceled. The second parade and fireworks show still happened, according to several KtP Crew Members.
According to a few Kenny the Pirate Crew members in the group, Disney handed out information to party-goers that read:
"We apologize for the inconvenience this evening. Your event ticket(s) have automatically been converted to provide 1-day access to the Walt Disney World Theme Park of your choice.
*One (1) year expiration. Not valid for Park Hopping. Valid during normal operating hours.
If you would like to exchange your event ticket(s) for a future Walt Disney World special event within the current calendar year, please call 407-939-7818 between the hours of 7:00 am-11:00 pm.
**Ticket(s) subject to availability, some events are excluded.
Please keep your ticket(s) for tonight's event available for redeeming one of the options above.
Admission entitlements and tickets are not transferable. Disney is not responsible for lost or stolen tickets. Operating hours are subject to change without notice. This card is for informational purposes only and is not valid for admission to any Theme Park."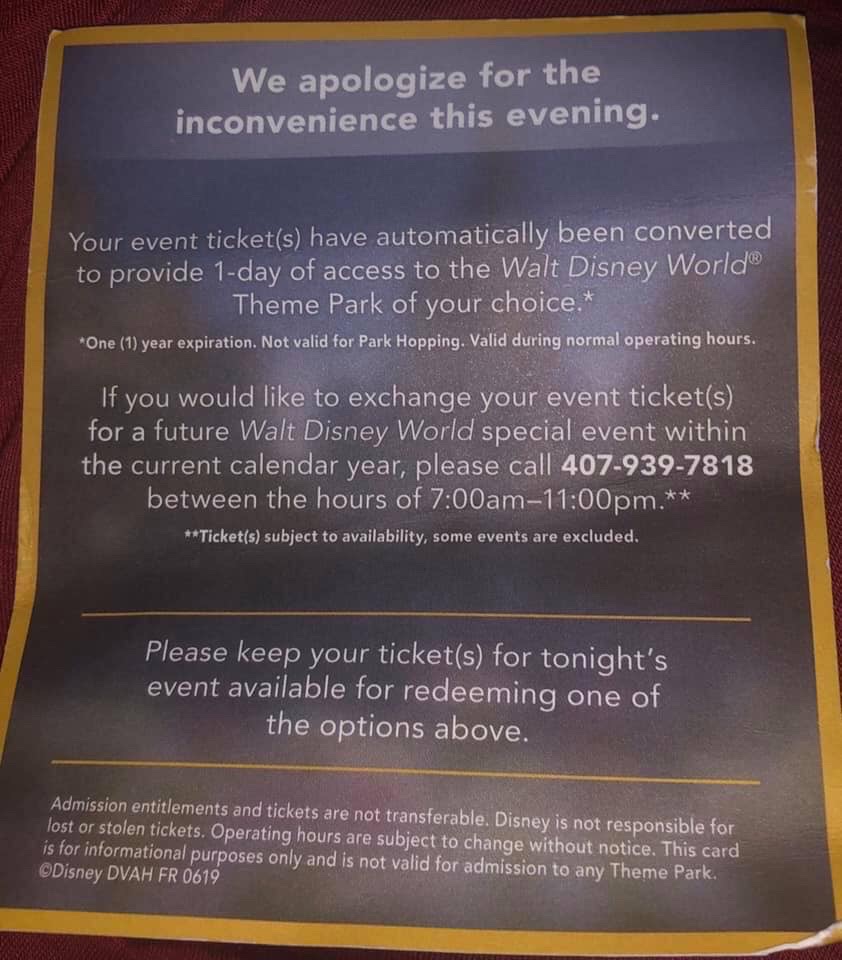 So you are given one day of theme park admission or you can convert it to a ticket for another special event.
The same Crew member updated her post to say the Cast Member she spoke to on the phone completely refunded the price of her Christmas party tickets.
This is also why I am so appreciative of our KtP Crew group! I love that we all share information to help other Crew members out with our Disney vacations. If you haven't joined the group yet, feel free! And thank you to the members who posted about last night's party!
So for anyone who has attended a Mickey's Very Merry Christmas Party (or any special event recently) that got rained out, you may want to call to see what your options are. It's my understanding if the parade and fireworks aren't canceled, you likely won't get compensation.
Last year, I attended an After Hours event at Magic Kingdom, and the downpour kept the major coasters down for almost the entire evening. We never rode Space Mountain and only rode 7DMT once (and we got stuck on it).
I kept meaning to talk to someone on the way out, and when I didn't I told myself I would call before our trip was over, and then I never did. I wish I would have because it put a damper on our evening. But, I also understand the tickets are non-refundable and non-transferrable so I just chalked it up as a loss.
What do you think about Disney compensating guests for bad weather? Do you think it's reasonable or do you wish they were more consistent?
-Monica S.