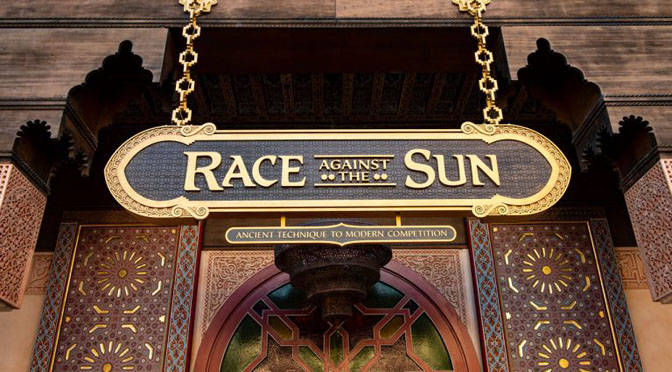 The Gallery of Arts and History in the Morocco Pavilion just reopened with a new exhibit called "Race Against the Sun: Ancient Technique to Modern Competition."
One of the many reasons that Epcot is so special is because guests can experience the art, history, and diverse cultures of so many countries around the world.
"Race Against the Sun" showcases two incredible modern-day competitions – Marathon des Sables (Marathon of the Sands) and Rallye Aïcha des Gazelles du Maroc (Rally of the Gazelles) – as well as the rich history of the ancient inhabitants of the Sahara, the Berbers.
The exhibit features immersive experiences, including a lifelike diorama of Marathon of the Sands with race gear and trophies from Moroccan competitors, and an interactive photo opportunity highlighting Rally of the Gazelles – the off-road, all-woman desert rally. Each of these intense competitions take place in the Sahara Desert, and guests can also discover how the Sahara's original inhabitants, the Berbers, mastered the challenges of living in the formidable environment.
In celebration of the new exhibit, you can get a taste of what it's like to participate in an intense desert competition. At Tangerine Café in the Morocco pavilion, discover "sellou," a food highlighted in "Race Against the Sun" that marathon participants commonly eat during their race. With ingredients like almonds and sesame seeds, this energy-packed snack gives runners the boost they need to complete their journey.
"Race Against the Sun" is just one part of the evolution of Epcot that we will see take place over the next few years. Are you adding this exhibit to your Character Locator touring plans?
-Monica S.